Caravanning with kids: your guide to family caravan holidays
Our first holidays with our kids were in a touring caravan. It was such a relaxed and easy way to introduce them to travel when they were babies. With several years of family caravan holidays under our belts I thought I'd share our guide to caravanning with kids.
Read on for tips about the best layout for family caravans, what you need to pack for a caravan holiday and where you can find family campsites and holiday parks around the UK and Europe.
Want more ideas for family holidays and days out? Read my tips for smashing family travel and sign up for my newsletter.
*This post contains affiliate links*

Buying a family-friendly caravan
We've got by using caravans designed for couples and families with older kids. But there's no denying that caravans built for families are so much better.
Find the best caravan layout for your family
Layout is everything when it comes to caravanning with kids.
Caravans with bunk beds separated from the main living space, like in the Bailey Phoenix 650, are our absolute ideal. This allows you to put kids to bed and still have some adult space without sitting outdoors in cooler weather.
If you have older kids you may be more concerned about the size of the bathroom. End bathrooms tend to offer more space for washing and changing in privacy.
If you have teenagers they might have outgrown caravan bunk beds and need something more inline with their beds at home. This is when fixed single beds like you'll find in the Bailey Pegasus Grande SE Rimini might be a better option. It's also 8ft wide, giving you that extra space when you're living with what are essentially adults.
In the summer (and winter if you are hardy caravanners) we can recommend adding an awning or shelter to the side of your caravan. This will allow you to sit out and enjoy the evening without being forced to go to bed early if your kids need absolute dark and quiet to sleep.
Read our review of the Coleman Event Dome.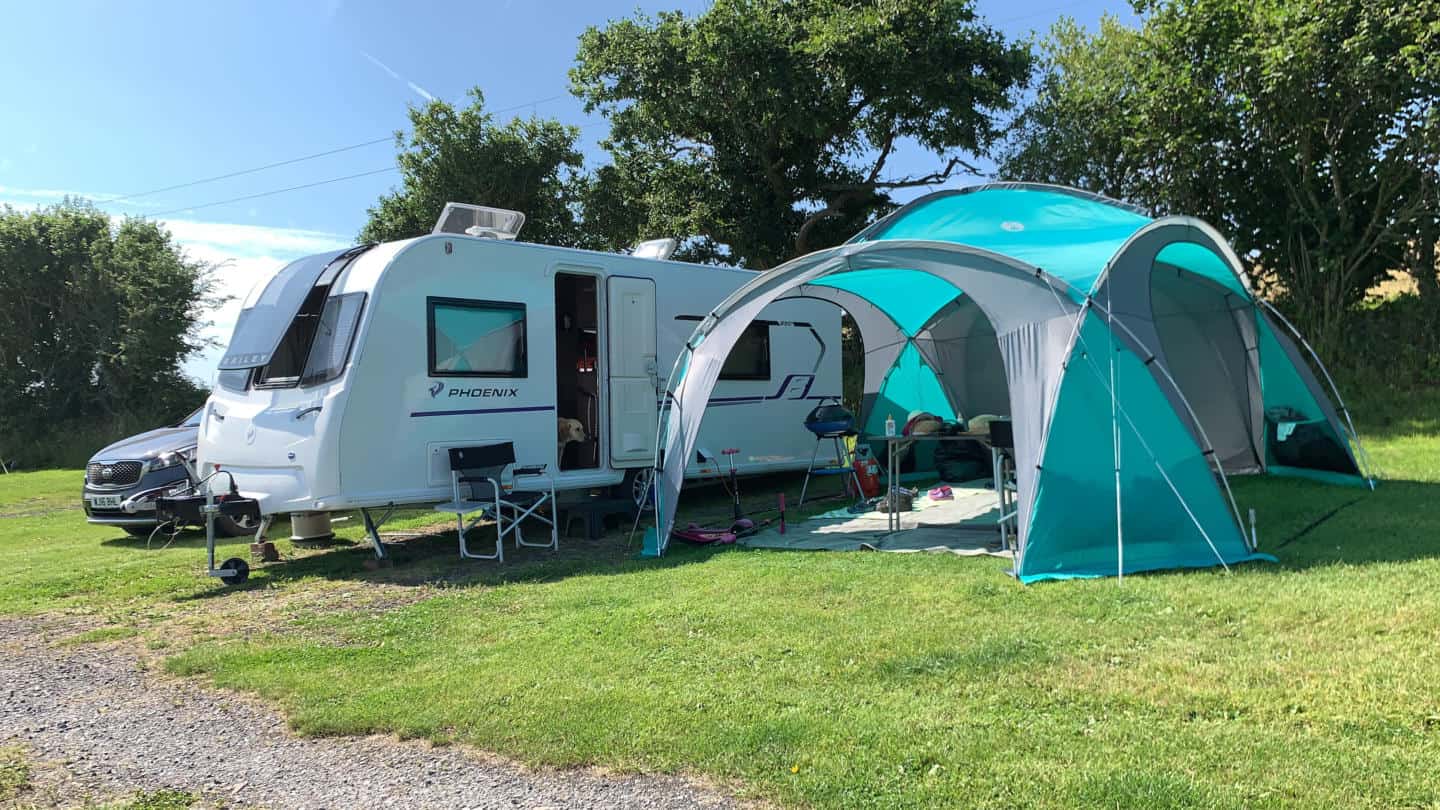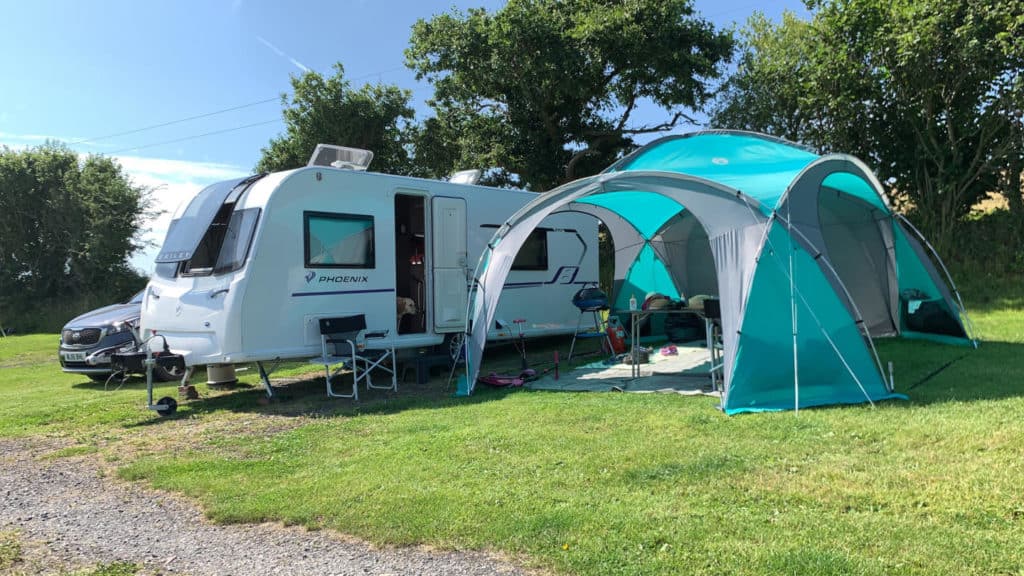 Also take a look at this review of the PRIMA Classic Canopy Air Awning 390.
Baby beds for caravans
The it comes to babies and toddlers you will need different arrangements.
Take a look at how we arranged our baby bed in a caravan and what we did when the girls were toddlers.
More things to consider when buying a family caravan
Other things to check when you buy a family caravan, especially if you are buying second hand, are:
The heating system – is there an exposed gas/electric heater? You'll need to keep little ones away from it as the surface may get hot
Seating for meals – can you fit a baby seat or high chair at the table
The weight and driving licence required to tow your van. NB in 2021 the requirement to have a B+E licence to tow caravans/trailers over 750kg has been removed. You can now tow up to 3500kg maximum authorised mass (MAM) on a standard driving license.
Things to take on a caravan holiday
When you are kitting out your caravan for the first time there are some items you must buy, like towing mirrors, a hitch lock, wheel lock and water containers.
There are also some household items that you might like to use at home and in the van like cutlery, plates and utensils. Or you can buy them especially for your outfit which saves a lot of shifting around, especially if you can't store your caravan at home.
Take a look at our essential caravan equipment packing list to see everything you will need to buy or pack to get started.
If you are renting a static caravan or lodge you might find my self-catering packing list helpful.
Here are some more things to take on a family caravan holiday:
Baby and toddler toys
When our kids were tiny we had a small bag of books and toys that stayed in our caravan. We'd rotate the contents every few months.
Favourites to take caravanning with kids included:
You don't need much as you'll hopefully be out enjoying walks and sightseeing most of the time.
Here's some more items we used a lot when we were caravanning with a baby and caravanning with a toddler.
Bikes, scooters and roller skates
Now our girls are older they want to bring their wheels. Be aware that many campsites and holiday parks will have rules about cycling, scooting and roller skating on the site's road ways.
If there is a ban on children's bikes and scooters at the holiday park you are visiting it's still worth bringing them for using offsite.
We have Frog Bikes and i-Scoot scooters* for our girls.
Other entertainment for caravan holidays with kids
We rarely leave home without our pre-loaded Amazon Fire for Kids* now the girls are older. We would happily live without TV for a week or longer but sometimes a bit of screen time is necessary for the kids.
Other things that work well are paddling pools* in the summer, card games, scavenger hunts and other camping games.
Sleeping bags
We have found that sleeping bags have been the best type of caravan bedding for our kids right from their first trips away.
They started off in Gro sleeping bags* for babies and toddlers with a blanket over the top if it was colder.
Now they are in child-sized sleeping bags and both have a Vango Kanto Junior.
You might find my post on how to organise your caravan handy too.
Using your caravan – booking holidays
My first experience of caravan holidays were rallies – weekends and longer holidays organised at campsites by clubs. Find out more about camping and caravan rallies and why we love them.
You can also book your caravan holidays direct with campsites and through online booking sites. Bear in mind that you might find a cheaper deal by booking direct. Check the prices and booking terms on sites like PitchUp and then check the campsite's own website.
The following sections include information on the type of places you can book and some we have tried and tested ourselves.
Best family holiday parks
Before kids we'd often stay on campsites that were not much more than a field.
However, when the girls came along it was nice to have a few more facilities like electric hook up, toilet blocks and entertainment. They also love holiday parks with swimming pools.
There are many family holiday parks and campsites in the UK and Europe that have electricity, toilet blocks, a club house, play parks and swimming pools, all included in the price of your nightly stay.
Many of these sites are also located near the sea or great places to visit, so you're never short of something to do whatever the weather.
If you are looking for caravan sites for kids then here's some you might like to try:
Holiday parks with entertainment
Here's some of the family-friendly holiday parks we've been to in the UK that have clubhouses and kids activities. Some have swimming pools too:
Check out more holiday parks in Cornwall that we rate.
Caravan sites in the UK
These UK caravan sites have electric hook up, toilet blocks and some have playgrounds and cafes:
There are many more campsites around the UK but these are a few we have been to personally.
Here's some more touring caravan parks in Cornwall that come highly recommended.
Holiday parks in Europe
There are thousands of campsites in Europe that accept touring caravans but if you are looking for ones that are very family-friendly with entertainment, activities and swimming pools then look out for Yelloh! Village and HUMAN holiday parks.
Here are some we have stayed at in mobile homes that also accept touring caravans:
You can also book European camping holidays through the Caravan and Motorhome Club and Camping and Caravanning Club if you are members (see below).
Don't get caught out by the weather
Always come prepared for the great British weather. Pack your wellie boots and waterproofs so you can get out if its a wet day.
All-in-one waterproofs* were ideal for when our kids were small.
Alternatively, pack lots of books and indoor travel games, and enjoy the sound of the rain drops on your roof. I always find it soothing.
Food for caravanning with kids
Our caravan fridge and store cupboards look much like they do at home when we are caravanning with the kids. We have cereals in the morning and the odd cooked breakfast on our Campingaz Party Grill.
Lunches are quite often picnics while we are out or sandwiches or pasta at the caravan.
Barbecues are our go-to evening caravan meal. If you have young children like us we find that hot dogs, burgers and chicken skewers are always a hit at dinner time.
We add colourful accompaniments to our BBQ plate like corn on the cob, salads, roasted vegetables and flavoured rice. We usually cheat and buy microwave rice to save on washing up.
Here's some more camping food ideas.
Join a club
There are several caravan associations in the UK and each runs its own local events where you can get to know other families.
I met friends when I was a child who I'm still in contact with now. Some have even grown up to get their own caravans too.
Take a look at the Caravan and Motorhome Club and Camping and Caravan Club. Each has regional groups that run local weekend and holiday rallies. They also own and have affiliate campsites in the UK and Europe.
More top tips for camping and caravanning with kids
If you have a tent or a camper van, or are planning a static caravan holiday then here's some more posts you might like to read:
Take a look at more of our top tips and advice for travelling families.
Disclosure: this post contains affiliate links marked with *. If you click on one of these and make a purchase I may earn some commission. This does not affect the price you pay.
Are you new to caravanning with kids? Please feel free to send me a message or comment below of you have any questions. You can also save this post for future reference by pinning it on Pinterest.