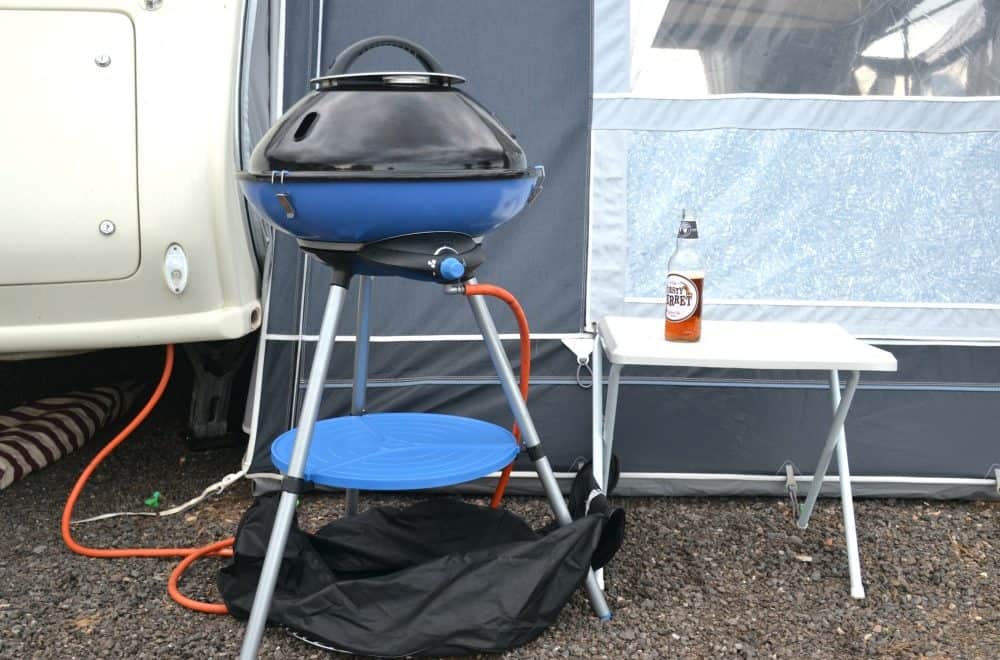 CampinGaz Party Grill 600 review: a portable gas camping stove and barbecue
Barbecues are always a highlight of our caravan holidays. We rarely use our hob and oven indoors in favour of food cooked alfresco. So, when CampinGaz offered to send us the CampinGaz Party Grill 600 to test just before our Devon caravan holiday we couldn't resist. As well as being a barbecue with several cooking options the Party Grill is a portable gas camping stove making it super versatile. Here's our full review carried out over a two week holiday.
*Advertisement feature/contains affiliate links*
If you'd like an overview here's a video with a few examples of how we used the CampinGaz Party Grill 600* and how easy it is to assemble, even with help from the kids!
Buy this camping grill on Amazon*.
CampinGaz Party Grill 600 features
Four cooking options – stove and non-stick coated grill, griddle and plancha flat pan
Integrated pan supports for stove top cooking
Adjustable power
Water compartment to collect fat
Piezo ignition

Fuel options – R904, R907, butane or propane cylinder
Weight: 10.72 kg
Polyester carry bag
Check prices for the CampinGaz Party Grill 600 on Amazon*.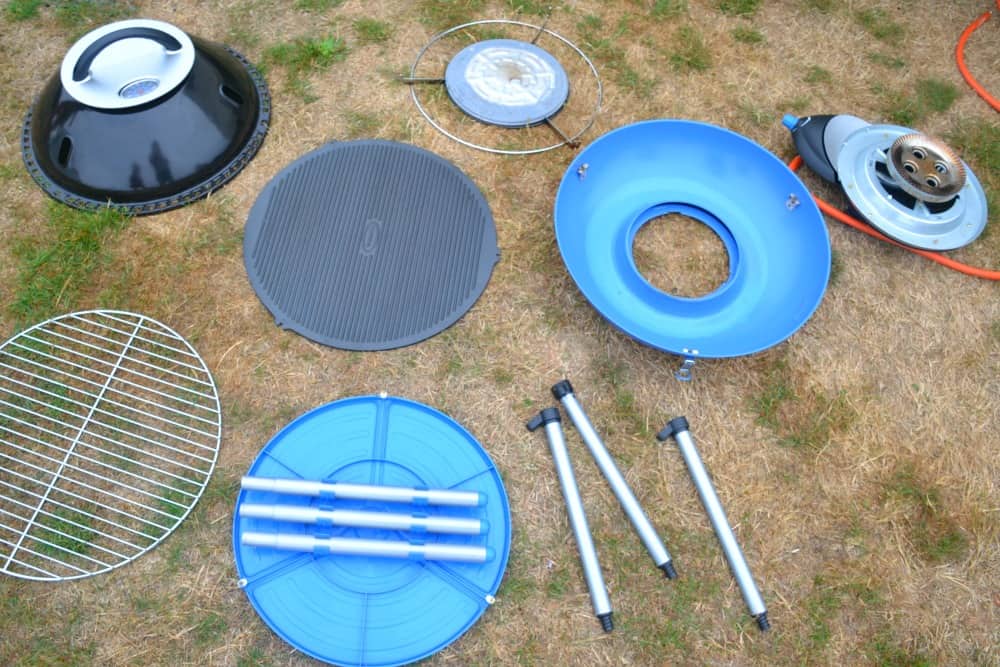 Testing the CampingGaz Party Grill 600
The very first test for the CampingGaz Party Grill 600* was catering for a family gathering of 21 adults and children. Our menu was nothing fancy given the large number of people to feed but cooking 18 sausages and 16 burgers is no mean feat. The Party Grill was more than up the task, even in the rain.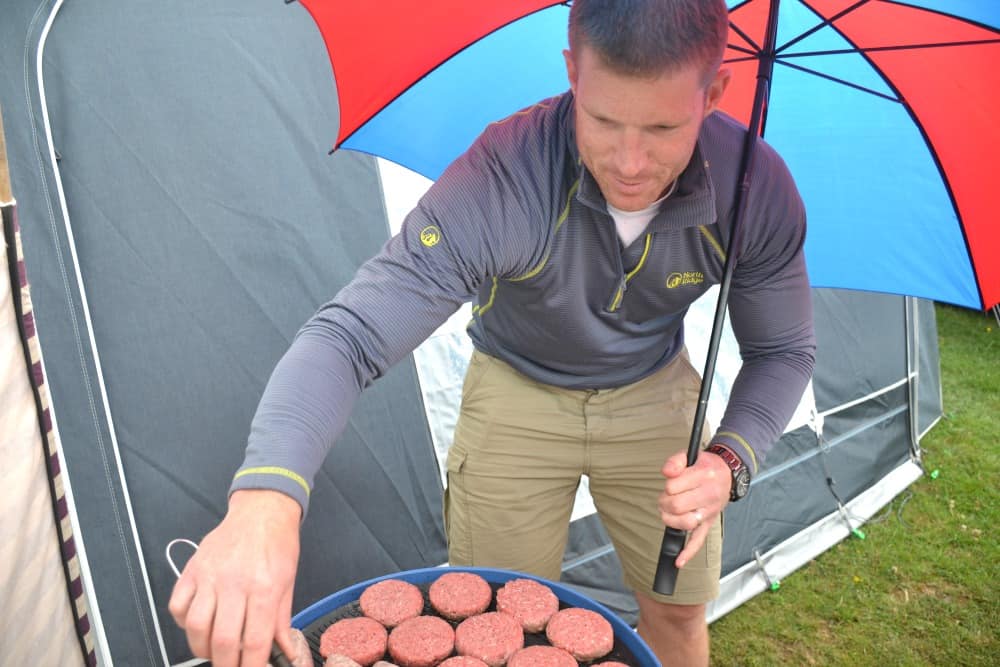 Over the fortnight we cooked on the Party Grill nearly every day on a smaller scale. We enjoyed full English breakfasts and pizzas using the plancha flat pan, and barbecues using the griddle which is on the flip side. You can also use the stove to boil a kettle, or heat a pan or wok.
The pizzas were a welcome variation to our usual meat heavy barbecues and came out with a stone cooked effect.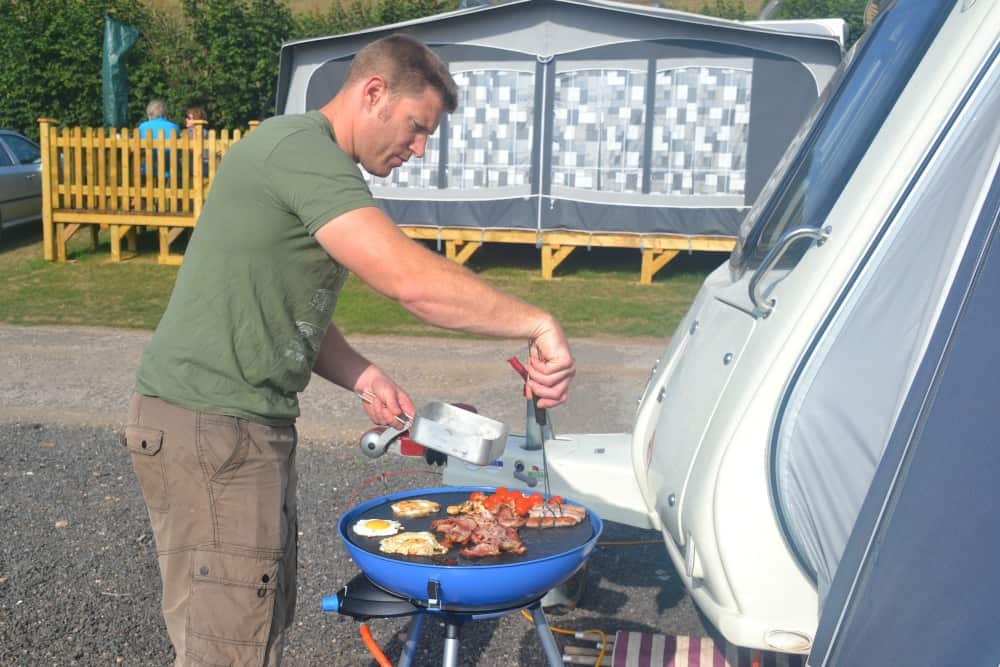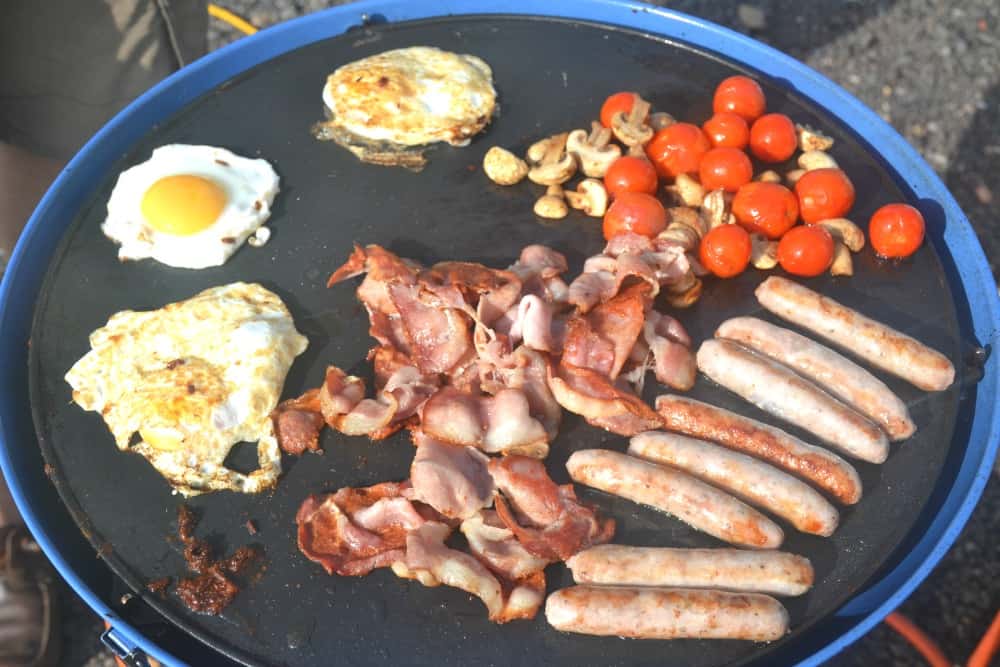 The only faults we found with CampingGaz Party Grill 600 we were sent is that the Piezo ignition didn't work.
Buy this camping grill* on Amazon.
CampingGaz Party Grill vs the Cadac
We have owned a Cadac BBQ in the past and found the CampingGaz Party Grill 600 offered all of the same benefits of the Cadac system in terms of portability, versatility of cooking surfaces and quality.
Some features of the CampingGaz Party Grill which set it apart are: the two piece leg design which allows them to be stored and transported within the body of the BBQ and the deep grease catch pan which is designed to be filled with water making cleaning up much easier.
The RRP on both items is similar but at the time of writing the CampingGaz Party Grill 600* was available around £50 cheaper than the alternative Cadac Carri Chef 2 making it a bit of a bargain!
Final thoughts on the CampingGaz Party Grill 600
We loved the versatility of this gas camping stove as well as its portability. After a clean with soap and water it packs away neatly into its carry bag. This makes it a great barbecue for camping and caravanning.
You can use to to cater for the masses but we think it is the perfect size for every day cooking for our family of four. Smaller sizes of the Party Grill are available.
Want to read more camping and caravan product reviews? Take a look at what we thought of the Lava Brightsounds 2 outdoor bluetooth speakers, the Coleman Event Dome XL and the PRIMA Classic Canopy Air Awning 390.
You might also like these other camping and caravanning posts:
Disclosure: we were sent the CampinGaz Party Grill 600 free for the purposes of a blog review. All opinions are my own and those of my family. This post also contains affiliate links marked with *. If you click on one of these and make a purchase I may earn some commission. This does not affect the price you pay.
Researching the best camping stoves? Why not save this post for reference.