Atlantis Submarine Barbados review
If you are looking for shore excursions in Barbados that are suitable for children then we can recommend the Atlantis Submarine. This was our first sightseeing trip of our Caribbean cruise and, to cut to the chase, it's one we can highly recommend as value for money. Here is our review of the Atlantis Submarine in Barbados including handy things to know if you book this excursion.
An easy cruise excursion in Barbados
My parents paid for our submarine tour as a gift to kick off our cruise, which we booked to celebrate my 40th birthday. We had flown into Barbados the day before and were still recovering from mild jet lag when we got up for this excursion the following morning.
It turned out to be a really easy excursion to do as the headquarters for Atlantis Submarine in Barbados are located a very short drive from the cruise terminal building in Bridgetown. You meet a mini bus just outside the terminal building.
The transfer around the port takes five minutes.
Atlantis Submarine Barbados
Atlantis have been operating in Barbados since 1987 and started with a 28 passenger submarine. Today they can accommodate up to 48 people on each dive.
Our tour began by sailing out of the harbour onboard the catamaran Ocean Quest.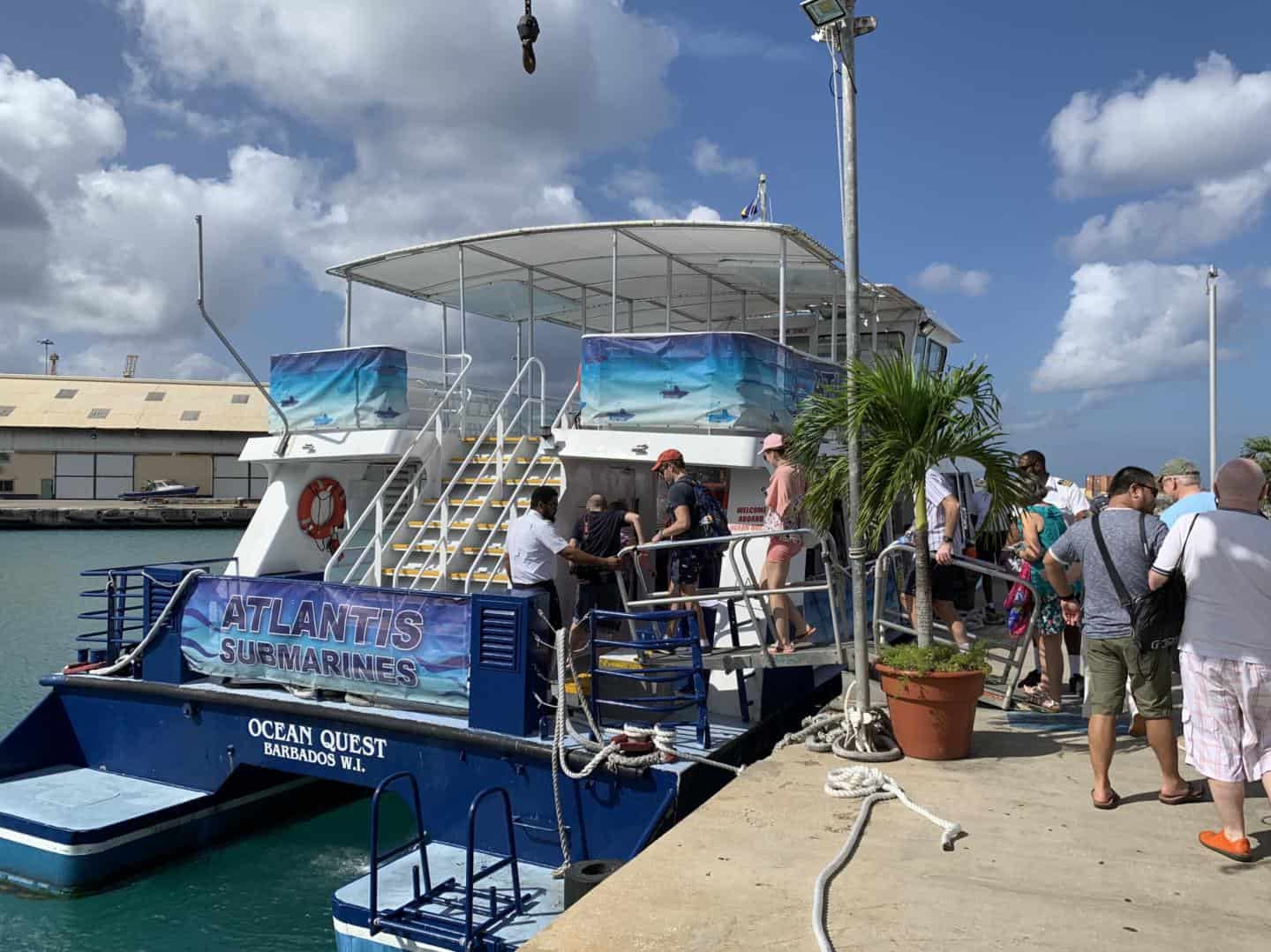 We passed multimillion pound yachts and colourful fishing boats that had seen better days. We also got a decent view of the cruise ships in port. On the day we took the tour there were four ships alongside including ours, P&O Azura.
The sea melted from an amazing turquoise into a deep blue as we were taken out to the sub site. This part of the trip takes just five minutes – enough time for your safety briefing and some uniquely Caribbean humour from the crew.
Boarding this submarine dive tour in Barbados
At first there was no sign of the sub – just a tender bobbing around on the choppy Caribbean sea. Then the sub surfaced close by.
Tours begin first thing in the morning and an earlier party had already finished its submarine excursion ahead of ours which started at 10am. The change over took about 20 minutes as the passengers ahead of us crossed back onto the catamaran. Then the crew instructed us to board the sub.
Our submarine – Atlantis 15 – had done more than 14,000 dives since coming into service.
There's a steep ladder to climb down into the belly of the submarine and benches facing the large porthole windows. Everyone gets a great view wherever you sit, so there's no jostling for position. If you sit near the front you can also see through the domed front window.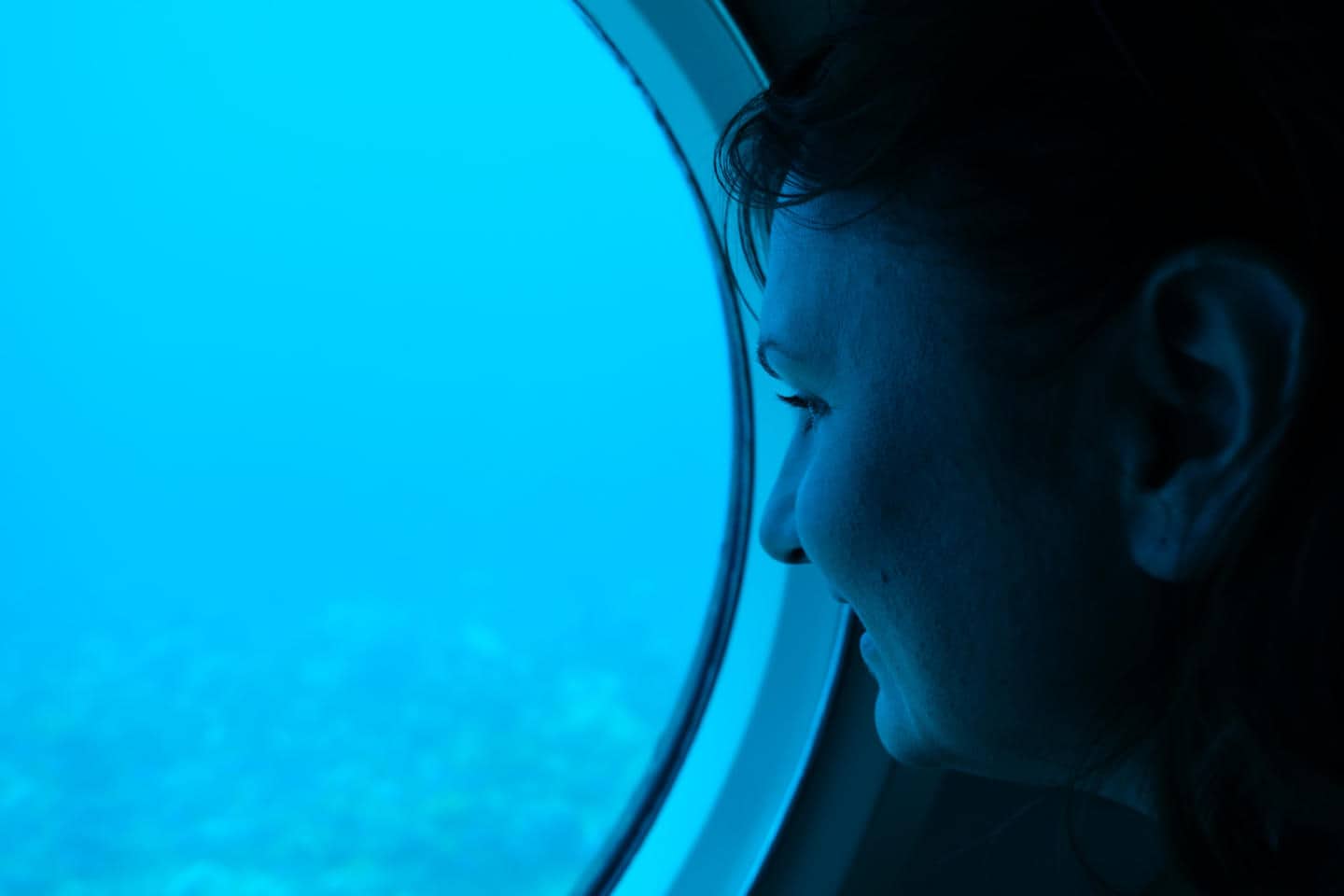 The submarine can dive to depths of 150ft with passengers. During your 45 minutes tour you are taken around Barbados' Silver Bank Reef while the crew of two give you plenty of commentary about the fish, underwater landscape and the Lord Willoughby ship wreak.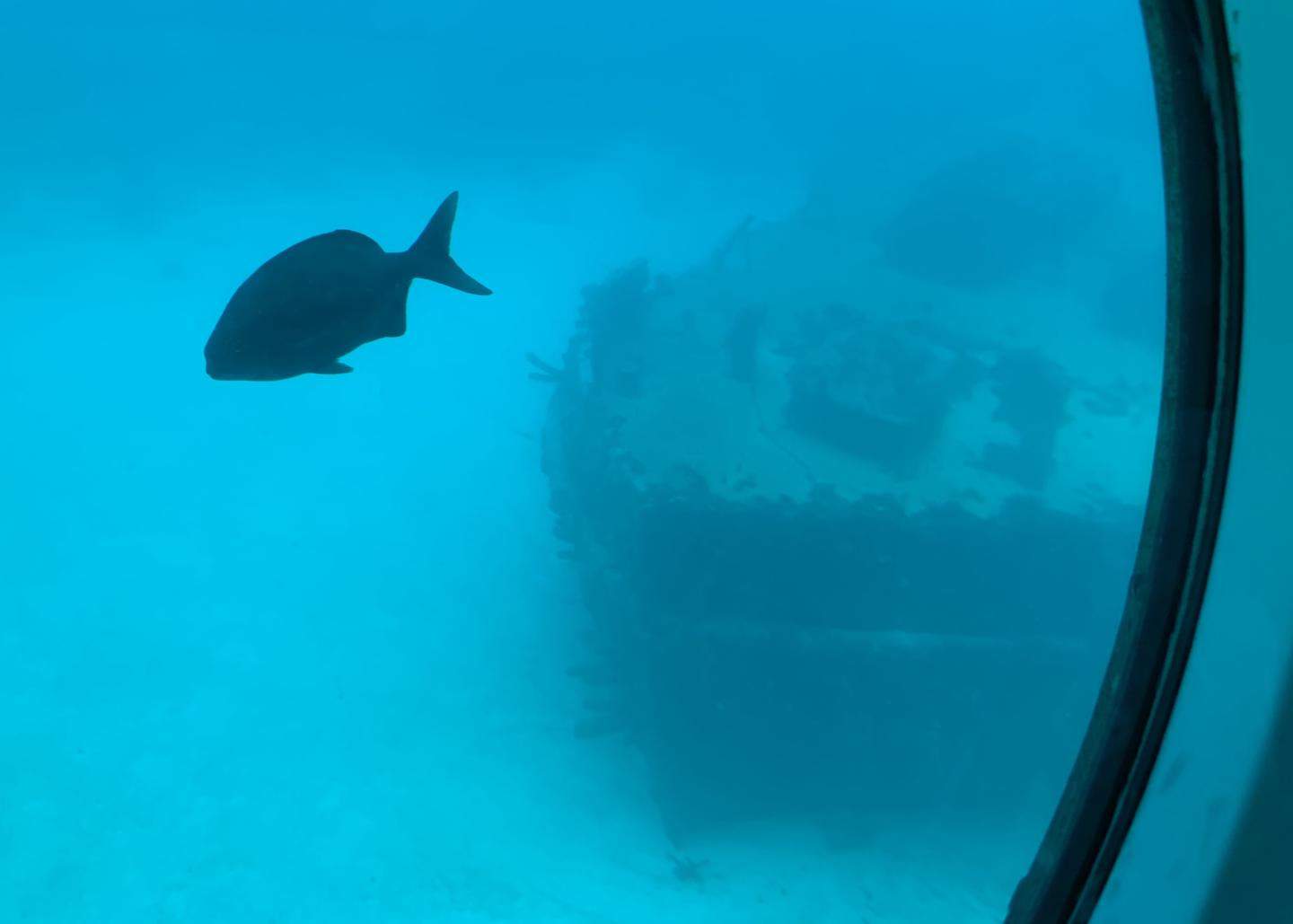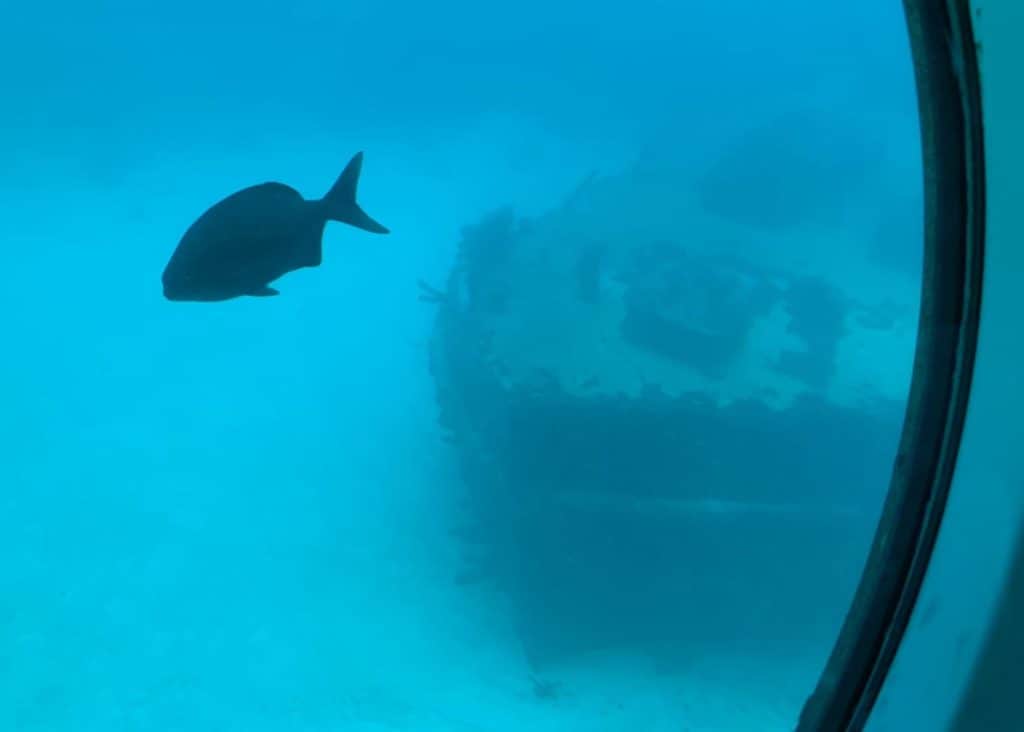 We didn't see a great variety of fish on our tour but they were plentiful. It is common to see rays and turtles in the waters around Barbados. The best way to show you the marine life we saw is in this video.
There were plenty of marine facts to entertain all ages during the dive ranging from the colour changing qualities of reflected white light below the surface, to sand being mostly made from fish poo. The crew were excellent entertainers as well as doing a great job of putting everyone at ease.
Read more about our Eastern Caribbean cruise.
Handy things to know about the Atlantis Submarine Adventure in Barbados
If you are planning on booking the Atlantis Submarine Adventure with kids, and even if you are booking it for a party of adults like we did, here's some things I think it's useful for you to know:
Children have to be four-years-old and at least three foot tall to go on this excursion
Wear flat shoes as this will make it easier for you to move around the catamaran and climb the ladder down into the submarine
Seating on the catamaran is in the shade
There's a toilet on the catamaran but not on the submarine
When you get onto the submarine you are not able to walk around. But don't worry, everyone gets a good view and the submarine turns around to give passengers on both sides a good look at the reef and ship wreak
The submarine doesn't feel stuffy but there isn't a lot space to move around. If you are claustrophobic then this is not the tour for you
Apart from when you dive for the first time and the sub tilts downwards, you feel very little motion. Sick bags are provided should you feel queasy

There are fish guides on the walls near the portholes to help you identify any marine life you do see.
Of course, like all good Caribbean tours, there's a rum or fruit punch to refresh you on the catamaran ride back to land. And if you like to pick up momentos from your adventures you get a certificate showing the depth of your dive before being returned to the cruise terminal.
If you'd like an easy beach day in Barbados we can recommend going to Carlisle Bay.
When can you book the submarine experience?
The day tour runs up six times a day from 9am depending on demand. There's also a submarine night tour after 5pm.
The tour is two and a half hours long in total, giving you the rest of the day to explore Bridgetown, relax on the beach or your cruise ship.
Atlantis Submarine Barbados prices
Tickets for our Atlantis Submarine tour in Barbados cost £64 for adults and £34 for children when booked through P&O Cruises in December 2019. This included transport from the port.
Booking direct with Atlantis Submarines Barbados at the same time cost $112 for adults and $59 for children, plus $10 per person if you want to be picked up from a hotel or the port.
Read about more of our excursions in the Caribbean:
Are you looking for easy excursions to do from cruise ships in Barbados? Why not save this Atlantis Submarine Barbados review for future reference.