You're heard of Barcelona, right? Who hasn't? But have you heard about its coastal region? In this post I'm going to share some of the reasons why you should step outside the city and visit Costa Barcelona with kids.
Barcelona is one of my favourite European cities. I've been lucky to visit four times including once with my family. Seeing Barcelona with kids was magic. But I am ashamed to say it's only recently that I've ventured just outside the Catalonian capital to explore the countryside, coast and culture.
The opportunity came up thanks to a press trip with Britmums and the Barcelona tourist office.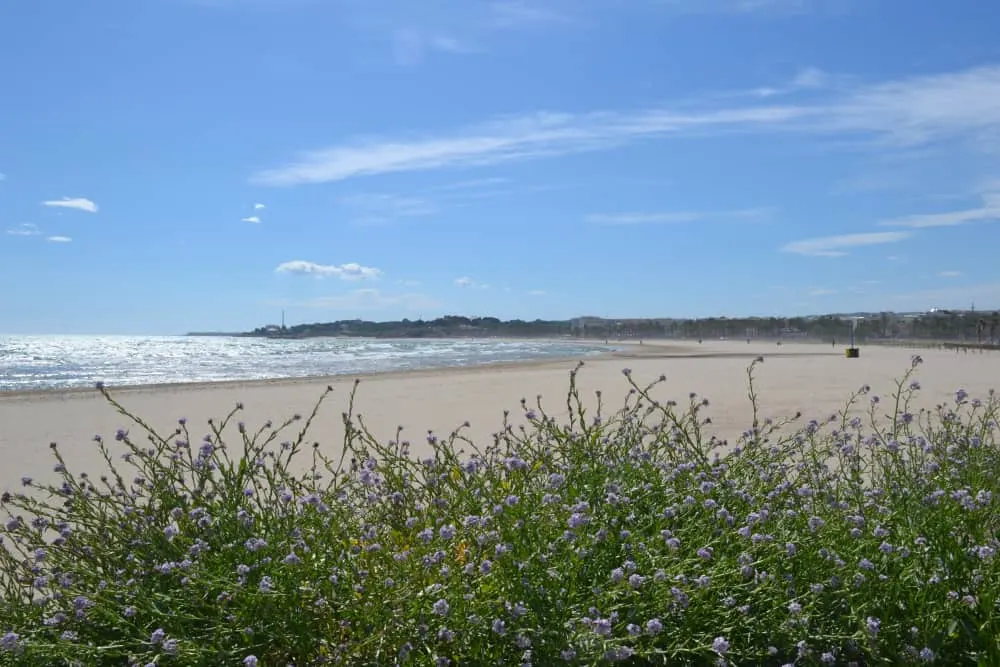 Over four days we experienced the very best of Costa Barcelona from our beach front base.
This region in the shadow of the jagged silhouette of Montserrat and packed full of characterful towns that embrace shores of the Mediterranean, was the setting for cultural experiences that I'll remember for a lifetime. I'm already itching to return with my girls.
Here's a video summing up the trip:
Discover Costa Barcelona with kids
Here are seven things you must do in Costa Barcelona with children:
Contents - jump to what you'd like to know
1. See a human tower
On our first night in Costa Barcelona we were treated to a cultural experience like nothing I've seen before. Castells – or human towers – are a festival activity unique to Catalunya. Dozens or hundreds of people are involved in forming and supporting the tower as it grows up to ten storeys.
The phenomenon was first seen in North East Spain in the 18th Century and is thought to have its roots in farming.
Today it is an activity promoting team work, effort and the spirit of achievement. 50,000 castles are raised each year by 'collas' or community teams with members of all ages, sizes and abilities.
We saw children as young as four donning helmets and scaling their team mates to the summit before slithering back down the tower like it was a piece of play equipment. It really was an astonishing sight.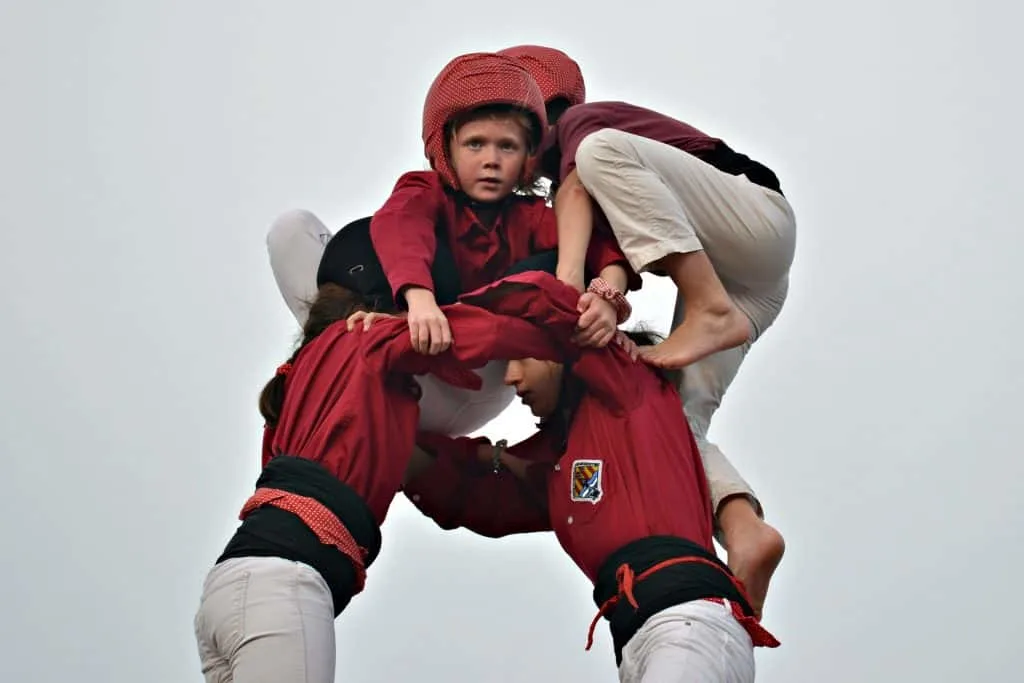 If you visit Costa Barcelona you can take part in a Castellers workshop to learn the history and skills behind this unique cultural experience.
You can also see Castells being raised all year round in Catalunya.
2. Take a wine tour with a difference
A vineyard or wine tour may not seem like an obvious choice of activity when on holiday with children. But after seeing how they are done in Costa Barcelona I can thoroughly recommend this activity for families.
We visited Llopart Cava in the Penedès region of Costa Barcelona where the vines have grown in sight of Montserrat since 1385.
It is Catalunya's second oldest vineyard out of 765 in the region and a must visit destination if you enjoy your Spainish wines. 1887 was a particularly good year for the Llopart family as this was when they produced the first ever Cava.
As well as touring the modern cellars and rustic country house where that glorious first glass of Cava would have been poured you can experience the vineyard in several different ways.
Book a helicopter or hot air balloon ride to see the landscape from the air or take a mule and carriage ride up into the estate.
As as large group we took the carriage ride. This was very special, transporting us into the heart of the vineyard where we supped on exquisite rose bubbles overlooking the mountains.
Children will love the ride and there's plenty of room for them to explore when you reach your refreshments in the fields. Catalunya's vineyards are open 365 days a year and are Spain's top destination for wine lovers.
After your tour at Llopart Cava I can recommend walking a short distance to the Mirador de les Caves restaurant.
This is a family-friendly eatery with toys and baby changing facilities. The main dining room has views of Montserrat or you can sit out on the terrace.
3. Try your hand at water sports
Costa Barcelona has 100km of coastline lined with powdery sand and secluded coves. A great way to explore this beautiful Mediterranean frontage is on the water.
We visited the seaside town of Vilanova i la Geltrú, 46km from Barcelona and the region's third largest port. Here we braved unseasonably choppy waters for a spot of boating, kayaking and stand up paddle boarding with RocRoi.
Children must be eight-years-old and over to participate.
4. Hire a bike or take a cycle tour in Costa Barcelona
Cycling offers an active way to see the countryside surrounding Barcelona.
From challenging mountain bike trails to family and group cycles, there are a wide variety of routes for all interests and abilities.
We took part in a 10km ride along the coast of the Maresme region, passing family campsites, resort fronts, the beautiful Calella lighthouse and inviting beach bars until we reached our destination of Santa Susanna.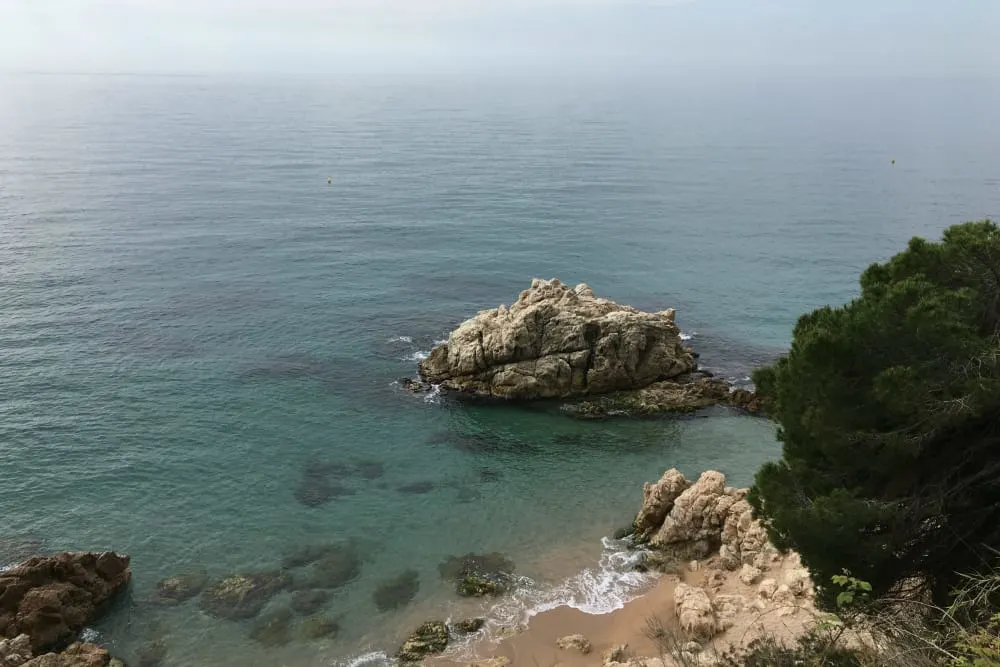 Here we stopped for a long and delicious lunch at Camping Bon Repos which offers touring pitches and small sea front chalets.
The campsite also acts as a base for cycling in the area with bike hire available on site and from the Santa Susanna mountain bike centre near by.
The centre is open from February to November to help tourists discover Catalunya's 100km of marked cycling routes.
My girls are both into their wheels – Tot her bike and Baby her scooter – so I know they would have enjoyed the seafront cycle route we took from Roca Grossa to Santa Susanna. And if they did get tired there's a train running along the same route to save their legs.
5. Get revved up at the track
Another activity that wouldn't have ordinarily made it on to my holiday itinerary – although it would feature in Mr Tin Box's plans – was a tour of Circuit de Barcelona. The home of the Spanish F1 Grand Prix and the Catalan MotoGP Grand Prix is an awesome sight and just 32km from the city.
There are 14 spectator stands holding 65,000 seats.
On race days up to 500 journalists will be milling around the press room while drivers and motorcyclists roar around the 16 turns of the 4.6km track.
Visitors can experience track days, Ferrari driving, guided tours and BiCircuit bicycle events, as well as testing their skills at go karting, simulators and 4×4 driving.
We had a tour of Circuit de Barcelona starting in the briefing room before heading out onto the podium where we could see F1 test drivers putting cars through their paces following the Spanish Grand Prix a few days before.
After quite a lot of excitement as cars screamed into the pit lane we were taken to the race control room from where each event is monitored using a bank of monitors hooked up to 360 degree cameras positioned all around the circuit.
Next we walked to the other side of the track and into the VIP grand stand. This was where we got the very best views of the cars and their capabilities on the seemingly impossible turns.
A day at Circuit de Barcelona is a must for motorsport fans and would be particularly popular with teens.
6. Indulge in some Catalonian cuisine
If you love Mediterranean food then you'll love Catalonian cuisine. During my four day whistle-stop tour of Costa Barcelona I was fuelled by long Spanish lunches in some awesome locations.
We visited a hill top eatery overlooking Monserrat, a campsite on the beach at Santa Susanna and a bar nestled in a vintage shopping village in Sant Cugat, each serving flavoursome dish after dish.
That's not to mention three enormous dinners at our beach front Costa Barcelona accommodation, AC Hotel Gava Mar.
If your kids love meat, potatoes, rice, fish and desserts then you can't go far wrong here. Just make sure you pack your big pants!
7. Immerse yourself in Costa Barcelona's culture
From modernism to medieval tradition there are so many sights of cultural and historical significance to see in Costa Barcelona with kids.
We took a tour of the 9th Century Royal Monestary of Sant Cugat and its church which was built between the 12th and 14th Century. It's the region's most significant monastery and boasts a picture perfect cloister which now houses a museum about the Benedictine abbey.
Entrance is free.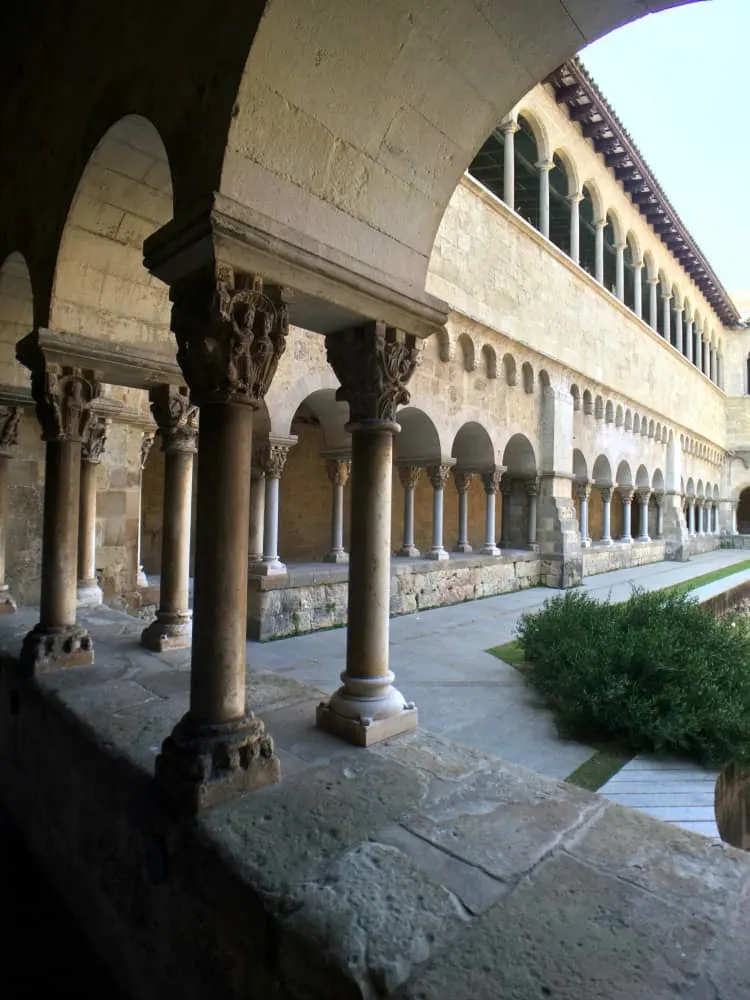 If you are visiting with older children and teens I can recommend a tour of the church including scaling the bell tower for views of Sant Cugat.
The climb is not suitable for small children with narrow stair wells and low barriers at the top. Check the Monestery's website for tour details.
Finally, if you love everything vintage then a browse around Mercantic vintage shopping village will keep you occupied for hours. Small dealers in antiques and curiosities line a huge indoor market and pastel painted shops outside.
I'd also suggest stepping inside El Siglo – the largest second-hand library of its kind in Spain where you can find 150,000 new and used volumes on topics from politics to children's literature.
Take a seat and lose yourself in a book or buy a well loved copy of your favourite novel; in Spanish of course!
Have you visited Costa Barcelona with kids? What activities would you recommend in the region? Or what takes your fancy from my list?
Disclosure: I was invited on a press trip to experience Costa Barcelona for the purposes of writing about my highlights on the blog. My meals, activities and accommodation were complimentary. All opinions are my own.
Pin for later