Essential guide to camping with kids
Camping holidays have never been more popular. Having started camping when I was in nappies and continued this type of vacation with my own children, I totally get it! The freedom, fresh air and amazing locations you can pitch up make camping with kids a brilliant holiday choice.
*This post contains affiliate links*
Whether you are an old hand, a complete beginner or are thinking of changing up your camping set up this guide is for you.
As a family we have camped in a tent, enjoyed caravanning with our kids and moved onto camper van life. We have also done our fair share of glamping breaks and European mobile home holidays.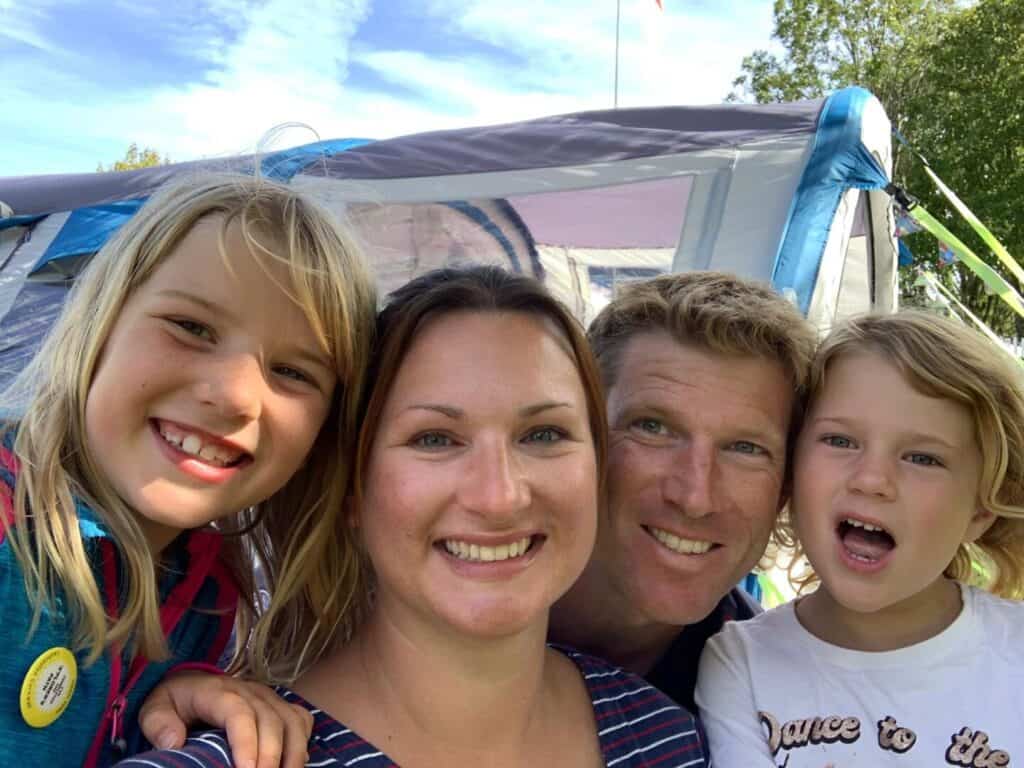 So, what will you find in this guide to camping with kids?
As well as sharing my top tips, there's family camping checklists, ideas for food to take camping and our favourite family campsites and holiday parks.
I've also shared links to my guides on buying a camper van or caravan if you want to move from canvas to something more solid. And if glamping is more your style I've got you covered too!
Hacks for camping with kids
If you are new to camping and even if you're not, that first trip of the season needs some forward planning.
Here's some of our top tips for camping with kids:
make sure you seal or reseal your tent each season
buy a tent with blackout bedrooms to maximise your chances of sleep
practice pitching it at home – you can check you have all the pegs and poles
pack your tent last – it will mean it's easy to get out the car when you arrive at your campsite
don't forget torches and spare batteries
bring a potty and avoid nighttime dashes to the toilet block if you don't have your own porta-potti.
Find more things to help you smash camping with kids in my full camping tips post.
Family camping checklist
Whether you are planning your first family camping trip or want some printable lists to make sure you pack the essential equipment and groceries, you need to make sure you pack:
Essential equipment like your tent, pegs, camping furniture, a stove and water containers
Sleeping bags and air beds or sleeping mats
Outdoor clothing for the whole family
A box of groceries
Things to entertain the kids.
Check out my full family camping checklist or download these printable versions here:
Family camping food
Dining while camping doesn't have to be all about bangers and beans – although sometimes the old menus are the best!
Camping breakfasts
Our main camping breakfast is cereals and milk when we are away for a week or more. But on the odd occasion we like to treat ourselves to a cooked breakfast including sausages, bacon, eggs and beans. Sometimes a bacon butty.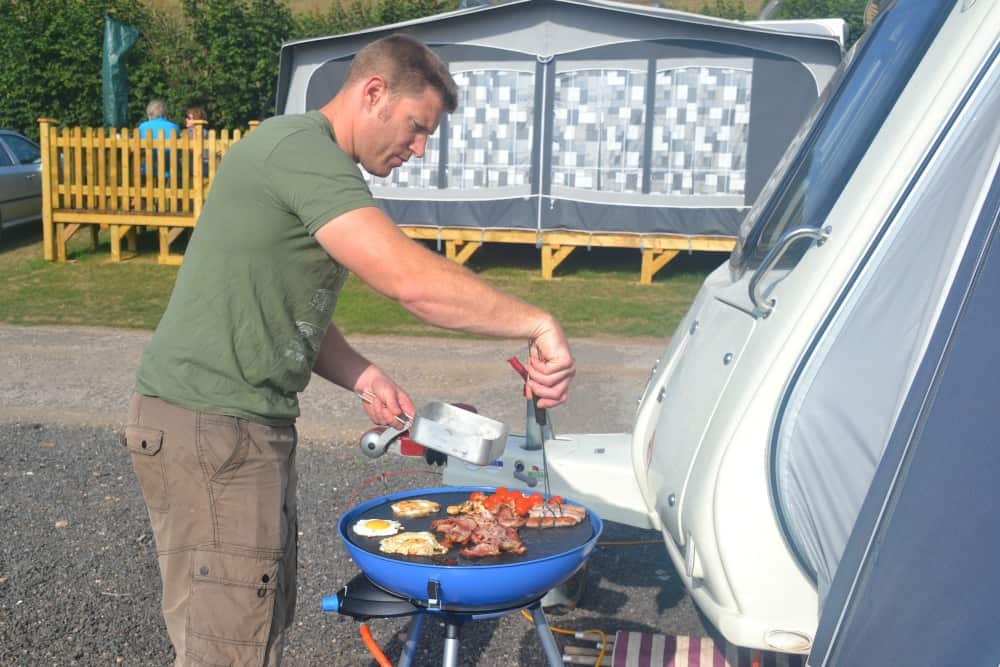 Camping lunches
We often have picnic lunches with sandwiches, wraps, fruit and vegetable sticks and yogurts. If we are at the campsite at lunchtime we might make pasta and salad.
Camping dinner
Barbecues are our go-to evening camping meal. If you have young children like us we find that hot dogs, burgers and chicken skewers are always a hit at dinner time.
We add colourful accompaniments to our BBQ plate like corn on the cob, salads, roasted vegetables and flavoured rice.
However, when we are away for more than a few nights we mix things up with other meals that can be easily done on a two ring camping stove.
Here's our easy camping meal list:
mince or vegetable chilli and rice
chicken or vegetable curry and rice
cheesy chicken and broccoli pasta
prawn stir fry with noodles
chicken fajitas.
Here's a full family camping meal plan to ensure you're prepared for every aspect of cooking al fresco.
What we use to cook while camping
As I've already mentioned, we either cook on a camping stove or barbecue. Our strove is donkeys years old! The same model isn't on sale now but there are similar ones available from Campingaz*.
If you are looking for a compact and portable barbecue that is ideal for camping and caravanning then take a look at our review of the Campingaz Party Grill.
Sleeping bags for camping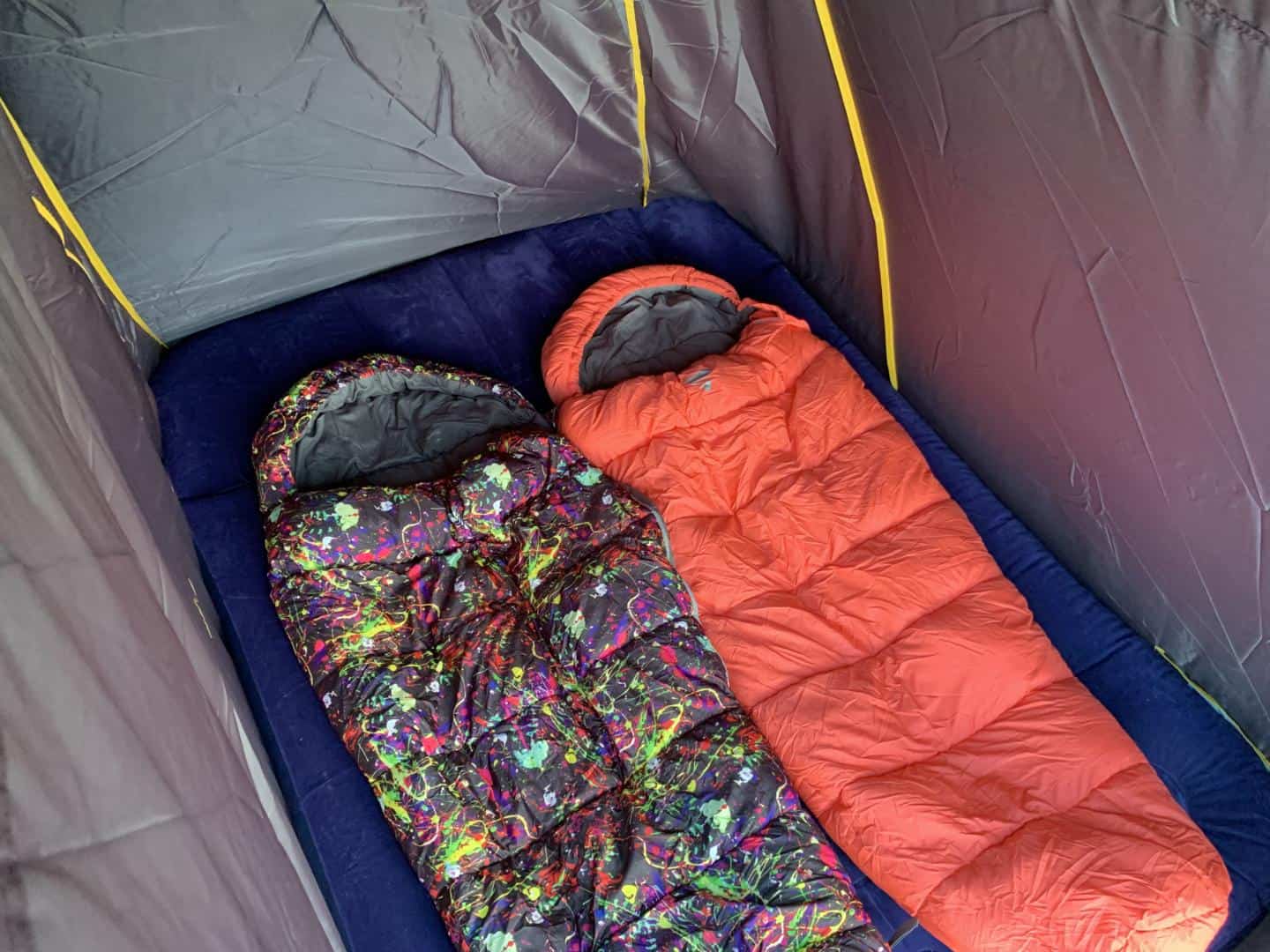 Don't leave home without a sleeping bag! However, I know some people prefer to use a duvet and put a blanket over their inflatable mattress or sleeping mat.
Whichever you think is going to work best for you, check how much space they take up in your car before you set off. Sleeping bags and kit can be as bulky as your tent!
Camping sleeping bags for kids
Our kids started off in Gro sleeping bags* for babies and toddlers with a blanket over the top if it was colder.
Now they are in child-sized sleeping bags and both have a Vango Kanto Junior. These are great because they come with a hood and they tapper slightly towards the bottom to keep their toes snug.
Sleeping bags for camping
We have a double sleeping bag that we use the we are camping in a tent or our camper van. It saves space. But we prefer a duvet and sheets in a caravan when there's plenty of room to store it.
Camping games
Now that our girls are past the baby and toddler phase we're much more focused on the fun things we can do together while camping.
These camping games for families can provide hours of fun in all weathers.
Best camping destinations for families
Here's some of the family-friendly campsites we've been to in the UK, including campsites with swimming pools, hot tubs, clubhouses and glamping:
You might also like my guides to: glamping in Devon | self-catering accommodation in Cornwall | holiday parks in Cornwall | touring campsites in Cornwall
Tips for booking campsites
You may be wondering if there's any difference between booking a campsite direct or through a website like Pitchup or Cool Camping.
Here are the benefits of both options:
Benefits of booking campsites direct
You have direct contact with the owner
All your pitch fee goes to the owner
You'll be able to see up to date offers and availability
Benefits of booking through a camping website
It's easy to search for availability by location and type of campsite
You can compare campsite prices.
Joining a camping club
We can also recommend joining the Camping and Caravanning Club for discounted access to more than 2,000 family-friendly campsites around the UK.
You don't have to be a member to stay at all of their sites. But you will get a favourable rate and other benefits, such as discounts from camping businesses and family attractions.
You can also book camping and caravan rallies when you are a member.
Caravanning with kids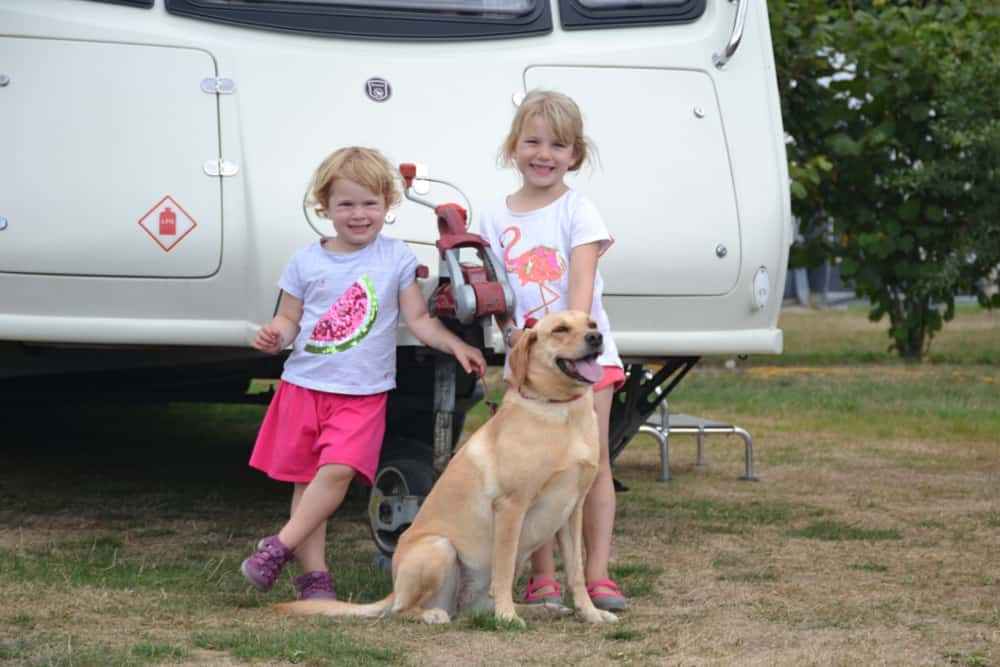 If you decide to upgrade your tent, a caravan or camper van might be an option. We have owned both.
Here's our take on the camper van vs caravan argument.
If you choose a caravan take a look at my guide to caravanning with kids for loads of tips on picking the right family caravan, what to pack
Camper van holidays with kids
We joined the van life family in 2019 after making the tough decision to sell our caravan.
It's got the same brilliant feel of touring holidays but is a lot closer to camping, so would be a good stepping stone for anyone thinking of upgrading their tent.
Here's some posts about camper vans and van life with kids that you might find helpful:
Glamping with kids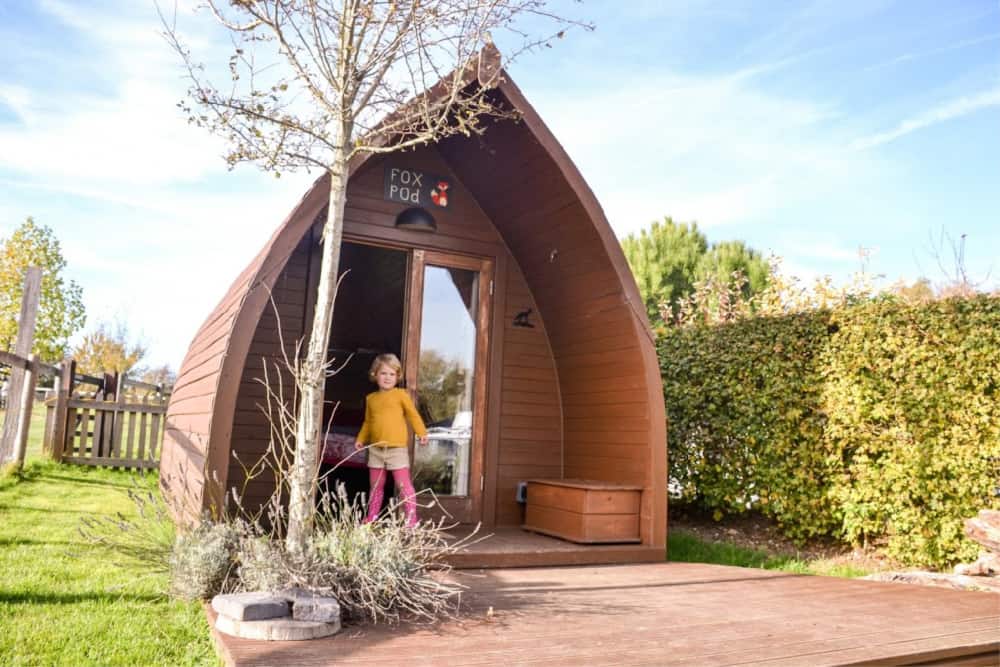 We love luxury camping! Here's my guide to glamping with kids including some of our favourites family glamping sites, what to pack and tips for making the most of your break.
Mobile home holidays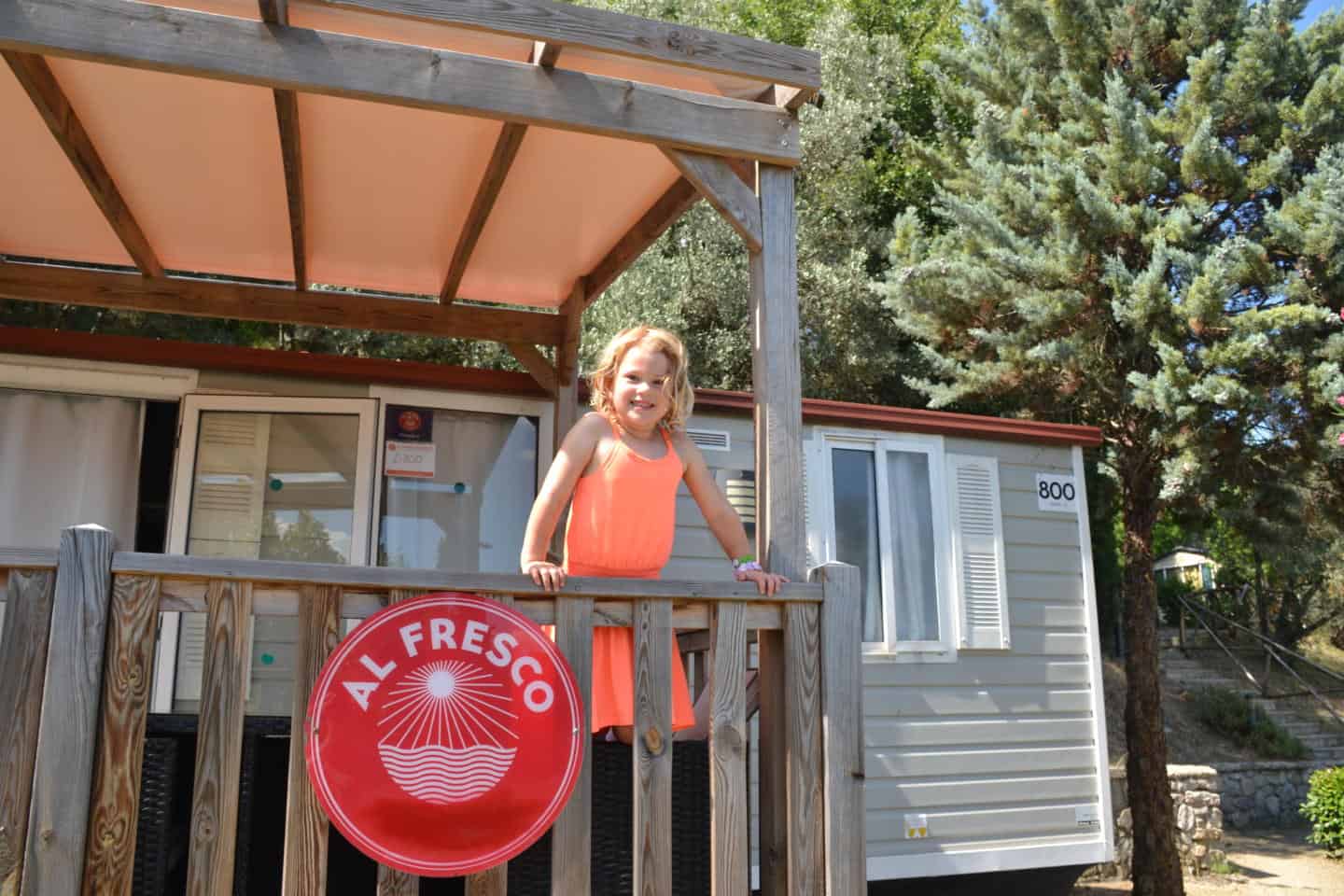 If you love all the facilities of campsites and holiday parks but want to hassle free 'camping' option then a booking a mobile home is the way forward.
We have done mobile home holidays in the UK and Europe, and find they come with different facilities and equipment. It's always best to check what's included when you book. But here's a rough guide to what you might need to pack for a mobile home holiday.
How to be more eco-friendly on holiday
Camping holidays are synonymous with slower and greener living. If you want to know how to reduce your environmental impact on holiday I have lots of tips for having a planet friendly trip.
Disclosure: this post contains affiliate links marked with *. If you click on one of these and make a purchase I may earn some commission. This does not affect the price you pay.
Are you planning on going camping with your kids? Why not use Pinterest to save this family camping guide.