California Cross campsite review
I'm a big believer in the idea that you don't need to travel far to have great break. And with so much up in the air about international travel this summer I was feeling quite smug that we'd booked our first school holiday getaway at California Cross campsite, 30 minutes from home.
*Advertisement feature*
Of course, half an hour down the road for us could be several hours for other families. So why should you consider booking this particular site?
This is where I'm very happy to share some of our local Devon expertise.
About California Cross
If you love beautiful countryside, pretty seaside towns and stunning beaches then California Cross Camping and Caravanning Club site is for you.
And if you do want to visit Devon's two cities, Plymouth and Exeter, they are both less than an hour away. That's not to mention having a huge number of South Devon family attractions and Dartmoor National Park on your doorstep.
The site itself is small with low key facilities and well kept grounds. The shower blocks are a bit dated, but clean. The team looking after the site are welcoming.
There was a family-friendly feel about the place when we stayed at the end of July.
Our girls loved making friends at the small playground where they hung out a lot. And the traffic movement around the site was low, so we felt happy to let them explore on their own.
Pitches
You can book grass, hard standing and electric pitches at California Cross campsite. There are also two safari style Ready Camp tents if you don't have your own tent, camper or caravan.
Pitches are on slopes of varying gradients. Most are gentle but bring your levelling blocks!
When we visited at the end of July 2021 pitches were allocated in advance. Ours was the closest to the shower block. This seemed like a win with two kids and no onboard bathroom.
However, the Air Fury hand dryer in the ladies toilet interrupted the peace quite frequently. We also got an eyeful of other campers' car headlights when they dropped passengers off at the block for late night wees after days out.
This is a grumble unique to our particular pitch. So, if you prefer a quieter spot ask to be put away from the shower block, particularly if you are staying in a tent or have anyone sleeping in your awning.
Some pitches have countryside views but most are sheltered by trees and hedges. This helps cut down road noise (of which there's really very little).
Facilities on site and locally
The large shower block comes with a laundry, dishwashing sinks, an accessible shower room with baby bath, and a baby changing room.
These were all cleaned for an hour and a half each the morning. We noticed them get an extra clean one evening as well. There's no getting away from the fact the facilities are dated. But the showers are tap operated rather than push button, so you can get the temperature just right for you.
If you are have a motorhome there's a service point at the bottom of the site. For other campers there are water points at convenient intervals around the pitches.
There are small spaces around the site to play games and a play park with swing and slide.
We'd packed a couple of nights food in our box fridge, so needed to top up during our stay. Handily there's a Spar selling groceries, including local produce, at the petrol station just outside the site.
Right opposite this there's the California Cross Inn, which is an independent pub serving food to eat in and takeaway. Here's where to find the menu.
A little further down the road is Aune Valley Farm Shop at Loddiswell. We love their meat produce and have it delivered at home. They also have a cafe with an amazing valley view.
A bit further away you'll find local shops at Modbury and Ivybridge, and a large Tesco supermarket in Kingsbridge.
Are dogs allowed?
Yes, this is a dog-friendly site. They must be kept on a lead and exercised off the site. This part is a little awkward because there are no footpaths along the roads around California Cross.
We'd recommend taking longer walks on the South West Coast Path or at one of the dog-friendly beaches close by. Mill Bay, Salcombe North Sands, South Milton Sands, Hope Cove harbour and Slapton Sands are dog-friendly all year round.
Here's some more information about South Devon beaches.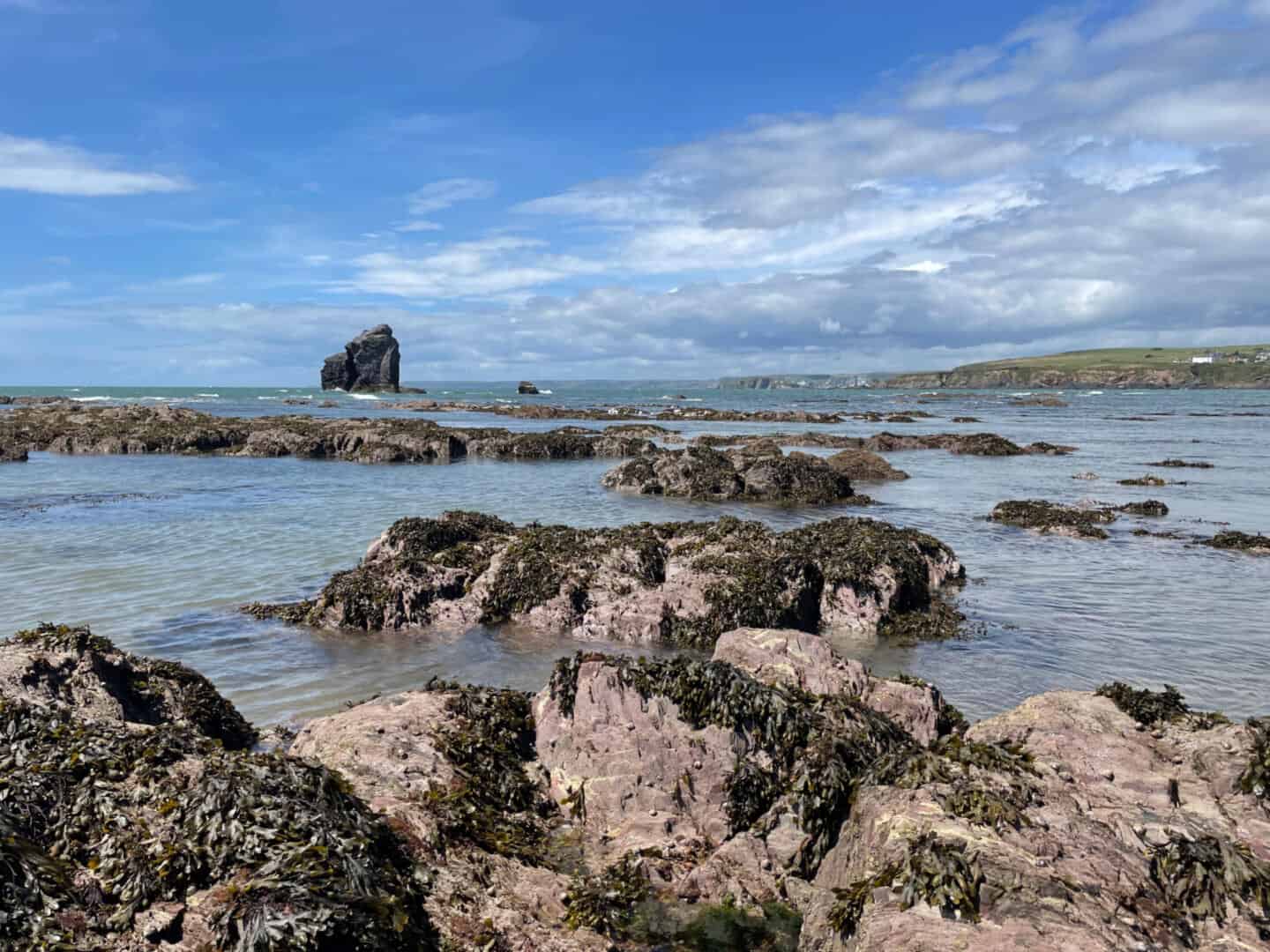 Here's where to find a list of dog-friendly Devon attractions.
Handy things to know
Free Club Wifi is available onsite. We didn't use this as we had a good 4G signal but we know that coverage varied across the site
If you're bringing a TV with you the signal isn't guaranteed. Maybe load a tablet with some films instead
You can use gas or charcoal barbecues on this campsite but fire pits and the burning of wood is not allowed.
Where is California Cross campsite?
The most direct route if you are driving in to Devon is from the A38 Devon Expressway.
Be aware that the lanes are narrow as you approach the site so take it easy if you are towing or driving a motorhome. You may need to dive into a passing place.
Things to do close by
We had a day relaxing on site after Storm Evert blew through and decided to hit one of the local beaches the next day.
South Milton Sands with its impressive view of Thurlestone Rock is a favourite of ours. There's a large National Trust car park, a choice of two sea front cafes, and a toilet block.
At high tide there's often a bit of surf for body boarding and at low tide a calm lagoon forms behind a bank of rocks which are ideal for rock pooling.
This beach is dog-friendly all year round. Be aware that the roads between California Cross campsite and South Milton Sands are narrow with passing places. Your Sat Nav might not take the most convenient route, so have a quick look at a map.
As well as the places to visit I've mentioned above, we can recommend Woodlands Family Theme Park, a day out in the pretty riverside towns of Dartmouth or Salcombe, and a trip back across the A38 to visit Dartmoor where you'll find walks, waterfalls and some lovely family days out.
If you are visiting Devon with young children then Pennywell Farm is a very popular toddler day out close to California Cross. And if you have any steam train fans in your family there are two close by: Dartmouth Steam Railway and South Devon Railway.
If you are visiting without a dog then there are some more amazing beaches a short drive away. One of our favourites is Blackpool Sands at Stoke Fleming. You can hire kayaks and paddle boards here, and there's a great cafe.
California Cross campsite review 
We had a great three nights staying at California Cross. It's a quiet site (despite the hand dryer), was a hit with our girls and sits in the perfect location for enjoying South Devon.
Juts be aware of those narrow Devon roads – there's no getting away from them!
You could easily fill two weeks exploring the area and still have plenty to come back and see. As locals who have lived in the area for nearly six years, we're still discovering new places!
For all my camping packing lists, tips and recommended sites take a look at my big guide to camping with kids.
Disclosure: we were invited to stay at California Cross Camping and Caravanning Club Site in exchange for a review on the blog. All opinions and images are my own.
Looking for campsites in South Devon? Why not save this California Cross campsite review for later.