10 places to visit in Jersey, Channel Islands
Having recently completed a Channel Island family holiday we wanted to share our tried and tested places to visit in Jersey. We explored the capital, attractions, beaches and view points and have put together our recommended itinerary for exploring Jersey with kids.
It's such a breathtaking place and is firmly among our favourite UK islands to visit.
We managed to see a lot during our week long holiday while keeping everything slow-paced and leaving plenty of reasons to return.
Getting to Jersey and the Channel Islands
Jersey called for a bit more planning than our usual UK holidays with a bit of sea time thrown in for fun.
Whether you're travelling with a camper van like us or not, there are a few options for travelling to Jersey from the UK:
Ferry to Jersey
We took our VW transporter on the ferry from Poole in Dorset to St Helier in May 2022.
My seven-year-old's face was a little green during the crossing – I lost count of the number of times we needed to visit the bathroom to hover by a loo (luckily the queasy feeling came to nothing).
But when we heard that there were people on the boat who'd dashed to the port after their flights were cancelled, we felt super happy with our transport choice.
Of course, it would have been a little difficult to visit Jersey with a camper van if we'd booked flights too.
There's two crossing options from the UK to Jersey:
Condor Voyager from Poole that takes four hours
Commodore Clipper, from Portsmouth that takes 10 hours and 20 minutes.
The latter is the cheaper option but if you have set holiday dates you lose time on the island. This is why we opted for the crossing from Poole.
Check crossings and prices:
Fly to Jersey
You can also fly to Jersey direct from London and 10 other regional UK airports.
Tip: search for plane tickets in a private browser to avoid seeing the prices going up artificially.
Where we stayed in Jersey
We took our camper van to Jersey and booked our campsite just before our ferry crossing. It's a good idea to do both at the same time as there's a limited amount of accommodation and crossings to the island.
We chose Camping Rozel – a family-friendly site 20 minutes from St Helier. There's an outdoor swimming pool, playground, games room, crazy golf and good amenity blocks.
The closest harbour village and beach is Rozel, which is a 15 minute down hill walk on a road. Just be aware, like many rural roads in Jersey, there's no pavements.
Read our full review of Rozel Camping Park.
Places to visit in Jersey with kids
We like to mix up our holiday activies with some that are special treats and others that are cheap or even free.
From beach days to family attractions and historic places, here's where we visited during our seven night holiday in Jersey:
Portlet Bay Beach
We visited beautiful Portlet Bay after a recommendation from a family also staying on our campsite. It's on the South West corner of Jersey.
Visit when the tide is low and there's plenty rock pools and powdery white sand for making castles.
There's also a beach front cafe serving takeaway pizzas and a walk across a sandbar to Portlet Tower on Ile au Guerdian.
This Napoleonic round tower was built on the spot where a Jersey sea captain was buried after falling victim to the plague off shore. The authorities wouldn't let his body be brought on land, fearful the disease would spread.
So this is his final resting place. I suspect he'd have approved.
Access to the beach is via a steep footpath with steps. Treat yourselves to a cold drink and ice cream from the Portlet Inn at the top of the cliffs when you climbed back up.
Jersey Zoo
What a great zoo! I'm not sure I expected much for a wildlife park on a tiny island but Jersey Zoo punches well above its weight.
The enclosures are set within a beautiful 32 acre park and make you feel like you're in among the animals.
Highlights for us were seeing the orangatan talk, walking through the butterfly house and witnessing a fair amount of politics in the flamingo lake. They'd give my girls a run for their money when they're feeling a bit tetchy!
I'd definitely recommend adding this to your places to visit in Jersey if you have animal-loving kids or if you're a fan of The Dunnells on ITV.
Find Jersey Zoo:
Check opening hours and ticket prices on the Jersey Zoo website.
Anne Port
On the way back from the zoo we decided find an ice cream. We passed through Anne Port on the East side of the island and couldn't resist a stop.
This small port has a tidal beach with parking on the slipway and a few spaces on the road. It was beautiful but we didn't spot an ice cream shop so we continued to somewhere else that had been recommended to us…
Archirondel Beach
Our target for ice creams was the Driftwood Cafe on Archirondel Beach. It's known on the island for its seafood, Thai cuisine and pretty amazing selection of desserts.
We ended up skipping the ice cream and ordering chips and cake while enjoying a view across the rock pools.
There's not a lot of parking at the beach, so arrive early or late in the day for the best chance to grab a spot.
Find Archirondel Beach:
Jersey War Tunnels
Mr Tin Box and I visited Jersey War Tunnels during our first, child-free trip to the island. It was the type of place we'd not take the kids then, when they were pre-school age. But we thought we'd give it a go now they were nine and seven.
We spent an hour and a half exploring the tunnels. There's a circular route that takes you along a timeline of the war from the rise of the Nazis to the decision to allow them to occupy the Channel Islands and their eventual Liberation.
This is an interesting place to visit with children who have studied the Second World War in school as it gives them insight into what it was like to live in an occupied part of the UK.
Life was not rosey for the people who decided to stay with one German soldier to every four islanders, a culture of suspicion and food in short supply. That's not to mention that 22 of the 5,000 workers who built the tunnels died in the process.
There videos, recreations of wartime scenes and a few interactive displays.
A few more things worth mentioning:
Younger children might be unsettled by the noises and special effects in the unfinished tunnels.
The tunnels are accessible with a pushchair or wheelchair.
The toilets are in the building with the shop and cafe outside the tunnels.
It's also worth saying that for a 1.5hour experience, the tunnels are not cheap to visit. We also spent just as much on lunch in the cafe afterwards as we did on our tickets. So I'd only recommend adding this to your places to visit in Jersey if you have a keen interest in history.
Find Jersey War Tunnels:
Find out more about opening times and prices for visiting Jersey War Tunnels.
Wander St Helier and Jersey Central Market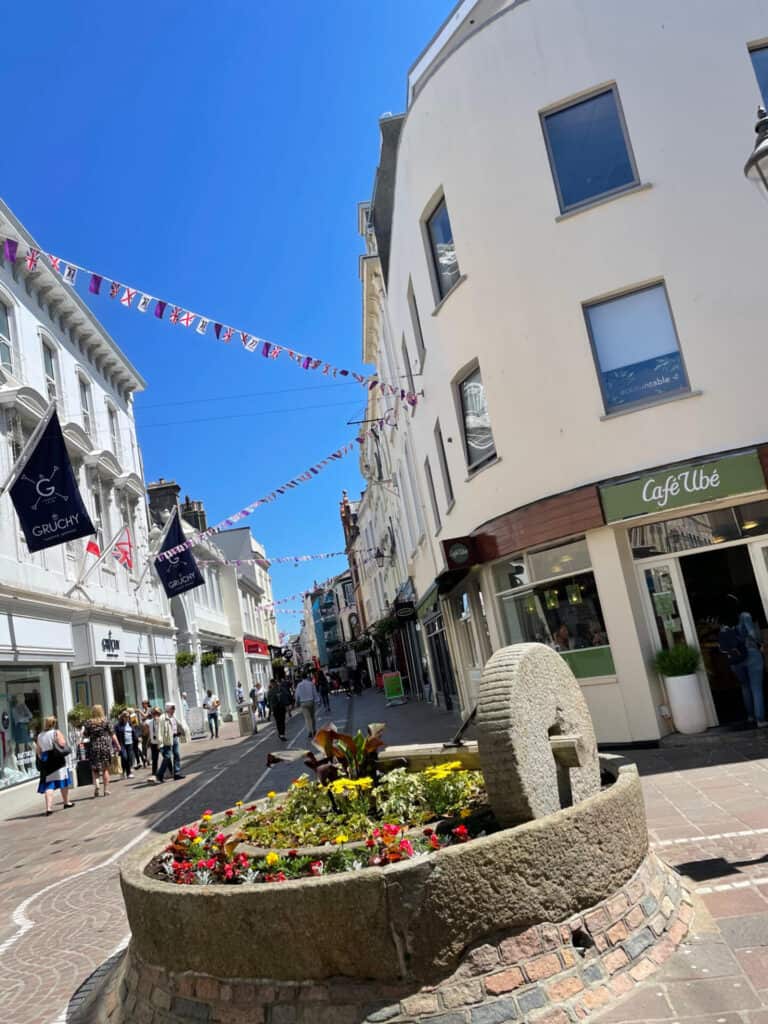 After visiting the tunnels we decided to have a wander around the capital St Helier. It has a lovely continental feel about it, as does much of Jersey with its French street names and sunny climate.
We had no particular plan and stumbled upon Jersey Central Market, which is a top spot to pick up local produce. We bought barbecue meat and fresh veg as well as a couple of jars of incredible Jersey jam.
There's also plenty of other shops, cafes and restaurants in the capital, which is easy to explore on foot. During our wander, our previous long weekend in Jersey without the girls came flooding back. St Helier is an ideal destination for a city break.
Here's where to find Jersey Central Market:
Plémont Beach
This stunning beach is on the North West tip of Jersey and was another tip from locals staying on our campsite. It was so useful pitching next to them as this ended up being one of our favourite places to visit in Jersey.
Apparently Plémont Beach very popular in Victorian times when tourists came for the caves, swimming direct from the beach steps and picking the samphire that grows here.
The caves, rock pools and turquoise waters remain a huge draw today.
We arrived two and a half hours after high tide and the water was just starting to retreat from the steps to reveal a golden shoreline.
The sheltered bay was ideal for paddle boarding and the shallow slope of the beach meant the water wasn't too nippy, even at the start of June.
On the cliffs above, Plémont Beach Cafe serves large hot and cold meals to eat over looking the bay or takeaway to eat on the sand.
This is where you'll also find the beach toilets.
It's important to be aware that the beach is tidal. It would be easy to get struck on a rock or in a cave if you don't keep an eye on the rising tide.
There's limited parking on the road approaching the cafe and a larger, free car park at the top of the cliff. If you've got a large vehicle stick to the top car park.
Plémont Bay puffins
After our day at the beach we wondered back up to the headland to find these love birds overlooking the bay.
The willow and wire mesh puffins were unveiled in 2022 to highlight the plight of this species.
Hundreds of puffins used to flock to Jersey but predators eating their eggs and people disturbing their nests has reduced their numbers to just four breeding pairs on the Island.
We didn't spot these beautiful birds during our visit. And I'm actually quite glad. I hope they were busy quietly billing (that's 'puffin' for nuzzling).
Where to find the giant puffins:
Rozel Bay
On our final day on Jersey we decided to stay close to our campsite and visit the nearest village, picturesque Rozel. It's a small port with boats neatly moored behind the harbour wall and large brightly coloured beach huts along the front.
The beach was mostly stoney with a slither of sand at the top when we visited.
We popped into Rozel Pub for a light lunch. There's also the Hungry Man takeaway cafe on the harbour.
We walked to Rozel from our campsite but there is parking along the harbour and slipway, as well as a small car park set back from the front.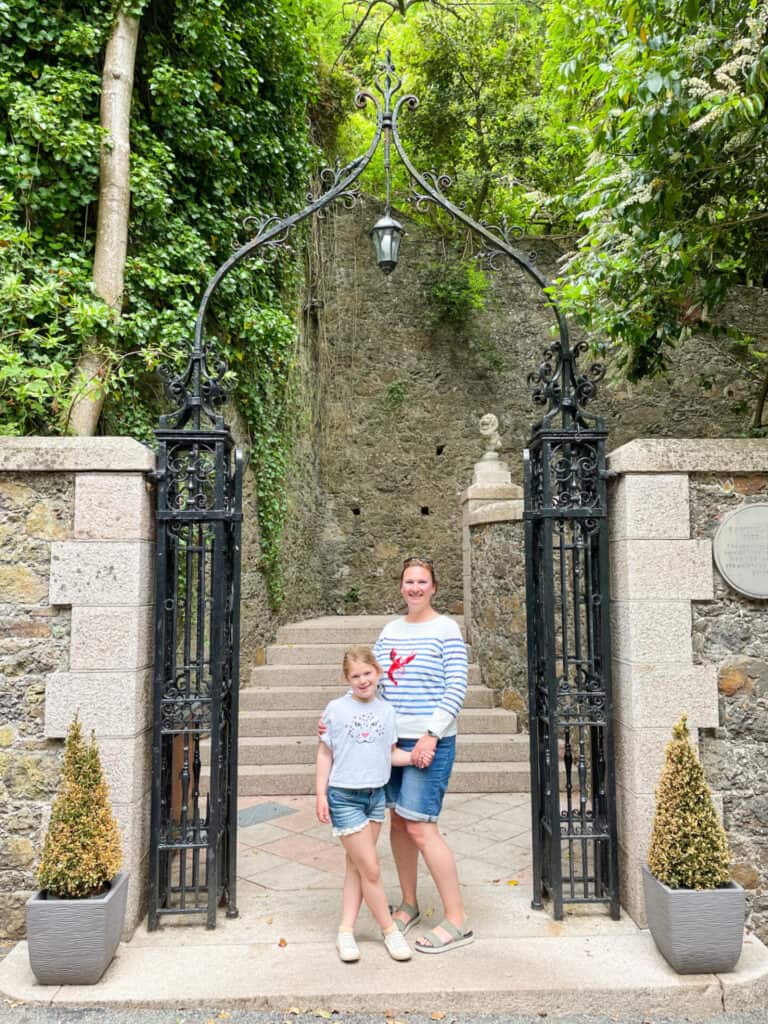 More things to do in Jersey
So that's my round up of the places we visited during our Jersey family holiday. If you'd like to find more ideas take a look at my guide to our previous weekend in Jersey. And if you've got your own camper find lout more about visiting Jersey with a van.
If you enjoyed this post you might also like these destination guides: