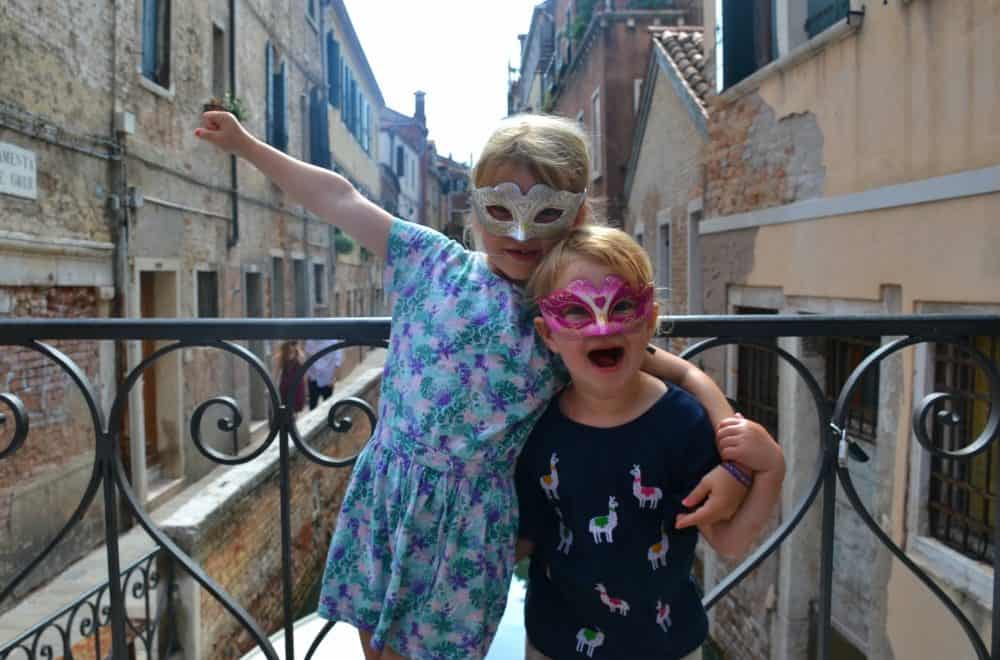 A day trip from Lake Garda to Venice with kids
At the very top of our Italian holiday bucket list the summer was a day trip from Lake Garda to Venice. We knew it was going to be a long day and that there would be difficult moments with a five and three-year-old in one of the world's most famous cities. But it was too good an opportunity to miss. So what can you expect when visiting Venice with kids, particularly young ones, and how achievable is it to do Venice in a day from Lake Garda? Here's how we did it:
Getting from Lake Garda to Venice
We were on a press trip with my mum and dad at Camping Eden at Felice del Benco on the south west of Lake Garda. We had a hire car and after considering catching a train we decided it might work out easier to drive.
The cost was no different and it gave us more flexibility to come and go as we pleased. Plus the Tickets & Tours agent at our campsite reception had a deal for parking on the mainland and taking the ferry to Venice.
We drove from Lake Garda to Terminal Fusina – a ferry port sign posted from the A57. It was reasonably easy to find and there are signs for 'Venezia + Boat' from a few miles out.
The toll charge on the A4 from Densanzo del Garda to Venice was €10.90 each way and I estimated that the fuel cost €30 for the return trip. While Google Maps says the trip takes just under two hours, it took us more like two and a half tours each way.
An alternative way to get from Lake Garda to Venice would have been to drive to our closest train station at Densanzo del Garda (30 minutes away), park and get the train and ferry to Venice.
The ferry from Terminal Fusina
When you reach Terminal Fuscina there's a large grass car park. We showed our booking print out to the office and were given a parking ticket for our car. Our booking print out was also our ticket for the passenger ferry.
This was a 10 minute walk from the car park (with little people). There are toilets at the car park if you need to pop in before your onward journey.
The ferry was running hourly when we visited in August. I'd advise getting to the car park at least 20 minutes beforehand so that you have time to get your ticket, go to the loo and walk to the pontoon.

The boat takes 30 minutes to cross the lagoon. It really was an exciting way to arrive in Venice. Our visit was just before the Venice Film Festival and there were a couple of gigantic super yachts being manoeuvred around by tugs outside the rather industrial looking port.
And then, a bit further towards the entrance of the Grand Canal you start to see the beauty of Venice which makes it so iconic.
We were dropped off at Ferry Terminal Zattere opposite Chiesa di Santa Maria del Rosario.
Venice with kids: what to see in seven hours
Tin Box Grandma and Grandpa had visited Venice on two other occasions, most recently by cruise ship. So we let them be our guides for the first half of the day.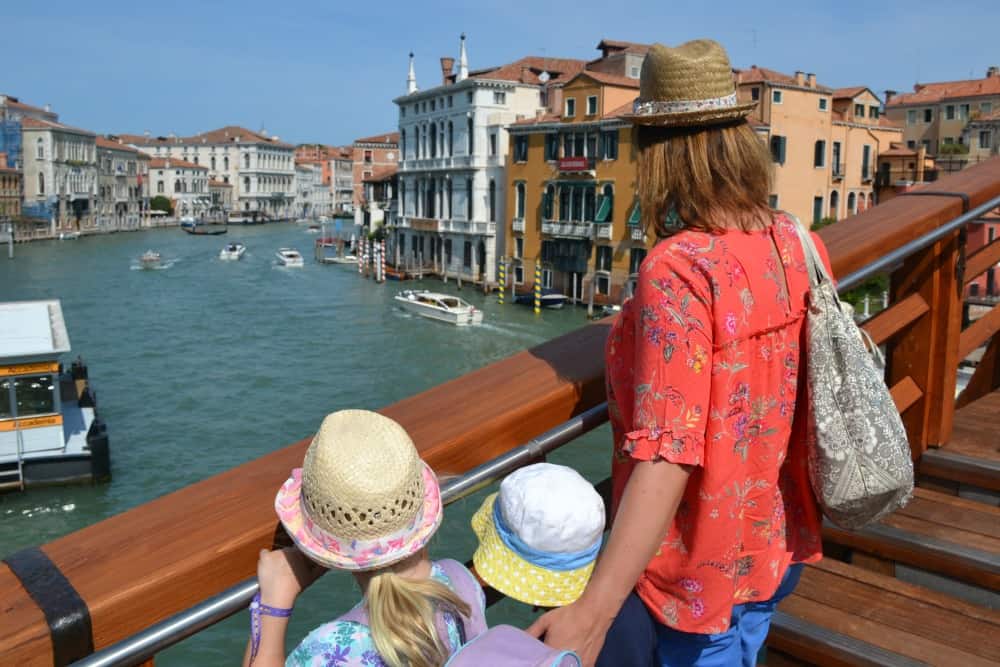 We started off walking from the ferry terminal to Ponte dell'Accademia where we got our first real glimpse of the Venice you see in films.
The bridge in its current form is a relatively new wood and metal construction. The Tin Box grandparents remember this being a ferry crossing during their first visit to Venice 40 years ago. In fact you can now walk most of Venice without the need for a ferry unless you want to visit the islands of Guidecca or Murano.
We did a lot of walking during our seven hours in Venice and the girls did really well with regular bribes of sweets, gelato and cheap Venetian masks!
St Mark's Square
Once we'd passed the bridge there was some more winding through Venice's maze of narrow streets and tiny crossings over the waterways. We passed shop windows full of murano glass and surprisingly reasonably priced clothes before reaching St Mark's Square.
We had intended to stop here for a picnic, but signs around the entrances to the square informed us that no food was to be eaten here. I really should find time to research more before our trips!
In fact we found it hard to find anywhere to sit down in Venice apart from at cafes and restaurants. That's one money saving trick scrubbed off my tips for exploring Venice with kids!
St Marks Square is an incredible space and reminded me that the Italians sure know how to build a bell tower! We arrived here not long after midday. There was plenty of room to mill around and let the kids have a bit of freedom.
If it hadn't been for the fact they (and I) were ravenous we would have lingered longer to appreciate the scene.
We exited the square towards the Grand Canal and found a bench half hidden behind a street vendors' stall. This is where we snaffled our sandwiches.
You'll also find the Royal Gardens on this part of the Grand Canal. These are meant to be a good place to get away from the crowds but they were closed when we visited in August 2018.
Bridge of Sighs
Back on the tourist trail we decided to walk back past St Mark's Square to see the Bridge of Sighs (Ponte dei Sospiri).
The summer heat was beginning to feel uncomfortable now so Grandma took an irritable Tot off to stand in some shade.
Meanwhile Grandpa, Baby and I fought for a spot on the Pontoon Della Paglia overlooking the Ponte dei Sospiri. This is where convicted criminals crossed over on their way to prison after sentencing at Palazzo Ducale.
Baby was fast beginning to enjoy seeing gondolas passing by and gave a little wave to the tourists' hands poking out of the ornate stonework on the Bridge of Sighs above.
Rialto Bridge
From the Bridge of Sighs and the entrance to the Grand Canal we tracked back across St Mark's Square towards Rialto Bridge. This took us about 30 minutes including a stop for gelato which was swiftly followed by a sweet shop to keep the flagging girls motivated. I know – super bad parenting skills!
Without pit stops and deviations it is possible to walk the same distance in less than 10 minutes.
Watching gondolas passing under the 16th century Bridge was almost surreal. It's incredibly pretty and, like anywhere pretty in Venice, is packed with tourists.
Keep an eye on young children here as it would be easy for them to be swept away in the flow of people.
The Rialto is Venice's oldest bridge over the Grand Canal and there has been a crossing here since the 12th Century.
While we stood in the middle the stone arch a couple were having their wedding photos on the San Marco side – what an incredible backdrop. But what a job for that photographer to try to edit out all the selfie stick wielding tourists!
Vaporetto on the Grand Canal
I did love seeing the Rialto Bridge and no trip to Venice would be complete without this experience. But the thought of taking a boat ride down the Grand Canal with a cool-ish breeze was very inviting.
On the San Marco side of the Bridge there's a Vaporetto terminal, Rialto C, where you can buy tickets and board one of the frequent services. See my tips below on buying Vaporetto tickets.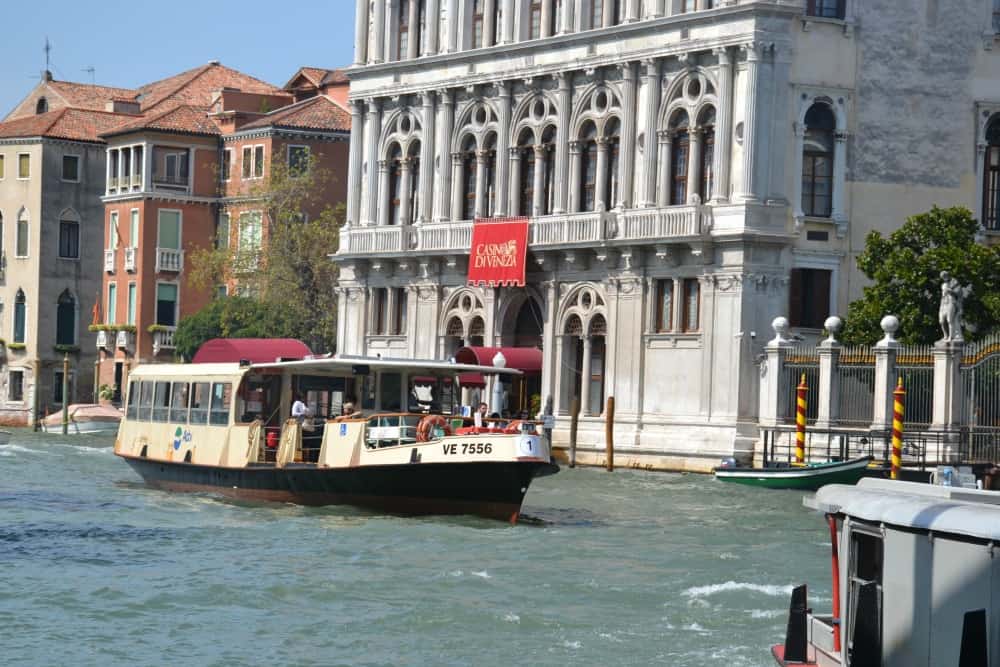 According to Tin Box Grandma and Grandpa the Vaporetto is not what it once was. It's more expensive and the boats are packed full of people.
We did manage to get seats for parts of our journey but when you are sitting down it's difficult to get a decent view out of the smeared windows. It wasn't quite what I'd hoped for but it got us to our next destination.
A child-friendly tour in Santa Croce
We got off the Vaporetto three stops up the Grand Canal at San Stae.
After seeking out a cafe for some drinks and down time, this is where we met Gaia from Macaco Tour.
You can read more about our child-friendly Venice tour in my review. But as an overview I know that this was our girls' favourite part of our trip to Venice. And if they were happy so were we!
For an hour they explored at their pace away from the crowds of the main tourist hot spots. Santa Croce is more of a residential area but there is still plenty of Venetian charm to it.
I'd highly recommend including a tour like this into your Venice itinerary if you are visiting with children between the ages of four and 11.
We ended our day with a ride on the Vaporatto all the way back up the Grand Canal from San Stae to Accademia. This was again crowded but we got a seat almost straight away. This gave us time to rest before the journey back to Lake Garda.
The Vaporetto is a brilliant service for getting to destinations along the Canal. But I wouldn't recommend it as a way to see the city.
Handy tips for visiting Venice with kids
I really should have done a bit more research about visiting Venice with kids before our trip. On the plus side I have plenty of first hand tips to share with you:
It costs to wee in Venice: €1.50 per person to be exact. However, we did meet one lovely toilet attendant who took pitty on me with to small children refused to take my money. To avoid any cost go to a cafe and order a drink which you'll probably need anyway.
If you are planning on using the Vaporetto more than once then it might be worth getting a day ticket for €20. If you fancy riding around for 75 minutes then this costs €7.50. Children under six-years-old ride free and over six-year-olds pay the full fare. Not all points on the water bus route have a ticket machine so if you are planning on a return trip after 75 minutes buy another ticket and don't validate it. Or get the app so you can purchase more tickets at any time. This is really easy to use and reminds you if your ticket is about to run out. You validate it by scanning your smartphone at the entrance to the pontoon.
You can't have a picnic easily – only in public parks. Take the hit and buy food at a cafe but shop around. We saw a two course meal advertised just off the Rivalto Bridge for €12 per person.
Bring snacks your kids can eat on the move but again be aware there are strict laws about picnicking, sitting down and littering in Venice. It's all to do with keeping Venice beautiful but it does add an extra level of complexity to a visit when you have children.
If you are visiting Venice with small children you'll want to pace yourselves, particularly during the peak tourist season. I've been told is pretty much all year round here! Ridiculously regular stops for drinks, gelato and other treats were the only way we got through the day.

If you bring a pushchair be prepared to carry it and your child over a lot of bridges.
Is a day trip to Venice with kids worth it?
YES! Don't think I'm about to deny how tough it was – seven hours of encouraging kids around a packed city sandwiched in-between six hours of driving was exhausting. But I'd not have wanted to miss this opportunity.
Plus the girls loved their chance to explore the 'floating city'. Tot keeps flicking through our magazine holder looking for pictures of Venice and is thrilled when she finds one. It really captured her imagination.
If I was going to spend a day in Venice again I'd plan to stay closer. Not so we could spend more than seven hours exploring in a day because I think that was plenty.
However, it would mean I could get to my glass of prosecco quicker at the end of the day! We spotted Camping Fusina right next to the ferry terminal. This might be a good budget option for families wishing to visit Venice.
More Italy with kids
We love Italy! I've also written about:
Family apartments on Lake Maggiore
A mobile home holiday on Lake Garda
Things to do in Florence with kids
Visiting Pompeii with kids (the way not to do it!)
Have you visited Venice with kids? I'd love to hear your experiences.
Disclosure: we were invited to stay at Camping Eden by Al Fresco Holidays and to review a tour with Macaco Tour. Otherwise we financed our own day trip to Venice.
Planning to visit Venice with kids? Or maybe you want to drive from Lake Garda to Venice like we did? Save this post for future reference!