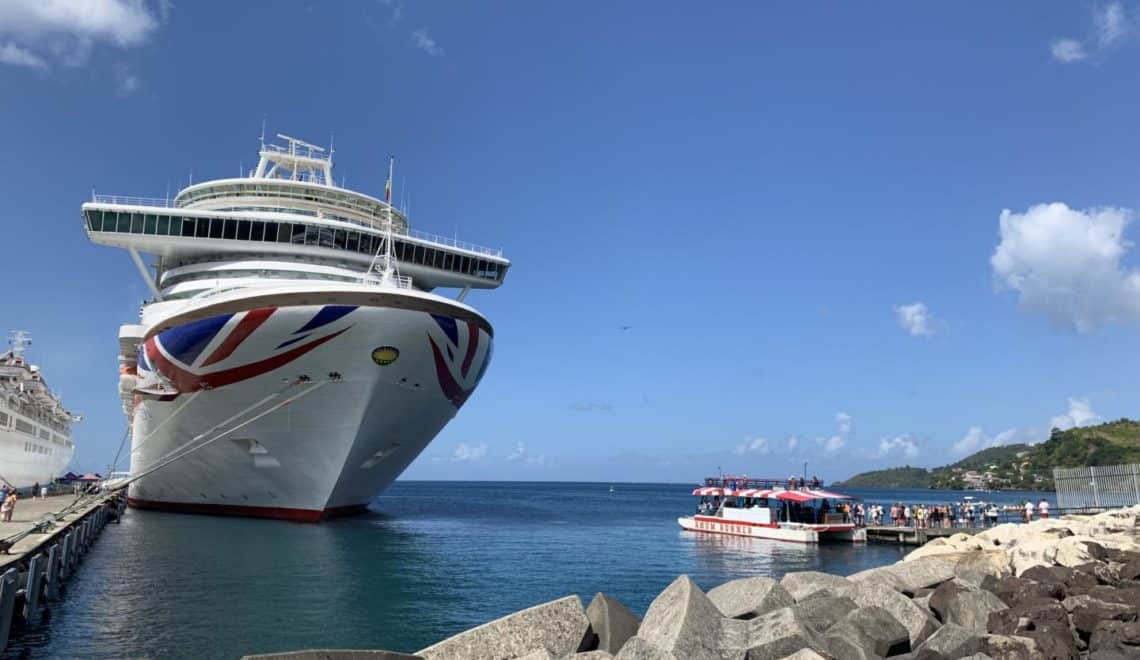 Top tips for planning a Caribbean family holiday
From the volcanic landscapes of St Lucia and St Vincent to the bustling Mediterranean style towns of Martinique, the Caribbean is rich with incredible sights and experiences. And while it is a destination that Mr Tin Box and I chose for our recent parents only getaway, I can imagine a Caribbean family holiday would be incredible too.
While we were on our Eastern Caribbean cruise with P&O for a luxurious break without the kids, I still had my mummy hat firmly in place. At every port and during every tour I was making notes about the things that would be great to do with our kids, as well as the information that I think is useful for families to know.
When we booked our P&O cruise I got in touch with the cruise line to ask if I could write a post for them about the Caribbean. They gave us some onboard credit in exchange for putting together this guide to Caribbean family holidays.
You can visit each of the islands separately, but I am glad we chose to cruise around as many as we could in two weeks. As first timers in the Caribbean, it gave us a brilliant overview and plenty of ideas about places we'd like to return.
We called in 10 islands during our 15 night Eastern Caribbean cruise, visited nine beaches, snorkelled in four locations, wandered around six port towns, and took five organised excursions. It was busy, incredible and, thankfully, broken up with four lazy sea days.
This post is packed full of our recommedations for family holidays in the Caribbean whether you are on a cruise or visiting one or two of the islands.
Read on to find out the best time to visit the Caribbean, places to visit in the Caribbean, things to do with kids, which Caribbean islands are best for families, and, essentially, what to pack.
What is the best time to visit the Caribbean?
The best time to visit the Caribbean is in the UK's winter. Specifically between December and April to avoid hurricane season; making for smoother seas and better weather to enjoy this stunning destination.
However, that doesn't mean there's no rain. We were in the Caribbean from the end of December until the second week of January and experienced short, light showers.
If you are in the sea or walking around then this is hardly anything to worry about. We found most clouds burnt off by the afternoon leaving the second half of the day to warm up to 29°C.
Make sure you pack light, cotton clothes for little ones and pack plenty of factor 50 sun cream. Between myself and Mr Tin Box we got through two bottles in two weeks. I would take four bottles if we had our two girls with us as well.
More handy things to know about the Caribbean
Caribbean currency
Buying your currency for a Caribbean family holiday is simple. The US dollar was accepted everywhere on our cruise itinerary. And it was only in Barbados that we were given the local currency (the Barbados dollar) as change.
In Grand Turk and Tortola the US Dollar is the main currency.
In all cruise terminal shops, bars and the surrounding towns you can expect to see prices shown in US dollars and Eastern Caribbean dollars. Taxi drivers will also quote fares in US dollars if you ask.
Local transport
You'll find taxis everywhere. Some islands also have bus services which are a lot cheaper, but don't expect these to run to a timetable. You will also find the buses are more like minibuses with no spaces to store folded pushchairs.
If you are travelling with young children, a baby/child carrier is the best way to get them around if they are unable to walk or likely to get tired.
Taxis are people carriers or small mini-buses and the driver will want a full vehicle before they drive away. Expect to wait for a few minutes once you have agreed your destination and fare.
We were warned that some vehicles may not have air con and the seats might be small. The latter was certainly true everywhere but we did get air con on the majority of our road trips.
We found the standard of the vehicles varied between islands with the most modern looking buses and taxis in the larger, more touristy destinations like Barbados, St Lucia and Martinique.
I was a bit nervous about using local taxis. Would we get ripped off and would they come back to pick us up? But I needn't have been worried. The drivers are thrilled to have your business and don't want to risk losing the return fare if you are heading to a beach.
My main tips would be: don't be afraid to ask for the price in US dollars; ask whether you will have to wait for a full taxi; arrange a time when they will collect you; and take their card or taxi number. It can be difficult to pick out your ride for the return trip when there is a sea of similar looking white vans lined up on the road.
Safety
P&O give plenty of advice in their Horizon newsletter and port guides about staying safe while on holiday.
All of it is common sense: be aware of your surroundings at all times; stick to the main districts and attractions unless you are exploring with a local guide; don't wander around with lots of valuables; and carry your camera, purse or wallet in a secure bag.
We felt very safe in every port we visited. The people were friendly, helpful and extremely pleased to see us.
Remember, on many Caribbean islands, tourism is the driver of the economy, so your enjoyment of the destination is the main priority for everyone you meet. We were told more than once 'take pictures, tell your friends about your holiday'. And we were more than happy to oblige.
View this post on Instagram
Vaccinations and visas for the Caribbean
We didn't need any vaccinations or visas for our travel in the Caribbean at the beginning of 2020. Always check with your holiday provider for the latest information, as this can change.
Things to do in the Caribbean
A Caribbean family holiday is all about launching yourself into the landscape, history and culture. And there are so many ways to do this across each of the island destinations.
Here's some of the family-friendly things to do in the Eastern Caribbean and where you can experience them with your kids.
Have a beach day
There are a huge variety of beaches to enjoy in the Eastern Caribbean from the golden sands of St Lucia to the courser, black volcanic sand of St Vincent, and the bustling bays of Barbados.
Whether you're looking for a resort with water sports or a secluded cove, there's something for everyone. Here's some of the best Caribbean beaches we visited:
Frigate Bay Beach, St Kitts
There are a few beach bars where you can hire sun loungers and umbrellas, although you can sit on any beach in St Kitts for free. You can pay to try water sports and have a go on an inflatable obstacle course.
Frigate Bay Beach is about 20 minutes from the cruise ship terminal by taxi and you'll get some brilliant views of neighbouring Nevis on the way.
Great Bay Beach, St Maarten
If you enjoy being in the thick of things then Great Bay Beach which runs along the front of the capital Philipsburg is an excellent place to hang out. It's the closest to the cruise terminal, so get there early if you want a sun bed.
We walked to the beach, which took about 10 minutes. Allow longer for walking with young kids or take the water taxi for $7 return. There's a small children's playground to the east of the beach and, to the less busy western end, plenty of reasonably priced bars and restaurants offering free WiFi.
Devil's Bay, Virgin Gorda
From The Baths car park you follow a rocky trail to the white sands of Devil's Bay. The sides of the path are lined with cacti and lush green bushes. The walk down to Devil's Bay takes about 10 minutes, which sounds reasonable but don't attempt it with a pushchair as the rocks would be difficult to get around.
When you get to the beach you'll find beautiful azure waters bordered by boulders that look like something out of a movie – they are enormous and almost artificial looking.
This beach is ideal for snorkelling with clear waters and a line of buoys protecting the swimming area. We saw lots of fish not far off this small beach. Be aware that there are no facilities or beach bar here. You'll find those back up at the car park. This makes the beach slightly quieter than its neighbour. See below.
Here's a post about more things to do in Virgin Gorda.
The Baths, Virgin Gorda
It's possible to walk between Devil's Bay Beach and The Baths in Virgin Gorda. Follow the signs for The Caves which are actually boulders with a path marked through them. Navigating the path involves climbing up and down steps and walking on slippy rocks. You also have to step in some water, so make sure you are wearing water shoes with good grip.
When you arrive at The Baths there's a beach bar and shop as well as showers and toilets. This beach is busier and isn't my favourite of the two beaches we visited in Virgin Gorda but, as signs everywhere remind you, this is still paradise.
The car park is a short up hill walk along similar paths as you use to access Devil's Bay. Of the two beaches, The Baths would be the easiest to visit with young children. Older kids will enjoy the challenge of walking through the caves.
Darkwood Beach, Antigua
If you want to get away from the busier beaches near the capital of St John then head to Darkwood Beach. It's about 25 minutes from St John, where our ship was berthed.
We hired an umbrella and two sun loungers in front of Darkwood Beach Bar for $20US. The bar has toilets, changing rooms and a shower (you pay extra for this). There's free wifi but this was struggling with the number of guests on the 40 or so beds. It's not essential to buy a sun bed and there's plenty of beach not attached to a bar or cafe.
Wander north on the beach and you'll find water sports hire and an inflatable assault course in the sea. Something to be aware of if you are visiting with young children is that the sand quickly shelves away with the rolling waves. They could soon be out of their depth.
The Boatyard, Barbados
If you want a resort-style experience with a snorkelling trip, sun beds and facilities thrown in then we highly recommend The Boatyard in Bridgetown. This is a vibrant and busy private beach on Carlisle Bay which also has plenty of free areas if you wander further south.
For $25US per adult and $20US per child you get access to this private club and it's facilities all day. If you're on a cruise ship they'll even get you back to the port. For kids, there's an ocean trampoline, slide and ice berg climbing wall.
Experience the Caribbean from the water
You can't come to the Caribbean without making at least one trip out onto the water. There are lots of excursions available to book locally or through your cruise line.
We booked kayaking in St Kitts, an exhilarating boat trip fro Tortola to swim on the glorious beaches of Virgin Gorda, and a powerboat and snorkelling trip to see the underwater sculpture park off Dragon Bay in Grenada.
Kids need to be at least eight-years-old for some activities like kayaking and riding two seater power boats. But other boat trips and visiting beaches to try snorkelling are great for children of all ages.
If you are on an organised excursion then safety equipment like life jackets and buoyancy aids will be provided.
Dive under
Something that we were super excited about trying in the Caribbean was snorkelling. We even bought ourselves full face masks and used them lots on this one trip.
I'd definitely recommend getting some of these masks for kids – they are a much better fit then anything you're given on an excursion and you don't have to worry about how clean the hire equipment is.
Getting close to the Caribbean's marine life was a massive highlight of our holiday, as was exploring the underwater sculpture park in Grenada with its eerie standing circles, whimsical figures on park benches and, of course, mermaids. Oh, and swimming close to graceful turtles and huge sting rays in Barbados was spectacular too.
As well as snorkelling, you can experience the underwater world of the Caribbean in a submarine. This activity is ideal for kids of all ages. We took a dive with Atlantis Submarines in Barbados. You board a catamaran in Bridgetown harbour and are taken out to meet the submarine which dives down to depths of 150ft.
Young children will need help climbing down the ladder into the submarine, which bobs around on the surface but glides smoothly underwater. The crew are expert at putting you at ease during the 45 minute underwater tour around the reef and a ship wreak.
Read more about our submarine tour in Barbados or check out the video below.
Take a tour on land
There are an extraordinary number of tours around the Caribbean islands ranging from a few hours to whole days.
We took an all day tour down the west coast of St Lucia and were treated to some of the island's very best views: the Pitons, the beautiful fishing towns of Anse la Raye and Canaries, and the more affluent destinations of Marigot Bay and Soufrière. Read about our St Lucia island tour.
You can zipline through the rainforest in Antigua, take a train ride in St Kitts, drive your own Jeep in St Lucia or visit the plantation houses of Barbados.
You can also wander through botanical gardens in St Lucia and St Vincent where it's common to spot humming birds in amongst the incredible flora.
If you are cruising in the Caribbean, some of these experiences are walkable from the ship, like the botanical gardens of St Vincent which are the oldest in the Western Hemisphere. Others you can arrange to visit by taking a taxi from the port or by booking a ship excursion which will always guarantee to get you back onboard in time.
A lot of organised tours will be tiring for young children and some will have minimum ages. The best excursions for young kids include organised beach days, boat trips and railways.
Active days out like river tubing in Grenada, horse back riding in Antigua and Segways in Grand Turk would be a hit with teens. There are some age and weight restrictions, so always check these before you book.
Explore downtown
We were able to walk ashore and easily find the downtown areas of most of the Caribbean ports we visited.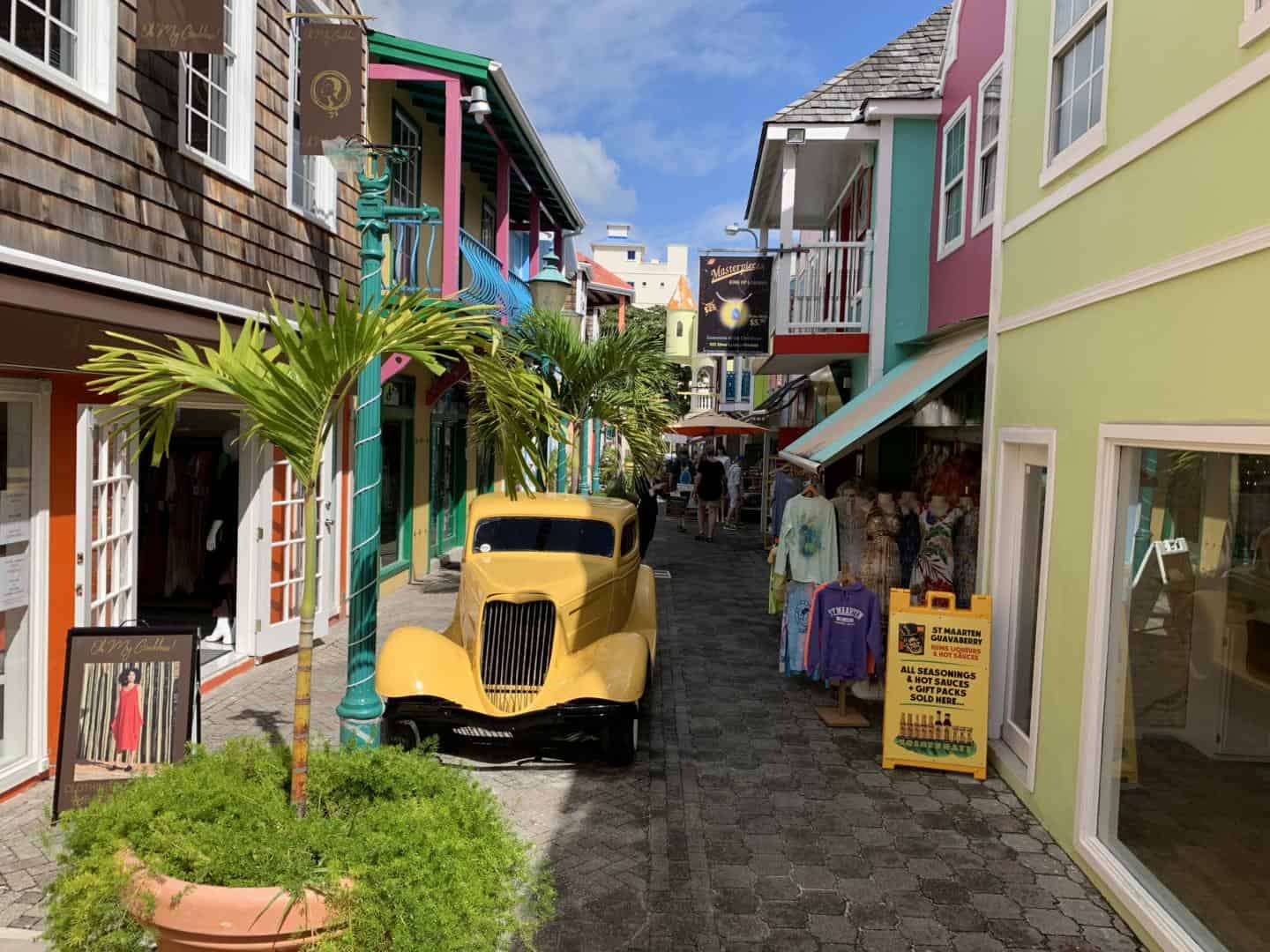 The ones that stood out as easily accessible for families with plenty of shops, small attractions and even beaches were Bridgetown in Barbados, Phillipsburg in St Maarten, Fort de France in Martinique, and Castries in St Lucia.
Which Caribbean island is best for families?
We enjoyed every one of the 10 islands we visited. Each had its own character and merits as a worthy destination during our two week P&O Caribbean cruise onboard Azura.
But let's narrow things down based on the activities, beaches, and finding cheap things to do. It's tough but here are my top five:
Barbados
Why Barbados? There are some awesome beaches within walking distance or a very short taxi ride of the cruise port and we loved the Atlantis Submarine experience which would be great to do with kids from the age of four upwards.
St Maarten
Why St Maarten? Downtown and the incredible beach are just a short walk from the cruise terminal and there are plenty of good shops to browse, including a pharmacy and supermarkets for kiddy essentials. If you want to see more of the island, take a boat trip from the harbour.
For the more adventurous there's a zip line and hillside tour above Philipsburg or you could head to the famous Maho beach to get up close to planes landing at Princess Juliana International Airport.
Martinique
Why Martinique? There's so much to see in the capital, Fort de France, without spending big bucks, even if this is known as an expensive port. You can even walk to downtown from your cruise ship in 10 minutes.
Wander the markets, browse the shops and mall, visit the urban beach, and meet the indigenous iguana that roam around the waterfront. There's also a wildlife park on the island and you can tour the military fort.
Antigua
Why Antigua? The 365 beaches alone warrants Antigua's place in our top five. How fun would it be to try to visit one or more a day if you were staying on the island?
Buckets and spades are a must, as are snorkel masks and a kayaking trips for older kids.
St Lucia
Why St Lucia? Taking a tour of the island brought home the amazing potential for educational excursions on this island.
Not only can you visit historic and modern day plantations, there's also film locations galore including the Diamond Waterfall at the botanical gardens in Soufrière which was a set for the 1980s movie Romancing the Stone. OK, your kids will probably remember Marigot Bay better in Pirates of the Caribbean.
What about Caribbean family resorts?
Of course, cruising is just one type of Caribbean family holiday. Staying in a resort is another brilliant option if ships don't float your boat.
Here's some Caribbean resorts that have been tried and tested by other travel blogging families:
What to pack for a Caribbean cruise
If you are wondering what to pack for two weeks in the Caribbean then take a look at my cruise packing list which can be adapted to any winter sun holiday in the region.
Whatever your holiday type, here's some essentials for a Caribbean holiday:
A hat
Sun glasses
Beach shoes
Reusable water bottles
A dry bag
A snorkel mask
Camera
Water camera, like a Go Pro
Passports
Insurance
Drivers licence, if you have booked a jeep or driving excursion
Itinerary and tickets

Local currency.
Here's the clothes I mixed, matched and washed during our 14 day cruise:
1 long cotton skirt
2 pairs of shorts
5 t-shirts/vests
2 short dresses – Fat Face is a favourite brand of mine
1 long dress
2 swimming costumes
1 beach shirt or dress
Flip flops
Sandals
View this post on Instagram
Planning a Caribbean family holiday: what else?
What else would you like to know about planning a Caribbean family holiday or Eastern Caribbean cruise? I arrived home with so many notes about our trip and have plenty more posts to come. Let me know if there's anything in particular that you'd like to know.
Find out more about Eastern Caribbean cruises with P&O.
Disclosure: P&O gave use some onboard credit. We paid for our cruise and the majority of the things we did during the two weeks. All opinions are my own.
If you are planning an Eastern Caribbean cruise or another type of Caribbean family holiday then save this post for later.