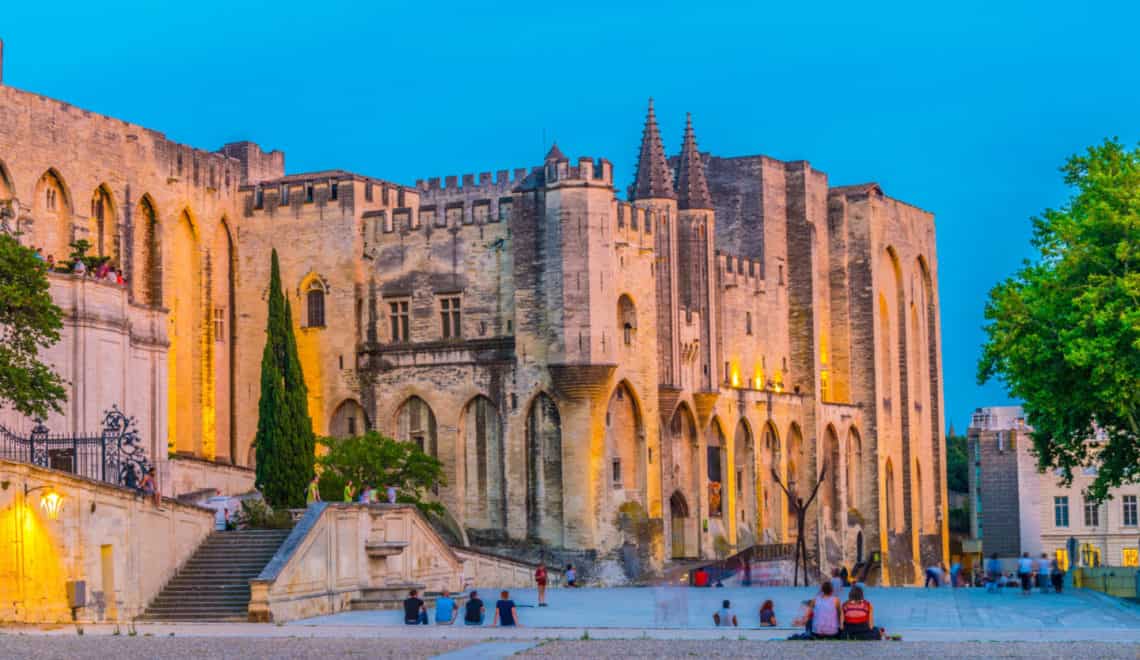 Hiring a campervan in France – a road trip itinerary with teens
As new campervan owners with just a few short trips under our belts, we can't wait for the next camping season to begin so we can really start our adventures. So when Lucy Shrimpton got in touch to say she was hiring a campervan in France and asked would I like to hear more about her trip with friends, I couldn't say no.
*Advertisement feature*
In a campervan hire convoy with friends, Lucy and her family road tested an Indie Campers holiday in Provence's Vaucluse area, discovering France's finest history, gastronomy, cycling and campsites en route. Here's her October half term itinerary, including plenty of things to do, tips and inspiration for anyone planning to do a similar campervan holiday in France.
Zut alors (as no one says in France, ever), if there's one thing I discovered on this family campervan holiday in France, it's that comfort zones aren't just for kids: whilst I prodded and poked my two teens to speak a little of the French they've learnt at school, I had to get to grips with a hired left-hand-drive campervan on the wrong side of the road. How do you say 'help' in French again?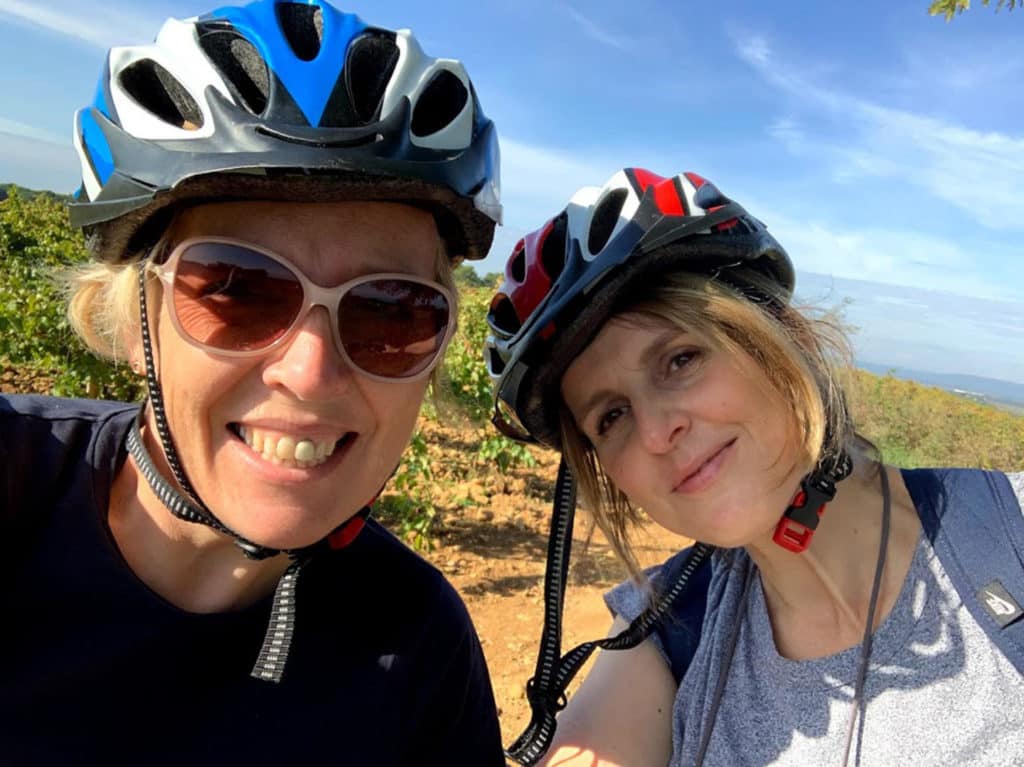 We – that's me and my best bud Rach, who also brings to the table her two teens and (luckily for me) a good decade of vanning experience ─ are on a four-day campervan adventure trundling around the département (county, if you like) of Vaucluse in the south of France, hoping to see for ourselves the type of iconic Provence images we've all seen in films, in coffee-table books and on postcards. On y va?
Indie Campers: the campervan and motorhome hire people
We hired from the cool campervan company Indie Campers, a booking system that's frankly as easy as un, deux, trois*. Here's how it works if you are hiring a campervan in France:
(1) Book a van and departure point on their website. (There's a good range of European destinations and a good range of vans too.)
(2) At the same time, book (independently of Indie) a corresponding flight to your chosen destination (we flew with EasyJet to Marseille).
(3) The nice people at Indie will pick you up from the airport and transport you to their nearby depot where you get a full and friendly 'how-to' demo, with instructions on all aspects from the driving to the emptying of poop and everything in between.
(*Actually, there is a quatre: you have to take the van back at the end of the holiday. Soz.)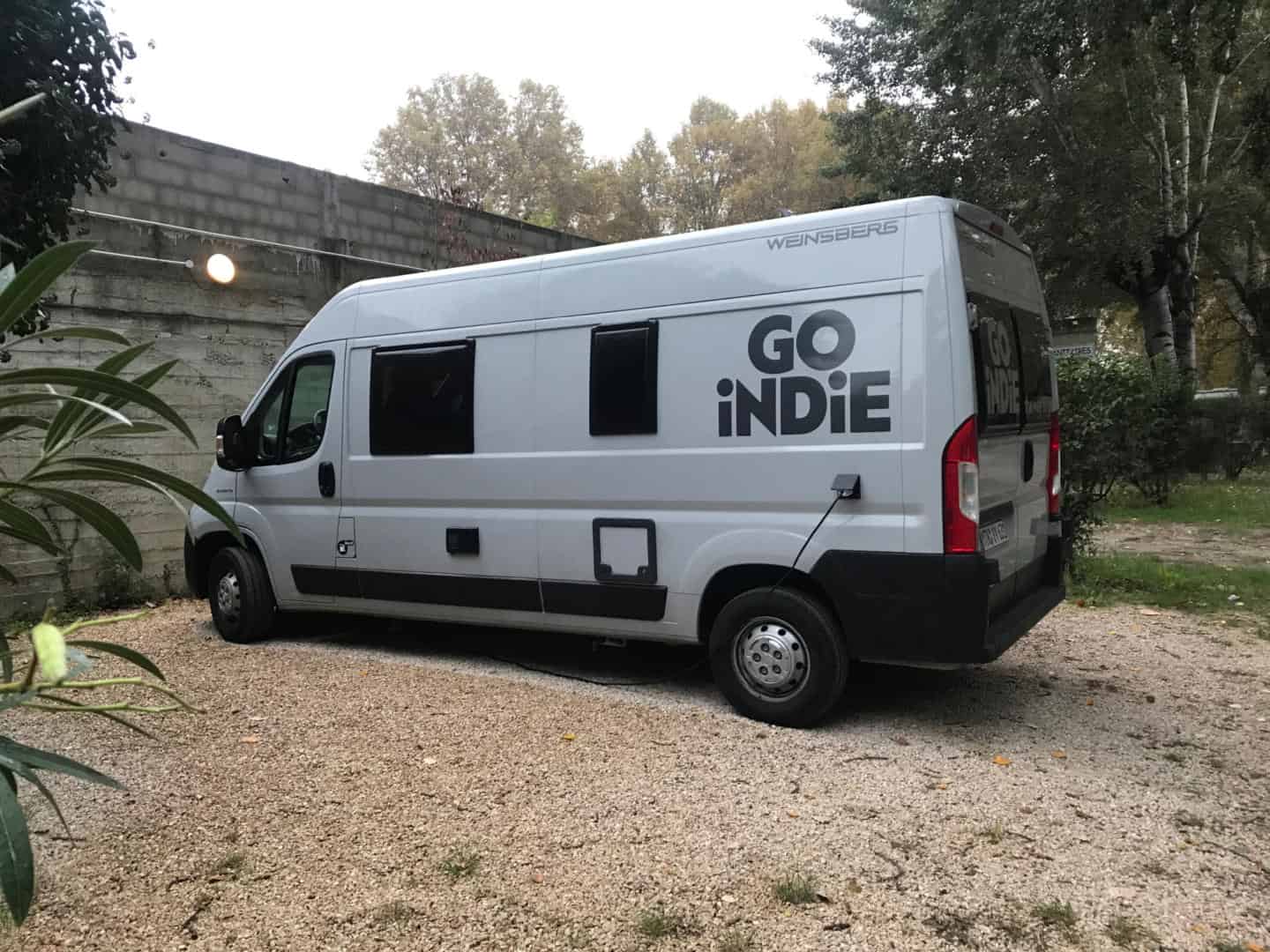 The great thing about campervan hire in France is that it's a perfect opportunity for anyone wanting to road-test the campervan lifestyle for the very first time, or anyone who fancies a try-before-you-buy experience, or anyone who loves campervanning but doesn't want all the hassles/costs of actually owning one.
If you do decide camper vanning is for you then check out this guide to buying a campervan.
French family fun all the way: what to see and do on holiday in Provence
Of course, with older children, it can be challenging to find activities that meet everyone's expectations, but in Provence we managed to find plenty of visits that the kids loved as much as we did.
All within a neat radius of each other, here are some of our highlights:
Avignon
Avignon is a must-see city only one hour north of Marseille.
If the name of the city rings a bell, you've probably heard the French song Sur le Pont d'Avignon somewhere or other – and as you'll see by the hordes making a beeline for Saint Bénezet bridge ─ it's a French bucket-list thing to do to sing and dance on the Pont d'Avignon itself, now a bridge to nowhere with only four of the original 22 arches jutting into the mighty Rhône river.
Once a thriving trading town and religious centre, Avignon packs a hefty punch for history buffs on account of the UNESCO-listed Palace of the Popes, the world's largest gothic palace.
So that we could go at our own pace, we opted to visit with the virtual-reality tablets – an absolute winner with the kids who loved the time-portal pitstops in each of the papal rooms, magically bringing the palace to life.
Vaucluse vineyards cycling route
In the shade of Mont Ventoux, of Tour-de-France fame, we hired e-bikes (e's for easy, we reckon) to take a tour around the stunning vineyards of the Châteauneuf-du-Pape area.
Kicking off at the Cellier des Princes winerie in Courthézon, you can start with a wine tasting (use the spittoons if you don't want to risk wibble-wobbling on the bike) and take advantage of their bookable-in-advance picnic service in summer.
The family verdict? Tour-de-France the juniors raced ahead (of course) with only occasional backward glances to take instruction from the seniors, charged with translating the directions from the print-out. The two-hour trail ─ passing chapel ruins, French farmhouses and sweeping vineyard views ─ is properly sublime.
Isle-sur-la-Sorgue
If, like us, you couldn't possibly contemplate a trip to France without going to a market, think about heading to the quaint town of Isle-sur-la-Sorgue, like a mini Venice of sorts, with original waterwheels and converted mills testament to an industrial past.
Beyond the regular marché in the town-centre, it's a wonderful place for a stroll and boasts quirky antique shops, regular vintage fleamarkets, a luxury woollen goods boutique cum museum (the French passion for quality is like no other) and a tea-store so chic you might think you're bang in the middle of Paris.
Also, there's the patisserie-of-all-pâtisseries Jouvaud ─ all glazed up and gift-wrapped the cakey creations look far too good to eat.
Fontaine-de-Vaucluse
Many villages across the country claim to be France's prettiest but as any Provence guidebook will attest, Fontaine-de-Vaucluse has to be a firm contender.
Famous for its spring and the unique emerald hues of its waters, this is a great low-key family destination for a spot of cycling, tennis, wild swimming, fishing and canoeing.
There's also a tree-tops adventure park just on the outskirts of Fontaine de Vaucluse, sadly closed when we went (our kids had to pine over the fence – pun intended) but promising much fun for a next time.
Nougat, a local speciality
There was an audible teenage groan when we said we were heading to a French foodie factory. But actually, a visit to the nougat producers Silvain in the pretty Provençal village of St-Didier turns out to be a hit both with the kids (who knew these little chunks of loveliness are sweetened with lavender honey alone – and NO sugar?) and with us too (the visit is more artisanal than the word factory suggests, with a salon de thé and on-trend boutique to boot).

3 ways to instil French joie-de-vivre in the kids
French food: Bon appétit!
If your kids are anything like ours, the way to their heart is through their belly, so a good way to get them to engage with the French language is to get them to order their food themselves.
Ours did this (to rapturous waitress applause) in the off-the-beaten-track and down-to-earth bistro Brasserie de la Valampe, right next door to Indie Campers' Marseille depot.
Only in France could you find a fantastic eatery in the middle of an industrial estate where the chef so itches to tell you how long he cooks his oignons, you can barely get away!
Bring the classroom to life
Trying out your French isn't the only way to make a holiday in France pleasantly educational. Most kids learn about the Romans during their time at school, so we jumped at the opportunity to visit the town of Orange to visit the Théâtre Antique and discover Roman life up close and personal.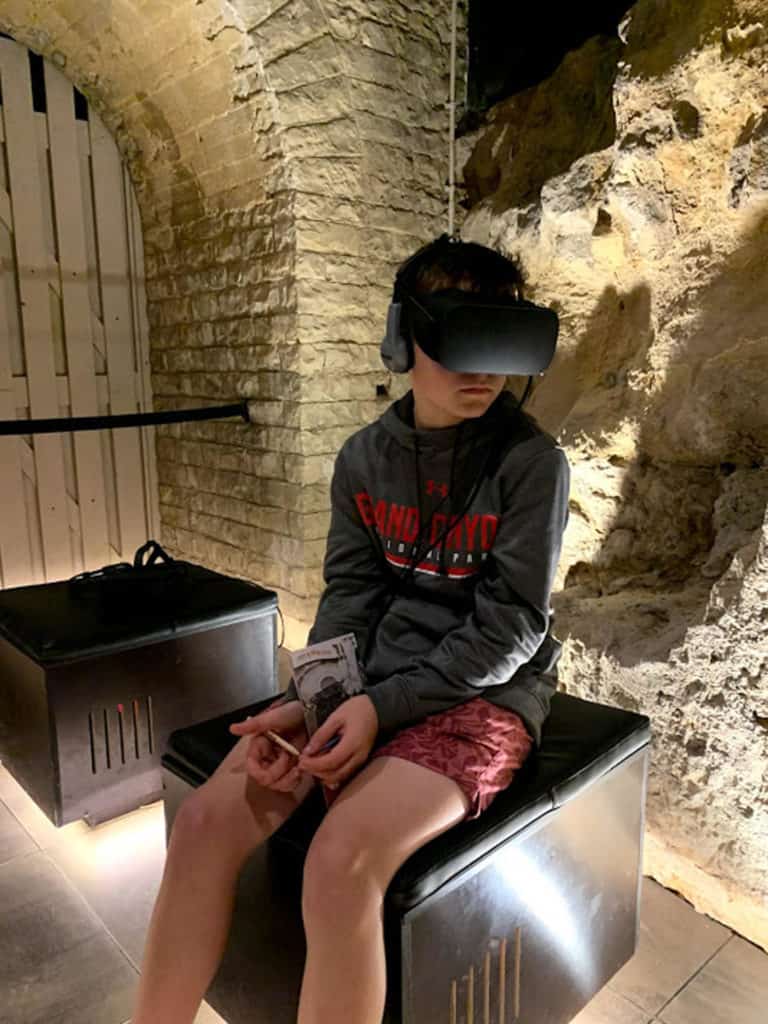 Just like in Avignon, state-of-the-art virtual reality is on the menu again, this time with a headset and short film to give an authentic idea of Roman life in full technicolour.
After the film, you enter the amphitheatre itself, where equipped with the audio-guides, it's easy to imagine the sights and sounds of antiquity. In the adjacent museum, it's interesting to discover that new archaeological finds are still excavated here year-on-year.
Injecting family fun into the agenda
After so many learny type visits, it was only right to squeeze in something that was pure fun only.
Theme park extraordinaire Parc Spirou was recommended to us and it didn't disappoint. Not so vast we needed to panic if we lost sight of the teens for a short time, the kids' firm favourite rides were the Eviv Bulgroz massive spinning star and the Zombillénium tower.
Provence pitstops: where to stay for the night with your campervan
In Avignon, we stayed at Camping Bagatelle, just a short walk into town. It's definitely not modern but has a lovely French feel and we were delighted to discover that you can order your croissants and pains au chocolat on arrival for pick up next morning. There's also a fab retro bistro onsite.
A gorgeous site for overnights in Fontaine-de-Vaucluse is the charming La Coutelière campsite, right on the banks of the tranquil river Sorgue. The site is small, family-run and friendly, with new, high-spec facilities. There's also a tennis court, a pool and a lovely bar/reception/lounge area.
If you want to travel on a budget while hiring a campervan in France, try pitching up for the night at an aire (not to be confused with an aire de service on the motorway), many of which are open all year round. You can buy a Camping-Car-Park card and for just a few extra euros stay at a simple pitch-up, many of which are within easy walking distance of Provence's charming towns and villages.
For further overnight ideas, you can also download the Park4Night app to your phone or try researching France Passion, a network of winegrowers and farmers who are happy to let you pull up on their land overnight.
Don't assume that all overnight stops have facilities like WCs and shower-blocks. You might need to use your in-van facilities!
And the driving en France verdict?
Even though it was bigger than anything I'd ever driven before, I got used to driving the campervan immediately.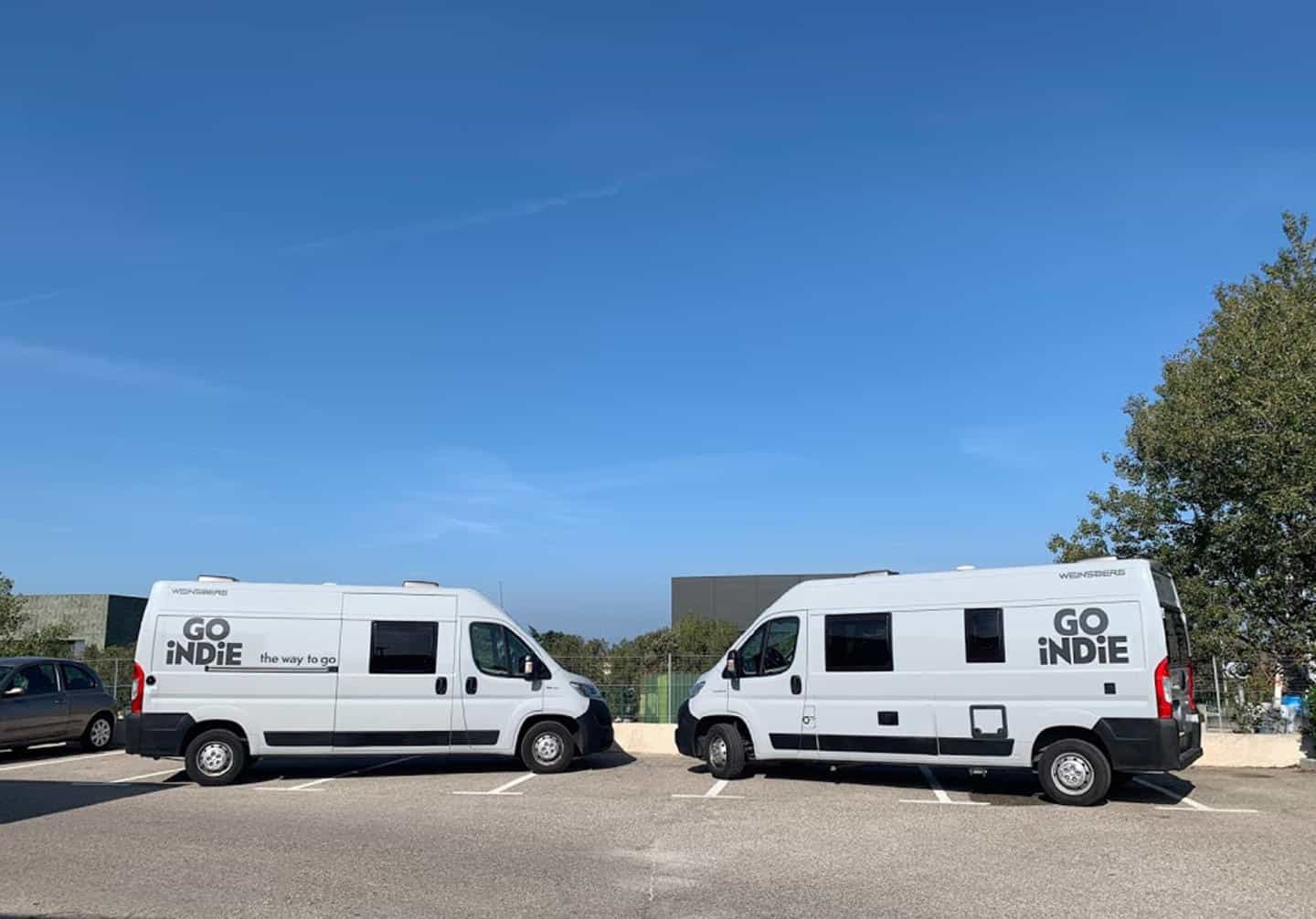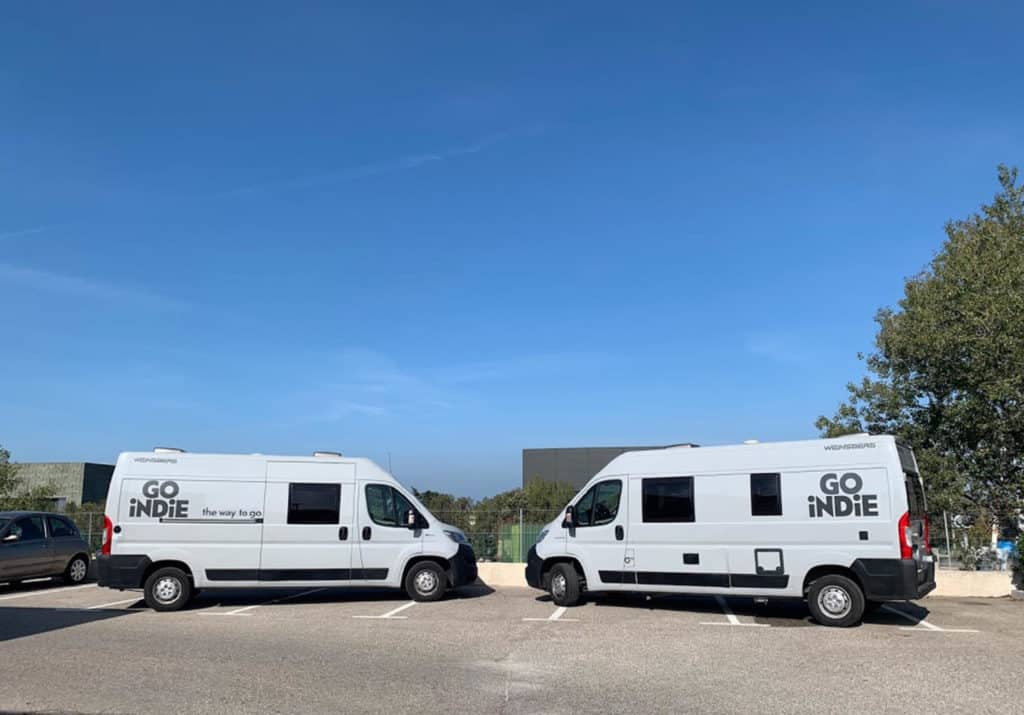 And don't be afraid of driving overseas; roads in France are so much quieter than in the UK, and it soon feels like a breeze, especially if you have a reliable GPS app like Waze.
You have to get used to the motorway tolls (péages) of course, but it's a simple system: take a ticket at the first toll-booth, pay by card at the next.
In addition to your regular driving licence, you'll also need an International Driving Licence to drive in France, available in advance from UK Post Offices.
Hiring a campervan in France
We hired Indie Campers' Nomad model. Here's the spec:
Fiat Ducato diesel engine (L2H2 2.3 Multijet 130) with manual gearbox.

4 berth (two convertible double beds, all bedding kit included)

Dimensions: 5,41m x 2,69m x 2,75m

WC, shower, kitchen with sink and running water

Gas stove and fridge

Kitchen utensils and cleaning kit included
We went out of season (October) at a cost of just 64€ per day. Hire price includes unlimited kilometres, airport transfer, 24/7 assistance and 24/7 pick-up and drop-off. A child seat is provided as well as a 220V camping cable, car jack, triangle and vests.
Disclosure: Lucy Shrimpton and Rachel Ifans were guests of Vaucluse Tourisme and Indie Campers.
If you are planning on hiring a campervan in France and want to take inspiration from Lucy and Rachel's trip, why not save this post for later.