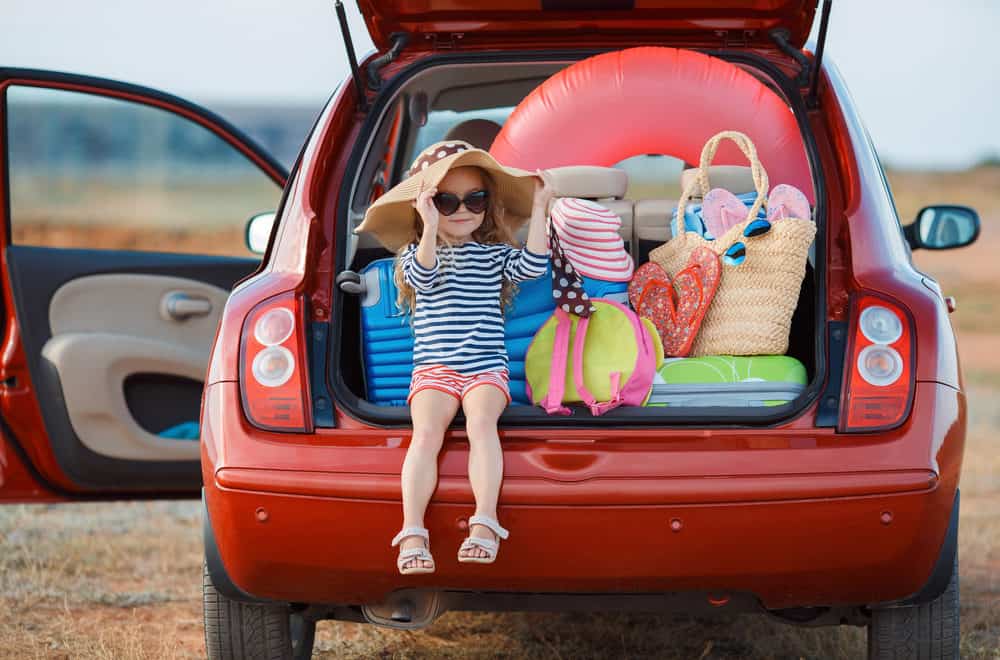 The Essential Self-Catering Holiday Packing List
Are you off on a self-catering holiday soon? Well, you've come to the right place to help you plan your break. This post includes our self-catering holiday packing list whether you are staying in the UK or abroad, as well as some tips and tricks for making the most of your accommodation.
We love a self-catering holiday and the freedom it gives you to plan your own day and meal times. With young kids in tow the second part is extremely important.
Catered resorts often plan meal times later than our girls deem acceptable. However, the challenge with self-catering holidays is to find a balance between having to use the onsite store for essentials you could have brought from home and packing so much that you have to dig the kids out of the car. 
If you're planning a self-catering holiday, whether it's in a touring caravan, luxury lodge, cottage, or glamping tent, you'll probably be in the same position. So I've given it a bit of thought and below is my self catering packing list.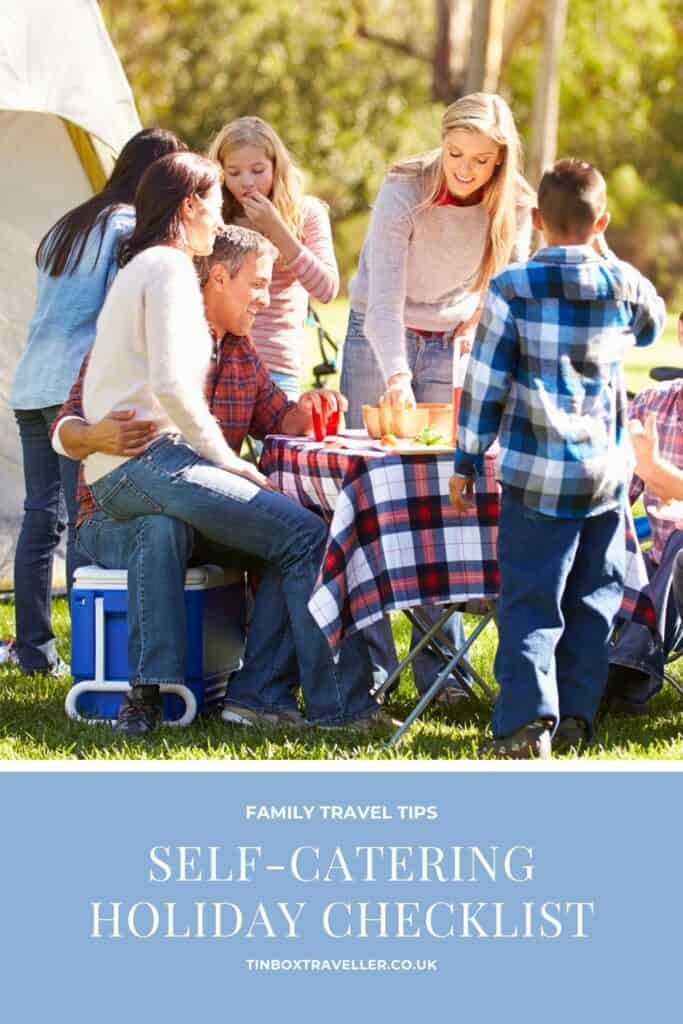 Looking for tried and tested self-catering holidays? Here's some of our favourite self-catering holidays in Cornwall.
*This post contains affiliate links*
Self-catering checklist: what to take on a family holiday
Below is what you need for self-catering holidays including food, cleaning items, stuff for the kids and dog, and those items that may or may not be included. It's always best to check!
I've also thrown in some self-catering holiday tips and tricks. Enjoy!
Self-catering shopping list
Here's a list of groceries to add to your self-catering shopping list or bring from home:
Kitchen roll – handy for spills, noses, bottoms…the list goes on
Toilet roll – no need for explanation but very pricy if you're just buying a few
Tea bags and coffee – I'm big on brews
Condiments* – what Tommy sauce or strawberry jam lover would be without it?
Cooking oil spray – much less likely to leak during the journey and its healthier
Squash/fruit cordial
Cling film – you'll definitely need it for sandwiches and resealing any open containers on your return trip
Margarine – you'll be dipping into it every day, so why not bring your own supply
Milk
Bread
Snacks
Check before you travel, do they: allow supermarket deliveries? And where is the closest shop, take away, cafe and restaurant?
Packing crates* make shifting essential groceries from your car to your accommodation easy peasy.
Cleaning essentials for your self catering packing list
I always bring some household and cleaning basics with us when we are staying in mobile homes and cottages. Self-catering accommodation doesn't always have the following:
Washing liquid and sponge – these may be supplied but better safe than sorry
Antibacterial wipes – I always like to whip round with one of these when we arrive
Bin bags
Hand wash – the last thing you want on holiday is to pick up a bug
Washing detergent – if you have any sample sized detergent sachets these are ideal to take with you.
Check before you travel, do they have: washing up bowls, tea towels, a dishwasher, a washing machine, a tumble dryer.
Things to pack for the kids
Here's some must-have items to pack if you are on a self-catering holiday with babies or children:
Nappies, nappy bags, rash cream, baby wipes – if you're in this stage you wouldn't go anywhere without them anyway
Buckets and spades – it's so much cheaper to take them with you than buy again at the beach
Milton bucket* and tablets for baby bottles
Compact travel stroller* – we love the Baby Jogger City Tour as it's light-weight and compact. Read our review here.
Baby carrier* – we used a few different types as our girls grew. Backpack and front carriers with structure suited us better for outdoor activities. If you're wondering what your options are for baby and child carriers, then we can recommend BabyBjorn for young babies and the Freeloader child carrier for toddlers.
Travel cot – we used the pram top off TBB's Quinny Buzz*, which fitted into small spaces easily. If you have more space to play with there are lots of other travel cots available on Amazon.
Travel games – magnetic board games*, activity books* and Top Trumps* are handy for the car and for when you arrive at your destination.
Here's a longer list of games that are ideal for holidays.
Check before you travel, do they have: children's cutlery and plates, high chairs, a potty, stair gates, blackout blinds.
Packing for a dog-friendly self-catering holiday
One of the very best things about self-catering holidays is we can often bring Tin Box Dog with us. Here's what's on our packing list for pet-friendly accommodation:
Dog food – we would be in big trouble with Tin Box Dog if we didn't take this
Dentastix – see above
A lead
Poo bags
A dog towel
Dog bowl* – yep, she's fussy about eating dinner off the floor
Dog bed.
Check before you travel, do they have: dog beds, dog towels. If you need inspiration for dog-friendly places to stay in the UK here's some tried and tested ideas.
If you're looking for pet-friendly breaks here's some dog-friendly UK holidays.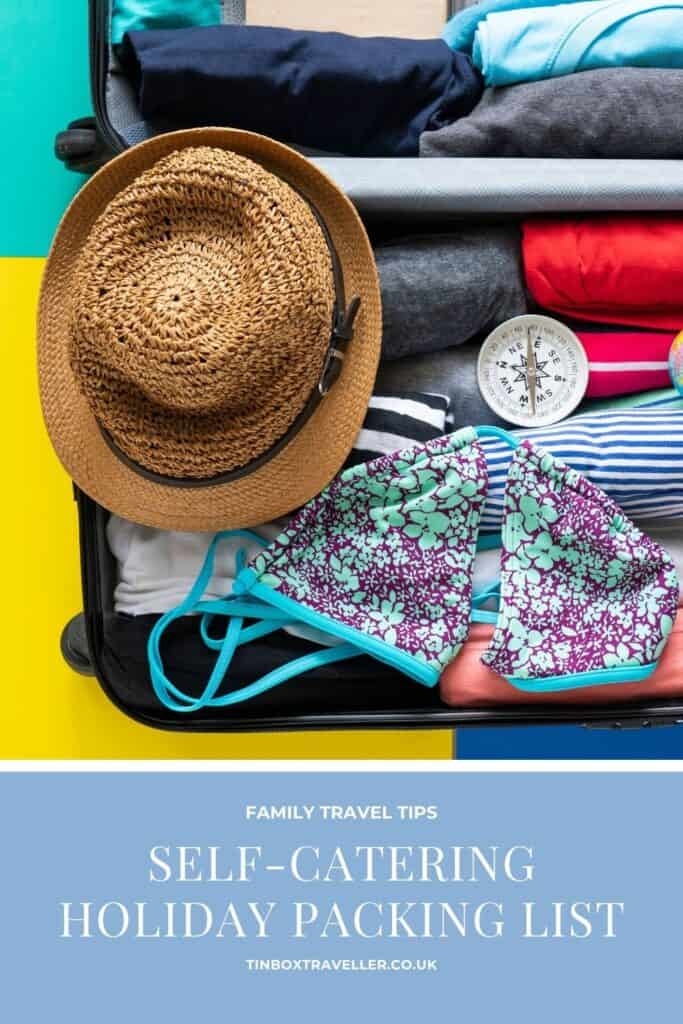 Everything else for your self-catering holiday packing list
Of course, all self-catering holiday accommodation is different so check what basic kit will be available when you book. Here's what you need for a self-catering holiday that may or may not be provided:
Bedding and towels – some holiday home owners may ask you to pay a supplement for bedding so check ahead
Beach towels* – most self-catering accommodation won't supply these
Toiletries – if you ask Mr Tin Box he'll say this is what fills up most of the car
Pencil case – because there's never a pen around when you need it
First aid kit* – you don't like to think of accidents happening while you're on holiday but it never hurts to be prepared.
What to take for a self-catering holiday abroad
Packing to stay in a mobile home abroad can be a little tricky, especially if you are flying in and hiring a car rather than catching a ferry.
We have done several self-catering holidays in European holiday parks so I've written a separate post including what you need to consider and pack for mobile home holidays abroad.
What have I forgotten? What's at the top of your self-catering holiday packing list?
Self-catering holiday tips and tricks
As well as acing packing for your self-catering holiday, here's some more tips and tricks that will help you make the most of your break:
Tip 1: supermarket deliveries
Check with the holiday provider whether you can have a supermarket delivery to your accommodation. This will save precious space in your care and ensure you don't have to dash out to the shops straight away
Tip 2: food for your first night
At the very least have your first night's meal and breakfast for the first day planned. Pizza and cereals are super say to transport.
Tip 3: check your appliances
Always check what appliances and kitchen tools will be available. No one wants to miss out on their morning coffee if there's no cafetiere
Tip 4: parking and unpacking
Find out whether there's parking directly outside your accommodation. If not, consider how you are going to shift all your gear. Crates and maybe even a trolley might a a handy addition to your holiday packing list.
More tips for travelling with kids
If you're looking for more tips for travelling with kids then check out my travel tips posts and holiday checklists.
Or if you need some inspiration for you next family holiday take a look at my tried, tested and recommended trip ideas.
You're going to love these posts too:
*Disclosure: this post contains Amazon affiliate links which means I may earn some advertising fees if you click on an affiliate link and make a purchase. You will not be charged extra for this.
If you're in the midst of planning your next family holiday then why not use Pinterest to save this self-catering holiday packing list for future reference.
I love hearing what people think about my blog so feel free to leave a comment below or browse around. You can also find me on Bloglovin', Twitter, Facebook, Instagram, Pinterest, Youtube and LinkedIn.