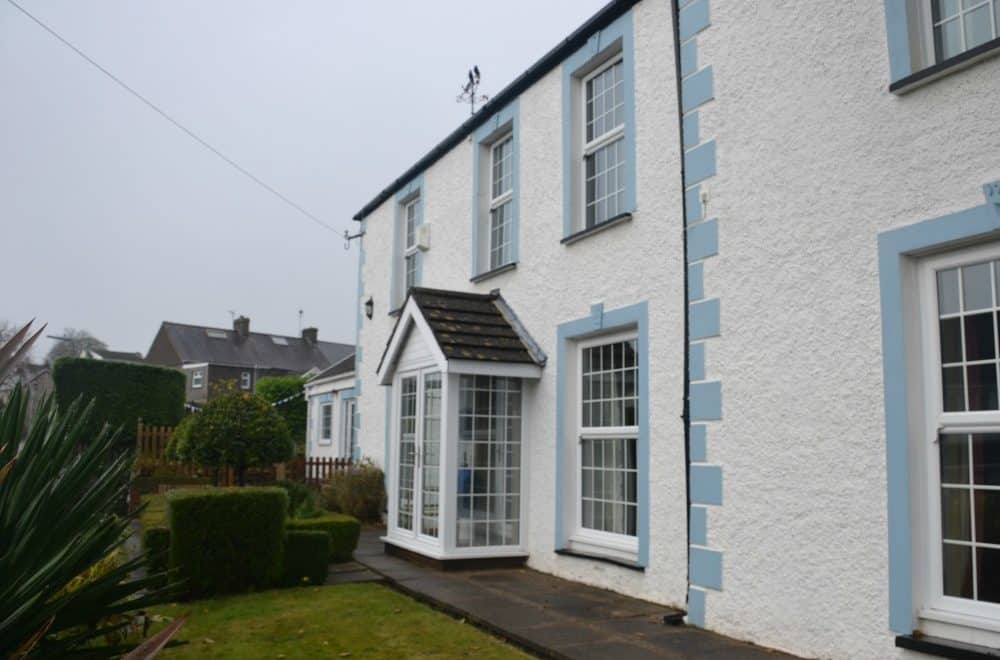 Review: Bryn Parc in Mumbles – a Home from Home holiday cottage
Earlier this month we were invited to stay in a beautiful holiday cottage in Mumbles on Swansea Bay. Bryn Parc is one of 250 properties that can be rented through Home from Home – a holiday letting agent that specialises in luxury self-catering properties which make perfect bases for exploring this Area of Outstanding Natural Beauty.
To say I was a tiny bit excited when I popped online to check out our pad for our weekend in Wales was an understatement. Bryn Parc ticked all the boxes on my perfect holiday home checklist. It looked full of character without being dated, it had lovely large living spaces and was in a great location.
When we arrived in South West Wales after a three hour journey from Devon I was not disappointed. It was well past the Tin Box girls' bedtime. So we quickly settled them down in the twin bedroom at the top of the stairs and set about quietly exploring our home from home for the next few days.
Staying at Bryn Parc in Mumbles
The write up about Bryn Parc says it 'sleeps eight comfortably'. With four double bedrooms, two of which were ensuite, and a small playroom with sofa bed, there's definitely scope for accommodating more guests. There's also two large dining tables – one in the kitchen and another in a dining room – and two separate sitting areas. It struck me as the perfect arrangement to give children and adults their own spaces to eat and socialise together – great if you're travelling with family or friends.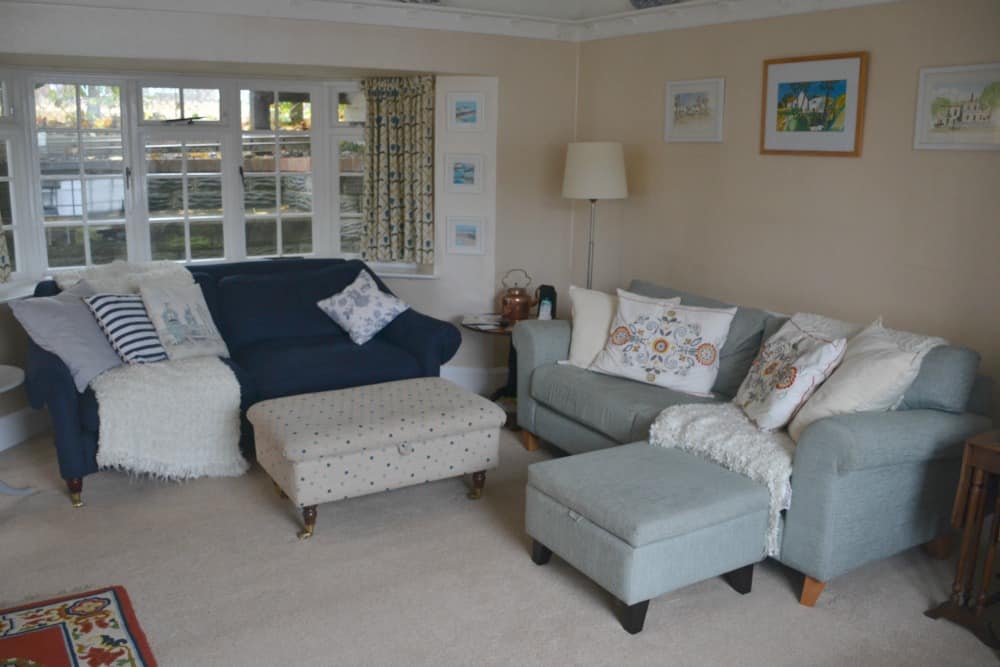 I had serious kitchen envy throughout our stay. The extension is double height with large windows and French patio doors out into the garden, making it light and airy. At the same time it was toasty warm thanks to the aga. I marvelled at the amount of kitchen equipment available for us to use. I'm pretty sure we could have found the necessary pots, pans and dishes to cook up any meal we wanted had it not been for the fact we were eating out each night.
The kitchen also came stocked with tea towels, kitchen towel, washing liquid and powder.
The decor was modern with lots of curiosities to catch the eye and make each room unique, without over-cluttering it. Each dresser and shelf was also home to books of all genres. There was certainly plenty to browse during the evenings or on a quiet day in-between visiting the local beaches, pottering around the independent shops in Mumbles or walking along the Gower coastline.
There's parking for two cars down the side of the house and permit parking on the road outside. The property is also on a bus route that takes you into Swansea.
Family-friendly features
Bryn Parc has been set up as a family home with all the equipment you could possibly need for a break with young and older kids. In the pantry we found a highchair, baby bouncer, toddler cutlery and plastic plates. There were board games, DVDs and a wide screen TV in the second lounge and soft toys in the small playroom upstairs. We also used the property's travel cot for Tin Box Baby and found a baby bath.
Outside, the main garden area was enclosed by a picket fence so that dogs and children could be contained. I loved the Gaudi-inpsired garden bench that reminded me of our stay in Barcelona earlier this year.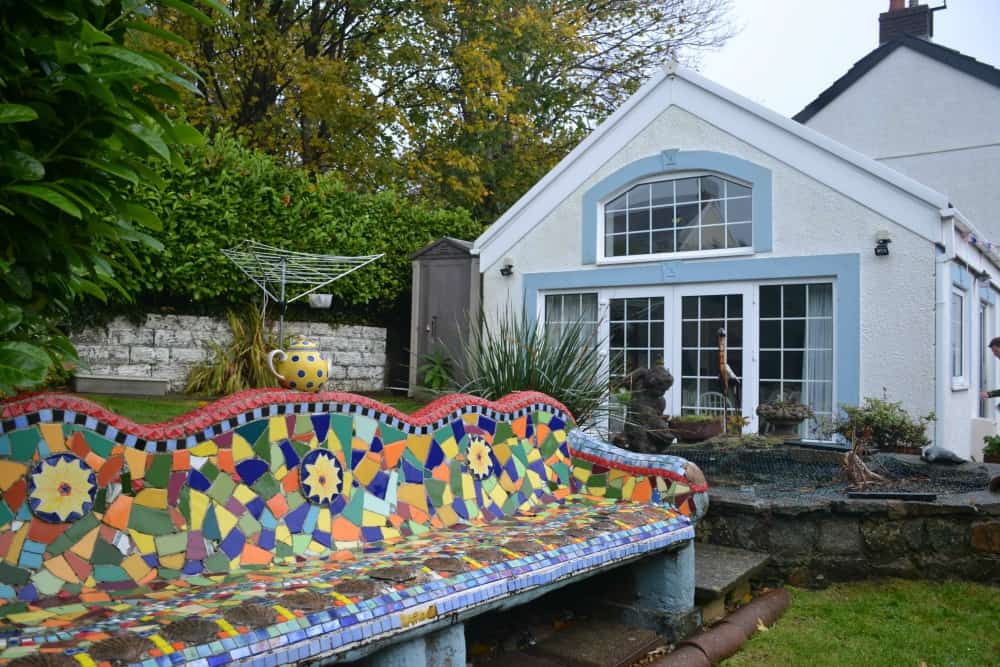 Finishing touches
We were greeted with a welcome hamper packed with goodies including prosecco, chocolates and artesian olive bread. Yum! There was also tea and coffee which was a life saver as I'd forgotten to pack any hot drinks. Rookie mistake!
Something I really liked about this cottage were all the hand written notes about the place. They were there to help you navigate the facilities and the local area but weren't intrusive or designed to make you feel like you mustn't touch.
Tin Box Dog was also made to feel at home with dog bowls for her to use and a special doggy chair that she was allowed to sit in (not that she is allowed on furniture at home) and throws to make her a bed or put over the sofas.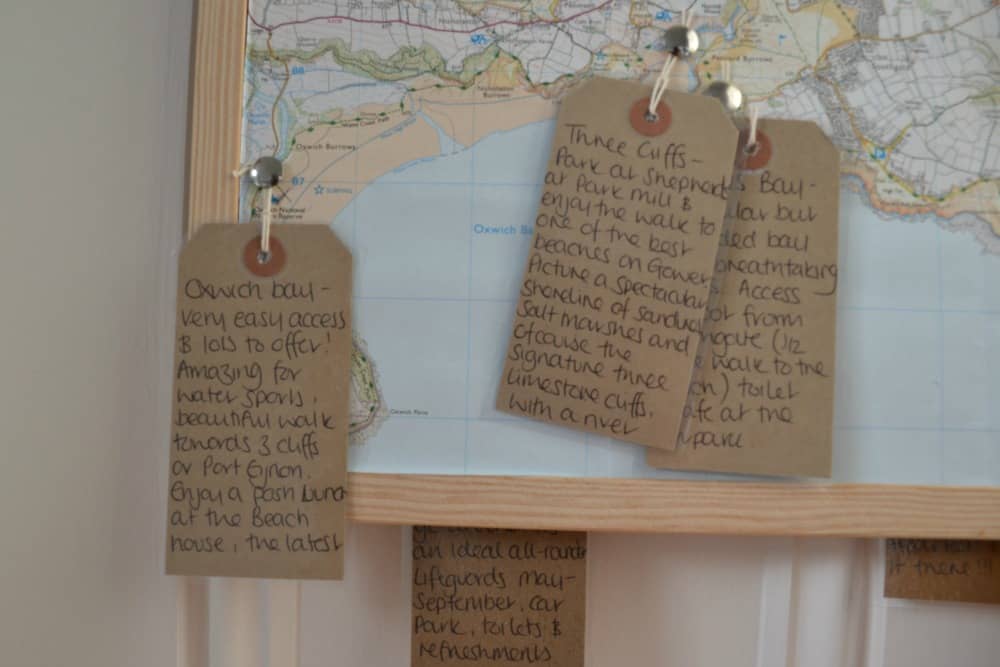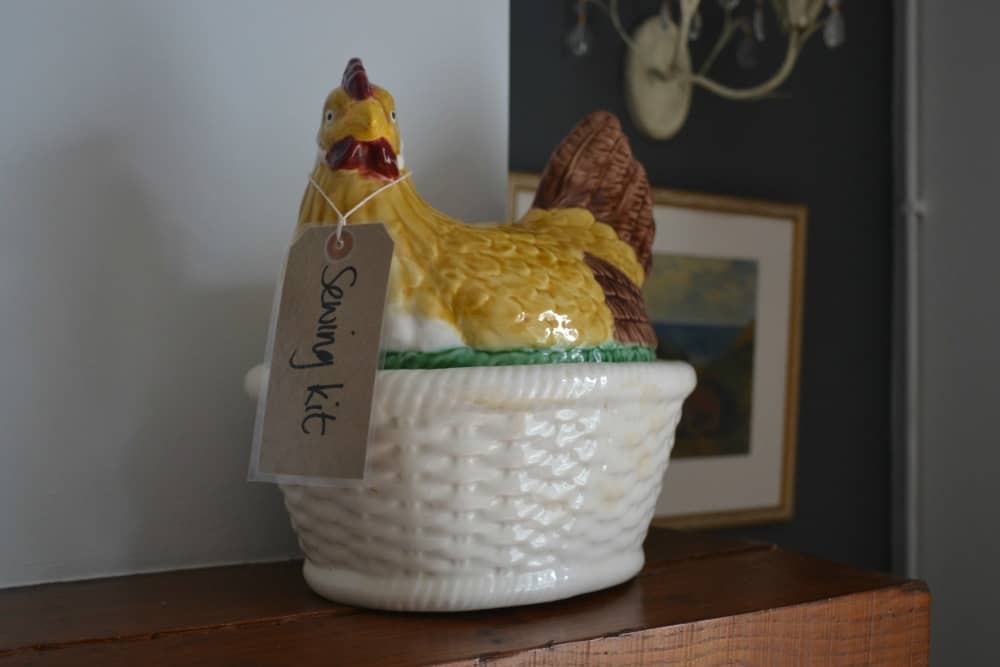 Things to do in Mumbles and Gower
Our welcome pack came with loads of suggestions of things to do in the area. In Mumbles there's Oystermouth Castle, the Pier, plenty of independent shops and crazy golf on the seafront. If you like nature walks, there's Mumbles Hill Local Nature Reserve.
We were also at the eastern end of the Gower Peninsular – Britain's first designated Area of Outstanding Natural Beauty. It's a haven for beach, photography and water sports fans with epic coastal views and miles of sand. Inland there are family attractions like the Gower Heritage Centre, and Perriswood Archery and Falconry Centre. The owners had pinned plenty of their personal recommendations to a map in the kitchen.
For a taster of what we got up to during our stay check out my overview of our weekend and the YouTube video below. Or if beaches are your thing then take a look at these great ones on the Gower peninsular.
Final thoughts on Bryn Parc in Mumbles
I fell head over heels in love with this holiday cottage. It was not only beautifully kept, it also felt homely thanks to the personal touches left by the owners. They've obviously learnt from experience what makes a good holiday home for families and put it into practice. I also loved the fact that dogs were very welcome. Then there was the space! The four of us were rattling around in the place during our weekend stay, so I wouldn't hesitate to book it for a break with family or friends. I have thought about this a lot but have found it very hard to be critical of Bryn Parc. It really did feel like a home from home.
If you'd like to find out more about Bryn Parc and other Home from Home properties in Mumbles, Gower and Swansea Bay visit the website: www.homefromhome.co.uk
Disclosure: we were given free accommodation at Bryn Parc as part of a press trip arranged by Visit Swansea Bay. I was not asked to write a post specifically about our holiday cottage but wanted to because we loved it.
Pin for later