Devon festival review: Glas-Denbury highlights for family festival goers
If you're looking for a small family-friendly Devon festival with a chilled out vibe, superb acts and plenty to keep the kids amused all day then you've got to check out Glas-Denbury near Newton Abbot. We were invited to review the festival in its fifth year and loved our experience in the heart of the Devon countryside. Here's our review and highlights for anyone tempted to book tickets for Glas-Denbury 2019.
Glas-Denbury: a Devon festival sharing the best of the South West
Glas-Denbury's aim is to showcase South West talent, food and crafts in an environment where everyone feels welcome. The event's founder, Emma, says: "Glas-Denbury is about people of all ages getting together and smiling, experiencing a little bit of magic, meeting a bucket load of good human beings."
A welcoming atmosphere wrapped up in good music, family fun and plenty of wholesome produce from Devon and Cornwall is my dream day out! This is what made me confident enough to go to the festival solo with the Tin Box girls. Mr Tin Box is working away a lot this year so we either get out and enjoy ourselves or hideaway at home. Getting out of the house has always been my preference so off we went to Glas-Denbury.
Camping at Glas-Denbury Festival
I have to own up now that I chickened out of camping at Glas-Denbury. When it comes to putting up a tent with a five-year-old and three-year-old as my helpers this girl can't! My patience wouldn't last much further than getting our camping gear to our pitch. So we opted for a stress free stay with my parents 20 minutes down the road from the festival site.
What I can say about the Glas-Denbury camping site is that it is very close to the festival entrance – just a five minute walk away with little people – which is a big bonus for families. You could bring your own tent in the price of a camping ticket or pay £30 extra for a camper van/caravan pitch for vehicles up to 7m long. There were also glamping yurts if you preferred a touch of luxury. Prices started at £150.
You can bring your own food and a limited amount of alcohol onto the camping site. There's restrictions on what you can take into the festival itself. I brought some empty water bottles to top up at the taps in the middle of the festival site and a few snacks to push the girls on in-between plentiful pizza, chips, pasta, watermelon and ice-cream purchases from the food stalls.
Our Glas-Denbury highlights
Glas-Denbury starts on Friday afternoon and runs through to the small hours of Sunday morning. I kept things simple with my young girls and dropped in for a few hours on Friday night and then on Saturday morning until the early evening. I was gutted to have missed the headline performers, Martha Reeves and the Vandellas and The Real Thing, as well as fire dancers later in the evening but tiredness and the heat got the better of us. Thankfully, my friend and fellow Devon blogger Clare from FlipFlops or Wellies joined us on Saturday giving me some support with the kids and much needed festival flag sewing tips!
Devon festival acts
What we did experience during the day we loved. All of the performers on stage were brilliant and it was even more of a delight as the vast majority were from Devon and Cornwall. Stand out acts for us were: Torbay singer Jamie Yost who opened the Emporium Stage on Friday night with his indie folk sounds; The Strange and the Beautiful whose vocalist Alice had plenty of Florence and the Machine about her; the harmonious Devon folk band The Tors; and the hauntingly beautiful voice of North Devon artist Yazzy.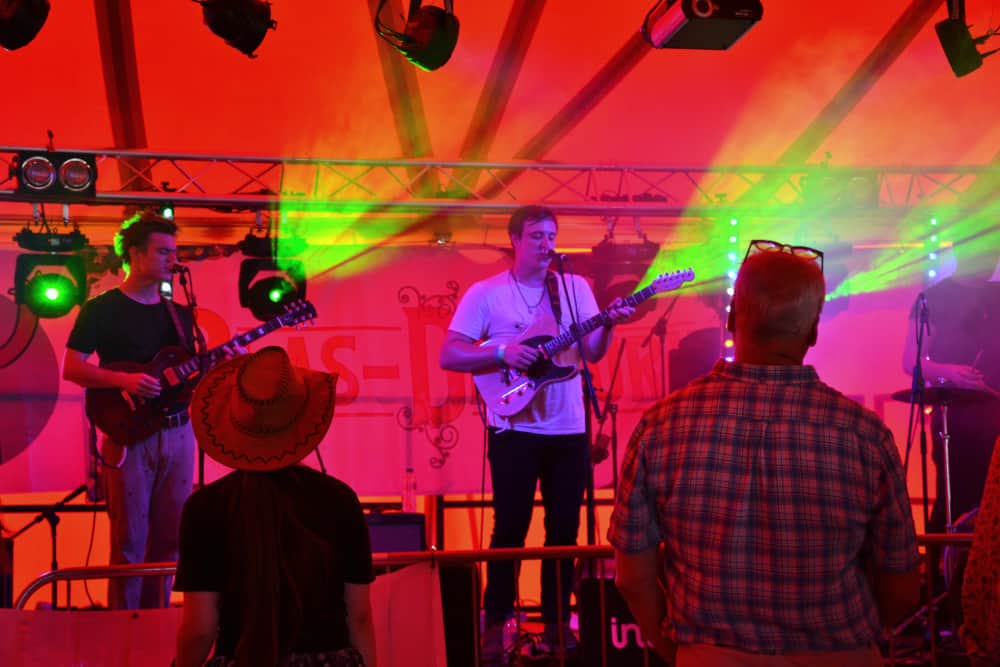 Street entertainers
In between stopping to listen at the four music stages we found street performers wandering around the small oval-shaped festival site. One that we stopped to watch for quite a while was Isabella's Story Cycle. She regaled us with tales of princesses and African beasts.
Story-telling and poetry
As well as music tents and a silent disco there was poetry and story-telling all over the site. We caught last year's Glastonbury poet in residence, Dommy B in the Theatre of Entertainers where he was telling his children's tale Spark the Goblin Wizard.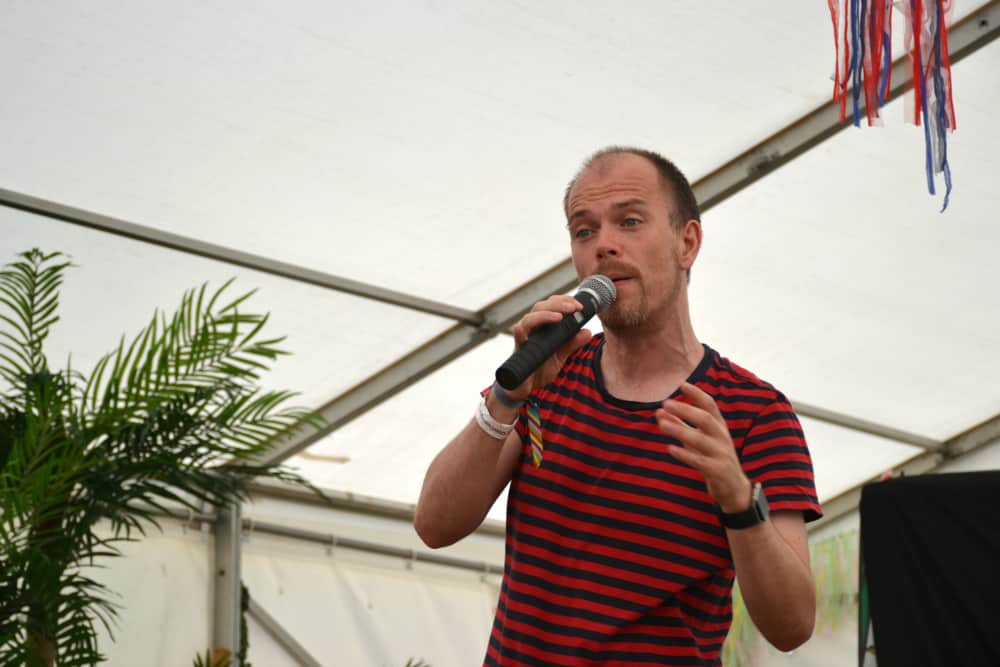 Children's crafts
And when the kids were in the mood for something a little bit more hands on we headed to the Workshop Tent. This is where the girls made head dresses, masks and a festival flag with Just Sewn Stories.
Family festival for all
This Devon festival isn't just for families but they do cater for them extremely well. When I asked the girls what their highlights were they enthusiastically said it had been the bouncy castles – what more could kids want? I bought wrist bands for them both to use the bouncy castles all day on the Saturday for £10 each. It was a bit of a shock for my purse initially. However, we have visited events when its been £5 a go rather than for unlimited use.
Glas-Denbury also has a baby changing tent and lots of catering stalls offering food kids love. We hit Rebel Town Pizza a couple of times for stone cooked pizzas freshly made in front of us (£8 for a margherita), plus Spaghetti Sisters for fresh pasta served in delicious sauces (£5 for a kids pot of pasta with a carton of juice) and Street Food South West for wedges of watermelon (£1 each).
I can't finish our highlights without mentioning the weather. Kudos to Emma and the team for booking sunshine for this fabulous Devon festival with the odd cloud for cool relief. There was never any chance of mud and my wellies, which I'd packed in the vein hope of an authentic festival splash about, remained redundant in the car park.
Where is Glas-Denbury?
Glas-Denbury takes place on Fairfield Farm on the edge of Denbury (TQ12 6DQ). We drove to the site where there's a large field dedicated to festival and camping parking. If you plan to do the same in 2019 be aware that you are driving deep into the Devon countryside. Some lanes are very narrow. The postcode will get you to the festival site. We also spotted a few yellow AA road signs on the final approach. You could also pick up a free shuttle bus from Newton Abbot Railway Station. 
Final thoughts on Glas-Denbury Festival
Glas-Denbury Festival is relaxed, friendly and packed full of South West goodness. The venue was compact enough to make it easy going with two little ones and was bustling but not over-crowded. We didn't stick strictly to the programme but chose to wander around the site and see what took our fancy. It was never long before we paused to watch a performance, try out a kid-friendly activity or immerse ourselves in poetry and storytelling.
Something else that stood out for me was that the festival site was so clean. The loos we visited at the start of the day were as daisy fresh by early evening. I'm sure a lot of this was down to the festival team making sure the place was tidy. But I also believe it says something about those 'good human beings' Emma says the festival attracts.
Glas-Denbury is definitely a Devon festival we'll be adding to our 2019 diary.
In 2018 two day arena tickets cost £55 for adults and teens, and £1 for children. Weekend festival and camping cost £85 for adults and teens, and £1 for children. You could also purchase family weekend passes (for adults and teens) with and without camping for a discounted rate, or Friday/Saturday only tickets.
Glas-Denbury festival tickets: early bird 2019
If you're looking for the best value Glas-Denbury festival tickets then the early bird tickets for Glas-Denbury 2019 are on sale now.
Disclosure: we were given tickets for Glas-Denbury in exchange for a review on the blog. We genuinely loved it. All opinions are my own.
Pin for later