Things to do in Poole and Bournemouth this summer
What do you think of when someone mentions Bournemouth or Poole in Dorset? I bet you're picturing sandy beaches for as far as the eye can see. Of course, this is an amazing seaside destination – after all, Bournemouth has been voted the UK's favourite beach – but there's plenty more things to do in Poole and Bournemouth.
*Advertisement feature*
We spent a weekend here to discover what's beyond the beach and had a brilliant time without once popping our bottoms down on the golden sands of the South Coast.
So, here's our guide to fun family activities, some Dorset hidden gems and dog-friendly attractions to visit.
I've also shared tips on places to stay in and around Bournemouth, and some incredible family-friendly restaurants in Poole where you can dine on fresh fish dishes and menus packed with locally sourced ingredients.
A family guide to things to do in Poole
Whether you have 48 hours to explore, like us, or have a week long family holiday booked, there are plenty of places to visit and experiences to enjoy in this part of Dorset.
In this guide to Poole and Bournemouth I'm sharing our itinerary and some more ideas for places to go. You can also watch a video about out activities on my YouTube channel.
Day one in Poole and Bournemouth
After checking into the dog-friendly Hotel Collingwood in Bournemouth on Friday night we were up, breakfasted and raring to go by 9am.
Play and relax at Upton Country Park
Our first stop was Upton Country Park to the west of Poole. This is somewhere we could have spent all day. It's huge – 160 acres to be exact – so there's oodles of room to space out and explore.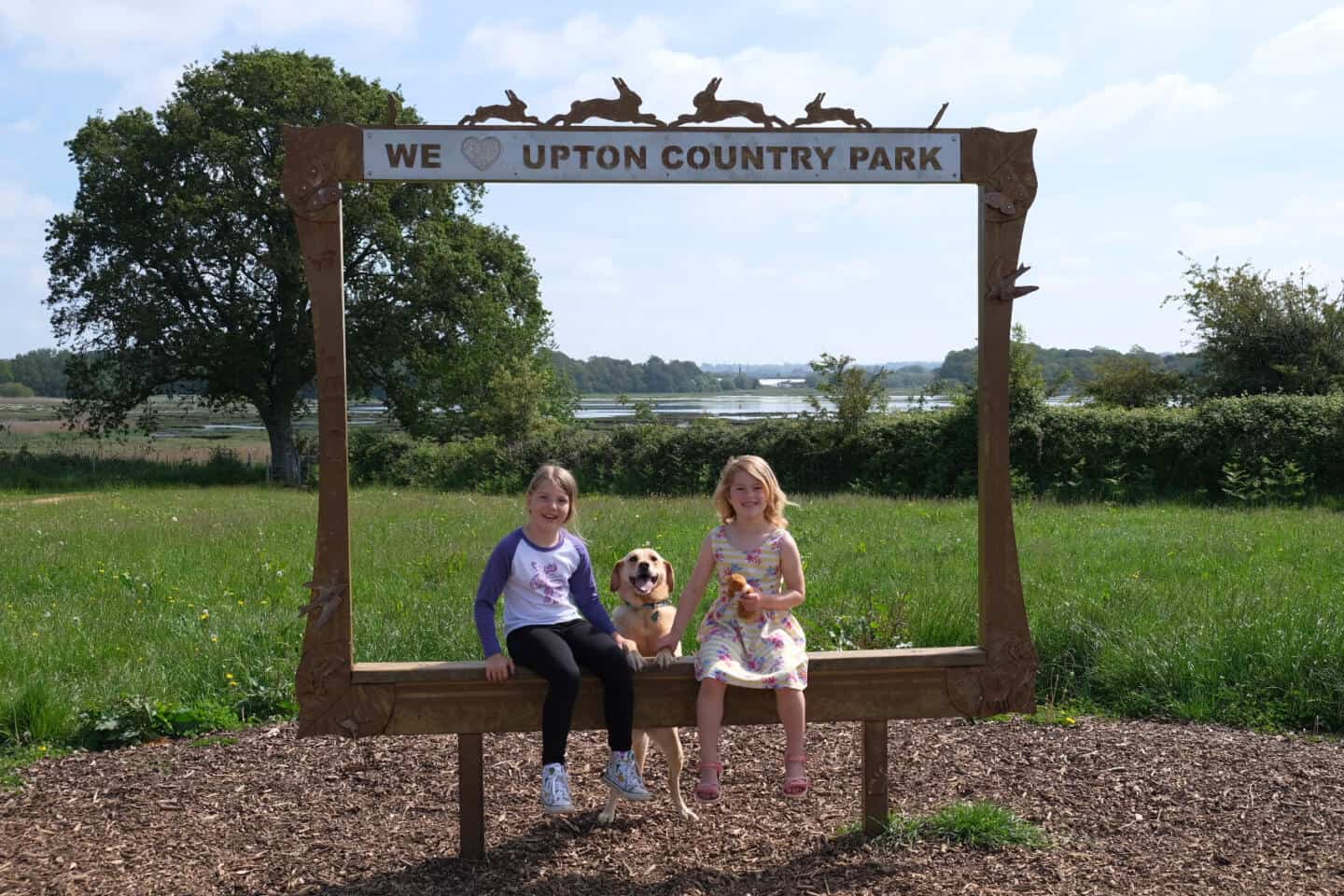 From the car park (pay by card) we set off towards the playgrounds, which have wood framed equipment suitable for young and older kids. The girls enjoyed running around in the shade and whizzing down the slides before we set off again across the meadows to the shoreline.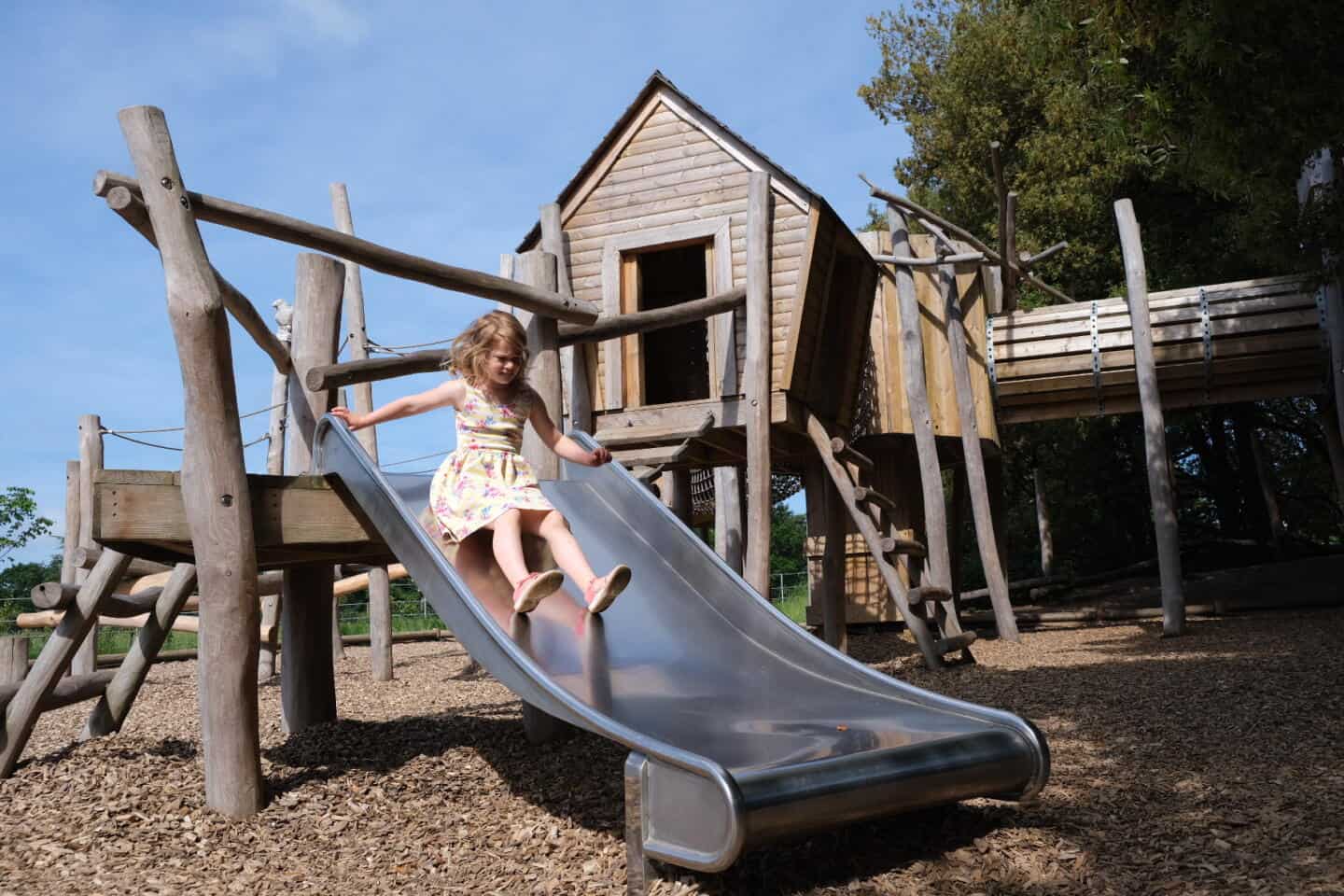 Here we found a bird hide overlooking Holes Bay and a stream for a little paddle.
By the playgrounds we'd spied the entrance to a walled garden, so that was our next stop. We were met with a nose full of perfume from the roses and other blooms that lined both sides of the path. Don't forget your hay fever tablets if you have pollen allergies.
We wandered around a corner and came out at the back of Upton House itself.
This was built in the 19th Century by Christopher Spurrier whose family made its fortune from the Poole and Newfoundland fishing trade. After a succession of owners and tenants, the house and grounds were gifted to the borough of Poole and eventually opened to the public in 1976.
This and the country park are now looked after by the council and a team of volunteers.
In front of the house is a beautiful lawn where you can picnic, play ball games and relax.
More things to do at Upton Country Park
There's so much more to see and do than we had time for, including a craft studio, children's activity clubs (bookable), a splash fountain (not operating during COVID), pétanque area, Parkrun on Saturdays and Sundays (junior) and even Yoga sessions (bookable). Upton House was closed when we went so check before you visit.
This country park is also a very dog-friendly place to visit in Poole, with designated 'off lead' areas, a fenced dog play pen and a dog wash in the car park.
I'd recommend visiting Upton Country Park for no less than two hours but you could easily spend all day.
Find out more about visiting Upton Country Park.
Explore Poole Old Town and Quay
If you want to relax by the water, pick up a boat trip around Poole Harbour or catch a ferry across to Brownsea Island then Poole Quay in the Old Town is the place to go. This was our second stop of the day.
It's a vibrant area to look around with bottle green tiled pub fronts, timber frame buildings and more modern additions with open fronted restaurants. The street cafe vibe was in full swing during our visit in June.
We ate at Rockfish on the Quay (more below), where you can sit outdoors or in the air conditioned restaurant.
As well as picking up a harbour sightseeing tour, you can climb up the 'Sea Music' sculpture by artist Sir Anthony Caro for a seagull's eye view of the Quay (there's an activity sheet about it for kids) and visit the free Poole Museum that tells the story of the town from pre-history to modern times.
Until 4 July 2021 the 'Once Upon a Time in Animation' exhibition is celebrating 30 years of the National Centre for Computer Animation (NCCA) at Bournemouth University. It features characters from Miffy, Beatrix Potter and Aardman.
The museum also has a dedicated area for arts and crafts for younger visitors and a programme of school holiday activities.
Find out more about visiting Poole Museum.
Paddle boarding with Easy Riders
We were very excited about our next activity: a two hour family SUP session with Easy Riders. For this, we relocated to Poole Harbour.
If you're a regular reader, you'll know we took up stand up paddle boarding in 2019. However, everything we have learnt about SUP technique has been from YouTube.
The prospect of a proper lesson was brilliant. I inparticular need to build up some confidence.
Easy Riders SUP sessions are run from the edge of Whitley Lake at Sandbanks, also known as Poole Harbour. They provide all the equipment and a place to change in one of their vans.
Our instructors were Elaine and Kamen, who was newly qualified and building up his experience. Usually you'd have one instructor for a private family session.
They looked after us superbly. Elaine took charge of Mr Tin Box and I to help us improve our skills, and Kamen tutored the girls on basic paddling with plenty of fun thrown in.
In the last half hour we all came back together to have races and play games. We learnt a lot and had brilliant fun.
Handy things to know
Some handy things to know if you book a SUP session with Easy Riders:
Leave plenty of time to find on street parking around Sandbanks.
There's Just Park parking machines on the roads close to the Easy Riders van. Further back you can find free on street parking if you arrive early or late in the day.
Whitley Lake is tidal and very shallow. We were out a long way and the water was never higher than my knees.
Easy Riders provide boyancy aids and wetsuits, although we bought our own. All you really need is a swim suit and maybe waterproof shoes.
Thanks to Amy and the other team members in the Easy Riders van for looking after Tin Box Dog for us.
Our Dog is not a paddle boarding fan so it was reassuring to know she was looked after while we had fun on the water. If you have a dog with you they can join you on the water or stay with the Easy Rider team, just mention this when you book to check it's OK.
Find out more about water sports sessions and equipment hire from Easy Riders.
Chill with a view at West Cliff Park
We ended our first day in Bournemouth and Poole with a relaxed picnic dinner on West Cliff Park overlooking the sea.
There's lots of room to throw down a blanket and soak up the last of the day's sunshine while the kids run off any remaining energy. You can also wander down to Durley Chine Beach (dog-friendly all year round) and back along the beach hut lined promenade to West Cliff.
Day two in Poole and Bournemouth
We were up bright and early on our second day to beat the traffic to Sandbanks where we had brunch at Rick Stein's (more below).
Top tip: if you want to park in the Sandbanks car park on a sunny day arrive pre-9am (the earlier the better). Otherwise find free or paid on-street parking in the residential roads a bit further away. You'll need to arrive pre-10am to find a spot or be prepared to circle for people to leave.
Sandbanks Beach play area
A lovely little distraction from the beach at Sandbanks is the playground, which is by the Pavilion. There's sand diggers, a large rope climbing frame (closed for maintenance while we were there) and rockers. Dogs are allowed on a lead.
We hung out here for a bit before heading for brunch.
There's also adventure golf beside the play area.
Find out more about Sandbanks Play Area.
Explore Compton Acres historic gardens
The last stop on our whirlwind weekend in Poole and Bournemouth was Compton Acres, just a short drive away at Canford Cliffs. This is an absolute gem and perfect for a hot day when you want to find some shade with your kids and/or dog.
The gardens are split into themed areas from Italian inspired gardens complete with statues, grottos and a villa, to water gardens with waterfalls and a Japanese inspired space where we found huge carp basking in the sun.
The gardens are very cleverly done, making them feel much bigger than the 10 acres that they cover. You get to see the gardens from lots of different angles with view points, criss crossing paths and stepping stones across ponds.
There's also a children's activity area with a teepee, station and animal sculptures.
Much of the garden is wheelchair and pushchair friendly with good signage to take you around steps and other obstacles.
After visiting the gardens you can pop into the garden shop to pick up plants you may have spotted during your walk. Or take a seat outside the Italian Villa for lunch or a tub of Purbeck Ice Cream.
Dogs are welcome on a lead throughout the gardens.
Find out more about Compton Acres.
More things to do around Poole and Bournemouth
If you have time to explore Poole and Bournemouth, here are some more ideas for things to do in the area:
Poole harbour and Brownsea Island boat tours
You can book trips from Poole Quay. Be aware that while dogs are allow on most boats trips, they are not allowed on Brownsea Island.
Poole Lifeboat Museum
Poole is the home of the RNLI and you can find out more about its history at the Old Lifeboat Museum.
This free place to visit in Poole gives you a chance to see one of the historic lifeboats in a former lifeboat station. Call to check opening times as the museum has been closed during COVID.
Find out more about Poole Lifeboat Museum.
Farmer Palmers Farm Park
This activity farm is always recommended to me whenever I mention we are visiting Dorset.
It's just west of Poole and is billed as a top day out for kids up to the age of about eight with animal petting, play areas and farm-themed rides.
We haven't made it there yet because we've had Tin Box Dog with us. But I'm hoping we can get there some time when we have a willing dogsitter.
Find out more about Farmer Palmers Farm Park.
Lemur Landings
If you are looking for soft play areas in Poole then Lemur Landings delivers this and more.
There's imaginative play for little ones, a climbing wall and a great cafe. Perfect for a wet day in Dorset!
Find out more about Lemur Landings.
Splashdown
This waterpark is the perfect place for families to head on a sunny or wet day in Poole. It has 13 indoor and outdoor flumes ranging from gentle slides for beginners though to high-speed shoots for adrenline junkies, tyre rides with whirlpools, and black holes.
For toddlers there's splash zones suitable for under fives and you can buy a combined attraction ticket to access the neighbouring Lemur Landings Soft Play.
Find out more about visiting Splashdown in Poole.
Dog-friendly beaches
The coastline is awash with sandy beaches – just head south and you'll find one.
If you're a family with a pet you have to do a little more research to find beaches that are dog-friendly all year round. Here are some dog-friendly beaches in Bournemouth and in Poole to save you the leg work.
Bournemouth Aviation Museum
If your kids love planes then they will have fun climbing inside the cockpits of many of the aircraft on show at Bournemouth Aviation Museum. There's also a free flight simulator, airfield vehicles and aircraft engines to look around.
This is an outdoor attraction, so come prepared for the weather. Only guide dogs are allowed to visit.
Find out more about visiting Bournemouth Aviation Museum.
Oceanarium – Bournemouth Aquarium
A top option for rainy days in Bournemouth is the Oceanarium, which has two floors of underwater displays and habitats for creatures including penguins, sharks and rays.
You'll find the aquarium next to Bournemouth Pier.
Find out more about visiting Oceanarium.
Smugglers Cove adventure golf
This 18 hole adventure golf course on the seafront in Bournemouth is ideal for young pirates with holes to challenge the whole family. A round at Smugglers Cove costs £9.60 for adults, £6.60 for under 16s, and £28 for a family of two adults and up to three children.
Find out more about Smuggles Cove.
For more ideas for things to do in Poole, Bournemouth and beyond, take a look at my guide to things to do in Dorset with kids.
Where to stay in Bournemouth
We can recommend a few places to stay around Bournemouth and Poole, including Bournemouth Beach Lodges right on the seafront at Boscombe and South Lychett Manor caravan and camping site.
This time we got to experience a dog-friendly hotel in the heart of Bournemouth.
Hotel Collingwood
Hotel Collingwood is a boutique 3-star hotel in a Victorian building just a few minutes walk from Bournemouth Pier, the beach, West Cliff Park, the Bournemouth International Centre and other town centre attractions.
The hotel decor is bright and quirky, with vibrant turquoise details and gorgeous bird print wall papers. This theme is continued in the hotel's luxury Signature rooms, while the standard rooms are more simply decorated.
The staff were very welcoming and quickly got us booked in for dinner when we arrived. Kids eat free with paying adults.
It's the family-friendly touches that we really appreciated about this hotel, as well as being able to eat with Tin Box Dog in the bar area. In fact, she was the first one to be served a drink when we sat down for food.
The kids were brought colouring sheets and crayons at both dinner and breakfast. Dinner was followed by cookies, which we took to our room.
Dogs can stay for a supplement of £10 per night per dog, with a maximum of two dogs per room.
As well as the restaurant, the hotel's facilities include a games room and indoor swimming pool (both bookable under COVID restrictions), a hidden garden outdoor seating area at the back of the hotel, free wifi and free parking.
Read my full review of Hotel Collingwood.
Find out more about Hotel Collingwood room options and prices.
Where to eat in Poole
We had a lovely meal at Hotel Collingwood when we arrived, so I can recommend booking into the restaurant if you are staying there. Dinner is included in some stays if you book direct.
But where's good to eat in Poole when you are out and about?
We tried two places where dogs are welcome too:
Rockfish Poole Quay
You can't get fish dishes much fresher than at Rockfish. Their motto is 'Tomorrow's fish is still in the sea'. We're familiar with Rockfish as we come from Dartmouth where this south coast restaurant chain originated. So, we were really pleased to find one on Poole Quay.
The menu
After being talked through the specials – the day's fresh catch – we decided to share a starter of crispy fried salt and pepper Brixham calamari and halloumi. We followed this with Dover Sole and bottomless chips for Mr Tin Box and Monkfish with salad for me.
The kids both went for their Rockfish favourite – fried prime cod and chunky chips.
It was all cooked to perfection. I was particularly delighted with my Monkfish, which came with a butter and garlic sauce and had a meaty texture like lobster.
The kids meals come with a scoop of ice cream for dessert and an Ocean Protectors bag. This contains an activity book, colouring pencils, stickers, a wrist band and puzzle. All of it is recyclable or biodegradable so you needn't worry about plastic waste.
I had just enough room to squeeze in a flavoursome peach melba cheese cake for dessert. Mr Tin Box may have had to help finish it off – it was rich and very creamy.
The quality of the food at Rockfish is superb. We're already planning a visit to our local in Devon to enjoy it some more.
Find out more about Rockfish in Poole.
Rick Stein's at Sandbanks
On the second day of our visit we headed to Rick Stein's at Sandbanks.
Despite it being a busy morning at the beach the air conditioned restaurant was surprisingly quiet. Dogs are welcome to join you in the spacious bar. If you are dining sans-pooch you can take a table on the terrance overlooking the tidal lake.
The menu
While Rick Stein's is famed for its seafood dishes, you can have a filling breakfast or relaxed brunch here too.
Our girls love a cooked breakfast and quickly settled on the full English with Tywardreath sausage and crispy bacon, and a request for few modifications (the addition of baked beans), which the team were happy to oblige.
The kids are also big fans of smoothies and had another special request: banana and blueberry smoothy without the blueberry. Again, this was no worry for the bar staff who whipped up a bespoke drink for my fussy pair.
Mr Tin Box and I were much less hassle. We picked eggs royale and bircher muesli with banana straight off the menu. We washed this down with a perfectly brewed Americano and an Earl Grey tea.
The portion sizes were just right and set us up perfectly for the rest of the day.
The Rick Stein's bar area has a lovely relaxed atmosphere with sofas and chairs arranged at small tables. There's also stools at the bar should you want to stay on for a cocktail or two. We'll be back for those another time!
Find out more about Rick Stein Sandbanks.
Have you visited Poole and Bournemouth? What are your top recommendations for things to do other than the beach?
Disclosure: we were invited to experience a weekend in Poole and Bournemouth as part of an unpaid press trip. Our accommodation, experiences and expenses were covered. All opinions are my own and my family's.
Planning a visit to Dorset? Why not use Pinterest to save this post about things to do in Poole and Bournemouth this summer.