Reviewed: St Lucia island tour with My Cruise Excursion 
If you're on a cruise in the Eastern Caribbean and are searching for St Lucia excursions then it's likely you'll be looking for a guided tour that encapsulates the natural and historic highlights of this iconic island.
*Advertisement feature*
Ahead of our Caribbean cruise we were contacted by My Cruise Excursion who asked whether we'd like to review their Island tour: One day tour to St. Lucia excursion.
The itinerary promised to allow us to 'explore St Lucia and discover the highlights of south Castries…its magnificent nature, beautiful bays, lively locals and great beaches'.
Well, as first timers in St Lucia and the Caribbean, it sounded the perfect way to introduce ourselves to the island. And it didn't disappoint.
Read more about our Eastern Caribbean cruise.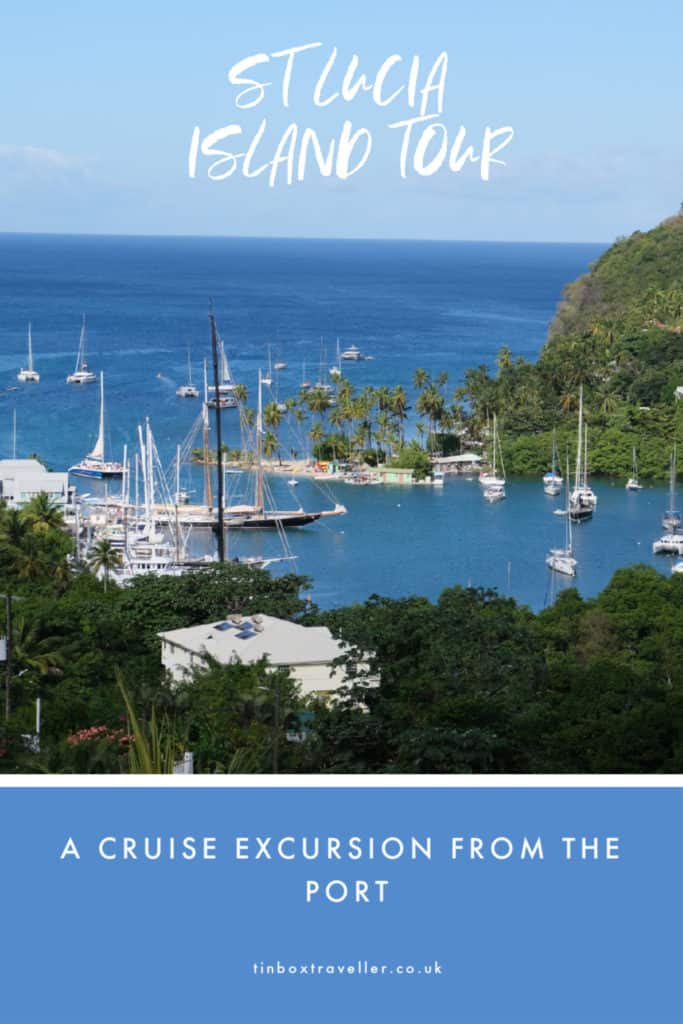 Here's our review of this St Lucia excursion from the cruise port, including what we thought of our guide, where we visited during the tour, whether it's value for money and if it's suitable for families.
A guided tour from Castries
We met our tour guide, Bruno, within minutes of stepping off the ship. He was waiting for us in the cruise terminal area with a 'My Cruise Excursion' sign, so was easy to spot.
Bruno explained to us that he'd been working in the hospitality and tourism business, both here in St Lucia and in Europe, since graduating. And at the age of 66 he was still loving it.
Bruno was an expert at filling us in on facts about St Lucia, its history, economy, and its culture throughout the day. He was also happy to answer questions and adapt the tour to suit our interests.
Your St Lucia excursions bus
Our ride for this six and a half hour tour was a small mini-bus – similar to those we'd seen all over the Caribbean islands.
This one had seats for up to 12 passengers with seat belts and air con. My Cruise Excursions specialise in small group tours so there won't be more than 12 people on your excursion.
The meeting place
We met Bruno in the cruise ship terminal at Pointe Seraphine, but My Cruise Excursion will also pick up from Port Castries Berth on the other side of the harbour depending on where your ship comes in.
What do you see on this St Lucia excursion?
St Lucia view points
From the port we travelled through Castries and up into the hills overlooking the port and our cruise ship, P&O Azura. At each of the stunning view points we visited Bruno gave us plenty of time to take in the vista and get our all important photos.
It's possible to pick up plenty of souvenirs along the way, from beads and carved bowls make from the inedible fruit of the Calabash tree, to some of the islands' delicious produce, which includes 20 different types of rum.
Plantations and local food
At one time every flat area on the island was used to produce sugar cane. The plantations numbered 20 during the slave trade and continued to be worked by the islanders after slavery was abolished in 1838. Sugar, coffee and cocoa was the island's main industry right up until 70 years ago when the demand for brown sugar dwindled.
This is when bananas took over as St Lucia's main export. Today 1k tonnes of the yellow fruit are exported each week. However, tourism is what now fuels the 21st Century St Lucia economy.
As part of the tour you stop on the road at a banana plantation where you see the green fingers wrapped in blue plastic if they are due to be exported . As well as bananas St Lucia produces mangos, bread fruit, avocados, pineapples, coconuts, yams…
The list of produce goes on to include bitter tasting nuts with medicinal qualities, as well as a root that can been grated and mashed into a sweet or savoury cake. You tour takes you to Plas Kassav – the most popular Cassava bakery on the island where you can taste this gluten-free delicacy. It's soft, warm and very filling.
St Lucia's west coast
St Lucia's west coast views are a real joy during this tour. The coast road takes you along the hills above to Marigot Bay where scenes from Pirates of the Caribbean were filmed and where modern day super yachts are regularly moored.
As you continue south you drive through the incredibly picturesque, traditional fishing town of Anse-La-Raye.
Bruno encouraged us to walk around for a while. There are some touristy stalls along the promenade and a long narrow beach where we saw the catch of the day being brought in at the small pier and a fisherman mending nets in the shade.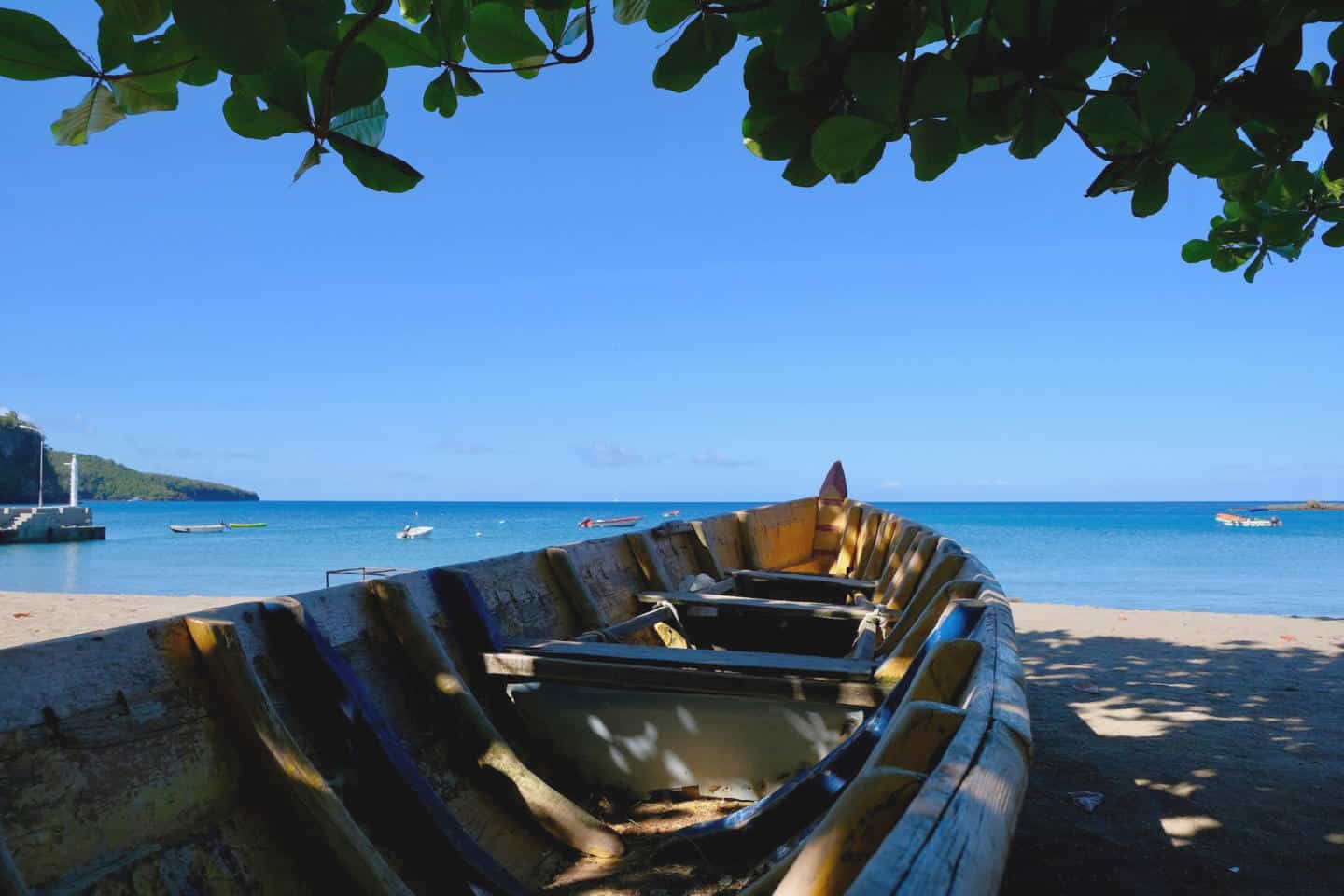 Anse-La-Raye was named by the French because of the Sting Rays that were once found here.
They have long since vanished because they were over-fished while the island of St Lucia was handed back and forth between the British and French – 14 times in total – before it finally become a British colony.
It gained its independence in 1979 but remains a commonwealth country.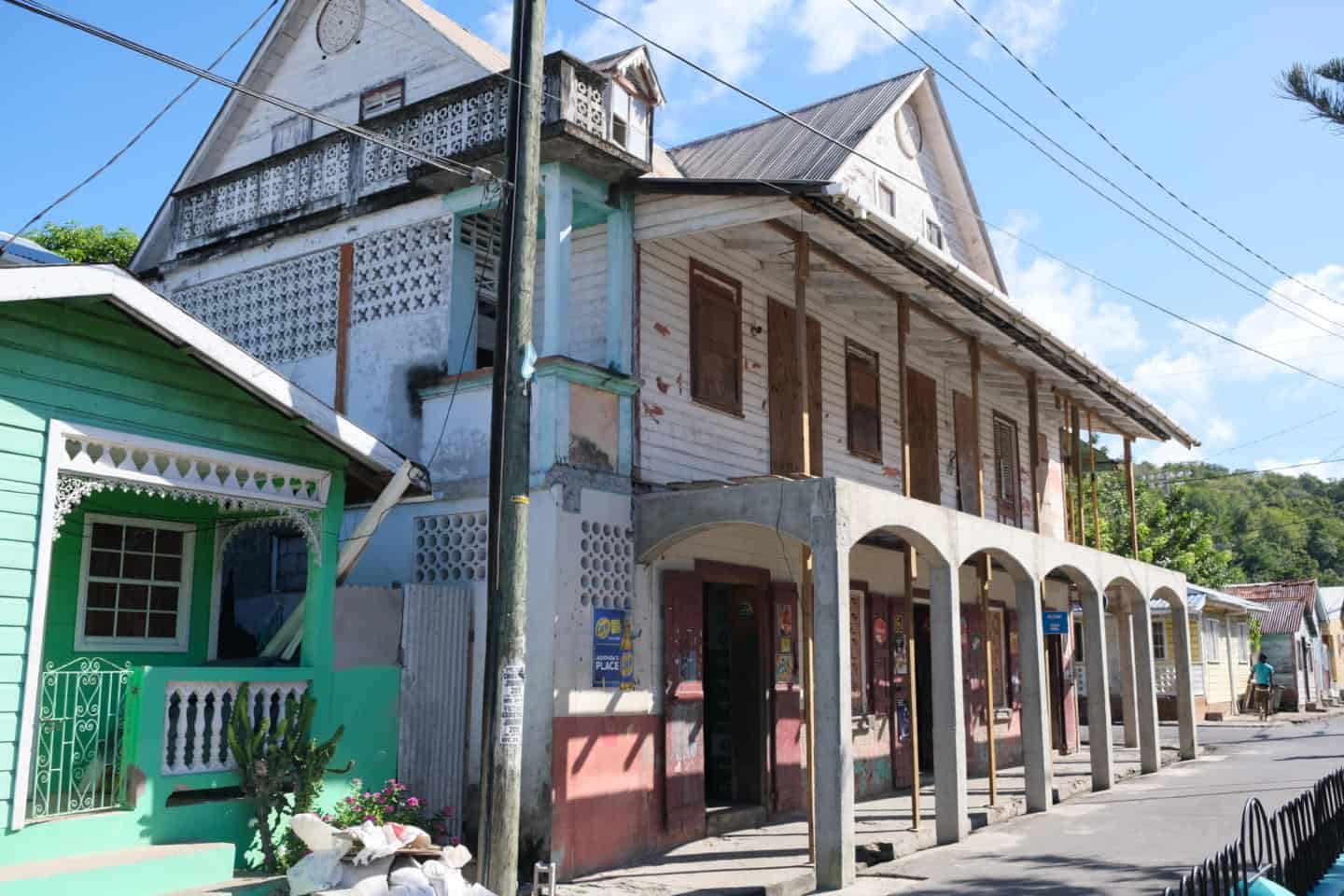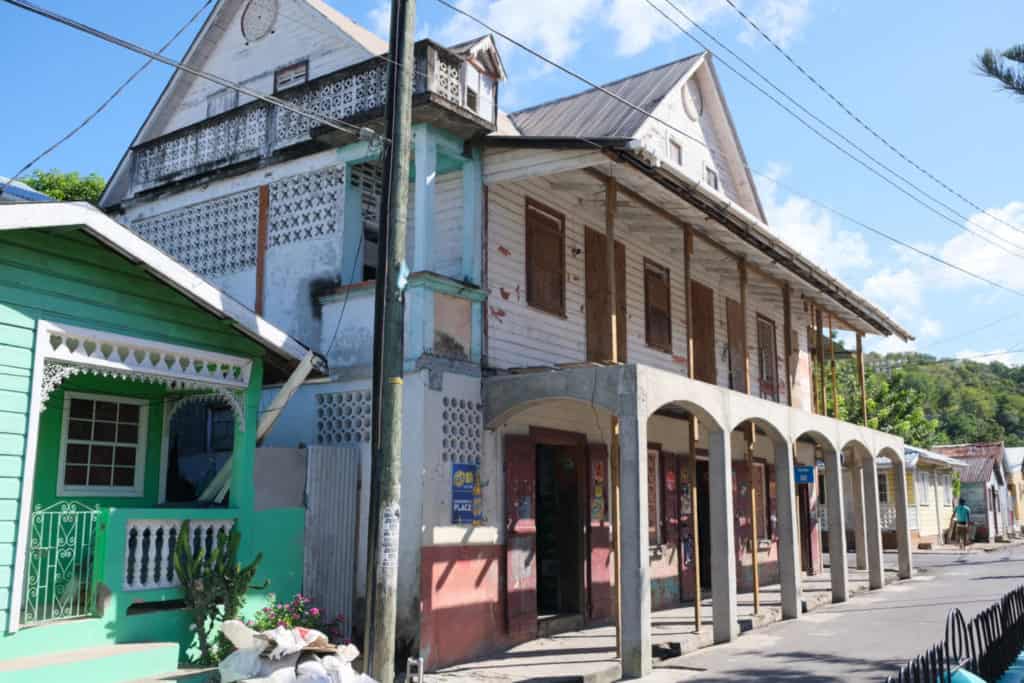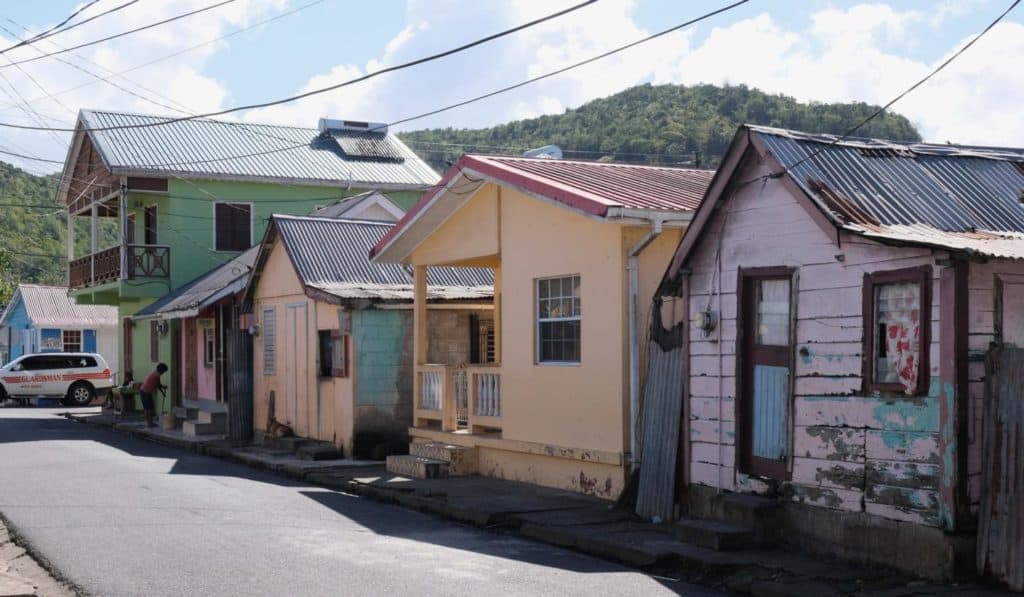 Our drive continued along the coast road through the fishing village of Canaries and through the rain forest. The winding route was dotted with palms, ferns, banana plants and the odd abandoned vehicle slowly being consumed by the undergrowth.
The Pitons
It was as the road emerged from the rain forest that we had our first glimpse of Petite Piton – a small triangle of green peeking above the other hills. The Pitons are St Lucia's most famous view and our tour allowed us to see them several times.
The pitons look very close together from a distance but they are actually 1.5 miles apart. You can climb them using a system of rails and ropes. We are saving that experience for our next visit to St Lucia.
Soufrière and the botanical gardens
The former capital of St Lucia, turned popular celebrity haunt, Soufrière is as far south as you travel on this particular St Lucia excursion. But before you return along the same coast road you have the option of visiting Soufrière Botanical Gardens.
This is an extra cost on top of the tour price ($7US per adult and half price for under 12-year-olds) but is worth it. There's always something flowering in the gardens and its common to see humming birds sipping nectar from the exotic blooms. We saw one but weren't quite quick enough with the camera.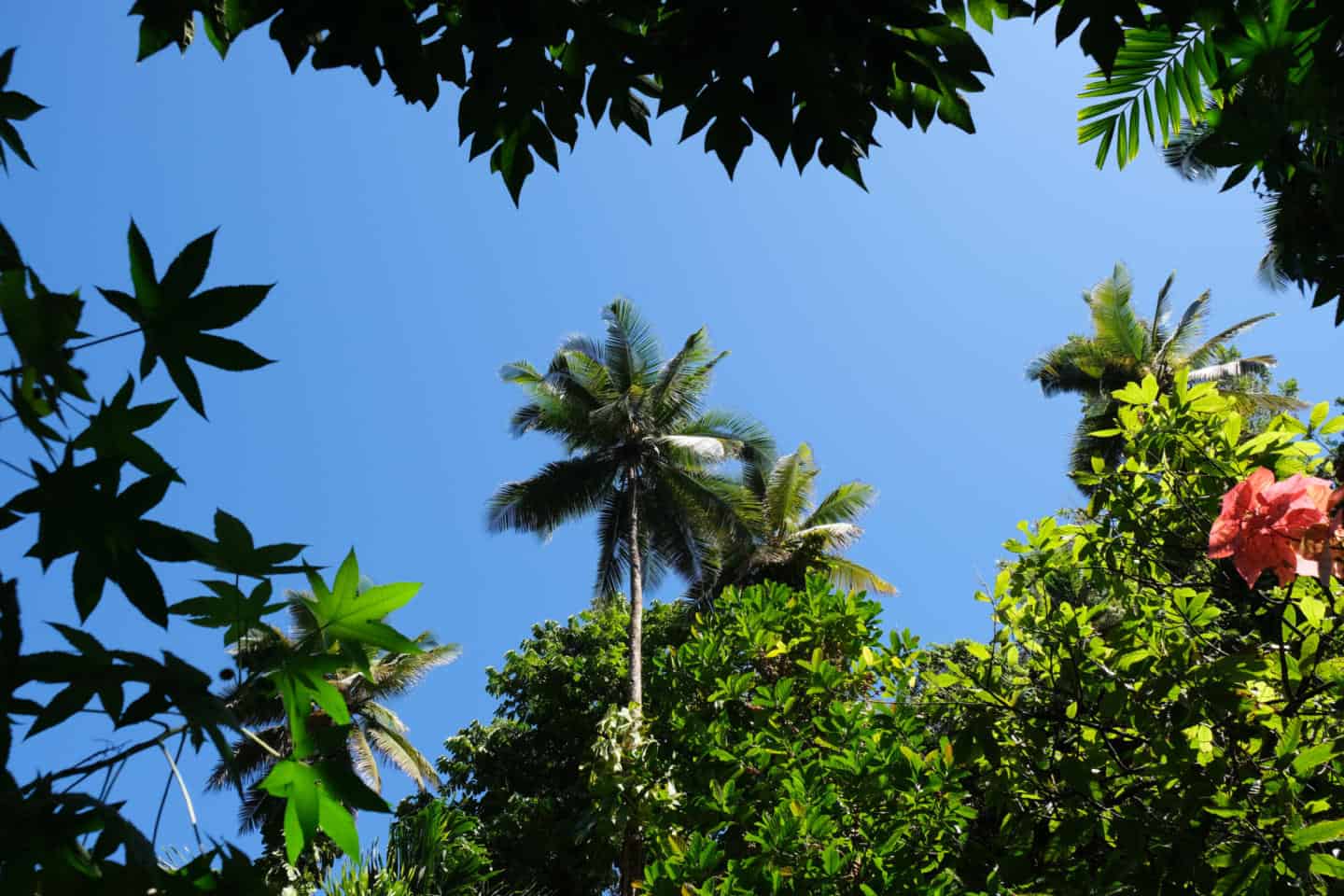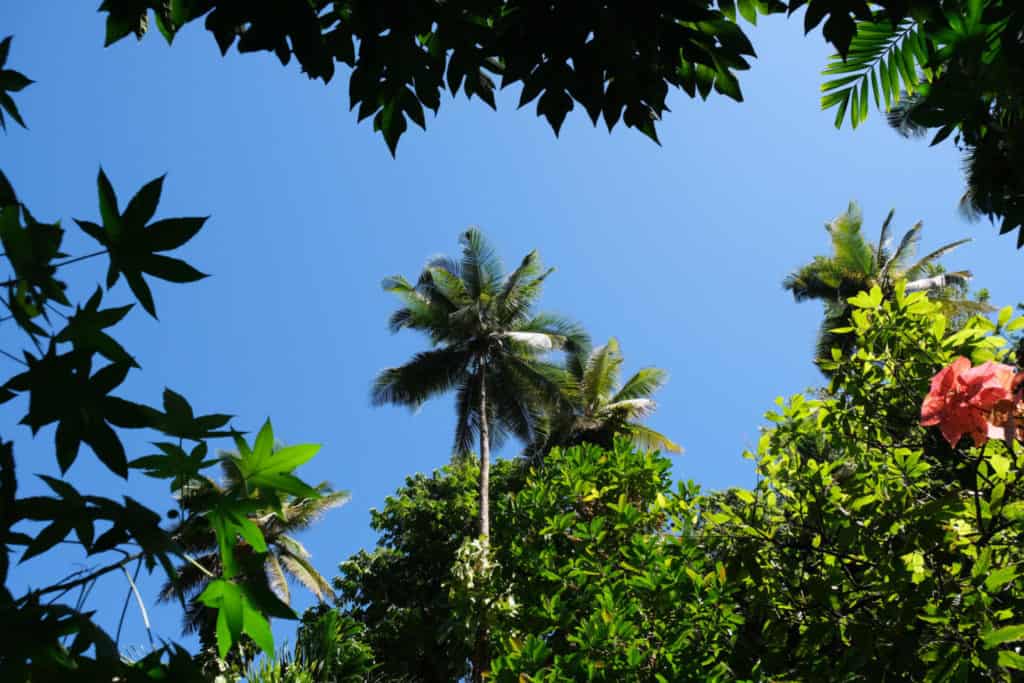 Walk to the very back of the gardens, past the thermal spring baths (there's an extra charge for these), and you reach the mineral rich Diamond Waterfall.
This was a location for the 1980s film Romancing the Stone, specifically the scene where Kathleen Turner and Michael Douglas break open the doll statue and discover the emerald. It also appeared in Superman II.
Return via the beach
As we travelled north towards Castries Bruno allowed us to enjoy the views, stopping for more pictures and dropping us at Vigie Beach before returning us to the ship.
The golden sandy beach lined with almond trees runs parallel to George Charles Airport where a few prop plans land each day.
It's free to use the beach and there are toilet facilities attached to the bars which sell drinks, snacks and delicious smelling curries. You can also hire sun beds and umbrellas here if you decide to stay longer.
Handy things to know
If you're booking this excursion then here's some extra things you need to know:
This is an all day tour but here is no stop for lunch. We picked up drinks and snacks along the way. Bruno supplied us with fresh bananas at the plantation and a taster of Cassava cakes at Plas Kassav bakery.

Soufrière Botanical Garden has plenty of facilities and a gift shop with drinks and snacks.
The roads are windy, so if you suffer with travel sickness take some medication beforehand.
Bring your camera, sun cream, swimming costume and a towel
There's no difficult walking involved in this tour so you'll get by with sandals or flip flops
My Cruise Excursion guarantee to get you back to the ship on time.
Is this tour for families?
Mr Tin Box and I were on this Caribbean cruise without the kids. However, even when they are not with us I'm always thinking about how family-friendly experiences are.
I think my two girls, aged six and four, would have gotten fidgety in places.
But there was plenty of opportunity to get off the mini bus and look at things, taste fruit and explore. Bruno's wealth of knowledge about the island would make for a very educational tour for older kids.
Was the tour value for money?
The Island tour: One day tour to St. Lucia excursion costs £63 for adults and £39 for children aged two to six-years-old, so it's an expensive shore day for a family considering there's no meal included.
It was possible to book similar tour though our cruise line for less money. However, while this went as far as Soufrière, it was shorter and, on paper, didn't include so many stops or the beach time at the end.
If you are looking for a full day tour then this one is better value. Although I think charging children over six the full adult fare is unusual.
Why take this St Lucia island tour?
If you are looking at St Lucia excursions and are first timers in the Caribbean then this tour will give you an excellent overview of the island and treat you to some of its most famous views.
There's also options to get more or less out of different parts of the tour by spending time walking around the botanical gardens or adding more time to your beach stop. Of course, if you are with cruisers not in your family group you'll have to go with the majority.
Overall, we had a brilliant day with Bruno and My Cruise Excursion, and will definitely be checking out their tour options for future cruises.
Find more cruise excursions in the Caribbean with My Cruise Excursion.
Read more about our cruise and the other Eastern Caribbean destinations we visited.
Disclosure: My Cruise Excursion invited to have a complimentary tour in exchange for coverage of their St Lucia excursions. All opinions are my own.
Looking for St Lucia excursions? Why not save this post for later.