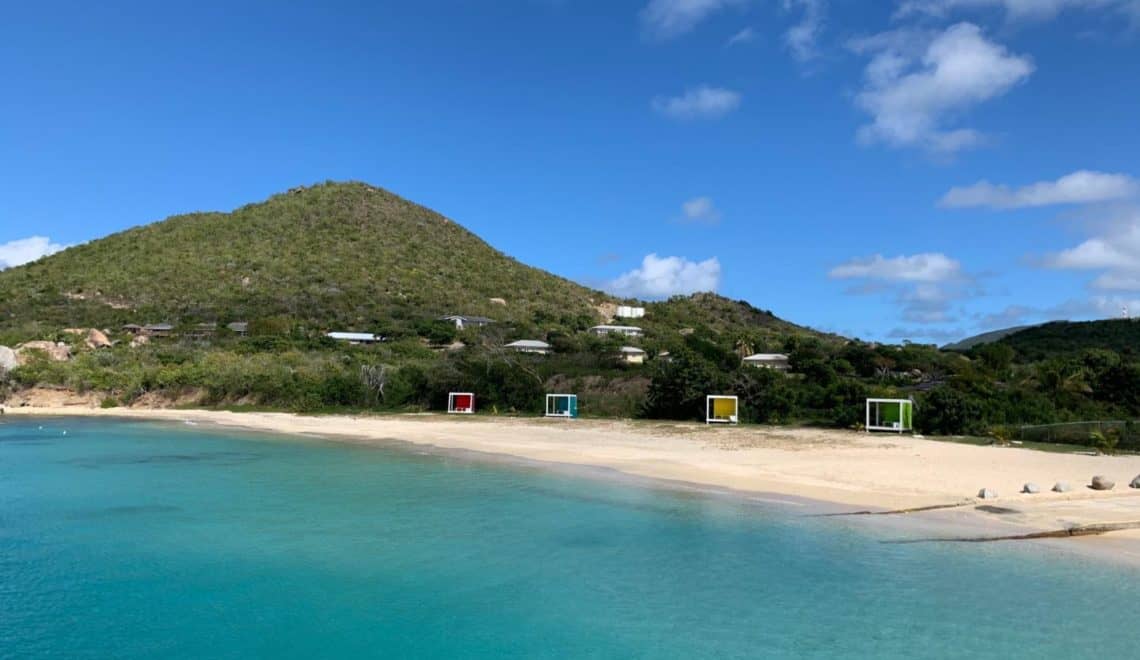 Unmissable things to do in Virgin Gorda
Padding along the fluffy, white sands of Devil's Bay in Virgin Gorda was the moment I knew I was in the Caribbean. We were already a week into our holiday, but this was something else. The impossibly blue sea, the incredible volcanic landscape and the warm water lapping around my ankles all added up to the real deal. Virgin Gorda was a highlight of our Eastern Caribbean cruise. If you fancy seeing it for yourself one day, I want to share our top things to do in Virgin Gorda.
But first….
Travelling to Virgin Gorda
We travelled to Virgin Gorda by catamaran as part of an organised excursion during our Caribbean cruise. This called in Tortola, the largest of the 16 inhabited British Virgin Islands.
Tortola's capital, Road Town, is an easy place to pick up day trips. You can also take a ferry from Beef Island at the eastern end of Tortola.
From Road Town it was a bumpy 40 minute boat ride during which we experienced rainbows, 'liquid sunshine' and plenty of sea breeze. We visited during a day of changeable weather. By the afternoon things had improved a lot.
Boats come into Spanish Town on the south west of the island.
From here you can get taxis around the island. There is no public transport.
What can you do while visiting Virgin Gorda
Devils Bay
Our guided tour started at Devil's Bay. This designated British Virgin Islands national park is a 10 minute drive from Spanish Town and a further 10 minute hike down a sandy and rocky trail to the sea.
You'll walk between granite boulders that look like they have been thrown together by giants playing a game of boules. The sides of the path are lined with prickly cacti and lush green bushes.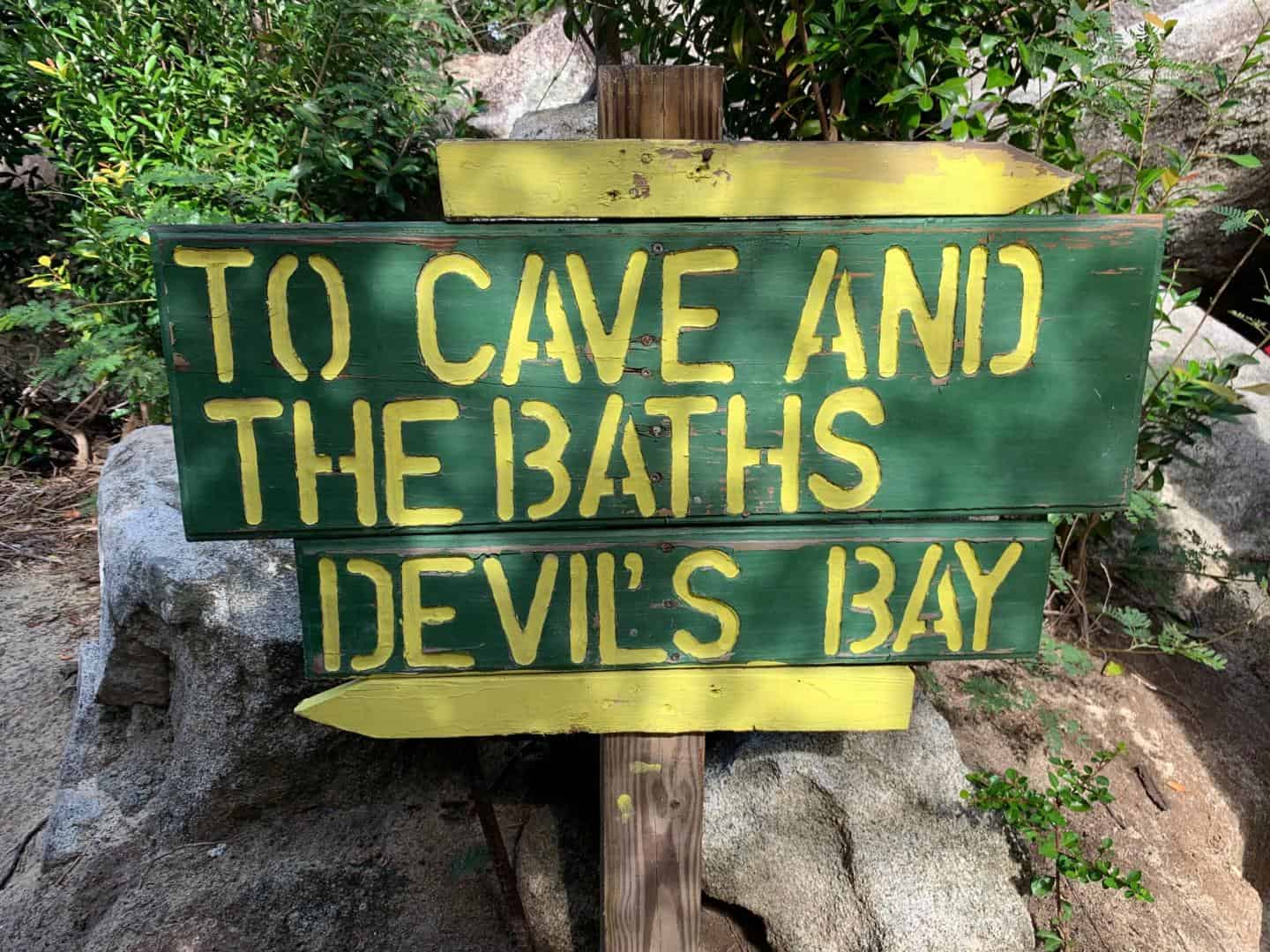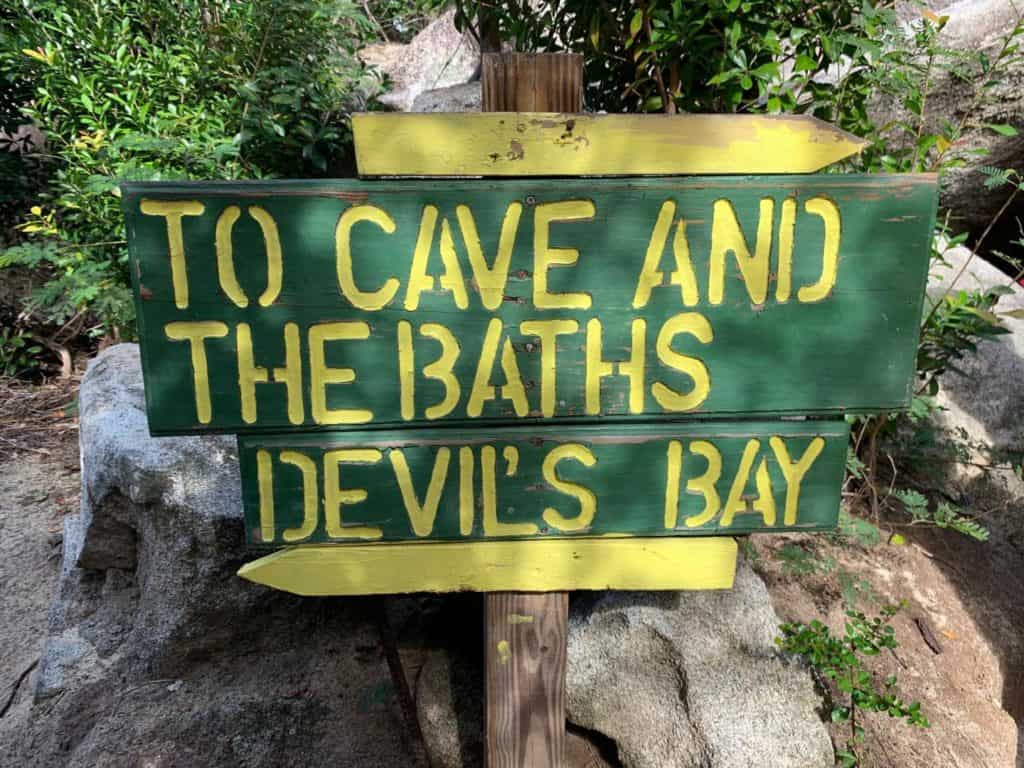 When you emerge from the path you find a horseshoe shaped bay with white sand that slips into the glass-like water.
This beach is the quieter of the ones we visited because it doesn't have any facilities or bar. But there were still boats moored off shore and it's on a regular tourist route so groups pass through continually during the day.
It was a great spot for swimming and snorkelling with plenty of fish to see beneath the surface. We spotted neon blue fish, large fish giving piggy backs to smaller fish, and others that represented the full spectrum of the rainbow. I'm obviously no expert, but loved the variety that we saw.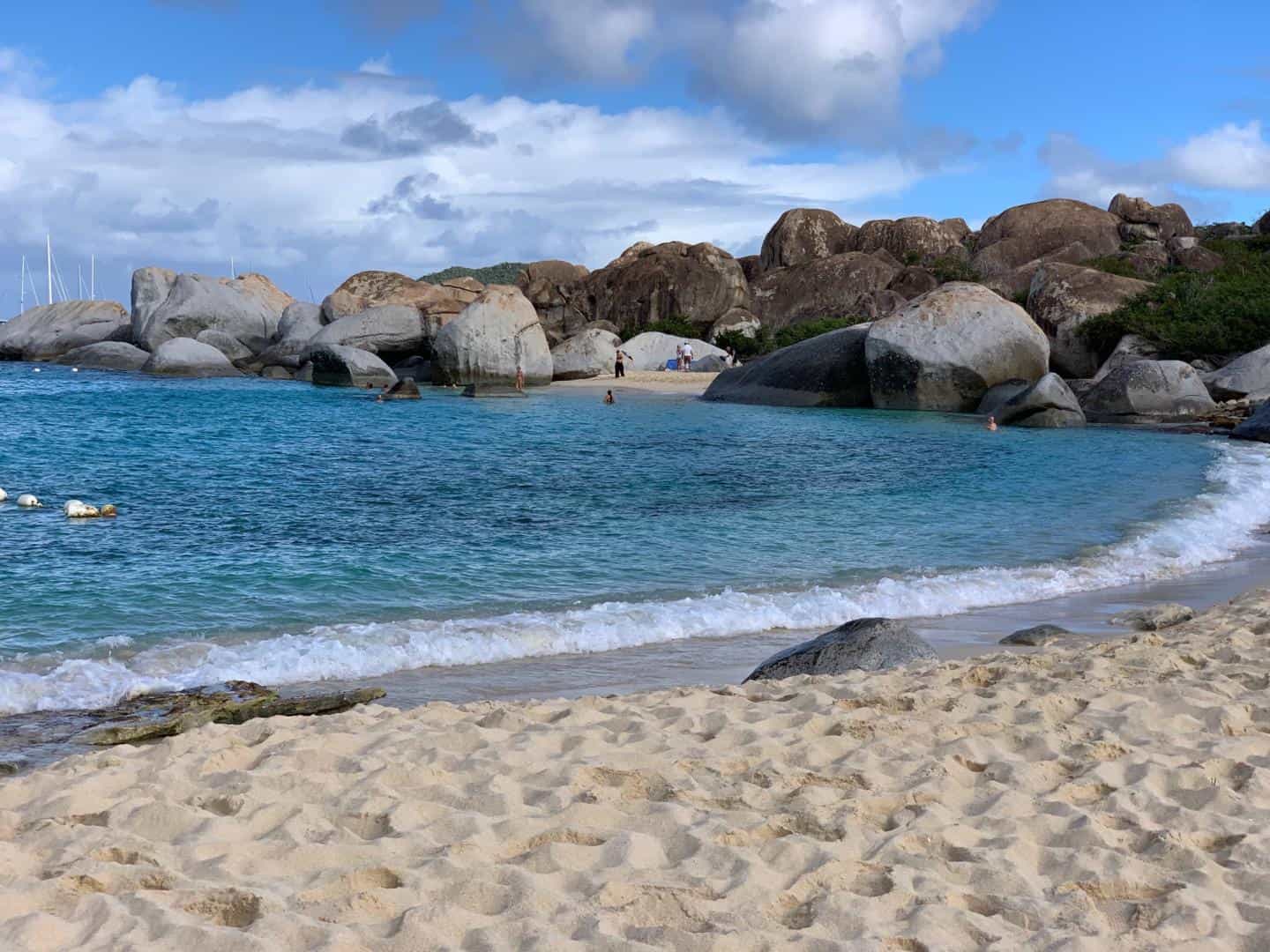 Explore the Caves
A collection of boulders, known as The Caves, can be accessed from the path to Devil's Bay. It's best to tackle these with a guide as they can't be accessed at high tide.
There are some steps, low passageways and parts where you have to hold a rope or rail to go up and down rough surfaces. But generally it was light exercise that we'd be comfortable doing with kids.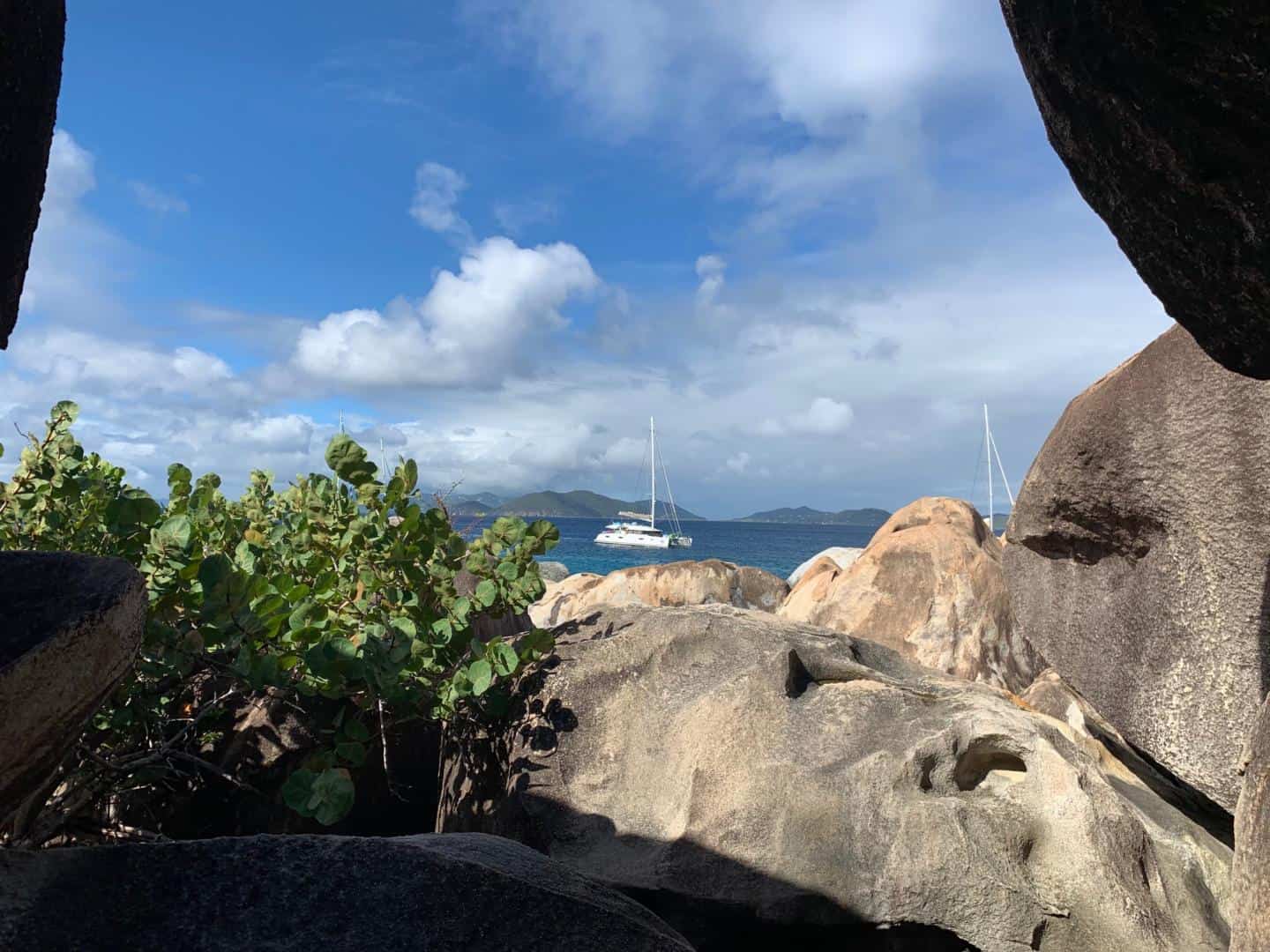 Along the route there are places to glimpse the sea and stop for a photo. Expect it to be busy in the caves with queues to pass through some of the trickier parts.

The Baths
When you emerge from the caves there's another short path to The Baths beach. You can also access this beach from the car park where your taxi will drop you for Devils Bay.
The Baths has a beach bar and shop as well as showers and toilets. This beach is busier and wasn't my favourite of the two but, as signs everywhere remind you, this is still paradise.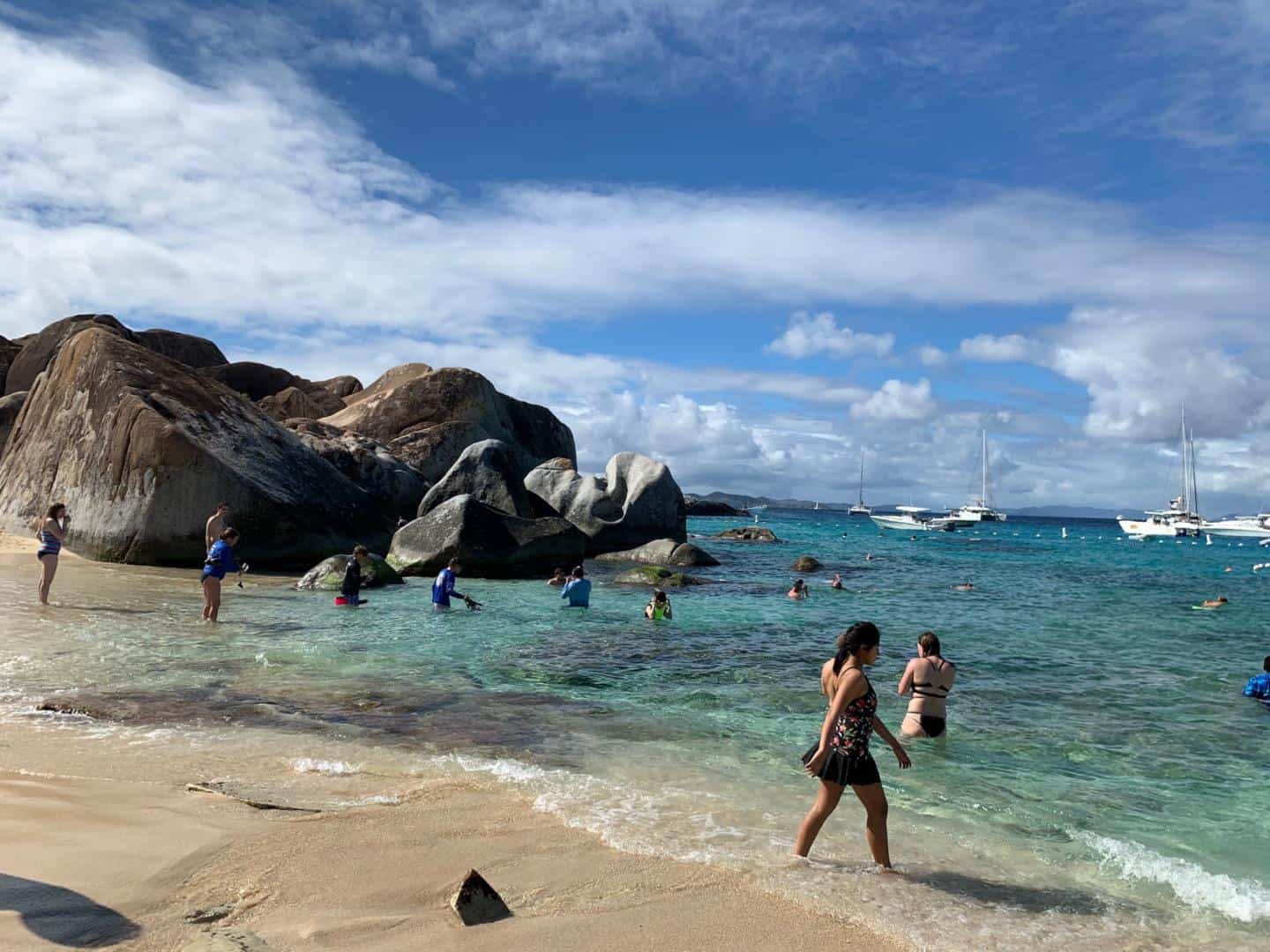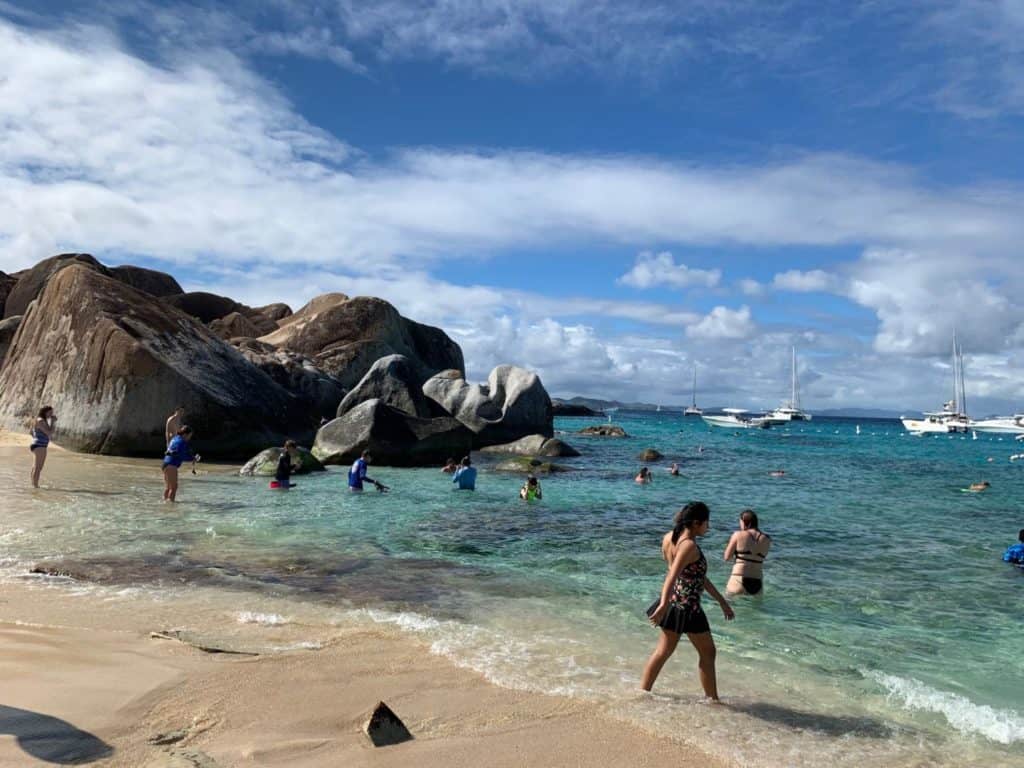 There were more yachts anchored off the beach here and the snorkelling was just as good. The sea was a combination of bright turquoise and a dazzling deep blue in January when we visited.
When you wander back up to the car park you'll find a restaurant, souvenir and clothing shops as well as changing facilities.
Our Virgin Gorda cruise excursion
We saw all of this on a organised tour with Romasco Tour Company booked through P&O. This wasn't billed as a snorkelling trip and snorkels were not supplied but we recommend bringing your own. We bought ours for the trip.
Snorkels are on my Caribbean cruise packing list.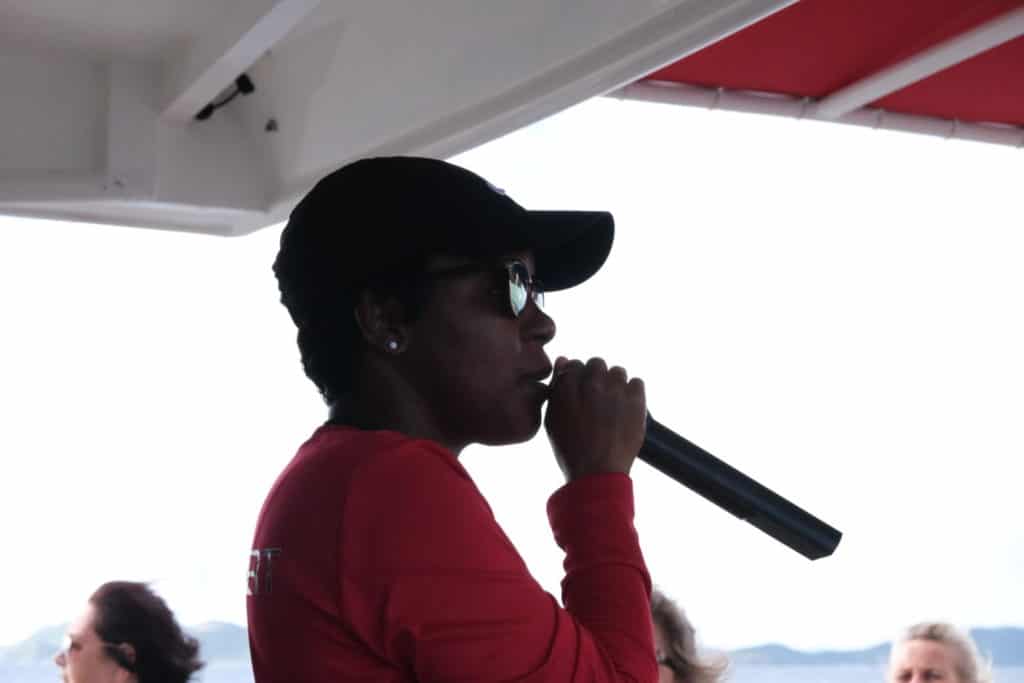 The tour is an excellent opportunity to see more of the BVI and experience some of its best beaches. It's suitable for children aged three and up. We'd feel confident in taking our girls with us (aged four and seven) even though some parts of the caves may have been more challenging.
More things to do in Virgin Gorda
If you are travelling independently then there are other beaches and National Parks to explore on the island:
Just along from The Baths beach are Spring Bay and Little Trunk Bay, which are both part of the Devil's Bay National Park and are said to be some of there most stunning beaches in the Caribbean.
Beach hopping by chartering a boat is definitely something to consider doing if you have a day or two on the island.
On the other side of the peninsular from Devil's Bay is the Copper Mine National Park, which has ruins of mines that were operational here until the mid 19th Century. They were established by miners from Cornwall in England.
And on the highest section of the island is Gorda Peak National Park. You can hike up 1,370 ft for panoramic views of the British Virgin Islands.
If you have the opportunity to visit Virgin Gorda we would highly recommend it. If you have any questions about it then drop me a line.
Find out about our other Caribbean cruise excursions:
Disclosure: we paid for our own cruise and excursion to Virgin Gorda. All opinions are my own.