Best UK Christmas markets in 2021 – confirmed dates!
There's nothing quite like a whiff of mulled cider and the twinkling of log cabin lights to get you in the mood for the festive season. I'm crossing everything for a return of UK Christmas markets in 2021 and have been checking dates for some of the most popular ones around the country.
If you're getting in the yuletide spirit, you'll also want to wrap your eyeballs around my guides to family days out this Christmas and the UK pantomimes happening in 2021. They've both been updated!
Where to find Christmas Markets in the UK
Below are the UK Christmas markets confirmed as of 5 June 2021. Expect more to be added to this list as the year progresses, restrictions allowing!
As always in 2021, check with organisers for the most up-to-date visitor information.
Bristol Christmas Market
Visit Bristol city centre and start your Christmas shopping early at 50 unique stalls, as well enjoying entertainment from the likes of Santa and street entertainers throughout November and December.
If you have time to stop for some refreshments there's heated seating, delicious drinks and live music in the Jäger Barn Bar. You can also have a go at Bavarian curling.
Bristol Christmas Market, Broadmead, Bristol, 5 November to 23 December 2021.
Want to stay in Bristol for the market? Here's some family-friendly Bristol City Centre apartments you might like.
Exeter Christmas Market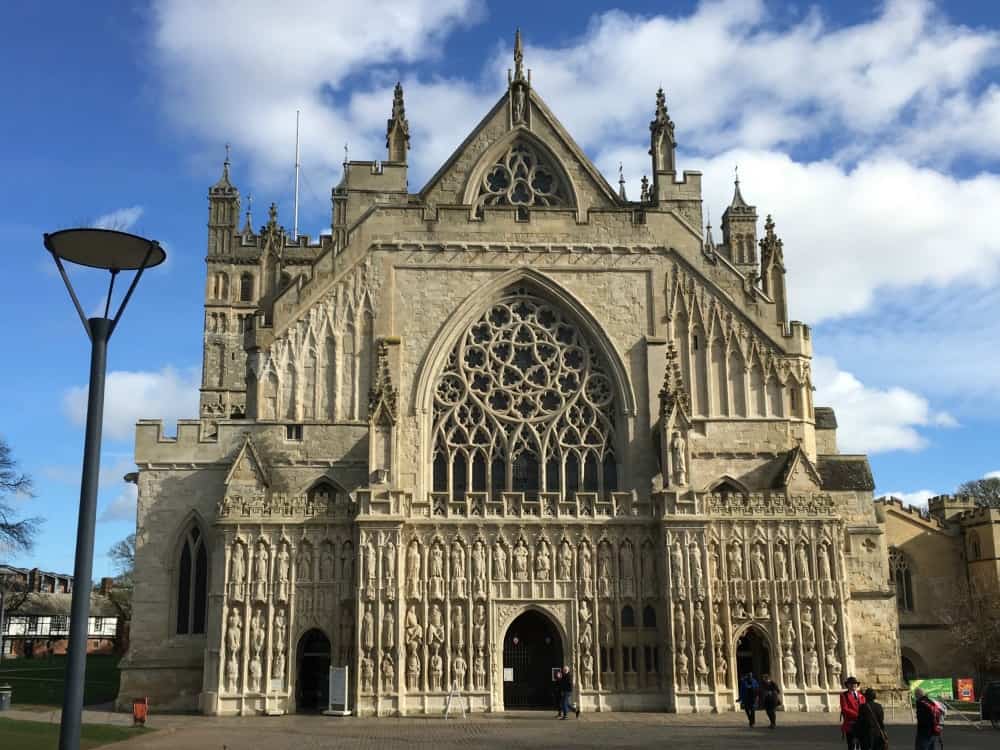 This Bavarian-style market takes place in the precincts of Exeter Cathedral in the heart of the city. It's a stunning location.
As well as gifts and crafts, there are stalls selling global cuisine, and as pop-up bars and live music.
Exeter Christmas Market, Exeter Cathedral, Devon, 18 November to 18 December 2021.
Here's some more things to do this Christmas in Devon.
Cardiff Christmas Market
This maker-focused UK Christmas market offers an alternative shopping experience – you can see your crafts and gifts being handmade infront of you.
A rolling programme of more than 200 businesses are expected this year, plus seasonal food and drink producers.
Cardiff Christmas Market, City Centre, Cardiff, 11 November to 23 December 2021.
Find more things to do in Cardiff with kids.
Bournemouth Christmas Market
The Alpine market will return in 2021 along with the Bournemouth Christmas Tree Wonderland. We visited this in 2019 and can highly recommend it as a wonderful and FREE Christmas family day out.
The market's log cabins line the town centre retail area offering gifts, clothing, crafts and refreshments. As part of the Wonderland (starts 19 November) there's an ice rink and Christmas tree trail featuring more than 100 trees, plus replicas of enchanting trees from six cities around the world.
Bournemouth Christmas Market, town centre, Dorset, 12 November 2021 to 2 January 2022.
Take a look at our review of Bournemouth Beach Lodges. They are a lovely place to stay while enjoying the Christmas Tree Wonderland and market.
Harrogate Christmas Market
This fun-filled Christmas market in the heart of Yorkshire has a wide variety of stalls, children's rides, music and a visit from Santa.
Harrogate Christmas Market, town centre, Yorkshire, 18 to 21 November 2021.
Fowey Christmas Market
Visit this Cornish coastal town to experience a very West Country Christmas with 200 stalls packed with locally produced food and drink, and festive gifts.
Fowey Christmas Market is one of the top things to do in Cornwall this Christmas.
Over the course of three days it takes over the town with traders spread across picturesque Fowey Town Quay, Albert Quay, Webb Street and Town Hall.
Fowey Christmas Market, Fowey, Cornwall, 26 to 28 November 2021.
If you are looking for more things to do and places to stay take a look at my Cornwall family holiday guide.
Lincoln Christmas Market
Expect more than 200 stalls nestled between the Norman castle and gothic cathedral in Lincoln.
As well as lots of opportunities to shop, there will be festive entertainment and food.
Lincoln Christmas Market, Lincoln Cathedral, Lincolnshire, 2 to 5 December 2021.
Durham Christmas Market
Durham hosts four markets over three days with more than 300 independent traders selling crafts, food and drinks.
There's also family entertainment including a children's lantern procession.
Durham Christmas Market, city centre, County Durham, 3 to 5 December 2021.
More Christmas markets in the UK
Many UK Christmas Markets are still in the planning phase for 2021. This is due to the pandemic's ongoing impact on major events.
Below are some of the places where there would usually be a Christmas market. These may yet go ahead, so check back another time for updates.
More markets to look out for:
Leeds
Nottingham
Belfast
Southampton
Plymouth
Liverpool
Chester
York
Newcastle
Birmingham
Albert Square, Manchester
London (various locations)
Have you spotted a UK Christmas market not on this list? Let me know, and I'll add an update quicker than you can say 'mine's a mulled wine'.
Planning your Christmas 2021 family fun? Why not use Pinterest to save this post about UK Christmas markets.