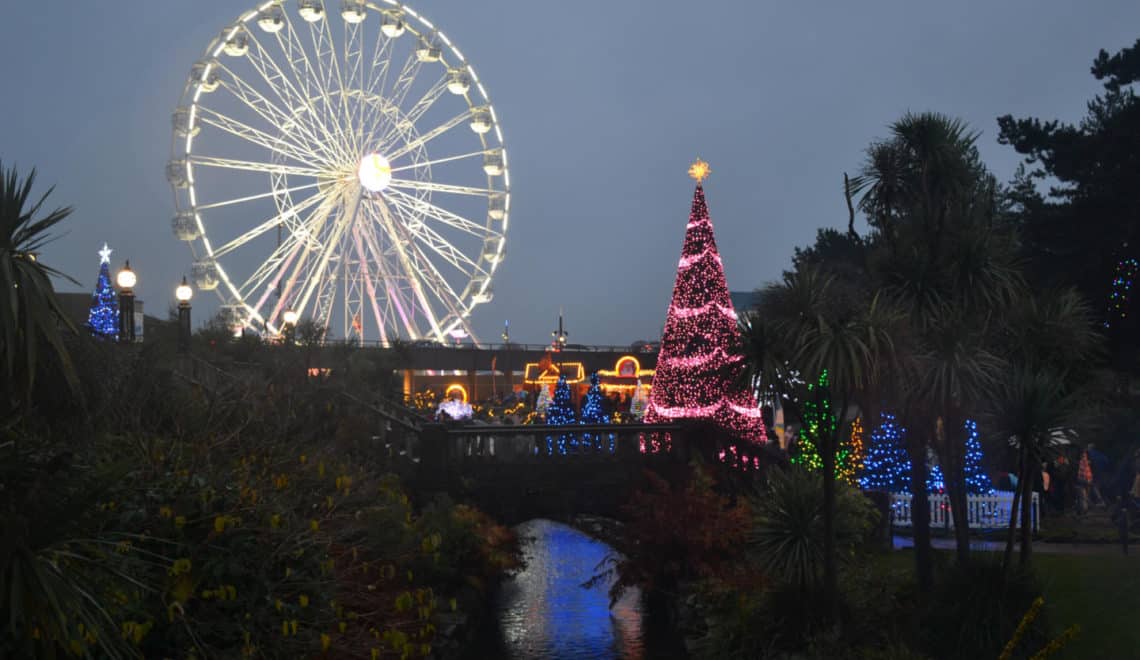 Christmas Tree Wonderland Bournemouth – everything you need to know
We are big fans of festive lights – lantern parades, illuminated gardens and fantastical installations that literally light up your faces and dance to their own seasonal tune. They add a touch magic to the long winter nights. So, when we were invited to experience the Christmas Tree Wonderland in Bournemouth we couldn't say no.
*Advertisement feature*
Please note: Bournemouth's Christmas Tree Wonderland 2020 has been postponed. A scaled-back alpine event is planned with fewer festive stalls and a smaller alpine bar. The nativity tree will be back though. Bournemouth's Christmas Tree Wonderland will be back in 2021. 
Here's what you can expect then!
Bournemouth's Christmas Tree trail was a great success in 2018 and cam aback in 2019 with lots of new attractions.
The illuminations and light installations run from the Big Wheel in front of the famous pier, through the Victorian Lower Gardens to an Alpine style market in The Square. Along the way there are street stalls and cafes selling bratwurst, hot chocolate, churros and the obligatory seaside ice cream, as well as an ice skating rink.
At the trail's centre is Bournemouth's own Wonderland Tree stands 60ft tall with 30,000 individually programmed lights that perform to music.
There are also replicas of international Christmas trees, representing Moscow, St Petersburg, Warsaw, Bethlehem and Seattle. The latter was my favourite.
Pick up a trail map at one of the entrances to Lower Gardens to make sure you don't miss anything. Or you can find a copy of the trail map here.
For an overview take a look at our Christmas Tree Wonderland Bournemouth video:
Guide to Bournemouth Christmas Tree Wonderland trail
Here's our guide to the Christmas Tree Wonderland, including everything you need to know for a magical day out or stay in Bournemouth.
How long do you need for the Christmas Tree Wonderland trail?
We spent six hours making the most of the whole experience, starting with ice skating when the rink opened at 10.30am and managing to keep our girls (aged six and four-years-old) going long enough to see the lights at dusk.
To see the lights at their very best arrive after 4pm when the light and audio shows start. These happen every half an hour between 4pm and 9pm. Bear in mind that the trail will be at its busiest after dark, so might be more difficult with young kids.
There are several routes through or around the gardens and illuminations if you get caught in a crowd.
Bournemouth Christmas Tree Wonderland prices
It's free to walk through Lower Gardens and see the Christmas Tree Wonderland itself, but you may like to budget for a few extra activities to make it a special Christmas day out.
Skate
Skate is a real ice rink at the top of Lower Gardens. It's a long time since either Mr Tin Box or I have been ice skating and the girls have only had a go on plastic rinks.
It's safe to say skating was a hit, despite me feeling like a baby giraffe and everyone getting soggy socks. The rink is outdoors so the rain from the night before had settled on the ice making the surface wet. But that didn't detract from the skating experience, which was fantastic.
We booked for the 10.30am when the rink was quieter and there were plenty of skating aids. This was the ideal time to go for wobbly me and the kids who took a bit of time to gain confidence on the ice.
Meanwhile, Mr Tin Box quickly regained his skating skills gained as a teen!
After skating it's good fun to visit Mogul's Apline Bar which is attached to the rink. We can recommend a luxury hot chocolate for helping you warm up. There's also street food, music and festive booths for chilling in after a skate.
Tickets for Skate, including skate hire, costs £11.50 for adults, £9.50 for under 16s, £10.50 for seniors and £38 for a family ticket. Skating aids are £4.50 each. If everyone in your group is going on the ice you can hire a lockers for your bags for £1.
The Big Wheel
The 100ft wheel gives you brilliant views of Bournemouth Pier and beach as well as the illuminations at the bottom of Lower Garden.
Tickets cost £6 for adults, £5 for children, £5 for seniors or £20 for a family of four. You get two spins around The Big Wheel.
Smugglers Cove adventure golf
This new 18 hole adventure golf course was great fun to do after lunch. The staging is great and there were some super challenging holes that brought out the competitive streak in Mr Tin Box and I, even if the girls were content with whacking the ball around as much as possible.
A round at Smugglers Cove costs £9.60 for adults, £6.60 for under 16s, and £28 for a family of two adults and up to three children.
Find out more about Bournemouth's Christmas Tree Festival here.
More things to do at Christmas in Bournemouth
As well as the outdoor activities there's also a Santa's grotto at Beales department store. This costs £9 per child. Tickets can be booked in advance for timed slots up until 24 December 2019.
Visit different locations in the town centre every day to take part in or experience different events in the Living Advent Calendar. This is on until 24 December 2019.
Book tickets for Aladdin at Bournemouth Pavilion starring EastEnders' Richard Blackwood as Abanazar and The X Factor's Amelia Lily as Spirit of the Ring. Tickets cost from £20.75 to £24.00.
Where to eat
There are street food stalls at the seafront end of Lower Gardens, in the middle of the park and at the market at the top. A hot spot for seeing and being seen is the Alpine Bar.
If you want to sit down for food then the Prom Cafe serves a wide variety of snacks and meals including a festive menu. This is where we stopped for lunch and found there was something for everyone. 
The girls tucked into a hot dog, sausage roll and chips, while Mr Tin Box had the haloumi burger and I devoured a delicious Penang curry and rice.
The cafe is really popular, so get there early if you want to bag a window seat with a sea view. Budget £30 for a very reasonable lunch for four with drinks.
If you choose to head outside Bournemouth town centre for lunch or dinner we can also recommend Urban Reef at Boscombe. We ate dinner there after seeing the Christmas trees.
I loved eating here many years ago with friends and had high hopes that the food was still just as good. We weren't disappointed.
There's a wide choice of meals on the main menu as well as specials and a children's menu. I had mussels with the most incredible charcoal focaccia, and Mr Tin Box had brisket with a root vegetable casserole, mash and dumplings. The girls both opted for a scrummy looking pasta and meatballs.
Of course, we couldn't resist dessert. The pumpkin pie, cheese cake and chocolate brownies that followed were divine.
Main courses on the menu at Urban Reef range from £12 to £23.50 and £5.50 for kids meals. This is somewhere to go for a special meal with a sea view during the day and a cosy, intimate atmosphere at night.
Where to stay
If, like us, you are coming from further afield for the Christmas Tree Wonderland in Bournemouth we can recommend staying at Bournemouth Beach Lodges.
These bijou lodges come stylish beach huts accommodate up to six people right on the beach at Boscombe. We stayed for two nights and loved the experience of listening to the waves and having the golden sands within touching distance.
A three night stay in November would have cost £350. Here's our Bournemouth Beach Lodges review.
Looking for more things to do near Bournemouth? Take a look at my guide to things to do in Dorset with kids.
Disclosure: we were invited to experience the Christmas Tree Wonderland in Bournemouth as part of an unpaid press trip. Our accommodation, experiences and expenses were covered. All opinions are my own and my family's.