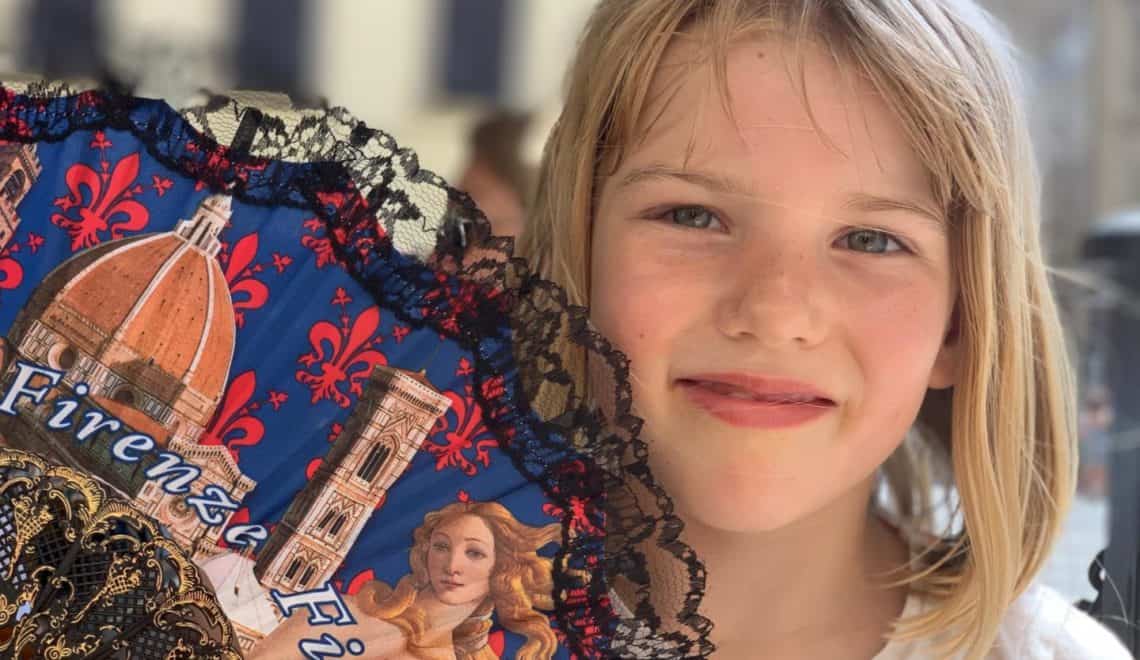 Florence with kids – essential guide to sightseeing, eating & accommodation
Which city have you visited most often? For me it's Florence (if you discount the UK where we live). It's happened more by luck than planning but I'm happy to have become a regular in the past few years both for solo and family trips. It's a gorgeous place! Here's my guide to Florence with kids, including things to do, where to eat, places to stay and getting around.
*This post contains affiliate links*
Best activities do in Florence with kids
Florence isn't a city where you'll find lots of overtly family-friendly things to do, but that doesn't mean your kids need to be bored.
Here's some of the things we have done with our girls during visits when they are toddlers and then again when they were six and four-years-old. Plus, I've added in activities I think they'd enjoy when they are a bit older.
Some of these ideas are free and just involve wandering the streets at your own pace. Others must be booked well in advance.
Uffizi Gallery tour
There's no doubt that the Uffizi Gallery in Florence was intended for adults more than for children, but it is possible to see it with kids and learn about the art!
The gallery was originally part of the private residence of the long ruling Medici Family. But in 1798 it became the first museum in the world to be opened to the public. You still needed a special invite to visit but it made the most incredible artworks accessible to those other than the elite for the first time.
Last summer we took a family-friendly tour of the Uffizi Gallery with Europe 4 Kids when the girls were six and four-years-old. Our fabulous guide, Francesca, pitched the tour really well; gauging the girls' mood and taking us outside for a look around the city too.
The kids had a treasure trail and because it was a private tour we were able to make all important gelato stops when the need arose. This is the type of activity you must arrange well in advance of your visit to Florence with kids so that you have gallery tickets arranged.
Read more about our family-friendly Uffizi Gallery tour.
Ride the carousel in Piazza della Repubblica
This beautiful carousel was brought to the city 100 years ago as a Christmas attraction and was so popular that it never left. You'll find it in the Piazza della Replubblica and it costs a pocket-friendly €1 per child per ride.
Tot has now riden it twice; first as a three-year-old and then again as a six-year-old. Baby got her first chance last summer after being asleep in her pushchair during her first visit to Florence. Did she enjoy it? I think her face says it all.
Marvel at the statues in Piazza Signoria
Piazza Signoria is a busy tourist spot in Florence so make sure your kids stay close and don't get lost in the crowds. I've now visited three times – in March, June and August – and whatever the time of year, it's always bustling.
And it's not hard to understand why. This is where you will find Florence's best open air museum housing original Roman statues. It's free to see the statues and walk among them in the piazza.
Michelangelo's David used to be here too but it was moved to Galleria dell'Accademia di Firenze in 1873. The statue of David that's in the piazza now is a replica.
Ponte Vecchio
Ponte Vecchio is the oldest surviving bridge across the River Arno in the city. The others were destroyed by retreating German troops in World War II.
It dates back to Medieval times and is lined with high end shops selling gold, watches and jewellery. The views from the bridge are fabulous and a must for a family selfie.
Boboli Gardens
The Boboli Gardens are located behind the Pitti Palace and is the most famous park in the city of Florence. It was built for the Medici Family, which bought the palace in 1550. The extensive gardens were opened to the public in the 18th Century. It is one of the first and most important examples of the 'Italian Garden' in Italy.
The gardens are massive – 45,000 sq km in all – and an ideal place to take kids to let off steam after exploring the city. There are fountains, grottos and sculptures to discover. From March to October entrance costs €10 for adults and €2 for children.
Search for street art
Something that I didn't notice so much on my first few trips to Florence was the street art. But it was abundant when I visited in 2018 and 2019, despite being banned. This was one of the things I loved during an organised tour of Florence with LivItaly.
If you cross the River Arno onto the less touristy side of the city you'll be able to spot a lot more.
We also saw artists working on pastel artwork on the paving between the Duomo and River Arno.
See more examples in this Florence street art post by Sarah who writes Extraordinary Chaos.
Visit the markets
If you want to show your kids an authentic organic Florentine market then head to Santo Spirito Organic Market outride the Santo Spirito Church on the south side of the River Arno. Here you'll find local organic produce, hand crafted gifts and wicker baskets.
You'll have to time your visit well as this only take place on the third Sunday of each month.
San Lorenzo Market is a the main market to visit and has indoor and outdoor stalls selling Italian delicacies. In the indoor part of the market, known as Mercato Centrale, you'll find foodie heaven. And outdoors there are leather goods for which Florence is famous, plus clothing and souvenirs.
ll Porcellino
This is Florence's bronze boar fountain which was sculpted in the 17th Century. It's a popular spot for visitors as if you put a coin in the boar's mouth and it drops through the grating below it's meant to give you good luck. And if you rub its nose you will come back to Florence.
This is a fun thing to do with kids. And who wouldn't want to come back?!
Climb the Duomo
We are yet to attempt the 463 steps up to the dome of Florence's Duomo but it's something I'd love to do when the kids are a bit older.
There are always huge queues outside the cathedral so I'd recommend booking a tour in advance so you can make the most of your time in the city.
Where to eat in Florence with kids
Here's our tried and tested places to eat in Florence with kids:
Perché No!
Translated as 'Why Not!' you'd need to have a good excuse not to take the kids to Flornece's oldest gelato shop. Founded in 1839, Perché No! makes is gelato fresh every day using salt, sugar, water, fruit and air. It includes less sugar and less fat than ice cream and tastes divine.
My personal favourite flavour is pistachio but I can also recommend the strawberry, lavender and chocolate. The latter is their most popular flavour.
Cafe Rivoire
If you need an energy boost then Cafe Rivoire in Piazza della Signora is where you'll find delicious chocolate treats.
It's prime position near the Uffizi Gallery and opposite the fountain of Neptune, so expect to pay handsomely for the beautiful pastries and treats in their windows. But if you are looking for a quick fix then you can buy individual chocolates for under €1 each.
Il Toscanaccio
If you're looking for a sit down meal within a family budget then we can recommend Il Toscanaccio on Piazza di San Firenze. When we visited on a hot day in August it was the mist sprinklers under the outdoor canopies that draw us in.
It's in the city centre but outside of the busy commercial area, so the price for a couple of pizzas for us to share didn't break the bank. We also had great service here from a waiter who spoke multiple languages with ease.
Ristorante Finisterrae
This cafe in Santa Croce has an amazing display of pastries, cakes and ice-cream behind the glass counter.
This was our first stop during our very first family visit to Florence. We sat outside and enjoyed a view of the picturesque square, which is the burial place of Michelangelo, Machiavelli and Galileo. I remember the coffee being incredible and only wish we'd had time to return and sample those cakes.
Parking in Florence
We have visited Florence as part of an excursion from a cruise and by hire car while staying in Tuscany.
When we spent four hours in Florence during our cruise excursion our coach dropped us off near Santa Croce Square, which seems like a popular spot for coaches to unload. It's not far from here to walk to the city centre sights.
Here's where we have parked while visiting the city independently with a hire car:
Garage del Bargello
This city centre car park is a few steps from Palazzo del Bargello, which is a six minute walk from the Duomo. The parking system is quite an art as the attendants carefully shuffle cars in this parking lot in a building originally used for carriages.
Just leave them with your keys and they will look after everything. I know friends who have used this parking facility since and only have good things to say about it. Parking costs from €30 per day for small cars.
Be aware that the garage is within the Limited Traffic Area (ZTL), which is like the Congestion Charge Zone in London, but if you pre-book the team will take care of this €1 charge for you.
Porto al Prato underground parking
The last time we visited we paid €11 for six hours parking at Porto al Prato station. This is a 20 minute walk (with kids) from the Uffizi Gallery and Pizza della Signoria.
It's a cost effective parking spot and you can get to it without entering the Limited Traffic Area (ZTL). no booking is necessary and you pay on exit. We arrived at 8.30am on a Friday in August and found plenty of spaces.
Best places to stay in Florence and Tuscany with kids
Depending on the type of accommodation, location and budget, I have a few recommendations on places to stay in Florence and Tuscany.
Be aware that there is a tourism charge for staying in and around Florence, even at some campsites, so don't forget to factor this into your budget. Your accommodation provider will be able to give you the most up-to-date charges.
Hotels in Florence
My very first stay in Florence was at the 4 star Hotel Londra* while I was at an event at the nearby congress centre. It was a work trip before I had kids but I think this hotel would make for a good family city break base.
It's a short walk from Florence's main train station – Firenze Santa Maria Novella Train Station – which connects you with Rome, Pisa, Milan and Venice.
The hotel also has family rooms, it is 15 minutes walk from the Duomo, and has a private courtyard where you can relax after a busy day of sightseeing.
If I was to look for a hotel in Florence again I'd start my search with Booking.com* to gauge prices and availability of family rooms. I'd also check whether parking was available or how far the accommodation was from a train station.
Family camping near Florence
During our most recent visit to Florence we stayed at the family-friendly campsite Norcenni Girasole Club, which is 40km or a one hour drive outside Florence. You can bring your own tent, caravan or motorhome, or book mobile home or glamping accommodation.
We stayed in a mobile home with Al Fresco Holidays.
This is a great place to stay with kids if you want to dip into Florence and explore more of Tuscany. It also has excellent facilities with two pool complexes, an adventure park, exercise classes, clubs for kids and teens, plus evening entertainment.
Read our full Norcenni Girasole Club review. And check out this video of our stay at the holiday park:
Villa holidays in Tuscany
I have also stayed in a villa in Tuscany with a group of friends. This would be perfect for a family celebration or a big holiday involving a couple of families.
Read more about Country Relais & Spa Le Capanne, which is an hour and 40 minutes from Florence by car.
Take a look at other villas near Florence and check out my video of this short break in Tuscany:
Tips for visiting Florence with kids
Finding public toilets can be a challenge in any city. Instead of searching for one with kids who are crossing their legs pop into a restaurant or cafe and order an espresso. This will cost you around €1 but the staff will be happy for you to use their rest room, especially if you have kids.
Make sure you wear something appropriate for visiting religious buildings. Shoulders and knees should be covered. A scarf is a handy thing to have in your bag and kids will love using it to dress up.
Give yourself plenty of time for lunch unless you are picking up something from a street food stall. Lunch is a long, leisurely affair in Italy.
Planning a holiday in Italy with kids
If you are planning a holiday in Italy with kids then take a look at my other posts about:
Disclosure: we were given free stays and experiences in exchange for some of the things mentioned in this blog post. We also paid for some of the experiences, trips and food ourselves. This post has been independently complied and everything included here is honestly recommended. This post also contains affiliate links. If you click on one of these and make a purchase I may earn some commission. This does not affect the price you pay.
Planning a trip to Florence with kids? Why not save our family city guide for future reference.