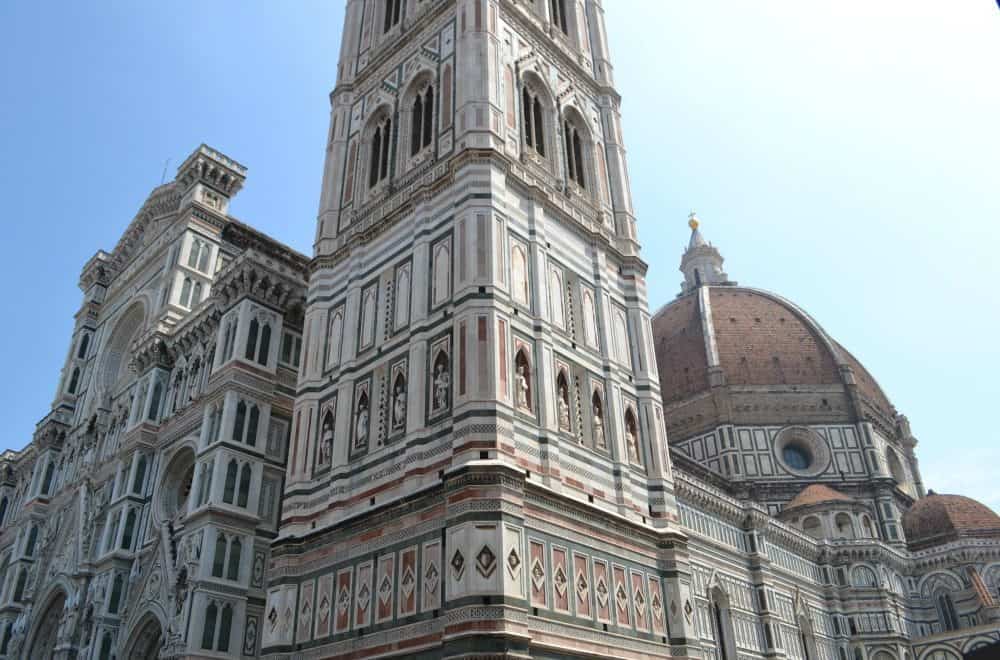 Florence with toddlers: what to see in 4 hours
Florence is a city brimming with art, architecture and Renaissance atmosphere. Visiting for anything less than a long weekend would be a crime against the great artists themselves. But alas, it's a misdemeanour of which we are guilty. During our call in the city we had just four hours in Florence. So how did we make the most of our short time in Florence with toddlers?
We could have gone on a guided tour to take in all the important sights. But with two children under the age of four and a pushchair in tow, a group expedition did not appeal.
Instead we opted for a self-guided wander through the narrow, scooter-lined streets in search of the must-see landmarks and public art. We had a map, a recommended route, and a will to do Florence justice in the time we had. So, here's what you can see in four hours if you visit Florence with kids.
Florence with toddlers – a self-guided tour
We arranged to see a snapshot of Florence while on a Mediterranean cruise in June. We were picked up from the ship by our guide, Elisa, who briefed us on Florence during the coach journey from the port of Livorno.
We parked on the banks of the River Arno and walked to Santa Croce Square where we were left to explore.
Santa Croce Square
Back in the UK, the very first thing we usually do at the start of a day out is find the nearest cafe to refuel Tin Box Tot and Baby. Our visit to Florence was no different.
Santa Croce Square is full of restaurants and cafes ready to serve the daily influx of tourists arriving for sightseeing tours. We chose Ristorante Finisterrae, which had an amazing display of pastries, cakes and ice-cream behind the glass counter.
The square is usually extremely picturesque – you would expect nothing less of the burial place of Michelangelo, Machiavelli and Galileo.
However, when we visited a large temporary sports arena had been erected in the centre of the piazza ready for the Calico Fiorentino. This is a historic football tournament where fighting on the pitch is encouraged.
The scaffolding and plastic sheeting took the shine off the square, so we quickly set about finding the next landmark on our itinerary: the Duomo.
The Duomo
We took a couple of side streets and then rejoined a main road heading north to reach the Duomo. Along the way there were street stalls selling leather. Leather shoes, leather bags and leather purses.
Florence is well known for this but we were warned to inspect all items closely for the words 'Made in Florence' rather than 'Designed in Florence' in order to buy a genuine Florentine piece.
Tin Box Tot was starting to get the hang of souvenir shopping at this point in our eight day cruise and was eyeing up the magnets, bracelets and handmade puppets.
We settled on a small leather bracelet for the princely sum of €3 as her keep sake from the day.
When we arrived at the Duomo, I was surprised by the vivid white and green marble. I had seen pictures of the cathedral but in real life it was a remarkable sight.
It was about 10am by now but the streets around were already very busy and there was a long line of people queuing to go inside the Duomo or climb up into the dome.
We didn't have time to do either tour without forfeiting some of the other places we wanted to see, so instead we opted for a few pictures outside.
Poor Tin Box Tot had had an unfortunate accident the day before which involved her face and the side of one of our ship's swimming pools so had a swollen lip in this shot.
Piazza Della Repubblica
Next we headed south towards the river through Florence's designer shops and high street eateries. It wasn't long before we were distracted by a square to the right with a carousel.
This was Piazza Della Replubblica and the carousel dates from the early 20th Century. Tin Box Tot was a happy girl when we agreed to pay the €3 for her to have a ride on the antique horses.
Tin Box Baby was fast asleep in her pushchair by this point so missed out on the fun.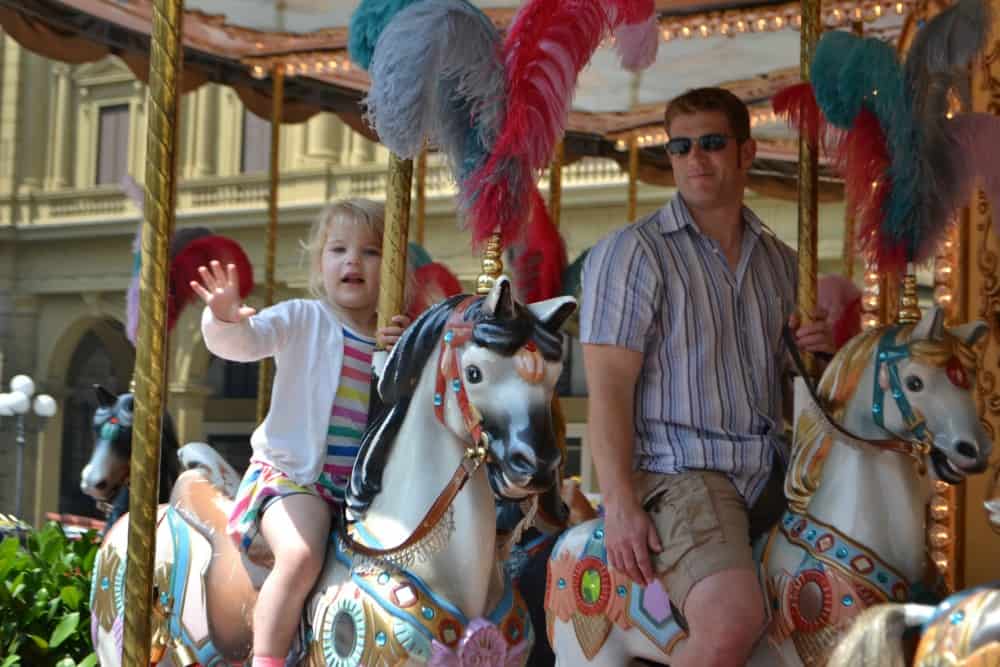 Piazza Signoria and Palazzo Vecchio
Back onto the main street we took a left into Piazza Signoria, which is known as the heart of Florence. It holds an array of famous statues including Michelangelo's David (a replica) and the impressive Palazzo Vecchio – Florence's town hall.
This was another busy spot with far too many people milling around to get a good shot of the most historic works of art. However we did have better luck getting close to the modern Searching for Utopia, which resonated more with our girls. This was a temporary installation in 2016.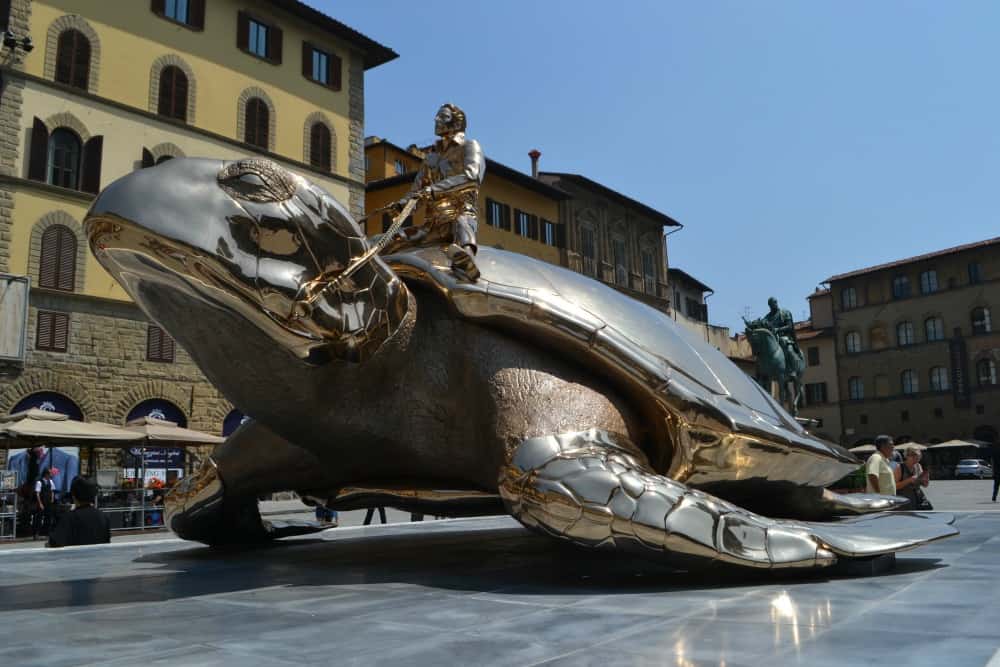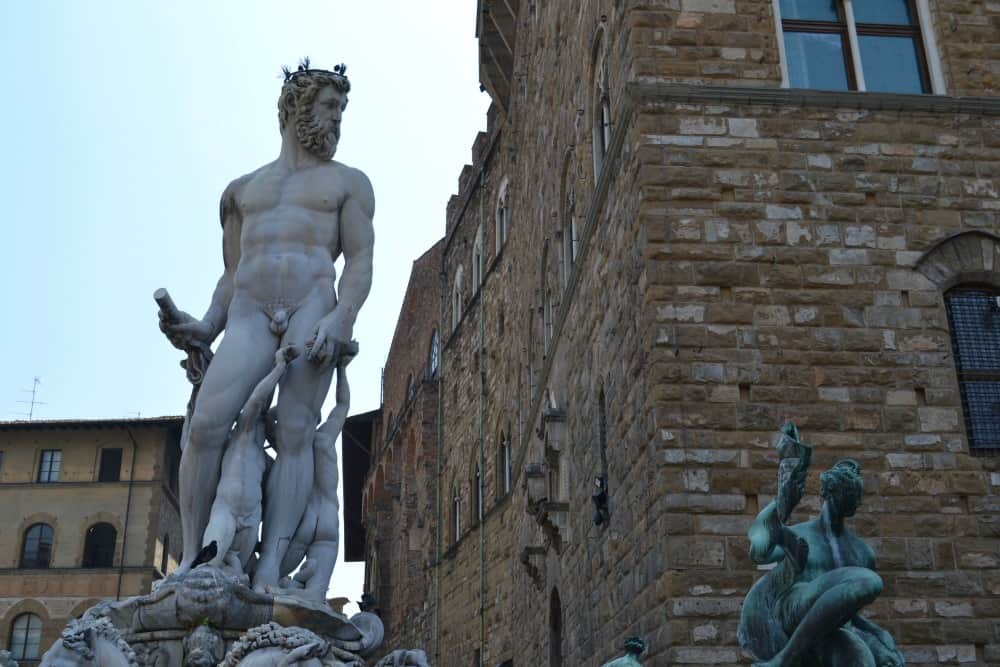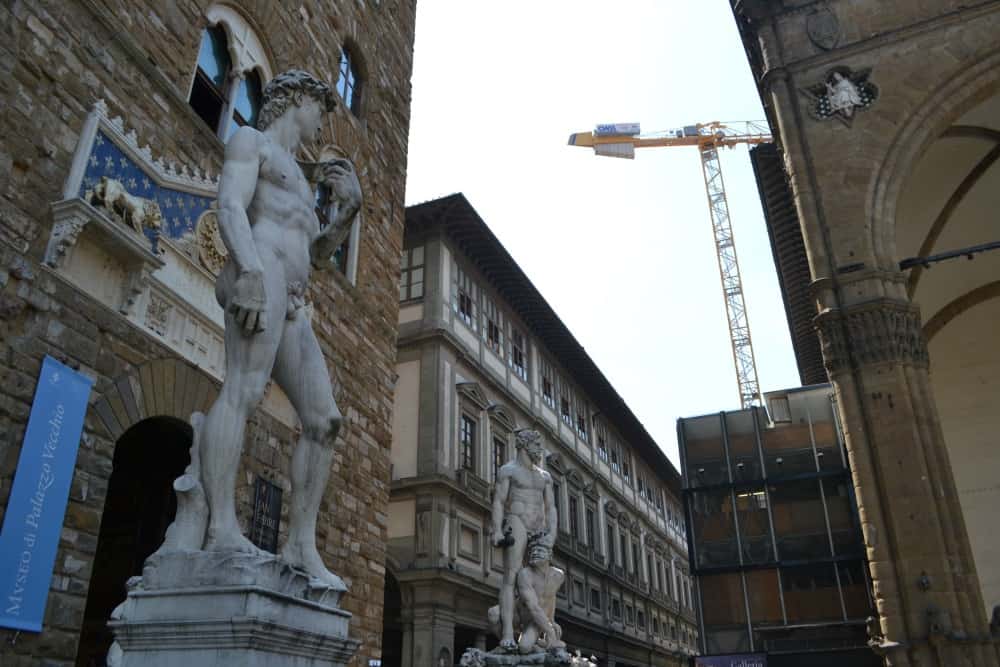 Uffizi Gallery
Next we walked in front of the Uffizi Gallery, which is home to Florence's 2D Renaissance art collection by the likes of Rosso, Botticelli and Raffaello.
It was certainly not a place to visit with two toddlers but I would have dearly liked to have put my head inside if we'd had the time. Instead we satisfied ourselves with looking at the statues of the 28 Florentine Popes and personalities that line the courtyard outside.
Read about our family-friendly Uffizi tour a few years later.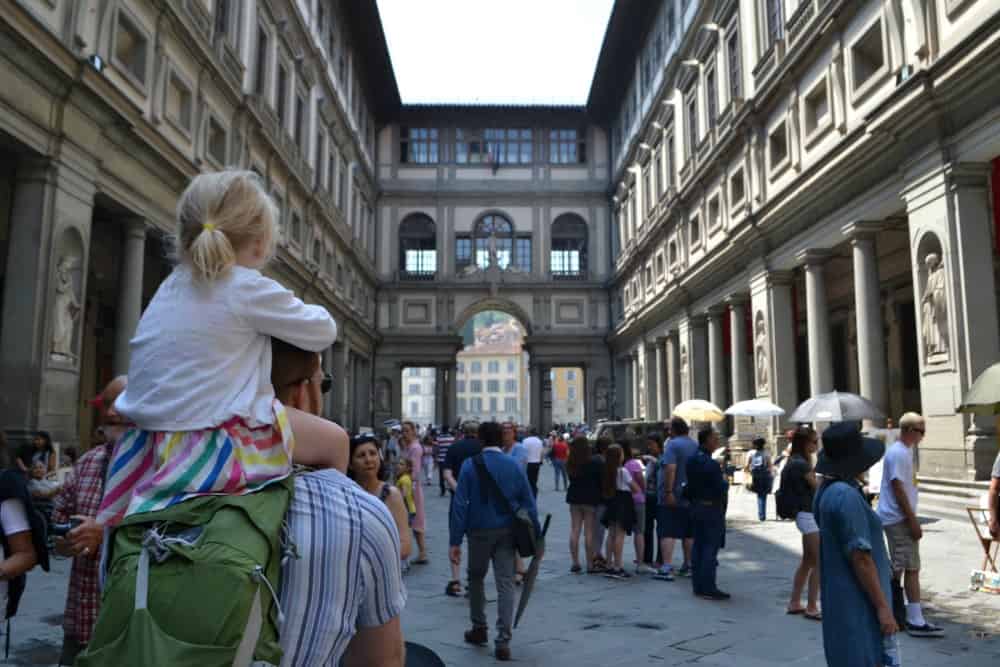 Under the archway we turned right along the river where we were greeted with the sight of our next city landmark.
Ponte Vecchio
Ponte Vecchio is the oldest surviving bridge across the River Arno in the city. The others were destroyed by retreating German troops in World War II. It dates back to Medieval times and is lined with high end shops selling gold, watches and jewellery.
The views from the bridge were fabulous and obviously inspired many declarations of love as evidenced by the collection of love locks we found here.
This is where our sightseeing ended. We walked over bridge and back long the opposite side of the river to Ponte Alle Grazie where we crossed back to the north side and found our way through the side streets to Santa Croce Square for lunch.
A part from a tiny bit of clock watching, we had a very relaxed walk around some of the sights and delights of Florence.
I'm not suggesting this is the best or only way to see Florence. We would love to return and spend much longer in the Tuscany region. However, it is possible to make a spend four hours in Florence with toddlers and come away having experienced some of the magic it has to offer.
Getting to Florence
We visited as a day excursion from the port of Livorno. It took two hours for our coach trip to reach Florence – half an hour longer than advertised.
This extra time was spent getting out of the busy port. Be prepared to entertain any small children for this length time on the road.
We took an iPad loaded with cartoons, as well as snacks and drinks for the journey.
Florence also has its own airport, Toscana Airoporti, which is 4km from the city centre. A taxi ride into Florence will cost €20 plus €1 per piece of luggage. You'll find cheaper flights into Pisa, which is 80km away or an hour and a half drive away.
Florence for kids: tips for your visit
Finding public toilets can be a challenge in any city. Instead of searching for one with a toddler who's crossing their legs pop into a restaurant or cafe and order an espresso. This will cost you around €1 but they'll be happy for you to use their rest room.
Make sure you wear something appropriate for visiting religious buildings. Shoulders and knees should be covered. A scarf is a handy thing to have in your bag and kids will love using it to dress up.
When you are on a whistle-stop excursion, don't do what we did and try to enjoy a sit down meal in a restaurant before rejoining your group. Lunch is a long, leisurely affair in Italy. It may feel unnatural in a region renowned for its amazing food and wine, but grab food to go from a cafe and make the most of your sightseeing time.
Our visit to Florence with kids was a highlight of our holiday and gave me a thirst to return for another look, this time without children.
If you'd like to read more about our excursions during our Mediterranean cruise, why not take a look at our 48 hours in Barcelona or how we toured Marseille by land train.
Have you been to Florence with toddlers or kids of other ages? Where would you suggest we go during our next and hopefully longer family visit?
Planning to visit Florence with toddlers? Save this post for future reference.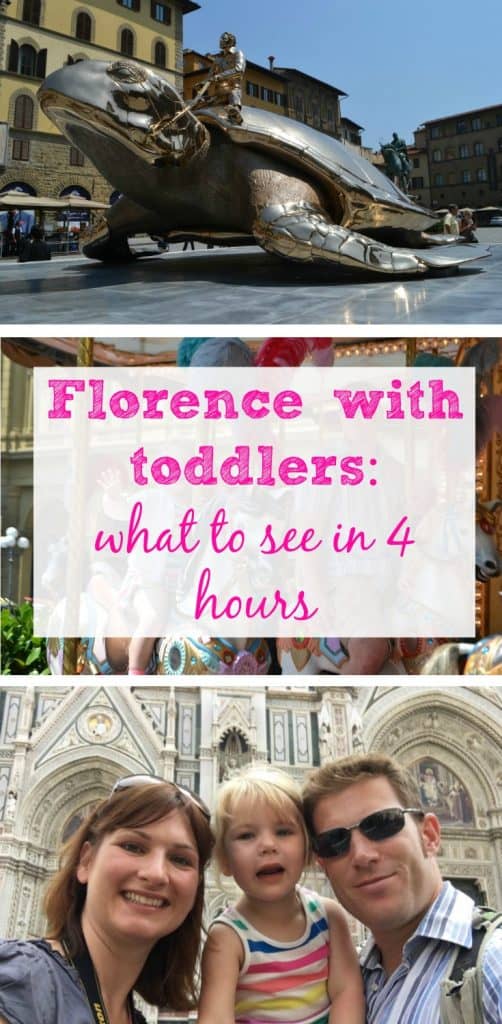 I love hearing what people think about my blog so feel free to leave a comment below or browse around. You can also find me on Bloglovin', Twitter, Facebook, Instagram, Pinterest, Youtube, Google+ and LinkedIn.