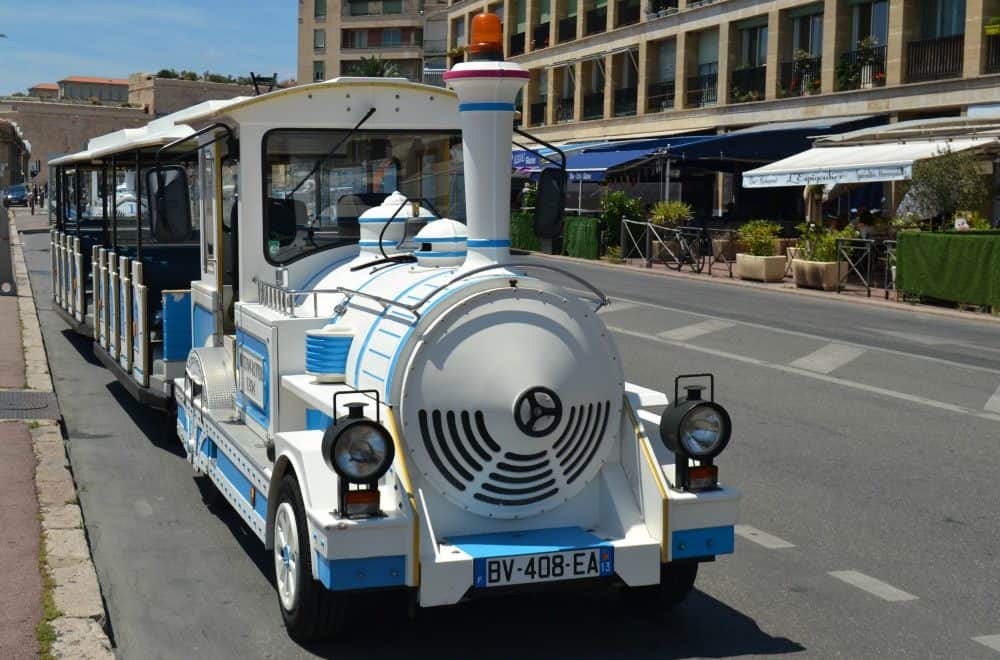 Le Petit Train Marseille with kids
If you are visiting France's second city with kids then one of the best ways to see the sights is on Le Petit Train Marseille.
We visited Marseille during our Mediterranean cruise in June. It was an extremely hot day so we wanted to look around with minimal effort. The fun train was the perfect answer.
About Le Petit Train Marseille
The Le Petit Train is a road train that runs three routes around the major sights of Marseille. You can choose from the a tours taking you to the highest point in the city, or around the old quarter with its impressive cathedral, or, via ferry, a tour Frioul Island. This is where there is a former prison, of which the most famous inmate was José Custodio Faria who Alexandre Dumas immortalised in the Count of Monte-Cristo.
A ride on Le Petit Train
We chose to ride Le Petit Train after arriving in Marseille on a particularly hot June day. We had taken a shuttle bus from our cruise ship, Carnival Vista, and were dropped off by the Old Port. Before we even got off the coach our girls were hot and bothered. It was obvious we were not going to be able to admire the city for more than a couple of hours before retreating to the ship's pool for the rest of the day.
I had read about Le Petit Train in a guide book I'd ordered online. The book was pretty ropy, so I wasn't too upset when Tin Box Baby later threw it off the moving train. But the tip that this was a good way to see the city was spot on, particularly when we were visiting with children and were short on time.
It was before lunch and there was no queue to buy tickets so we quickly chose to take the Notre Dame Tour Circuit 1 starting in the Old Port and climbing 162m to Notre Dame de la Garde Basilica. It is said to be the most magnificent building of its kind in Southern France.
About five minutes later our train arrived. The tour is billed as lasting for one hour 15 minutes but ours took about two hours including a half hour stop at the Basilica. There's short pieces of recorded commentary as you go, translated into several languages.
On your journey up to Marsaille's vantage point you pass the 17th Century Fort St Nicolas – one of a pair of forts stood at the harbour entrance. Rather than being built to protect the inhabitants, they were originally put in place to subdue an uprising.
Next Palais du Pharo comes into view. This palace was commissioned by Napoleon Bonaparte during a visit to Merseille in 1852. It was designed as an imperial residence but Napoleon was never to stay there.
The tour continues along the beautiful sea road, Promenade de la Corniche, with views of the crisp, azure waters that are so typical of this part of the world. I could have drunk in that view all day. All too soon our train began its assent to the Basilica, winding through the less picturesque residential streets.
The views at the top were breathtaking in all directions, from the coastline and the port where we could see the tiny dot that was our 133,500 ton cruise ship, across the city and to the hills of Provence.
We quickly climbed the steps of the Basilica and poked our heads inside to see the interior gleaming with gold. The Basilica was built in the 19th Century to replace an earlier church. It's made with green limestone brought from Florence in Italy. Notre Dame, known locally as 'the good mother' watching over the city, was truly a sight to see. It was such a shame that our visit felt rushed as we tried to make sure we were back in the carpark for our return train.
The ride back down to the Old Port took us through Marseille's more commercial area with shops and bars. Here's a little film of our tour:
Things to know about riding Le Petit Train Marseille
Collapsible pushchairs can be stored under your seating bench on Le Petit Train
Each bench takes four people and if you're on a busy train they will want to use all seats. Prepare to make new friends!
On Circuit 1, when you reach the Basilica you'll be told you've got 20 minutes to get off the train and look around. Some people take longer than this and miss their return train which causes a queue to build up. If you're short on time I'd advise not going inside the basilica and making sure you're near the front of the queue for your return trip. However, don't think that this gives you the freedom to decide when you return. We saw some tourists refused a ride because they'd hung around too long.
There's no shade in the car park where you wait for the return train so make sure you have hats, water and plenty of sun cream during summer visits.
Our tour on the Notre Dame Circuit cost €8 each for adults and €4 for children aged three to 11-years-old. For up-to-date ticket and tour information visit the website.
Have you been to Marseille? What sights would you recommend seeing?
Pin it
I love hearing what people think about my blog so feel free to leave a comment below or browse around. You can also find me on Bloglovin', Twitter, Facebook, Instagram, Pinterest, Youtube, Google+ and LinkedIn.