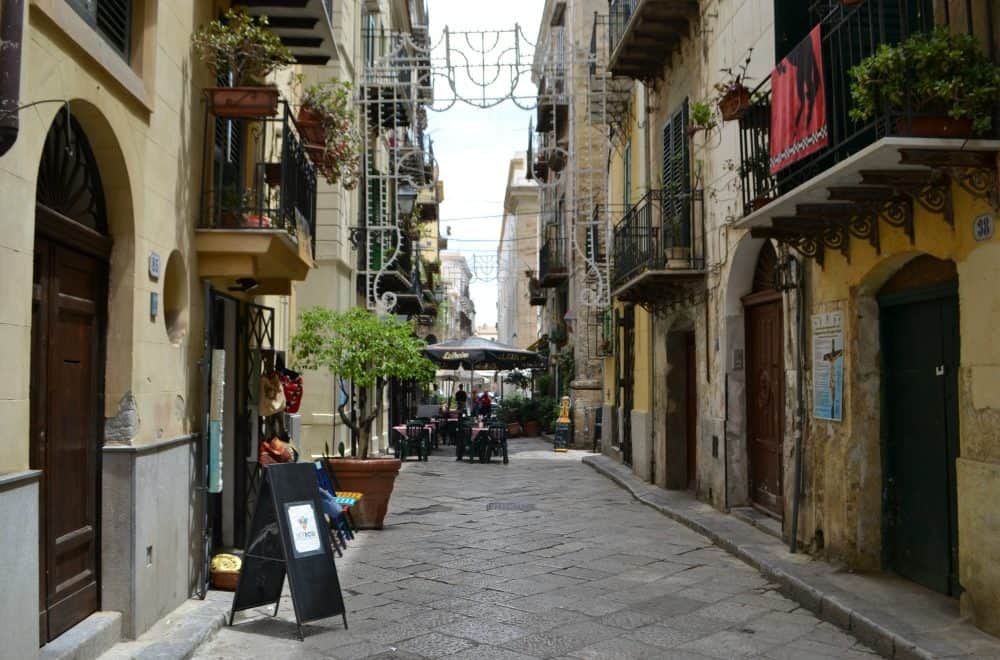 Sicily with kids: 5 things to do in and around Palermo
One of my biggest regrets from our first family cruise was that I didn't do enough research about our ports of call. Sicily was our first stop and a bit of a missed opportunity. We arrived on a Sunday morning while it seemed the whole island was still sleeping – not the best day of the week to sightsee. However, if I had looked into the choice of things to do in and around Palermo we might have attempted more than wandering the empty streets without a plan.
As it was we found the Cathedral of Palermo, gave Tin Box Baby her first taste of gelato and sent the Regional Archaeology Museum staff into a spin as Tin Box Tot tried to topple ancient vases.
After a few hours of mooching we abandoned Palermo, notching it up as somewhere we were not that fussed about.
*This collaborative post contains affiliate links*
I've since read a lot more about Palermo and the surrounding Sicilian landscape and know we missed a trick. We would have got a lot more out of this port if we'd rented a car with a company like Easy Terra, giving us the freedom to go off for the day and really explore.
Here are some of the day trips in and around Palermo that I think we would have enjoyed and give us plenty of reason to revisit Sicily with kids.
Things to do in and around Palermo with kids
Walk the Cathedral of Palermo roof terraces
This impressive Norman church in the heart of Palermo was built to compete with the beauty of the Cathedral of Monreale – the medieval equivalent of keeping up with Jones if you will. But, my, they did a good job.
We only stuck our noses through the door of the Cathedral of Palermo during our short visit but I wish we had taken a tour and gone up onto the roof terraces for views of the city.
The architecture was inspired by the city's Western, Islamic and Byzantine cultures making it a visual feast of carvings, gothic arches and mosaics.
The Cathedral's treasury is also full of objects covered in gold, silver and precious stones, sure to dazzle young visitors.
Soak up the Sicilian architecture
After climbing to the top of the Cathedral treat yourself to some gelato from one of the neighbouring cafes and take a wander through Park Villa Bonnano towards the Palace of the Normans.
The palace was once a strong hold for kings and is now home to the Sicilian Regional Assembly. It was closed on the Sunday we visited so we weren't able to look around but this intriguing float was parked outside.
My best guess is it was something to do with a festival that took place at the end of May.
Another architectural sight worth seeking out is the Quattro Canti junction with its four symmetrical fountains, which mark the centre of the four areas of the old town of Palermo.
Book a sightseeing tour to take in Palermo's stunning architecture*
Relax on Cefalù Beach
About a one hour drive outside Palermo is Cefalù with one of Sicily's most alluring beaches.
The harbour is lined with fishing boats and you'll find plenty more of that cultural mix of architecture in amongst the cobbled streets. The town is perfect for exploring on foot or just park up and enjoy the sandy beach.
Don't forget your buckets and spades!
If your kids love the beach – mine sure do – then there are plenty more across the island; discover more of Sicily's best beaches.
Take the cable car up Mount Etna
This is not a trip to attempt if your time in Palermo is limited, like it was for us during our cruise, but a visit to Etna is a must if you have longer in Sicily.
The base of Europe's highest volcano is a three hour drive across the island from Palermo or four hours on the coast road. You can take a guided Mount Etna tour* in nine hours.
From Etna Sud you can take the cable car up to 2,900m above sea level in just 15 minutes. Stop here for a picnic and to appreciate the views.
If you're feeling adventurous you can walk or take an off road vehicle with a guide to the higher craters. If you are exploring with younger kids definitely take the 4×4 and be aware that it's a two hour tour from the top of the cable car.
Discover the unspoilt beauty of Zingaro Natural Reserve
The only way to appreciate the beauty and unspoilt coves of Zingaro Natural Reserve is on foot along the natural coastal path. Drive one hour from Palermo to Cala di Mazzo of Sciacca where you can park your car and enter the reserve.
As well as admiring the landscape and coastal views you can visit the visitor centre to learn about the reserve's history, ecology and the people who have lived in the area.
There are 7km of paths to explore at the reserve or find yourself a beach and sit for a while. The kids will appreciate a paddle and the chance to let off steam.
If you don't fancy hiring a car you can take a guided tour from Palermo to Zingaro Natural Reserve*
Have you been to Sicily with kids? What things to do would you recommend around Palermo?
Disclosure: this is a collaborative post with Easy Terra. All opinions are my own. Images of Cefalù Beach, Mount Etna and Zingaro Natural Reserve courtesy of Pixabay. This post also contains affiliate links marked with a *. If you click on one of these and make a purchase I may earn some commission. This does not affect the price you pay.
Pin for later