Fun things to do in England during May half term 2021
With May half term just around the corner, my thoughts have turned to what activities we're going to go while the kids are off school. And the outstanding news is that there are more things to do in England this May half term than for several school holidays. This post rounds up some of my top picks for family days out and events happening around the country in 2021.
Of course, many UK family attractions are now open too.
If you can recommend any other family events happening during the May half term holiday get in touch or pop them in the comments below.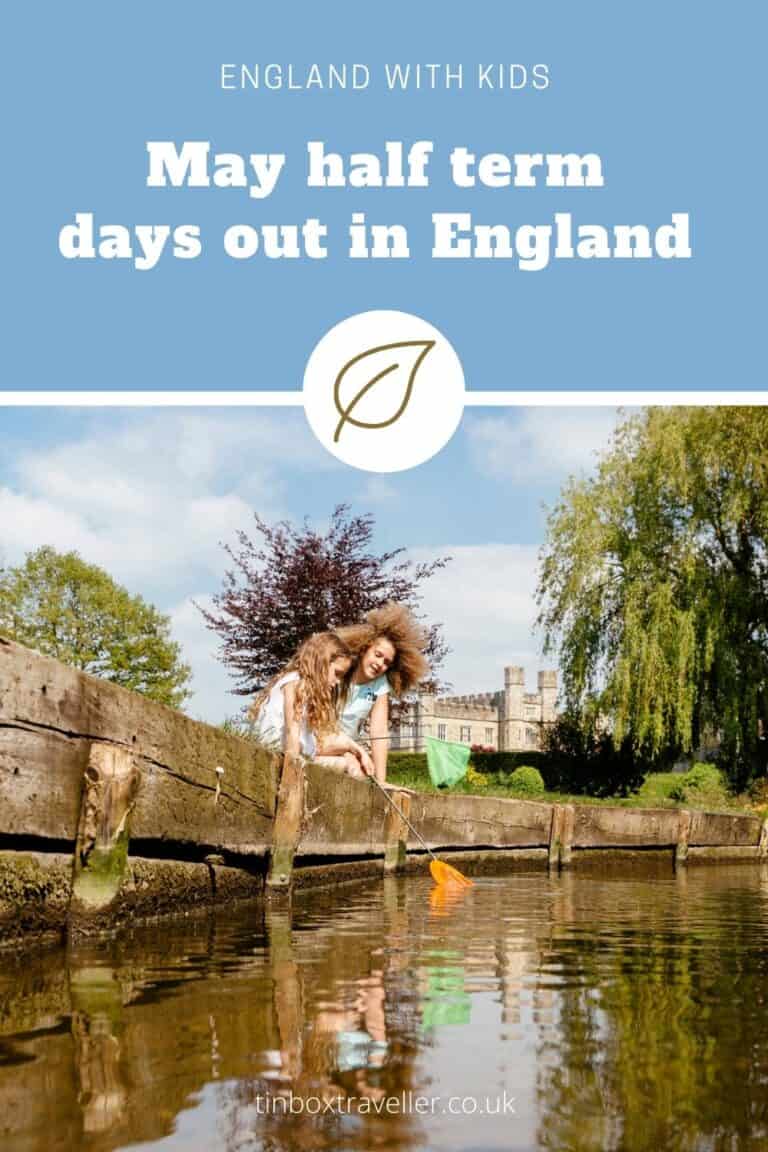 Birmingham – what's on in May half term 2021
Here's some ideas for things to do around Birmingham this May half term:
Cadbury World is choc-full of fun with Freddo – open daily
As well as a self-guided tour of the attraction's chocolatey zones, guests will also be able to enjoy a number of magical moments with Freddo and the famous Cadbury characters, including a brand new circus stage show. Join Freddo and Richie Ringmaster for fun in the big top.
For more information and to book tickets visit the Cadbury World website.
Find more family attractions in my round up of things to do in the Midlands with kids.
Cornwall – what's on in May half term
Explore Cornwall this May half term with these tips on what's on at Cornish family attractions and other places to visit:
Survival skills, foraging and wild feasting at Lost Gardens of Heligan in Cornwall – open daily
It's all happening at The Lost Gardens of Heligan this May half term, as visitors are invited to rediscover their wild side with a week of much needed outdoor play.
Canoe Cornwall will be teaching how to throw an axe like a woodsman, and to take aim and fire with target practice lessons. Bushcraft skills such as fire striking and rope making will also be being taught and children can make their own Wild Thing wrist band too.
The Wild Feasting tent will be open daily for visitors to try wild food tasting sessions – which includes insect custard and crunchy critters, as well as BBQ specials and other garden delights.
Find out more by visiting The Lost Gardens of Heligan website.
Here's some more about our own wonderful days out at The Lost Gardens of Heligan.
Art workshops at Trebah Gardens – 4 June 2021
Join Trebah's artist in residence Ben Sanderson for one of two art workshops at these gardens near Falmouth. The workshops for 10 to 16-year-olds take place on 4 June and start with a walk in the garden followed by a series of drawing exercises in response to flora in bloom in the garden.
Artwork from the workshops will be exhibited at Kestle Barton, alongside Ben's own exhibition on 12 and 13 June 2021.
Find out more and book on the Trebah website.
If you're looking for more things to do in Cornwall over May half term I have plenty of ideas in these posts:
Staying for longer than a day? Take a look at my blog post all about a family holidays in Cornwall.
Devon – what's on this May half term
Join us in our home county for a fun May half term with plenty going on to keep the whole family entertained:
Moor Otter Trail in Dartmoor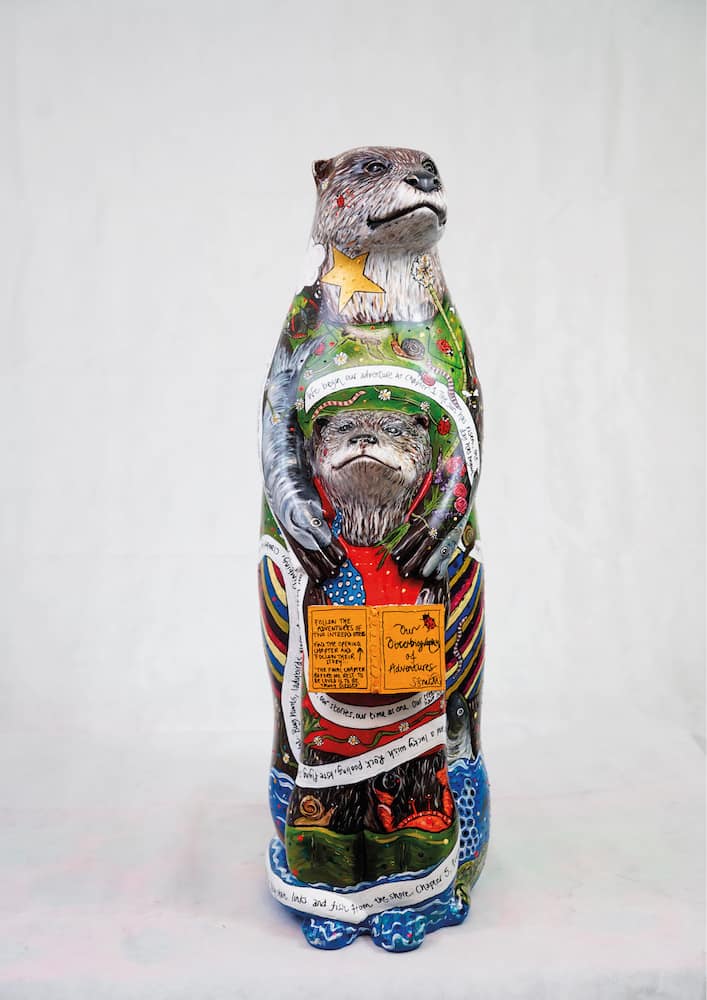 A pack of otters and cubs is being let loose across Dartmoor and the surrounding areas this May half term.
From the Whitsun weekend you can find more than 80 unique sculptures at businesses and family attractions around the National Park, including Canonteign Falls where you can meet the otter and pup above painted by Sarah Smith The Dartmoor Artist.
Find our more about visiting Canonteign Falls – the tallest manmade waterfall in England – which is a wonderful day out with kids including woodland walks, incredible Dartmoor views, children's trails and adventure play.
This unique art trail launches on 28 May 2021 and round until later this year when the sculptures will be auctioned off.
Find out more about where to find these unique pieces of art work all over the National Park in the Devon with Kids post about the 2021 Dartmoor Otters trail.
Sidmouth Donkey Sanctuary fun trail – open daily
Feed your curiosity and discover all things adorable with a donkey adventure like no other at Sidmouth Donkey Sanctuary. Its new children's trail contains an A to Z of fun donkey facts around the sanctuary. Complete the trail activities as you go to claim a prize and sticker on completion.
The adventure is split into two parts – one short trail and one a little longer. For the first part, locate eight donkey facts around the main sanctuary and find the hidden letters to complete the missing word.
The Donkey Sanctuary is free to visit and booking is not required.
Find out more on The Donkey Sanctuary website.
To find out more about what's on in Devon, take at look at my other website, Devon with Kids, for a full guide to things to do this May half term.
Things to do in Gloucestershire this May half term holiday
Here's a taster of what's on in Gloucester this half term:
Meet the penguins at Birdland Park – open daily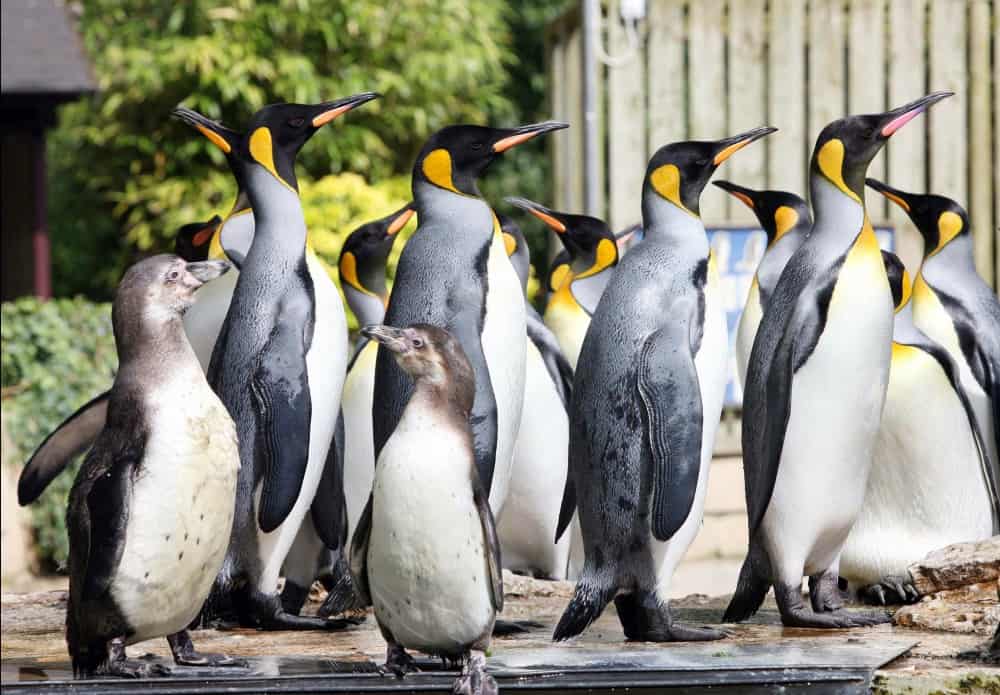 Waddle along to Birdland Park & Gardens over the half term holidays to join in the Penguin Week celebrations.
This Bourton-on-the-Water wildlife attraction looks after England's only breeding colony of king penguins which share their beach-themed home with a group of comical Humboldts.
Keepers will be putting visitors penguin know-how to the test with a special quiz about everybody's favourite flightless birds, plus there's the chance to watch the penguin being fed and learn about their favourite foods and individual personalities.
There will be twice daily feeding displays at 11am and 2.30pm with herring on the menu for the king penguins and sprats for the Humboldts.
Find out more and book tickets on the Birdland website.
Hampshire – May half term events near you
Here's some ideas for things to do in Hampshire this May half term:
Gardeners World Spring Fayre at Beaulieu – 28 to 30 May 2021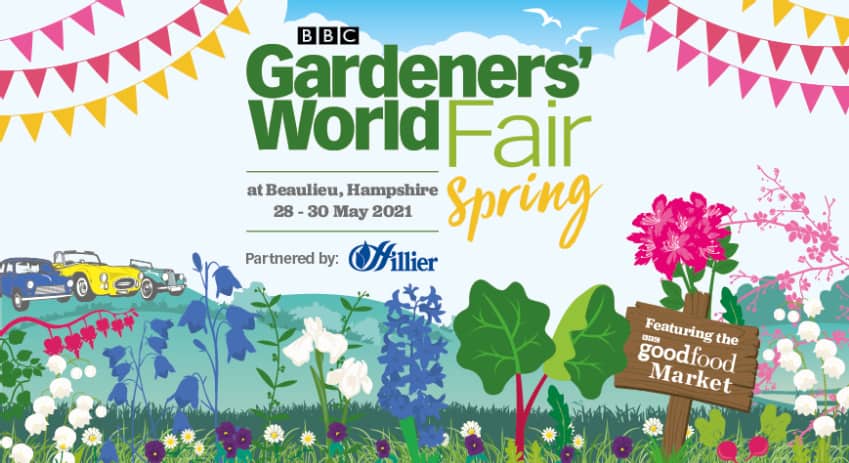 The BBC Gardeners' World Spring Fair is taking place in the grounds of Beaulieu the first weekend of May half term.
This first ever Spring Fair includes Beautiful Borders and The Hillier Experience packed with planting ideas, and stunning floral displays from top nurseries.
Inspire the young gardeners in your house and book tickets on the Beaulieu website.
If you're looking for more things to do in Hampshire then these posts might be helpful:
Isle of Wight – May half term events near you
Here's some top picks from events happening at family attractions in the Isle of Wight:
Night Glow at Robin Hill – 29 to 31 May 2021
The sky's the limit as magnificent hot air balloons float back into Robin Hill this May half term for a three-day extravaganza!
Each day from 5pm to 10pm, you can see a spectacular display of hot air balloons in the park's Lower Valley as crews perform inflation races and attempt mass launches. There will also be a live music in the Valley and Woodland Ponds.
Find out more and book tickets on the Robin Hill discovery park website.
Looking for more Isle of Wight inspiration. Here's what we got up to on the Isle of Wight in a day.
What's on in Kent this May half term
Here's some family attractions in Kent offering special events this May half term in 2021:
Garden Wildlife Week at Leeds Castle – open daily
Get your magnifying glasses and green fingers ready for fun-filled outdoor garden themed activities at Leeds Castle in celebration of National Garden Wildlife Week.
Youngest visitors can explore, investigate and learn how to plant and grow seeds, go on a 'Bug Safari' and discover all types of insects in the Castle estate.
Garden Wildlife Week takes places from 29 May to 6 June 2021.
Find out more and book tickets on the Leeds Castle website.
Things to do in Liverpool this May half term
Here's something fun to do this half term near Liverpool:
Live shows at Knowsley Sarafi Park – open daily
As well as going on safari at Knowsley this half term you can book tickets for the North West's biggest socially distanced festival this summer.
During the May half term, The Knowsley Social Family shows include Brainiac live and Milkshake live from the 31 May to 3 June.
Find out more and book tickets on the Knowsley Safari Park website.
Manchester – May half term events near you
Find out what's on in Manchester this May half term:
Top Secret exhibition opens at Manchester's Museum of Science and Industry – open daily
Discover the fascinating world of codebreaking, ciphers and secret communications in Manchester's new exhibition Top Secret: From ciphers to cyber security.
From Alan Turing and his team of codebreakers at Bletchley Park, to one of the most successful Soviet spy rings in Cold War Britain, to modern-day cyber-crime, Top Secret explores over a century's worth of communications intelligence through hand-written documents, declassified files and incredible artefacts from GCHQ's and the Science Museum Group's historic collections.
The exhibition is open from 19 May to 31 August 2021.
Visiting the museum is free but you need to book your tickets in advance.
Find more days out in Manchester with kids.
What's on in Norfolk this May half term
Here's my top pick from all the things to do in Norfolk this school holiday:
Parasquawks at BeWILDerwood – open daily
Visit BeWILDerwood this half term for an event more fantastical time than usual.
During May half term, Parasquawks will be everywhere in the woods preparing for their flight of very fancy colours! Make your own Parasquawk at the Big Hat and take it for a flying lesson at the Storytelling Stage!
There's plenty of Swampy themed fun to be had in the tree houses and adventure playgrounds here in Norfolk. Take a look at a review of our visit BeWILDerwood.
Find out more and book tickets to BeWILDerwood in Norfolk.
Things to do in Oxford this May half term
Here's a treat for you to enjoy with the kids this half term in Oxford:
Immerse yourself in a world of children's literature at The Story Museum – open daily
The Story Museum will be open with extra activities on for families over half term.
Immerse yourself in The Enchanted Library with iconic scenes lifted from the pages of children's books including The Chronicles of Narnia, Noughts and Crosses and His Dark Materials. Enter the The Whispering Wood's to hear tales, myths and fables from all over the world. And enjoy the Small Worlds play space for younger children, with favourite characters like Winnie the Witch.
For more information and to book your visit The Story Museum website.
Somerset – things to do over May half term
Here's what's on at some of Somerset's top family attractions:
New exhibitions open at Haynes Motor Museum in Somerset – open daily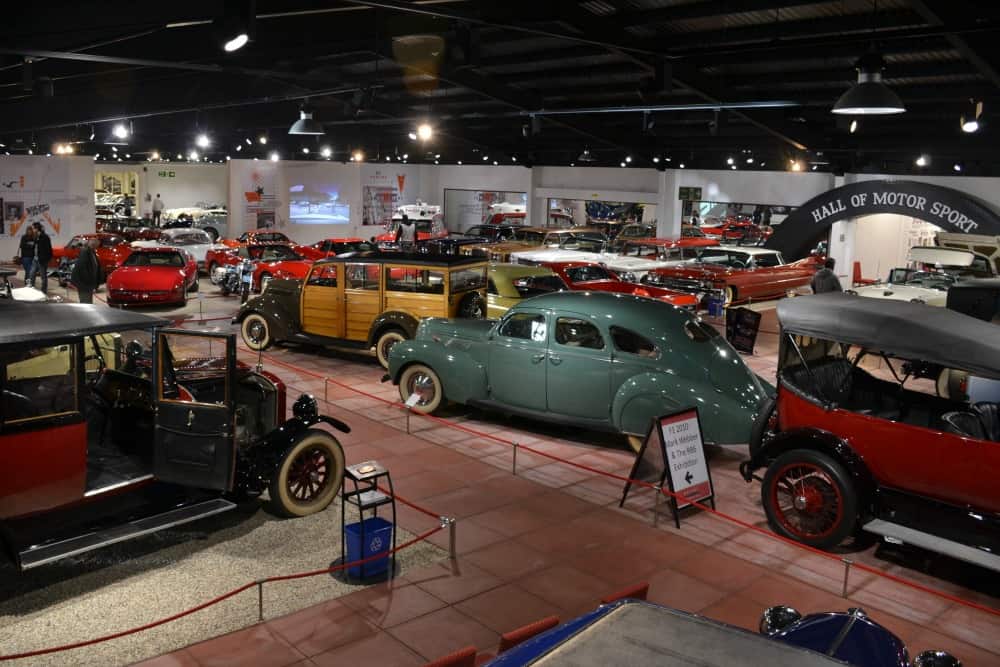 Motor mechanic enthusiasts young and old will enjoy lifting the bonnet, exploring the classic cars and finding out about some of the big personalities in motorsports in three new exhibitions at Haynes Motor Museum.
The 'John Haynes OBE – The Man, The Manuals and The Museum', 'Williams F1 – The Drivers and The Driven' and 'Enzo Ferrari – The Man and The Machine' exhibitions run from 17 May to 24 October, 2021. Book your visit in advance.
Haynes Motor Museum is open every day throughout May half term 2021.
For more information visit the museum"s website.
Here's our review of visiting Haynes Motor Museum with kids.
Meet Alice in Wonderland at Wookey Hole in Somerset – 29 May to 6 June, 2021
All weather attraction, Wookey Hole is open again. As well as meeting the resident Witch in the caves you'll also be able to take a trip down the rabbit hole with characters from Alice's Magical Underground Wonderland.
Dinosaur valley, the fairy garden and Pirate Island Adventure Golf will all be open too.
Find out more about visiting and booking tickets on the Wookey Hole website.
If you're in Somerset you might also enjoy Longlet Safari Park.
Things to do in Yorkshire this May half term
Dive into these family adventures in Yorkshire this half term:
New attractions at Lightwater Valley – open daily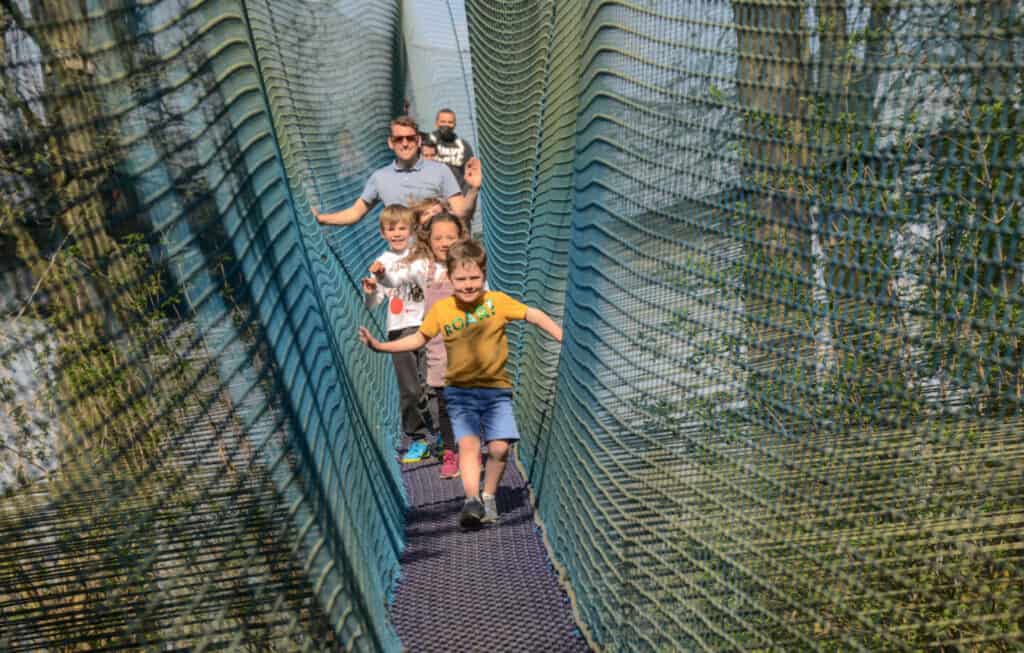 Indoor areas as well as 30 other rides have reopened at Lightwater Valley, including some new attractions that will be a hit with under 12-year-olds.
Among the new attractions for the 2021 season is Go Safari. Step aboard the Savanna Express on a sightseeing journey through the African wilderness. Leap for joy on Kangaroo Jump before flying high on Elephant Flight and the Monkey Drop rides. Other new additions to the park include the Hot Air Balloons.
Also new this year is the Treetop Trails, formerly treetops nets. This much-loved attraction provides a net walk through the tree canopy high above the park and will now be included as part of the admission price.
Find out more and book tickets on the Lightwater Valley website.
Don't forget to recommend your favourite fun things to do during May half term in the comments below.
Thanks to the attractions for supplying the images for this post. Main image: Lost Gardens of Heligan Wild Week 2021.
Why not pin this post about fun things to do this May half term for future reference?