Haynes International Motor Museum with kids
Every now and again an attraction surprises you in a good way. During a winter glamping break in the South West Mr Tin Box suggested we visit Haynes International Motor Museum with our kids. He is a car fan and could spend hours poring over engines and immaculate paint work. Meanwhile I know our girls would much prefer to be tearing around a play park and finding ways to get dirty.
So the thought of taking them to car museum with lots of opportunities for them to touch very expensive things left me with a sinking feeling. However, Mr TB won me over with the promise of a delicious brunch in the museum's cafe. It turned out to be a great call…the brunch and the museum.
Here's some highlights from our visit:
About the Haynes International Motor Museum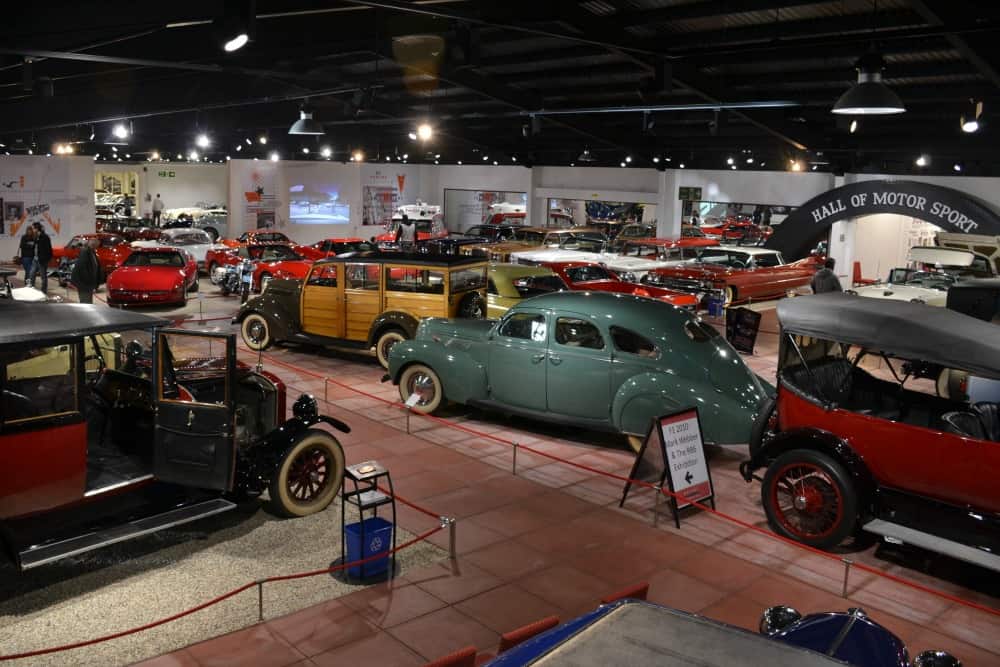 Anyone into cars will know the name 'Haynes'. They publish encyclopaedic manuals telling you all you need to know about every vehicle with which it is worth a good tinker. These publications have proved so popular that you can now buy editions about marriage, babies and retirement, among other tongue in cheek and serious topics.
The publishing business's founder, John Haynes, is a car collector and set up Haynes International Motor Museum in Somerset to share his 49 cars and three motorcycles. Since then the collection has grown, as has the museum. It is now the UK's largest collection of vehicles with more than 400 cars, vans, buses and motorcycles. Mr Tin Box and I have visited before, about 10-years-ago, and there was a very noticeable and striking change to the museum frontage and the family-friendly things to do inside.
Exhibits range from some of the earliest automobiles and vintage vehicles from the early 20th Century to Hot Rods, super cars and American classics. There's also an extensive collection of motorcycles, a motor sport exhibition and memorabilia.
So what did we find for the kids to do?
Things to do with kids at Haynes International Motor Museum
There's lots of activities throughout the museum to get kids of all ages engaged. Here are some that our four and two-year-old enjoyed and others that would be suitable for older kids too:
Little Tikes cars
We missed these on the way into the museum, but tucked around a corner by the exit door you'll find a set of Little Tikes ride-in cars for toddlers. This makes wandering around the museum a lot of fun for little ones.
Haynes Motorland
At the far side of the museum you can step outside into this large play and picnic area. There's a go kart track, scooters, tricycles, play equipment and a sand pit. If the weather isn't great you can also find a soft play area in the Vroom Room which is a separate building at the back of the play area.
Collect brass rubbings
There are brass rubbing stations with paper and crayons dotted all over the Haynes Museum. It's a good activity for the kids to be doing while you're reading about the cars in front of you and gives them a lovely free momento.
Spot the child-sized cars
Tucked away in-between the full-sized vehicles we spied many smaller versions designed as ride-on toys for children. These were fun for the girls to spot as we walked around.
Hear personal stories
I can appreciate a shiny car as much as the next person but what brings them to life for me is the stories behind them. There's audio stations next to some of the cars telling you who used to own the vehicles, what they were used for and how they came to be in the museum.
Design a Mini
In the Mini and Micro exhibition there's an interactive paint workshop where you can colour the bodywork of a Mini. The girls got into some quite heated discussions about bodywork colours and what pattern they wanted on the roof.
Top Trumps Trail
For kids who love playing Top Trumps Haynes has its own game where you can check out facts about some of the most important exhibits on these giant cards.
Autogames
Have a go on vintage games, arcade machines and 4D simulator in the Autogames area that was opened in 2007 to celebrate 100 years of car games. There's also tables were children can play with toy cars, but sadly these had all gone missing when we visited.
Marvel at the immaculate toy cars
There's a display wall with row upon row of pristine toy cars and models that I know Tin Box Baby would have loved to get her hands on. Thankfully the glass front protected them from her sticky fingers and she was satisfied with just looking. I expect there were quite a few here that Mr Tin Box and even the Tin Box Grandparents once had in their toy collections.
Where is Haynes Motor Museum? And other handy info
You'll find Haynes International Motor Museum just off the A303 between Yeovil and Wincanton in Somerset. Use BA22 7LH in your SAT NAV. The closest train station is Castle Cary and there are buses that run from here to Sparkford Village close to the museum.
Also handy to know is:
Cafe 750 is a great place for brunch, lunch or a cream tea
The main exhibition halls are pushchair friendly and there is a lift up to the Motorcycle Mezzainine
There are toilets with baby changing facilities in reception by the cafe and in the museum itself
Haynes International Motor Museum is open all year with the exception of 24, 25 and 26 December, and 1 January.
Visit the museum website for more information.
More things to do in and around Somerset
If you are on holiday in Somerset here are some more post that may help you plan where to stay and your days out:
Planning a visit to Haynes Motor Museum? Why not use Pinterest to save this review for later.