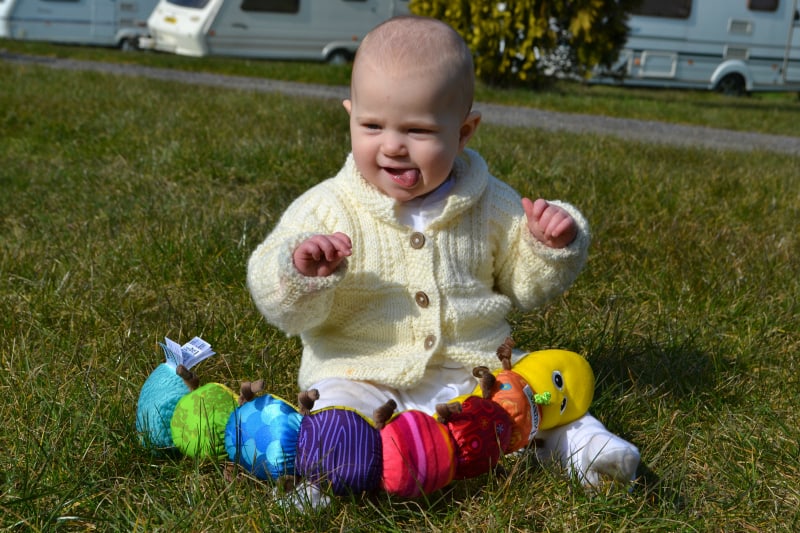 5 essential items for caravanning with a baby
It's difficult enough for new parents to remember their own heads when packing for a trip away with a little person. But there are a few items that we couldn't have done without in our first year as a Tin Box family, particularly during our initial weekends and longer holidays caravanning with a baby.
Read on to find out what made it onto our essential packing list.
*This post contains affiliate links*
You might also like to read about my essential items for caravanning with a toddler and my must-have items for travelling with a baby and toddler.
Caravanning with a baby – 5 things you must pack
Here's our run down of five essential pieces of equipment to pack when you are taking a caravanning break with a baby.
Flexibucket bath
Even the tiniest of babies quickly outgrow the bathroom sink in a caravan. Rather than try to fit a rigid baby bath into Tin Box we spent a couple of quid on a Flexibucket*, which fulfils the job of bathtub brilliantly.
It was also a perfect fit for our circular shower tray and provided extra storage while not full of bubbles and ducks.
Or alternatively you can bring a bath seat for babies from Kidsco.
Storage baskets
These were ideal for sorting out our girls' extensive wardrobes of tiny garments when they were little. Storage baskets* are a must if you want to make it easy to find clean vests and sleep suits in the middle of the night.
We bought four baskets of about 20cm by 30cm, which fit snuggly into one of the overhead lockers.
Sleeping bags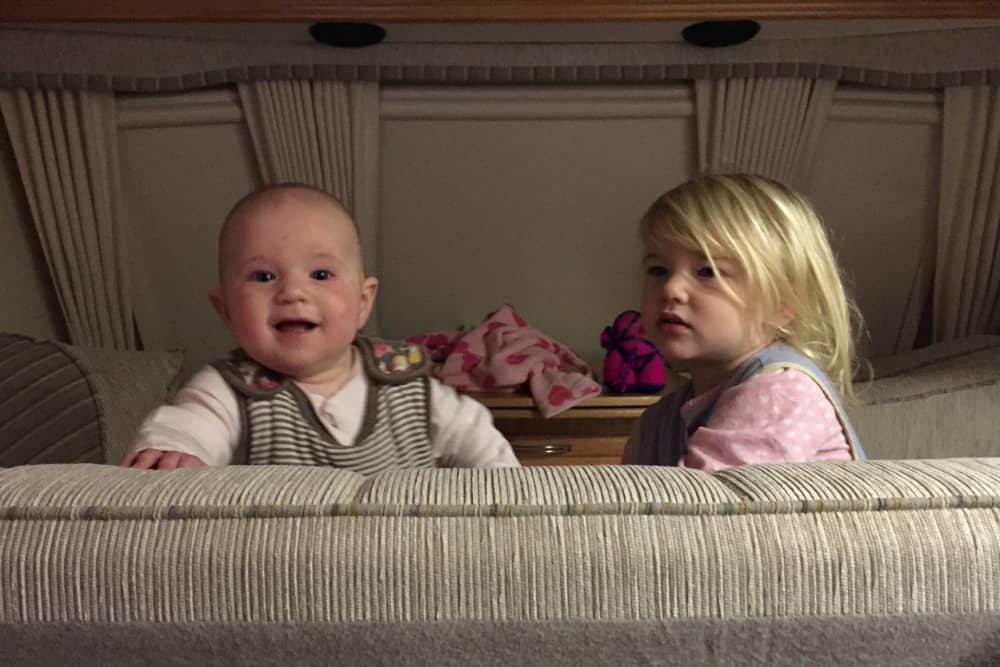 You can never have too many baby sleeping bags*. Tin Box Tot and Baby used to go through two the first night of every trip. It must have been something to do with the change of environment!
We usually opted for 1 tog in the summer and 2.5 in the winter. Grobags always seemed to work best for us because they were so easy to fasten, even when Tot and Baby were fast asleep.
Cold water bottle steriliser
The majority of our weekends away are off electric, even now we have a camper van. So even if we could find a steam steriliser small enough to fit in our tiny microwave, we wouldn't have been able to use it.
Our cold water steriliser* was the answer. It was also light weight and simple to use.
Floor seat and tray
Caravan seating and gangways aren't designed for highchairs or the travel equivalents. We got around this by putting our girls in a floor seat*.
It isn't the most social of options at dinner time when we'd be at the table but when space is at a premium a full high chair just isn't an option.
NB:floor seats should not be put on raised surfaces. In the summer we could roll out a picnic blanked in the awning or use our full size Ikea high chair.
We had a Mamas & Papas Baby Snug Seat* which came with an optional activity tray. It was very easy to clean and had a coloured insert seat to support the girls when they were tiny.
This could be removed as they grew giving the seat a longer lifespan.
What about a baby cot for caravans?
We could never find a travel cot to fit in our touring caravans so we had to be inventive. Find out about our caravan beds for babies and toddlers.
---
We'd love to hear about your essential items for caravanning with a baby.
Here's some more posts about caravanning with a baby or toddler, plus lots of tips on things to add to your caravan essentials:
Disclosure: this post contains Amazon affiliate links. This means that if you click through and make a purchase I may earn commission from the sale. This is at no additional cost to you.
Planning on caravanning with a baby? Pin this post for future reference.