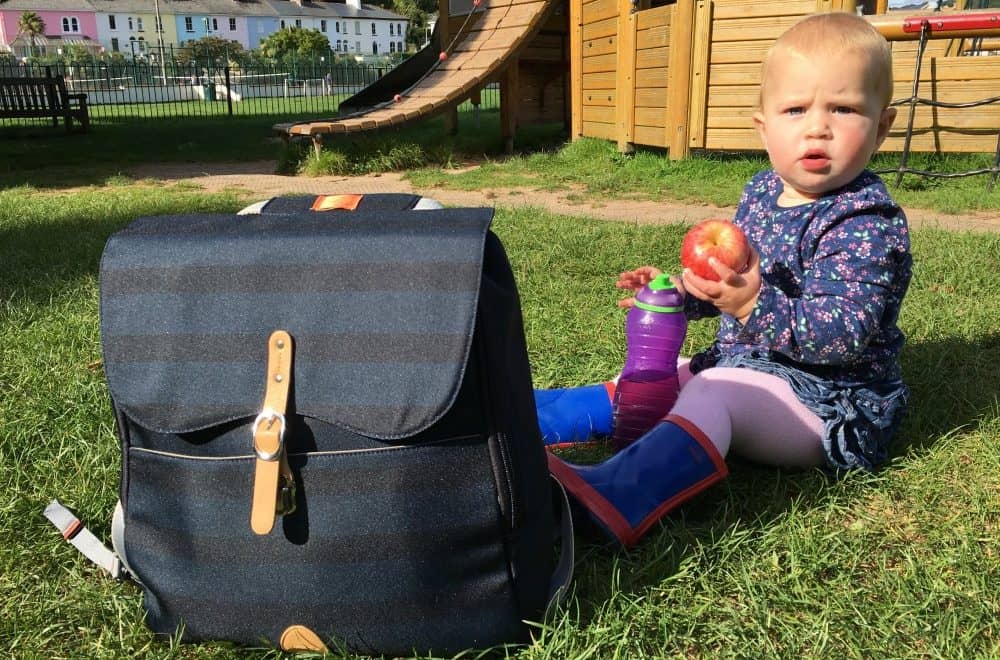 Essential kit list for travel with babies and toddlers
Do you remember the time when the only thing that ran through your mind as you left the house was 'do these shoes match my handbag?'. For me, those carefree, pre-parent days seem a lifetime ago. Now every time we go somewhere, whether it's for a day trip or a family holiday, my mind goes into overdrive trying to remember all kit we might need during our travels. Over the past six years certain items have been added to our essential kit for travel with babies and toddlers.
*This post contains affiliate links*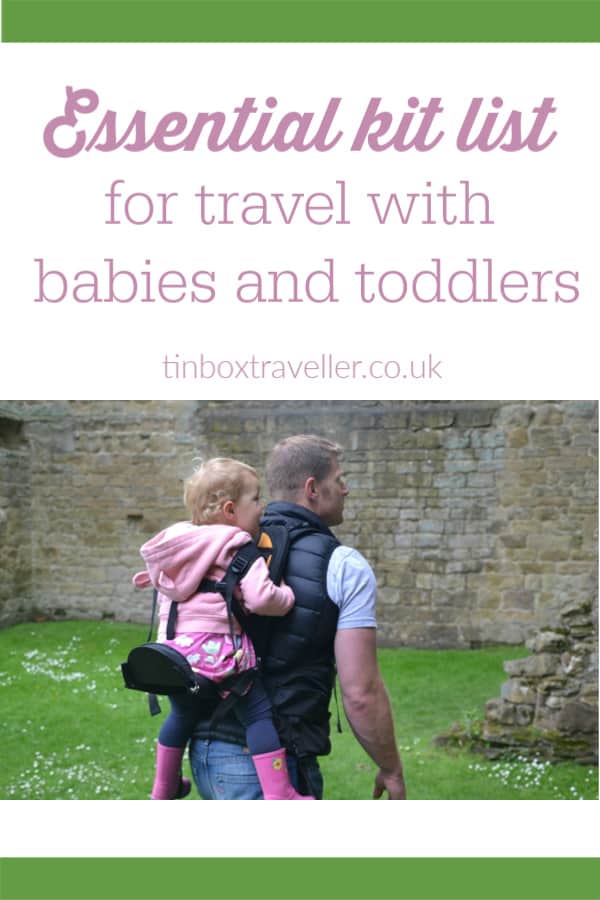 Here's a few pieces of kiddy kit that we rated as parents of babies and toddlers, and would have kicked ourselves for leaving behind:
What to pack for family holidays
A versatile change bag
When the girls were young it was very, very rare that I'd leave the house without a change bag loaded with nappies, wet wipes, spare clothes, snacks, a couple of small books and water bottles. The problem I had was it didn't take long before the inside of the bag started to resemble a teenager's bedroom (I imagine).
This is not ideal when you are on the move and just need to get 'the job' done quick.
We were gifted a PacaPod and really liked it's functionality and different compartments designed to keep all of your nappy and food items neatly together. There's even a built in changing mat. It's the Tardis of change bags!
Another feature I rate about the Hastings PacaPod change bag* is it can be worn as an over the shoulder bag or a rucksack. The latter is very useful when you have hands full of kids and don't need the added complication of a swinging bag.
A compact travel highchair
If you're staying in a hotel then you can expect highchairs to be available. However, if you are self catering this is something you might be required to hire from your resort.
My advice is if you're going to hire travel highchair more than once, save yourself some money and buy one. We had the Tony 3-in-1 booster seat which comes with a pouch for nappies and other changing essentials. This makes it handy for taking into restaurants or cafes if you don't want to carry in your whole changing bag.
This one is very similar:
Car seats
From day dot we have had Maxi-Cosi car seats* for the girls. We used this brand because the baby seat was compatible with an ISOFIX base and our Quinny Buzz travel system. Since then we have continued to use this brand because we like the quality and that we could use an ISOFIX base.
The girls went from using the Maxi-Cosi CabrioFix Baby Car Seat* (0 to 12 month olds) with the Maxi-Cosi FamilyFix ISOFIX Base* to the Maxi-Cosi Pearl* (nine-month-olds to four-year- olds), which also fits on the ISOFIX Base. They now have the Maxi-Cosi RodiFix AirProtect Child Car Seat*.
Please note that the Pearl we used was forward facing. Rear facing alternatives are available and are recommended for young children as a safer option.
.
Baby carrier or back pack
We tried out a few baby carriers and slings over the years, but none were quite as versatile for travel as our Baby Weavers Expedition Back Pack. We used it for stomps up peaks in the Lake District, strolls on the beach and rambles through woods.
The Baby Weaver is no longer available but this one is similar:
After our Baby Weavers back pack we got a Freeloader child carrier which Baby also loved. This is a product from the US designed by dads to be lightweight, yet robust. It's basically a piggy-back ride with support. It also packs down well and takes up little space.
Here's a comprehensive guide on what to consider when choosing a baby carrier for travel.
Travel stroller or pushchair
I loved my three-wheeled Quinny Buzz* and the way it fearlessly attacked muddy tracks and cobbled streets. It really was an all-terrain pushchair. We often took it with us on days out but it isn't the best for travelling. It comes in two bulky parts and is heavy – not ideal for flying or cramming into the back of a taxi with your other luggage.
Instead we travelled with a Baby Jogger City Tour* (below), which is light, folds to hand luggage size and has its own travel bag. More and more micro strollers are coming onto the market. Read the full review.
An alternative is the Mountain Buggy Nano, which has been reviewed by Our Globetrotters.
Snack pots for days out and travel
Where would we be without toddler snacks? Back at home, there's where!
I wouldn't knowingly leave the house without a breadsticks, chopped fruit or raisins and I use these lovely Babymoov food containers* to stow them.
Each pot can be collapsed after use so they take up less room in your bag once the goodies have been scoffed. They are also microwavable so you can put baby food in them for feeding on the go. Years after getting them they still play an important role in my snack container cupboard.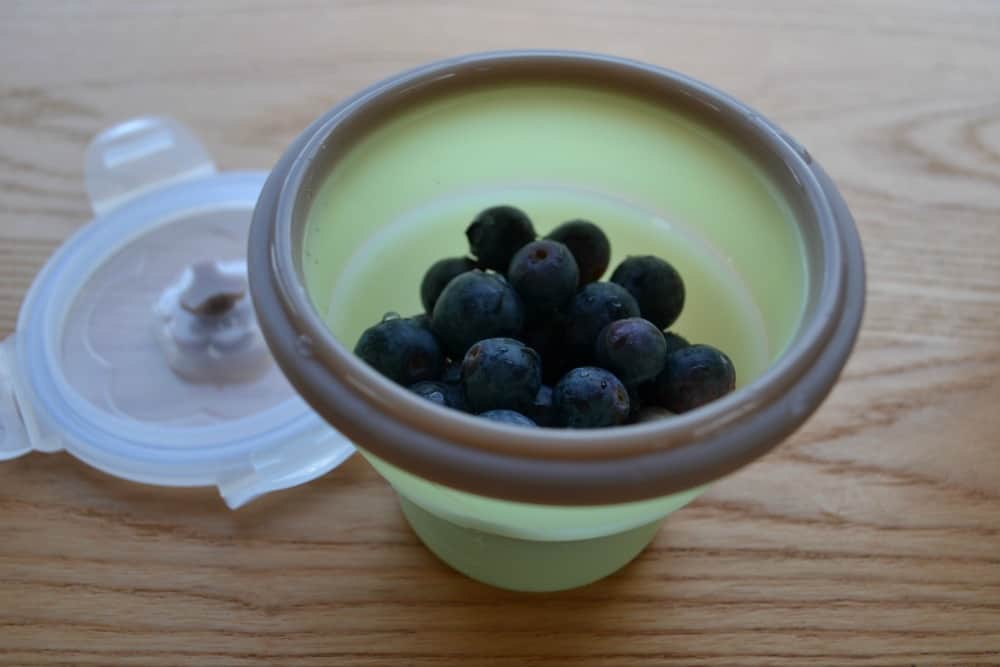 A compact travel potty
When we were in a potty training frenzy our Potette Plus travel potty* was so handy. You fold out the frame, attach a padded bag to catch 'the stuff' and then dispose of it as you would a dog bag.
Top tip: rather than buying the expensive made to measure potty bags carry around a couple of peddle bin liners stuffed with kitchen towel as cheaper alternative. You can also use the potty as a toddler toilet seat, although we mostly opt for the 'hover over the bowl' technique when we're using public lavatories.
Fun hand luggage for kids
Now, I know these are like Marmite, but we love a Trunki in our house. We have two but we can get away with packing just one with toys for both girls to take away on our trips. Bernard the Trunki* even accompanied us on out caravan holidays.
Tin Box Tot 'gets it' that if we can't fit her chosen toys and books in the Trunki they can't come with us. It also made the last few hours of our city break to Barcelona a bit more interesting as she rode it and pulled it around.
The one draw back with the Trunki is that I find it difficult to pack anything other than toys in it. The kids open it and everything tumbles out.
A fun and practical alternative that we'd recommend is the LittleLife wheelie suitcase. You can actually pack five days of summer clothes in it for kids and it can be used as a cabin bag.
What are your essential pieces of kit for days out and travel with babies and toddlers?
You might also like to check out our other family travel tips.
*Disclosure: this post contains Amazon affiliate links which means I may earn some advertising fees if you click on an affiliate link and make a purchase. You will not be charged extra for this. I have been gifted some of these items for the purposes of a mention on my blog. All opinions are my own and those of my family.
Planning to travel with babies and toddlers? Pin this for later!