Barcelona with kids: L'Aquarium de Barcelona review
When we visited Barcelona with kids for the first time we aimed to see as much of the city as we could on a budget. We spent most of our 48 hours in the city enjoying the free sights and soaking up the atmosphere of the beautiful Catalan capital by doing a lot of walking. However, we did indulge in one treat for ourselves and our two pre-schoolers on our last day in Spain: a visit to L'Aquarium de Barcelona.
About L'Aquarium Barcelona
Barcelona Aquarium is in the old harbour, Port Vell, right next door to the Maremagnum Shopping Centre, restaurants and bars. It boasts 20 tanks and an 80 meter subaquatic tunnel with a conveyor belt so all you have to focus on is the sea life eyeballing you from every direction. All this makes it the largest aquarium dedicated to the Mediterranean Sea in the world.
BUY ADVANCE TICKETS FOR L'AQUARIUM BARCELONA*
Here's a video that sums up our visit:
Things to do at L'Aquarium Barcelona
There are tanks demonstrating the amazing aquatic wildlife living off the shores of Europe and more tropical climes. Each one had a display board with an explanation in several languages about the environment that had been recreated and what lived there. We also bought the souvenir guide book, which was very much geared towards kids with fun facts and activities to do on your way around the three floors of the aquarium.
We managed to keep Tin Box Tot interested in the first couple of tropical tanks by pointing out Nemo and Dory before swiftly moving on to the enormous Oceanarium and its two moving walkways. This is a round tank containing 4.5 million litres of water and some of the species you could expect to find in the Mediterranean. In the first tunnel you see fish swimming above you and to your right-hand side. Then in the second tunnel there are creatives all around. This is the place to spot sharks as well as 80 other species.
Interactive exhibits for children
Even this didn't impress Tin Box Tot for long. Luckily L'Aquarium de Barcelona is one of the most interactive aquariums we have been to, with a whole floor dedicated to children. In the Explora! zone there were child-sized aquarium tunnels for the girls to walk through, a whirlpool slide and a rather colourful submarine in which they could play at being captains.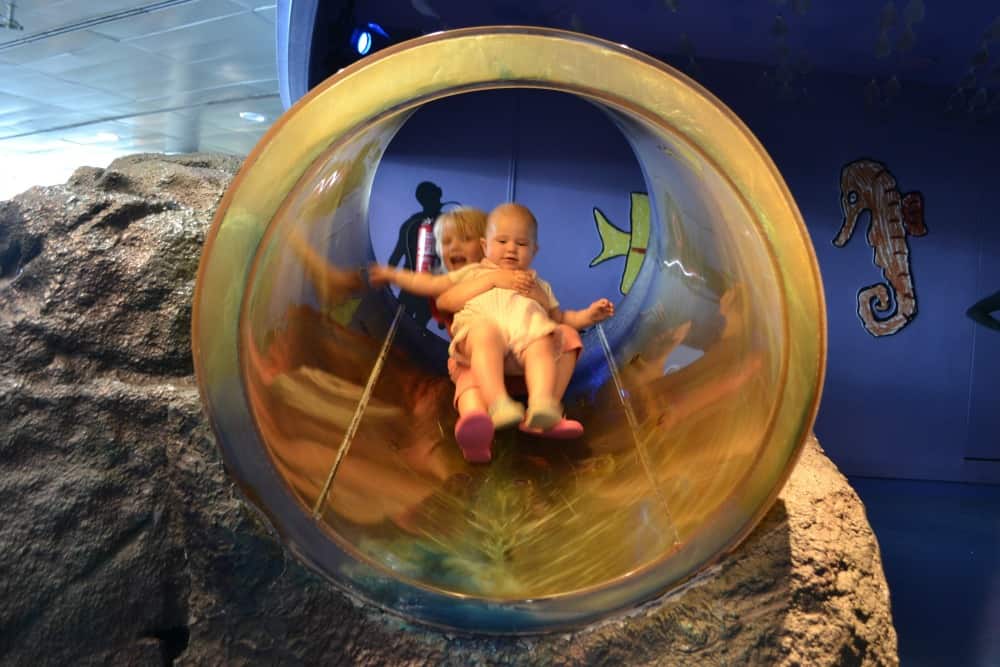 Feeding fish
The absolute highlight for Tin Box Tot was being able to feed the carp. For a couple of euros we bought a bottle of liquid food and spent about 15 minutes squirting it at the hungry fish. Tot was thrilled.
Next to the Explora! zone was Planeta Aqua – an area dedicated to species that have adapted to the hard conditions in Earths aquatic environs. This is where we saw rays, jelly fish and, a first for us in an aquarium, penguins.
We had spent a good couple of hours looking around Barcelona's Aquarium and tummies were beginning to rumble so we decided to head back out to Port Vell to find lunch before reluctantly catching a taxi to the airport.
L'Aquarium de Barcelona is a great way to entertain kids for a few hours, especially if you are unlucky enough to visit the city on a wet day.
Family facilities
There is a large cafe selling fast food on the top floor and toilets with baby changing facilities on every floor.  The aquarium is pushchair accessible and there is a lift and a ramp to go between floors.
Tips for visiting L'Aquarium de Barcelona
We would recommend getting to the aquarium early to avoid the crowds. We visited on a Friday in June and the aquarium was getting very busy by the time we left just after midday.
If you'd like to skip straight to the carp feeding in the Explora! zone before it gets too busy, go up to the cafe on the top floor and turn right.
You can see the sharks, rays, and penguins being fed in the afternoons. Check the website for feeding times.
BUY ADVANCE TICKETS FOR L'AQUARIUM BARCELONA*
More things to do in Barcelona with kids
You can read more about our city break, the things to do in Barcelona with a baby and toddler, plus where we stayed in my full 48 hours in Barcelona itinerary blog post.
If you have longer in the Catalan region then I've also written about seven things to do in Costa Barcelona with kids.
Disclosure: This post contains affiliate links. This means if you click them and buy tickets for L'Aquarium de Barcelona I may get some commission. There's no extra cost to you. We paid for our own entry to the aquarium.
Pin for later