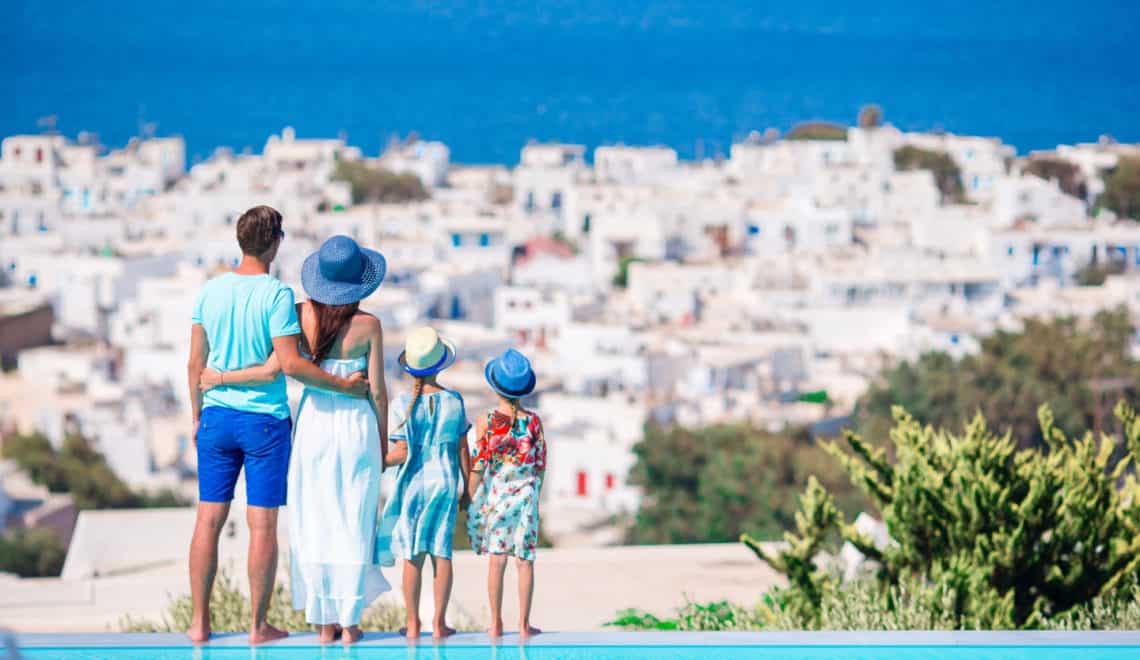 Planning a trip to Greece with kids
If you are planning a trip to Greece with kids then this guide has been designed to help you prepare for your adventure. It covers what to do before your trip, what to pack, and planning how to get around Greece.
*This post may contain affiliate and commercial links*
Family holidays in Greece
The most important aspect of your trip is to decide on is what type of Greek family holiday would be best for you.
Our first family holiday to Greece was to an all inclusive resort. It was hassle-free to have every aspect of our trip included, from accommodation to food and easy to organise excursions. But there are so many other ways to see mainland Greece and the Greek Islands.
If you prefer independent yet luxury travel then a self-catering villa might work best for your family holiday to Greece. These are often really good if you are travelling with young children as you can request baby equipment and plan your days at your own pace.
If you prefer total freedom, then staying in small tavernas and back packing could work best. There are lots of great Greek islands to explore with kids. If you have pre-teens and teens then this will satisfy their sense of adventure.
If your family prefers a more active holiday then why not consider Flotilla holidays in Greece? What better way to explore the incredible beaches and picturesque villages on of the South Ionian islands than by boat?
Ultimately, Greece caters for all holiday styles, so it's just up to you to decide which is best for your family.

Buy travel insurance
Touch wood, we've not had to use our travel insurance yet, but having it is essential for peace of mind. Always buy yours before you travel and make sure it gives you the right level of cover.
If you are considering taking part in water sports, adventurous activities or sailing – all brilliant experiences in Greece – add this to your cover. If in doubt about what's covered by your policy speak to your travel insurance company.
We have recently taken out insurance with Columbus Direct because they cater for military families who may need to cancel their plans due to armed forces service requirements. With Mr Tin Box working in the Royal Navy, this is a very real prospect for us.
Planning a trip to Greece: flights
If your holiday doesn't include air travel then here's some tips for booking flights to Greece. You'll find direct flights from the UK to Athens International Airport and Thessaloniki Airport all year round.
Direct flights to the Greek Islands kick in from Spring to Autumn. Expect to transfer from mainland Greece during the off season.
These Greek Islands have airports:
Chios

Crete
Corfu
Ikaria

Ioannina
Kefalonia
Kos

Leros

Lesvos
Milos

Mykonos
Naxos

Paros

Rhodes

Samos

Santorini

Skiathos

Skyros

Syros

Zakynthos
For other Greek Islands you'll need to catch a ferry for the final part of your journey.
Skyscanner can give you all the options for flights depending on the time of year and your destination.
Ferries to the Greek Islands
Another option when you are planning a trip to Greece is to fly to Athens and catch a ferry from Piraeus. This is the largest of the three ports within easy reach of the city and from where you can reach the majority of the islands.
Travwlling by ferry could save you a lot of money but will take longer. However, there are a number of islands within a couple of hours of Athens including Aegina, Hydra, Spetses and Agistri.
Check routes, times and prices for ferries to the Greek Isles from Athens. If you want to go Greek Island hopping a recommended route is from Athens to Santorini, Ios, Mykonos and Paros.
Where to stay in Greece?
Whether you come to throw down a towel or explore, there's plenty of things to do in Greece to compliment your holiday modus operandi. But having a good base can make or break your family getaway.
We love the freedom of self-catering holidays. Holiday villas and apartments are ideal for this, but you'll also find lots of resort accommodation in Greece comes with a kitchenette to give you the choice to dine in and out.
If you want total freedom, TUI have plenty of choice when it comes to villas in Greece* on the mainland.
Want to escape to the Greek Islands? Here are some tried and tested places to stay in Crete including hotels, apartments and all-inclusive resorts.
Buy your currency
The Euro is king in Greece, especially if you are exploring off the beaten track. Cash machines can be rare on smaller islands so make sure you have plenty of currency for your trip to Greece.
Do you need any vaccinations?
Yes, the NHS recommends you should be up-to-date with routine vaccinations and boosters including measles, mumps and rubella (MMR) and diphtheria, tetanus and polio (DTP).
Also make sure you have your EHIC card pre-Brexit as this will give you access to state healthcare in Greece for free or at a reduced rate, plus get travel insurance (see above).
For further advice about local health risks see Travel Health Pro.
What to pack when you are planning a trip to Greece
If you're planning a trip to Greece then the time of year will have a huge bearing on your holiday packing list. I have visited twice in the Spring and, while it is warmer than the UK, the weather can still be unpredictable and the evenings chilly.
If you are travelling to Greece in March, April or May don't expect to be swimming in the sea without a wet suit. It takes a while for the warm weather to heat the turquoise waters off the beautiful Greek Islands.
In April in Crete the temperature was 18C in the day and dropped to 9C in the evenings.
By contrast, you can expect temperatures of 40C in the day and 25C at night in the peak summer months.
What to wear for sightseeing
in Greece
Sightseeing in Greece calls for practical clothes. You can't explore ancient sites like Knossos and the Acropolis wearing flip-flops.
For sightseeing in Greece I'd recommend light trousers, flat closed toe shoes and layered tops, particularly if visiting in Spring.
When we visited the Ancient city of Aptera in Crete in April, the sun came out and we were instantly hot. Layers came off quickly but then went on again just as fast beside Lake Kournas at the base of the White Mountains, which were still capped with snow.
You might need a light raincoat if the weather changes while you are out.
What to bring for the beach and swimming pool
If you are holidaying in Greece in the Spring you should consider bringing wetsuits for kids who love swimming whatever the weather. The temperature of the water in our hotel's outdoor pool and the sea was too cold to linger for long unless you had a protective layer.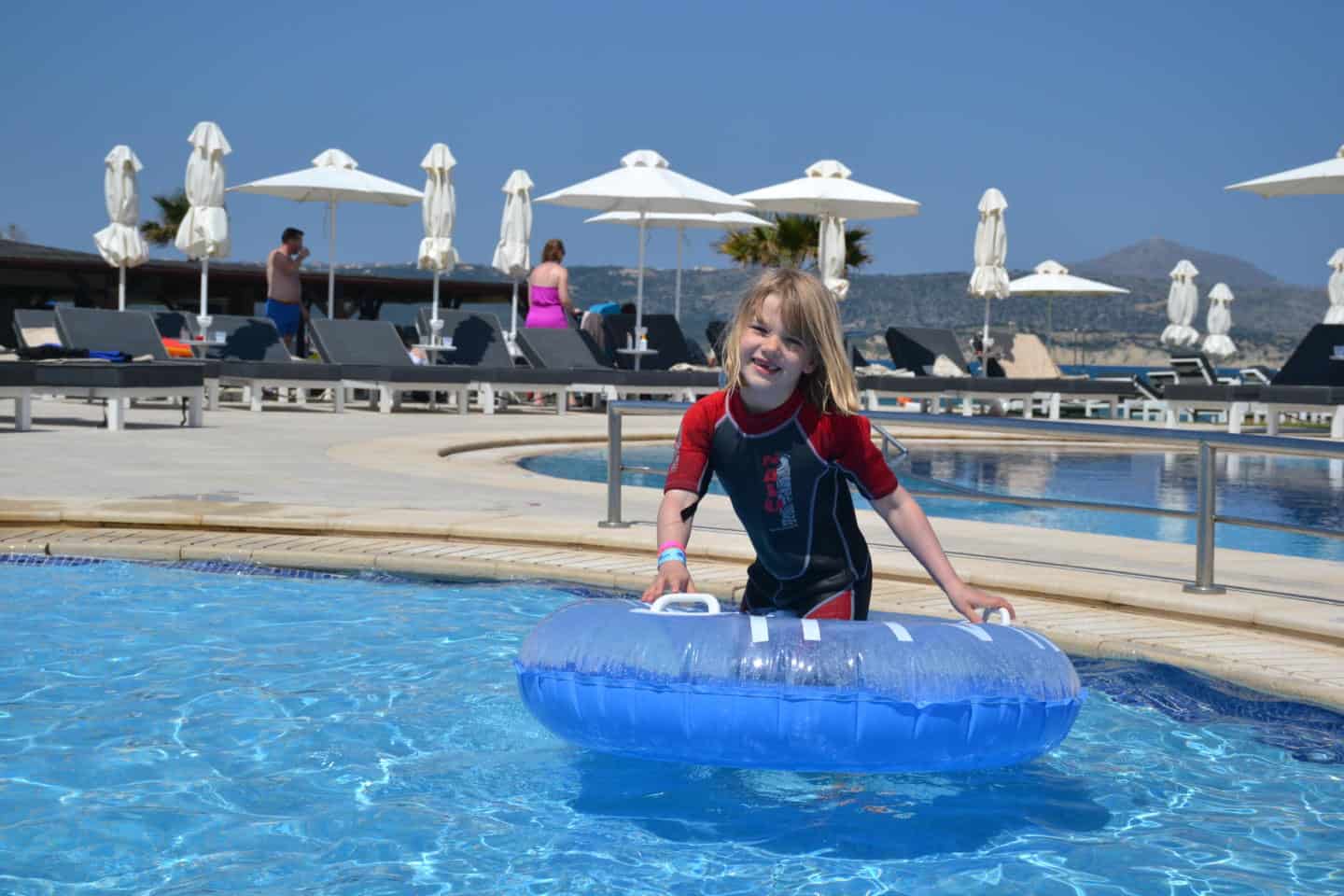 Just a week or so later we know the weather had improved considerably. To be on the safe side, bring multiple swimwear options when holidaying in Greece in Spring.
During the summer, anything goes, but I'd recommend UV protective rash vests and sun hats to cover up your kids' delicate skin. We love Zoggs swimwear for the whole family.
What to wear in the evenings in Greece
There's no getting around the fact that the Spring and Autumn evenings in Greece will feel chilly, even after a warm day. Bring cardigans and jumpers if you plan to sit outside after the kids have gone to bed.
In the summer, you're going to feel the relief of temperatures dropping to 25C – phew!
Getting around Greece
Driving you own car or hiring a car in Greece will give you a lot more freedom to explore at your own pace. We did this during our holiday in Crete and learnt quite a lot about driving in Greece from this experience.
Here are a few things that will help you when planning a trip to Greece if you intend to drive: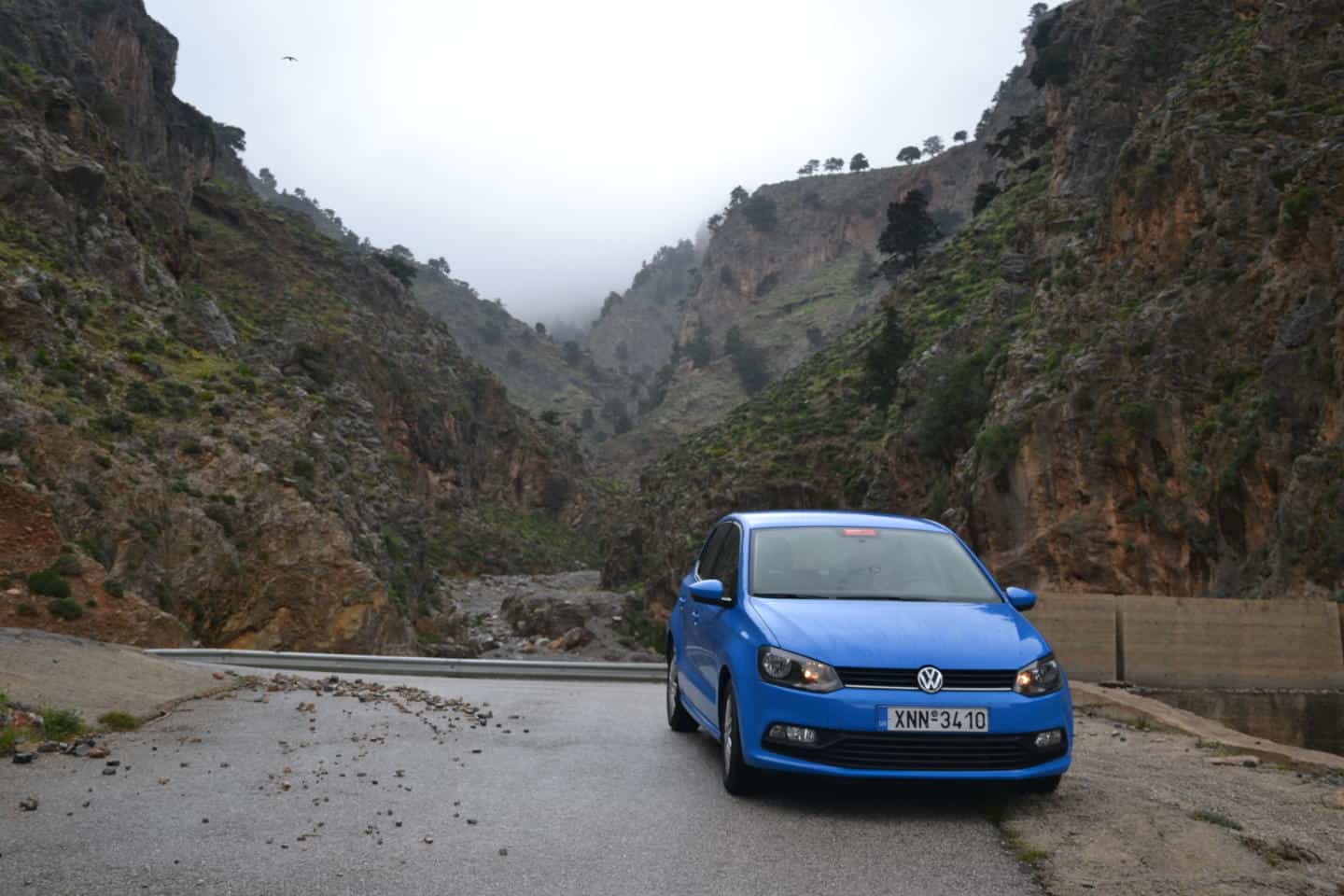 Driving in Greece: left or right?
Let's start with the basics. You drive on the right side of the road in Greece, just like the rest of mainland Europe.
Driving your own car
If you are bringing your own car to Greece you will need:
Your UK driver's licence
Proof of insurance
Proof of ownership (V5 certificate)
Your passport
The RAC has more advice about driving your own car in Greece.
Hiring a car in Greece
Here's what you need to bring with you to hire a car in Greece:
Your DVLA code to share your up-to-date driving license information
You driver's license
Your passport
It cost us €40 to hire a car for a day but you'll find deals on longer hire periods. We checked the fuel gauge as part of the handover process and simply had to return the car with the same amount of fuel in it.
We had unlimited mileage, road side assistance and free children's car seats. Check your car hire company offers these kind of extras. If you are thinking of bringing your own kids' seats then I can recommend buying a carry bag for it to protect it during your flight. Throw in your coats for extra cushioning (and handy extra packing space).
Driving in Greece after Brexit
In addition to the information and documents, above you will need an International Drivers' Permit if you are traveling to Crete after Brexit. These can be bought from a UK post office before your holiday and cost £5.50. You'll need to take along a photo drivers license and a passport sized photo, which will be glued to your International Drivers' Permit.
It's a pretty dated looking piece of paper but it's necessary bureaucracy when Britain leaves the EU.
Is it easy to drive in Greece?
We found it easy enough but there are a few local rules of the road to be aware of. Outside of the cities you're likely to find main roads have a wide hard shoulder. If someone wants to overtake you, it's standard practice to pull over into this to let faster vehicles pass.
Be aware that some turnings off the carriageway, especially into smaller roads can be quite abrupt. Minor roads may be very narrow, and if you are driving through the mountains you will find fallen rocks on the carriageway. We had to weave around a few small boulders that would have caused clearance issues and damaged wheels.
Expect pot holes too, as well as sheep and goats in the road in rural areas, and dogs and cats in towns.
Roads are narrow in places in towns and cities because of parked cars, so watch your wing mirrors.
When we were driving in Crete we found road signs were written in Greek and English. However, not always on the same sign. We quickly found this out when navigating to the south coast and finding that our road map had different place names to some of the road signs. The names are similar but could catch you out.
On smaller Greek Islands and less touristy areas you are likely to find more signs just in Greek.
Read our guide to driving in Crete on holiday.
Best places to visit in Greece with kids
The only thing left to do is decide on what things to do in Greece. Whether you want to chill out on some of the Mediterranean's most stunning beaches, discover ancient sights, wander the picturesque streets of harbour villages, or go snorkelling in azure seas, Greece has it all.
Get some inspiration for places to visit in Greece with kids to help you plan your trip.
Disclosure: this post may contain affiliate and commercial links. If you click on one of these links and make a purchase I may receive some commission. This does not affect the price you pay. Main image from Shutterstock. Other images from Pixabay or copyright Tin Box Traveller.
Planning a trip to Greece with kids? Save this post for future reference.