The essential guide to driving in Crete on holiday
Nothing beats getting behind the wheel to explore a new destination. We love the freedom to see the sights at our own pace, especially when travelling with kids who quickly get bored on organised tours or need a loo break at the most inconvenient of times. During our family holiday in Crete we borrowed a hire car for a day and drove from the Greek island's north to south coast. It was our first time driving in Crete and there were a few things we noticed that made it different to the UK and some other countries we've driven in.
Here's our guide to driving and hiring a car in Crete:
*This post contains compensated links*
Driving in Crete: left or right?
Let's start with the basics. You drive on the right side of the road in Crete, just like mainland Greece and the rest of mainland Europe.
Now on to the meaty stuff…
Hiring a car in Crete
We borrowed our car from Kalives Travel as part of our Crete holiday press trip. This was on a complimentary basis for coverage in my guide to things to do in Crete with kids. However, we still needed to follow the rules for hiring a car.
Here's what you need to bring with you to hire a car in Crete:
Your DVLA code

to share your up-to-date driving license information

You driver's license
Your passport
Our hire car would have cost €40 for the day and there were deals on longer hire periods. We checked the fuel gauge as part of the handover process and simply had to return the car with the same amount of fuel in it.
We had unlimited mileage, road side assistance and free children's car seats. Check your car hire company offers these kind of extras.
If you are thinking of bringing your own kids' seats then take a look at which car seats are approved for air travel in the cabin.
Take a look at more tips for planning a family holiday in Crete.
We used Kalives Travel because they were located near where we were staying in Crete on the west of the island.
If you are looking for car hire elsewhere you might also like to look at Rental Center Crete – Car hire.
Driving in Crete after Brexit
In addition to the information and documents, above you are likely to need an International Drivers' Permit if you are traveling to Crete after the Brexit transition period. This ends on 1 January 2021.
A International Drivers' Permit can be bought from a UK post office before your holiday and costs £5.50. You'll need to take along a photo drivers license and a passport sized photo, which will be glued to your International Drivers' Permit.
None of it is high tech but it's necessary bureaucracy post-Brexit.
Is it easy to drive in Crete?
The main road – Greek National Road 90 (A90) – running from East to West across the Island is wide and good. The section we drove from Chania to Vryses is single carriageway, but there's a wide hard shoulder.
If someone wants to overtake you, it's standard practice to pull over into this to let faster vehicles pass.
Be aware that some turnings off the carriageway, especially into smaller roads can be quite abrupt.
Minor roads may be very narrow, and if you are driving through the mountains you will find fallen rocks on the carriageway. We had to weave around a few small boulders that would have caused clearance issues and damaged wheels.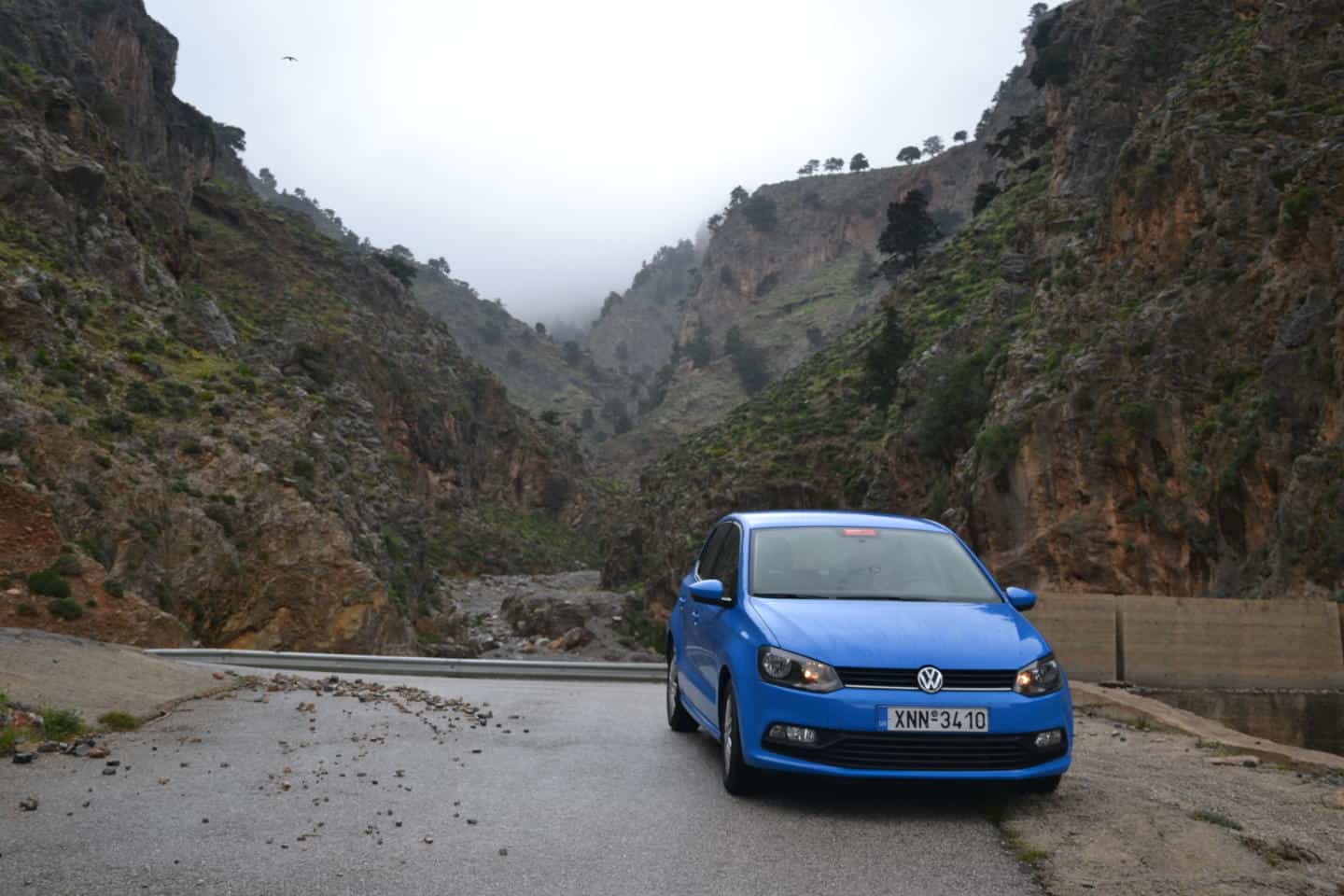 Expect pot holes too. The Cretan winter was particularly wet before our visit, which caused some roads to be damaged.
Expect sheep and goats in the road in rural areas, and dogs and cats in towns. Roads are narrow in places in towns because of parked cars, so watch your wing mirrors.
Crete road signs
These are written in Greek and English. However, not always on the same sign.
We quickly found this out when navigating to the south coast and finding that our road map had different place names to some of the road signs.
For example, the town of 'Vrisses' on our English language map was also marked in Greek as 'Vryses' on road signs. The names are similar but could catch you out.
What are the best driving roads in Crete
We found the main A90 was good. But if you are looking for something a little more fun…Mr Tin Box wanted to drive this road between Hora Sfakion on the south coast and the mountain village of Anopoli.
It is a 12km section of road that weaves up into the mountains with hair pin turns and spectacular views. It's not a road to go crazy on because this is where we encountered the most rocks on the carriage way, but it was a fun drive.
Roundabouts and traffic lights in Crete
It's important to remember there are a few differences in the 'rules' of the road when you are driving in Crete.
Once you are on the roundabout you give-away to people entering the roundabout. At traffic lights in Crete, green means go, but keep an eye out for anyone sneaking though a red light late from the other direction.
Fuelling your car in Crete
Petrol stations in Crete have an attendant who fuels your car for you. Let them know how much you want to spend and they will top you up. Most Crete petrol stations are open until 7pm.
Speed limit in Crete
We found that speed signs were rare in Crete, so we were left guessing most of the time. However, on major, out of town roads the limit is 56mph (90kmph).
Have a good look for signs as you enter and leave towns and villages to check the limit to be sure. There are speed cameras on the A90.
Roadside shrines in Crete
You won't drive far without spotting tiny and sometimes not so tiny shrines on the side of the road. These sometimes look like mini churches, while others are simple boxes.
Inside these road side shrines there are relics, candles and images. But they don't all commemorate the loss of someone on the road. Some also mark the spot of a great escape. Survivors return to crash sites and erect a shrine to thank God or a particular saint for saving them.
Shrines appear to be quite big business in Crete – we saw a couple of road side businesses selling shrines in all kinds of styles and materials.
Drinking and driving in Crete
Don't! It doesn't matter where you are, it's a bad idea. Plus, the legal limit in Crete and Greece is 0.5 Blood Alcohol Content (BAC), which is less than the 0.8 BAC limit in the UK. Anything more than one small glass of wine and you're over the limit.
If you get caught drink driving, speeding or fall foul of other driving offences in Crete, you will need to report to the police station in the region where you were pulled over. This is where you will pay your fine – not fun if you happen to be on the opposite side of the island to where you are staying.
So, these are the tips we picked up after our visit to Crete. Do you have any others? They might be handy for our next trip!
Take a look at more tips for planning a family holiday in Crete.
Disclosure: we received one day of free car hire from Kalyves Travel during our trip to Crete and wrote about it in my post about things to do in Chania. I was not asked to write this post but thought it would be helpful to anyone else thinking of driving in Crete. Some images from Pixabay. This post contains compensated links.
If you're planning to explore Crete independently in a car, why not pin this post about driving in Crete for later.