Preparing for a family holiday can be a bit of a mine field. How do you know what to pack for different types of holiday? And, is there travel gear you simply must have for certain destinations? Luckily you've found our bulging travel checklist stuffed full of tried and tested family packing lists and holiday essentials.
Take a seat and soak it all up or navigate to what you want to know for your next family adventure. Simply click on the packing list or checklist you need in the table of contents below.
Importantly, if there's a travel checklist that you think is missing then let me know! I'm sure I can put my finger on it!
Contents - jump to what you'd like to know
Travel checklist: things to do before leaving home
Before we get into the meat of our recommended packing lists here's some things you need to tick off your travel checklist before you leave the house for a holiday abroad:
arrange holiday insurance
check your passports and visas
research and book vaccinations
book transfers, hire cars or parking
check if you need local currency and buy it
set up data roaming
arrange a pet holiday or passport
digitalise your travel documents
secure your home.
Read more about the things we recommend doing before you leave home for your holiday and how things might be different taking a holiday after Brexit.
Cruise checklist
If you're planning a cruise then there's plenty to do before you set sail; like making sure your travel insurance covers your holiday at sea and getting the best deals on drinks packages, parking and excursions. Take a look at our pre-cruise holiday checklist.
If you're wondering what to pack for cruise then, you need to consider the climate and whether or not you are flying to meet your ship. Here's my packing list for a Caribbean cruise.
Whatever your destination, there are some extras in it that you might like to consider. This includes deciding whether to buy the cruise drinks package and whether its worth checking into the adults only sun deck.
Car hire checklist
I don't know about you, but hiring a car abroad can always feel a little complicated.
Before you even have chance to consider driving on the wrong side of the road and foreign traffic rules, there's all kinds of excesses and insurances to get your head around.
Take a look at our guide to saving money when hiring a car for some tips to simplify things. I also have a guide to driving in Crete.
Travel checklist for holidays in Europe
If you're flying or sailing into Europe then here's a checklist I put together for a holiday in France.
Holiday packing lists for families
I've always loved holiday checklists but since becoming a parent they're not just fun, they're a necessity.
Remembering what to pack for our next getaway at the same time a making packed lunches, remembering who is coming over for a play date and which after school club it is tonight is too much for me to hold in my brain.
Getting lists down on paper or in the notes app on my phone helps to free up head space.
There's no single holiday packing list that I use for our different trips. What we need for a caravan break is very different to a cruise. So below is a round up of all the different lists I use to make sure we don't forget anything!
You might also like to check out my top packing tips for families.
Toiletries packing list
Whatever type of holiday you have coming up you can't forget your toothbrush. Here's a list of toiletries to pack in a wash bag to cover the whole family:
tooth brushes and paste
baby wipes
make up
make up remover
shower gel
shampoo and conditioner
body wash, including wash for sensitive skin for tiny children
deodorant
razors
shaving gel
sun cream and after sun
hand sanitiser
tweezers
nail scissors or clippers.
Here's a toiletries list I've made specifically for winter sun holidays.
Travel first aid kit checklist
We rarely leave home for a holiday without a full first aid kit and have a smaller one in the car just in case we need it on the go.
You can find a full first aid kit checklist here.
Essentially, it covers useful equipment and medication for:
cuts and grazes
sprains and swelling
insect bites
headaches
stomach upsets.
For everything else you have the local A&E or walk-in centre.
Packing list of baby and toddler essentials
Whether we were away for one night or 20 there were a few baby and toddler essentials that we'd always travel with when the girls were small:
a back pack style changing bag
a travel high chair
a baby or toddler carrier
a travel stroller
snacks
reusable snack pots
a travel potty
baby wipes and nappy bags.
Read our full packing list of essentials for travel with babies and toddlers and my toddler packing list for our first family holiday abroad.
Self-catering holiday packing list
Of all the types of holiday we take, the vast majority are self-catering. We just think they work best with kids who like to eat when they are hungry rather than when the restaurant opens.
The good thing is there are still plenty of options, from mobile homes to lodges and luxury cottages. Self-catering is by no means a budget travel option.
Here's our comprehensive self-catering holiday packing list with all the things you should think about taking with you.
Do check with your accommodation first though as everywhere is different. Some cottages, lodges and holiday homes also come with a selection of children's toys, cutlery, stair gates and travel cots.
Don't forget: toiletries | baby and toddler essentials | first aid kit
Beach packing list
We love a beach day and have got packing our seaside rucksack down to a fine art. So what must you pack when heading to the coast?
towels
swimming costumes
beach shoes
sun cream
buckets and spades
a wind break or beach tent
a picnic blanket.
Take a look at our full beach packing list with all the things you need for a beach day with kids and a dog.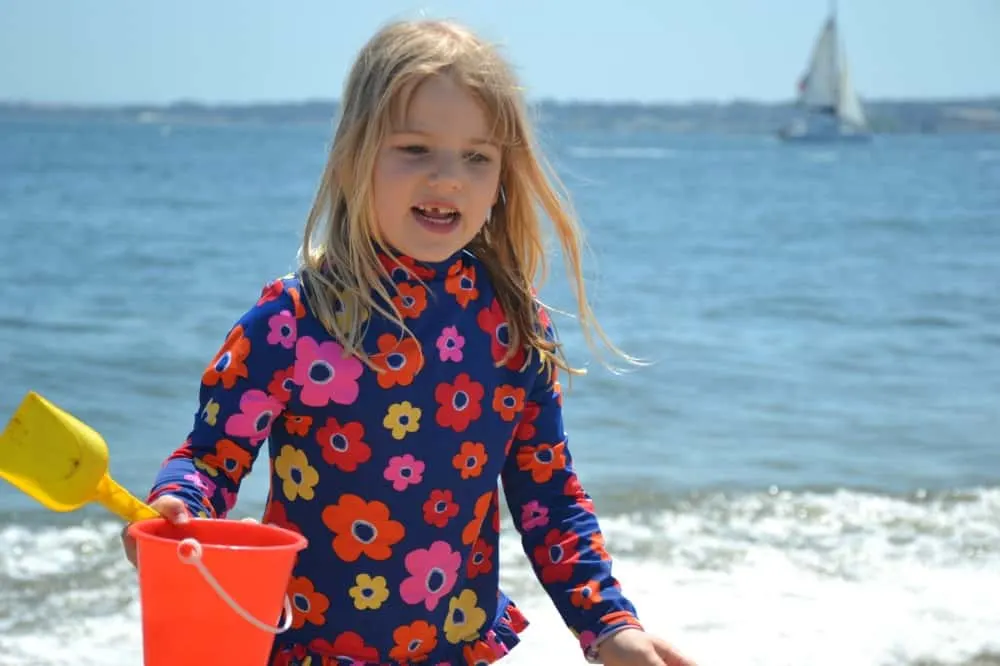 Camping packing list
We have tried our hands at all types of camping; from pitching our own tent to staying in pre-erected yurts and parking our touring caravan on campsites.
Years of experience means we are pretty good at knowing what to take camping.
Here are some camping essentials that we'd recommend taking on your next holiday under canvas, not including your tent, camper van or caravan:
all-season sleeping bags
air beds
torch
water container
cool box
fire lighters
kettle and pans
cooking utensils
plastic bowls and plates
cutlery
a sharp knife
camping chairs
camping table
potty for young kids to use in the night.
Don't forget: toiletries | baby and toddler essentials | first aid kit
Here's my full family camping checklist and my camper van packing list.
If you're in need of more camping checklists then take a look at our recommended camping games to pack for the kids, our favourite camping food, this handy camping checklist for beginners and our guide to how to camp like a pro.
Caravan packing list
I've got admit that I love the extravagance of being able to pack caravan cupboards for holidays. Within reason, you can take so many more home comforts away with you than in a suitcase or the back of the car.
There are plenty of things that can stay in the caravan at the end of each trip, like crockery, camping chairs and the awning. But as for the things that I do pack each time, these include:
kitchen roll
toilet roll
toiletries
tea towels
tea and coffee
condiments and fridge basics
a few easy meals
cooking oil spray
squash
antibacterial wipes
bin bags
games and toys for the kids
clothes
first aid kit.
Don't forget: toiletries | baby and toddler essentials | first aid kit
If you are new to touring, or even if you're not we have a full caravan packing list that you might find handy. It includes all the equipment you need if you are beginners to caravanning.
Glamping checklist
We love glamping – it includes all the best bits of camping with a lot more luxury. In our experience packing for a glamping holiday varies. Some destinations will include a lot of camping gear with your accommodation while others provide a roof over your head and nothing else.
It's always best to contact your glamping site to check exactly what's needed.
As a minimum, we'd recommend asking about:
bedding
cooking equipment
toilet and shower facilities
food storage
heating
power points.
Here's our essential glamping packing list if you are going luxury camping with kids.
Don't forget: toiletries | baby and toddler essentials | first aid kit
Festival packing list
There are some seriously amazing family festivals around the UK. If you're planning on going to one with the kiddos it pays to get your packing right.
Here's some things you will need to make the most of your family festival experience on top of camping gear (above).
head torches for kids
waterproof trousers and coats
wellies
toilet roll
fancy dress
face paint and glitter
camping trolley
picnic blanket.
Here's my full festival essentials checklist.
Don't forget: toiletries | baby and toddler essentials | first aid kit
Checklist for mobile home holidays
We've stayed in many mobile homes in the UK and Europe, and most have well-equipped kitchens so there's no need to worry about bringing crockery and cutlery. However, I'd always recommend packing a bottle opener, just in case!
Most UK holiday parks will also supply their mobile homes with a starter pack including a sponge or dish cloth, small bottle of washing up liquid, a thin tea towel and toilet roll.
When we have travelled to Europe these things aren't always included so I've put together a European holiday packing list for staying in a mobile homes.
Here's some other things that I would recommend packing for mobile home holidays or checking whether they are supplied:
towels
bedding
a bath mat
a torch
hair dryer
a portable barbecue
folding chairs for sitting outside
that bottle opener!
Don't forget: toiletries | baby and toddler essentials | first aid kit
Things to take on a cruise with kids
We're fairly new to cruising but having started with very young children we have some great insight into cruising with a baby and toddler.
Aside from plenty of cruise casual and posh togs, I've here's some pointers on what to pack for a cruise:
Here's what to pack for a cruise with babies and toddlers:
baby formula, nappies and wet wipes as you'll not find these onboard
toys for your cabin
a compact pushchair or travel stroller
a baby or child carrier for excursions
hand washing liquid as some ships only offer a laundry service.
Here's what to pack for a cruise with kids:
colouring books and crayons to use at dinner
your kid's favourite snacks
pool toys and swimming aids.
Here's everything else for your cruise packing list:
a torch
reusable drinks bottles
magnets for putting things up on your cabin walls/door
pegs so you can dry things in your shower
power adaptors
a lanyard for your cruise card
sun cream
a rucksack for shore days
medication
your travel documents and digital copies.
There are plenty more tips for what to pack for a cruise on Cruising With Kids. I also have a packing list specifically for Caribbean cruises.
Don't forget: toiletries | baby and toddler essentials | first aid kit
Travel checklist for city breaks
We've had good and bad city breaks with kids. But the key to getting it right has always been to be well prepared for parenting in busy surroundings.
Being realistic about what sights you can fit into a day, planning what transport you're going to use and having a well stocked back pack of snacks are the keys to success.
Here's what we recommend you pack for a city break with kids:
download city transport apps before you leave home
sensible shoes
baby or child carrier
plenty of snacks
reusable drinks bottles
a small note book and crayons
light waterproofs that are easy to pack away.
Don't forget: toiletries | baby and toddler essentials | first aid kit
---
I hope you've found my packing lists and family travel essentials helpful. What can you not leave home without? I'd love to hear what's on your travel checklist.
If you've spotted something here you'd like to save for later why not pin my Complete Travel Checklist post on Pinterest?
Main image and pin images courtesy of Pixabay.