Heads up glamping fans as I have a fabulous review about glamping in Devon to share with you. When I was approached by a glamping site in Cullompton, Devon, I was gutted that I couldn't get our diary to work so we could visit. Luckily, my friend Lorraine from Secret Mum Blog was able to step up and take this one for Team Tin Box. Here's her Blackdown Yurts review, and if you fancy the sound of it for a weekend getaway or longer luxury camping break then I have a discount code to share at the end too! Over to Lorraine:
*Advertisement feature*
I am not going to lie; we are a family of campers. We love sleeping out under canvas and have all the gear (half of it we don't even need!). The bit we aren't keen on – and has often tested mine and Mr C's relationship to the limits – is getting all the stuff to the campsite and setting up.
When the lovely Claire at Tin Box asked us to try out glamping in a yurt we jumped at the chance.
Set in the stunning Blackdown hills in Devon is Blackdown Yurts. The site has been lovingly nurtured and restored by owners Katie and Mark who both have such passion for their business that it shines through their pores when you speak to them.
Let's get down to it – we went glamping in Devon at Blackdown Yurts and this is what happened…
Contents - jump to what you'd like to know
A bit about Blackdown Yurts
Blackdown Yurts is based in Halsbeer Farm and is owned by Katie, Mark and their two children. Alongside their luxury cottage rentals they have four Mongolian yurts in a quiet and natural field full of wildflowers with breath-taking views of the rolling fields.
The site has purposefully been kept exclusive with just four yurts to ensure guests have a real sense of escape when they visit.
Each yurt is furnished with cosy beds, a sideboard for storage and a wood burner to keep the cold out at night. Outside there is a compost toilet (an outside loo where you use sawdust to cover any poo), a camp kitchen and a fire pit with log seats.
The guests also have use of a communal barn kitchen and living area, which is set next door to the recently refurbished bathrooms.
From camping to luxury glamping
I realised that this wasn't any normal 'camping' trip as soon as our booking was made. We received an email telling us that we had been allocated a yurt called 'Badger' along with directions, advice on what to pack and lots of lovely ideas for things to do in the surrounding areas. Such thought had gone into ensuring that we had all the information we needed so all we had to do was pack the right things and plan what we would do during our visit.
We booked for a long weekend over the first bank holiday in May. Usually when we head off camping we need to ensure we have time to travel, set up the tent, have several arguments, get the girls fed etc before it gets too dark.
So leaving on a Friday after school has always been out of the question. But as we were glamping we didn't need to worry about packing all the gear and then setting up camp. Packing was odd because instead of two cars full (that's right we have to take two cars to fit in two adults, three children and all the camping paraphernalia), we just packed a bag of clothes each and off we went.
We stopped at our local M&S garage to get some picnic food for tea enroute to get the girls from school.
At 3pm we picked the girls up from school, got them changed and got on the road. This sounds quick but actually took us two hours so we headed off at about 5pm with an ETA of around 8pm.
The traffic was kind – as were the girls bladders so we only needed one wee stop – and we finally pulled into the site at about 8.30pm.
On a side note the Blackdown Yurts website suggests not using Sat Nav but Mr C used his Waze app and it got us there without any issues.
The first thing that struck me as we got out of the car was the noise – it was beautifully quiet apart from birds and the sound of cows mooing from the surrounding farms. And the smell was of fresh air and a wood fire from one of the yurts.
These senses alone were enough to make you realise at that very moment that you really had stepped away from the craziness of everyday life.
Badger yurt at Blackdown Yurts
The girls were bursting with excitement and hurried off to locate the 'Badger' yurt which was situated just a few yards away. We grabbed our bags from the car and followed them.
This was my first time ever stepping foot into a yurt but there is something very magical and romantic about them.
The gorgeous colours and décor, the twinkly fairy lights lining the walls and the wood burner all set up by Katie and Mark so all we had to do was light the match. Katie then came to welcome us and show us around the facilities.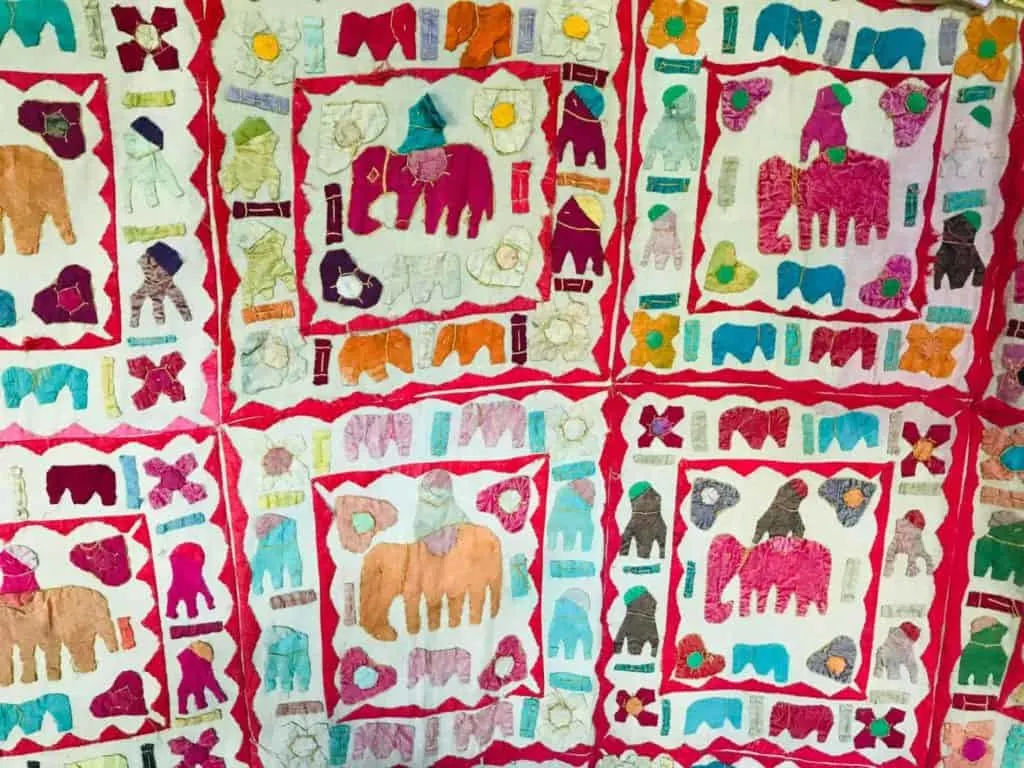 Facilities at Blackdown Yurts
The communal barn was a total work of art and it took everything I had to not try to either move in or pinch the epic dining table housed within it.
Once again there were twinkly fairy lights, an open fire, cosy sofas and a fully equipped kitchen. It can be hired out for parties along with the yurts and I spent a lot of time thinking about what events we could celebrate there.
The bathroom block is part of this building and the workmanship that has gone into every last detail really does belong in a glossy design magazine – it is bloomin' stunning! And I want a bathroom like that in my home.
It is a far cry from the communal and functional bathrooms you find in other campsites.
For the first time ever my children were excited about getting to bed and couldn't wait to snuggle down in their cosy beds under the fairy lights. The wood burner really does make it super warm and they slept like a dream – as did Mr C and I!
The next morning the girls and I headed over to the barn with our shreddies and pancakes whilst Mr C had a little lie in. They explored the books and the games on offer and I drank endless cups of tea. Pretty great morning!
Things to do at and around Blackdown yurts in Devon
Katie had suggested to us a place to visit close by so after Mr C had risen we took a drive out to Culmstock. There is a fantastic walk along the river lined with wild flowers and horses.
After we headed to the local pub called the Culm Valley Inn. The food and décor was amazing but the service was questionable. I had the Portuguese fish stew and it was delicious! I would head back just for that.
Next we got out our trusty National Trust cards and visited Knightshayes in Tiverton. The woodland walk was just what we needed after a big lunch plus it justified us having an ice cream on the lawn before we set off back to the yurt.
I really love a National Trust – the girls can run free and you can always get a good cup of tea.
Find more things to do in Devon with kids
Back at the yurt we togged up into our warmest clothes and set off with the other campers to join Katie for some bat hunting! Katie studied zoology, later specialising in bats, so each week takes the residents of the cottage and yurts out to the pond to see bats flying around.
The girls loved hearing about the bats, listening out for them using the bat detector and waiting to see one fly by.
They were also super excited to see the recent arrival to the farm, a small group of ducklings who were fiercely protected by their mother from the farm cat! Later that night three very tired out little girls headed to bed.
Mr C and I sat up each evening around a roaring campfire – watching the stars, drinking fizz and wondering why we had never thought of doing this before!
Sunday was a lazy morning around the yurt. The girls explored the site and wandered around the surrounding fields; only coming back to show us the various flowers, bugs and sticks they had found!
Another day, another National Trust. And this time is was Killerton. We had a spot of lunch, searched the bears house and rolled down grassy hills! The kids clothes were covered in grass stains but they had a total ball!
Read more about days out at Killerton National Trust in Devon.
Campsite cooking
The final day we decided to spend hanging around the campsite and enjoying the surroundings we had on our 'yurt step'. We finally fired up the BBQ (which is left by the owners ready to go with a bag of charcoal) for sausages and then the girls toasted marshmallows over the campfire.
When we arrived there was a jar of marshmallows and some skewers ready for them to be toasted. It was the little, thoughtful touches like this that really made the biggest impact on me.
Our final night in the yurt was bittersweet – we were thrilled to be having this wonderful experience as a family but sad to be heading home the next day.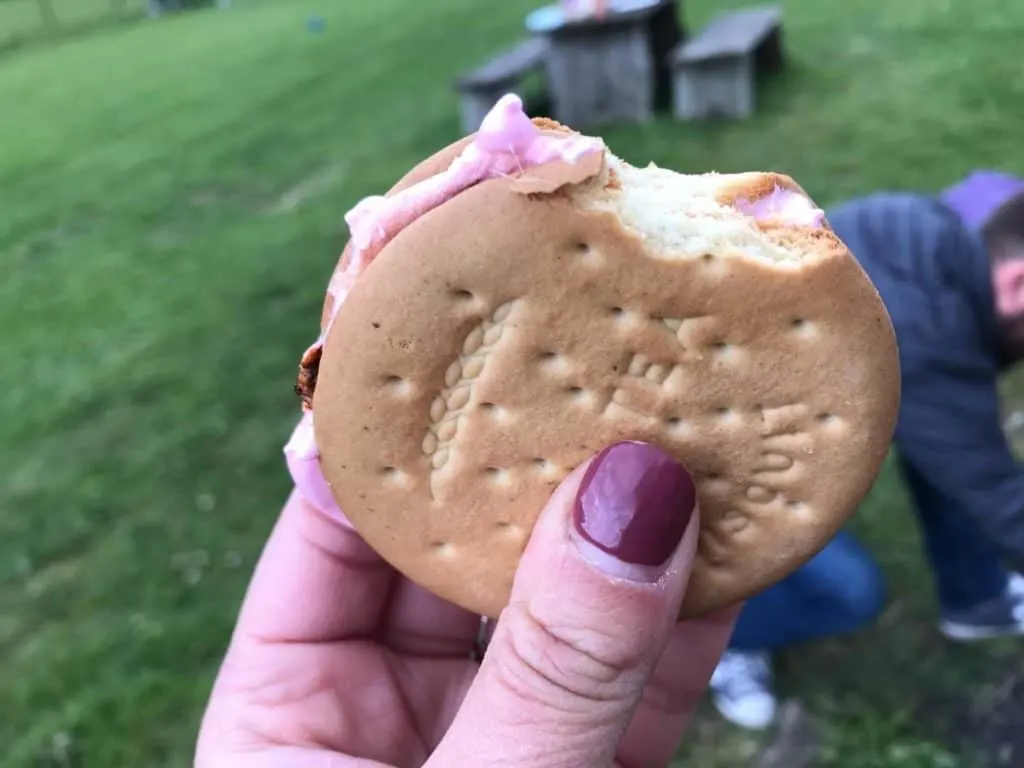 The family's view on Blackdown Yurts in Devon
I thought I would ask the rest of team Secret Mum what they thought of the trip to Blackdown Yurts.
Mr C – age 40-something:
"When Lorraine told me we were going yurting I wasn't sure if it was for me because I love the 'camping' part of it. I usually drive ahead of the girls and get the tent up ready for when they arrive – or as close to up as I can! However it was great to all travel together and having the yurt set up and ready to go was brilliant. The best part for me was all the fire building. There is something very satisfying about building a fire and watching it burn. We had a fantastic few days away together – and I might be converted to the glamping way of life."
Miss A – age 7:
"I really liked toasting marshmallows and searching for bats. Oh, and the compost toilet because I got to bury my poo!"
Miss O – age 5:
"I loved my little bed. It was really warm and cosy. Can we go yurting again please?"
Miss I – age 4:
"My best bit was roasting marshmallows and eating sausages!"
And for me the best bits were sleeping in the yurt, seeing the girls run free and the stars! With no light pollution, the stars are breath-taking and we spent many hours gazing up at them. Blackdown Yurts really is a magical place and we will certainly be returning in the near future – in fact I miss it already!
A three night stay at Blackdown Yurts over the May Day bank holiday would have cost £330. Find directions here.
Planning a trip to Devon? Check out my other website Devon with Kids and download my FREE kids activity book.
Blackdown Yurts DISCOUNT CODE for Tin Box Traveller readers
If you have been inspired to try glamping in Devon at Blackdown Yurts then we have a discount code for you. Simply enter 'TINBOX' in the promotion box at the online checkout linked below for 10% off any stay of two nights or more. This offer is available term time and in the school holidays.
Book your Blackdown Yurts glamping holiday online.
If you've not tried luxury camping and fancy giving it a go here's a guide to glamping with kids.
Disclosure: Lorraine and her family were guests at Blackdown Yurts and received a free stay in exchange for coverage on Tin Box Traveller. All opinions are Lorraine's.
Planning to go glamping in Devon? Why not pin this Blackdown Yurts review for later: