A visit to Tuscany's Pinocchio Park in Collodi
Like him or not, Pinocchio is an iconic character that you'll see dangling from market stalls throughout Italy and particularly in the region of Tuscany where the story was written. This is also where you will find a Pinocchio Park – Parco di Pinocchio, in Collodi.
This picturesque town is where author of The Adventures of Pinocchio, Carlo Lorenzini, spent his childhood in the early 19th Century. He later used Collodi as his pen name.
When we were staying in Tuscany this summer we wanted to spend a few days exploring the area. We'd already arranged a tour of the Uffizi in Florence, so decided to do something bit different and more geared towards our kids, aged four and six.
So we did what any parent would do and Googled: 'things to do in Tuscany with kids'.
Other than water parks, which we had plenty of at our Tuscany holiday village, top of every list was Parco di Pinocchio – Tuscany's Pinocchio Park.
Here's what we thought of this Pinocchio themed fun park and gardens; what we enjoyed and why it would not be top of our list next time.
About Parco di Pinocchio
Collodi has grasped the link to Pinocchio with both hands. As we approached Tuscany's Pinocchio Park there wasn't a roundabout without a long-nosed puppet grinning at us from its centre.
Our six and four-year-old girls had seen snippets of the 1940s Disney film and were excited to be visiting a puppet theme park.
What went over their heads when they watched the film – but shocked me when I watched it as an adult – were the scenes including smoking, child-trafficking and violence. The 19th and 20th Century Pinocchios weren't quite as U-rated as modern Disney productions.
However, if tried to count every traditional tale with sinister elements I'd soon run out of fingers and toes.
Paro di Pinocchio retells the more family-friendly parts of the classic story through art, fun activities, and a narrated sculpture trail. Although there are still some scary looking puppets and art on display.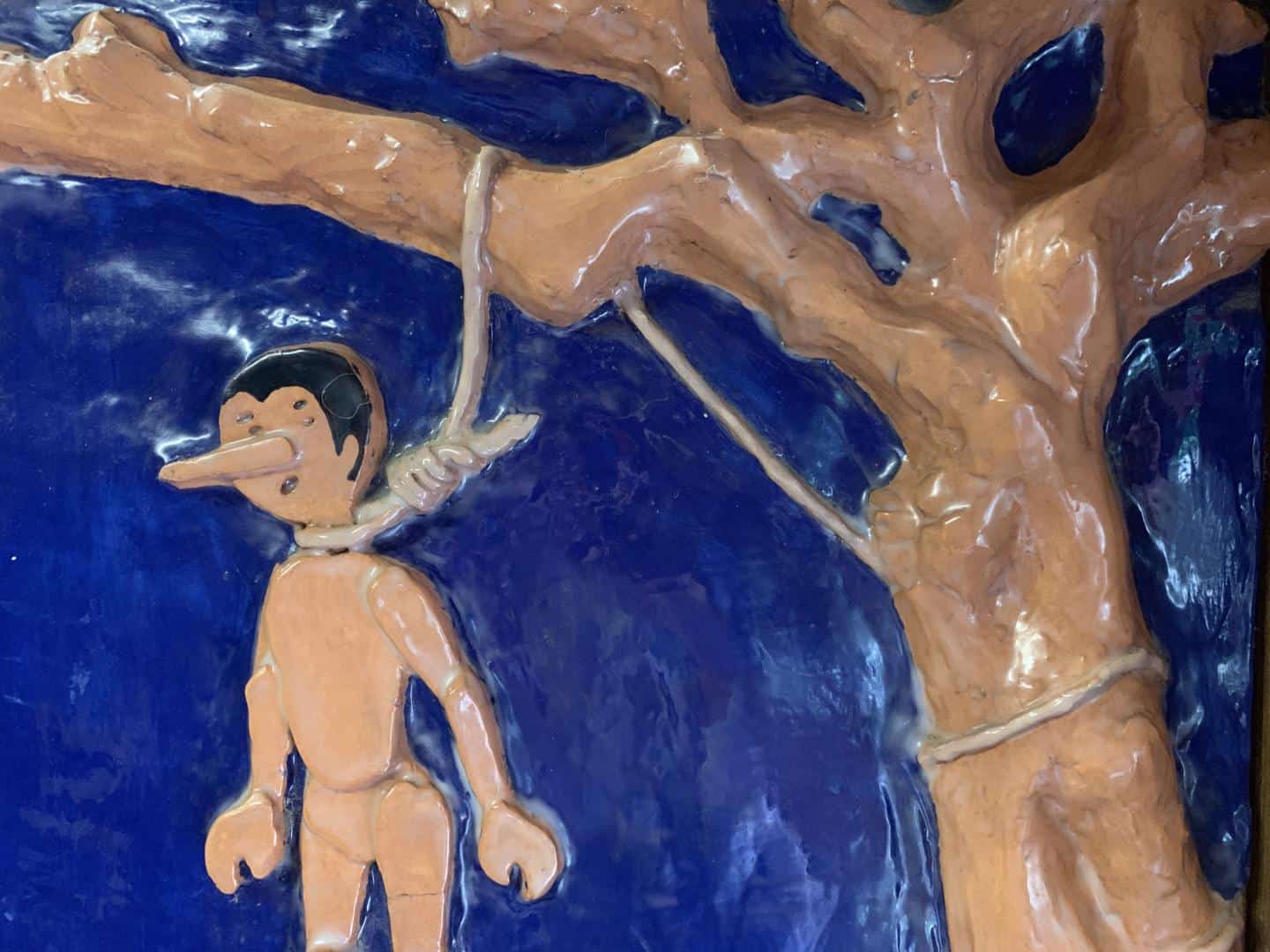 As with the film, the more sinister looking Pinocchios passed my kids by.
Family-friendly things to do at Pinocchio Park
When you arrive at the park you are given a small piece of paper with a programme of the day's activities.
We visited on a Thursday at the beginning of August and found the park to be very quiet. For the first 10 minutes I thought we might be the only family there. But as we found somewhere to have our picnic near the vintage fairground we saw more people exploring the shady park.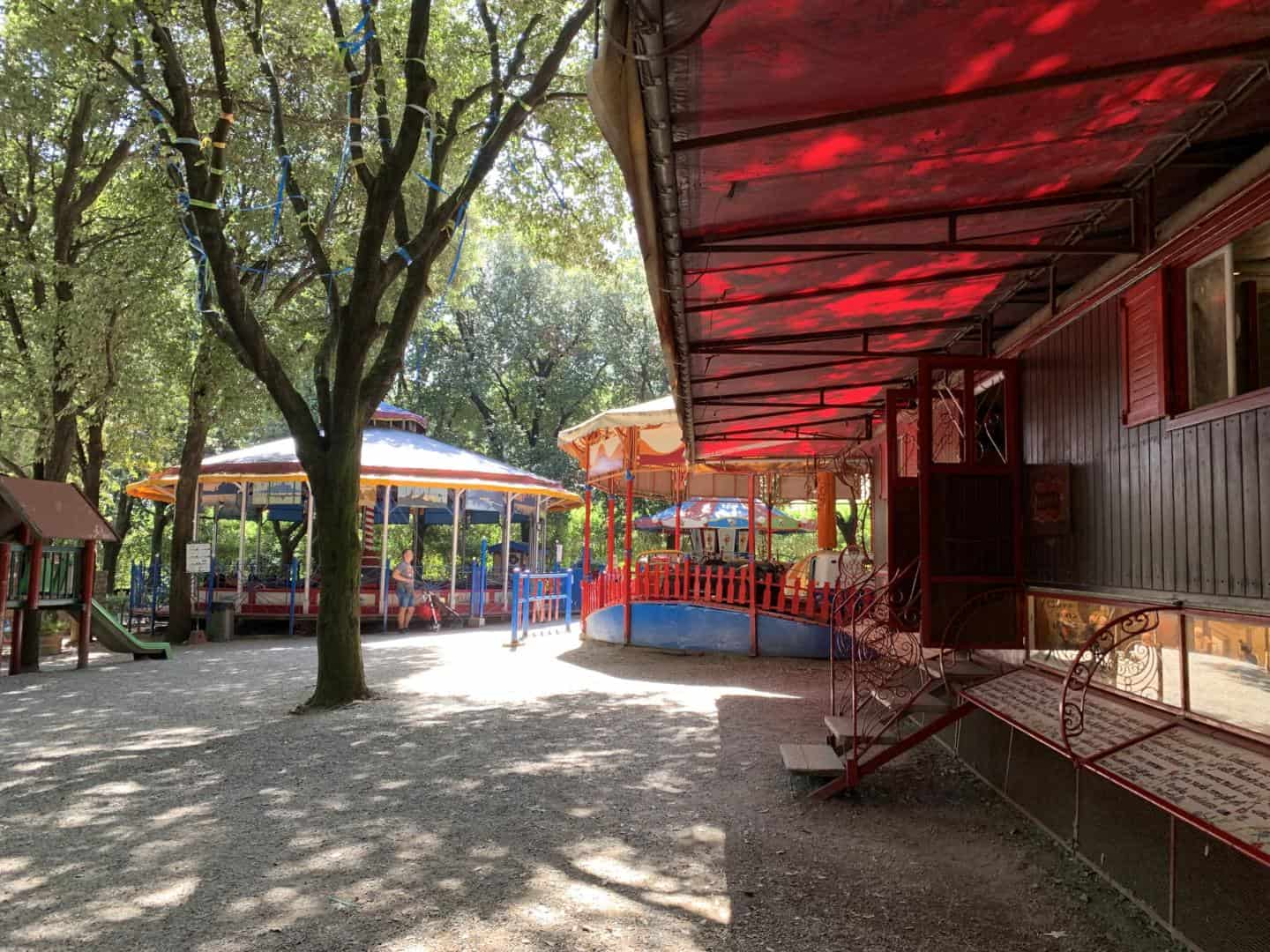 Museum and puppet displays
You enter the park through a museum. This is not the most kid-friendly part of the attraction and we dashed through as the girls had heard about a fairground and maze.
From what I briefly saw, there's lots of Pinocchio memorabilia and artwork based on the story. It would probably be more fascinating for older kids who understand the darker side of Pinocchio.
In the same area as the playground and puppet show (more on those in a minute), there's a few vintage gypsy caravans. Inside are displays of Geppetto's workshop and scenes from the story. One of the caravans also has a collection of old puppets in cabinets.
Vintage fairground
In the vintage fairground there were traditional carousels and a gondola carousel that rotated in its own 'canal' in the base of the ride. I've never seen a carousel like it. However, it had seen better days – a few of the boats were out of use because they were waterlogged.
Puppet show
The puppet show – think Punch and Judy – was performed twice during the day when we visited mid-week in August.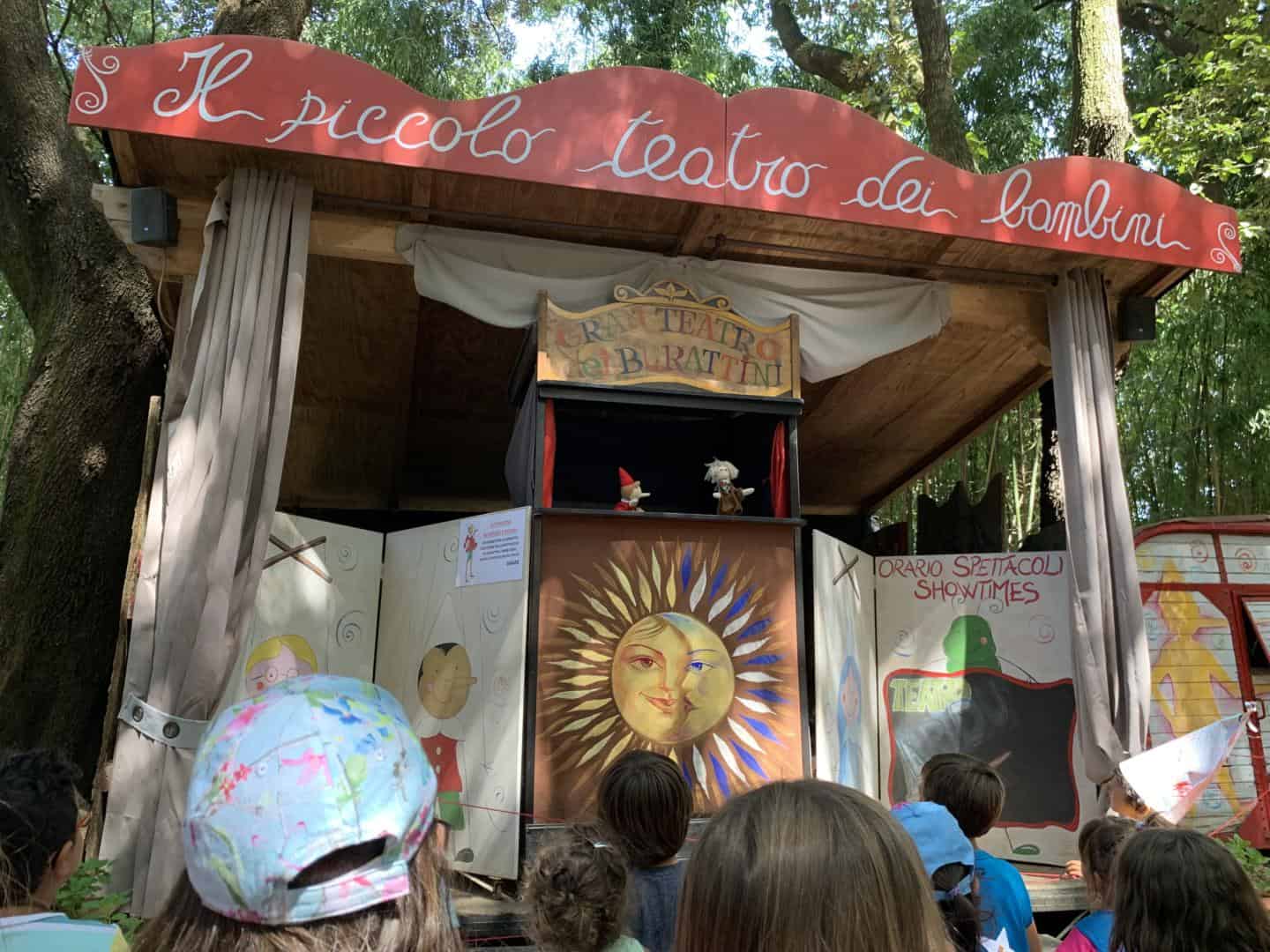 Four-year-old Baby loved this but Tot got bored after a few minutes. The performance is in Italian but Baby was giggling along at all the right moments.
The show lasts 15 minutes and is in a shady part of the park, so is a good opportunity to cool off on a hot day. There were small benches for kids at the front so they could get the best view.
Arts and crafts
Every young visitor to the park was able to visit a rolling workshop where puppet-themed arts and crafts were being done.  Each child could make up to two things for no extra charge.
The girls chose to create their own finger puppets and magic wands. You could also make hats and masks.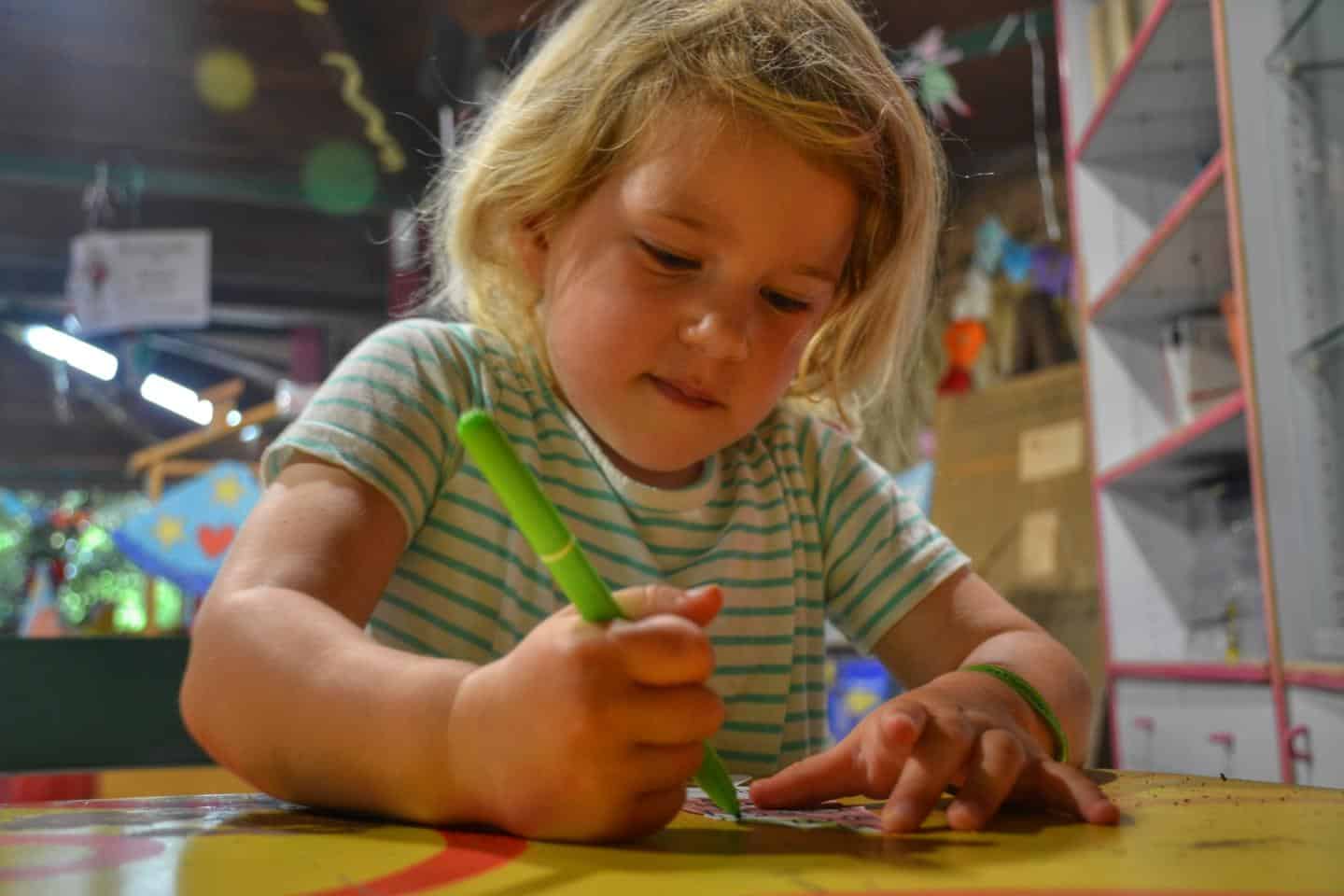 This was a lovely area of the park and we spent quite a while here. Next to the workshop tent there were musical instruments, games and play equipment.
This is also where we found the park cafe. A restaurant was located back at up the main entrance.
Story sculpture trail
One of the main features of the Pinocchio Park was a sculpture trail telling the story. This starts next to the cafe and takes you on a winding journey through the gardens with whimsical statues and installations along the way.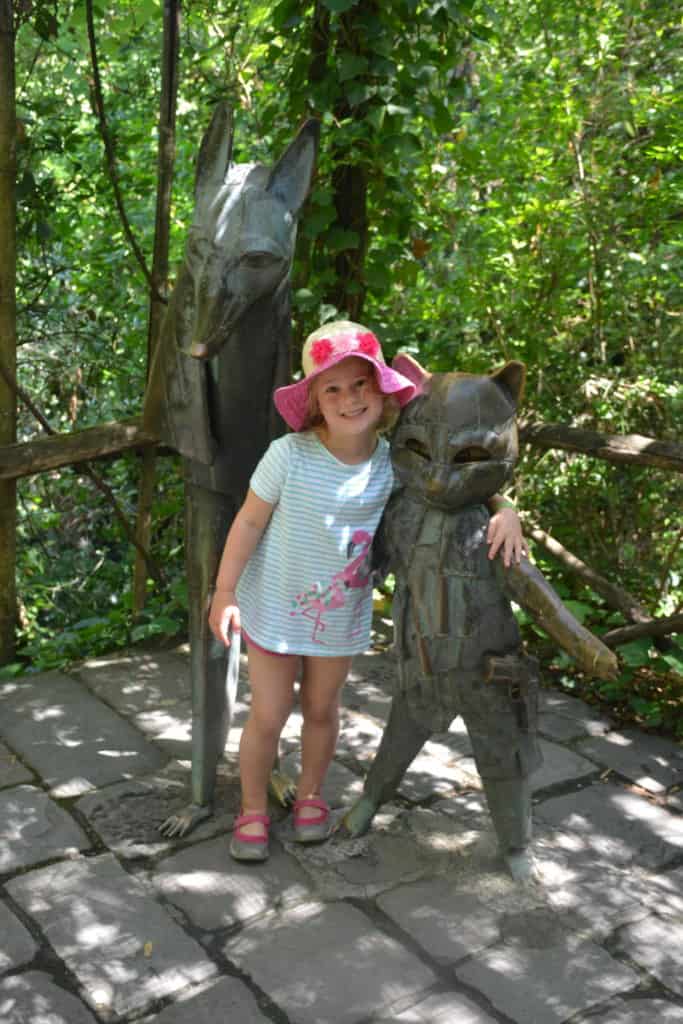 At each sculpture you could scan a QR code with your smartphone to hear the story in English or Italian.
This was a really great interactive activity and there were some awesome installations, like 'The Big Shark'. That's the whale in The Adventures of Pinocchio to you and me.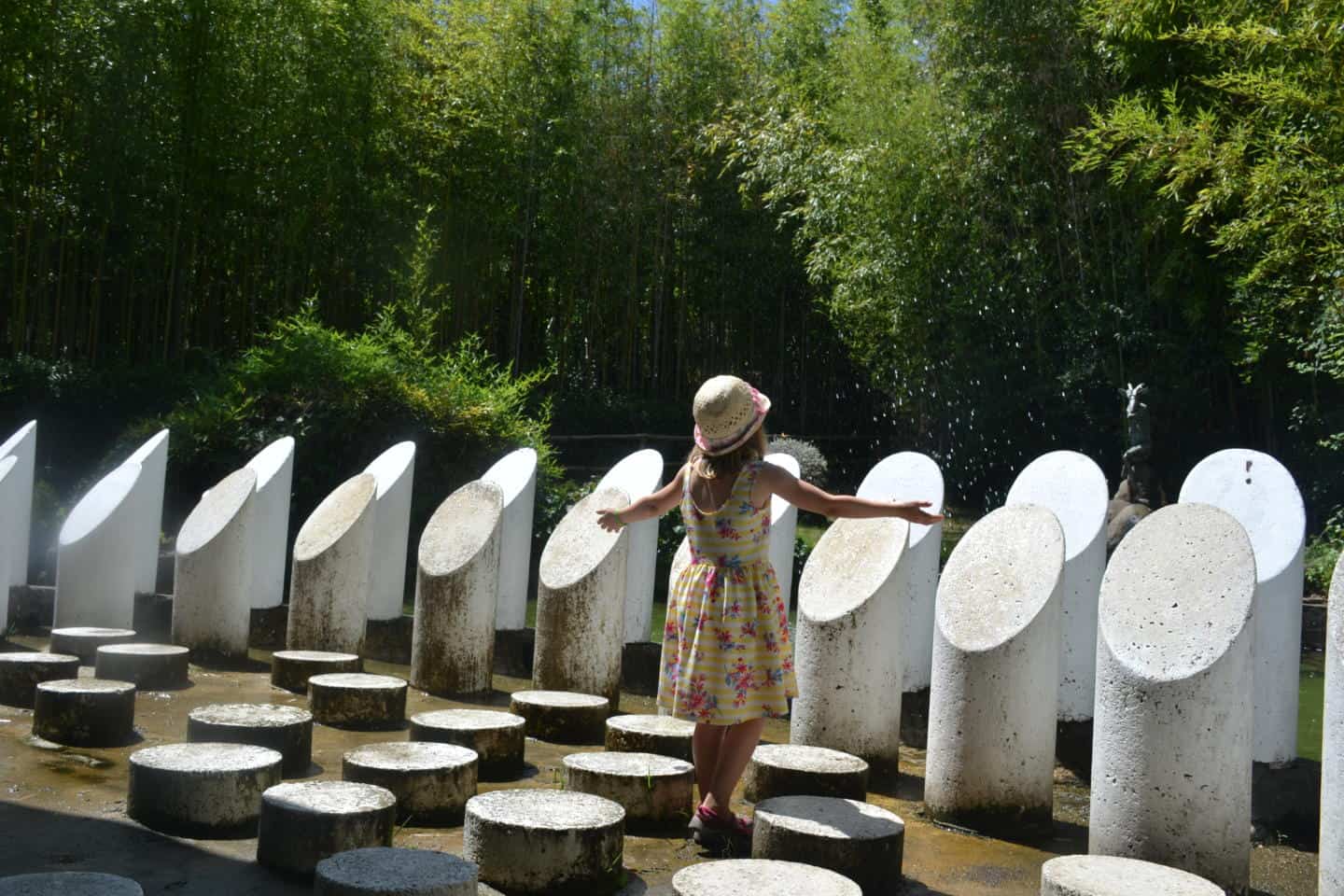 Maze
Towards the back of the park we found a maze made of bamboo. The kids thought this was fun but it was a bit battered in places.
Adventure park high ropes
If your kids are aged 5 to 14-years-old and are between 1m to 1.5m in height they can have a go on the high ropes courses for no extra charge. This activity alone was worth the entrance fee for the park. However, please read my note of caution below.
There were two courses, one for beginners around the 'Pirates Ship' and another more challenging course, the 'River Dash', that kids had to cross a rope bridge to reach. The grand finale of this course was a zip wire back over the river, which would have made my knees knock.
Parents can't do the high ropes with their children but you can stand under them on the Pirates Ship course. The River Dash course is on the far bank of a river so you can only shout encouragement from afar.
Tot did really well up until the zip wire at the end of the River Dash and then had a wobble. The course supervisor quickly spotted the situation and went across to help her make the final crossing.
Something to note: when Tot came off the course Mr Tin Box, who has done high ropes instructing as part of his job, noticed the harness she was wearing was in pretty bad shape. If he'd seen this before she'd started he'd have not let her go on the course. He'd taken Baby off to do something else, as she was too young for the activity, so didn't spot this earlier.
If you visit, please check the equipment before you let your child participate in this activity. On the day we visited the equipment was below the standard we've seen at other high ropes courses, like the one at the holiday village where we were staying.
More things to do in Collodi
If you have a full day in Collodi you can buy a ticket that gets you into Parco di Pinocchio, the Garzoni Villa Garden and its Butterfly House.
Collodi really is a beautiful place – I wish we'd had longer to explore the non-Pinocchio side of the town.
Handy things to know
When is Parco di Pinocchio open?
When we visited in August the park was open from 9am until 8pm daily.
Where is the Pinocchio Park?
Collodi is half an hour north east of Lucca, 45 minutes north from Pisa and an hour west of Florence. We found it easily using Google Maps and Waze.
Parking at Parco di Pinocchio
Parco di Pinocchio doesn't have its own car park but there is a public car park alongside it. This costs €3 for six hours, which was plenty of time to see the park.
On Tuesdays there is a market in the car park, so avoid visiting on this day.
You could park on street, but we were a bit weary of misreading parking signs so played it safe in the car park.
Baby facilities
There are toilets with baby changing facilities near the park entrance. We didn't see any other toilets around the park, so make sure you use the facilities when you arrive. It would take about 10 minutes to walk back to the entrance from the far end of the park.
The park's footpaths are accessible with a pushchair or wheelchair.
How much does Parco di Pinocchio cost?
Entry for two adults, a child over the age of five and a child over the age of three cost us €44 in the summer of 2019.
Check the website for current prices.
Final thoughts on Parco di Pinocchio, Collodi
We filled an afternoon at Tuscany's Pinocchio Park and if you are a fan you'd enjoy the vintage elements of the park. The crafts and sculpture trail were lovely. Plus, on a hot Italian summer day the trees gave us plenty of relief from the heat.
Just don't expect Disney standards. The park could do with some TLC: some of the play equipment was broken; the gondola carousel had seen better days; and the safety of the harnesses on the high ropes was questionable. 
This didn't detract from the girls' enjoyment of the day, but meant Tuscany's Pinocchio Park is not somewhere we would rush back to.
Disclosure: we paid for our own day out.
Looking for things to do in Tuscany with kids? Save this post about Pinocchio Park in Collodi for later.