Norcenni Girasole Club review – a fun-packed holiday village and campsite in Tuscany
Holiday happiness for our six and four-year-old daughters involves a swimming pool, ice cream and plenty of fun activities. So it's no surprise that the girls decided our week at Norcenni Girasole Club holiday village in Chianti was their favourite part of our summer.
*Advertisement feature*
We were invited to stay at Norcenni Girasole by Al Fresco Holidays who we have also holidayed with in Lake Garda further north in Italy and The Vendee in France. Both sites were medium-sized with great facilities for younger kids.
This time they sent us some where a bit different.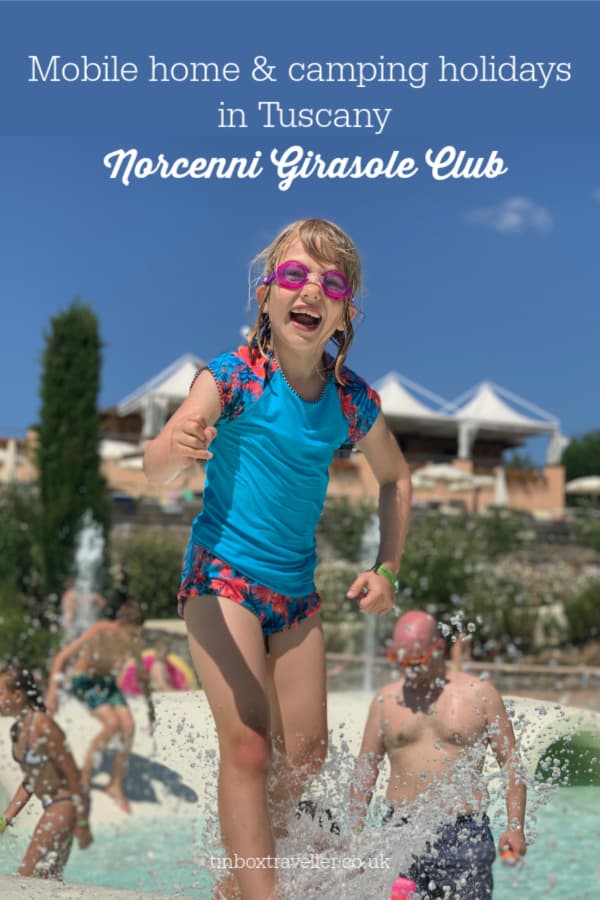 About Norcenni Girasole
This holiday village in Tuscany is one of the largest we have been to in Europe with 850 camping pitches, mobile homes and glamping tents. It's set out over a hillside with plenty of shady trees separating groups of accommodation and giving you glimpses of the surrounding landscape. You'd hardly know how vast the place is until you start walking.
Of course, if you are not up to walking around the hilly site in the Italian summer, then there's also a land train to help you get around from early morning until well into the evening.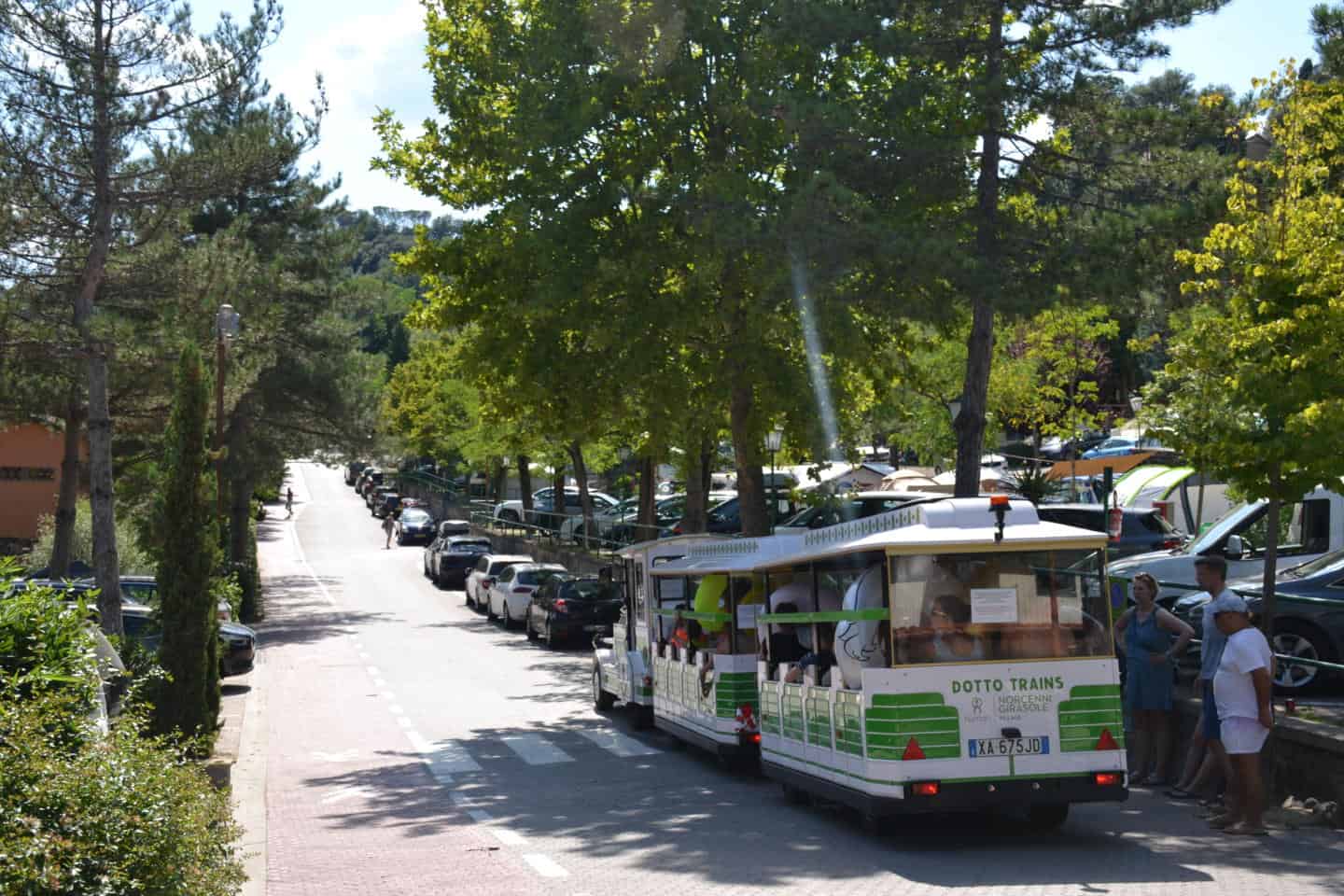 Norcenni Girasole feels less like a holiday park and more like a resort. It is designed to cater for absolutely all your holiday needs, from activities to onsite entertainment.
And with a good size supermarket, a shop, restaurants, takeaways and bars you don't even need to leave the site to top up your fridge if you don't want to.
Here's the Norcenni Girasole map to give you an idea of the scale of the place:
It is also within striking distance of Florence, Siena, Lucca and Pisa – all within an hour and a half's drive.
We were totally blown away by this incredible holiday village in Italy – no wonder it made such an impression on the kids!
Here's a taster of why:
If you are looking for a holiday park in Chiani that has it all – both onsite and with places to visit closely – then Norcenni Girasole is one to check out.
Here's everything you need to know about Norcenni Girasole Club and holidays there with Al Fresco Holidays.
Where to find Norcenni Girasole in Figline Valdarno
The nearest airport to Norcenni Girasole Club is Florence but the best flights for us were from Bristol to Pisa, which is about an hour and a half from the holiday village and campsite in Tuscany.
The closest town is Figline Valdarno, which is a modern town just off the A1 autostrada and where you can find supermarkets, a train station and other local services.
The drive to Figline Valdarno was pretty straight forward.
We picked up our hire car from Hertz in P4 at Pisa Airport and were on the main road straight away. The autostrada is a toll road. It cost us €10 from Pisa to Figline Valdarno but somehow on the return trip we found a slightly different route and only paid €2.50.
Check in
When you arrive at the holiday village there's a large reception building overlooking the mountains. This is where every accommodation provider, like Al Fresco Holidays, has a rep to check you in.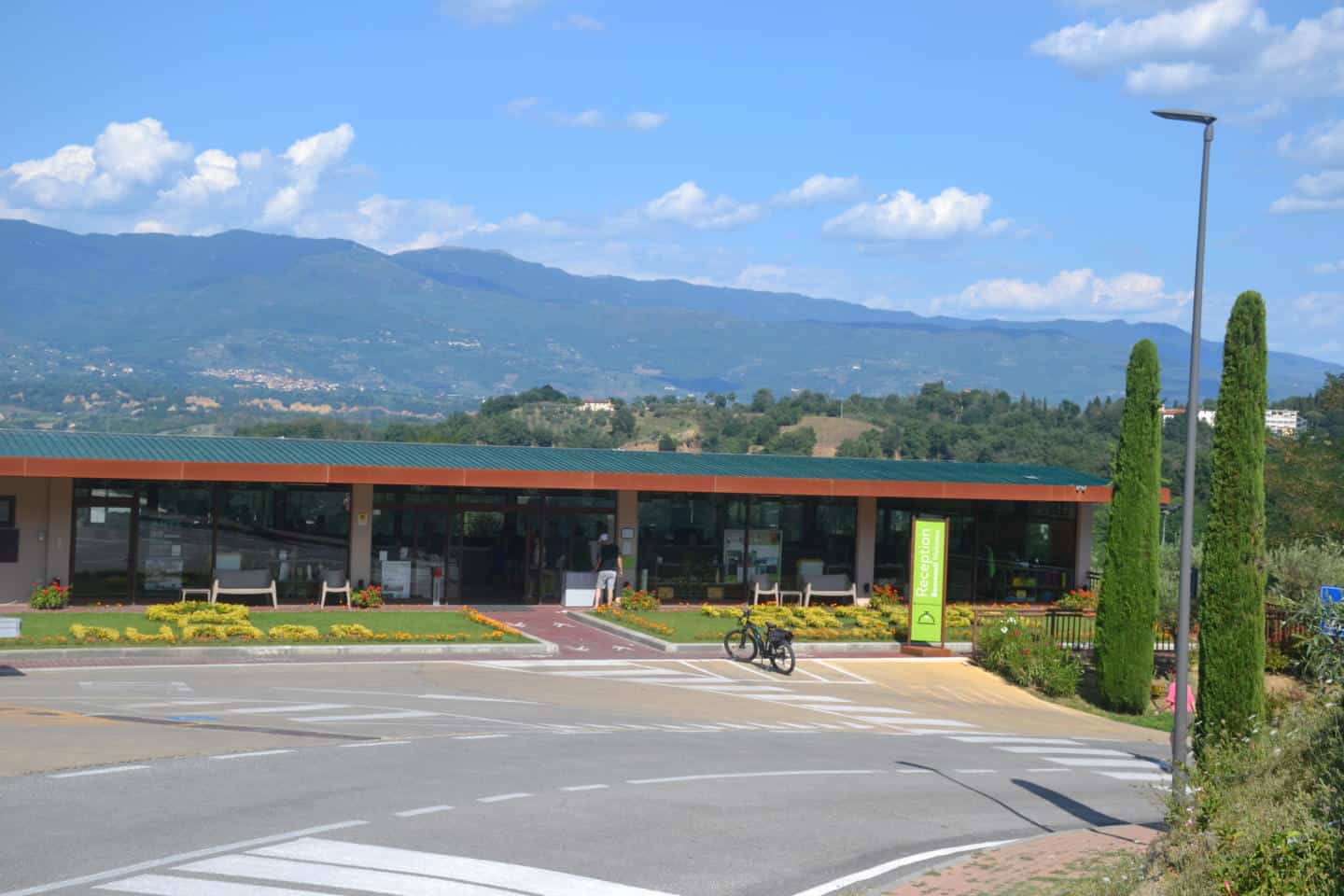 Check in with Al Fresco Holidays opened at 4pm but we arrived a bit early after doing some shopping at Lidl in Figline Valdarno. 
No sooner had I text our Al Fresco rep, Rob, to let him know we had arrived, he appeared and quickly set about introducing us to the holiday village with a map and the animation programme. 
After taking all the necessary information and a damage deposit (don't forget to have cash for this), Rob hopped on this bike and guided us for a short distance to our Al Fresco Holidays Vivaldi 2 mobile home. 
Rob was super-friendly and checked in with us a few times during our stay. It was reassuring to know that if we did have any questions or problems he was only a text or call away.
As it was, everything was great, but we still appreciated having notes and messages to see if there was anything he could do for us.
Norcenni Girasole Club accommodation
Al Fresco Holidays have mobile homes in two locations in the holiday village; in Zona D in the centre of the site and Zona A close to reception and the main piazza. We were staying in the group of nine mobile homes in Zona D. 
Our Vivaldi 2 mobile home had three bedrooms and could sleep up to eight people. It came with everything we could need for a self catering holiday including a large veranda with sunshade.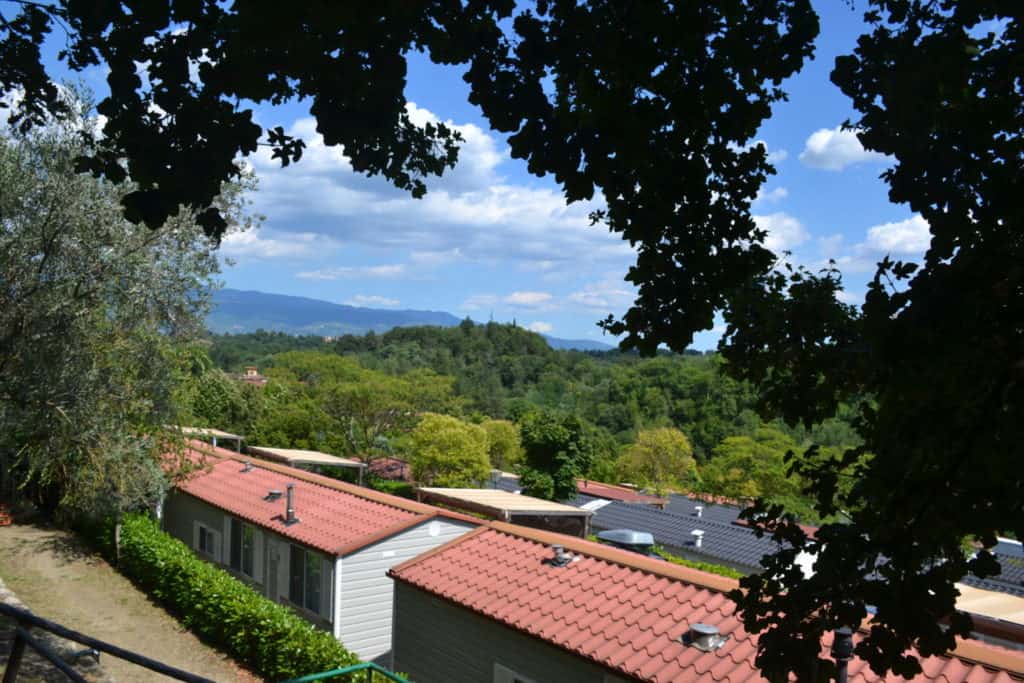 We would highly recommend adding air conditioning on to your booking if you are in Italy during July and August when the temperatures reached over 30°C during the day. It was a relief to have somewhere cool to retreat to when we'd had enough sun.
We also had the family linen pack to cut down on our luggage.
You can see a very similar mobile home to the Vivaldi 2 we stayed in this video I made in Lake Garda last year:
As well as mobile homes, Norcenni Girasole has camping pitches, glamping tents and apartments.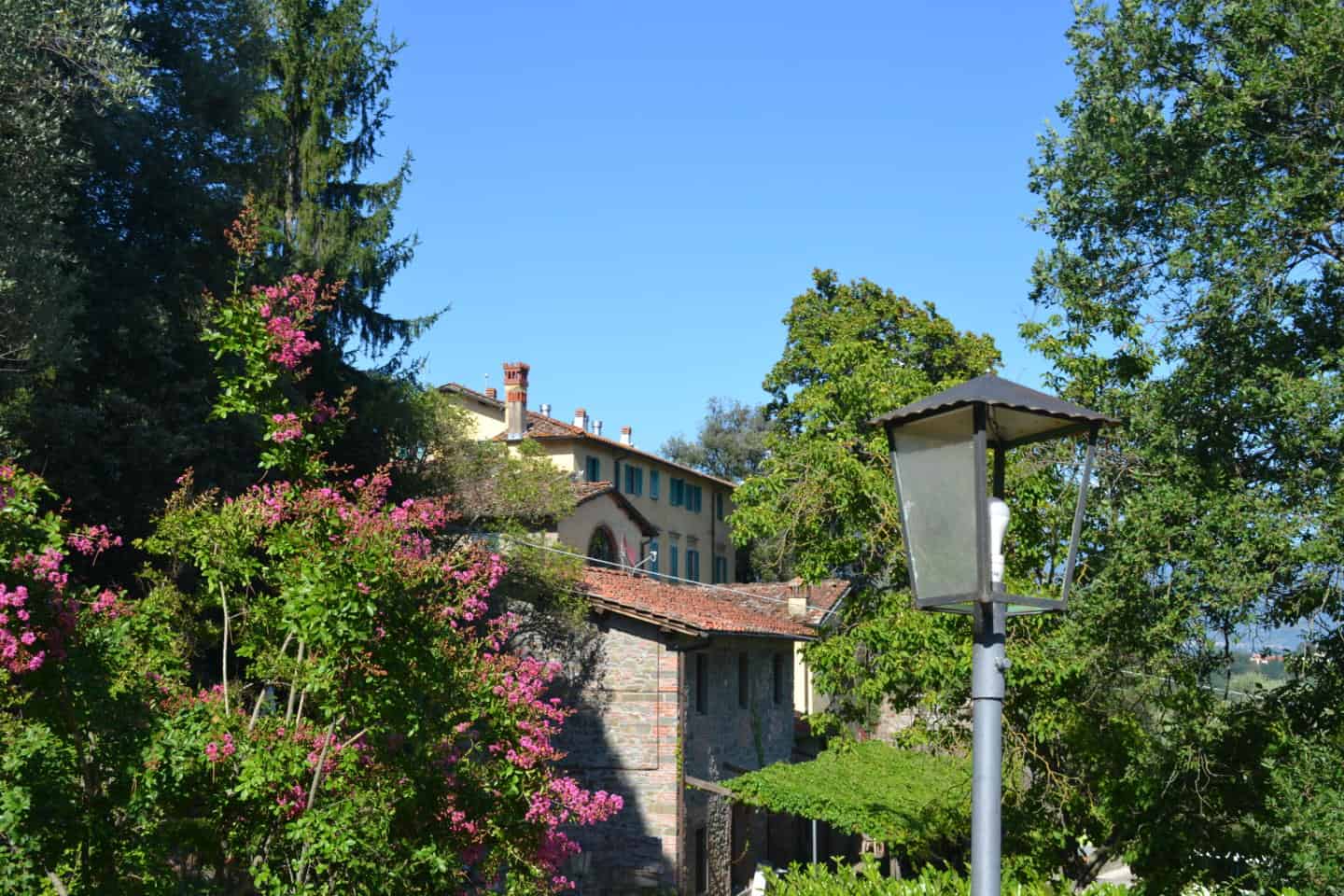 Parking and location
We found that it wasn't possible to park directly outside our mobile home but there was parking close by on the road. It was easy to leave the car next to the mobile home for a short while to unload it.
We really liked the central location of our Al Fresco Holidays mobile home, with an easy downhill walk to the main piazza where the shops were located and the entertainment happened.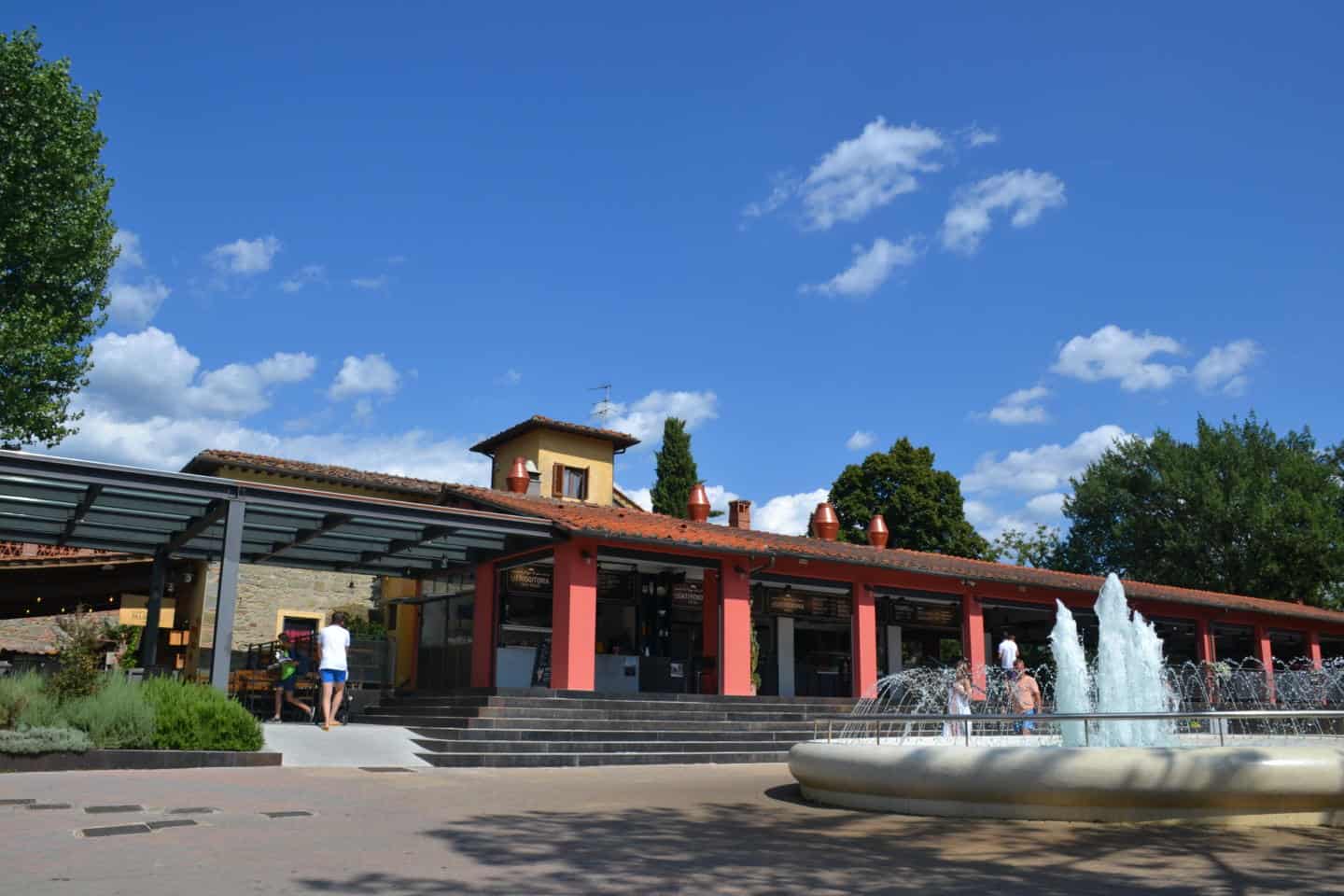 There is also a swimming pool here but we preferred the waterpark at the top of the site. This was a bit more of a trek up steps next to our mobile home and then along a road that ran along the top of the site.
It took about 10 minutes and would have taken a while longer to get to if the kids had been in pushchairs. Thankfully the promise of the waterslides and gelato was motivation enough for the short climb.
A downside of the location, and probably the holiday village overall, is that if you prefer peaceful evenings you'd be disappointed. The energetic evening entertainment at the bottom of the village was clearly audible when we sat out on our veranda at night. 
Saying that, it didn't bother us and it didn't disturb the kids past their bedtime. I know if the girls were a bit older we would have been out later enjoying the variety of things going on.
Norcenni Girasole Club animation
There's a full on programme of entertainment and family activities from 10am to 11pm almost every day at Norcenni Girasole. The only exception was Saturdays during the day when the hard working Girasole Norcenni animation team got some time off.
Here's our well-thumbed copy of the Norcenni Girasole animation programme: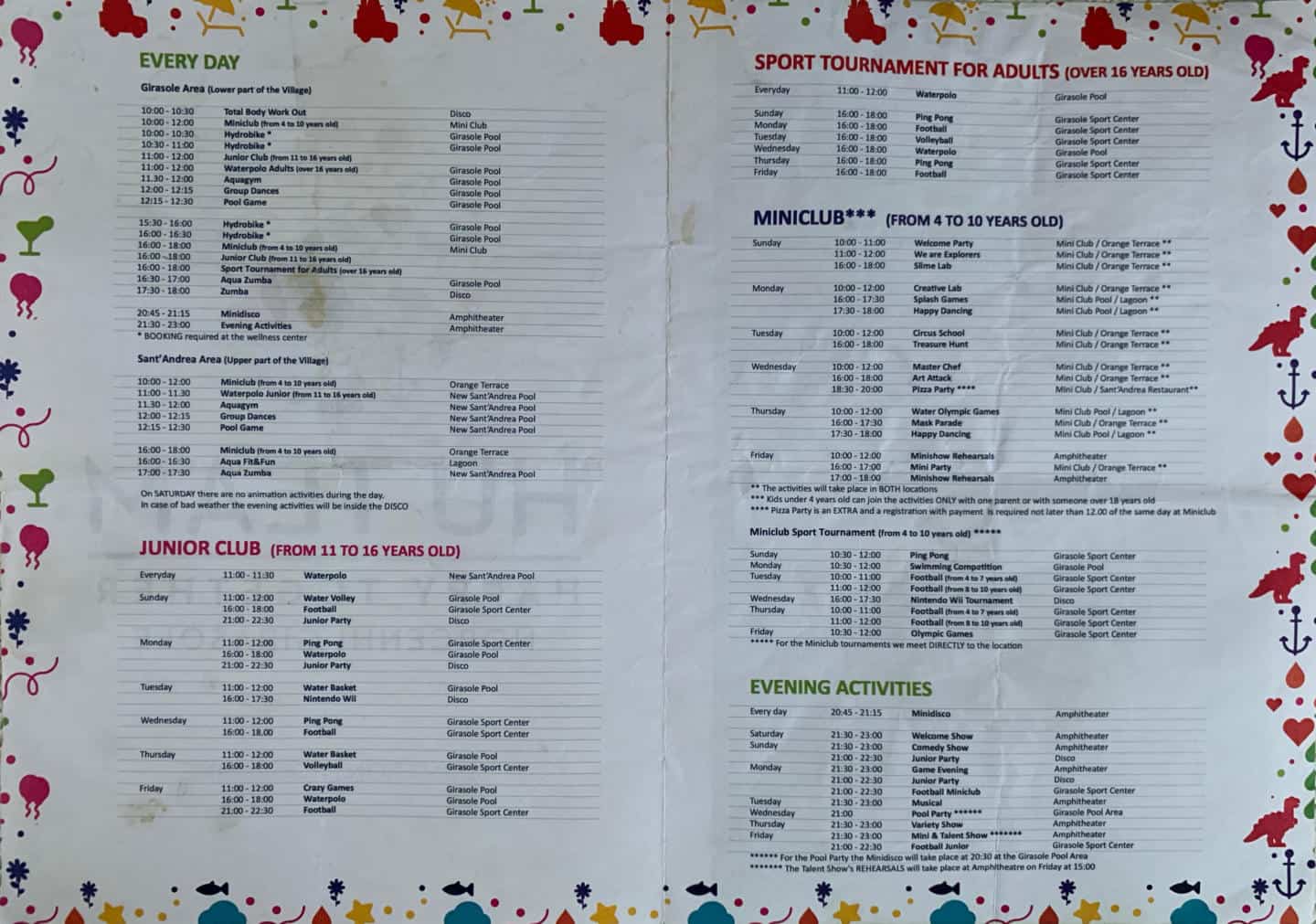 Sunday to Friday in the day there are exercise classes, sports tournaments, pool games and kids clubs for four to 10-year-olds and 11 to 16-year-olds.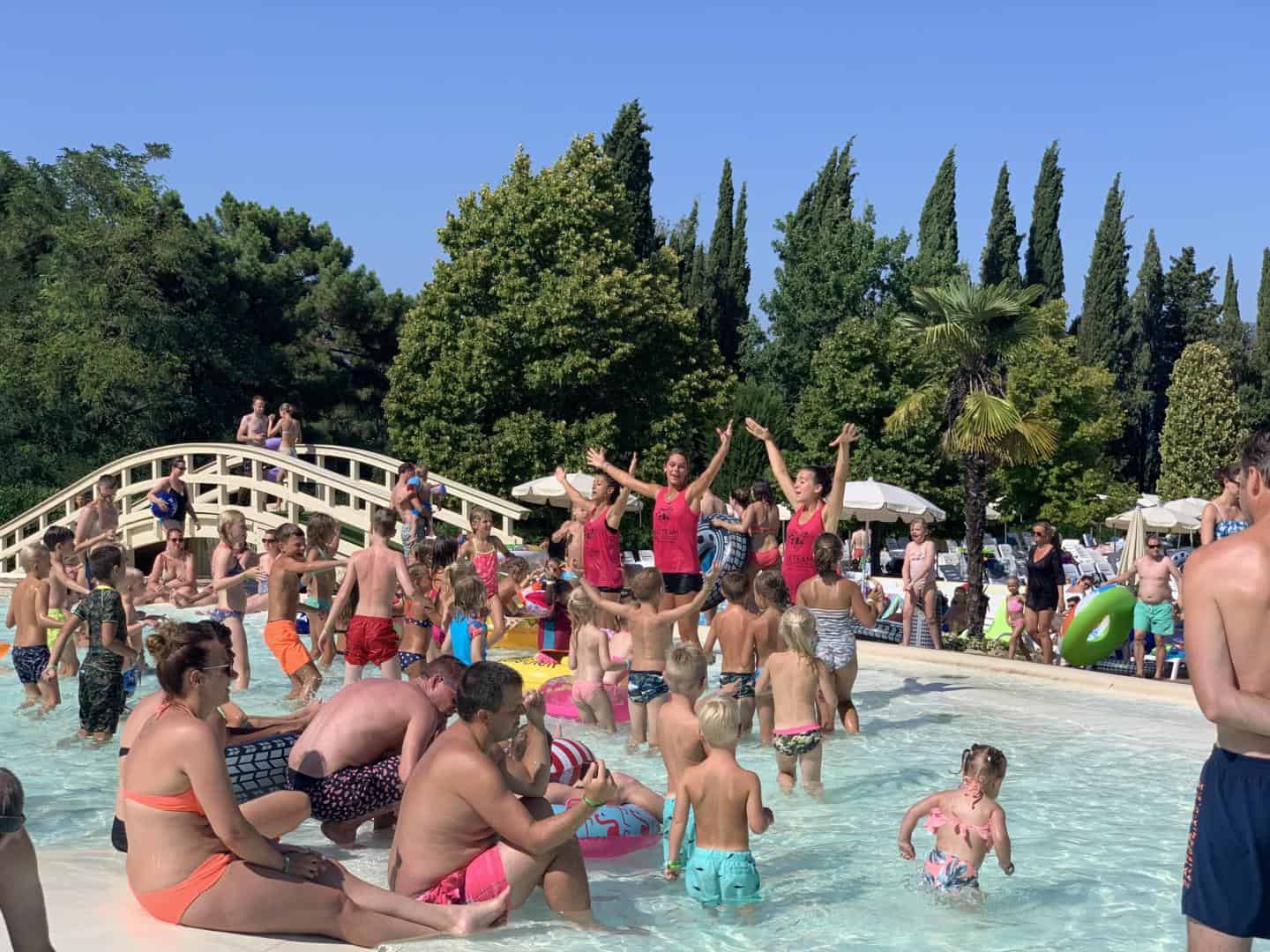 Our girls took part in a couple of Mini Club sessions doing arts and crafts and making slime. The handy thing about Mini Club (four to 10-year-olds) was that it happened at both pool complexes at the same time, making it easy for you to get to whichever part of the site you were staying in.
Each time you visit the club you fill out a form with your kids' information, your accommodation number, and your contact details. You can leave your kids to have fun for up to two hours in the morning and afternoon.
Mr Tin Box and I used it as a chance for a bit of down time by the pool in the morning and for a cheeky drink in the bar in the afternoon.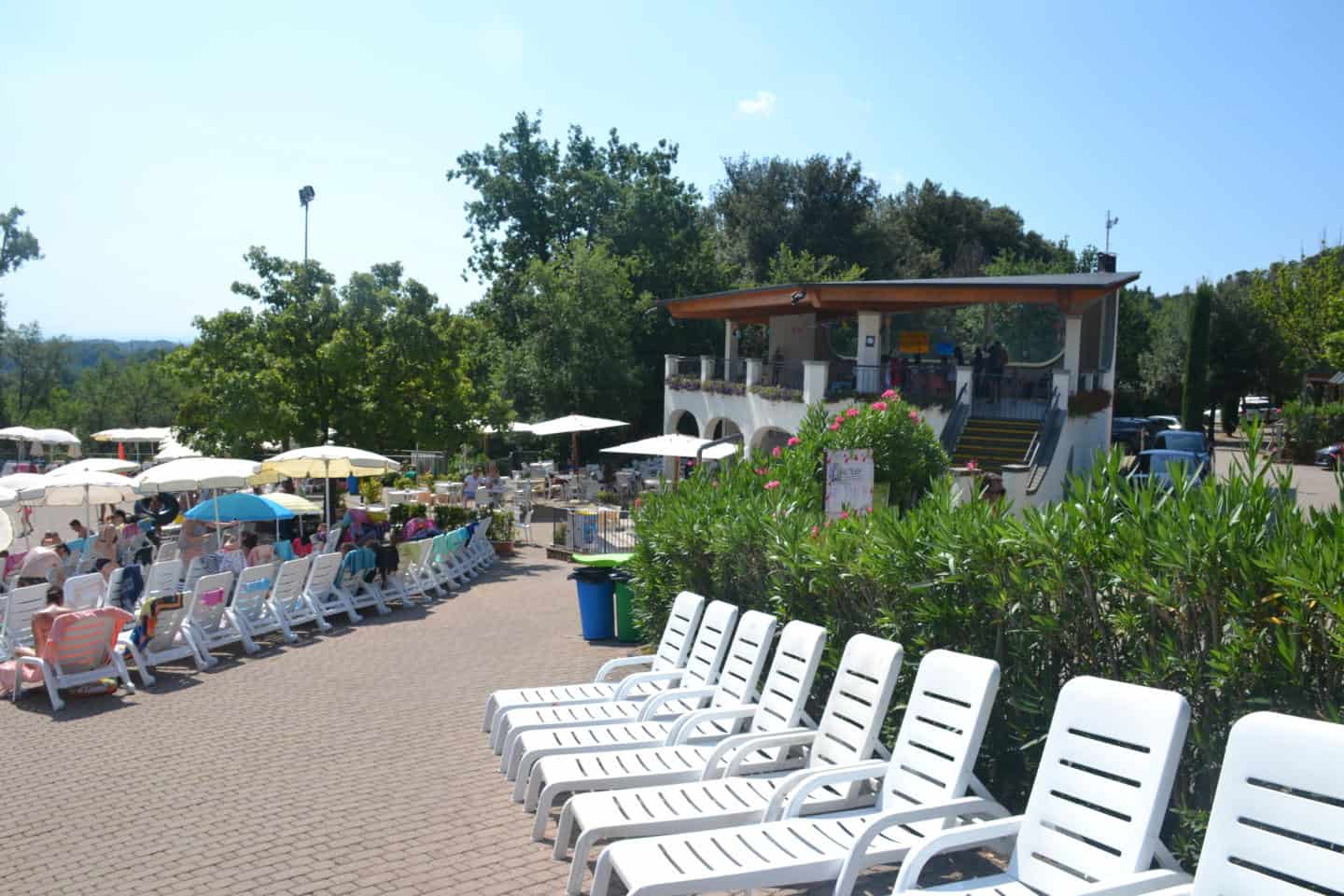 In the Junior Club (11 to 16-year-olds) there were activities on offer like water games, Nintendo Wii, sports and an evening disco.
We probably would have made more use of the kids club if the girls hadn't loved the swimming pool so much.
In the evening, the animation team whipped the kids into frenzy with a Mini Disco. A few years ago the 8.45pm start would have been well beyond our girls' bedtime. But a combination of them being a bit older and having chill out during the heat of the day made it possible for them to push on through.
The disco took place in the stunning amphitheatre until 9.15pm. It included the same European party songs each night meaning the kids (and parents) knew most of the routines by the end of the week.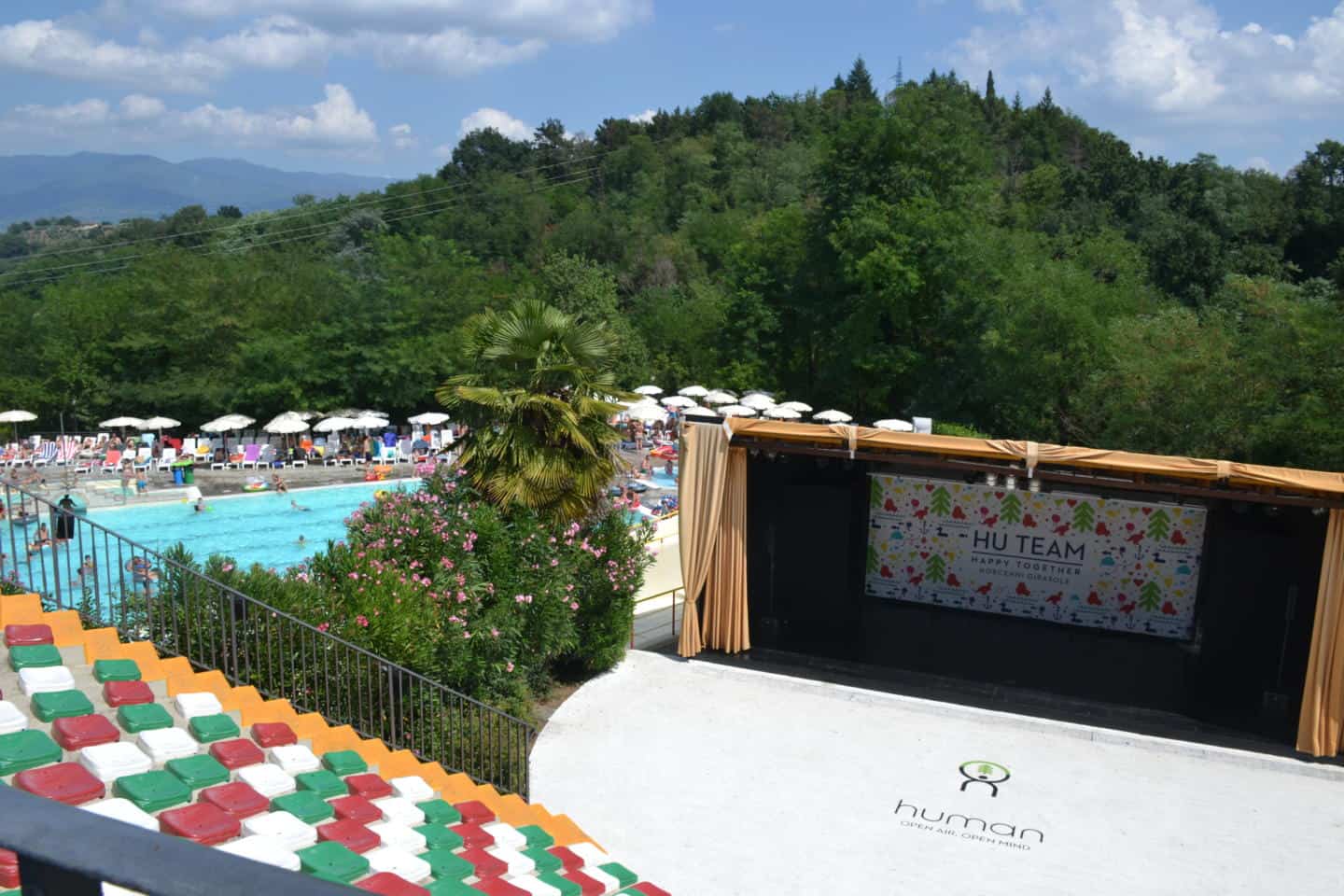 Mini Disco was a highlight for Tot and Baby who would have boogied with the holiday village mascot, Sunny, every night if we'd had the energy to take them. They were still humming the songs weeks later.
After the Mini Disco the main evening entertainment began and included comedy, games, songs from musicals, and talent shows. The girls were frazzled by this stage so we didn't stay but the quality of some of the acts sounded brilliant.
Swimming pools
Norcenni Girasole has two swimming pool complexes; one at the bottom of the site next to the main piazza and another at the top of the village with its own bar, pizza restaurant and Mini Club attached.
The complex next to the main piazza was definitely more suitable for families with older kids with water slides and deeper pools. It was also easy to dip into the bar and takeaways to get a variety of snacks.
We hung out at the top pool each day, either getting there first thing in the morning or at the end of the day to avoid the heat. We were always able to find sun beds at this time too. These are free to use.
This complex has five levels with traditional swimming pools and fun areas for the kids. The middle terrace has a large, soft bottomed lagoon with water fountains, a slip and slide shoot and lazy river.
At the bottom of the complex there was a lovely splash area for small children and plenty of sun loungers so parents could sit back and watch from a safe distance.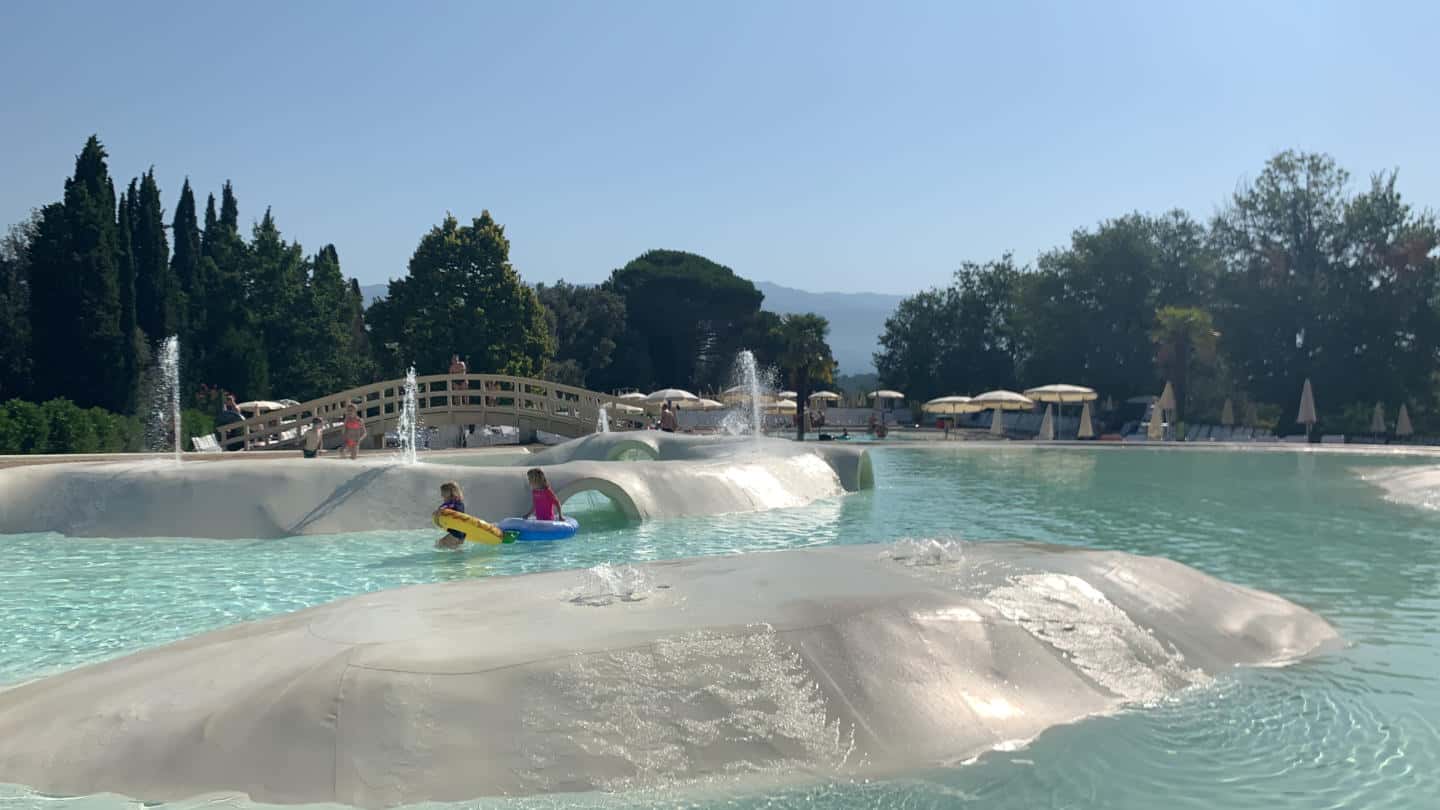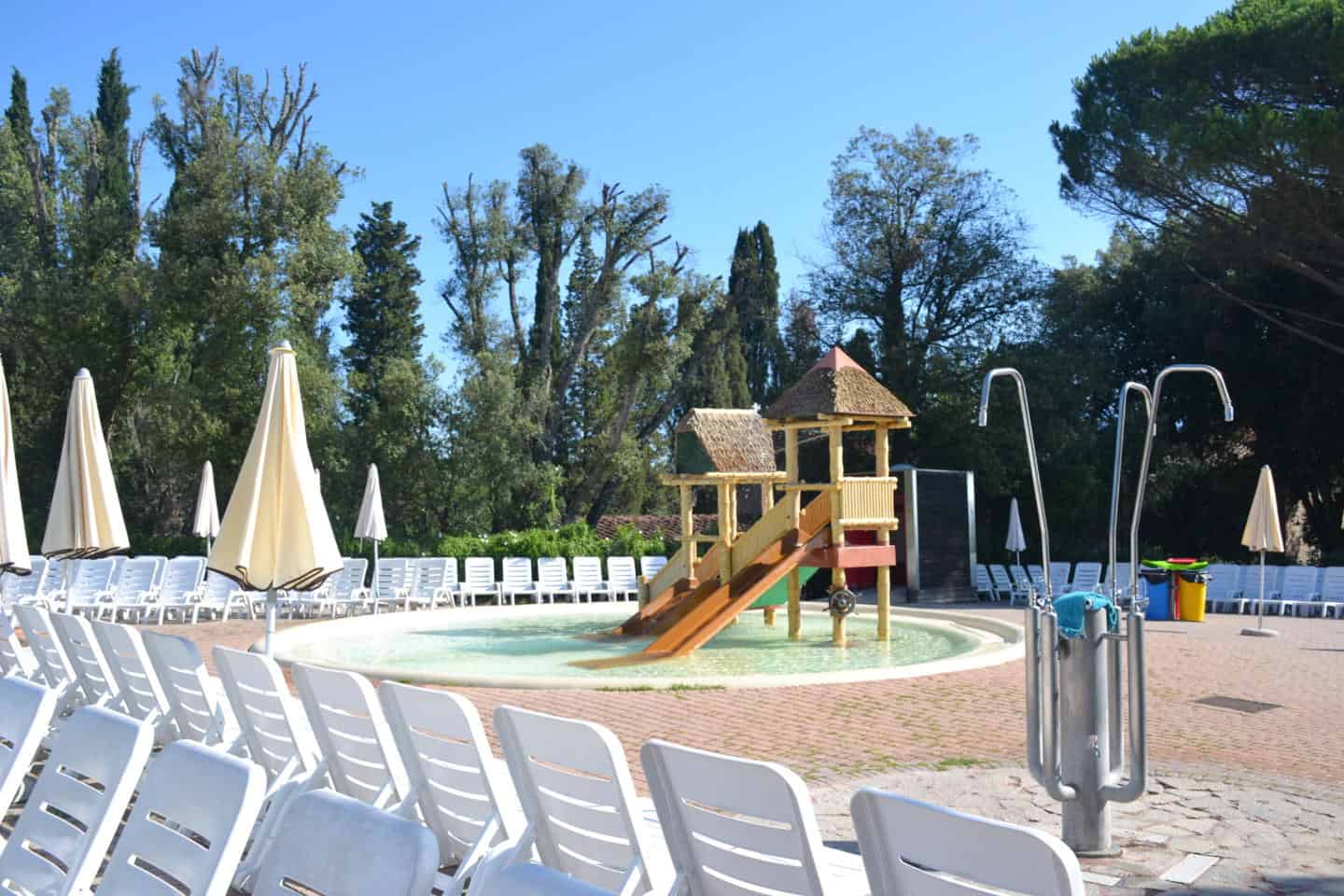 We spent all of our pool time around the lagoon and lazy river, which was less lazy and more wild, but the kids loved it. Tot would have gone round and round all day if we'd let her.
Top tip: bring some large inflatable rings with you – they will get well used. You can also buy them in the shop onsite. 
Family activities
As if the pools, kids clubs, sports and evening entertainment wasn't enough, Norcenni Girasole also has a fun park with a high ropes course and zip wire, bungie trampolines, crazy golf, a climbing wall and bouncy castles. An extra charge applies for these activities.
The high ropes are open from 4pm until late and cost €18 for Mr TB and the girls. Baby flew round but Tot had a wobble half way. The supervisor was amazing, getting into the trees and helping her complete the course.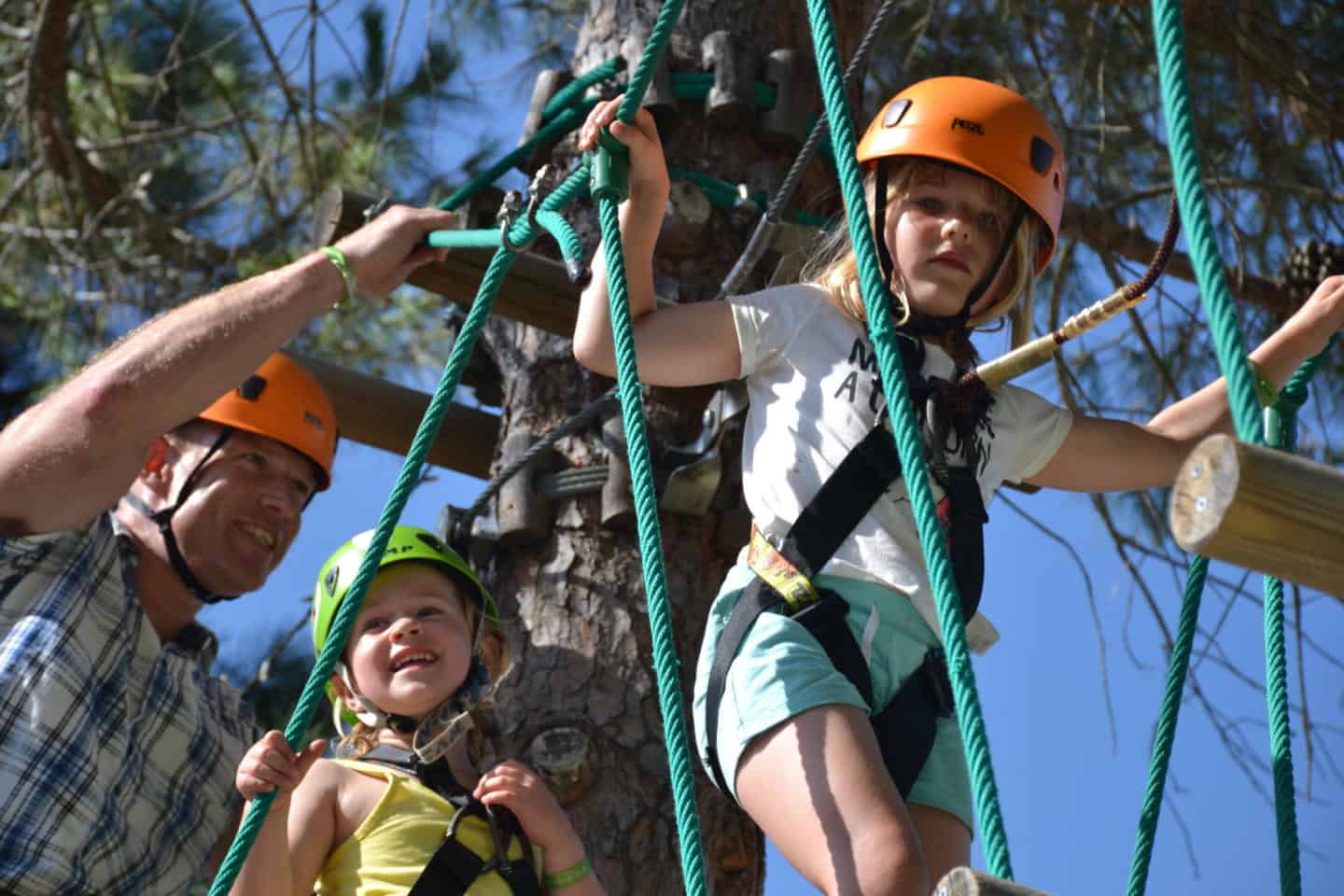 The trampolines cost €5 for five minutes. It was worth every cent for the kids' faces. Check them out in the video at the top of this post.
We really loved having these activities onsite. Along with the swimming pools, they are just the type of things we'd seek out to do with the kids, but we had no need to go elsewhere.
We also visited the large games arcade a couple of times – a holiday wouldn't be a holiday without a game of air hockey. It was definitely a cool place for teens to hang out.
And we enjoyed a few moments sipping cool beers by the play park in Piazza Central while the girls worked off gelato.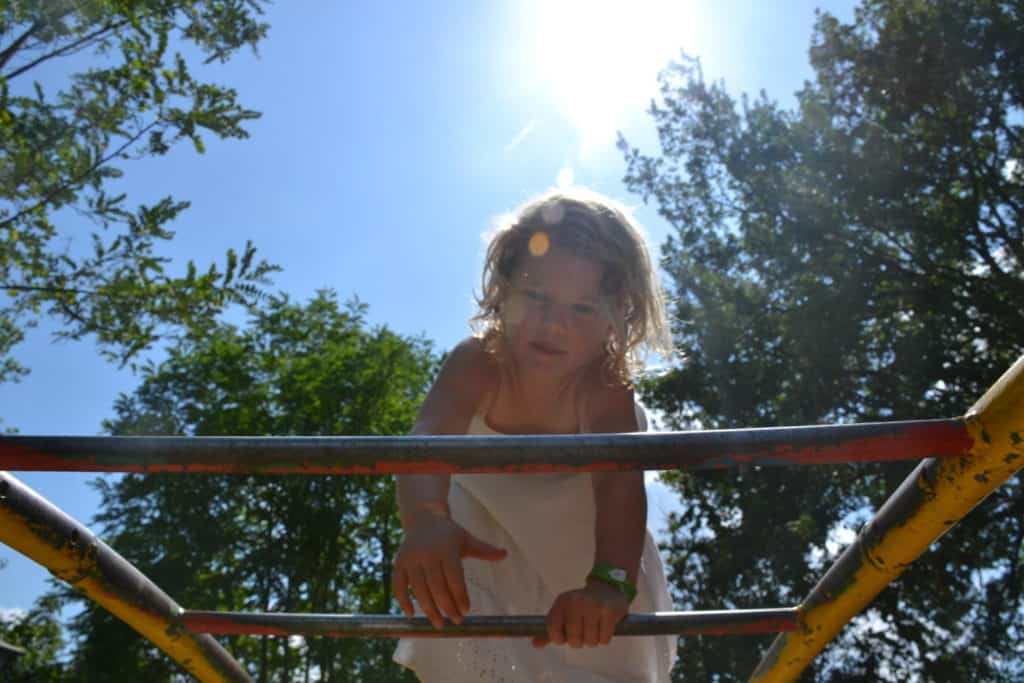 Norcenni Girasole also has a wellness programme called ANTS. It's all about understanding your own body better and involves fun activities, immersing yourself in nature, training your body and stimulating your senses.
It sounds ideal if you have older kids or can persuade younger children to go to the kids club sessions each day.
Wifi and app
Something that you will find really handy when holidaying at Norcenni Girasole is the Human app. Human is the company that runs the holiday village and they have put together the app to include all the daily activities, excursion inspiration and local events.
It also gives you access to free wifi around the pool complexes and main piazza, so is worth downloading just for that.
I'd recommend getting the app before your stay to help you plan all that you want to fit into your holiday.
Shopping
The supermarket at Norcenni Girasole is by the main piazza and is nearly as big as my closest Lidl back home in Devon. You can expect the prices to be slightly higher than going off site but for range and convenience it is excellent. You could get everything you need for your holiday right here.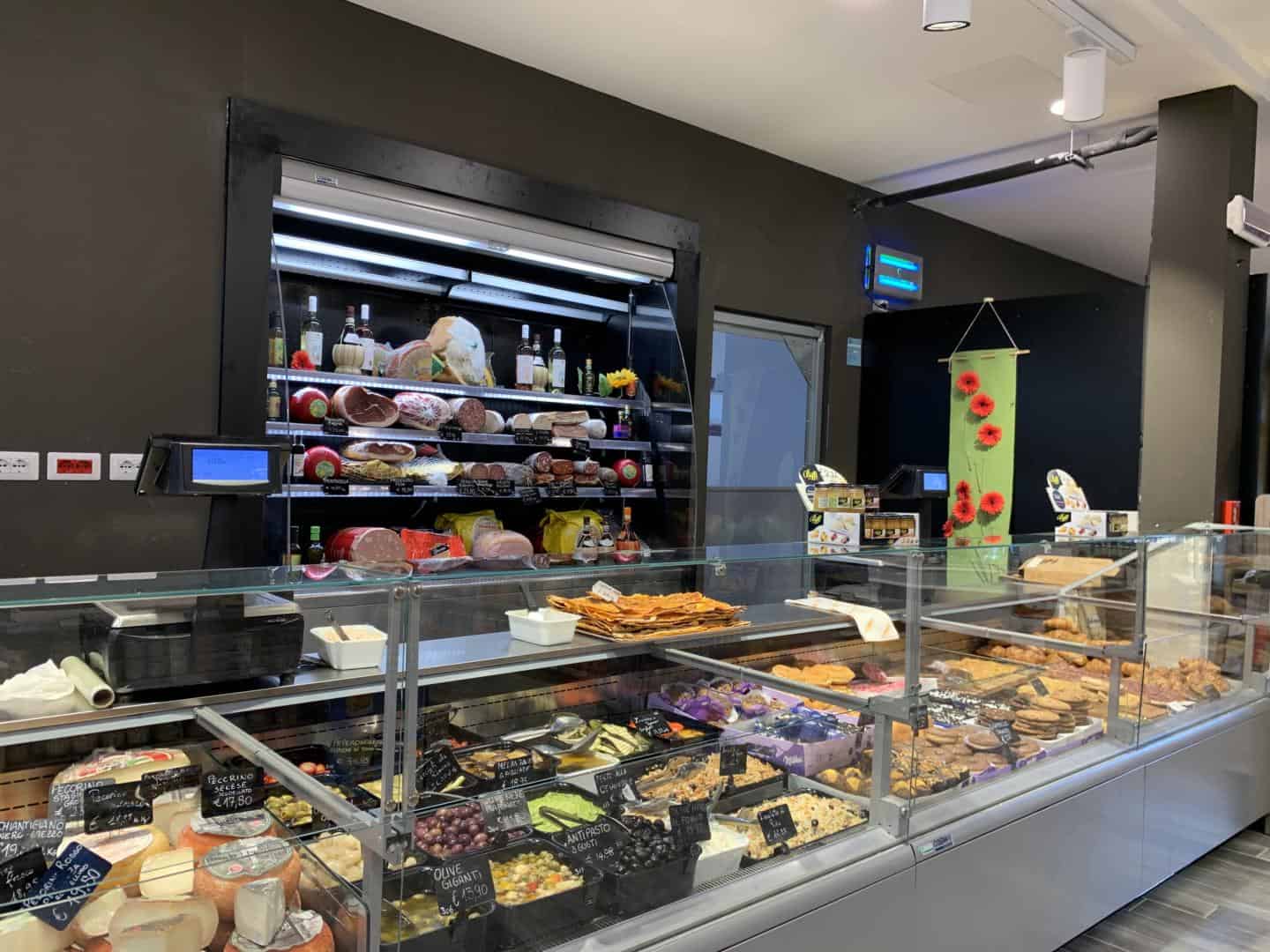 The holiday village also has a shop where you can buy everything from souvenirs to clothes and toys. If you've forgotten your swimming costume or that all important rubber ring for the lazy river, then you can pick it up here.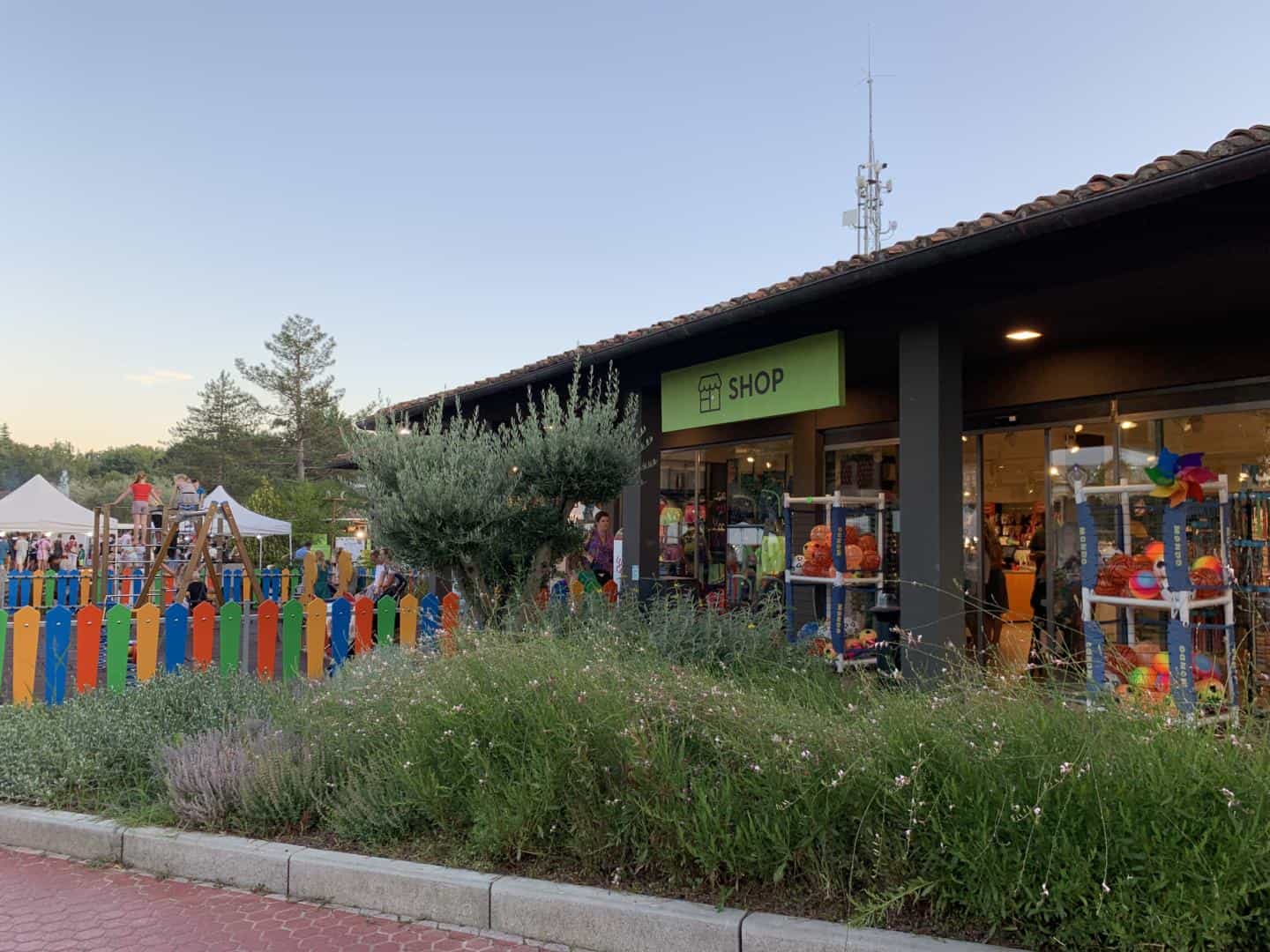 We also stumbled up on a market on the Wednesday of our stay. This was set up in the main piazza and had plenty of souvenirs, gifts and crafts for sale. This is also where the girls had a go on the holiday village's carousel which cost €2.50 a go.
Restaurants at Norcenni Girasole Club
We had every intention of eating at one of the three restaurants in the holiday village during our stay but never got around to it.
However, they looked incredibly popular. From 8.30pm onwards they were brimming with people. Each served classic Italian dishes including traditional Tuscan food, pasta, meat and fish dishes, as well as stone cooked pizza.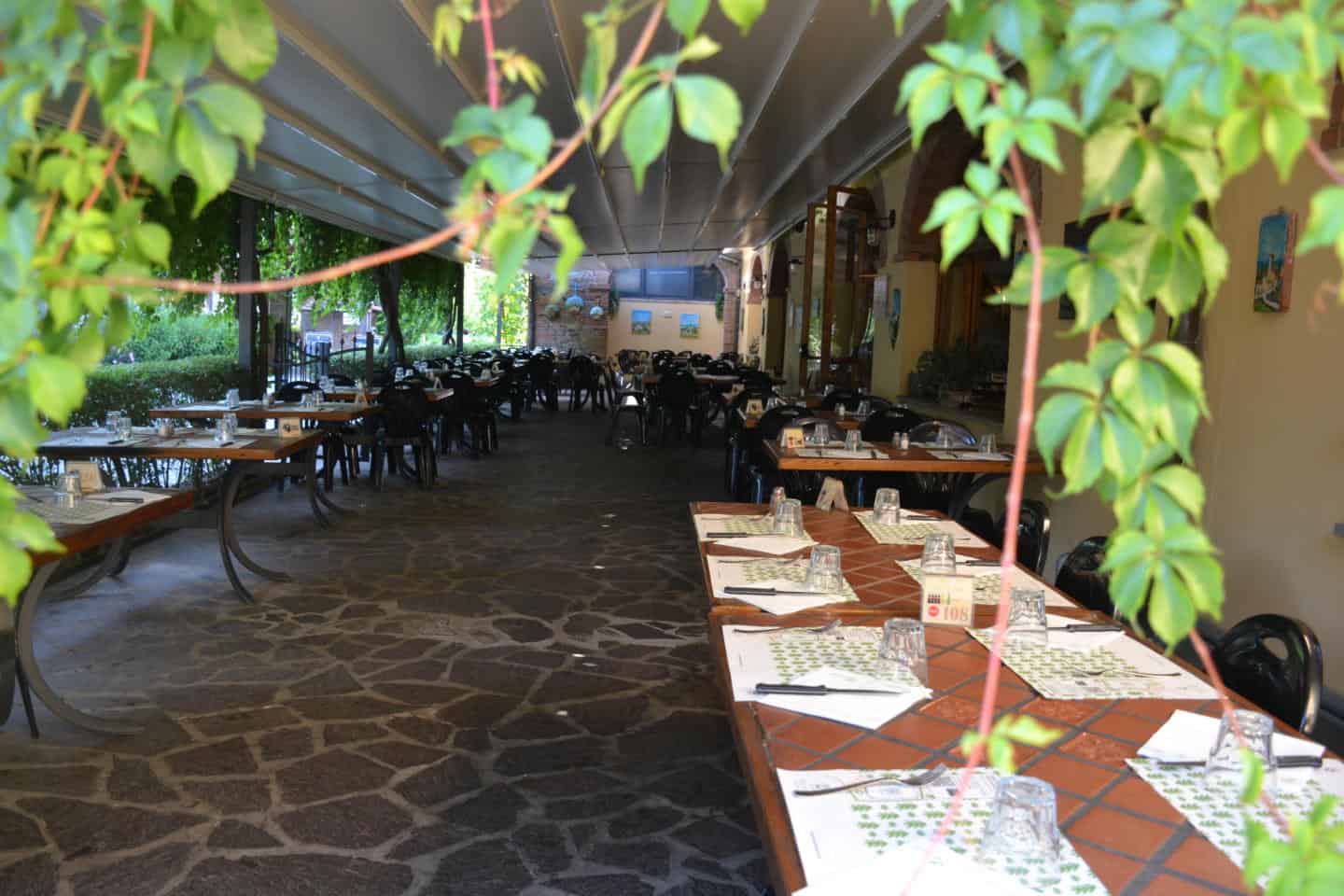 We did take advantage of the bars and takeaways at both ends of the holiday village. Gelato and sweet treats featured quite a lot. And when they look as good as this, who could blame us?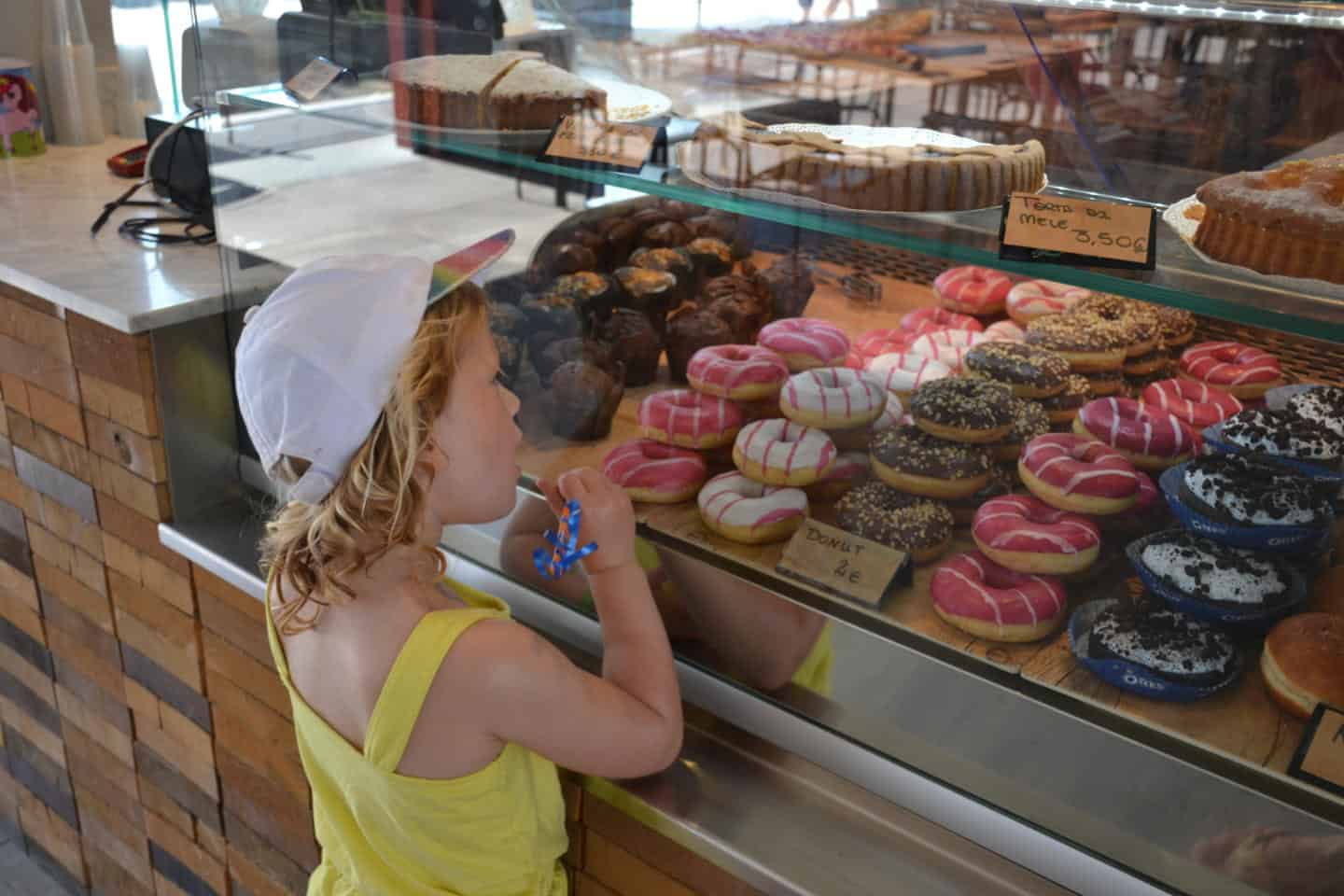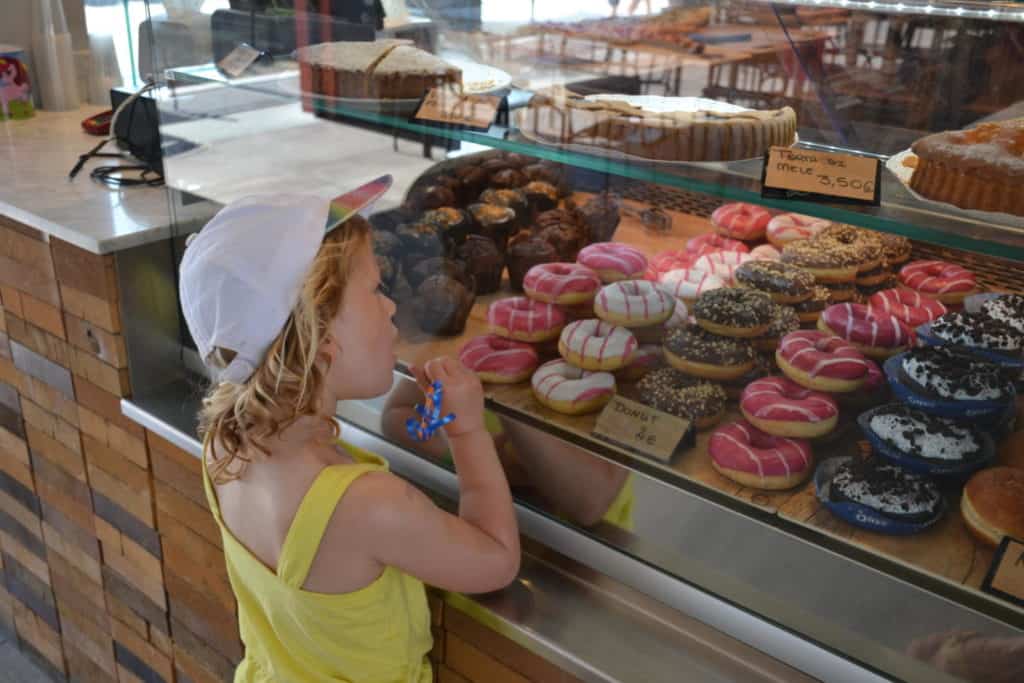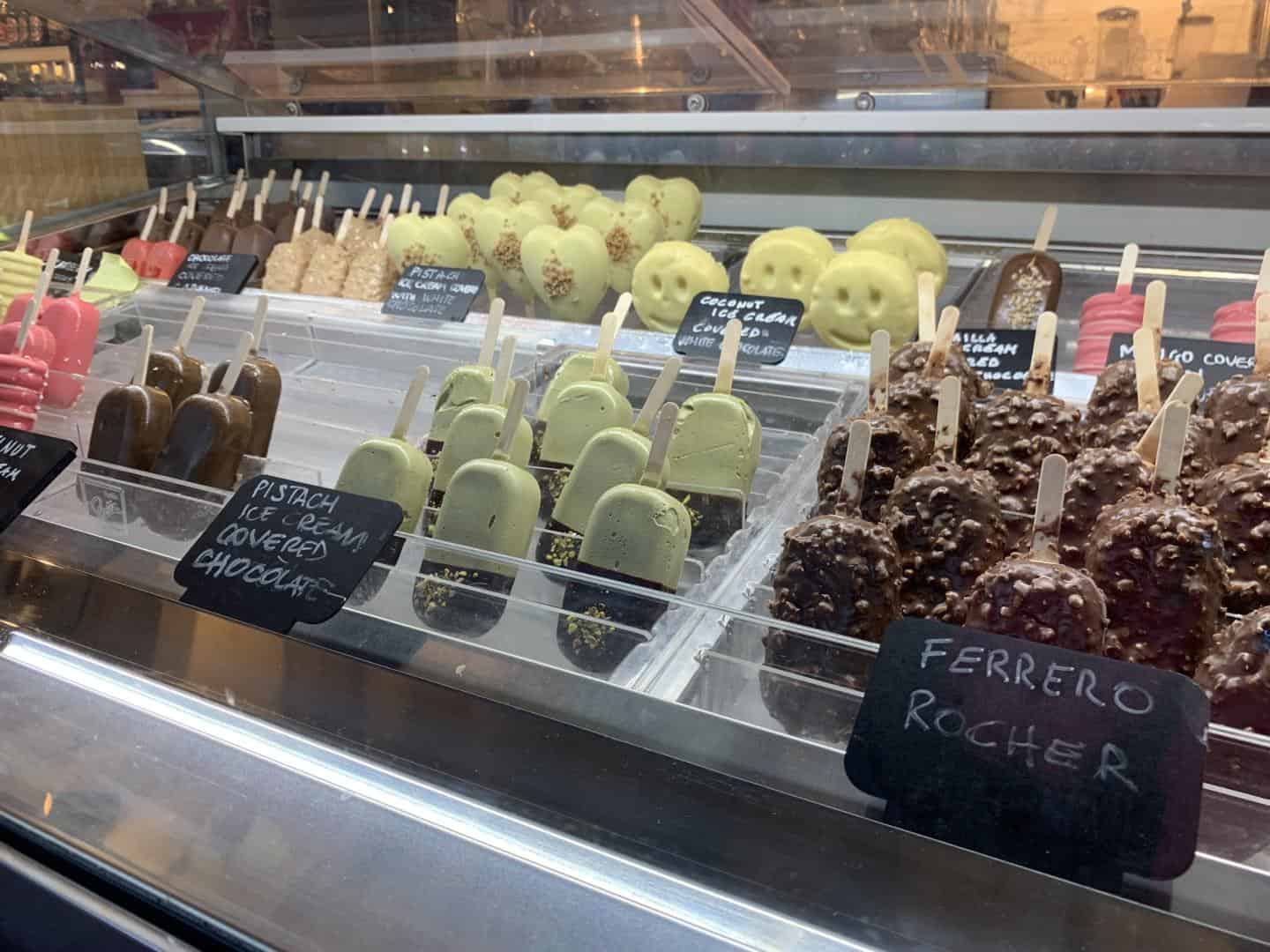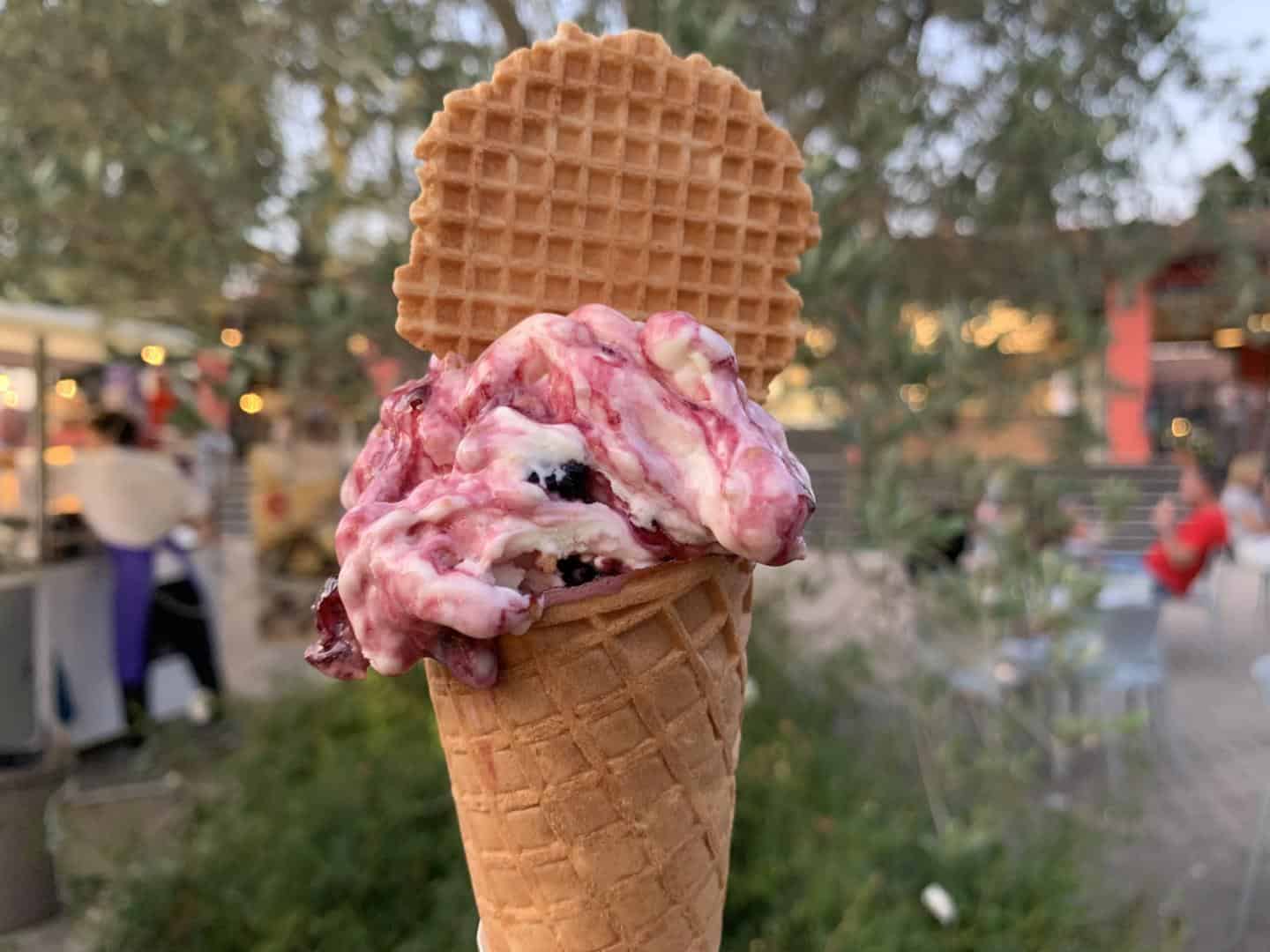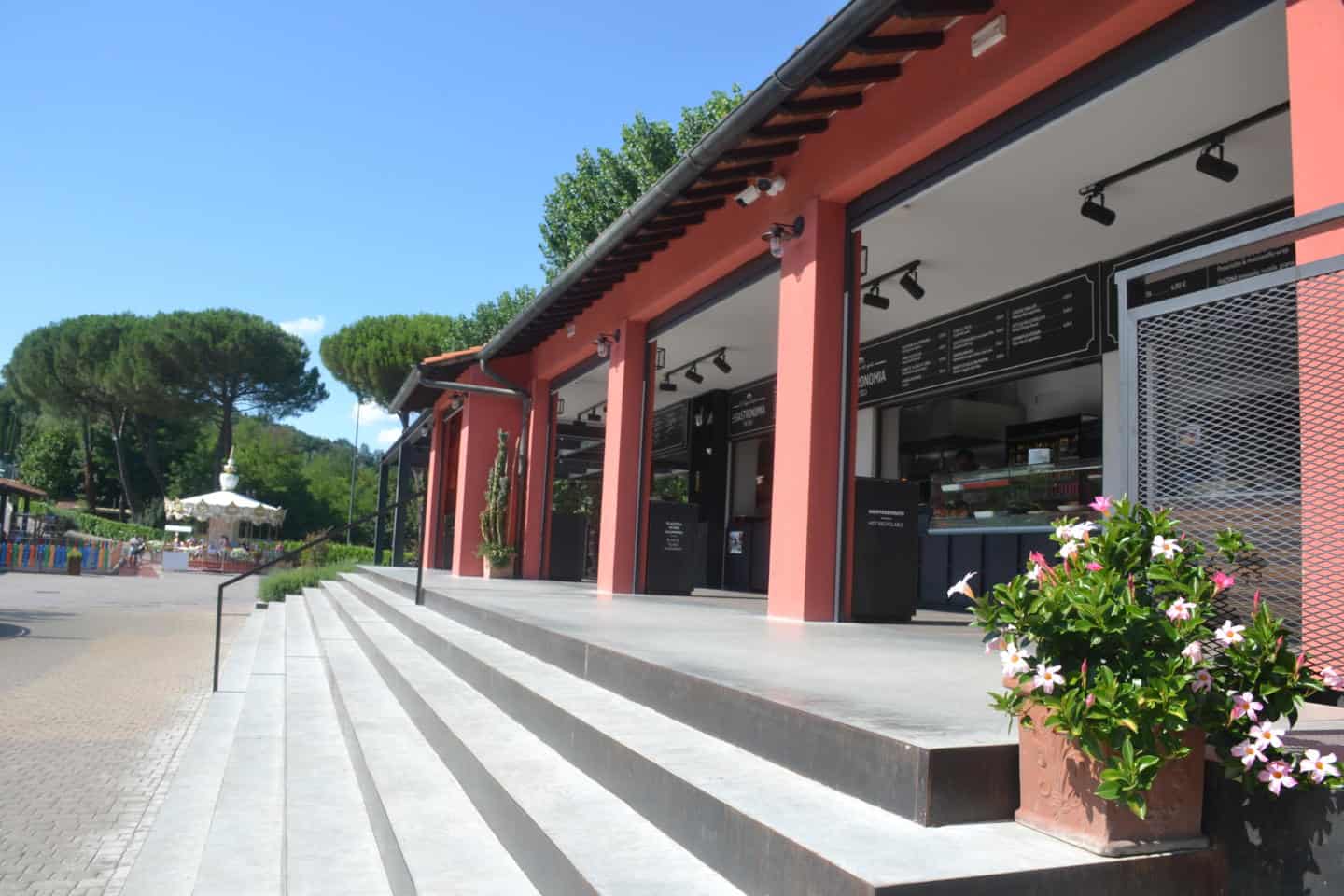 The takeaways also had pizza, whole cooked chickens and sandwiches.
The bar at Piazza Central was the place to go to watch live sports events (and enjoy great views), while the poolside bar at the top of the holiday village had a more relaxed vibe.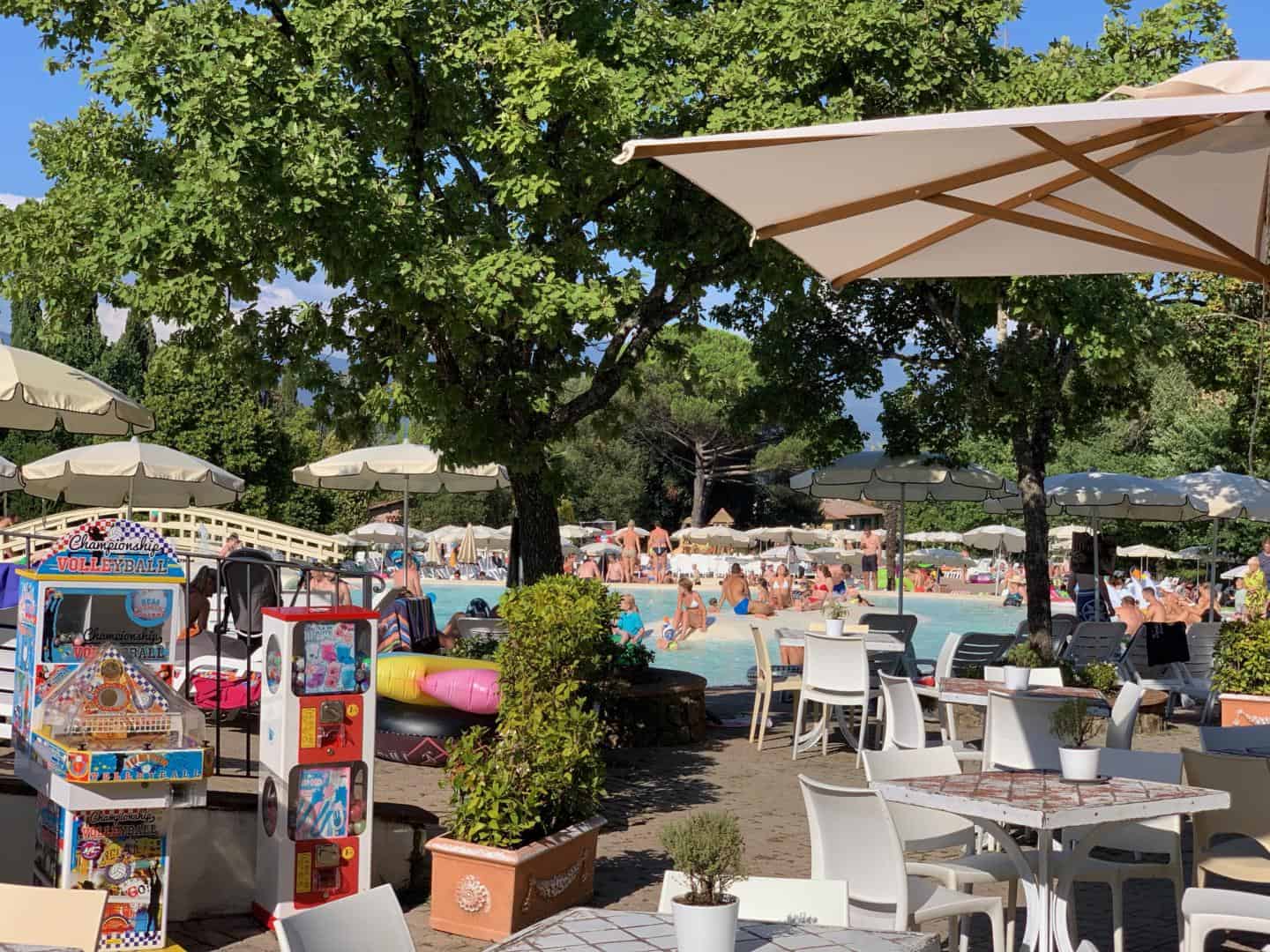 Day trips from Norcenni Girasole
We arranged all our own days out from Norcenni Girasole but if you wanted to take the stress out of planning excursions you could book them with the Human holiday village team in the Information Office on the main piazza or over the phone using a unique code you are given when you check-in.
There was a shuttle bus from Norcenni Girasole to Florence a couple of days a week, visits to local markets, the vineyards of Chianti, guided tours of the cities of Tuscany and cookery classes. You can find out about the all on the Human app too.
Read our review of a family-friendly tour of the Uffizi Gallery in Florence and the Pinocchio Park in Collodi.
Find out what we got up to during each day of our family holiday in Tuscany.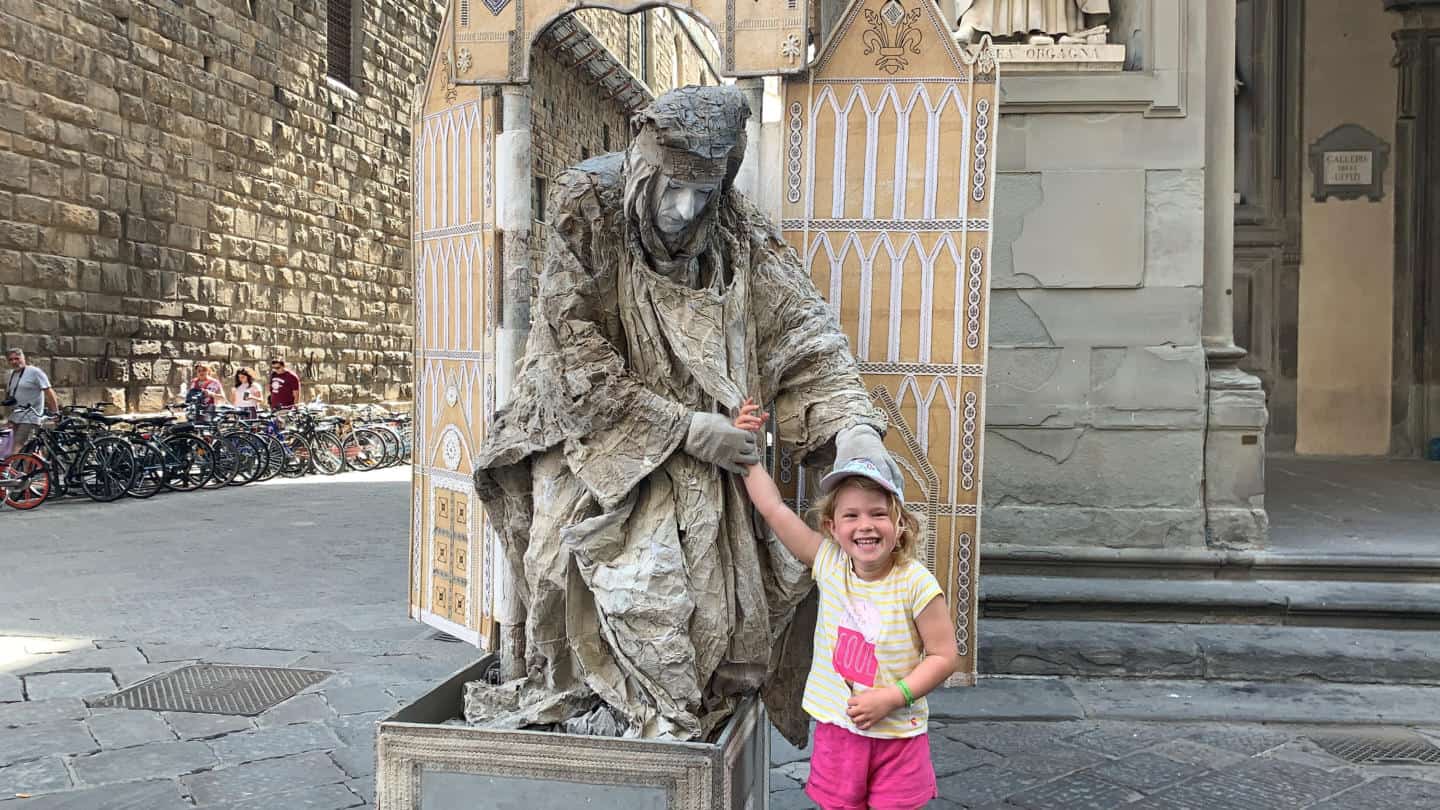 Our Norcenni Girasole Club review
If you are looking for a holiday park that has every angle covered then Norcenni Girasole is for you. This is a place where boredom does not exist and where you'll find something to entrain every kid from tiny tots to teens. 
It's so easy to stay here with all the supplies you need for a self-catering holiday, as well as a shop that can cover anything you might have forgotten to pack. Alternatively, the closest shops in Figline Valdarno were a 10 minute drive away.
Norcenni Girasole is also in a great location for sightseeing, with Florence so close that it would be criminal not to visit. We found plenty to do when we could drag the kids away from the waterpark.
The swimming pools, animation team, dining options and landscaping around the holiday village accommodation really did make it feel like an excellent quality resort. 
We made some wonderful memories here and now have an even greater love of Italy. Norcenni Girasole Club gets a big thumbs up from us and is yet another Al Fresco Holidays destination we would highly recommend for a fun-packed family holiday.
2020 Al Fresco Holidays deals at Norcenni Girasole Club
If you like the look of Norcenni Girasole Club then you'll find Al Fresco Holidays 2020 early booking offers at www.alfresco-holidays.com or call 0161 332 8900.
Disclosure: Al Fresco Holidays invited us to stay with them and review Norcenni Girasole Club in exchange for coverage on my social media and the blog. All opinions are my own and those of my family. 
Looking for family holidays in Tuscany. Why not save this review of our Al Fresco Holidays break at Norcenni Girasole Club.