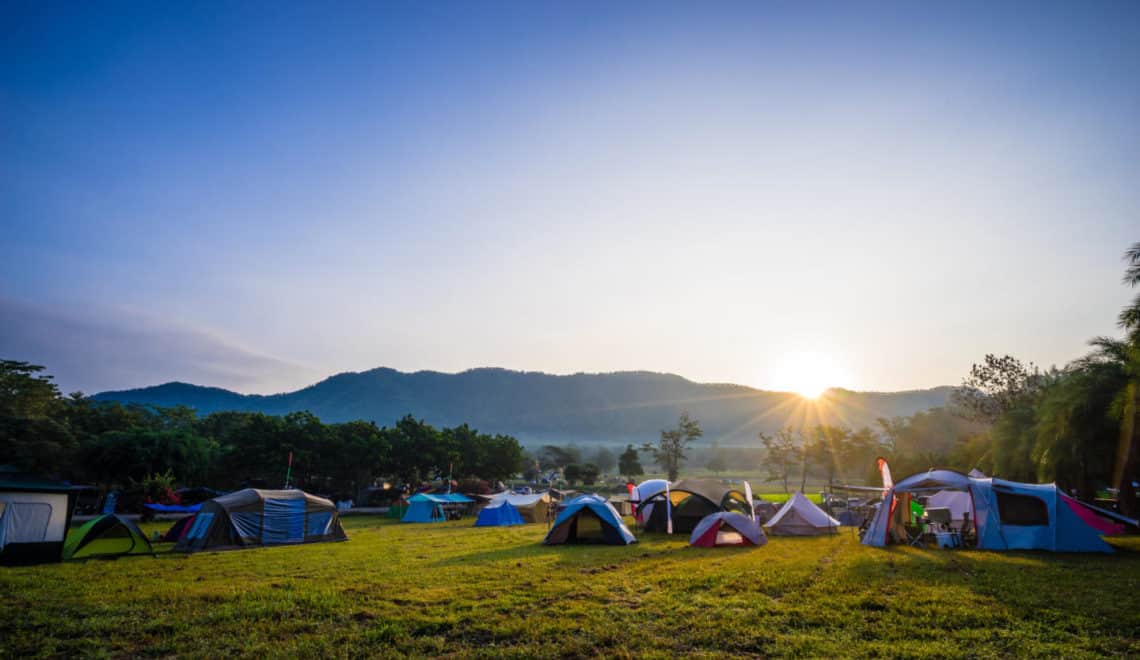 What to expect when UK campsites reopen in 2021
If you are one of hundreds of thousands of people thinking of booking a camping holiday during the summer of 2021 you may be wondering when UK campsites will reopen and what you can expect when you get there.
Updated 11 April 2021
When will UK campsites reopen?
What we know from experience in 2020, campsites across the four regions of the UK are likely to reopen at different times. Here's what's known so far:
Campsites in England
Holidays using self-contained accommodation are allowed from 12 April 2021. And in an 11th hour update to the roadmap, campsites in England have been told they can open the toilets in their shower blocks. They cannot however open their showers unless they are reserved by households and cleaned after each use.
Contact individual campsites to find out what will be open. While they can now open toilets they may choose not to.
Other accommodation with shared facilities including 'bathing, entry/exit, catering or sleeping facilities' cannot open until May 17 at the earliest.
This means if you have your own facilities in a touring caravan, motorhome or mobile home you will be able to stay at a campsite in England. Campsites may also accept bookings from people with or without toilet tents (if they are choosing to opening their own toilet facilities).
Campsites will be looking at the roadmap guidance and providing their own information to guests who have already booked or are interested in booking. This will vary from site to site.
Here is the full roadmap guidance.
Campsites in Scotland
Scotland has announced its roadmap for easing lockdown restrictions with as return to a tiered system. Socialising restrictions will begin to ease in March and Scotland's campsites are expected to reopen from 26 April. However, the tier system may mean it's only possible to visit them if you are local.
Businesses, like non-essential shops and services, will also be able to reopen from 26 April.
More information is expected mid-March.
Campsites in Northern Ireland
Northern Ireland has set out a roadmap for reopening after lockdown. This has steps but no dates for reopening hospitality and tourism, including campsites. However, this should happen at the end of the 'Gradual Easing Phase', which also includes the reopening of B&Bs and guest houses.
Dates will be determined by the levels of infection and the current pressure on the health service. The implementation of each step will be reviewed every four weeks.
Campsites in Wales
Wales has reopened self-contained accommodation for people living in Wales. This means campsites can welcome back touring caravans and motorhomes with on-board toilets, showers and kitchen. If you live outside Wales, it is not yet possible to travel there.
If you live in Wales, travel to England is expected to be allowed from 12 April.
I'll be updating this post with information available about campsites opening as announcements are made. Bookmark this post and come back.
Campsites reopening in the UK
Camping is by its very nature an outdoor activity that allows for social distancing. So it's likely that campsites and holiday parks will be among the first places to be able to welcome guests as restrictions ease in 2021.
And their customer base is growing. Research by Visit England in 2020 showed that caravanning or camping breaks were among the top types of holiday people planned last summer.
Destination-wise Visit England found most people wanted to visit rural or coastal locations in the South West with holidays in Devon and Cornwall family breaks high on people's bucket lists.
But how will campsites look in the summer of 2021 compared to the pre-pandemic world?
Our experience camping during COVID-19
We went camping in Cornwall during the first full weekend after restrictions were eased in England in 2020.
We had such a brilliant weekend at Perran Sands at Perranporth. The staff couldn't have done more to make campers feel welcome and safe.
Over the summer we did five camping trips in all and had overwhelmingly positive experiences.
Read more about our experiences of camping during COVID-19.
Will all campsites follow the same COVID-19 procedures?
All campsites will have to follow the Government's latest guidelines on increased cleaning and social distancing. However, they will not all have the same procedures in place as every campsite is different.
I spoke to people who camped at different sites during the summer of 2020 and they had different experiences.
Some had their temperature taken on arrival. Some had to wear face masks in communal facilities (before this became a requirement). Others had to book times for the shower block.
Sadly, some didn't feel cleaning was carried out as effectively as they would have liked and that large groups of people had been allowed to camp together.
During 2021 it is likely to remain up to each campsite to manage how they follow the Government guidelines, taking into consideration the size and layout of their site, their facilities and staffing.
Please check with each campsite before you book or visit and pay particular attention to the information you are given when you arrive.
The holiday park owner's perspective
Campsites and holiday parks were forced to close their doors or delay the start of their 2020 season. They will be unable to reopen in 2021 before the end of lockdown.
In the Spring of 2020, I spoke to Clare Mackenney, whose family owns Andrewshayes Holiday Park in Devon, to find out what had been happening there. Many of their customers own holiday homes or have a touring caravan onsite for the season. They also have camping pitches, glamping pods and lodges.
Clare has recently updated me on how 2021 is shaping up. She said: "Most people just want to know when we will be open and, nearer the time, what facilities will be available. Last year we were able to open the swimming pool, which was a real bonus for guests. We followed the various rules for the bar and restaurant so they could stay open. Only the games room and soft play was closed all summer."
In anticipation of reopening in 2021, the team at Andrewshayes are once again ordering additional cleaning supplies and PPE.
Clare explains: "Last year we successfully worked through lots of risk assessments and implemented new cleaning procedures across the park. As a result we were awarded the Visit Britain Good to Go certification and AA Covid 19 Confident approval. We felt this certainly gave customers more confidence to book with us."
"Demand looks to be very high again this year but there is still a huge amount of uncertainly."

Clare Mackenney
It's widely accepted that camping in 2021 will be continue to be unusual.
"Andrewshayes is a medium sized countryside park which makes social distancing relatively easy. We hope visitors to the park will be patient, socially responsible again accept that their holiday may be different than they might have expected", added Clare. "We are doing everything we can to ensure our park is safe for everyone here, visitors and staff."
So what happens next?
What social distancing measures might campsites have in place?
Each region of the UK is likely to provide local guidance for campsites reopening. In 2020 this included more rigorous cleaning and keeping some shared facilities closed. Campers can expect similar in 2021.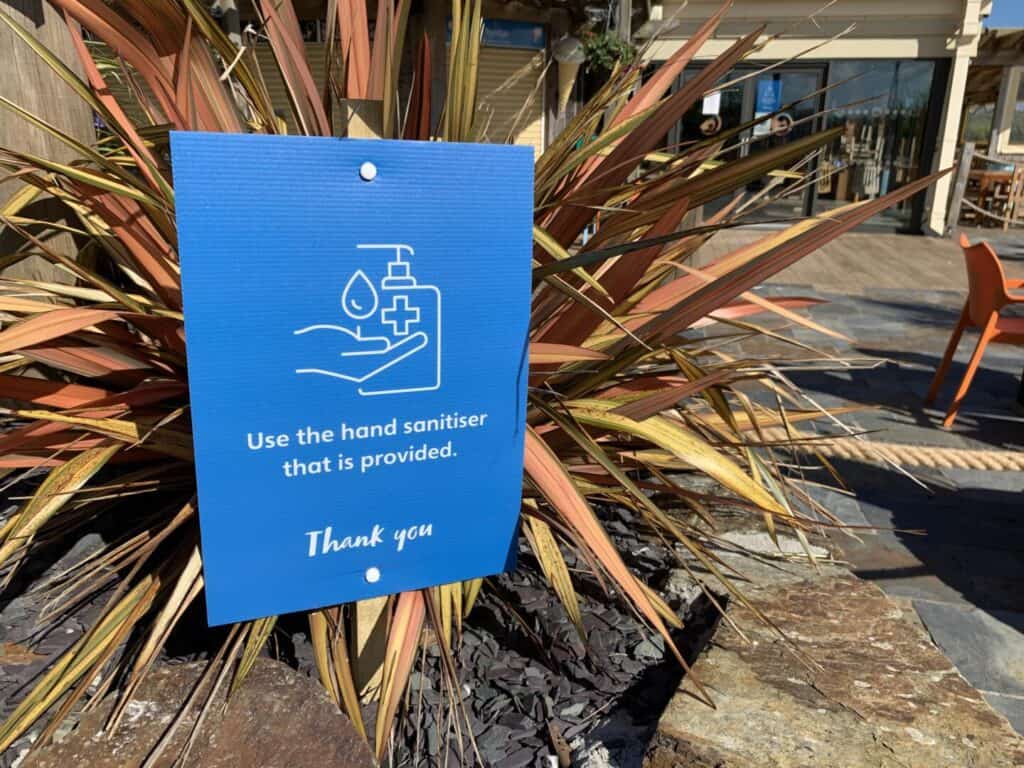 Here's some of the procedures that may be in place at campsites:
Reduced capacity and/or additional spacing between pitches
Site shops: open with social distancing
Swimming pools: closed or bookable time slots
Shower and toilet blocks: some will be open and subject to more rigorous cleaning procedures; some may not be open due to local restrictions
Bars and cafes: closed or takeaway only
Play parks: in 2020 these were able to reopen over time
Indoor sports facilities: likely to be closed or operating on reduced capacity
Open spaces: open with social distancing.
It's important to note that it will be down to individual campsites what facilities they open.
Some campsites may only to take bookings for their self-catering accommodation or accept touring caravans or motorhomes with their own facilities.
Some sites may also take the decision not to reopen in 2021.
Here's some tips about what you can do to camp safely during COVID-19.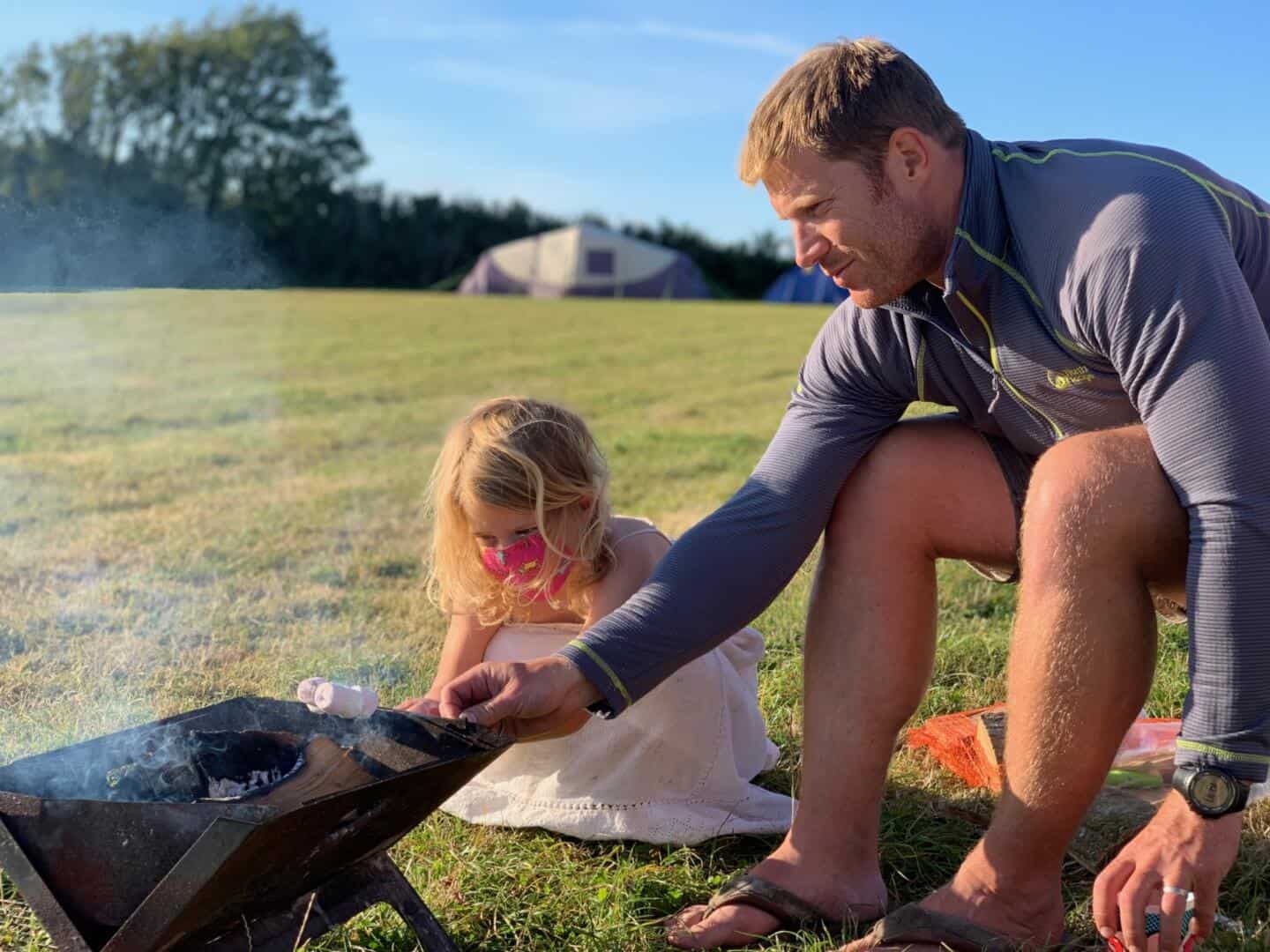 Camping with confidence
There are some quality marks to look out for if you want to camp with confidence in 2021. The Government's 'We're good to go' accreditation shows customers if a business is complying with the latest health and safety guidance.
The AA has also introduced a similar scheme called AA COVID CONFIDENT, so campers can see if a site or holiday park is meeting Government standards.
Adjusting to the new camping 'normal'
With all the anxieties of 2020 and uncertainty about whether international travel corridors will reopen, many people are pinning their hopes on a holiday in 2021. But clearly, campsites will look very different when they reopen.
Campsites.co.uk conducted research that revealed campers are willing to be responsible for taking precautions. But some worry about whether their fellow campers will do the same.
Eira whose family runs Our Welsh Caravan and Camping stresses that all campers need to act responsibly when campsites reopen:
"I would like to encourage visitors to accept our terms and conditions, and be aware that it is not the campsite's responsibility to police them. It is their duty to abide by the terms and extra regulation from the Government of the country they are in."

Eira, Our Welsh
Don't forget, regulations are likely to be different in Scotland, Wales, England and Northern Ireland.
Here's how we will be doing all we can to camp safely during COVID-19.
Is it safe to book a UK campsite before it reopens?
I've been speaking to travel experts about when to book a 2021 holiday and the mood music is to definitely book early if you don't want to miss out on a staycation.
In January, at the height of lockdown 3, we took the plunge and booked four UK campsites for between July and August 2021.
Don't let people like the Grant Shapps persuade you that you shouldn't book a holiday for the future. Yes, holidays are illegal before lockdown ends. But holiday providers need future bookings.
But are there risks involved?
It is a legal requirement that accommodation providers offer a refund if they are unable to open at the time you are due to take your holiday.
However, if you choose to cancel your holiday then you may lose your money if your reason is not covered by your travel insurance. In 2021 many travel insurance providers have amended their T&Cs on COVID-19 so check your policy carefully.
Having said that, many campsites and holiday parks have booking promises in place. They may give you a refund within a certain number of days of your stay. Or offer to move your booking to a future date.
Make sure you check the campsite or holiday park's terms and conditions before you book.
Find out more about where you stand on cancelled holidays.
Which campsite and holiday parks will reopen?
It will be up to independent holiday parks in the UK to pick a reopening date. Many will be keen to open quickly, but will have to comply with the Government's guidelines.
Check independent campsites and holiday parks' reopening plans with them directly.
Here's where to find out what some of the big UK campsite and holiday park operators are saying about reopening and what you can expect:
Camping for the first time?
If you are thinking of camping for the first time in 2021 I have lots of other posts you might like to read for tips, advice and packing lists:
Are you planning a camping holiday in 2021 or do you have one already booked? What are your thoughts on about UK campsites reopening and what camping will be like this summer?
Want more ideas for family holidays and days out? Read my tips for smashing family travel and sign up for my newsletter.
Want to spread the word about what to expect when campsites reopen? Save this post on Pinterest.