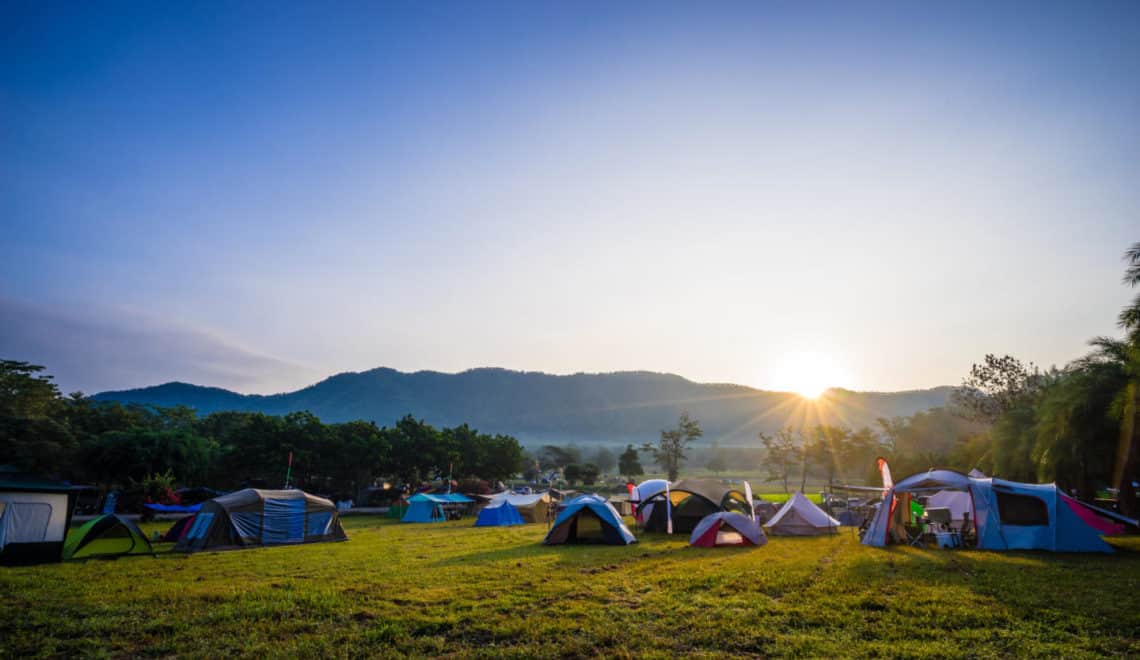 What to expect when UK campsites reopen this summer
If you are one of hundreds of thousands of people thinking of booking a camping holiday this summer you may be wondering when UK campsites will reopen and what you can expect when you get there.
When will UK campsites reopen?
Campsites are reopening differently in England, Scotland, Wales and Northern Ireland.
Here's the latest positions:
Campsites in Northern Ireland reopened on 26 June.
Campsites in England reopened on 4 July 2020 with enhanced cleaning procedures in place so that all campers can stay if campsites open their shared bathroom facilities.
Scotland's holidaymakers can have 'self contained holidays' (they need their own bathroom in a caravan or motorhome) from 3 July 2020. Campers without their own bathroom can holiday from 15 July as long as campsites open their shared bathroom facilities.
In Wales, campsites reopened to caravans and motorhomes with their own facilities on 11 July.
Campsites reopening in the UK
Camping is by its very nature an outdoor activity that allows for social distancing. So it's not surprising that campsites and holiday parks are planning welcome guests again soon.
And their customer base is growing. Research by Visit England has shown that caravanning or camping breaks are among the top types of holiday people are planning between June and September 2020.
Destination-wise Visit England have found most people want to visit rural or coastal locations in the South West with holidays in Devon and Cornwall family breaks high on people's bucket lists.
But how will campsites look in the summer of 2020 compared to the pre-pandemic world?
Our experience camping during COVID-19
We went camping in Cornwall during the first full weekend after restrictions were eased in England.
We had such a brilliant weekend and I will be writing more about it soon. The staff couldn't have done more to make campers feel welcome and safe.
Read more about our experience of camping during COVID-19.
Are all campsites following the same COVID-19 procedures?
All campsites have to follow the Government's guidelines on increased cleaning and social distancing. However, they will not all have the same procedures in place as every campsite is different.
I have spoken to people who camped at different sites in the first week of travel restrictions easing and they had different experiences.
Some had their temperature taken on arrival. Some had to wear face masks in communal facilities. Others had to book times for the shower block.
Sadly, some didn't feel cleaning was carried out as effectively as they would have liked and that large groups of people had been allowed to camp together.
It is up to each campsite to manage how they follow the Government guidelines, taking into consideration the size and layout of their site, their facilities and staffing.
Please check with each campsite before you book or visit and pay particular attention to information you are given when you arrive.
The holiday park owner's perspective
Campsites and holiday parks were forced to close their doors or delay the start of their 2020 season at the beginning of lockdown.
I've spoken to Clare Mackenney, whose family owns Andrewshayes Holiday Park in Devon, to find out what's been happening there. Many of their customers own holiday homes or have a touring caravan onsite for the season. They also have camping pitches, glamping pods and lodges.
Clare says: "Most people have just wanted to know when we will be open and more recently what facilities will be open – we have a bar, swimming pool, play park and games room, which would usually all be in use."
The announcements on UK campsites reopening summer 2020
The team at Andrewshayes Holiday Park have welcomed the news about the campsites being able to reopen.
During lockdown they were ordering cleaning supplies and PPE so they were ready to open as soon as possible. But this was difficult while they didn't know for sure what facilities they could open and which customers they can welcome back.
Clare explains: "We need toilet blocks open for campers and caravanners. Initially it was suggested these would be kept closed, but we could argue our toilets are a lot cleaner than those, say at the seaside resorts, that have reopened."
"All this uncertainly makes it very hard for people to decide if it's worth booking a holiday."

Clare Mackenney
It's widely accepted that camping in 2020 will be unusual.
"We hope visitors to the park will be patient, socially responsible and accept that their holiday may be different than they might have expected", adds Clare. "We are doing everything we can to ensure our park is safe for everyone here, visitors and staff."
So what happens next?
What social distancing measures might campsites have in place?
Each region of the UK is providing local guidance for campsites reopening. This includes more rigorous cleaning and keeping some shared facilities closed. Here's what you can expect:
Reduced capacity and/or additional spacing between pitches
Site shops: open with social distancing
Swimming pools: closed
Shower and toilet blocks: open in England subject to more rigorous cleaning procedures; closed in Scotland until 15 July
Bars and cafes: closed or takeaway only
Play parks: open in England, closed in Wales, closed in Scotland, closed in Northern Ireland
Indoor sports facilities: closed
Open spaces: open with social distancing.
It's important to note that it will be down to individual campsites what facilities they open. Some campsites have already taken the decision to only to take bookings for their self-catering accommodation or accept touring caravans or motorhomes with their own facilities this summer. Some sites have also made the decision not to reopen until 2021.
Here's some tips about what you can do to camp safely this summer.
Camping with confidence
The Government has launched a 'We're good to go' accreditation so customers can see if a business is complying with the latest health and safety guidance.
The AA is introducing a similar scheme called AA COVID CONFIDENT so campers can see if a site or holiday park is meeting Government standards.
Adjusting to the new camping 'normal'
With all the anxieties of 2020 many people are pinning their hopes on a summer holiday. But clearly, campsites will look very different when they reopen.
Campsites.co.uk conducted research that revealed campers are willing to be responsible for taking precautions. But some worry about whether their fellow campers will do the same.
Eira whose family runs Our Welsh Caravan and Camping stresses that all campers need to act responsibly when campsites reopen:
"I would like to encourage visitors to accept our terms and conditions, and be aware that it is not the campsite's responsibility to police them. It is their duty to abide by the terms and extra regulation from the Government of the country they are in."

Eira, Our Welsh
Don't forget, regulations are different in Scotland, Wales, England and Northern Ireland.
Here's how we will be doing all we can to camp safely during COVID-19.
Is it safe to book a UK campsite before it reopens?
It is a legal requirement that accommodation providers offer a refund if they are unable to open at the time you are due to take your holiday.
However, if you choose to cancel your holiday then you may lose your money if your reason is not covered by your travel insurance.
Having said that, many campsites and holiday parks have booking promises in place. They may give you a refund within a certain number of days of your stay. Or offer to move your booking to a future date.
Make sure you check the campsite or holiday park's terms and conditions before you book.
Find out more about where you stand on cancelled holidays.
Which campsite and holiday parks will reopen?
It will be up to independent holiday parks in the UK to pick a reopening date. Many will be keen to open quickly, but will have to comply with the Government's guidelines.
Check independent campsites and holiday parks' reopening plans with them directly.
Here's where to find out what some of the big UK campsite and holiday park operators are saying about reopening and what you can expect:
Camping for the first time?
If you are thinking of camping for the first time in 2020 I have lots of other posts you might like to read for tips, advice and packing lists:
Are you planning a camping holiday in 2020 or do you have one already booked? What are your thoughts on about UK campsites reopening and what camping will be like this summer?
For more travel advice and reviews take a look at my tips for smashing travel with kids and sign up to my newsletter.
Want to spread the word about what to expect when campsites reopen? Save this post on Pinterest.