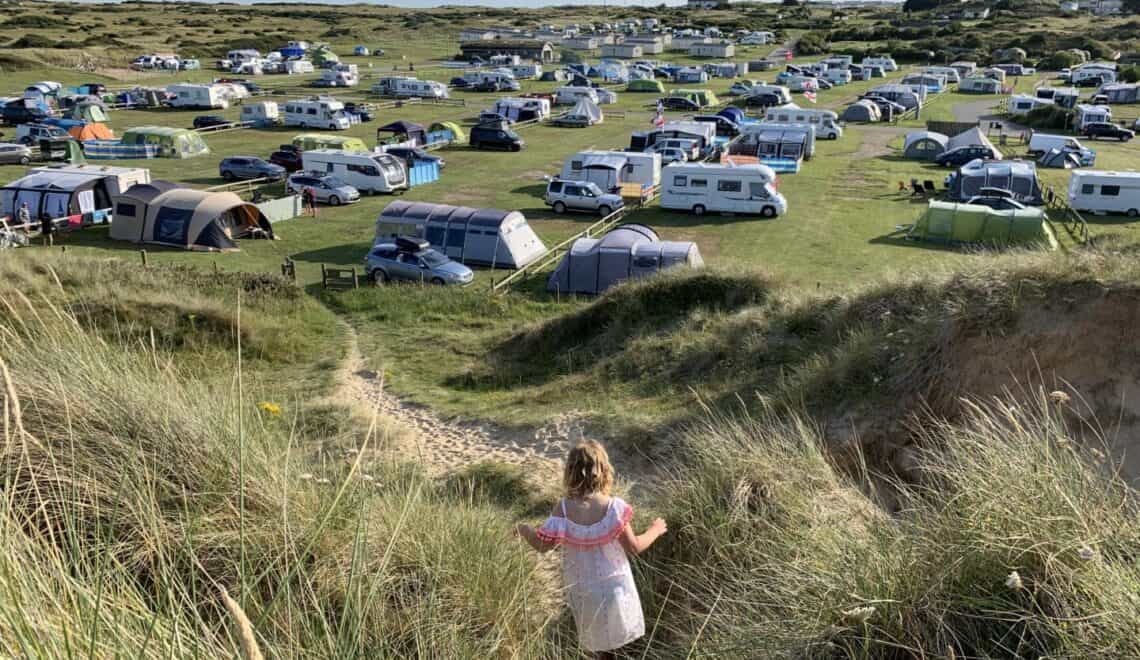 Haven Perran Sands Holiday Park review what to expect on the campsite in 2021
I think we will always remember our first post lockdown weekend away. The freedom was intoxicating. And despite hastily arranging our stay at Perran Sands Holiday Park in Cornwall, it turned out to be the perfect getaway. Here's our Perran Sands Holiday Park review including what you need to know about Haven Hideaway Holidays here in 2020 and 2021.
Want more ideas for family holidays and days out? Read my tips for smashing family travel and sign up for my newsletter.
Three weeks before travel restrictions eased and the date was confirmed for overnight stays I was itching to make a campsite booking.
We wanted to stay in the south west and finally use our VW T5 that had pretty much been parked up since autumn 2019 when we bought it.
Find out what you need to know when buying a camper van.
I found a site with availability in North Devon, made the booking and then got a phone call to say they were actually full. Noooo! So I began my search again and found Perran Sands.
It's a Haven holiday park on the beach in Cornwall. Perfect! And luckily we bagged their last Euro pitch for the first full weekend after lockdown eased in England. Hurrah!
In case of any doubt, we booked and paid for our own stay here. I'm writing about it because we had a great time and I wanted to recommend it to you.
Read about more of the holiday parks in Cornwall we have tried and reviewed.
About Haven Perran Sands Holiday Park
This large holiday park in Cornwall is close to the beach town of Perranporth on the North coast. There's lots of ways to stay including holiday homes, chalets, glamping accommodation and touring pitches. Many are pet-friendly. Perran Sands Beach is also dog-friendly all year round.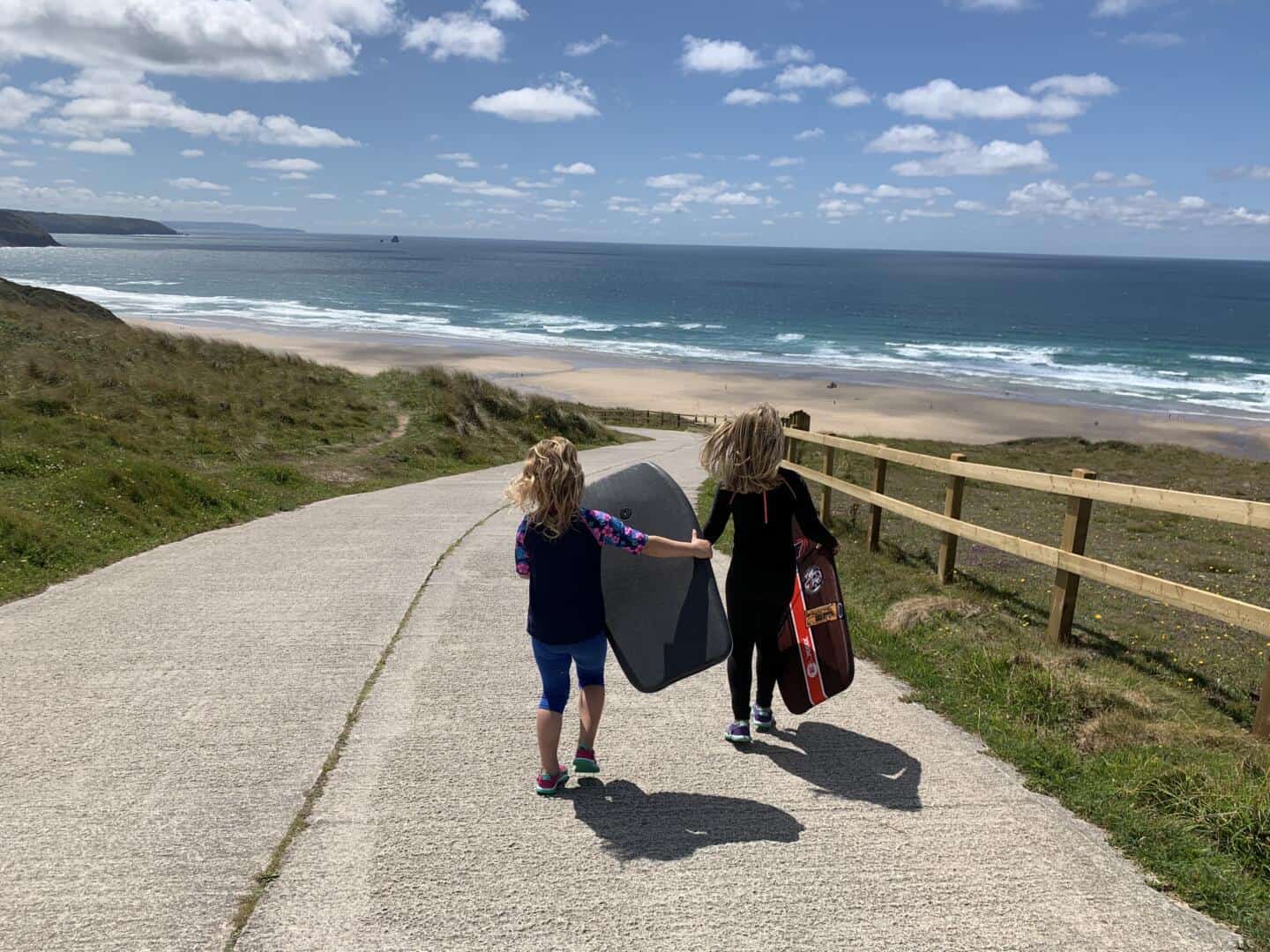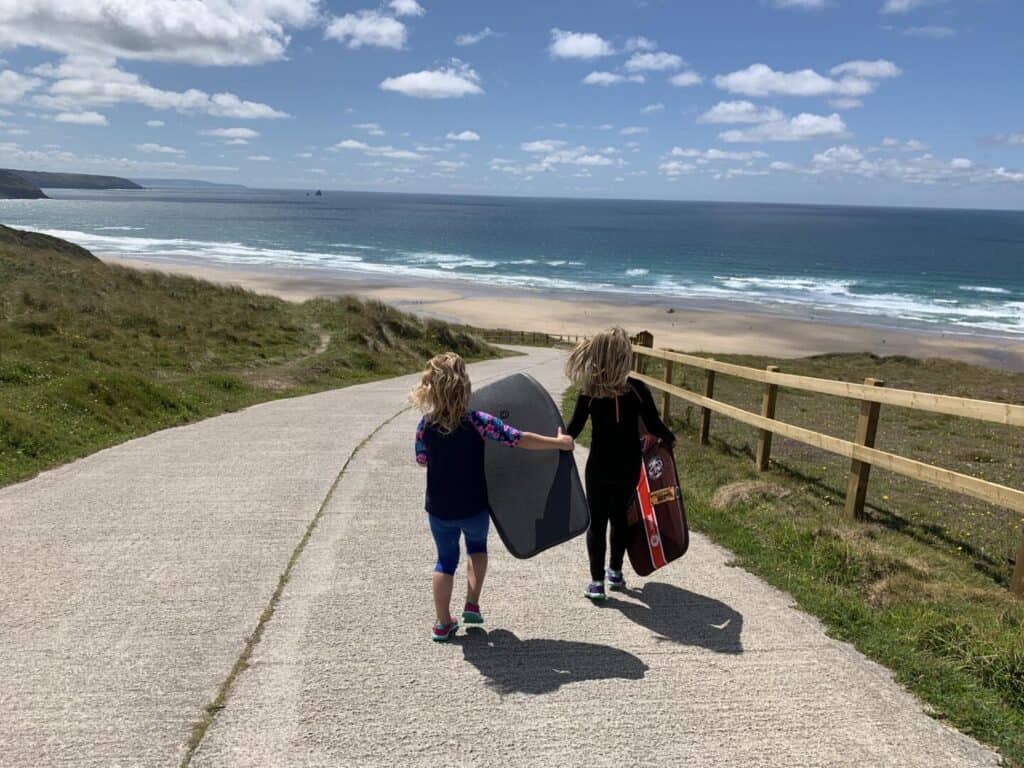 All the accommodation is spread out around a central hub that includes the indoor and outdoor swimming complex, entertainment venue, restaurants, bars and outdoor activity centre.
Here's the Haven Perran Sands Holiday Park map: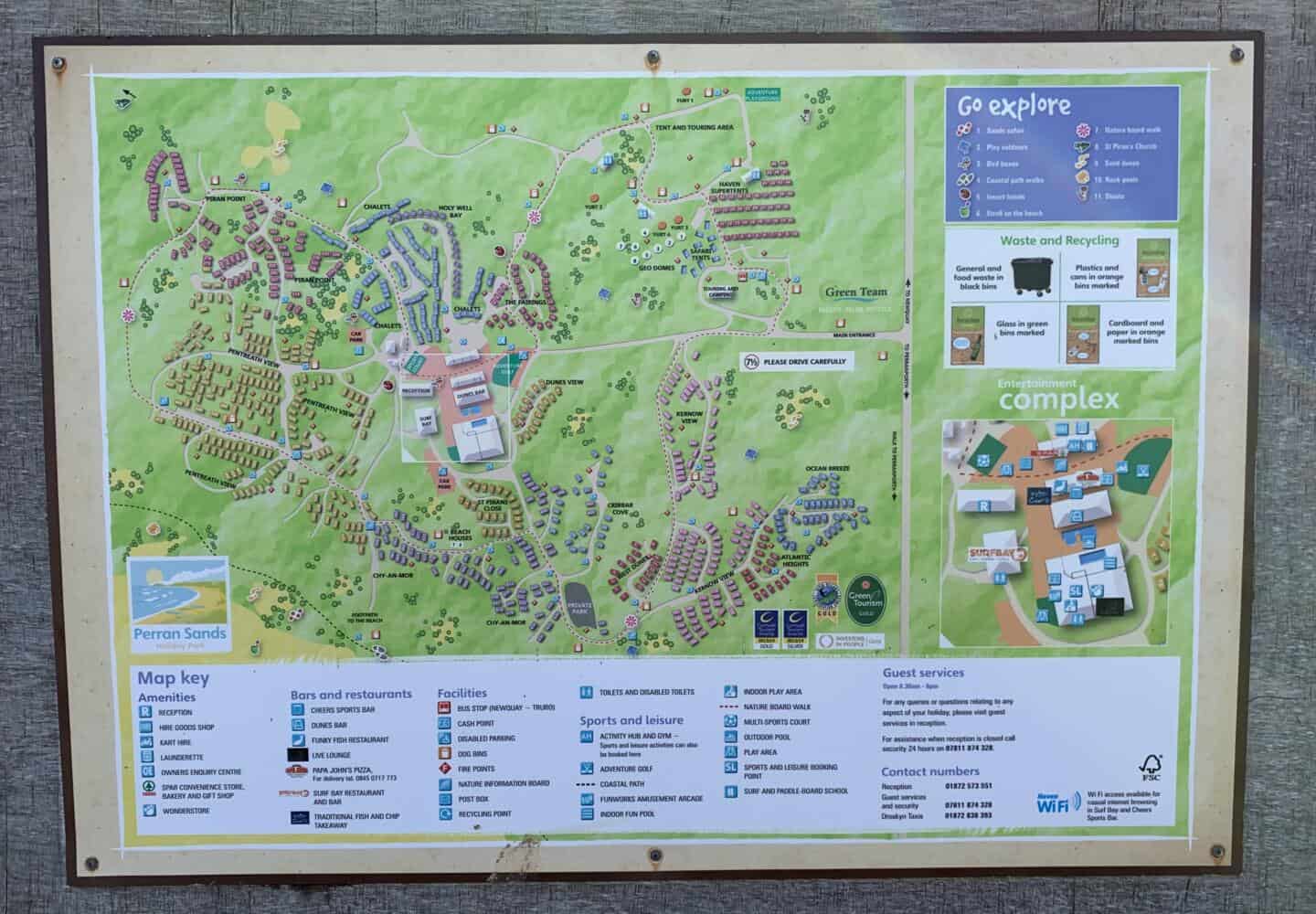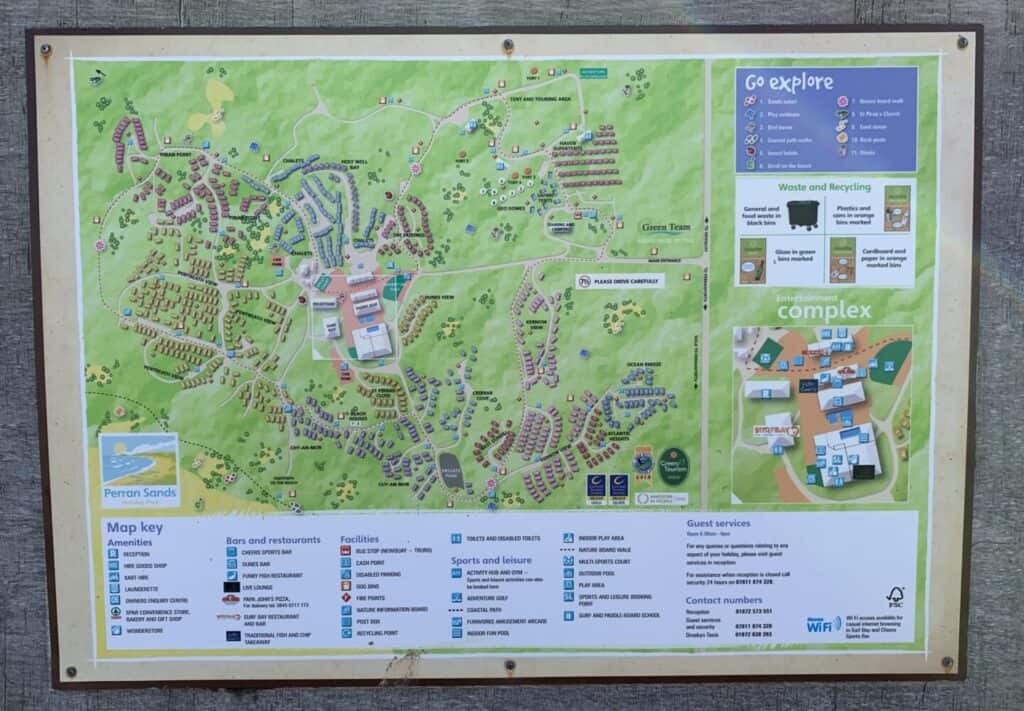 Popular things to do close by include Newquay Zoo, Healey's Cider Farm and Camel Creek Adventure Park.
Read more about our favourite outdoor days out in Cornwall.
But the star of the show is direct access to Perran Sands beach.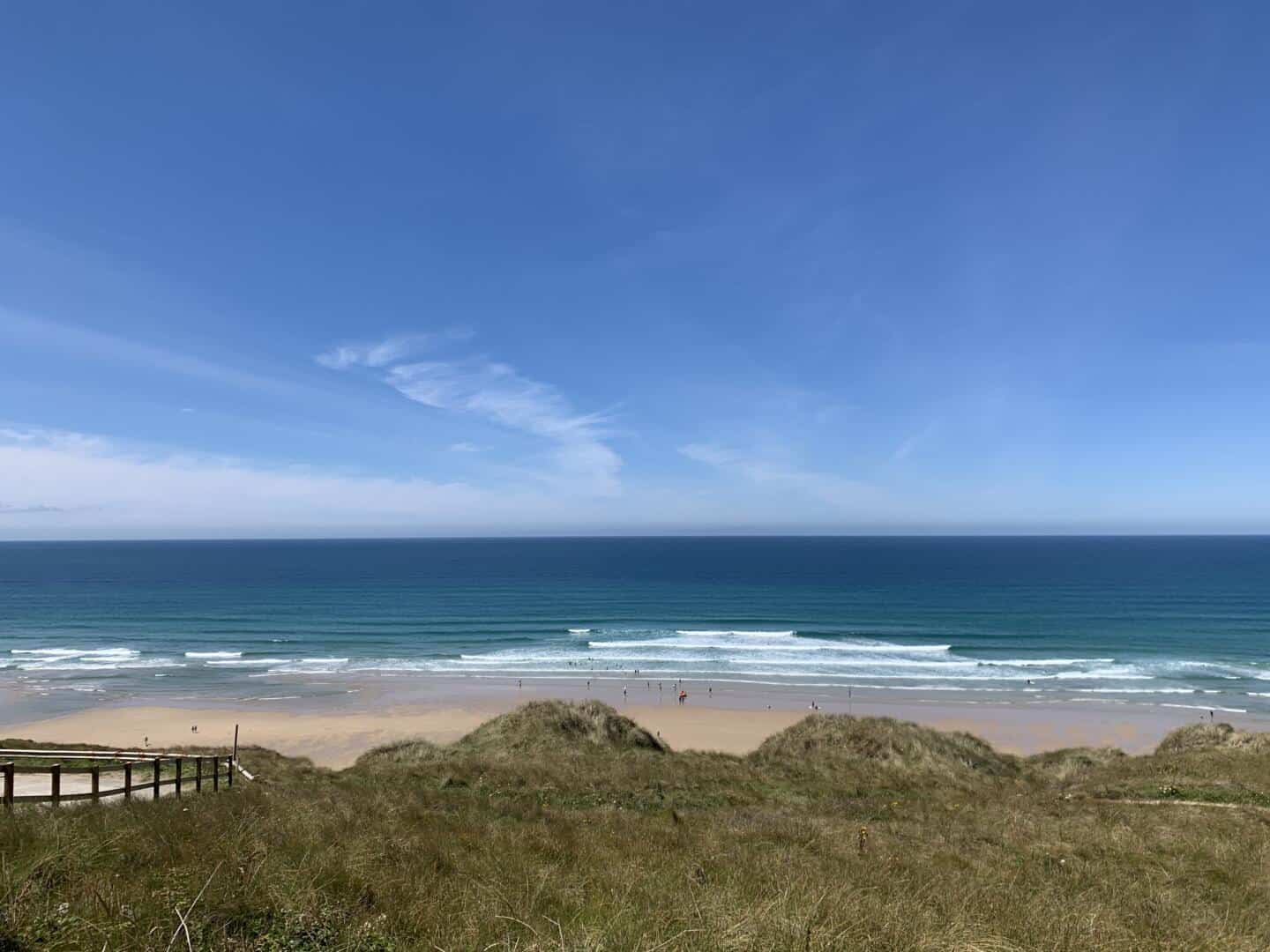 Looking for more Haven holiday reviews? Read this one about Haven Church Farm Holiday Park in Sussex.
What can you expect at Perran Sands after lockdown
Haven has rebranded its breaks as Haven Hideaway Holidays in 2021. They are still providing holidays in the great outdoors but with extra measures in place to keep guests safe.
More facilities, restaurants and entertainment are expected to reopen in 2021.
Booking and check in
We booked online and all our holiday information was sent by email and text. We had to supply details of all guests in our group, our vehicle registration number and confirm our arrival time a few days before.
Haven have a check-in website to capture all this information and email or text you when there's something new to add or download.
Be aware that if you are camping or staying in your own touring caravan the system will tell you there's a PDF map of where you are staying onsite. But when you click on this the page is blank. Don't worry. We were told our pitch number when we arrived.
Read more about what happened when we arrived on site.
Onsite facilities after lockdown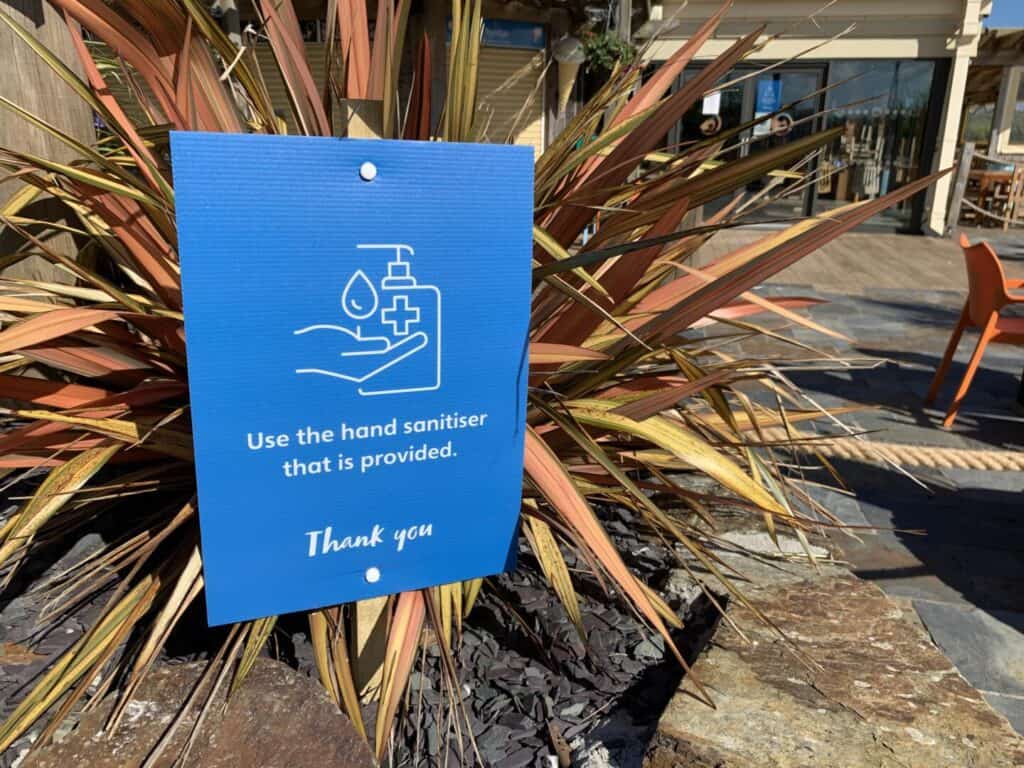 As we were staying in our VW T5 without our own bathroom we had checked ahead that the tourer shower blocks would be open on the camping and caravan park.
I was so impressed with the cleaning regime that was in place. There were staff outside the site's two blocks throughout the day to control the number of people going in and there were markings on the floor to help people keep their distance.
Every toilet, shower and sink was sanitised after each person from 7.30am until the early evening.
The well stocked onsite supermarket allowed five people at a time and had a one way system. Staff wearing PPE were at the door offering hand sanitiser and directions.
A couple of the park's restaurants were open for takeaway only and there were a few socially-distanced activities available like segways.
The site's usual programme of entertainment is suspended during 2020 and the swimming pools were closed but the playgrounds are open. There was also lots of place to play on the edge of the campsite area, which is surrounded by sand dunes.
Check with the holiday park for their latest information about holidays and facilities for bookings in 2021.
There was signage everywhere to remind you to wash and sanitise your hands, keep your distance and catch coughs.
Haven are clearly taking the safety of their guests and staff seriously. We were impressed and felt totally safe.
So what about our other impressions of Haven Perran Sands Holiday Park?
Camping and touring pitches
We booked the very last Euro pitch available for our dates. It was a good sized, level pitch with hedges and attractive flower beds at the end of each row. We had an electric hook up point and water point right next to our van.
This pitch cost £44 per night before the school holidays started in July 2020.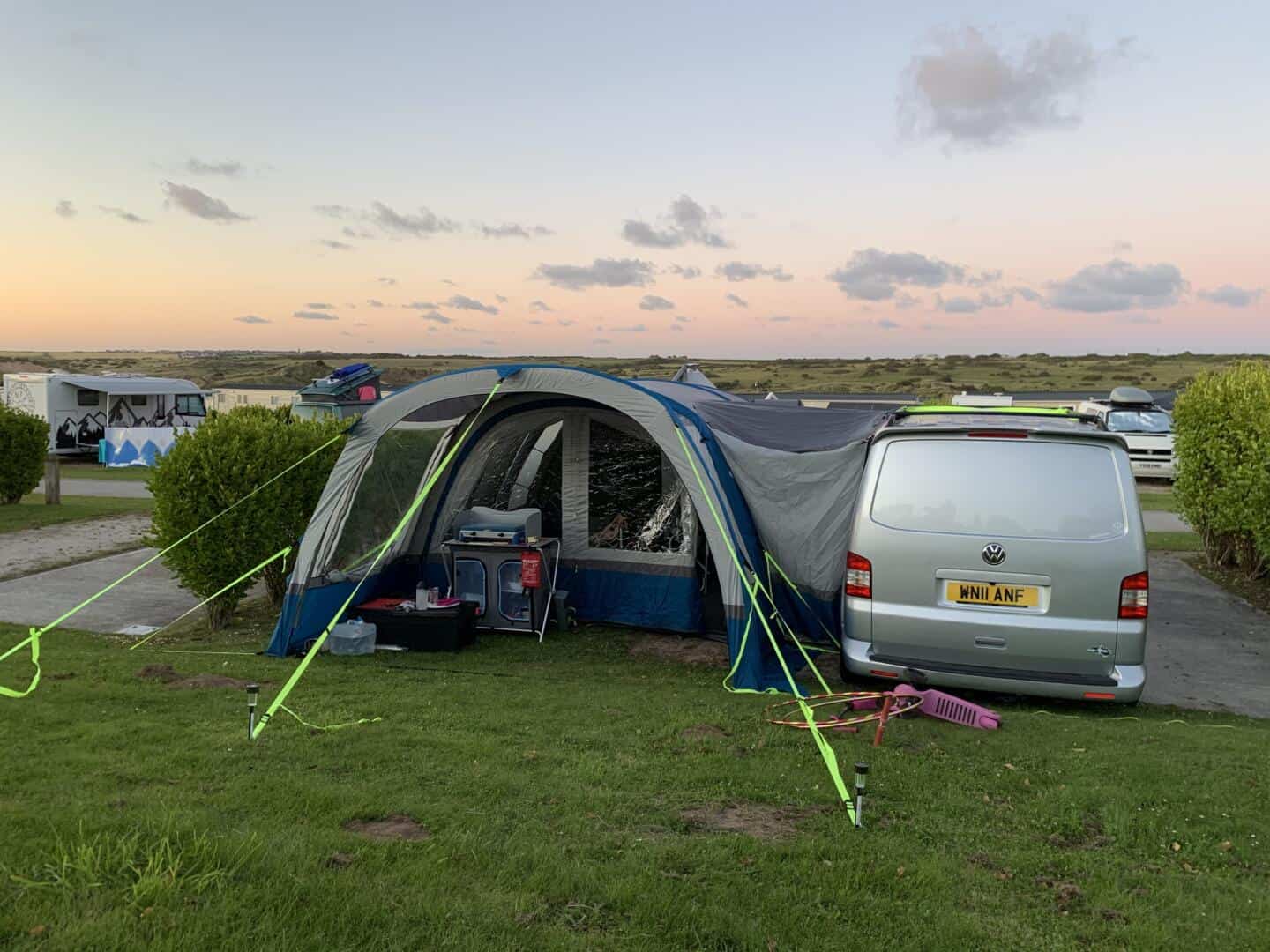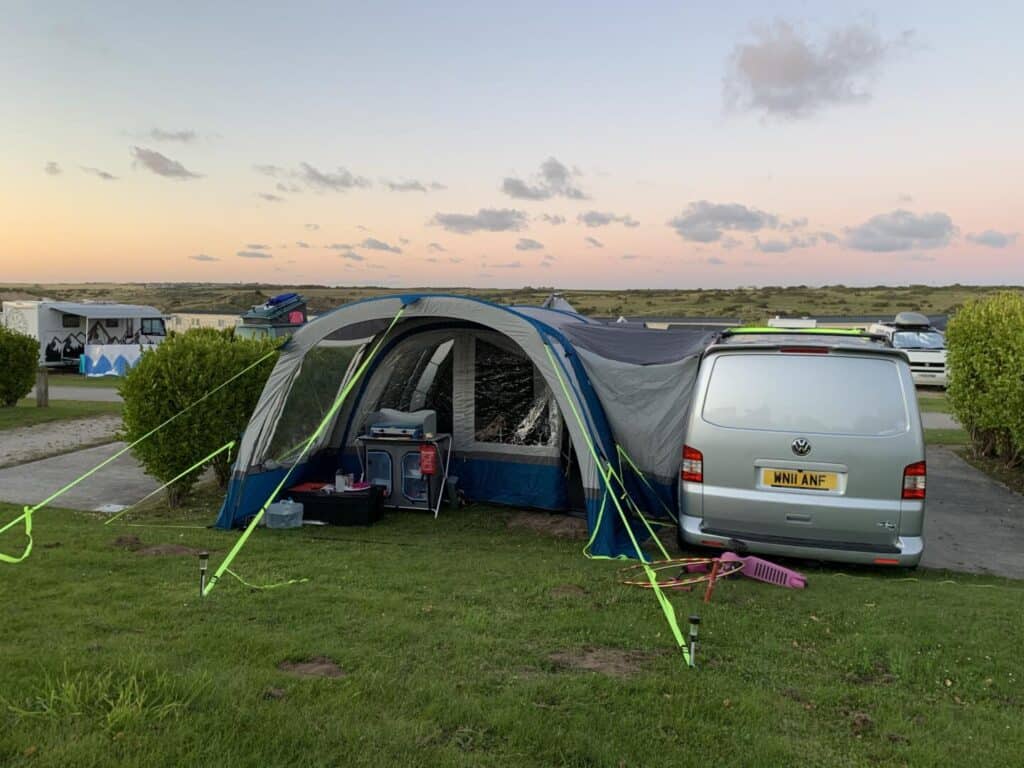 Waste facilities and washing up sinks are located in the eco-friendly shower blocks which have green roofs, plus water and energy saving technology. There's signs outside telling you all about it.
The campsite also has grass and hard standing pitches with and without electric hook up. These are marked out in a large flat space between sand dunes. There's wooden bollards and roadways between rows but not between each pitch.
The campsite has its own adventure playground and there is a large dog-walking area with bins right beside it.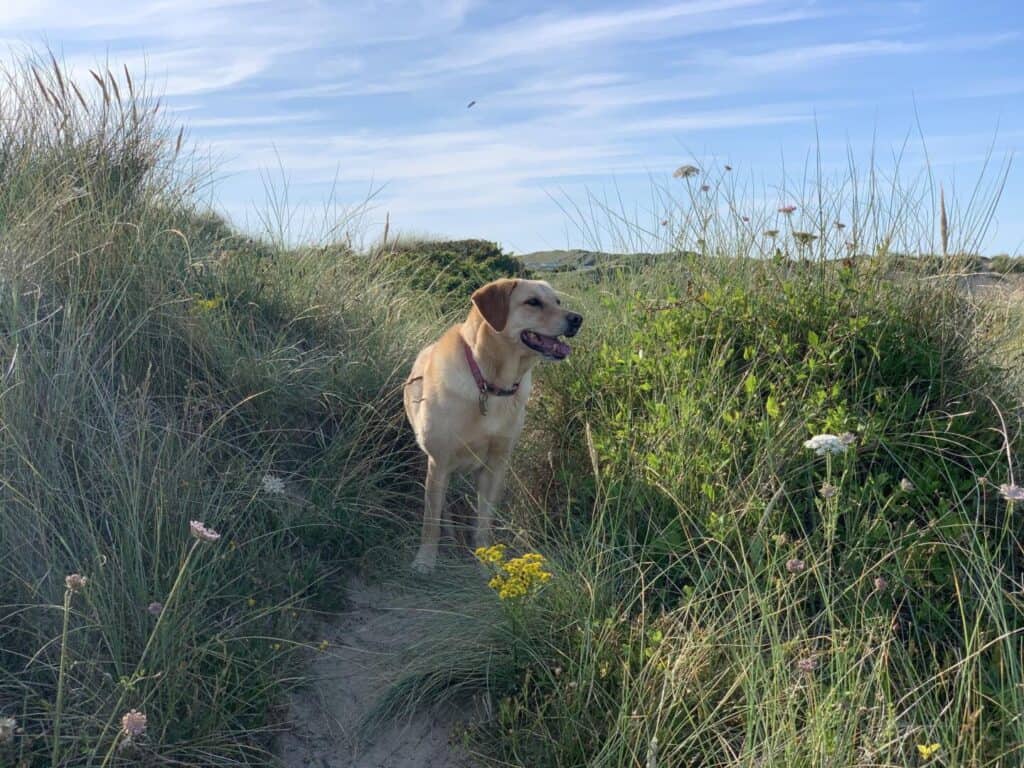 Haven rules are to keep noise down after 10pm and most pitches near us had quietened down despite it feeling like the sun had only just set.
Here's more family-friendly touring caravan sites in Cornwall that you might want to check out.
Other accommodation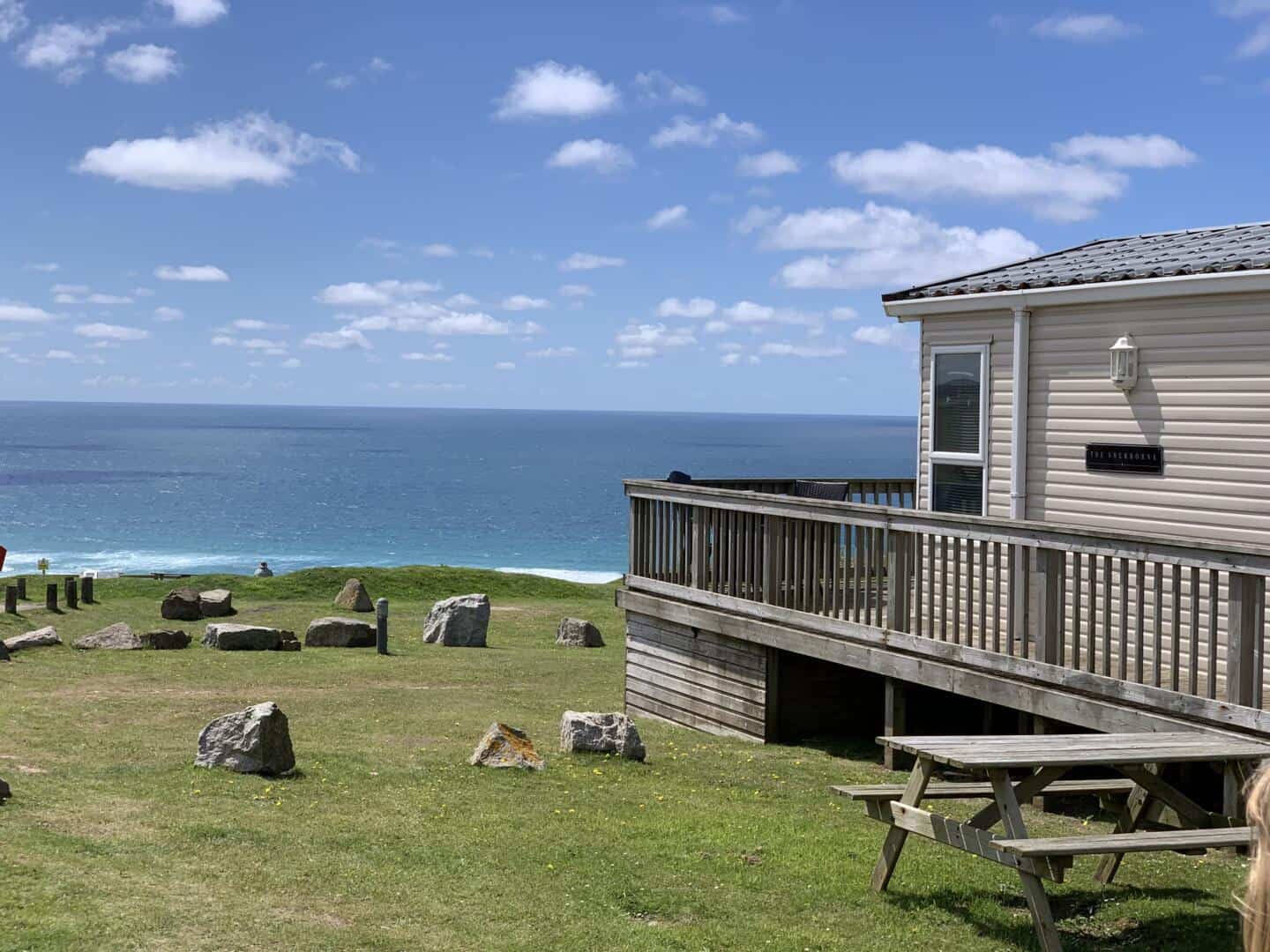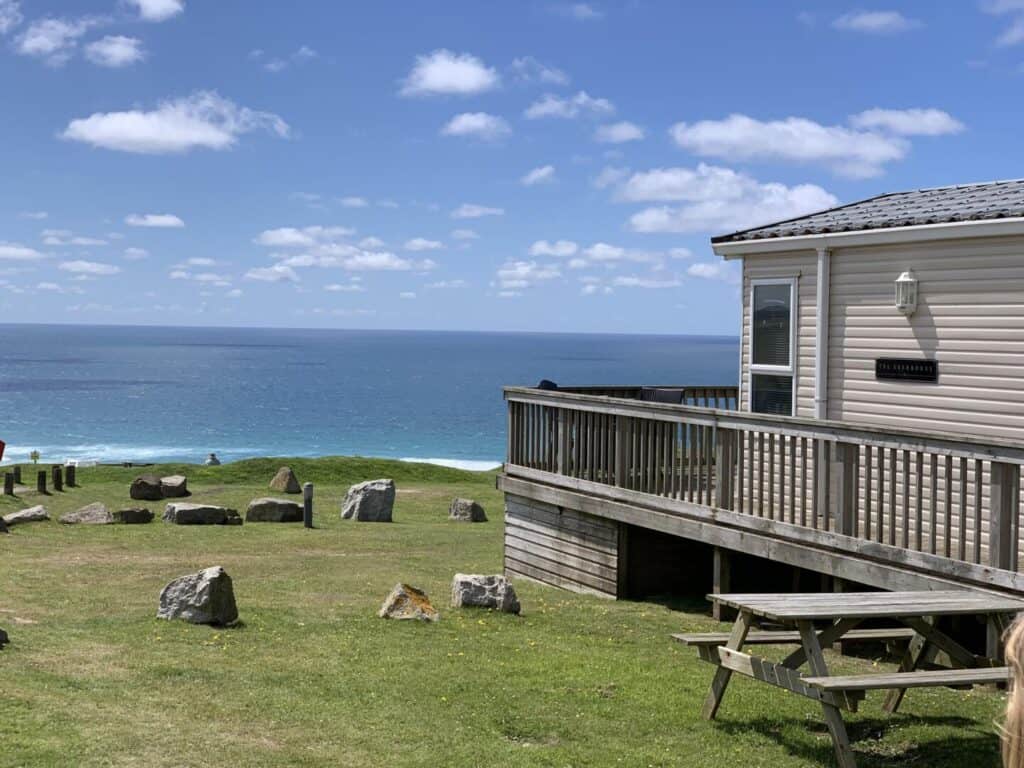 There must be more than 800 other mobile homes, chalets, beach houses and glamping tents across Haven Perran Sands Holiday Park. So accommodation suitable for all. Some of the mobile homes had stunning views of the coast.
Perran Sands' Mini Market
The small onsite supermarket is in the landscaped central hub surrounded by restaurants with outdoor seating and parasols. It has everything you'd need for your holiday at reasonable prices, so you could easily self cater without going to an off-site supermarket.
There's also a gift shop selling ice creams, souvenirs, games and beach wear.
Restaurants at Haven Perran Sands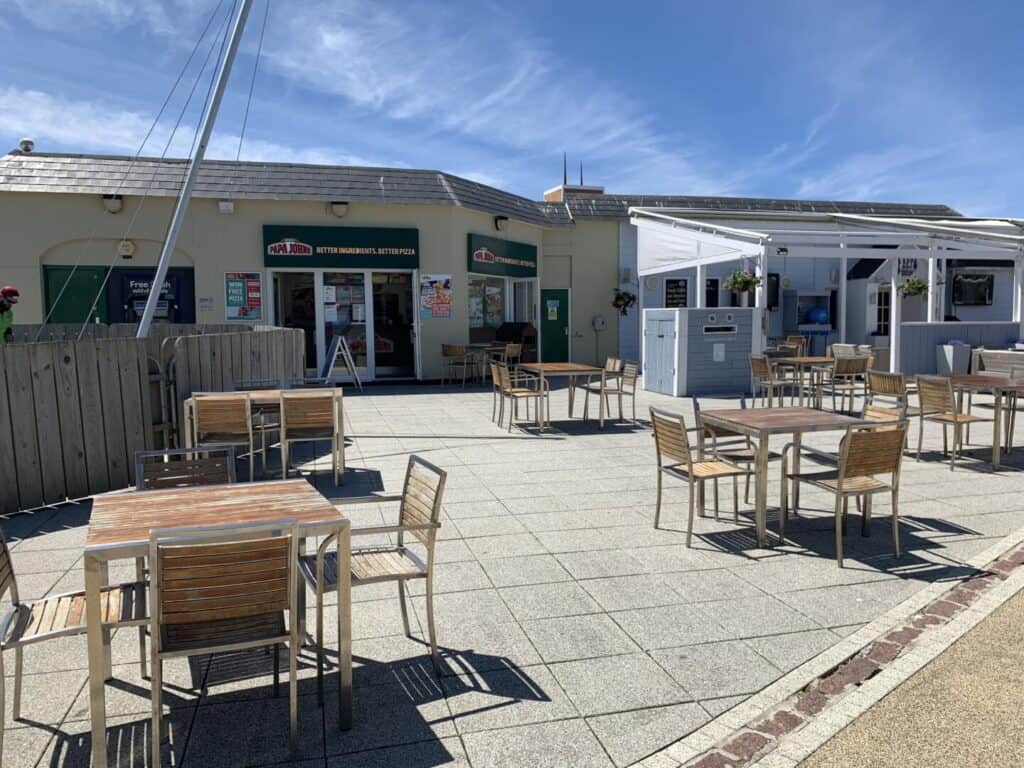 We didn't get the try the restaurants or takeaways during our weekend but Perran Sands has several to choose from. There's the pizza, fish and chips and bar food.
Activities
In normal times Haven Perran Sands Holiday Park has a full programme of day time and evening entertainment, plus indoor and outdoor pools with flumes and a lazy river.
We missed out on this but still had lots to do as the play parks were open and we'd bought a few games like boules to play next to our camper van. The arcade was also open.
Perran Sands Beach
The holiday park has direct access to Perran Sands and Penhale beaches just along from the main Perranporth Beach. But prepare your thighs for a work out to get to it!
You have to walk down a steep zig zagging path to reach the golden sand and surf. It is possible to get down this with a pushchair or mobility scooter but there is no promenade at the bottom – it goes straight onto the beach.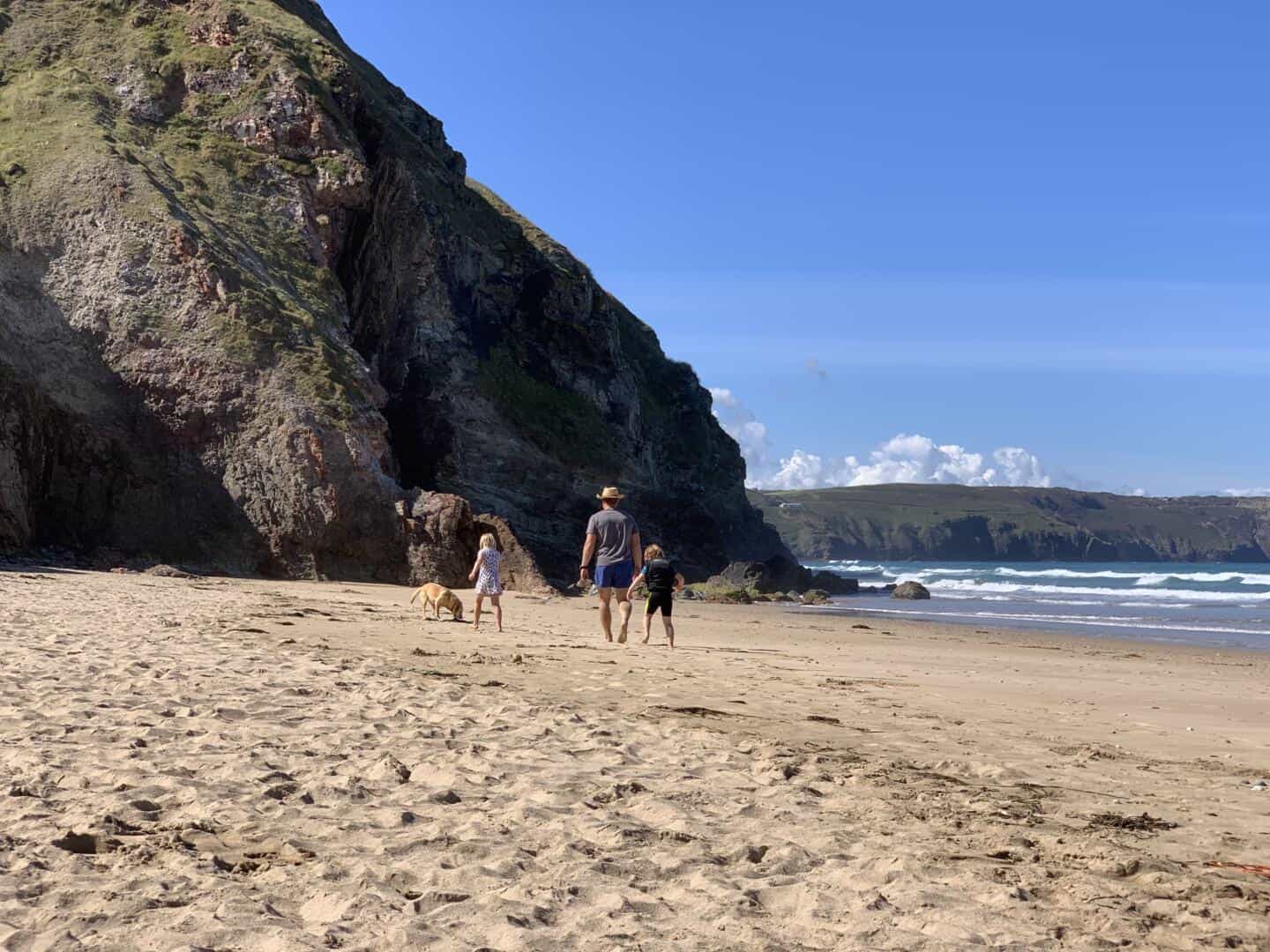 Life guards were on on duty from 10am when we visited, which was reassuring. However it's still really important to keep an eye on kids in the sea. While we were at the beach a kid was rescued after drifting well outside the swim zone.
Bring body boards or surf boards for fun in the waves. Mr Tin Box tried using one of our paddle boards but the North Atlantic surf was too rough.
Our Perran Sands Holiday Park Review
We loved our weekend stay at Perran Sands and felt there was just enough to do for a few days despite the post-lockdown restrictions.
If we'd been staying longer we would have ventured off site to explore the local area and revisit some of our favourite days out in Cornwall. Perran Sands is in a great location.
As for the COVID-19 measures in place, we think Haven aced it.
Find out more about this Haven holiday park in Cornwall.
Have you visited Haven Perran Sands Holiday Park in 'normal' times? Can you tell us a bit about what we missed?
If you are planning a holiday in Cornwall with your family why not save this post about Haven Perran Sands Holiday Park on Pinterest.