10 awesome things to do in Newquay – a fun-filled family holiday guide
If you are looking for inspiration for your next family holiday then Newquay in Cornwall is a brilliant destination. I've been going there since I was a kid and more recently have visited with my own family on more than one occasion. The North Cornwall coast is a very special place that has captured our hearts with its epic beaches, fun-filled family days out and historic landmarks. We're never short on things to do in Newquay and that's what makes it such a winning location for a family getaway.
*Advertisement feature*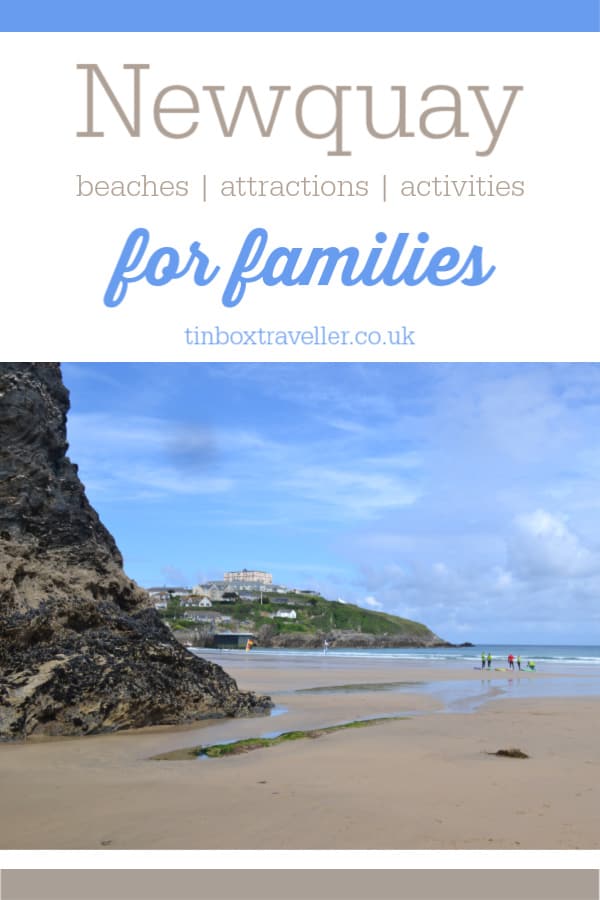 We have partnered with Parkdean Resorts for their Best of Britain campaign to help promote the amazing things you can experience in Britain. We stayed at their White Acres Holiday Park for a weekend and enjoyed two full days of activities in and around Newquay.
Staycations are one of our favourite types of holiday. Even getting away for a couple of days is wonderful for pushing aside the usual stresses of school, work and those nagging DIY jobs, and reconnecting as a family.
Things to do in Newquay with kids
We had a pretty full on weekend exploring in Newquay and were exhausted at the end of each day. But it was a different type of exhausted from what you feel sat at your desk on a Friday afternoon. We experienced new places; played silly games; and laughed, A LOT!
Here are some of those great days out, plus more of our favourite things to do in Newquay with kids that we've tried during the past five years.
1. Newquay beaches
Newquay is famous for its golden sandy beaches and the surfers they attract. We love them because they make for brilliant beach days with kids, even if the sea isn't the best for swimming because of the Atlantic swells.
All of the more popular beaches have life guards and designated swimming areas in the summer months to give parents peace of mind.
As dog owners we lean towards dog-friendly beaches in Newquay and have plenty of choice. Here are our favourites:
Towan Beach
This large sandy beach is at the centre of Newquay and is home to the iconic suspension bridge that joins Towan Island with the mainland. When we visited in June the tide was out, making it possible to walk underneath the bridge and along the rocky cliffs.
We found plenty of rock pools and caves to explore, much to the girls' excitement. It was the perfect spot to go on a bear hunt with all the squealing you'd expect when Mr Tin Box growled at the girls.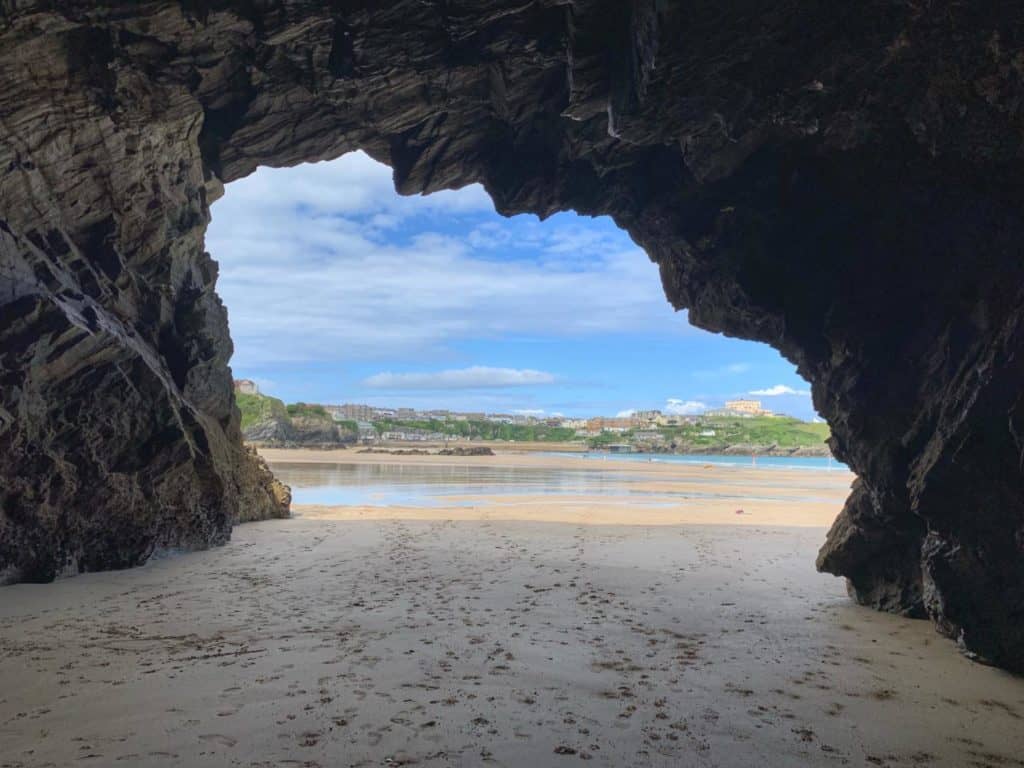 Back at the main sea wall there's the Blue Reef Aquarium, historic Newquay Harbour where you can book boat trips and hire water sports equipment, and plenty of cafes. We popped into The Harbour Rest Cafe for an ice cream and Cornish cream tea. At £8.50 for two it was a bit off a bargain. The scones were HUGE!
Crantock Beach
If your kids – and dog – love sand dunes then there are plenty to explore here at Crantock. At low tide there's oodles of space to roll out a picnic blanket and build sandcastles.
One of our favourite things to do is to create massive doodles in the sand with a spade or stick. The sand is that brilliant squishy consistency that makes for deep, satisfying footprints. You'll find Crantock less busy than some of the beaches close to Newquay town.
We always park in the National Trust carpark that you can access from Crantock village. Bring your own sandwiches as there's no cafe here. If you are short of a snack then wander back up the road to the village. Find out more about parking and facilities at Crantock Beach.
Fistral Beach
This iconic beach is known as 'the home of British surfing' and it's not hard to understand why when you see how many surfers are bobbing around in the waves. It really is a Mecca for water sports.
If epic sunsets are more your thing then Fistral Beach is the perfect spot to appreciate the sky turning gold and pink in the evening. There are lots of bars and restaurants along the front where you can grab a drink or meal while nature puts on a show.
2. Pirates Quest
If your children are fans of pirates then this live action attraction in the middle of Newquay is a must-visit. Pirate actors take you on a walk through Newquay's maritime and smuggling past with several fabulous sets and tall tales along the way. The experience lasts about and hour.
I'd recommend this attraction for children over the age of five as there are a few scary bits. You can read my full review of Pirates Quest Newquay here.
3. Trenance Gardens
If you are looking for free things to do in Newquay, Trenance Gardens is a great place to head. The Edwardian botanical gardens have evolved over the years to include a boating lake, adventure playground, tennis club and miniature railway.
After thoroughly conquering the adventure playground, the girls were keen for a go on the railway. This takes you on two loops of a landscaped track.
You can also go in the free museum in the Trenance Cottages to find out the history of these traditional houses built in the 1800s. Find out more about the history of Trenance Gardens.
4. Newquay Zoo
We didn't have time to see Newquay Zoo during our most recent visit, but have been twice before. We love this small attraction, which does a brilliant job of introducing visitors to the 130 species that live here.
Our top tip is to plan your visit around the regular animal talks and feeding times throughout the day. Our favourites are the lion and penguin feeding times.
Each talk is announced before it begins and, thanks to the small nature of the zoo, you can easily relocate to where the action is happening.
Find out more about visiting Newquay Zoo.
5. Trerice National Trust
This Elizabethan manor house with modern extensions has traditional garden games and plenty of outdoor space for kids to explore. In the school holidays, the National Trust lay on extra activities like Easter egg hunts, archery and wild art workshops. In the house, kids can grab an activity trail and dress up in a suit of armour.
Find out more about visiting Trerice.
Things to do near Newquay
Within just a short drive there are even more things to do near Newquay that we absolutely love. Here are some extra ideas on what to do during your Cornish holiday:
6. Bedruthan Steps
One of our favourite south west coast path walks near Newquay in Cornwall is Bedruthan Steps. They are a gathering of rocky sea stacks along Cornwall's Atlantic Coast near Newquay.
The views are spectacular and it always feels like an accomplishment to make it down 120 steps to the beach.
At the bottom of the steps you'll find a sandy beach bordered by rocky cliffs and caves. These are great for exploring at low tide but can be submerged or inaccessible at high tide.
It's worth checking the tide times if you want it to be worth spending a bit of time at the bottom.
The National Trust has all the information you need to know about tide times.
You can also read our tips for visiting Bedruthan Steps with kids.
7. Camel Creek Adventure Park
This theme park is an action packed day out where there's plenty to entertain the whole family, even tiny tots. Six-year-old Tot and four-year-old Baby were able to go on all the main outdoor rides, including the rollercoasters and water rides.
There are even rides designed specifically for little ones like a mini log flume and clown rollercoaster.
Our favourite rides to do together were the Raging Rivers water coasters and Thunder Falls log flume, which we rode several times. Each time it only seemed to be me that got very wet – how does that work?
The weather was quite changeable on the day we visited, so we focussed on the outdoor rides like Vertigo and The Viking Warrior swing boat when it was dry and dived into Creeky's Playhouse soft play when the drizzle came. It was an ideal all weather day out near Newquay.
And when you are wet from the water rides, who needs to worry about the rain?!
We have already said we will have to go back next time we are in North Cornwall as a few the new Air Bender – Cornwall's largest rollercoaster – has opened. This is definitely one of the best things to do in Newquay with kids if you enjoy thrills.
Check opening times and prices for Camel Creek.
8. Cardinham Woods
If your kids are fans of Julia Donaldson books then Cardinham Woods always has the latest Forestry Commission trail inspired by her work. When we visited it was the Zog trail – based on the story of a dragon who learns his trade with the help of an unruly princess.
See where else you can find the Zog trail in England.
As well as the Zog trail, which follows one of four circular walks, there are three cycle paths, a play area, woodland cafe and barbecue area.
Take a look at the visitor information for Cardinham Woods.
9. Healey's Cornish Cyder Farm
This is another dog-friendly and free attraction near Newquay where you pay for extra experiences if you fancy. Visit the farm and sample its produce for free or book a tour to get a better understanding of how Healey's makes its famous cyders like Rattler.
Our girls love the tractor ride through the orchards and we can recommend a tour through the museum and distillery. It's hard not to come away with a few bottles of cyder, wine or whiskey to try again after the kids have gone to bed!
Take a look at tours and what's on at Healey's Cornish Cyder Farm.
10. Hire bikes and ride coast to coast
It is possible to cycle from the north coast of Cornwall to the south between Portreath, south of Newquay, and Devoran.
This 11 mile route follows one of the old tramways that used to transport minerals from the many mines along the way. There's some fantastic scenery and historic mine remains to spot, but be warned: there are a few hills! I'm not a regular cyclist and struggled a bit with Tot tagging along behind me.
Strangely, she found it super easy! Mr Tin Box and Baby were definitely the winning team that day.
Find out more about the Coast to Coast route.
If you are looking for more ideas for things to do in Cornwall then check out these posts:
Things to do with dogs in Cornwall | What to do in Cornwall when it's raining
Find more days out in England, Wales, Scotland and Northern Ireland in my big round up of 101 UK attractions for families.
Where to stay in Newquay
Parkdean Resorts have four holiday parks in Newquay. We stayed at White Acres Holiday Park, which has plenty of onsite activities for families, like an indoor pool, fantastic play park, crazy golf, soft play room, mini ten-pin bowling and evening entertainment.
If you enjoy fishing, there's also lakes where you can cast a line and enjoy the view.
Share your #BestofBritain staycation highlights
What's your favourite British staycation destination? Why not share your pictures and videos on Twitter and Facebook using the hashtag #BestofBritain.
Disclosure: this post has been written as part of a paid campaign with Parkdean resorts. All opinions and recommendations are my own.
If you are looking for things to do in Newquay during your next family holiday in Cornwall why not pin this post.