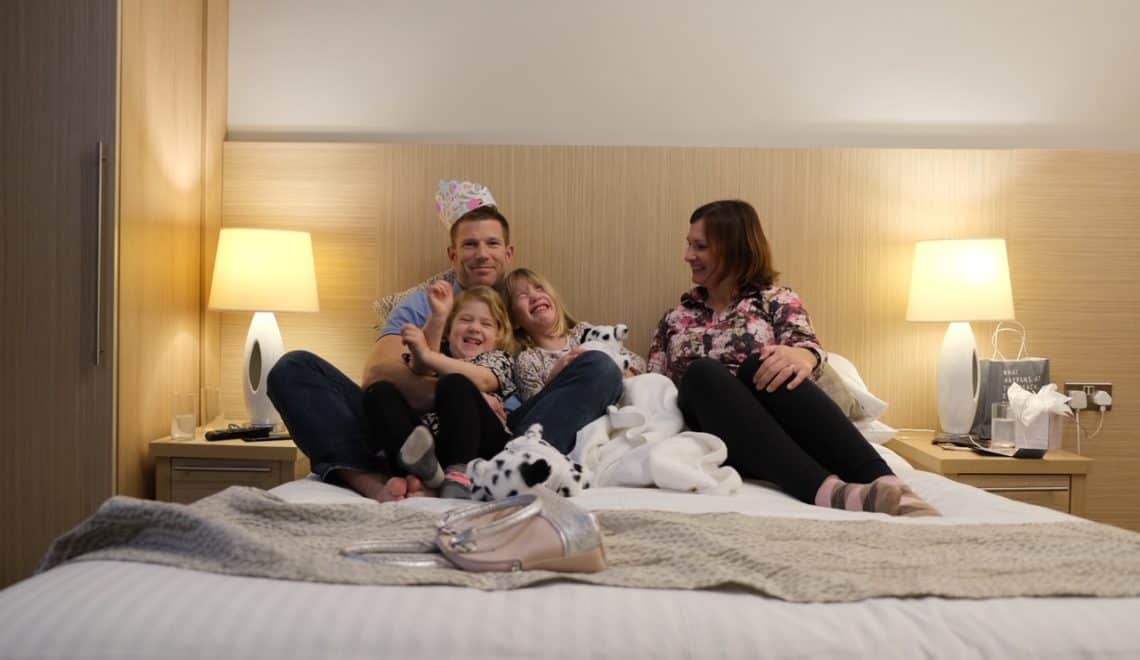 Review: The Esplanade Hotel, Newquay – a truly family-friendly hotel in Cornwall
There are hotels that allow for families and then there are truly family-family hotels. The Esplanade Hotel in Newquay Cornwall is most definitely the latter. In fact it is one of the most family orientated hotels we've been to in England.
*Advertisement feature/contains affiliate links*
We were invited to review the hotel at the beginning of a wet and stormy February half term. It gave us the perfect opportunity to experience what The Esplanade Hotel had to offer families rather than be distracted by its epic location.
2021 update: The Esplanade Hotel has been refurbished. Take a look at the hotel website for what's new.
Where to stay in Newquay
The Esplanade Hotel overlooks the famous surfing hotspot of Fistral Beach in Cornwall. The views are incredible, even if they were slightly obscured by Storm Dennis during our stay.
Newquay is a great location for a family holiday. As well as Fistral Beach, there's Newquay Beach, Crantock and Lusty Glaze Beach close by. And Cornwall days out abound.
Our sea view family room
We stayed in room 216 which is on the second floor on the front corner of the hotel with a great view of the beach.
There was plenty of space for the four of us to hang out with a double bed and full sized bunks for the girls. Their attention was divided between this and the four mugs laid out with biscuits and hot chocolate on the dressing table.
They also had personalised colouring books to keep them occupied while we unpacked.
The bathroom came with a standard size bath with a shower over it. If you need anything like baby monitors, bed guards, sterilisers and night lights they are available to borrow from reception.
There was even a cute towel animal to greet us in our room. Never underestimate the magic of a towel animal!
Check rates for family rooms* at The Esplanade Hotel in Newquay.
Activities
The Esplanade Hotel has at lot going for it when it comes to entertaining families. There's a soft play area, a beautiful pool with a toddlers area and comfy seating for spectators, a pool table, board games in the lounge and a programme of kids activities in the school holidays.
We checked in at 3pm and launched straight into arts and crafts, build-a-bear, and cocktail making.
View this post on Instagram
The girls were thrilled with the dogs they made. 'Spot' and 'Puppyco' are prized souvenirs of our stay.
If you have kids a bit older than ours they can sign up for surfing lessons or coasteering with the onsite Quiksilver Surf School.
The entertainment continues into the evening with movie nights, discos and magicians.
Unfortunately on the night we stayed the movie didn't happen as there was a large group booking using the ballroom where it would have been screened. Check ahead if there's something on the programme that's really caught your eye.
At the end of every day there's milk, cookies and a bedtime story available at reception. Genius!
Food
We ate dinner and breakfast at the hotel and thought the standard of food was excellent. There was also a great variety of dishes available.
At dinner there was a standard menu and specials menu for us to choose from, as well as a kids menu. Children could order smaller versions of anything on the main menus.
The only let down was that the hotel kitchen was obviously stretched by the large group which at down for dinner just before us. We arrived at our table at 6.30pm and left the dinning room at 8.45pm – eating three courses took over two hours.
At breakfast, there were hot and cold options including cereals, fruit, yogurts and pastries. The girls particularly loved the pancake maker (see my Instagram Story highlight).
I loved having the option to sit in the lounge with huge windows overlooking Fistral Beach. It was very dramatic on a stormy day.
The hotel team
It would be remiss of me not to mention to the super helpful and lovely hotel staff. Nothing was too much trouble from the moment we arrived.
We had travelled to Cornwall with our new Nissan Leaf electric car and were very excited that there was a charging point at the hotel. When we pulled into the car park other cars parked in front of the charging point so the reception team helped by freeing up a space, while the maintenance chap got us plugged in.
Niki, who coordinated the kids activities during our stay, was bubbly and obviously had a passion for crafts.
The Esplanade Hotel review
This is one of the best family hotels we have stayed at. The team had thought of everything to make family holidays pleasurable and stress-free.
When our girls were a bit younger having a cup of milk before bed was a must. When we were staying at a hotel this usually involved a trip to the local convenience store just to help them settle at night. Anticipating this common bedtime routine is just one example of how The Esplanade gets families.
Find out more about staying at The Esplanade Hotel in Newquay and check rates*.
Disclosure: we were invited to The Esplanade Hotel in Newquay in exchange for coverage of our stay on Instagram. I didn't have to share a review on my blog. All opinions and images are my own unless otherwise mentioned. This post also contains affiliate links marked with *. If you click on one of these and make a purchase then I may earn some commission. This does not affect the price you pay.
Researching where to stay in Newquay with kids? Why not save this review of The Esplanade Hotel for later.