7 things to do in Chania, Crete with kids
Crete is much more than a beach holiday destination in Europe. There's culture, foodie delights, historic sights and family-friendly attractions, even in the Spring. We spent a week in Chania in Crete in April. I had been hoping for seven days of sunshine but the reality was that we had half as many. But we weren't stuck for things to do in Chania with kids.
*Advertisement feature*
In fact, I felt like a kid in a sweet shop when I was flicking through our Lonely Planet guide book for things to do during our stay at Kiani Beach Resort – an all inclusive family resort in Crete.
I soon reigned in my ideas when I started working out how large the island was and how long it would take to see all the must-see sights. We would need more than seven days to explore Chania let alone the whole of Crete.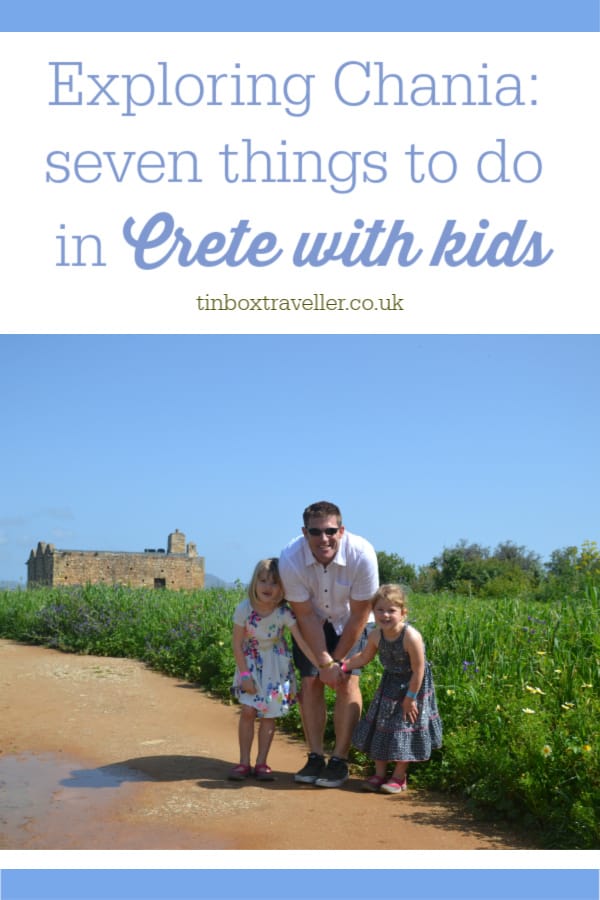 Take a look at more tips for planning a family holiday in Crete.
Things to do in Chania with kids
As we made our final approach to Chania International Airport in Crete the very last thing I expected to see was snow caped mountains. But there they were – the White Mountains, also known as the Lefka Ori, which are the impressive back drop to the Chania region.
From these peaks, which soar more than 2,000m over the beaches and cliffs of the Cretan coastline, emerges the famous Samaria Gorge. It's one of Europe's longest gorges and part of a network of rocky hiking trails that weave towards the south coast. I
If you are visiting Western Crete with kids who are used to hiking then this has to be high up on the list of the best things to do in Chania.
However, if like us, you have young kids who wouldn't last seven hours trekking or you want more inspiration for things to do during a family holiday in Crete then I've got some ideas for you.
Here's what we managed to do in Western Crete in a week and a few more ideas for things to do in Chania with kids that we'd make a point of doing next time we visit.
1. Things to do in Chania: Explore Chania Old Town
Chania Old Town has fascinating architecture, shaped by a history of occupation, rebellion and independence over the past 800 years.
Influences have come from Venetian traders and the Ottoman Empire, which both conquered vast swathes of the island over the centuries. Bombing in World War II also made its mark on some of the Venetian architecture around the harbour.
Our tour of Chania
We took an organised tour of Chania Old Town. We climbed onboard a mini bus at our all-inclusive resort and within 30 minutes were in Chania. This was group tour with other hotel guests so I knew it wouldn't necessarily be child-friendly. I primed the girls with a list of things to spot during our two hour tour.
The Venetian influences in Chania made it easy to remind them of things we'd seen during our day trip from Lake Garda to Venice the previous summer.
They ticked off brightly coloured mansions, the harbour with its impressive lighthouse, and a Venetian lion proudly sat above the Firka Fortress barracks.
Chania Old Town is super easy to explore on foot and covers a relatively small area.
Must sees are the two Cathedrals: one Greek Othedox and the other Roman Catholic; the municipal market; and the minaret-style lighthouse, which watches over the picturesque harbour.
It is one of the oldest lighthouses in Europe, although it has been modified since the original Venetian structure was built in the late 16th Century.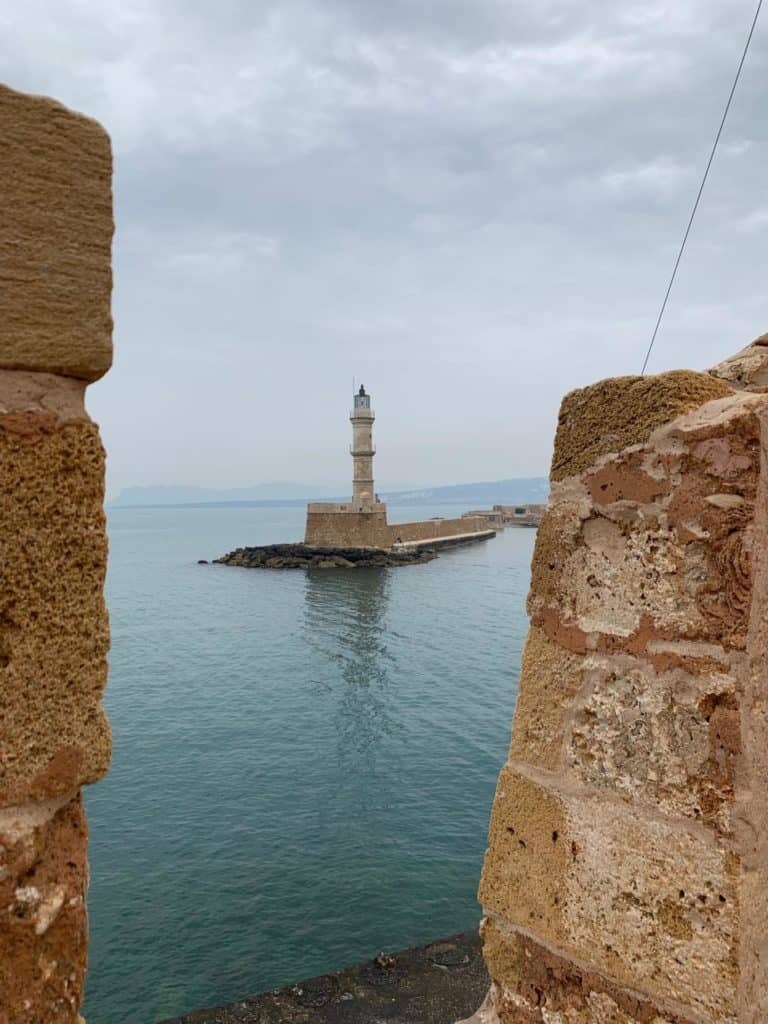 In the pretty little side streets you'll find a thoroughfare devoted to leather and Greek boot making. There's also a street where traditional Cretan knives were made.
The girls have recently started admiring the rings I wear on my fingers and were amused to learn that rather than an engagement ring Cretan suiters would offer their betrothed a knife for protection.
At the end of our tour we had an hour and a half to explore by ourselves and circled back to places that had caught our eye, as well as stopping for a well deserved gelato for my mini explorers.
I can recommend visiting Chania Old Town in the morning if you'd like to avoid the crowds. When we rejoined our tour party just after lunch, the streets were starting to get busy.
There's also lots of family-friendly places to stay in Chania and the surrounding area.
2. Historic things to do in Chania: rediscover ancient Aptera
Just a short taxi ride from where we were staying in Kalyves is the ancient city of Aptera. This was once the commercial centre of Crete, because of its commanding position over two important sea ports: Minoa and Kissamos.
The city was at its strongest in the 4th Century BC and, after a period of civil war, thrived again under Roman rule in the 1st to 2nd Centuries AD.
A devastating earthquake in 365 AD marked the beginning of the city's decline and eventual abandonment in 9th Century following Saracen invasion.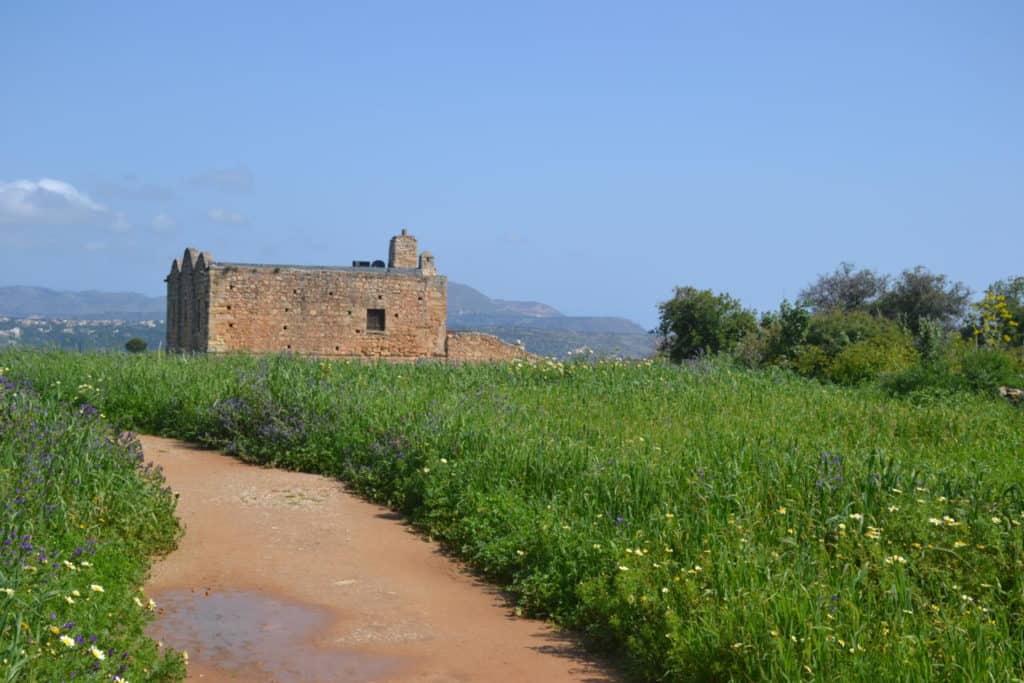 Today you pay just €2 per person to walk around the remains of the city and it's worth every cent. The archeological site covers the whole hill top.
We found the easiest parts to explore with young kids were the centre of the city. Here you can find a group of buildings including the more modern monastery of John the Theologian, the Roman built cisterns that collected rain water for their baths, and the amphitheatre which dates from the 2nd Century BC.
This was were we spotted lizards sunning themselves, hundreds of mountain blooms, and butterfly chrysalises hanging from the stonework.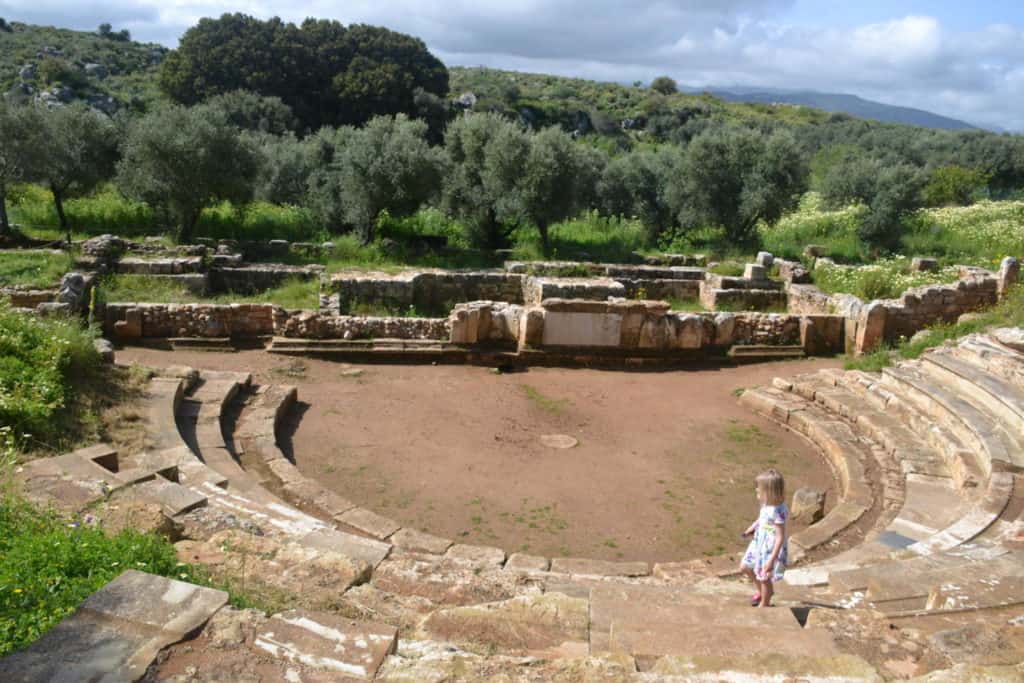 You can also see the outside of Koules of Aptera – a fort built much later during the Ottoman occupation of Crete. This sits a little further down the hill and overlooks Souda Bay.
I'd advise wearing flat, closed toe shoes for this excursion as some of the paths are uneven. If you have a baby or toddler carry them rather than bringing a pushchair.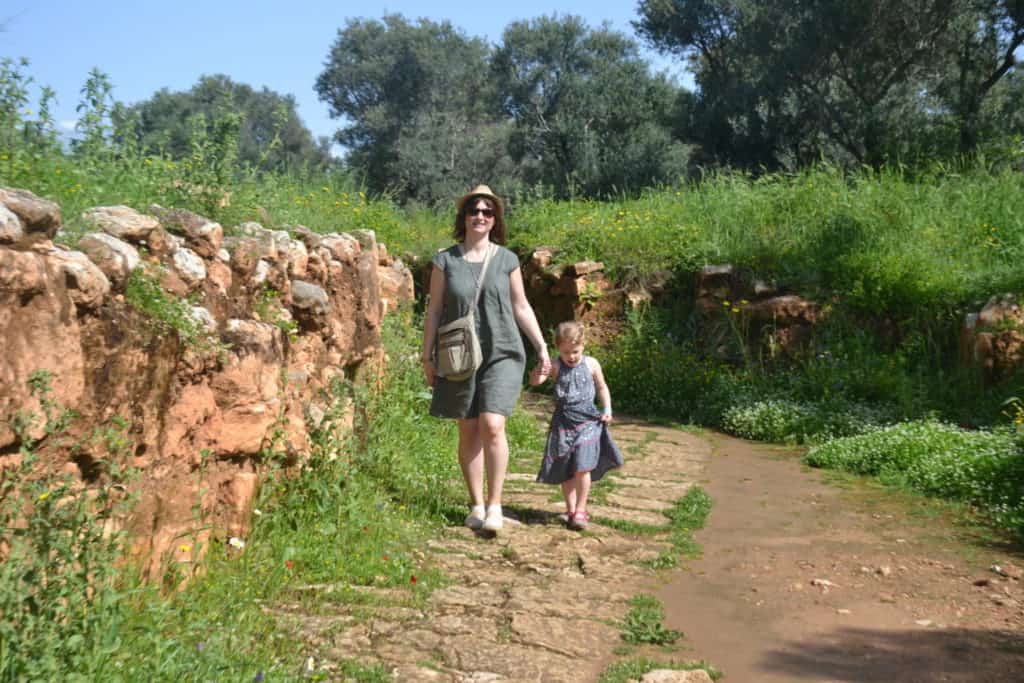 3. Relax in Chania at Lake Kournas
From Ancient Aptera we continued our taxi tour inland to Lake Kournas. This is Crete's largest fresh water lake and is fed by natural springs running off the Lefka Ori mountains.
The water is 22m at its deepest part, and is a stunning turquoise colour in the sunshine. We visited on a dull afternoon but it was still possible to appreciate the colour.
We hired a pedalo for €12 and paddled out into the lake towards cloud topped mountains. The water was high after a wet winter so the sandy white beach that you usually find at the water's edge was mostly submerged.
We saw lots of geese on the shore. Apparently, if you are lucky, you can also spot terrapins bobbing around.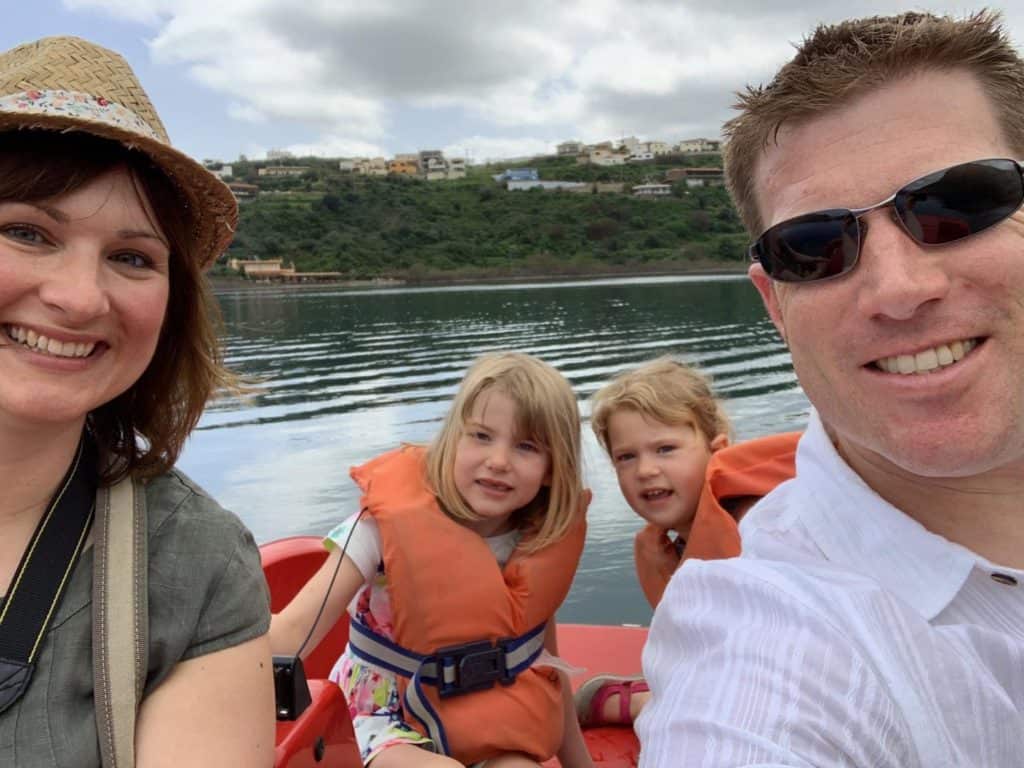 Next to the lake there are plenty of tavernas where you can grab a bite to eat and enjoy the views. We picked Omorfi Limni where we found reasonably priced food and a play park for the girls.
4. Visit an Olive Oil Factory near Chania
You can't drive for long in Crete without spotting an olive tree. However, I had no idea about how olive oil was produced until we visited Kanakis Olive Mill on the road back to Chania.
Once the summer tourism season ends the olive oil makers spring into action, harvesting and producing this Mediterranean staple in its purest form.
We arrived after production had finished for the year so the factory was quiet. But it is still possible to have a tour of the machinery to understand the process of turning the fruit into extra virgin oil. We were also impressed to learn that the byproducts are used as a biofuel on the island.
Of course, the mill has a shop where you can taste the oil for yourself and pick up some souvenirs. Don't forget to have a picture with the 2,000-year-old olive tree outside too.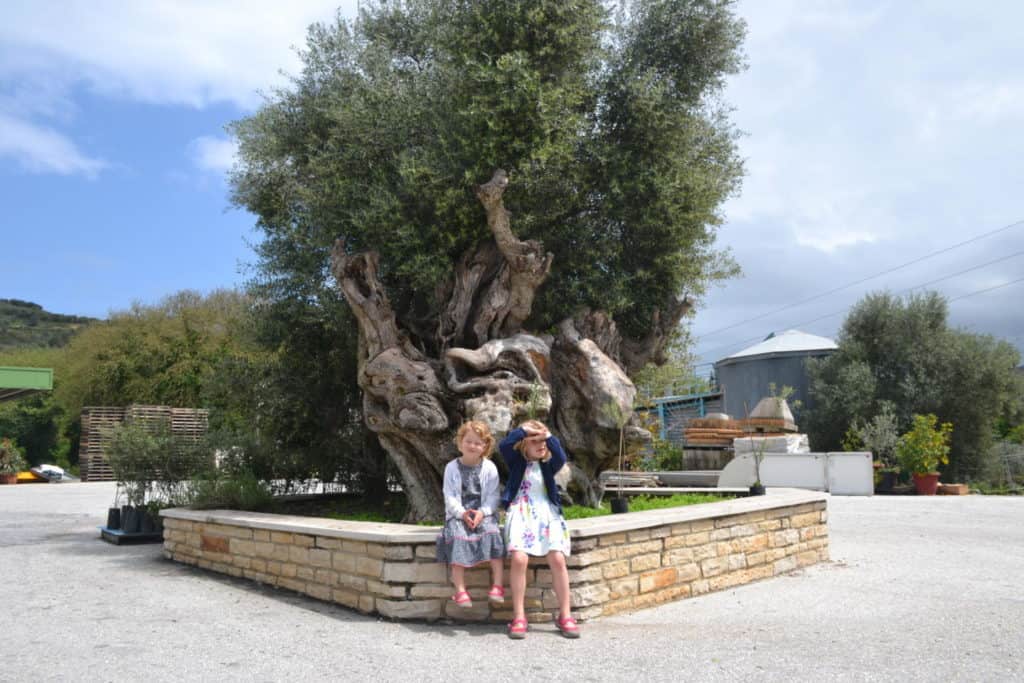 5. Hire a car in Chania and go on a Crete road trip
Hiring a car in Crete is simple. We had a VW Polo delivered to our hotel by Kalives Travel. For our road trip we decided to visit the south coast. This takes about one and a half hours to reach from Kalyves or two hours from Chania.
Take a look at my tips for driving in Crete on holiday.
Our route from the north to south coast
From Chania you join the Greek National Road 90 or A90 that runs along the top of the island. Travel along this for 35 minutes and turn right towards Vrisses or Vryses.
From here you can drive 37km along the edge of the Lefka Ori mountain range, past the Askifou plateau and Imbros Gorge to the rugged coastline and turquoise coves surrounding the port of Hora Sfakion.
If you fancy a stop Imbros Gorge is meant to be much more manageable for children to hike than Samaria Gorge, and there are excellent vantage points at Askifou.
Take a look at my guide to driving in Crete.
Overall, the journey through the mountains is spectacular; even on a damp day. If the weather had been better we would have stopped at Imbros but instead we drove on south to a section of road that had caught Mr Tin Box's eye.
Between Hora Sfakion and the mountain village of Anopoli, the road weaves steeply upwards for 12km with hair pin turns and dramatic views. Mr Tin Box enjoyed imagining he was a Top Gear presenter, for a short time at least!
Lunch in the mountains
At the top we had lunch in Anopolis at the Platanos taverna where we were treated to local dishes in front of a roaring fireplace. While we sat and enjoyed our lunch the clouds descended making the location feel even more secluded.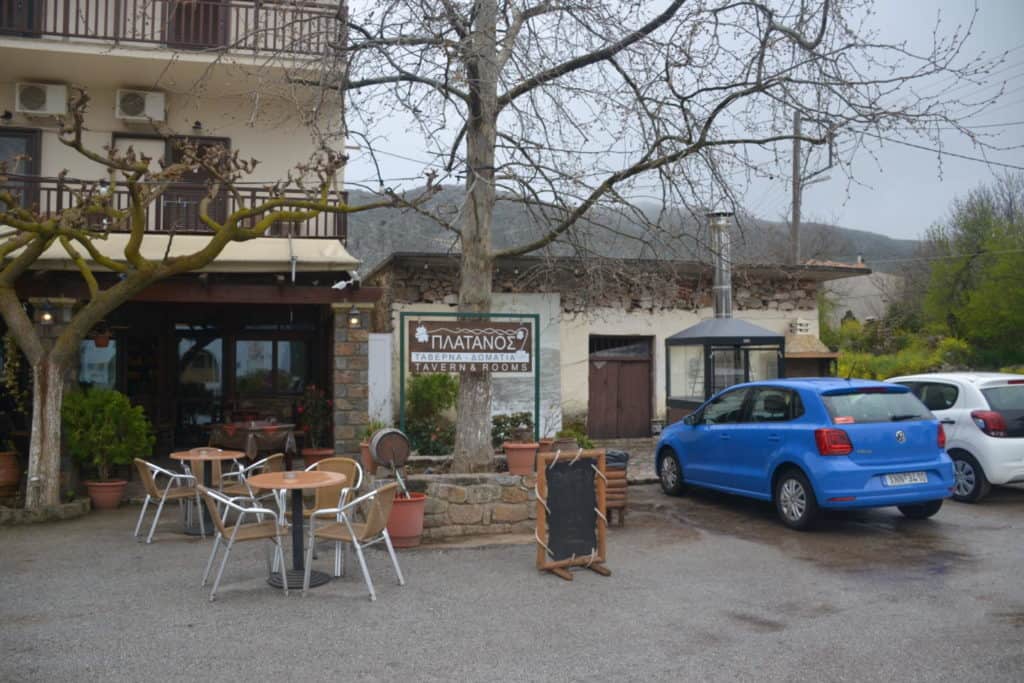 Anopoli is a remote village that proved inaccessible to the Venetians and the Turks during both occupations, making it a strong hold for the Cretan resistance. And with the mountainous landscape it's not hard to understand why.
In the village square there's a statue commemorating the resistance fighters who held this place.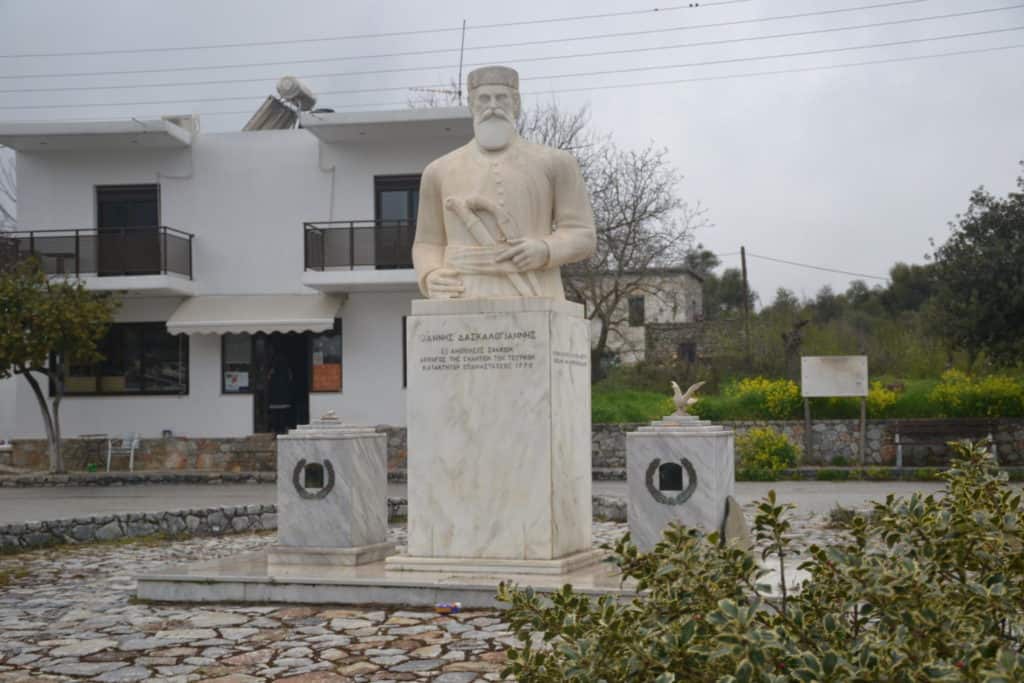 Borrowing a car was a great way to explore Crete independently with kids. If we were on the island for longer we'd definitely hire a car for a few days to find all those hidden beaches and pretty Greek villages that are off the beaten track.
Check car hire options in Crete and if you've got any questions do read my guide to driving in Crete.
6. Beach hop with a boat trip from Chania
View this post on Instagram
Something that we didn't have time for, but would have loved to do in the warmer summer season, was to take a boat trip.
From Kiani Akti, the beach at the front of our family-friendly Crete resort, you could take a boat trip along the coast including wildlife spotting and snorkelling. The Instagram above is by @mamanvoyage who was visiting Crete the same week as us in April.
Take a look at more tips for planning a family holiday in Crete.
7. More things to do in Chania, Crete
Chania is a great base from which to explore further afield in Crete. Here are some more trips we would like to do another time:
Visit the pink sands of Elafonissi
View this post on Instagram
On the south west of Crete is one of its most picture perfect beaches: Elafonissi. It's famous for its pink sand, remote location and a shallow walk out to the island of Elafonissi.
It takes about two and a half hours to drive there from Kalyves and I've been told some of the roads are challenging. However, you can also take a guided day trip that includes a picnic and plenty of time at the beach to take the the hard work out of the day.
The Instagram above is also by @mamanvoyage who was visiting Crete the same week as us in April.
Step back in time at Knosses Palace
It's outside Chania but, having driven along the main road running along the north side of the island, I wish we had fitted in a visit to the Minoan Palace of Knosses. It would have been really easy as a day trip from Chania.
The site of Knosses is known as Europe's first city and dates from the Bronze Age. History buffs and any young person studying Greek mythology will have a field day here.
Entry costs €16 for adults and young people under 18-years-old are free of charge. It's recommend that you also visit the archaeological museum of Heraklion so you can see artefacts from Knosses up close.
If want to explore more further, here's some of the best places to visit in Greece.
So there is my pick of the things to do in Chania, Crete. I know there are many more and also plenty to do elsewhere on this Greek island. It's definitely a destination we'd like to explore again. Can you make any recommendations?
Read more about our family holiday in Crete at Kiani Beach Resort.
Disclosure: our excisions and car hire in Crete were complimentary in exchange for coverage on my blog and social media. This was part of our stay at Kiani Beach Resort, which was an unpaid press trip.
If you are planning a family holiday to Crete why not use Pinterest to save this post about the best things to do in Chania and days out in Western Crete with kids.