How to be more eco friendly on holiday
Following on from Earth Day, when I shared some of the things we are doing at home to up our green efforts every day, I thought I'd post some ideas for things you can do to be more eco friendly on holiday.
*This post contains affiliate links*
*Advertisement feature*
We have been steadily replacing some every day products that we use at home and when travelling with green alternatives. I've found a lot of them available from Devon-based company My Little Eco Shop*.
Use the code 'TINBOX' at the check out to get 15% off purchases at My Little Eco Shop.
Tips for having an eco friendly holiday
There's lots of ways you can reduce you impact on the plant when planning your family holiday.
Just as important are is how you behave when you reach your destination. Here's a few ways to have an environmentally friendly holiday wherever you are staying:
Recycle
In 2020, aluminium recycling went up considerably while everyone stayed home. Wouldn't it be great if we could continue that trend while travelling?
It just needs a bit more mindful waste disposal while you're on holiday.
Whether you are self-catering, camping or staying in a hotel, use the opportunities available to recycle.
The majority of campsites and self-catering places we stay at spilt rubbish in some way depending on their local collection service. Follow the instructions given where you stay. What's recycled and how it's collected will vary in different council areas.
Recycling can be more of a challenge when you're staying at a hotel. You don't get the same chance to spilt waste in your room.
Ask your hotel whether there is a way you can recycle the glass, tins or plastic you have in your room or whether they do this after you bin is collected.
Leave only footprints
Don't be a tosser, right?! But our impact on the environment when we are travelling goes beyond littering.
Have a think about what's on your packing list and whether you might inadvertently be leaving behind micro-plastics when you are on holiday. 
One source of plastic fragments and plastic landfill that can be easily linked to holidaymakers is cheap bodyboards.
According to a Keep Britain Tidy report, 16,000 polystyrene bodyboards were discarded on UK beaches in 2019 alone, with more than 200 of these being abandoned on Croyde beach in Devon in a six week period.
A more environmentally friendly and UK produced option is a wooden belly board. Plastic Free North Devon are encouraging people to buy or hire one of theirs as part of their Protect Our Playground campaign.
Buy local
If you are self-catering, visit independent traders or markets to buy the ingredients for your holiday meals. You'll be helping the local economy, reducing food miles and getting a fresher, more delicious product.
If you are eating out, look for restaurants and pubs that use local produce. In Devon, we are lucky to have many eateries that take pride in using suppliers within the county.
If you are looking for eco-friendly souvenirs, find ones that have been made locally. 
Seek out a gallery, market or independent clothing shop to pick up something you can only find in the place you're visiting. So many destination branded souvenirs have 'Made in China' printed on the bottom. It's hardly a fitting keepsake, is it? Unless you're visiting China, of course!
Go on a 'treasure hunt'
When you are visiting a beach or the countryside, be a green hero and spend a few minutes picking up litter and disposing of it responsibly.
We always go on a 'treasure hunt' with the kids when we visit beaches.
You can also sign up to the 2 minute beach clean campaign with the 2 Minute Foundation.
Use public transport
Once you've arrived at your holiday spot grab the bus or tram timetable and take a slow, more relaxed approach to getting around.
Riding the bus can be a great way to sightsee in itself. And no-one needs to play designated driver if you decide to stop for a glass of the local beverage.
Bring your own…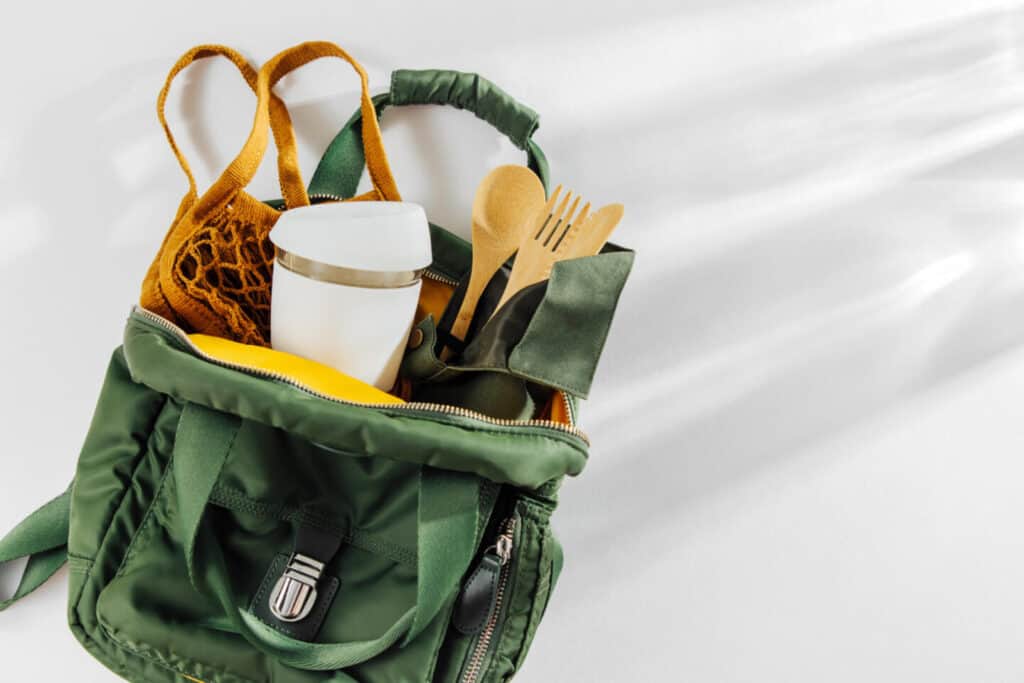 When it comes to coffee cups, shopping bags, water bottles and straws, bring your own reusable versions*. 
Say no to straws
If you are a slave to the straw, buy plastic free straws* you can reuse.
Don't flush personal hygiene products
Put your sanitary ware, cotton buds, dental floss and other hygiene products in the bin, not down the toilet. Even better, replace them with more environmentally-friendly products*.
Don't forget, if you buy environmentally friendly products from My Little Echo Shop you can get a 15% discount using the code 'TINBOX' at the checkout.
More ways to be a green traveller
Do you do anything to protect the environment when you travel?
Disclosure: this post contains affiliate links marked with *. If you click on one of these and make a purchase I may earn some commission. This does not affect the price you pay.
If you are gathering ideas for how to be more eco friendly on holiday why not use Pinterest to save this post.