Hiring a boat on the Norfolk Broads with kids
Norfolk is famous for its 125 miles of lock-free waterways that make boating holidays extremely popular in the region. When we visited in the summer we were staying in our own trusty caravan, but couldn't resist the opportunity to hire a boat for a family day out on the Norfolk Broads.
Here's some of the highlights from our day. Read on to find out where we went and our tips for doing it yourself.
Hiring a boat
It was the middle of August and having not planned ahead we were lucky to find a jumbo picnic boat still available from the Martham Ferry Boatyard. This was about 20 minutes drive from our campsite at Highgate Farm.
Mr Tin Box and Tin Box Grandad set off ahead of us to get the lowdown on how the boat worked. Meanwhile Nana and I rounded up the girls and their cousins who we were holidaying with. There was also quite a bit of stuff to bring with us including a picnic and wet weather gear as the Great British summer was letting us down on the sunshine front.
Our trip down the River Thurne
When we arrived at the boatyard our vessel was ready to depart and our captains had a route charted down the River Thurne.
One of the first obstacles we had to navigate was Potter Heigham Bridge. This is a medieval bridge around which a lot of boating businesses have sprung up. It is a popular place to hire holiday boats as well as day boats. Inexperienced boaters like ourselves have to moor up at the bridge and be taken through by a pilot so as not to risk damage to the structure which has been around since the 14th Century. With just seven foot clearance we were also warned not to stand up on deck!
From here we chugged up the River Bure to St Benet's Abbey spotting wildlife and marvelling at interesting riverside abodes.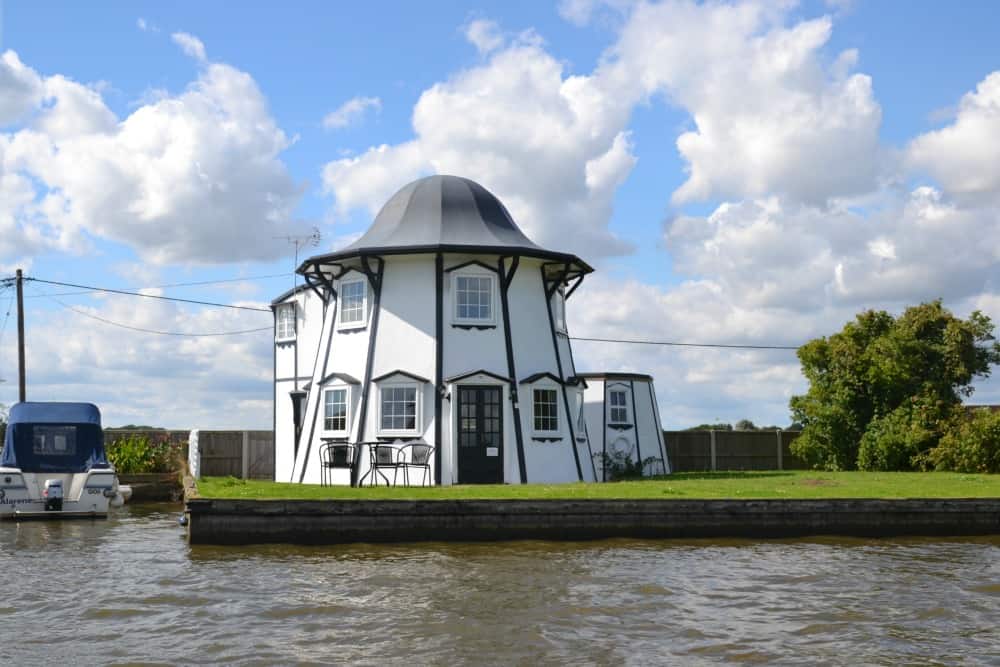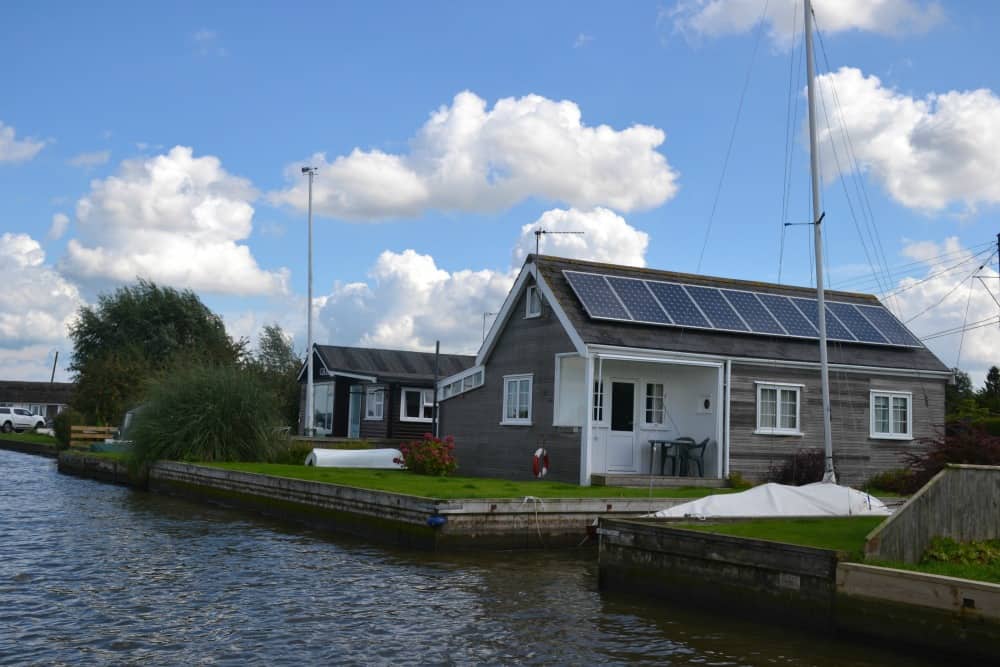 Abbey on the Norfolk Broads
The Abbey was where we stopped for our picnic and a wander ashore. St Benet's was the only monastery not dissolved by King Henry VIII in the 16th Century. However, because of its inaccessible location on The Broads it fell into ruin. You can still walk around the gatehouse which was turned into a mill in the 18th Century. The mix of uses makes for some interesting architecture. The stone work is also etched with centuries old graffiti.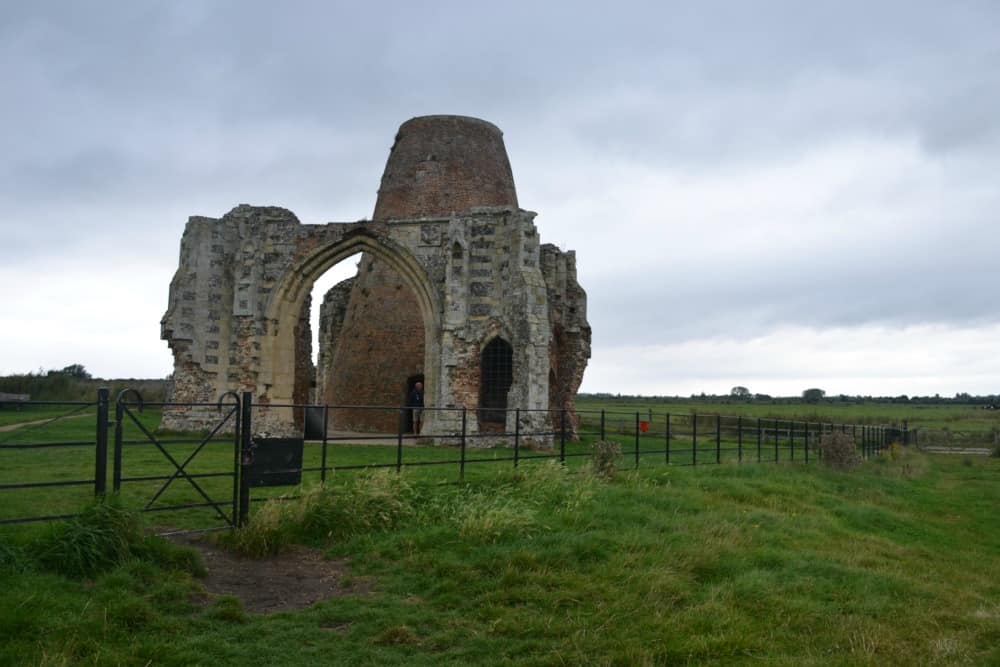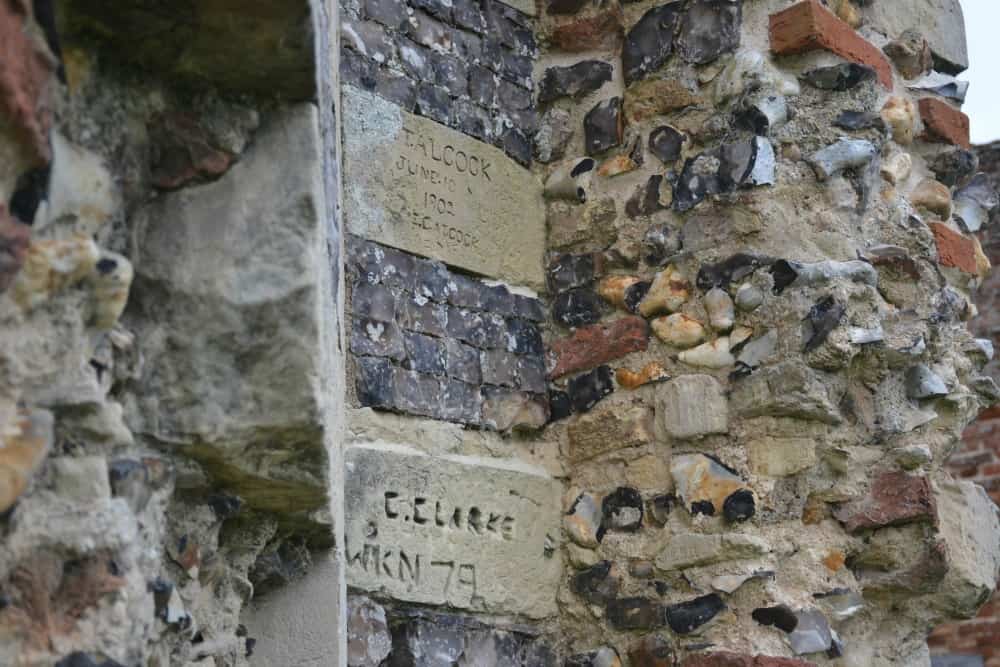 After a fabulous picnic the weather picked up. Off we set again enjoying the sunshine on our return voyage and taking it in turns to steer. I was pretty rubbish, but the way.
Our first day boating with kids was a great success and something were bound to repeat in the future.
Boat hire for the day (9am to 4pm) cost us £120 which included fuel, insurance, life jackets and parking at the boat yard. This worked out very economical with six adults, two tween and two pre-schoolers onboard.
Tips for boating on the Norfolk Broads with kids
Talk to the kids before your trip about the importance of life jackets and why they must wear them. Our girls hate extra layers, even in winter, so convincing them to keep a bulky lifejacket on took some persuading.
One of my top tips for any type of travel or excursion with kids is to bring snacks. This is even more important when you're on a boat as there's no quick way to hop off to restock supplies. On a busy summers day we had to pass a few mooring points as there was no room for us to stop. Luckily we had snacks, a picnic lunch and were able to squeeze in a run ashore at Potter Heigham for ice creams.
While us adults were happy to sit back and watch the river banks roll by the kids needed some other entertainment. We brought along a craft and colouring set, and crabbing lines and nets for when we were moored.
When you do stop, find somewhere for the kids to run around and let off steam. The less fidgety they are back on the boat the less twitchy you'll be about them accidentally falling overboard.
Packing list for a day on a boat
Our jumbo picnic boat had seating, a small kitchenette with tap and hob, and a toilet. As we were holidaying in our caravans we had lots of the extra bits and pieces we needed for our day. Here's what I'd suggest you pack for a day boating on the Norfolk Boards:
Tea and coffee making kit
Cool box
Bin bags
Anti-bac wipes
Washing up liquid and sponge
Tea towel
Mugs
Plates
Utensils and cutlery
Some boat hire companies may supply these things so it's worth checking before you book.
If you'd like to find out what it's like to hire a boat for a holiday on the Norfolk Broads then take a look at the Like Love Do family travel blog.
Have you hired a boat for a family day out on the Norfolk Broads? Or maybe you've had a boating holiday in Norfolk. I'd love to hear about it or any other destinations where you can recommend boating with kids.
Pin for later
SaveSave
SaveSave