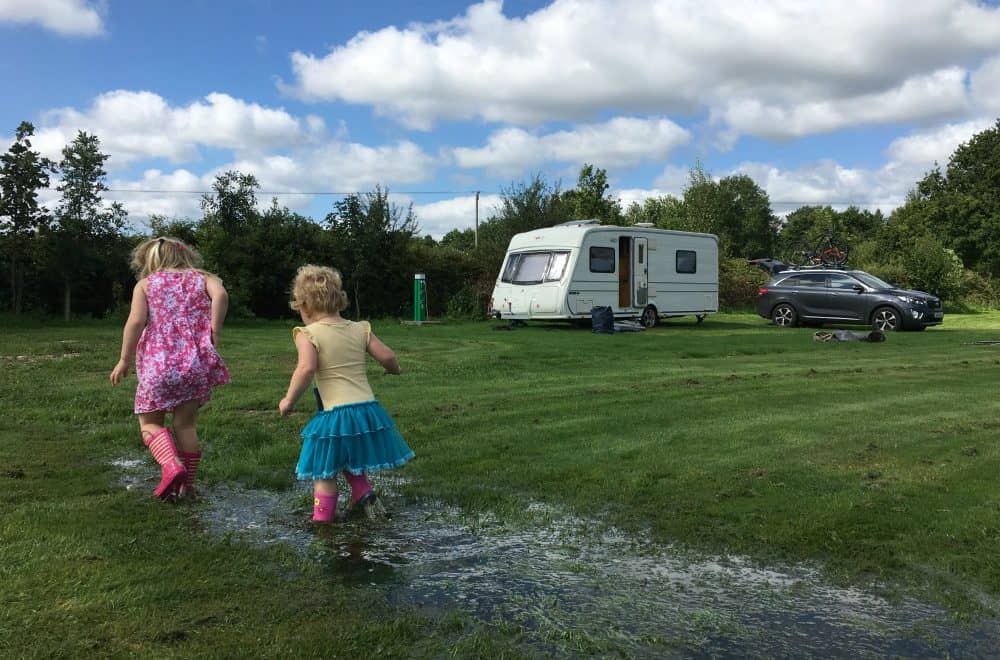 An epic caravan holiday in England – our family road trip itinerary
In the summer of 2017 we took an amazing family road trip. In just over two weeks we covered 850 miles, put our legs down in four counties and had more family days out than I care to count. That's not to mention pitching up at our first family festival. I think it was our best caravan holiday in England to date.
Here's an overview of our road trip itinerary.
Our caravan holiday in England
I realise caravan holidays are not everyone's cup of tea. But there are so many things we love about hitching up our Tin Box and hitting the open road.
Touring caravans give you the comforts of home with all the excitement of camping. Sound like luxury tenting? Touring caravans are the original glamping!
Read our guide to caravanning with kids to find out our top tips for doing it yourself.
Here's where we stayed and what we did during our family road trip with Tin Box in tow:
Destination one: Hampshire
The first leg of our staycation road trip was from our home in Devon to Hampshire. Our stay on the south coast was so I could spend a few days working for a client, as well as catching up with family and friends.
Where we stayed
We stayed at Scott's Haven – a Caravan and Camping Club affiliated site on the edge of the historic market town of Wickham. This spacious site has caravan pitches and an open camping field. Electric points are available in each.
We arrived on the weekend of Wickham music festival so the owners said the site was quite full, although it didn't feel crowded to us.
We were shown to the open field, which was perfect for letting the girls run around. Within a couple of nights the families attending the festival had left and we had this vast space to ourselves.
What to do in Hampshire with kids
While I was working, the girls and Mr Tin Box revisited some of our favourite local attractions including the national motor museum at Beaulieu in the New Forest and Manor Farm Country Park in Eastleigh.
Beaulieu is a haven for car fans and Mr Tin Box is the first to admit this day out was more for his benefit. However the girls still had fun despite it being a wet day.
By far their favourite day out with Daddy was to the farm. Here they fed animals, dressed up in the Victorian farm house and completed the pirate-themed children's trail.
I've written about Manor Farm before so you can get more of an idea of what it's all about.
We also visited Itchen Valley Country Park together to test out the Tree Top Junior Course at Go Ape. Tin Box Tot tackled the 20ft high course like a pro; fearlessly stepping off the platform to slide down the 105m zip wire and completing the rest of the course with just as much swagger.
Baby did much the same when we visited Go Ape with her as a three-year-old a few years later.
Destination two: Berkshire
The next stop on our caravan holiday in England was Iver near Windsor in Berkshire for two nights. We were joined here by Tin Box Nana, Grandad and the Tin Box cousins who stayed with us for the next week of our road trip.
Where we stayed
Our home for a couple of nights was a beautiful little Caravan and Motorhome Club Certified Location at Iver near Windsor. Home Cottage Farm's caravan field is set in among farm animal fields and woodland. Just up the lane, in between rickety farm buildings, there was a pick your own fruit farm.
As is the case with a lot of CLs, this site had basic amenities – water and waste disposal only. But it was a real gem for exploring Windsor, with only occasional noise from Heathrow flight path above and a gentle hum from the M25.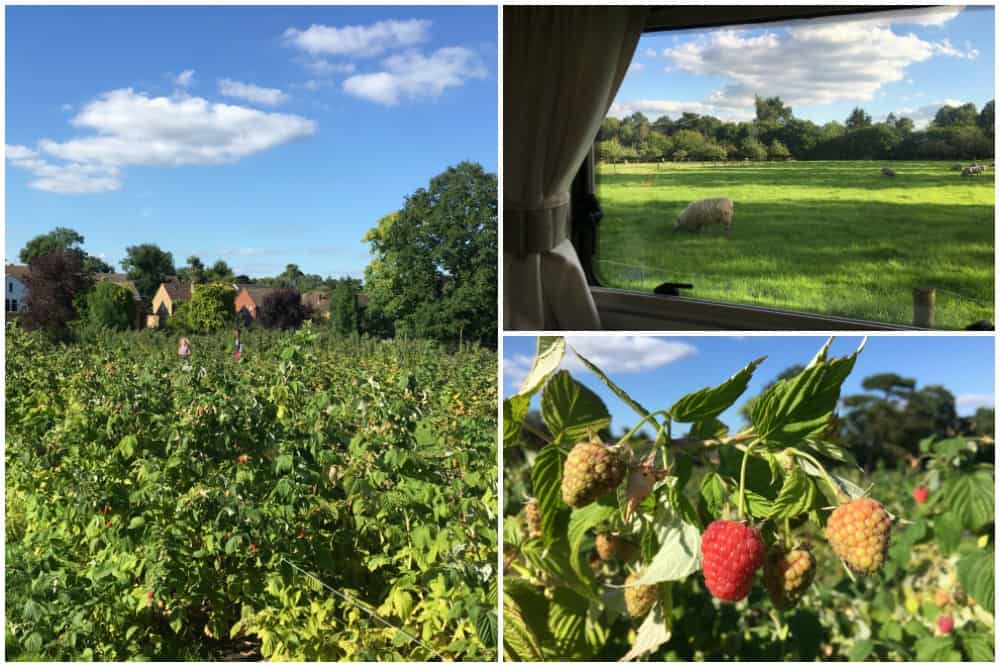 What to do in Berkshire with kids
We had one day to explore the local area. After toying with the idea of visiting Legoland Windsor we decided to go for some budget alternatives.
First we drove into Windsor to see the changing of the guard outside the Castle, and wander around the parks and riverside. It's a beautiful town with so many sights that will make you want to pause and appreciate the view.
Afterwards we drove a short distance to Cliveden – an estate managed by the National Trust.
The kids made dens, squealed their way down the play trail and were rewarded with a ice cream before we headed back to our caravans.
Sadly we didn't have time to see the house or formal gardens which were the venue for many a society bash (and scandal) in the early 20th Century. It's on our list of places to which we must return.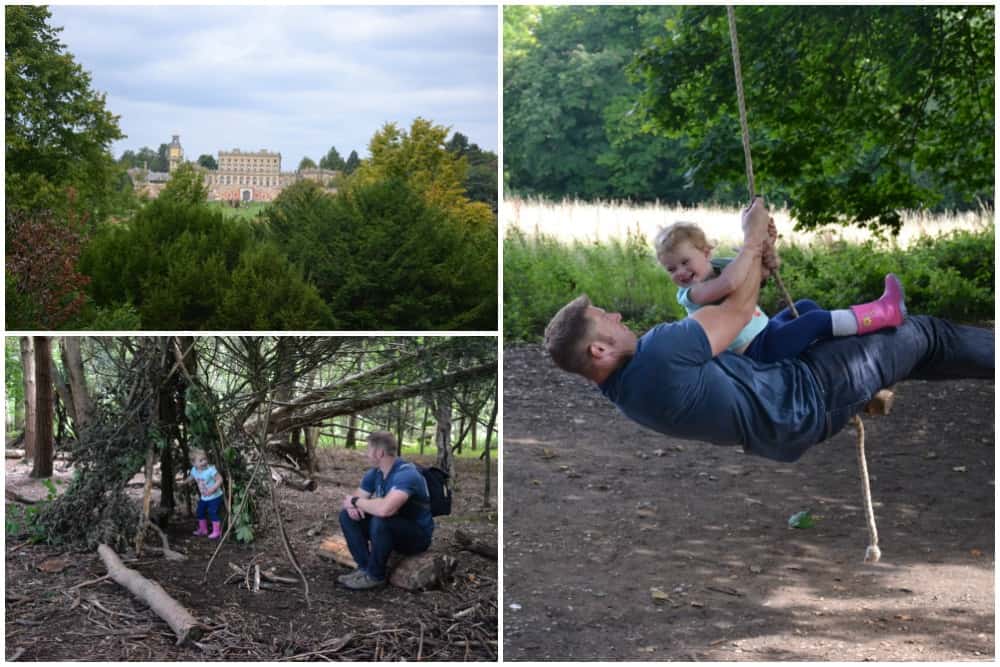 Destination three: Norfolk
After our short stay in Berkshire we hitched up again and travelled north to The Norfolk Broads. This was where we spent the main part of our caravan staycation.
Where we stayed
We put down our legs at Highgate Caravan Park in conjunction with a Caravan and Motorhome Club centre rally run by the West Hampshire Centre.
This campsite has two grass fields, a small toilet block, and electric hook ups. Just outside the gates there are miles of farm fields.
The farmers were busy at work during our stay bailing hay and bringing in their harvests. It was the perfect rural location for exploring North Norfolk and watching the Perseid meteor shower with hardly any light pollution.
What to do in Norfolk with kids
We got out and about in Norfolk but left feeling like we'd barely scratched the surface.
Here's the day trips that we squeezed into our six night stay:
Gorleston Beach
Gorleston was a short drive away and just to the south of Great Yarmouth itself. It is a two mile stretch of sugary yellow sand and a smattering of shingle shelving slowly into the sea.
The kids chased waves, dug holes and proclaimed it was the 'best day ever'. Sometimes the simplest days out are the ones we remember most.
From an adult's point of view this beach was a hit because the parking on the promenade was free and JayJays Beach Cafe half way along the boardwalk served the most delicious coffee and tray bakes.
Pettitts Animal Adventure Park
Pettitts is a typical small family theme park that's ideal for kids aged under eight. There are fairground rides, a bouncy castle, petting farm, train rides, a large adventure play ground and family shows.
Tin Box Nana and I went there with the kids while Mr Tin Box and Grandad went for an all-together more grown-up tour of the Lotus factory just outside Norwich, apparently it was fascinating.
At Pettitts, we spent most of our time on the rides. We also had a nosy into a few of the animal enclosures dotted around the park including the red squirrels, owls and meerkats.
There's plenty of shady spots to have a picnic and the food on sale in the cafes was reasonably priced. Theme parks aren't my favourite but this one ticked all the boxes for the Tin Box girls, filling a fun day out with their cousins.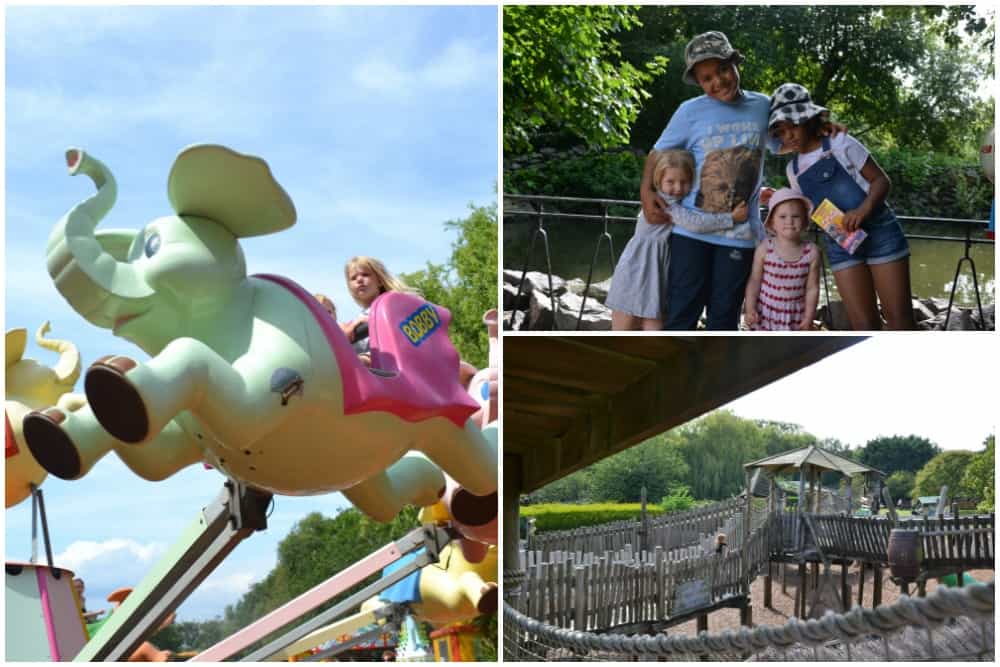 Whitlingham Country Park
Whitlingham Country Park is on the outskirts of Norwich. We went for a lakeside walk before having lunch with family close by.
As well as waterside and woodland walks the Park has an outdoor activity centre offering paddle boarding, sail boating and raft building.
We walked up past the Visitor Centre, which was serving delicious looking cakes, and meandered along the side of the Great Lake watching the watersports. If you have time there's a two-mile circular walk around the water.
Bewilderwood
This was my favourite day out of the summer and a highlight of our caravan holiday in England. Bewilderwood near Norwich is curious, magical and a lot of fun! It's a woodland adventure based on the children's books of local author Tom Blofield.
The stories are brought to life with ginormous tree top playgrounds, zip wires, storytelling and a boggy boat ride in search of Mildred the tiara-wearing Crocklebog.
If you have children aged 0 to 12 and find yourselves in Norfolk you have to visit! The Tin Box girls and cousins had an epic day, as did all the adults. Here's a video of our day:
Boating on the Norfolk Broads
We'd never been boating with our girls. But a trip to the Norfolk Broads wouldn't be complete without giving it a go.
We chugged 25 miles around the Broads spotting wildlife, marvelling at interestingly shaped riverside abodes and exploring the only monastery not to be dissolved by King Henry VIII.
There's 125 miles of waterways here and they were full of surprises.
Read more about our day on the Norfolk Boards with kids and watch the video below.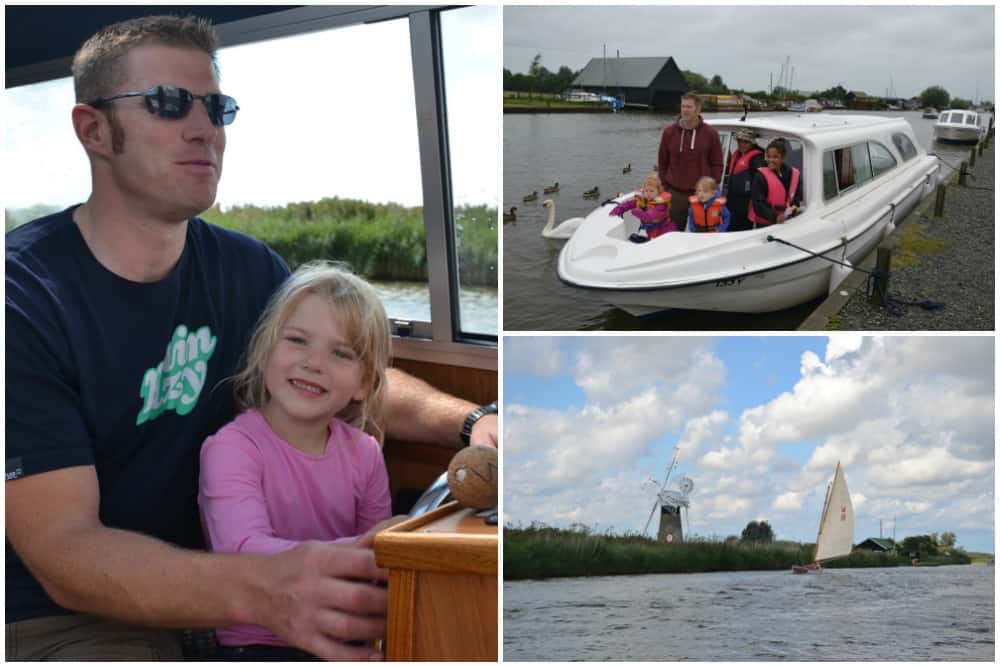 For more inspiration for road tripping in East Anglia take a look at the Mummytravels family travel blog. Cathy has managed to squeeze a lot of the region into just one weekend recently!
Fancy a trip across to the continent? Here's our suggested European road trip itinerary.
Destination four: Cheshire
All too soon it was time to move on again. Our next stop was Just So Festival at Rode Hall in Cheshire.
This is a fantastical family festival full of colour and fun. We loved stories around the campfire, fairy crafts in the woods and ballet lessons in our wellies.
The girls were on the go from 7am until 9pm…or about 8pm when Baby crashed out in our camping trolley – a highly recommended piece of kit if you're going to a festival with little people.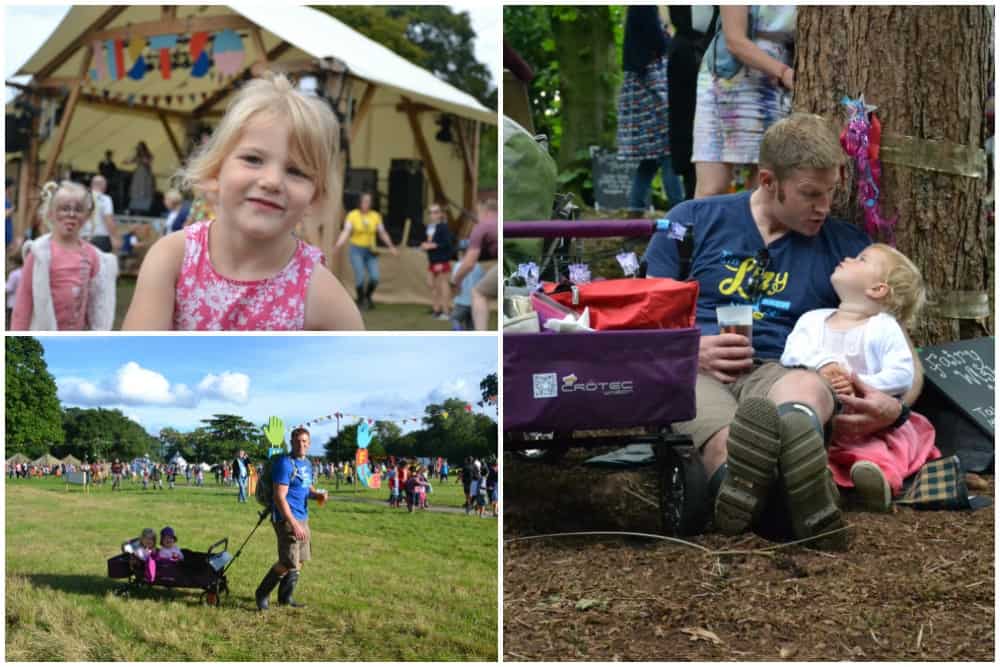 Destination five: Devon
From Cheshire we began the road trip home. This marked the end of our caravan holiday in England…but not our adventures. Devon really is a fantastic place to live and would be a top place to add to a holiday itinerary.
Here's my guide to family holidays in Devon.
We finished our summer enjoying some great sights locally. So I couldn't resist finishing off our summer holiday round up with a few peeks at what we did closer to home.
Dartmouth Regatta
The August Bank Holiday means only one thing in our home town of Dartmouth: the Royal Port of Dartmouth Regatta. We spent a day watching street entertainment, cheering on rowing crews, and marvelling at sailing boats and vintage steamers. Oh, and getting covered in paint in the children's area.
The finale was the firework display on the Saturday night duing which we took up position on Jawbone Hill overlooking the River Dart. This has been our vantage point in subsequent years as the view is awesome.
Canonteign Falls
Then to finish off the weekend we visited Canonteign Falls on Dartmoor. It's set in restored Victorian woodland gardens and is England's highest man-made waterfall at 70 meters high.
This is somewhere we've been meaning to visit for ages and we were not disappointed by the great Devon views.
Do let me known if you have any questions about touring in a caravan. Or staycations in England and the destinations we visited. Comment below or contact me here.
You might also like to check up my big guide to family travel.
Disclosure: we were invited to review Go Ape and Just So Festival. We paid for the rest of our road trip and activities. All opinions are my own and those of my family.
Are you on Pinterest? Why not save this post about our caravan holiday in England for future reference.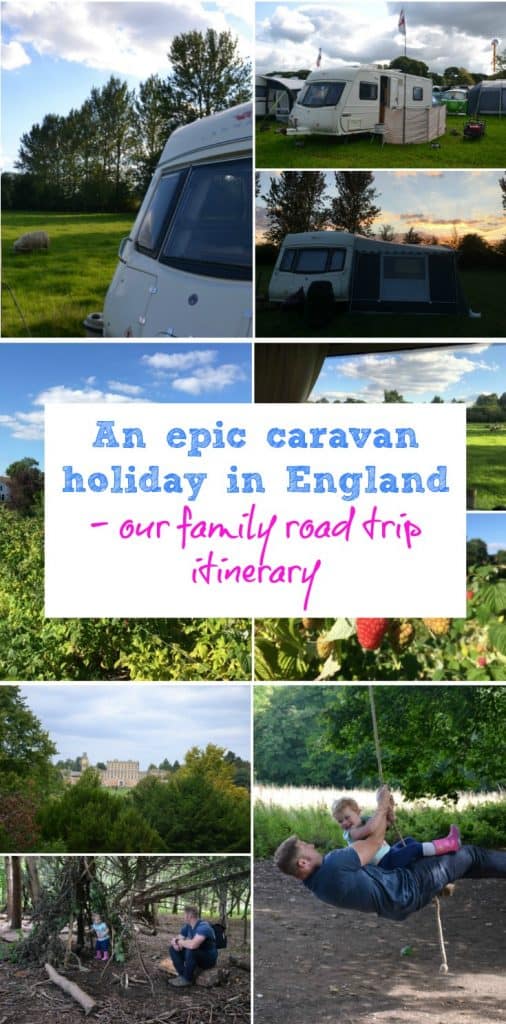 SaveSave
SaveSave