If like me you're a fan of the British Royal Family, a visit to Windsor in the UK is a must. Read on for a whole bunch of things to do in Windsor with kids without blowing the budget and what to do in Windsor if you do want to treat the kids.
*This post contains affiliate links*
Contents - jump to what you'd like to know
Why visit Windsor with kids?
This iconic Berkshire town is peppered with reminders of monarchs of the past. In fact, Windsor Castle – the oldest and largest inhabited castle in the world – has been home to 41 of them.
What better place for a living history lesson?!
As well as being steeped in history, Windsor is a beautiful place to visit and has lots of things to do whether you want to explore the parks for free or splash out on a visit to one of the UK's most popular family theme parks.
Here's some of the top things to do in Windsor for families:
Things to do in Windsor for free
You might think that sightseeing in a place frequented by kings and queens would be quite costly. In fact, we spent a day here during a summer road trip for little more than the cost of parking.
Here's what you can do in Windsor for free:
1. Experience Royal Windsor with kids: Changing of the Guard
The ceremonial Changing of the Guard at Windsor Castle happens every Monday, Wednesday, Friday and Saturday (weather permitting).
You can buy tickets to go into the castle and see this spectacle but there's also a chance to see the guards' procession on the streets outside just before and after.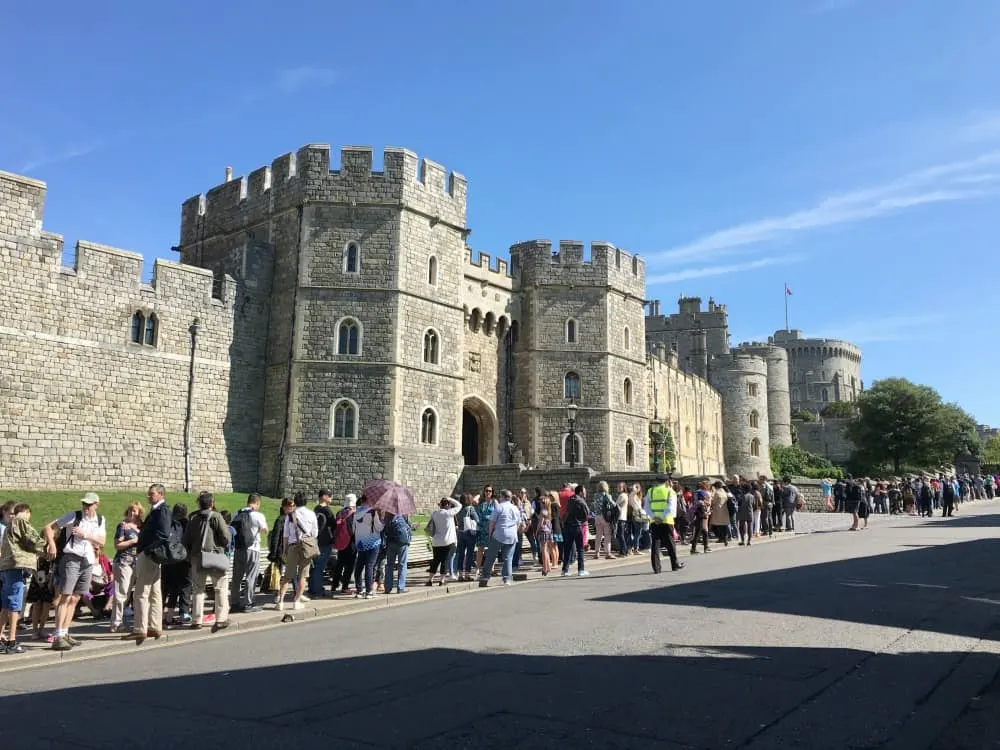 Arrive outside the castle by no later than 10.30am to get a good view on either the Guildhall steps on High Street or between the statue of Queen Victoria and the Castle entrance on Castle Hill.
Here's some handy information about the route.
2. Free things to do in Windsor: Picnic in Alexandra Gardens
This beautiful park has views of the castle and some wonderful features. Alexandra Gardens boasts a sun dial where you act as the dial, large grassy areas bordered with curved seats and footpaths perfect for scooters.
You'll also find reasonably priced parking here, either on the road by the river or in the large car park at the far end.
3. Get some fresh air: walk along the River Thames
The River Thames runs between Windsor town and Eton. Our girls had lots of questions about the house boats, who lived in them and their rustic decorations.
The replica of the World War II Hawker Hurricane opposite Alexandra Gardens is also an impressive sight.
While walking along the tow path you're bound to be stalked by a gaggle of swans and other wildfowl eager to see if you have any picnic leftovers.
4. Water fun in the sun: Diamond Jubilee Fountain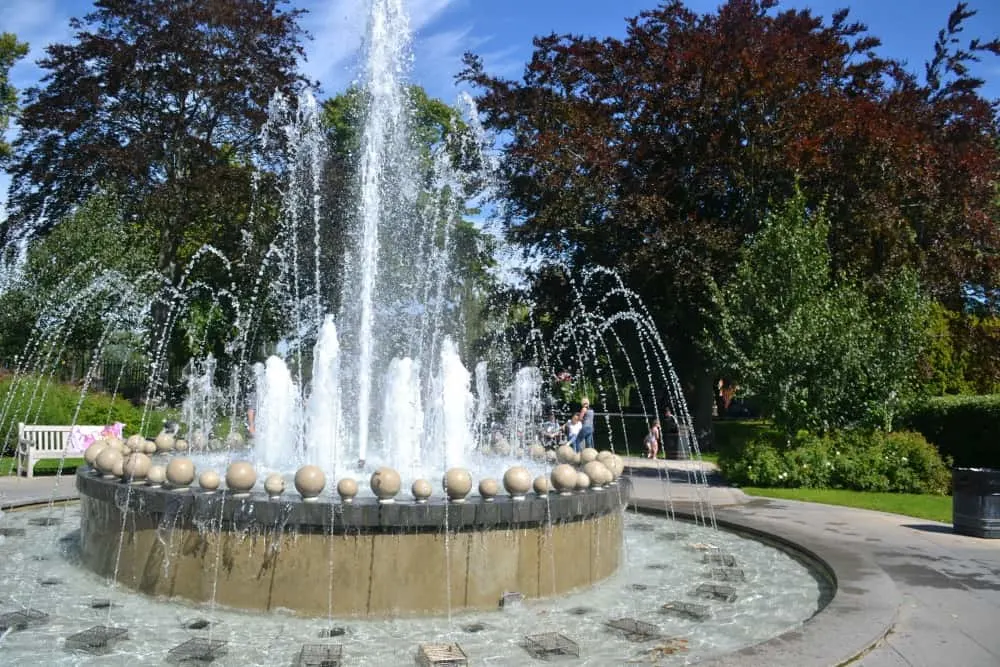 This is a real child-pleaser and a perfect spot to cool down on a warm day.
The Diamond Jubilee Fountain was opened in 2012 to commemorate Queen Elizabeth II's 60th year on the throne. Its centre-piece is a large stone bowl from which jets form the perfect shape of a crown.
Please note this is not a splash park. There is an interactive water feature at Bachelor's Acre, off Victoria Street.
5. A free family activity: The Royal Windsor Maze
This one-way, flat brick maze with a Chess-theme will appeal to all ages as there's several ways to play with it.
Young children can simply follow the brick path, while older kids and adults can try to solve the riddle by reaching the centre having visited each chess piece on the curvy paths once.
Find the Maze in The Goswells park on Goswells Road.
Your enjoyment of this list of free things to do in Windsor with kids will be dependant on the weather. We visited on a warm, sunny day.
If you're not as lucky, read on to check out what to do in Windsor if you want to splash the cash and liven up a traditionally British damp day.
6. Explore Windsor Great Park
Discover historical monuments, woodland trails and stunning gardens in the iconic parkland in the shadow of Windsor Castle.
Windsor Great Park also has a play area on Obelisk Lawn near the Visitor Centre and an adventure play is opening in The Savill Garden.
Download the visitor app for maps and more information about visiting.
7. Go on a treasure hunt
This one isn't free but it's cheap and great entertainment for mini-explorers that requires a tiny bit of forward planning.
My girls always always scramble to hold maps when we visit somewhere new and they love treasure trails.
If you can relate then here's one you can buy in advance of your visit to Windsor and occupy the kids as you browse around.
Treasure Map Trails* are fantasy-themed treasure maps of towns and cities that are made for adventurous kids aged 5 to 12. Their challenge is to follow the map in search of the illustrated treasures.
The Windsor map has an aliens theme and takes around two hours to complete. It's hand drawn and folds out to A3 from an easy to carry, pocket-sized flyer.
Each map costs £6.99 including postage.
Use the code 'TINBOXTRAVELLER' at the checkout and get 10% off your purchase.
Here's where to get your Windsor Treasure Map Trails map*.
Other great Windsor attractions for families
Want to treat your mini kings and queens to a special family outing in Windsor? Here's some more things to do in Windsor:
8. Visit Windsor Castle
Windsor Castle is one of the most important things to do in Windsor. It was Queen Elizabeth II's favourite residence and will continue to play an important role in the British Royal family's wider estate.
What do you need to know about visiting? While you can see the castle walls from outside, it's not possible to step inside the castle for free – you need to book tickets in advance.
These give you access to the State Apartments, St George's Chapel, the castle grounds and the Changing of the Guard inside the castle walls.
Buy tickets for Windsor Castle*.
Clare at Suitcases and Sandcastles has written brilliant list of things you must do when you visit.
9. Go on an Eton college tour
It's possible to take a tour of Windsor's famous Eton College between May and September each year.
The tours tour include the school yard where the likes of Prince William and numerous British Prime Minister hung out, the College Chapel, Upper School, Lower School, and the Museum of Eton Life.
Tour tickets must be booked in advance and cost £10 per adult. Accompanying children can visit for free.
You can also get an Eton-themed Treasure Map Trails map*. Don't forget the 10% discount using 'TINBOXTRAVELLER' at the checkout.
Things to do with kids in Windsor when it rains
If the weather fails you here's some ideas for things to do in Windsor when its wet:
10. Satisfy your sweet tooth at Windsor Chocolate Factory
A visit to DrChocs is a must do mini indulgence when visiting Windsor. It's billed as the smallest chocolate factory in the world and offers treat making workshops for adults and kids.
Book your chocolate making experience in advance.
11. Take a bus tour
If you love sightseeing tours than the City Sightseeing's 11 stop bus tour of Windsor* is great for families with older children.
A family ticket for two adults and up to three children costs £30.
12. Hop on a duck tour
While we were wandering up to the Castle to see the Changing of the Guard we were passed by one of the striking yellow amphibious vehicles operated by Windsor Duck Tours.
This looks like a brilliant way to see the town from land and water, especially when when it's wet. Family tickets up to two adults and two children cost £70.
13. Make a splash at Windsor Leisure Centre
There's an indoor flume, smash pad and wave pool at Windsor Leisure Centre – perfect wet day fun.
Things to do near Windsor
Here's some ideas for more great family days out near Windsor:
14. Visit National Trust Cliveden
You can't go wrong with a National Trust day out and Windsor's closest is the enormous estate of Cliveden.
Cathy at Mummytravels is a big fan of the amazing architecture at Cliveden National Trust, which is just 15 minutes outside Windsor.
If you're a National Trust member you need only worry about saving up for the cake!
15. Visit Legoland Windsor
Who doesn't love Lego? Windsor is the UK's home of brick building fun.
Ting at My Travel Monkey had a great day out at Legoland Windsor with her then toddler. And Lisa from Travel Loving Family has also got some handy tips for visiting with young kids.
You can book your trip to LEGOLAND Windsor from London*.
Tickets start at £32 per person but be prepared for the price to rack up depending on the day and time of year you'd like to visit.
If you fancy extending your stay then the hotel comes highly recommended. Take a look at this review of the Legoland Hotel at Windsor.
You can also stay at LEGOLAND Windsor in its resort hotel*.
16. Take a day trip to London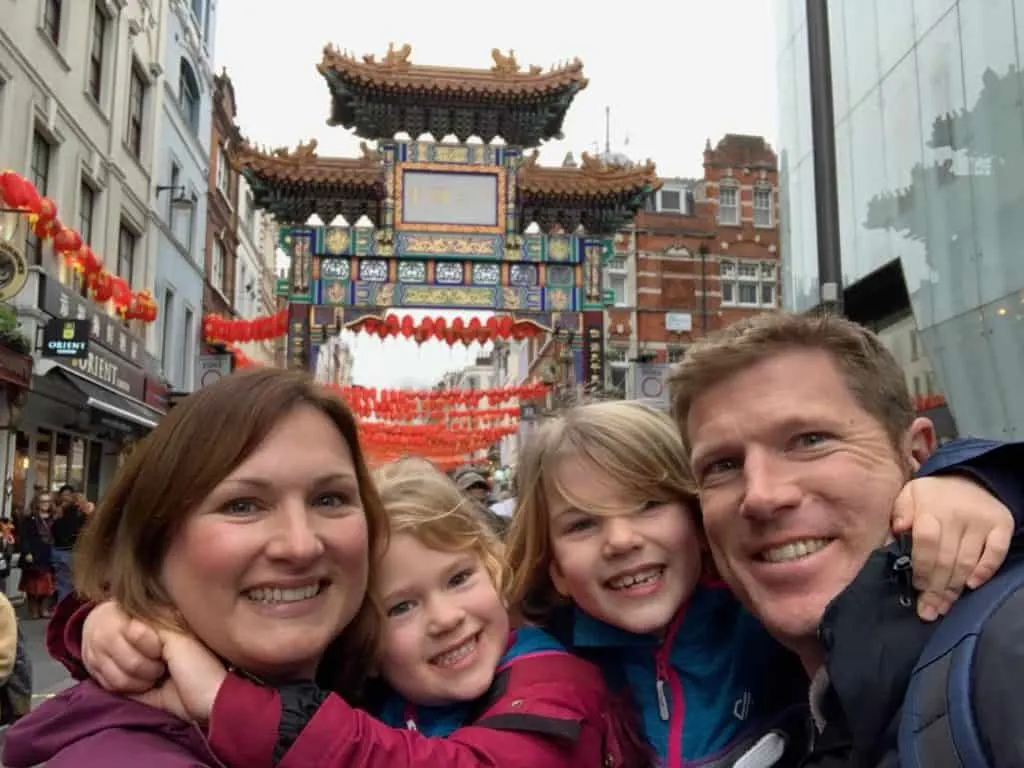 If you haven't visited Windsor from London why not make it your next stop? The capital boasts iconic landmarks at every turn, from Buckingham Palace and Big Ben to the London Eye and Houses of Parliament.
If you're on a budget take a look at our cheap London itinerary which has plenty to keep kids entertained without spending loads.
If you want to hit some of the bigger family attractions take a look at this deal:
Big savings on London attractions
If you've got a few days to spend in London, or are visiting on different occasions, why not take advantage of Merlin's Big City Saver* deal?
It gives you access to some of London's most iconic attractions for a discounted rate. Pick from a combination of attractions that suit you from the London Eye and Madame Tussauds to SEA LIFE London Aquarium and Shreks Adventure or a Big Bus Tour.
You can book any combination, any time within 90 days and move your bookings if your plans change.
Depending on the ticket combo you can save up to 46% on individual ticket prices.
Where to stay in Windsor with kids?
Looking for a family hotel in Windsor or close by? Find somewhere to stay on Booking.com*.
Have you been to Windsor with kids? What was your favourite experience or day out in Windsor?
Find more days out in England, Wales, Scotland and Northern Ireland in my big round up of 101 UK attractions for families.
Disclosure: this post contains affiliate links which means that if you click on one and make a purchase I may earn some commission. This doesn't affect the price you pay.