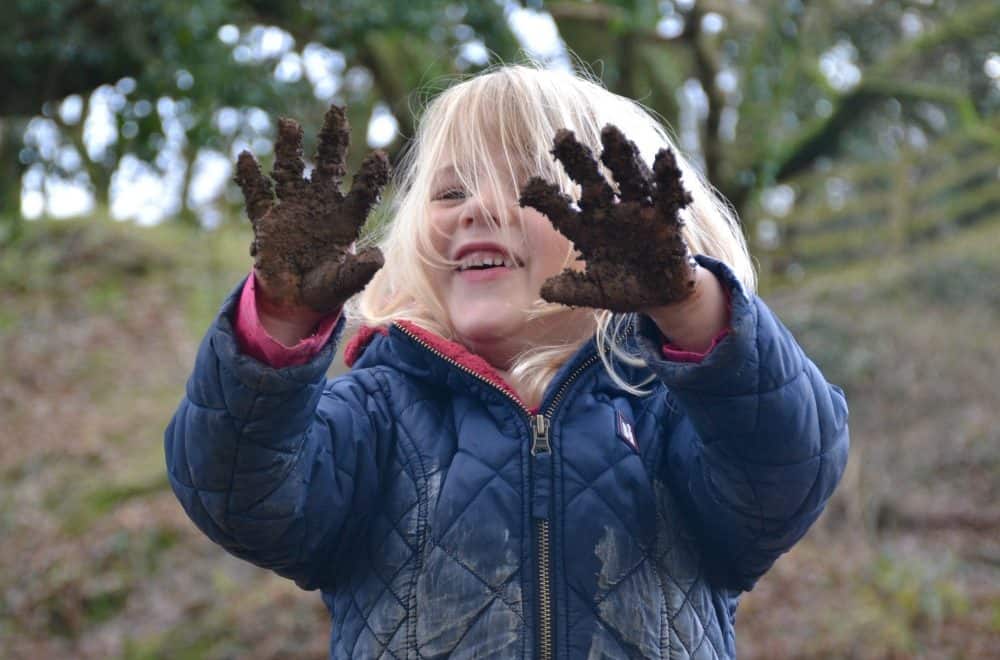 A perfect winter holiday with children at Bosinver, Cornwall
Top of my wish list for Christmas was that we could relax. This time last year we were in the middle of a move from Hampshire to Devon. Part of this involved bed hopping for three weeks until we got the keys to our Dartmouth house. There were moments festive cheer was in short supply. Jump forward 12 months and we have just returned from the perfect winter holiday at Bosinver Farm Cottages in Cornwall. What a difference!
The best way to describe Bosinver is as a family-friendly, luxury farm resort. It manages to combine the muddiest of children's activities with a host of top-notch facilities and immaculately decorated cottages near St Austell. I couldn't have been more excited when we received an invitation to stay from the owners, Nanny Pat and Farmer Dave.
There's a full review below, but for a taster of our stay check out this video of everything we got up to:
Christmas at Bosinver Farm Cottages
We arrived two days before Christmas. A lot of our fellow holiday makers had been there since the beginning of the week thanks to a special 10 nights for the price of seven offer for Christmas guests. This meant the activities were already underway, so we quickly dropped our bags at our cottage and stomped across the field to the Wild Kids Club. This was where the girls' outdoor clothes got their first coating of mud and they just kept adding the layers over the week!
We spent an hour making Christmas decorations for our cottage with ivy, wood and leaves, then supped hot chocolate and toasted marshmallows by the fire. It was a great way to start our break and threw us into the thick of what Bosinver is all about.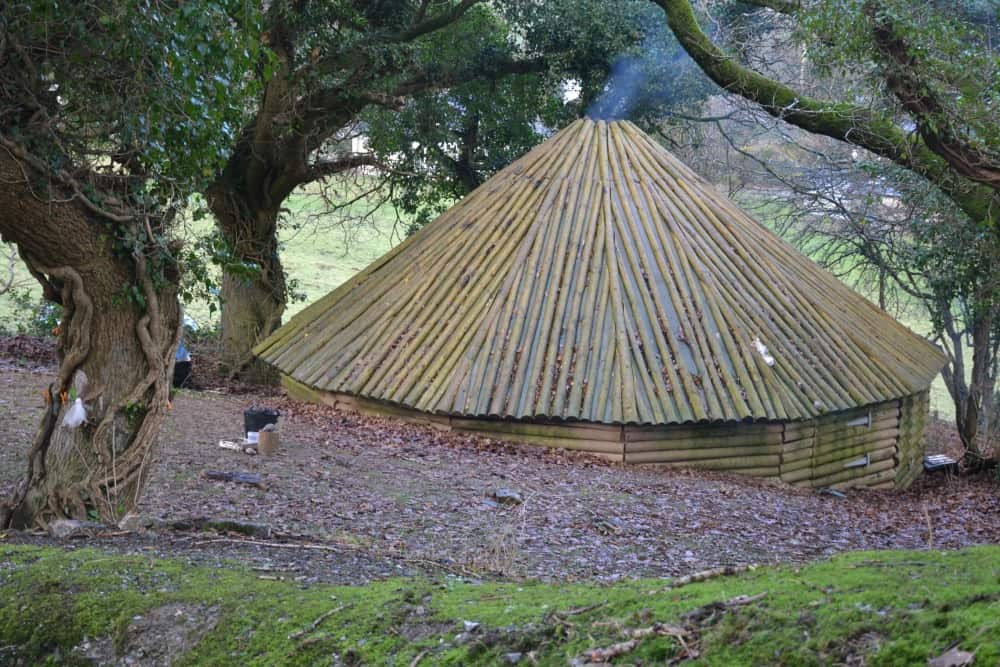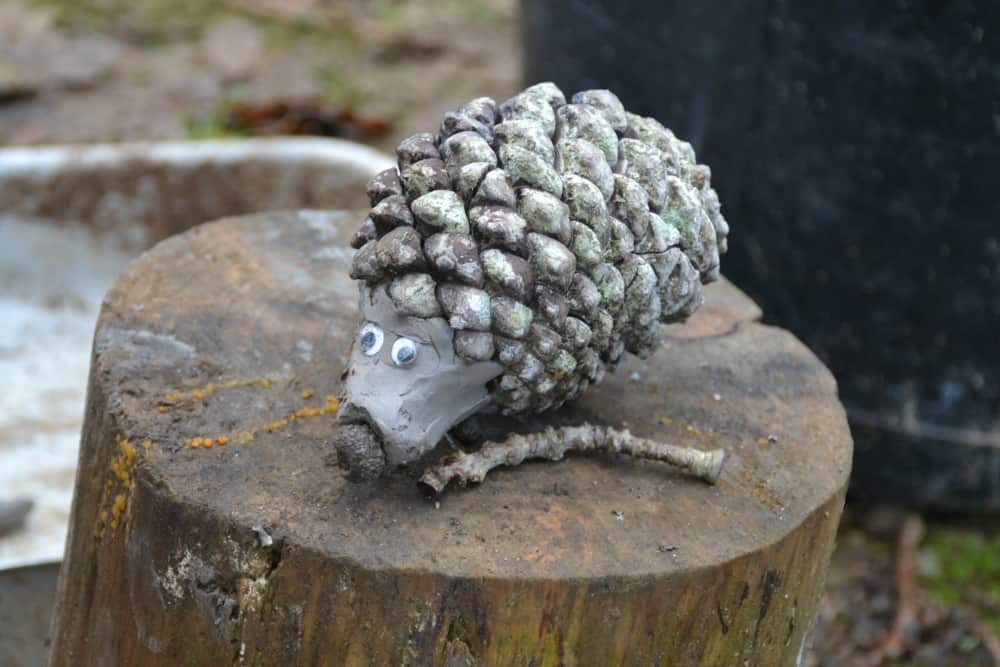 When we'd had our fill of woodland crafts it was time to head back to our cottage to take a good look around and plan our stay.
Luxury cottages perfect for families
Hydrangea is one of twenty properties at Bosinver, each with their own character. Bosinver used to be a diary farm and some of the cottages are converted barns and dairy buildings. Hydrangea is one of two bungalows overlooking a meadow where we saw rabbits hopping around early in the morning. Inside it has an open plan kitchen, dining and sitting area, with a conservatory through large sliding doors. There was a twin bedroom with an ensuite family bathroom for the girls and a double bedroom with ensuite shower room for us.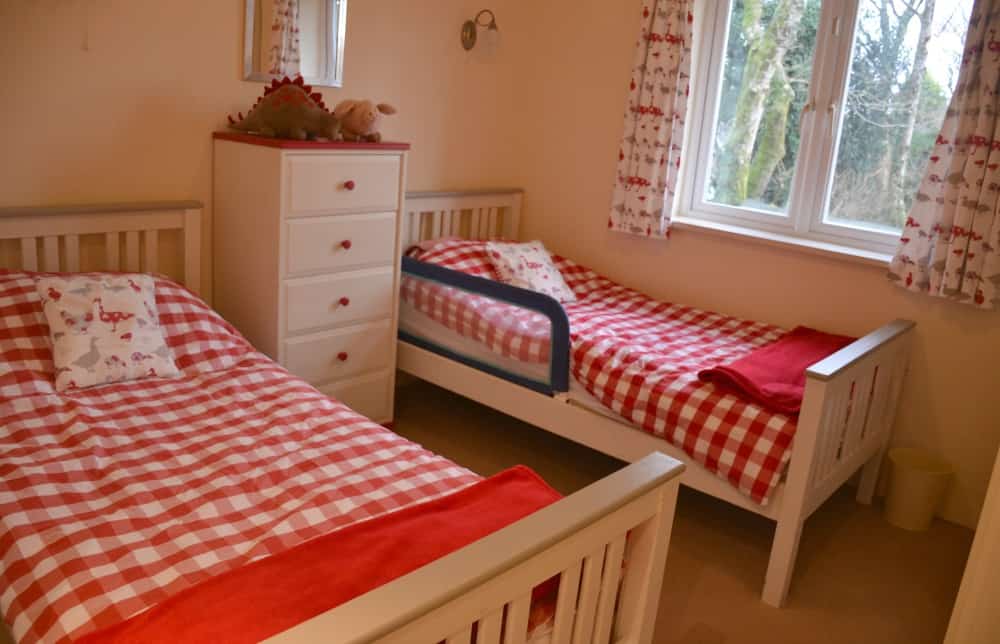 The lay out was ideal for us with two pre-schoolers. There was no need for stair gates. The doors to our bedrooms were opposite each other so the girls could find us if they needed us in the night. And there was plenty of room for them to play in the open plan living area while we prepared meals during the day.
Something you don't necessarily expect when you book a family-friendly cottage is for it to have great decor. Little hands make easy work of trashing lovely places and things. So why bother to make them pretty in the first place? This is not how Bosinver rolls. Our cottage was vibrantly decorated with subtle green and red furnishings (except the amazing lime green SMEG fridge – there was nothing subtle about that, but I loved it). There were also stuffed animals for the girls to cuddle in their bedroom and coordinating nick-naks on the dresser. As it was Christmas, our cottage was decked with a tree and festive ornaments.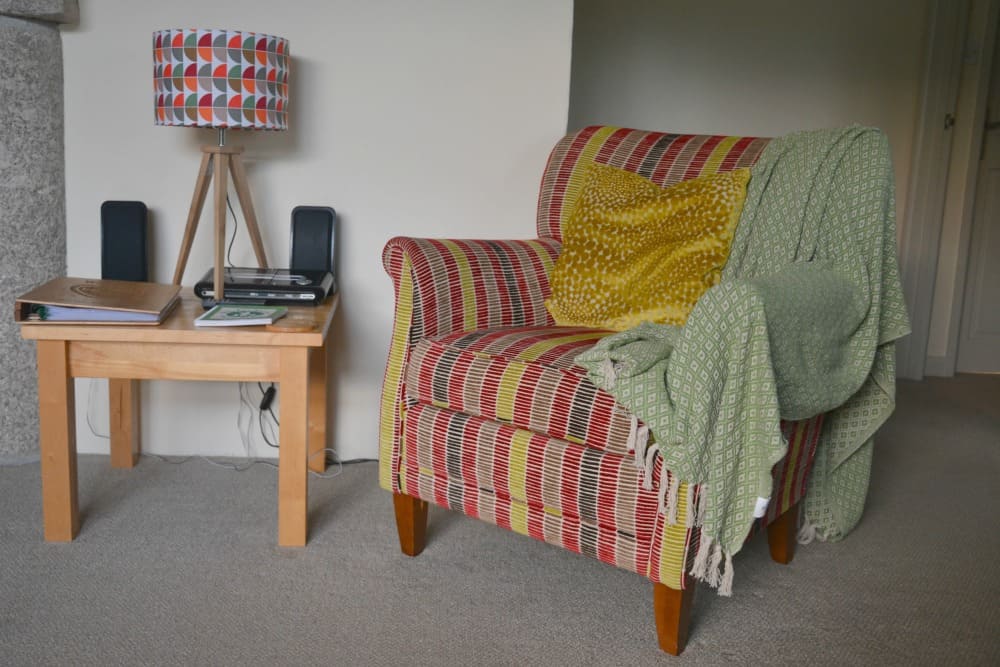 As well a great attention to detail with the decor, our cottage was well kitted out for young guests. We had requested a cot, bed guard and high chair before we arrived but plastic children's cutlery and crockery, a toy box and plug covers come as standard in each cottage.
The kitchen was also remarkably well equipped. We put it to the ultimate test of cooking Christmas dinner and it didn't come up short of anything we needed. By the way, our dinner was catered for by Bosinver which had ordered each cottage a turkey crown and all the trimmings from The Cornish Food Box Company. Delicious!
The only downside to our cottage was that it was very near to the farm entrance and we could hear the main road. However, this is me being picky as we only noticed it at night.
What to do with children at Bosinver Farm
Each day began feeding animals in the farm yard with Farmer Dave. We gathered with the other families just before 10am to sing 'cock-a-doddle-doo' with Marvin the cockerel. Then we were off around the yard with handfuls of seed to feed the ducks, chickens, goats and sheep. Once they had had their fill there were lumps of veg for the guinea pigs. The children's final task of the morning was to collect a fresh egg each, which they could take away.
One morning feeding was followed by pony rides for the children. Tin Box Baby was very keen to have her first equine adventure and, despite her face, loved it.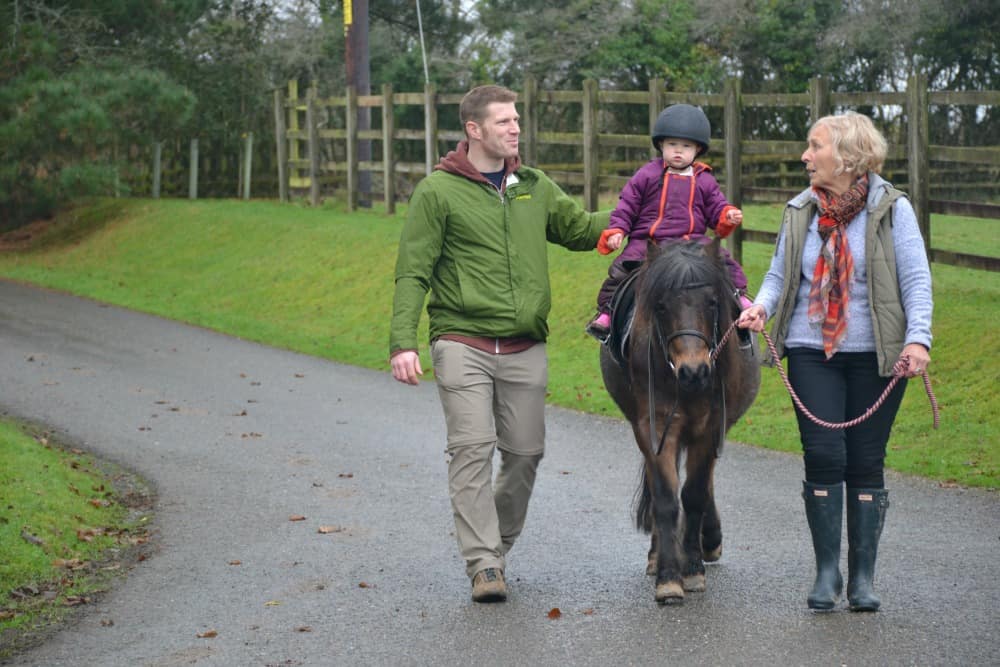 Throughout the rest of our day we could use the toasty warm indoor pool and the brilliant soft play barn which was packed full of toys. There is also a small gym, games room and sauna for adults. Bosinver was full during our stay but we never came across more than one other family using the play barn or pool, and often had them all to ourselves.
We were really lucky with the weather during our Bosinver holiday so spent time exploring the grounds. There's three woodland walks, including a Gruffalo Trail for which you can borrow the book from reception, and an adventure playground with a huge slide, child-friendly climbing walls and a zip wire. This is definitely a great place for older kids to explore and play.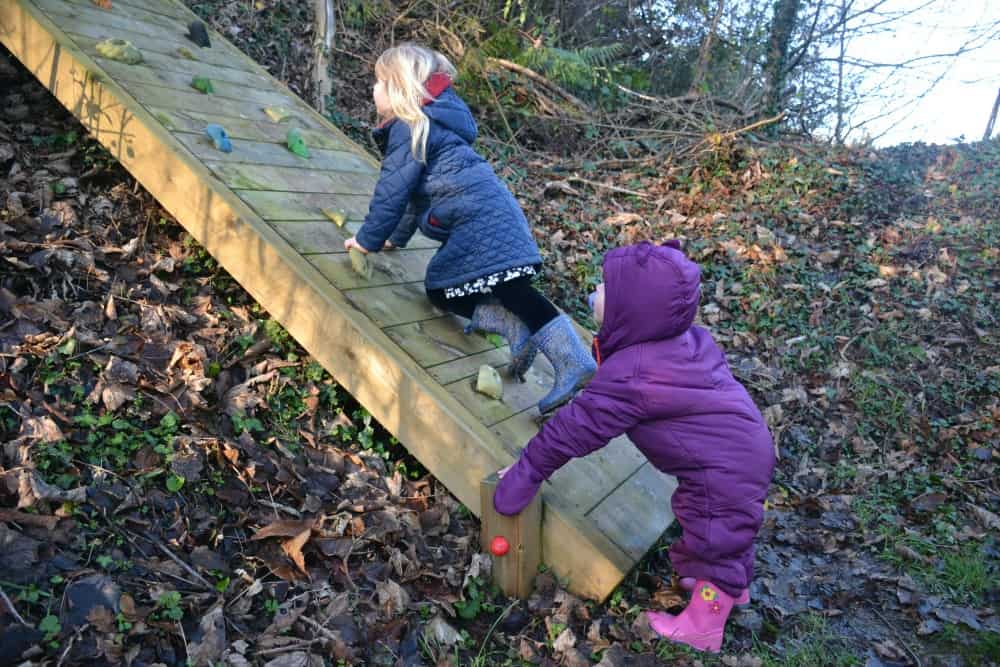 Helpful extras for families
Bosinver is one of those places that has thought of everything you might need during your holiday. There are DVDs and board games to borrow, a launderette with free washing machines, and gourmet frozen meals to buy in reception. Knowing these things were there if we needed them made our stay that little more relaxing.
Days out close to Bosinver, Cornwall
We only spent three out of our seven days at Bosinver exploring the local area. The rest of the time we were just too busy relaxing and using the farm's wonderful facilities. On any other holiday we would have been out and about a lot more.
We had plenty of inspiration for our adventures thanks to a pile of guide books in our cottage, including one written by Nanny Pat herself. This is also available online and is full of days out to do with kids, as tried and tested by Pat and her grandchildren. In fact, the Bosinver blog is a great resource if you are thinking of visiting Cornwall.
The places we chose to visit were no more than 40 minutes away from Bosinver. First up was Golitha Falls on the edge of Bodmin Moor where we had a muddy walk and picnic beside the roaring river. From here we drove a few minutes up the road to Minions – yes, it is a place. Here we walked onto the moor through a wandering herd of wooly cattle to the Bronze Age Hurler Stone Circle. The air was crisp and the views were amazing.
Another spot for a good walk was Trelissick – a National Trust house and estate on the River Fal. Even though we were there mid-winter there was still lots to explore in the gardens. Mr Tin Box took the Tot on a bit of a nature trail.
Something extra special that we did during our stay was a visit to The Eden Project. We took the girls at Easter but decided to go again to see the Festival of Light and Sound. From dusk, the biomes and quarry were illuminated with lasers. The laser and music show in the Mediterranean Biome was mesmerising. As were the shapes being busted by Tin Box Tot and Baby to the music. They've got serious moves!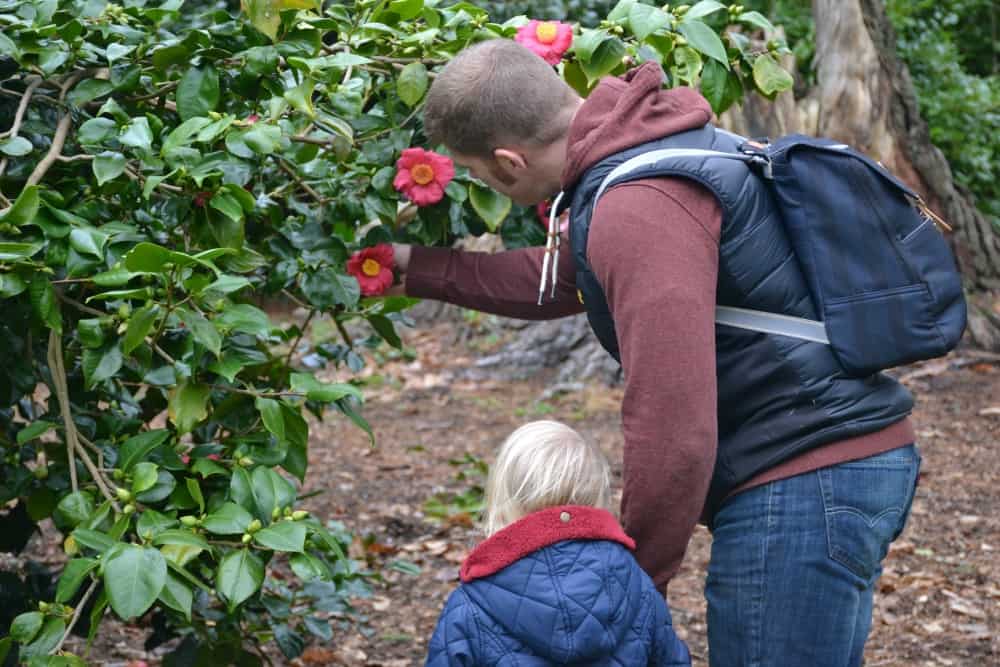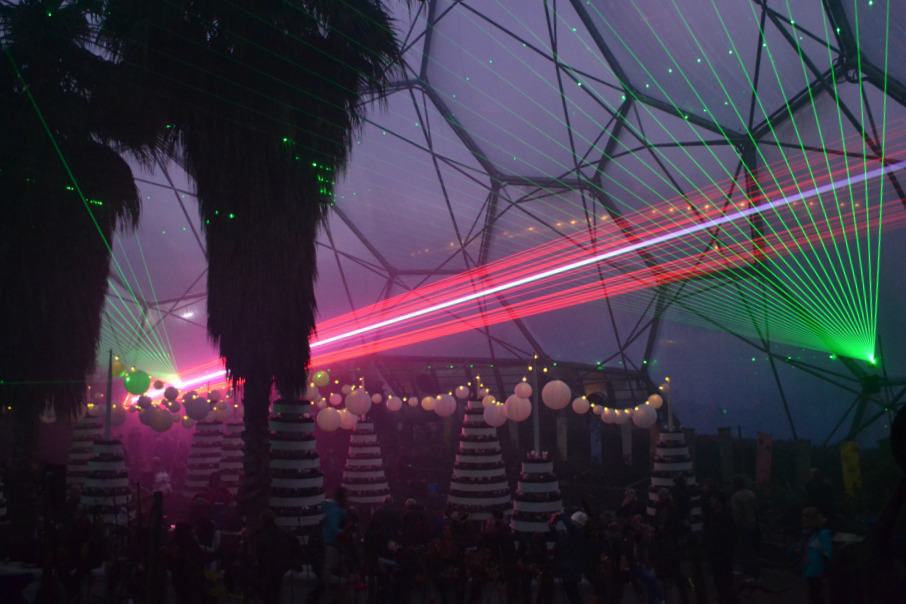 Our verdict: a perfect winter holiday with children
Bosinver is one of those places that makes you think differently about self-catering cottage holidays. With a baby come toddler and an active pre-schooler, we love the freedom of being able to do things at our own pace. However, if we had stayed in a stand alone holiday cottage we wouldn't have experienced the same wonderful family oriented activities. These really made a difference in the winter months. Add to that a touch of luxury and attention to detail, and this makes for a holiday the whole family can enjoy without leaving the UK. All of the other families we spoke to felt the same.
If we've whet your appetite for a Bosinver Farm Cottages staycation in 2017 we'd suggest checking out the availability on their website sharpish. Families who stayed at Christmas were booking the same properties for 2017 before they left. And school holidays are already looking busy. If, like us, you can still take term time holidays those are the dates at which to look.
Disclosure: we were invited to stay Bosinver Farm Cottages in exchange for an honest review of our holiday. All opinions are my own or those of my family. We also received free entry to Trelissick and The Eden Project courtesy of the Cornwall Association of Tourist Attractions.
Pin for later