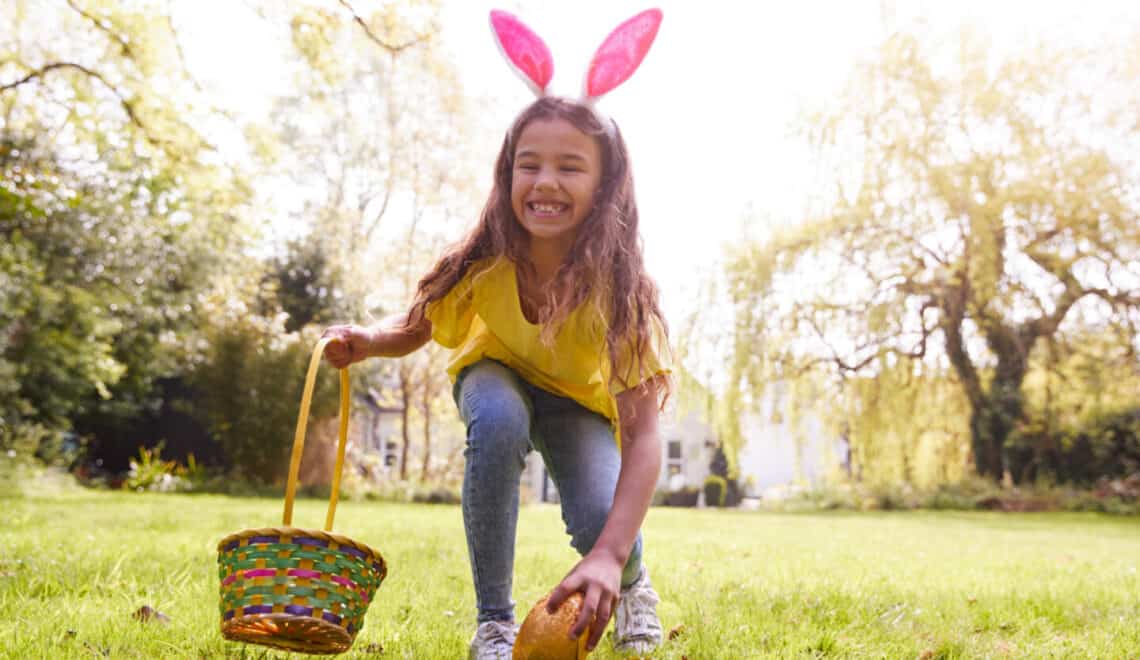 Where to find the Easter egg hunts and events in England and Wales 2021
If you're asking yourself 'where can I find the best Easter egg hunts in England and Wales in 2021?' then look no further. There will definitely be less around and the places where these Easter events are being planned are likely to need booking in advance. So get your planning hats on now!
PLEASE NOTE: events are subject to change in 2021. Check with organisers and venues before travelling. Most places will need booking in advance. Please adhere to your region's latest travel restrictions.
Find more days out in England, Wales, Scotland and Northern Ireland in my big round up of 101 UK attractions for families.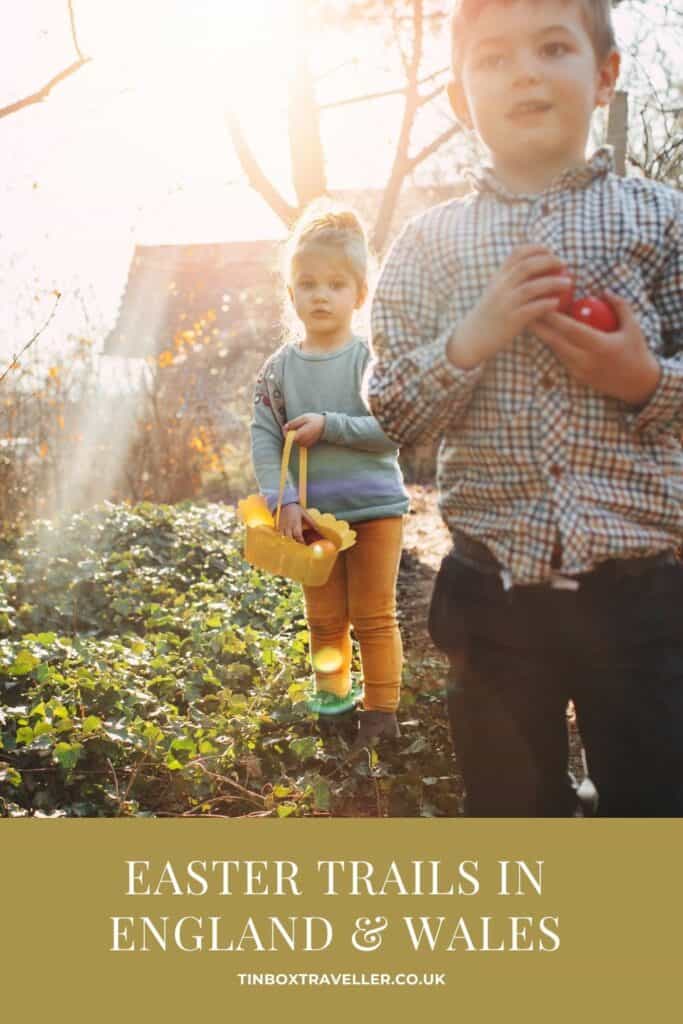 Whether you're seeking a traditional Easter egg hunt or an Easter trail, have a scroll through this post to find events, activities, and Easter egg hunts happening near you.
National Trust Easter trails near you
National Trust properties in England and Wales have announced their Easter egg trails which start happening from 29 March 2021.
This year's trails are not associated with a well-known confectionary brand (pic above is my kids enjoying a National Trust Easter egg hunt in 2019). But there are chocolate eggs up for grabs for kids who complete their trail.
Trail sheets cost £3 in addition to entry to the property gardens (entry is free for National Trust members).
Please note that start date and the duration of Easter trails vary form property to property. You will also need to book in advance. Booking opens at 00:01 on Friday mornings for the following week.
More details for when and where the trails are happening are available on the National Trust website.
English Heritage Easter egg hunts near you in 2021
Set your mini explorers an Easter quest to discover dragon eggs at English Heritage sites around the country. There's also plenty of socially-distanced school holiday activities happening at English Heritage sites.
Over 60 English Heritage places will be open from 29 March 2021.
Check the English Heritage website for more details about where you can find Easter trails near you.
Easter trails and egg hunts in England and Wales 2021
Now, here are some of the Easter egg hunts in England and Wales, hopefully with some happening near you!
If you think this post looks a bit light bookmark it and come back later. I'm adding new events all the time.
Easter egg hunt in Bedfordshire
Easter trail at Rushmere Country Park
Explore Rushmere Country Park, find the answers to questions on the trail sheet and claim a reward from the cafe.
There are limited places for this event which takes place between 29 March and 1 April 2021 and again between 6 and 9 April 2021. Trail sheet cost £4 per child.
Find out more and book your entry on the Rushmere Country Park website.
Easter events in Cornwall
Here are the Easter trails and egg hunts happening in Cornwall in 2021:
Easter at the Lost Gardens of Heligan
Across the Lost Gardens of Heligan there will be plenty of Spring colour as the historic camellias and rhododendrons will be in full bloom. There will also be some new residents in the paddocks: Cornwall and Devon Longwool lambs.
The Cornish apple trees in the orchard will be decorated with colourful Easter decorations and on the East Lawn there will be an Easter wish tree where visitors are invited to add their hope for the future.
We love day out at the Lost Gardens of Heligan. As well as being family-friendly with plenty of great activities, it's also a dog-friendly Cornwall attraction.
Easter at Heligan takes place from 2 to 18 April 2021. Find out more and check prices on the Heligan website.
Easter events in Devon
Wondering what's on in Devon over the Easter school holidays? There's events on at Crealy Adventure Park, RHS Rosemoor and Tamar Trails along other attractions.
Check out my other blog, Devon with Kids, for all the information about things to do in Devon this Easter.
Easter in Hampshire
Here are some of the Easter events happening in Hampshire:
Egg hunt at Gilbert White's House
Visit the gardens at Gilbert White's house and find painted eggs to win a prize. The egg trail costs £3 per child with a Garden Entry ticket.
The Easter egg hunt takes place from 29 March to 18 April 2021. Find out more on the Gilbert White's House website.
Easter fun at Paultons Park
Paulton's Park and Peppa Pig World will reopen from 12 April, which is outside the Easter school holidays in Hampshire. Keep an eye on the theme park's website to see if they do hold any special Easter events.
Visit the Paultons Park website for more information.
Easter at Butser Ancient Farm
Visit this ancient Hampshire farm to meet newborn baby lambs and go on a hunt for clues to crack a spring-time trail around the reconstructed Stone Age and Saxon buildings. Volunteers will also be putting on demonstrations of ancient farming methods and crafts.
Activities take place from 12 to 18 April 2021. For more information visit the Butser Ancient Farm website.
Find more things to do in Portsmouth and places to visit in Southampton.
Easter events in Kent
Easter trail at Hever Castle
Visit the childhood home of Anne Boleyn where kids can follow a trail to find things that hatch this Easter. Learn a little about each creature that starts life in an egg and what environment they live in before you find them hiding in the gardens.
The trails opens between 2 and 18 April 2021.
Find out more and print off your trails map in advance on the Hever Castle website.
Easter in the West Midlands
Many outdoor family attractions are planning to reopen from 12 April. Take a look at this huge post of places to visit and things to do in the West Midlands this Easter.
Easter egg hunts and events in Somerset
Looking for Easter activities in Somerset? Take a look at this post about things to do this Easter in Bristol and North Somerset.
Easter egg hunts in Surrey
Local to Surrey? Here's what's on in Surrey this Easter:
Search of Lindt Gold Bunnies at Hampton Court Palace
Take your family back in time and join in the hunt around the gardens of Henry VIII's Hampton Court Palace for golden bunnies. Pick up the Lindt Gold Bunny Hunt trail map and follow the clues to find golden bunny statues hidden around the palace and gardens.
You'll discover some of Hampton Court's famous characters from the past along the way. Solve the challenges to win your delicious chocolate reward!
The hunt takes place from 10am until 6pm, 1 to 18 April, 2021. Find out more on the Hampton Court website.
Beano Bonanza at Kew Gardens
Kew Gardens will be celebrating Dennis the Menace's birthday with an interactive story trail all about Dennis, Gnasher and all their Beanotown friends.
Along the way, you'll discover some of the plant kingdom's cleverest tricks and meet characters from the popular Beano comic and much-loved TV series Dennis & Gnasher: Unleashed!
The trial is open from 31 March until 18 April 2021.
Find out more on the Kew Garden website.
Easter egg statue trail at Painshill Park
Spot the giant Easter egg states around the grounds of Painshill at Cobham. This event will run from 2 to 18 April 2021.
Entry is free for members and is included in general admission for those with day tickets. Non-members must book in advance.
Find out more and book your time slot on the Painshill Park website.
Easter in Sussex
Egg trails at Leonardslee Lakes and Gardens
Grab a trail sheet and explore these beautiful gardens in Horsham to find hidden animals. Find them all and win a prize.
Book your visit and trail sheets in advance. This event takes place between 2 and 18 April 2021.
Find out more on the Leondardslee Lakes and Gardens website.
Easter in Warwickshire
Here's the best of the events happening in Warwickshire this Easter:
New Zog Trail at Warwick Castle
Brand new at Warwick Castle for 2020 is an exciting new 3D interactive trail starring Zog – the lovable dragon.
The trail opens on 12 April 2021 and will keep kids busy with a whole host of Zogtastic tasks, learning new skills just like Zog did at Dragon School.
The Castle grounds also provide the ideal setting to capture children's imaginations with tales of dragons, knights and princesses.
Find out more on the Warwick Castle website.
Easter fun in Yorkshire
Here's my top picks from Easter events in Yorkshire:
Studfold Adventure Trail opens at Easter
This North Yorkshire family attraction will be enlisting its community of fairies to help young children appreciate the natural world from Easter.
The one-mile Studfold Adventure Trail at Lofthouse in Nidderdale makes the most of its woodland and meadow setting particularly in April, May and June when primroses, bluebells and buttercups produce a riot of colour.
To help fire youngsters' imaginations the adventure trail includes intricate fairy and pixie houses that are located in logs, on tree trunks and nestled between stones and which house answers to some of the 17 nature-related clues along the route.
The trail is open for Easter from 27 March 2021 until Sunday 11 April 2021.
For more information visit the Studfold Adventure Trail website.
If you're looking for more Easter fun in Yorkshire then we know Yorkshire Tots have a comprehensive listing of what's happening in Yorkshire this Easter. Check it out.
We can also recommend lots of things to do around Hebden Bridge and Halifax in West Yorkshire.
More Easter egg hunts in England and Wales
I know there are likely to more Easter activities and Easter egg hunts in England and Wales that I've missed off this list. If you know of others that you think should be added, send me the details!
Also keep an eye on this Easter days out post by Mummy Travels of more updates.
Looking for where to find the best Easter egg hunts in England and Wales in 2021? Why not pin this post for future reference?