Where to find the best Easter egg hunts in England and Wales 2019
If you're asking yourself 'where can I find the best Easter egg hunts in England and Wales?' then look no further. We've pulled together some exciting chocolate quests happening all over the country as well as great family days out to fill your Easter school holiday. Whether you're seeking your nearest National Trust Cadbury Easter egg hunt or something a little less traditional, then have a scroll through this post to find fun events, activities, and Easter egg hunts happening near you.
Easter egg hunts in England and Wales 2019
National Trust Cadbury Easter egg hunts near you
The National Trust is again hosting dozens of Cadbury Easter egg hunts in England. We've picked out a few in the area event listings below, but there are more than 250 Easter Egg Hunts happening at National Trust properties, making Easter the perfect time to explore woodlands and historic houses.
Crack the clues that have been cunningly concealed by the Easter Bunny with some help of characters from the past and claim your Cadbury treats. Check the National Trust website for an Easter Egg Hunt happening near you. There's a handy postcode search bar.
English Heritage Easter egg hunts
Set your mini explorers an Easter quest to discover dragon eggs at English Heritage sites around the country. Find your nearest Easter Adventure Quest. There's also plenty of school holiday activities and crafts happening at English Heritage sites.
Now, here are some of the many Easter egg hunts in England and Wales, hopefully with some happening near you!
Easter fun in Berkshire
Be the first to see LEGOLAND's newest ride
This Easter LEGOLAND is opening a new ride: The Haunted House Monster Party. Ok, so it's not Easter-themed but it sounds like brilliant fun. Little monsters are invited to join the frightfully friendly Lord Vampyre for a monstrous party at his spooky new haunted home. There will be joke-telling LEGO brick gargoyles and talking statues, LEGO bunting, banners and balloons. Plus the banquet hall comes to life and turns upside down.
The Haunted House Monster Party will open on 13 April, 2019. Tickets to visit LEGOLAND during Easter are from £39pp when booked online seven or more days in advance on the LEGOLAND Windsor website. Under 3 year olds get free entry to LEGOLAND.
Easter egg hunts in Birmingham
A cracking Easter at Cadbury World
Cadbury World has Easter fun cracked this year with a programme of seasonal entertainment and live experiences to delight guests of all ages. Throughout the Easter holidays, Cadbury World is inviting families to enjoy a brand new live stage show, Mr Cadbury's Parrot and the Missing Mini Eggs, where the audience can help the lovable bird and his co-star presenter find the clues to discover who has been after their precious treats.  
On Bank Holiday Weekend, (Friday 19 to Monday 22 April, 2019), the Bournville-based attraction is also expecting a visit from the Easter Bunny who will lay out an Easter egg trail through its chocolatey zones with a special prize at the end. Children will also be encouraged to showcase their artistic skills by arriving in their own Easter Bonnet to be entered in a daily competition.
List for the new show from 6 to 28 April, 2019. Find out more and books online for a 5% discount on the Cadbury World websiteCadbury World website.
Easter events in Cornwall
Meet the new arrivals at the Lost Gardens of Heligan
Some special new arrivals are expected on the Heligan estate this Easter, as 29 of its rare breed ewes are pregnant and set to give birth from the start of April. Visitors to The Barn will get a chance to meet the baby lambs and may even witness the miracle of their birth.
Elsewhere in the gardens there will be a whole host of Easter activities, including a 'Grow Your Own' Trail, gathering everything you need to grow a runner bean plant at home. There will be Easter games too, including Highland Cow Horn Hoopla, Heligan Hobby Horse Derby and Egg and spoon races, whilst on Easter Saturday there will be a Championship Egg Show. We love day out at the Lost Gardens of Heligan. As well as being family-friendly with plenty of great activities, it's also a dog-friendly Cornwall attraction.
Visit from 10am until 4pm, Saturday 6 until  Monday 22 April, 2019. Find out more and check prices on the Heligan website.
Easter egg hunts in Devon
Take part in South Devon's biggest Easter Egg Hunt for free
Gara Rock is hosting the biggest Easter egg hunt in the area for chocolate loving little ones, encouraging them to explore the outdoors and giving them an appreciation for nature and its bounty. Parents can sit back and enjoy a glass of wine or delicious cocktail on the stone terrace, taking in the unbeatable views as they watch their children scurrying around the undulating coast collecting golden eggs. Once the hunt is complete, families can enjoy a delicious Easter feast full of hearty and delicious fresh local food.
This Easter Egg hunt in Devon takes place on Easter Sunday and is open to both guests staying at Gara Rock and visitors free of charge. Stay at Gara Rock from £175 per night. Find out more on the Gara Rock website.
For more days out in Devon check out my big guide to Devon family attractions. Or if you're planning an Easter getaway then Devon is ideal for family holidays.
Easter egg-travaganza at Crealy
The infamous Peter Rabbit™ will be taking some time out from Mr McGregor's vegetable garden and making a personal appearance at Crealy in Exeter over the Easter weekend. Children will be able to meet the radish-eating rabbit at intervals throughout the day and have their photo taken with Beatrix Potter's well-known character.
There's also Crealy's mEGGa Easter egg hunt, which runs from Monday April 15 until Monday April 22. Children will follow clues using a special map to find the magical egg locations hidden across the park. Once they have found all of the secret locations, they will be able to claim their chocolatey prize from the Piazza Stage. 
Crealy will be fully open from the start of the Easter holidays, so guests will be able to make splash on the water rides – Tidal Wave, Vortex and Aqua Blasters. Budding pirates will be able to ride the Jolly Roger and Flying Dutchman, and popular rollercoasters Maximus and Twister will also be open.
Peter Rabbit will be at Crealy from Thursday 18 until Monday 22 April 2019. Admission prices apply. For more information visit the Crealy website.
Easter holiday hunt at The Donkey Sanctuary
The Donkey Sanctuary in Sidmouth has a packed programme of activities over the Easter holidays. Visitors can help celebrate the charity's Golden Anniversary and take part in an Easter Egg hunt around the Sidmouth sanctuary. The Easter Holiday Hunt is the perfect way to explore the sanctuary and find out more about some of the most iconic donkeys that have been brought into the care of The Donkey Sanctuary over the years.
Spring is a great time of year to enjoy the sanctuary's scenic farm trails in the beautiful East Devon countryside and meet some of the resident donkeys. From the adorable miniatures to gentle giant Poitou donkeys, they all have unique characters and stories just waiting to be discovered.
The Easter Holiday Hunt runs daily between 9am and 5pm from Saturday 6 to Monday 22 April. Each trail costs £3 and includes an Easter Egg and certificate on completion. All proceeds help fund the work of The Donkey Sanctuary in the community and around the world. Entry to The Donkey Sanctuary in Sidmouth is free, with free parking. Dogs on leads are welcome. Find out more on The Donkey Sanctuary website.
Easter egg hunts in Dorset
Easter Bunny Trail at Compton Acres
The Easter Bunny has been stealing eggs and your challenge is to find them at Compton Acres. The thieving bunny has left clues across the 10 acres of beautiful gardens. Your little visitors can 'hop' along the trail as the clues for the naughty bunny take them from one gorgeous garden to another. When they've found all the clues and completed the challenge, they can return to the ticket desk to collect their surprise reward.
The Easter Bunny Trail is a great way for the whole family – including the dog – to experience Compton Acres in all its spring-time glory.
The Easter Bunny Trail takes place from Saturday 6 to Sunday 21 April 2019. The challenge is free of charge but normal entry to the gardens applies. Find out more on the Compton Acres website.
Easter egg hunts in Essex
Meet the Easter Bunny and friends at Lee Valley Park Farms
The Easter Bunny is making a special guest appearance at Lee Valley Park Farms this April, bringing egg-citing treats for boys and girls who visit the farm during the Easter holidays! Come and meet the Easter Bunny at a variety of times throughout the day and join in his annual Easter Egg Hunt Trail, which will challenge visitors to find a prize hidden in and around the 17 acre family attraction using a series of clues. The Easter Baby Boom will also be in full swing at the farms as the team set to welcome many new arrivals including chicks, lambs and more. 
Find out more and book tickets in advance for an egg-stra special celebration. All activities are included in the general entry price which is £10 (adults and children aged two to 17, concessions, senior citizens and registered disabled); £9 (groups of seven or more); under 2s and carers accompanying a person with a disability or learning difficulties are admitted free. You can book online and save 10 percent.
Easter egg hunts in Hampshire
Get hands-on with the science of sweets at Winchester Science Centre & Planitarium
This tasty science experience has all the right ingredients for a great family day out. Enjoy a pick 'n' mix of brilliant hands-on science, live science shows to tickle your tastebuds, sweet science activities in the Invention Studio and a full menu of planetarium shows.
Admission costs £12 per person, including entry to the new Explorer:Space zone, upper exhibition floor, live science show and Invention Studio activities. Planetarium tickets are sold separately. The Science of Sweets shows are taking place at Winchester Science Centre from 5 to 23 April, 2019. Find out more on the Winchester Science Centre website. 
Something a bit horrible at Portsmouth Historic Dockyard
The UK's first Horrible Histories® exhibition will open at Portsmouth Historic Dockyard this Easter holiday. Horrible Histories® Pirates' is based on the best-selling series by Terry Deary and illustrator Martin Brown, is an internationally-acclaimed exhibition that will open for the first time in the UK on 6 April and is set to give youngsters an action-packed insight into the mysterious and murky world of pirates across the ages.
Entry to 'Horrible Histories® Pirates' will be included as part of a 'Full Navy Ticket' to Portsmouth Historic Dockyard, which costs from £31 per adult and £18.50 per child. Family tickets are also available. Tickets offer access to the site's 11 attractions and are valid for multiple entries throughout the year. Book online at the Portsmouth Historic Dockyard website.
Easter egg hunts in the Isle of Wight
Cadbury Easter Egg Hunts on the Island
Find National Trust Cadbury Easter Egg Hunts across the Isle of Wight, from Bembridge Windmill in the east, via Mottistone Gardens and Newtown, all the way to the Needles Battery in the west. There are wildlife themed clues to find along the way and a delicious Cadbury chocolate egg as your reward at the end. Normal admission prices apply to the National Trust attractions and the Easter egg hunt costs £2 per trail.
Find out more about National Trust Cadbury Easter Egg Hunts in the Isle of Wight.
Join a chocolate quest at Osborne House
Join the hunt for dragon eggs around Queen Victoria's Osborne House and estate. Intrepid adventurers who track down the dragon egg will get a certificate and a sticker to prove it, and there'll be a chocolate treat too! You can get questing at Osborne every day of the school holidays. It costs just £1 per child, and there's no need to book.
The quest takes place between 10am and 5pm from 6 to 22 April, 2019. Find out more on the Osborne House website.
Become a chocolatier at Blackgang Chine
Indulge in a truly chocolate filled day out at Blackgang Chine as it puts on its Chocofrolica event for families. Kids can enrol as a chocolatier, meet the Easter Bunny, dip a treat in a five tier chocolate fountain and see performances by Coco the Bubble Wizard.
Chocofrolica takes place from 10am to 5pm between 6 and 22 April, 2019, with extended opening hours over the Easter weekend. Find out more on the Blackgang Chine website.
Wondering how to get to the Isle of Wight? We can recommend Red Funnel from Southampton. Also have a read about our day trip to the Isle of Wight in Spring for more inspiration.
Easter fun in Jersey
Go on a scavenger hunt at Jersey Zoo
There will be plenty of fun activities for the whole family at Jersey Zoo over the Easter holidays. Take part in the Zoo's Wild Scavenger Hunt, listen to keeper talks and watch the animals receive special Easter treats!
Normal admission prices apply. Find out more about Easter at Jersey Zoo.
If you'd like some more destination inspiration we visited visited Jersey in Spring a few years ago.
Easter fun in Kent
Get in the jam at Leeds Castle
Over the Easter weekend Leeds Castle in Kent will host the Junk Orchestra for daily family musical 'jamming sessions'. Families can create and play with instruments that have been cleverly constructed using bits of old rubbish. Throughout the month of April there will also be a glorious display of Spring colour – including beautiful spring blooms and hundreds of daffodils along the moat.
Junk Orchestra will be at Leeds Castle from 19 to 22 April, 2019. Find more detailed information on the Leeds Castle website.
Camp Bestival comes to Dreamland Margate
Dreamland Margate reopens in full on Saturday 6 April and will start the season with a full park takeover by Camp Bestival for the school holidays – and it's FREE to enter.
All over Easter, Camp Bestival will bring a taste of its much-loved family festival to the Margate amusement park with live music, rides, and extravagant entertainment for all the family (without the camping!).
As well as enjoying the park's thrilling rides, guests will have three unique Bestival installations to explore – the 8m tall Love-Bot that spreads love and joy to all, a mini temple and Bollywood chill out zone, and – returning to Dreamland for the second time – The World's Biggest Bouncy Castle.
The Easter festivities will culminate in a Camp Bestival Party on Sunday 21 April, curated by 'Family da Bank' (founder and DJ Rob da Bank and his family team), with a day of family friendly DJs, live music and workshops for big and little kids.
Camp Bestival fun will be happening at Dreamland from 6 to 22 April, 2019. Find out more on the Dreamland website.
Easter fun in London
Game on at Somerset House
Now Play This is a nine-day festival bringing the best in independent gaming from around the globe, with exciting hands-on gameplay for all ages to enjoy. It runs during the Easter holidays and is a great chance for families to experience new games from leading designers exploring unexpected subjects, from finding love to living with a disability. This year the festival includes two free outdoor installations, one of which is a huge labyrinth in the courtyard which is set to be particularly striking!
Now Play This takes place from 6 to 14 April, 2019. Find out more about Now Play at Somerset House.
Buy Easter treats at the Horniman Museum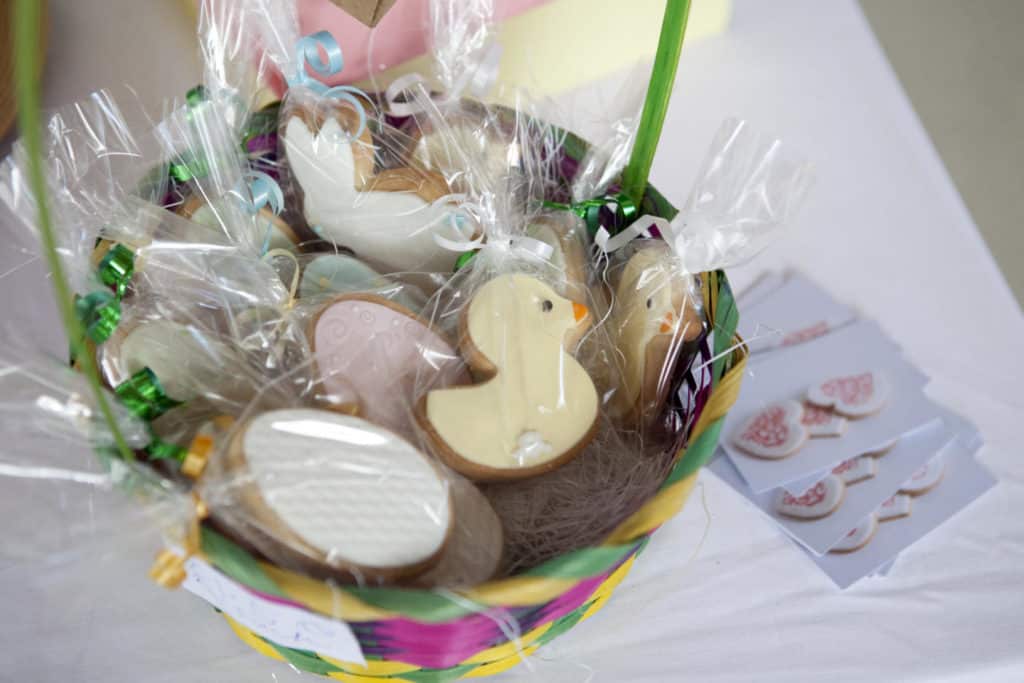 Join in the Easter fun with the whole family at the Horniman Easter Fair! Go on our Easter trail, create something crafty in our workshops, sit down for some storytelling, have your face painted and enjoy family activities across the gardens.
The fair takes place from 10.30am to 4.30pm, on 20 April and 21 April, 2019. Entry to the fair is free but there is a charge for some activities. See the Horniman website for further details.
Science and engineering activities at Tower Bridge
Can a bus jump Tower Bridge? Find out at this family learning activity at the bridge from 10am to 4pm on 13 April, 2019. In 1952 the bus driver, Albert Gunter, was having a normal day at work driving the 78 bus over Tower Bridge, but then the bridge started to open…
Find out what happened next and make your own stop motion animation of the story. All participating families will receive a Family Activities Pass, entitling you to free entry on any Family Activities Day in the next six months. Family activities are open to children of all ages but are particularly appropriate for those aged 6 to 10. 
No advance booking required, activity inclusive with ticket entry, visit the Tower Bridge website for further details.
Enjoy interactive performances at the Southbank Centre
This Easter, Southbank Centre hosts an array of unmissable events for the whole family including a number of free events and performances, including: Tabby McTat, a magical piece of children's theatre featuring original songs, based on the book by Julia Donaldson and Axel Scheffler and presented by Freckle Productions; Soundpit, an interactive musical instrument from artist Di Mainstone, comprising giant sandpits, which are brought to life with graphics, sounds, and motion sensor technology; and Kaleidoscope, an immersive installation piece made of mirrors, lights and sounds. 
In addition to all this, families can enjoy free music around the site every day, including DJ sets with Anna Greenwood, live bands Dizney Rascal and Boogie Monsters, and a dance takeover with HomeBros. 
Find out more about events happening at the Southbank Centre from 6 to 22 April 2019.
Hunt for chocolate bunnies at Kensington Palace
Take the family back in time and join in the hunt around the home and gardens of Queen Victoria, and William III and Mary II. Pick up the Lindt Gold Bunny Hunt trail map when you arrive and follow the clues on the trail to find large golden bunny statues hidden around the palace and gardens. Solve the challenges to win your delicious Lindt Gold Bunny chocolate reward!
The hunt is designed for children aged three to 12-years-old and their families. There will also be other activities happening at Kensington Palace over the school holidays. Visit between 10am and 6pm from 6 to 22 April, 2019.
Why not also go on a walking tour in London or how about seeing the sights during a London bus tour?
National Trust Easter egg hunts in Pembrokeshire
Take your pick from four National Trust Easter Egg Hunts in Pembrokeshire, south west Wales, over the Easter bank holiday weekend.
Step back in time at the 15th century Tudor Merchant's House in the coastal resort of Tenby on 19, 20 and 21 April. Easter bunny's been uncovering history and heritage here, as well as leaving clues around the house to a yummy Cadbury chocolate surprise. Find the chocolatey treat and discover Tudor traditions too. £2 per egg hunt plus admission fee, 11am to 4.30pm.
Enjoy the great outdoors with an action-packed Easter fair and egg hunt at Southwood Farm, Newgale on 19 April. Bunny's been exploring this special place too and leaving clues to a scrummy Cadbury treat for you. £2.50 per egg hunt, 10.30am to 3.30pm. 
There are also family Easter Egg hunts daily from 19 to 22 April, 11am to 3pm, on Broad Haven South Beach at £3 per egg hunt (car parking charges apply to non National Trust members) and at Colby Woodland Garden, where bunny's been hopping around the woodland admiring the floral displays, as well as leaving clues to a Cadbury surprise. £2 per egg hunt plus admission. 
More information about visiting Pembrokeshire as well as suggestions for places to stay, activities and things to see and do can be found on www.visitpembrokeshire.com.
Easter fun in Somerset
Fun for families at The Bishop's Palace
Easter Holiday fun kicks off at The Bishop's Palace & Gardens in Wells on Saturday 6 April when the new Easter Egg Trail will be in place. Clues hidden around the Palace and Gardens will lead to coloured eggs hidden in unexpected places! Then from 10:30am to 3pm on Tuesday 9 and 16 April, Crafty Cats sessions will take place in the Undercroft of the Palace with the chance to create Bug Hand Puppets, Coffee Filter Butterflies and Tree Blossom Pictures, Bunny Masks, Easter baskets and Easter Egg Mosaics!
Between 11am and 3pm on Thursday 11 and 18 April, the Palace Garden team will hold 'Nature Ninjas' activity sessions in the Community Garden, whilst Saturday 13 April will be the Palace's Medieval Falconry Day with flying displays to show how birds would have been used in Medieval times. All activities are included in standard admission.
For more details on the activities happening between 6 and 22 April, 2019, see the Visit Somerset website.
Cheddar Gorge Easter egg hunt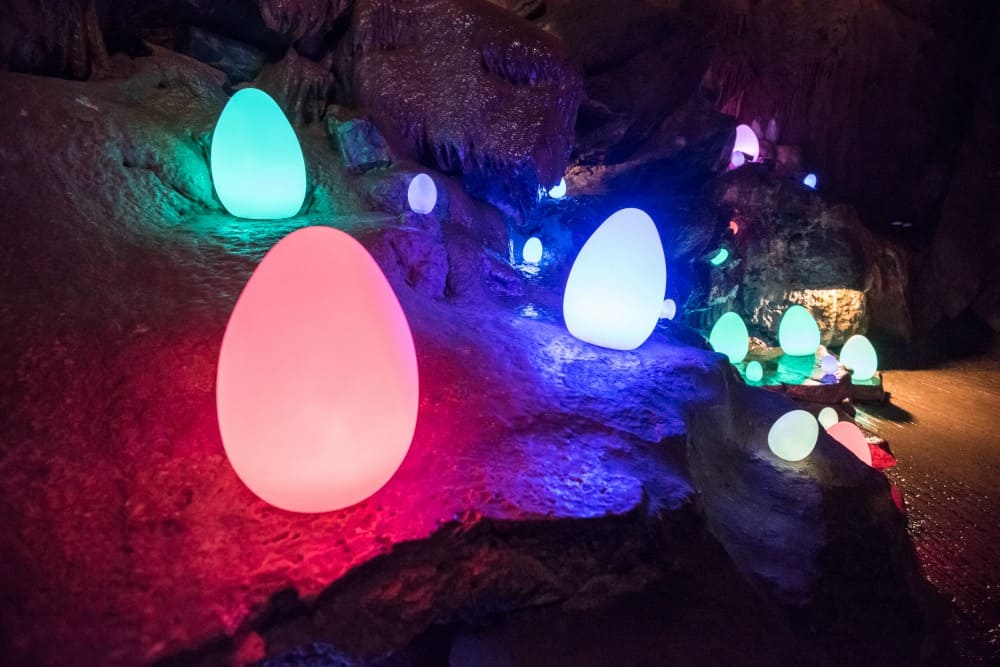 Gough's Cave at Cheddar Gorge Caves has some 'egg-cellent' and unusual additions this Easter! Explore the mysterious chambers and find the magical, glowing eggs left behind by the Easter Bunny?
The Glow in the Dart Egg Hunt takes place at Cheddar Gorge from 6 to 22 April, 2019. For more details visit the Cheddar Gorge website.
Easter egg hunts in Surrey
Search of Lindt Gold Bunnies at Hampton Court Palace
Take your family back in time and join in the hunt around the home and gardens of Henry VIII for golden bunnies. Pick up the Lindt Gold Bunny Hunt trail map and follow the clues to find golden bunny statues hidden around the palace and gardens. You'll discover some of Hampton Court's famous characters from the past along the way. Solve the challenges to win your delicious chocolate reward!
The hunt takes place from 10am until 6pm, 6 to 22 April, 2019. Find out more on the Hampton Court website.
Easter egg hunts in Swansea
Search for the Easter Bunny at Oystermouth Castle
Hop along to Oystermouth Castle on Easter Sunday for an Easter Bunny word search hunt, followed by Easter crafts.
The Easter egg hunt take place between 11am and 12pm followed by the crafts which continue until 4.30pm on Easter Sunday 21 April, 2019. Normal admission charges apply. Find out more on the Visit Swansea Bay website.
Take a look at what else we got up to during a weekend in Swansea Bay with kids.
Easter egg hunts in Yorkshire
If you're looking for Easter egg hunts in Yorkshire then we know Yorkshire Tots have a comprehensive listing of what's happening in and around West Yorkshire over Easter. Check it out.
We can also recommend lots of things to do around Hebden Bridge and Halifax in West Yorkshire.
More Easter egg hunts in England and Wales
We know there are plenty more Easter activities and Easter egg hunts in England and Wales that we've missed off this list. If you know of others that you think should be added, send me the details!
Looking for where to find the best Easter egg hunts in England and Wales in 2019? Why not pin this post for future reference?