48 hours in and around quirky Hebden Bridge – a short break in Yorkshire
First, my best advice if you are thinking of booking a weekend break in Hebden Bridge is: reassess your dates and book for longer! Visit Calderdale invited us to stay in Hebden Bridge and explore some of West Yorkshire's family-friendly attractions over a weekend at the beginning of October half term. We packed a lot into our two days including seeing family in the area, which was fantastic. However, 48 hours was not enough and we are now itching to return. If you're planning a short break in Yorkshire read on for a taster of some of the things you could add to your itinerary.
*Advertisement feature*
Top tips for a short break in Yorkshire
My mum is a Yorkshire lass brought up in the Calder Valley in West Yorkshire. So I spent many a school holiday visiting family here. But in recent years my trips to the area have dwindled. In fact until our recent visit it was five years since I'd set foot in Yorkshire, which I think may have been the longest time I'd been away.
Since then I've become a mum to two and rather than longing for days out in Manchester (like I did in my teens) I much prefer exploring picturesque villages, walks in the countryside and finding fun places for the kids to play. And for this reason our experiences at half term have got me wondering 'why, oh why, have we not been back to Yorkshire with the girls before now?'.
OK, so the six hour drive from Devon has something to do with it but the rewards were many when we arrived. Leaving the M62 at Milnrow took me back to my childhood visits. The enchanting drive past Hollingworth Lake; the windswept moors of Cragg Vale; the weathered sandstone cottages butting right up against the roads – it all felt reassuringly familiar. In fact, not a lot seemed to have changed aside from the odd old mill turned shopping outlet that had closed down leaving a sturdy memorial to the Calder Valley's weaving past.
I made the 300 mile journey solo with the girls as Mr Tin Box is working away with the Royal Navy. A stop in Gloucestershire for a night broke up the journey but it was still a relief to see signs for Hebden Bridge and drive through its quirky town centre on the way to our accommodation for the next two nights.
Bohemian Hebden Bridge
If you didn't know West Yorkshire at all you might be surprised by what you find in Hebden Bridge. Aside from the sandstone houses it's quite different to its neighbours Todmorden and Mytholmroyd.
In the 70s and 80s Hebden Bridge grasped the hippy movement with both hands and never let go. It continues to be a unique destination for art, culture and independent shops as well as somewhere that attracts walkers and cyclists travelling along The Calderdale Way. The Rochdale Canal also passes through the town which is as vibrant as the narrowboats parked along the waterway.
Where to stay in Hebden Bridge
We stayed at the characterful Beech House holiday cottage which is located within 10 minutes walk of Hebden Bridge centre. This spacious two bedroom cottage is attached to the owner's house and comes with everything you need for your self-catering break and more.
We were greeted with a kitchen full of breakfast supplies, teas, coffees and chocolate biscuits, and a bowl full of fruit. The house has been beautifully renovated with modern ensuite bathrooms to each bedroom, super comfy beds and plenty of character in the living room. The juke box was a particular hit with the girls. And the views of the valley were pretty special too.
I'll be doing a fill review of Beech House soon, so keep an eye out. Staying at Beech House costs between £105 and £140 per night depending on the time of year. Up to six people can be accommodated for an additional charge.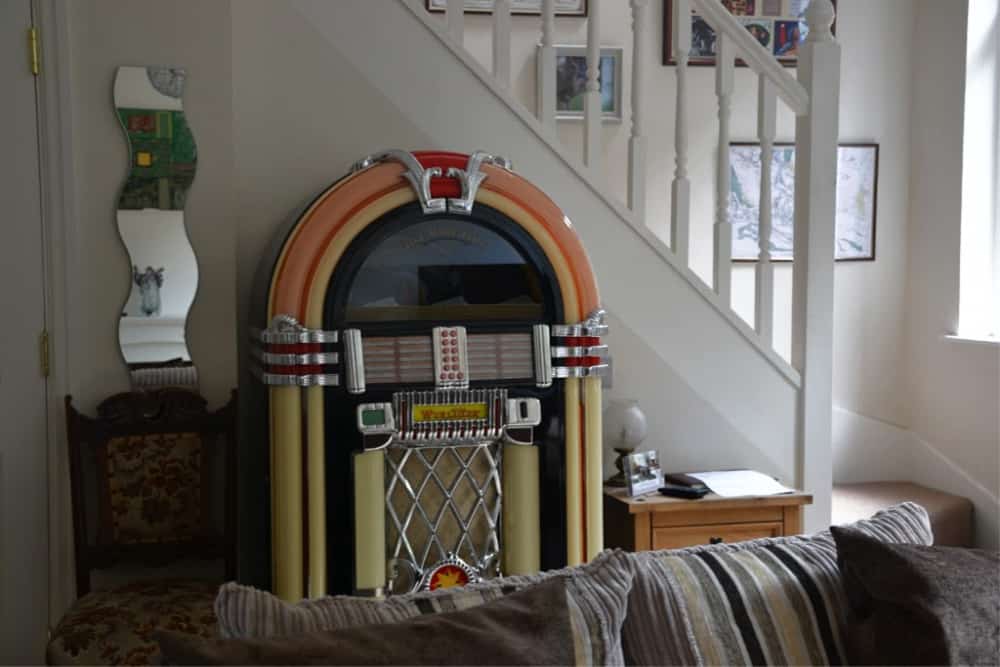 If you are are a member of the Caravan and Motorhome Club we can also recommend the Hebden Bridge Club Site at Mytholmroyd. This is where we stayed with our touring caravan during our last visit to the area and my parents were pitched there this half term. I'd roped in the Tin Box Grandparents to look after Tin Box Dog for the weekend. They also joined us for a bit of exploring.
The site is open from mid-March until the beginning of November and has all-weather pitches for caravans and motorhomes in a woodland setting. Touring pitches are priced from £13.70 per night.
Things to do in Hebden Bridge
We didn't have much time to look around delightful Hebden Bridge but if you plan a longer stay you'll find plenty of things to do.
Hebden Bridge parking
After our drive north we needed to stretch our legs so drove into town in search of somewhere for girls to play. I'd recommend walking from your accommodation if you are able, but if you do bring a car be aware that most on street parking is for resident permit holders only. We used the Garden Street car park, which is pay and display (60p an hour, cash only). There are a few more small pay and display car parks in town.
What to do in Hebden Bridge
My girls loved the playground next to Rochdale Canal which has plenty of space to run around and play equipment to climb on. If you can tear your kids away the canal walk is incredibly scenic too.
In town there are plentiful independent shops selling everything from vintage crockery and luxury soft furnishings to Fair Trade food and toys. You could spend all day browsing. Hebden Bridge is also a market town. The small market opens from Thursday to Sunday each week selling different types of produce each day.
Hebden Bridge Picture House is a fun place to head if you'd like to experience a proper Yorkshire cinema. Tickets can be purchased on the door (cash only) from 45 minutes before flicks start. Screenings include the latest box office hits, old time classics and live streamings of arts and theatre performances. As well as popcorn and ice creams you can purchase a brew and biscuit to enjoy during the show – what could be more 'Yorkshire'?.
If you head a short way out of town you can find Hardcastle Crags, which is a spectacular place for a walk. There are stepping stones over the river, views to be discovered at the top of rocky outcrops and the picturesque Gibson Mill where you'll find a National Trust cafe. We took Tin Box Tot and Dog here during our last visit to Calderdale in 2013. Bring a baby or child carrier for small children and equip older ones with waterproofs and Wellington boots so they can make the most of the woodland trails.
Things to do in West Yorkshire
On the Saturday of our stay at Hebden Bridge we travelled 30 minutes East to Halifax. Despite spending a lot of time in Yorkshire as a kid I can't remember ever coming here. I'm sure my folks would say otherwise but it clearly didn't made an impression on me. However, after spending a morning in the Eureka! National Children's Museum and soaking up the atmosphere of the historic Piece Hall I definitely want to return to spend more time in Halifax.
Eureka! Museum, Halifax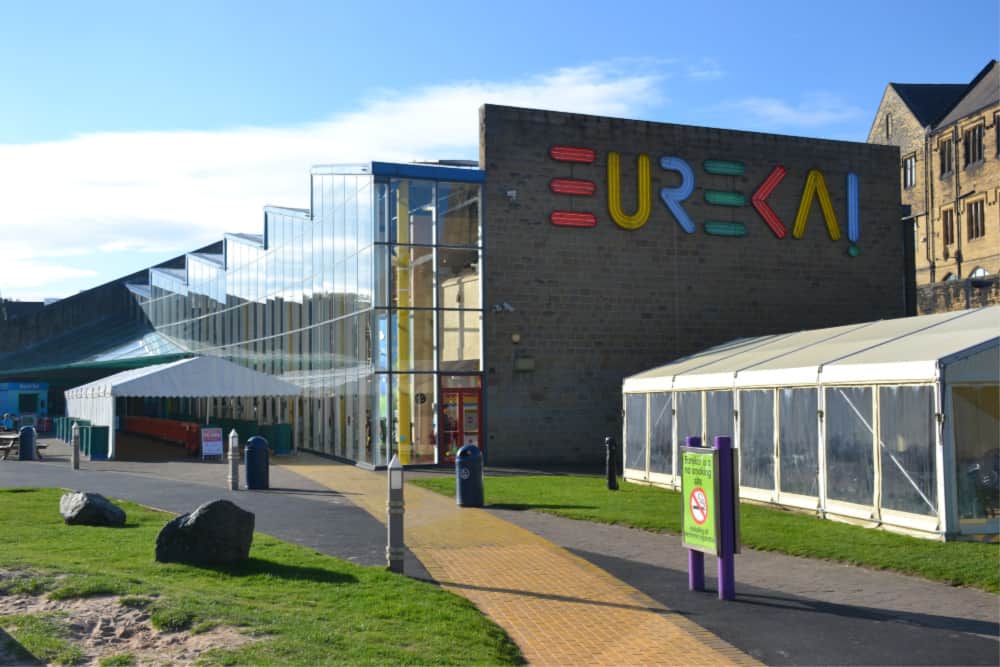 Our girls couldn't get enough of the hands on experiments and kid-friendly exhibits at Eureka! It's not a museum with kid-friendly features; it's a proper children's museum – just for them (although I had fun too!). There are six zones to explore each with their own theme from science and how the body works to art and role play. It's a brilliant all-weather attraction that will keep kids aged 0 to 11 amused for hours. Definitely allow yourselves a whole day free to visit.
Another great thing about Eureka! is that once you've bought your entry tickets you can turn them into annual passes and come back as often as you'd like within a year. At £12.95 per person for over three-year-olds and £5.95 for one to two-year-olds that's a real bargain for as much educational fun as you can handle. The cafe is also reasonably priced. It has a menu including kids lunch boxes, jacket potatoes, hot meals and cakes.
There's a large pay and display car park next to Eureka! (£3 for up to four hours or £6 for up to 12 hours). You need the correct change to feed the parking machine or you can pay inside the museum with a card. There is cheaper parking a short walk away at Mulcture Hall Road or King Street (£2 for up to four hours and £3.50 for up to seven hours). We'd recommend parking for at least four hours, especially if you want to experience more of Halifax.
The Piece Hall, Halifax
Our next stop was The Piece Hall, a short walk away. When you step through one of the grand entrances you'd be forgiven for thinking you'd been transported to Italy, especially on a bright day. It definitely reminded me of our visit to Venice in the summer.
View this post on Instagram
The atmospheric rectangular building and courtyard are 250-years-old and were once a place for trading hand loomed cloth. If you're keen on Britain's industrial history then you'll know that textiles were the dominant trade in 18th Century Yorkshire, so this was a major business hub. It's now the only surviving building of it's kind in the UK, making it a unique and historic place to visit in West Yorkshire.
The cloth manufacturers who built The Piece Hall took a leaf out of the Romans' book of architecture as a show of wealth and prestige. Today it's a place for local history, art events and independent shops. We met up with some of the Tin Box cousins for a browse the shops on the balcony, a treat from Blondin's Ice Cream Parlour and a quick dance around the water features in the courtyard. The kids were desperate for a paddle on what was an unseasonably warm afternoon.
Other attractions for families include an activity trail that you can pick up from the Welcome Centre, costumed performers playing characters from the Hall's past, and craft and heritage workshops during the school holidays.
More things to do in and around Halifax
You can find out more about Halifax's industrial heritage at the Calderdale Industrial Museum next to The Piece Hall. Or take a short trip outside the town centre to the free Bankfield Museum. This where there's more to be learnt about the area's people and history in the former mansion of philanthropist and MP, Colonel Edward Akroyd.
If you have older kids who enjoy adrenaline activities then there's the ROKT Climbing Gym in Brighouse. This has the jaw dropping ROKTFACE – the UK's tallest man-made outdoor climbing wall. There's also an indoor children's wall, escape rooms, a NERF area and yoga studio.
Getting to Hebden Bridge
If you're travelling by car Hebden Bridge is just over half an hour from Junction 21 of the M62 at Milnrow, which is where we came off the motorway. You can also access it from junctions 22 to 26, making it easy to reach from the M1, M6 and A1.
Hebden Bridge has its own train station. Services run hourly from Blackpool North to York via Hebden Bridge, and from Leeds via Bradford to Manchester Victoria stopping at Hebden Bridge and other Calderdale stations every half an hour.
The closest airports are Leeds Bradford International and Manchester International Airport which are both within an hour's drive.
A weekend in Hebden Bridge and West Yorkshire
It was a real treat to rediscover Hebden Bridge with Visit Calderdale and see what the wider area has to offer families. As I've already mentioned, one weekend really isn't enough time to do it justice. If you are time limited then the things that I'd make sure we'd do if we visited Hebden Bridge for a weekend again would be: explore one of the town's weekend markets with a stop at a coffee shop for something tasty; revisit Eureka (the kids loved this!); pop back to Blondin's for a delicious ice cream; go for a walk at Hardcastle Crags; and, catch a movie at Hebden Bridge Picture House.
What takes you fancy from our short break in Yorkshire?
Disclosure: thanks to Visit Calderdale who covered our travel expenses and arranged our accommodation and activities while visiting Hebden Bridge and Halifax. I was not paid for this press trip. All opinions are my own.
Pin for later