Things to do in Swansea Bay with kids
We're big fans of Wales and have been lucky enough to spend a few short breaks in the South of the country. Swansea Bay, Mumbles and nearby Gower tick all the right boxes when it comes to family holidays. They have award-winning beaches, historic castles and a rich heritage. So what are the best things to so in Swansea Bay with kids? We found out on a trip organised by Visit Swansea Bay.
*Advertisement feature*
Swansea Bay stretches from Mumbles to Port Talbot. Its sandy beaches, wild moors and rugged bays make it haven for lovers of the great outdoors like us.
This post gives you just a taster of the area and some inspiration for things you might like to do if you visit Swansea Bay, Mumbles and the Gower Peninsular with kids.
You can also see some of my pictures from the weekend on Instagram by searching for #TBTswanseabay.
Things to do in Swansea Bay with kids
1. A Swansea castle: Oystermouth Castle
We were lucky enough to be given a private guided tour of Oystermouth Castle as it's usually only open to the public between March and September. Our guide, Roger, took us all around the castle interior and battlements with panoramic views out across Mumbles and Swansea Bay.
The Norman castle, which in its heyday welcomed royalty, was attacked many times by the Welsh and eventually left in ruin. It was only in 2010 that a major restoration project saved the castle from deteriorating further and allowed it to be opened as a heritage attraction.
Don't miss the glass bridge through the chapel.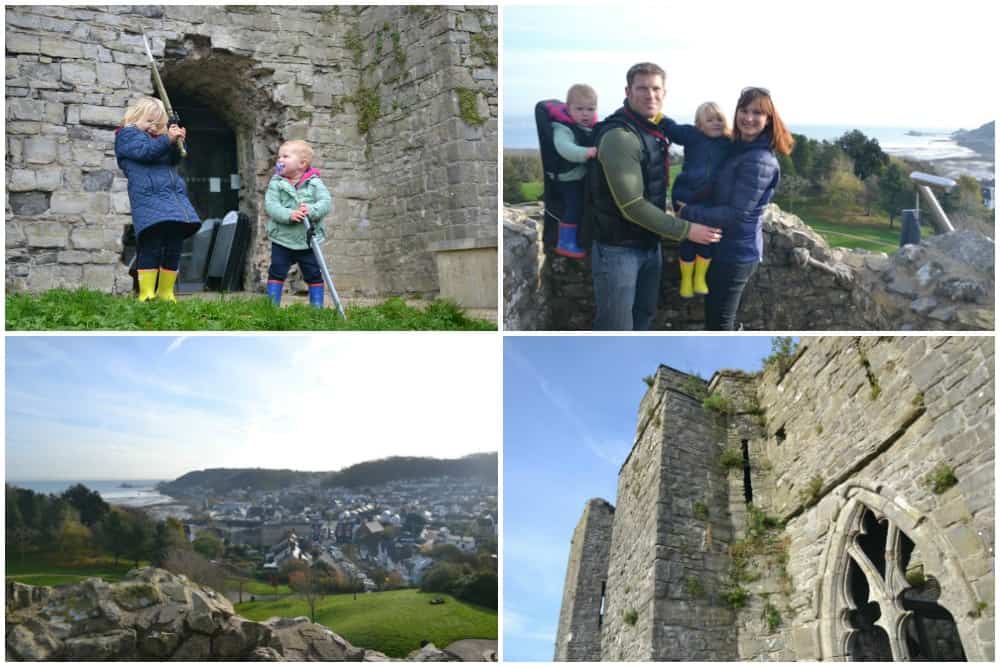 2. Heritage: the Gower Heritage Centre
Our second family attraction of the weekend also gave us insight into the history of the Swansea Bay area. The Gower Heritage Centre is a rural life museum built around a 12th Century corn and saw mill.
The mill and the industries that sprung from it have been revived to provide demonstrations of flour milling, pottery and woollen crafts. There's also a display of antique farming and cultivation tools.
We visited during a Viking-themed weekend when there were warrior workshops, battle reenactments, and folk tales. Our girls enjoyed learning how to be Vikings and meeting the residents in the animal park.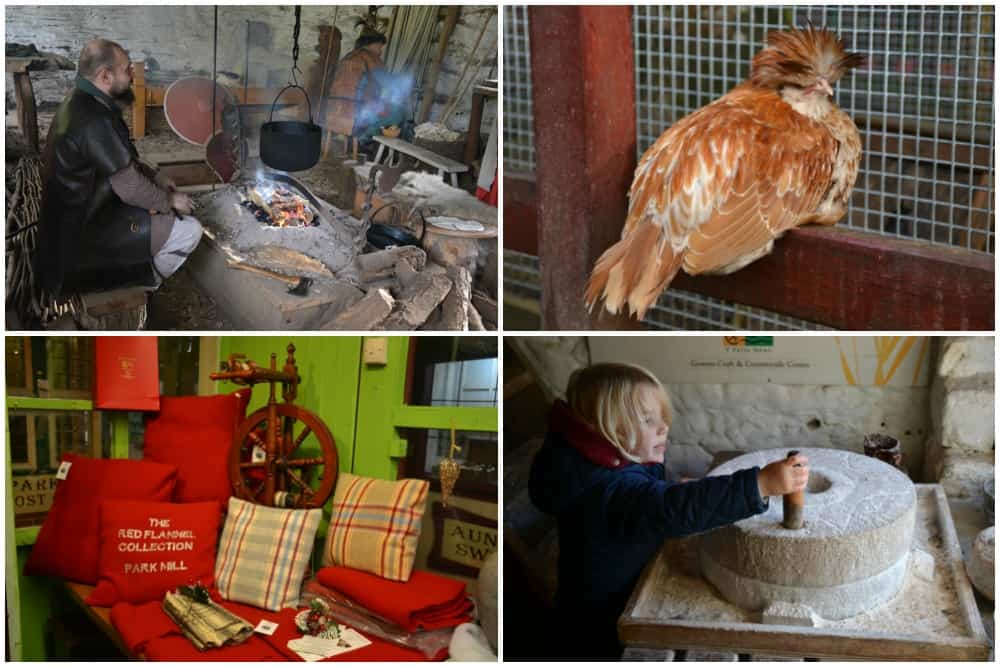 3. Beaches and coastal walks
The Gower Peninsular is renowned for its water sports and even on the brink of winter we saw dozens of surfers out catching the waves at Caswell Bay.
One of the benefits of visiting out of the peak months was that Tin Box Dog could join us on this beach (there's a dog ban between May and September). The bay also has two cafes and a shop, and in 2016 it became a voluntary no smoking beach. What a great idea!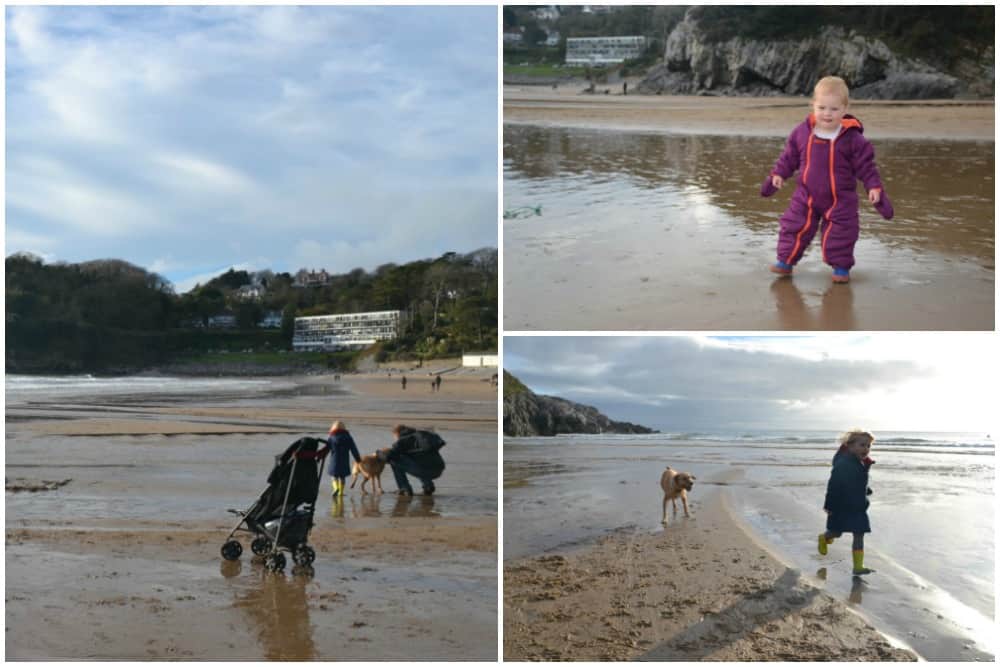 Further along the Gower Peninsular is Rhossili Bay. This has been voted among Britain's top four Best Beaches four years running (Trip Advisor users).
Even on an overcast November afternoon it was easy to understand why. The beach is accessible from a National Trust car park at the top of the cliffs and you must walk down a series of steps to reach the sand and shingle. Dogs are welcome all year round here.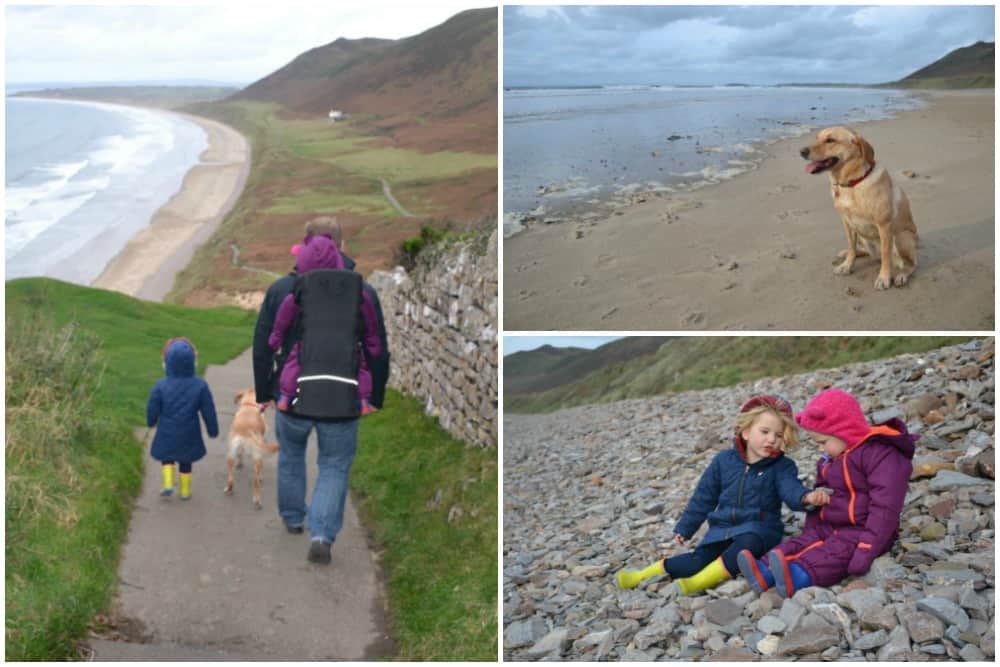 4. Mumbles and Mumbles Pier
Our last morning in Mumbles was spent visiting Mumbles Pier and Mumbles Lifeboat Station.
The Pier, which was built in 1898 and is 835 feet long, gives you a panoramic view of Swansea Bay.
The site of the Pier has been home to Mumbles Lifeboat Station since the 1800s. In 2014 a modern replacement was built at the end of the promenade. It's the third busiest station in Wales and the crew had been called out 77 times in 2016 when we visited.
Tin Box Tot was full of questions about how the lifeboat launched and then got back up into its 'garage'. You can pop inside and see the boat from a viewing platform.
At the land end of the Pier there is an amusements arcade, cafe, mini bowling and an XD theatre, among other attractions.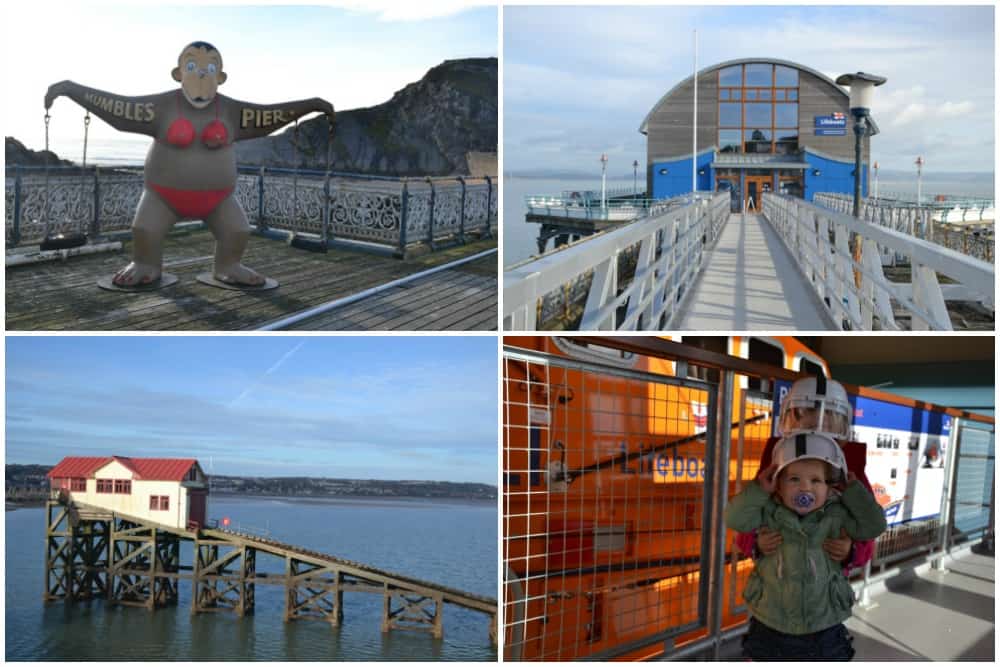 5. Explore Swansea
Next we drove to Swansea for lunch and our last walk before heading home. There's a number of eateries now nestled in the original dock buildings and our girls were entertained by the boats moving through the locks and weir to reach the open water.
Our short walk took in Swansea Sail Bridge, the marina and Trafalgar Bridge, which was built to commemorate the 200th anniversary of the Battle of Trafalgar.
I really feel like we could have spent more time in Swansea city itself. There's a lot that I'd like to go back and explore, such as: Wales' largest indoor market, Swansea Market; the Plantasia indoor rainforest; and a walk through 300 years of industrial history at the National Waterfront Museum.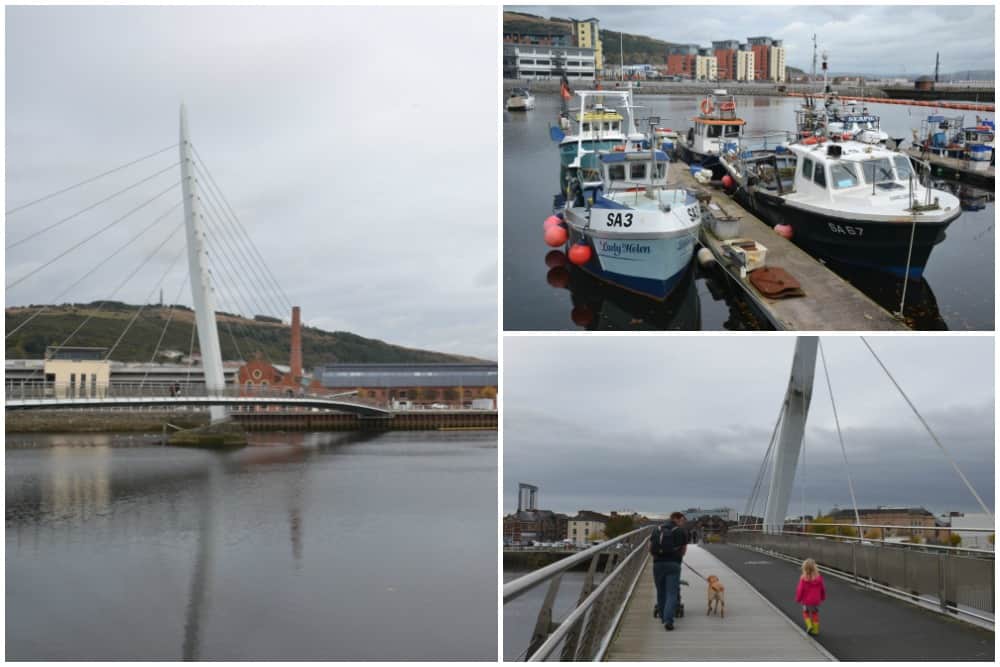 Where we stayed in Mumbles
It wasn't just the outstanding beauty of Gower that wowed us over the weekend. We also fell header heels in love with our Home from Home holiday cottage – Bryn Parc in Mumbles.
It's a wonderful family home that comes with everything you need for a self-catering break with kids, from the welcome basket full of local artisan goodies to all the baby equipment required for your youngest holidaymakers.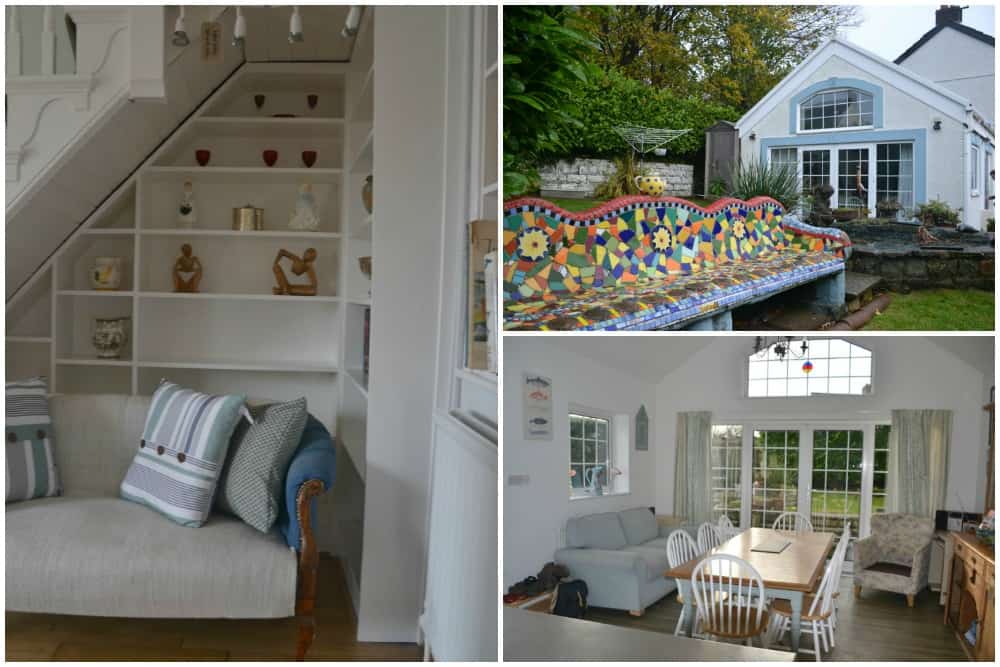 I'll be writing separately about what makes this the perfect holiday retreat for families and groups of friends, but to give you a taster check out my two part Facebook Live tour in the videos on my Facebook page.
Where we ate
We had the opportunity to try out some lovely places to eat in Swansea Bay, Mumbles and Gower. Here are some cafes and restaurants we recommend:
We stopped here for lunch on our way to Rhossili Bay. This is a traditional pub serving traditional fare, as well as home-made Welsh dishes.
We opted for some lighter options off the standard menu but the Welsh lamb chilli and mussels on the specials board were very tempting. I had a cheddar and ham ploughmans, Mr Tin Box went for a sandwich and the girls shared a portion of sausages, chips and beans.
It was good, honest pub food.
We enjoyed plentiful portions of tasty country pub classics, like whitebait and game pie.
The Tin Box girls were kept busy with colouring and the Tot was treated to delicious portion of legendary Joe's ice cream, which also has a parlour in Mumbles. I snuck a taste and it was ever-so creamy.
It was too late in the evening for us to explore the hotel grounds but from what I've heard there are some great views out over the Gower countryside.
This cafe, ice cream parlour and restaurant all-in-one was packed with families when we visited early on a Saturday evening.
It has fantastic views of Swansea Bay and serves pasta, pizza and gelato that is just as compelling. We were there for a delicious dinner, but I've also heard it serves a mean hot chocolate – perfect for warming up after a bracing walk along the seafront.
One more thing, the service was fast. Brilliant when you have two ravenous pre-schoolers with you!
Cafe TwoCann, Swansea
This is where we enjoyed our final meal in Swansea before hitting the road back to Devon and, oh my, it was good.
It was Sunday and the three course lunch menu was far too inviting. Each dish we tried was superb, from the tomato soup that the girls had for their starter to the mountainous roast beef with all the trimmings and mouthwatering chocolate torte for dessert.
It's no wonder that Cafe TwoCann has won awards for its locally sourced, home-made dishes.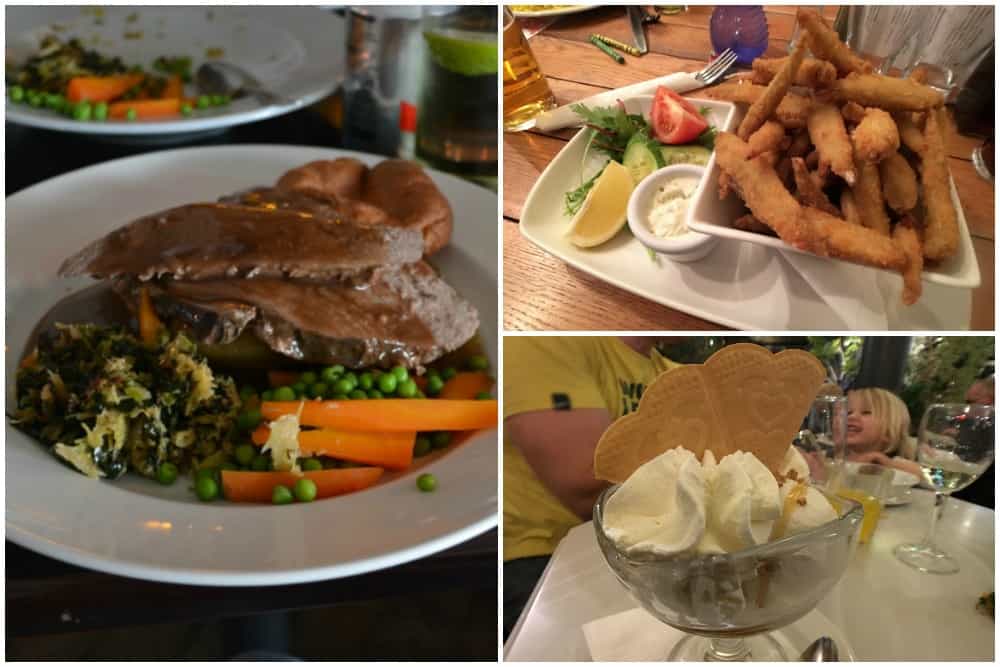 More things to do in South Wales
We're lucky to have visited South Wales a number of times for family holidays and breaks. Here's some more posts about things to do that you might like:
Have you been to Swansea, Mumbles or Gower? What would you recommend to people looking for things to do in Swansea Bay with kids?
Disclosure: we were invited guests of Visit Swansea Bay and received complementary accommodation and meals in return for an honest review. All images and opinions are my own and those of my family.
Looking for things to do in Swansea Bay with kids? Save this post for later.