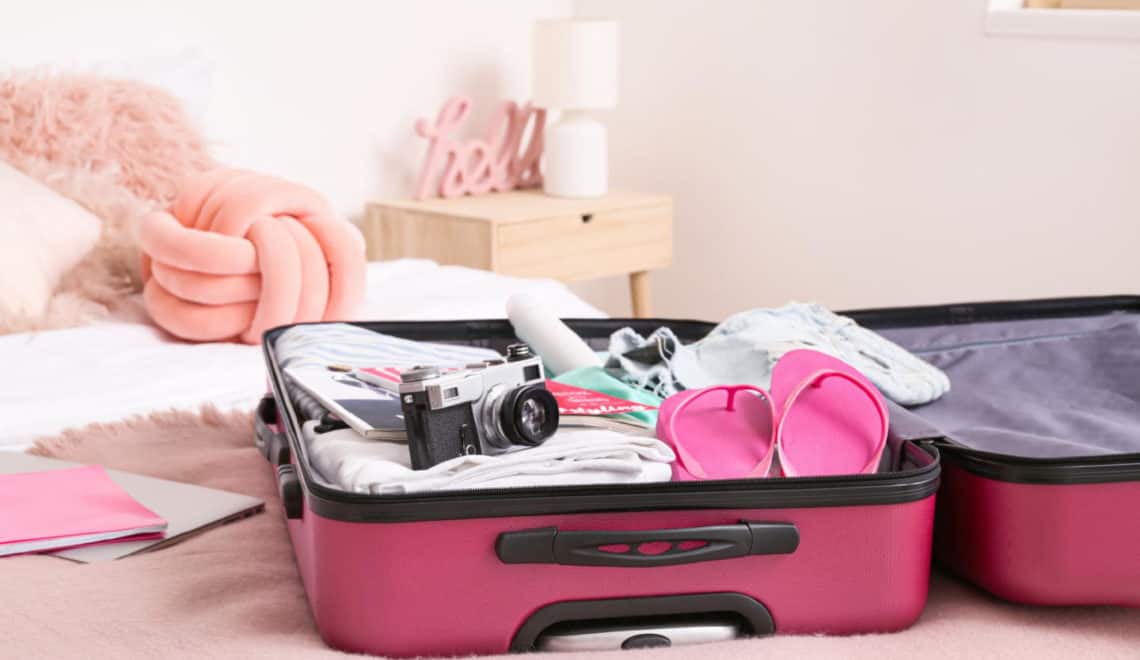 What to pack for a Caribbean cruise
I do love a packing list. And when it came to organising what to pack for our Caribbean cruise, I realised I needed to start planning early.
If you're considering a holiday in the Caribbean you'll already know that the best time to go is in the UK's winter. This avoids the hurricane season; making for smoother seas and better weather to enjoy this stunning destination.
Going from the UK's wintery chill to temperatures of up to 27°C requires plenty of forward planning; buying any extra summer clothes you might need in the end of season sales and taking advantage of offers on sun cream and sun glasses when they are in abundant supply.
I started planning what to pack and wear on our December to January Caribbean cruise in August. OK, part of my enthusiasm was the excitement about this special holiday, but it also made me feel super organised.
If you have a similar holiday coming up, here's my packing list based on a 15 night cruise in the Eastern Caribbean:
*This post contains affiliate links*
Daywear for a Caribbean cruise
I packed outfits that were light for the Caribbean climate and practical for the days we had planned onboard and in port. We intended to do plenty of exploring on foot, some organised excursions, a bit of relaxing at the beach and time by the pool onboard.
I packed nine outfits that could be refreshed and recycled over the two weeks. This included:
A long cotton skirt
A pair of shorts
Five t-shirts/vests
Two short dresses – Fat Face is a favourite brand of mine
A long dress
Two swimming costumes* – I love how well Zoggs swimsuits fit
A beach shirt or dress
Gym kit
Trainers
Flip flops
Sandals
Evening wear
Our most recent cruise was with P&O, so there was an expectation that you dress smartly for dinner, even on informal nights. I packed seven smart-casual outfits:
Linen trousers
Two skirts

Five smart tops
Two chunky necklaces
I planned my outfits so the tops and bottoms were in coordinating colours and interchangeable. This gave me outfits for informal evenings that I recycled during the two weeks.
I took four pairs of day shoes and only one pair of formal shoes on the cruise – they use up a lot of luggage weight allowance.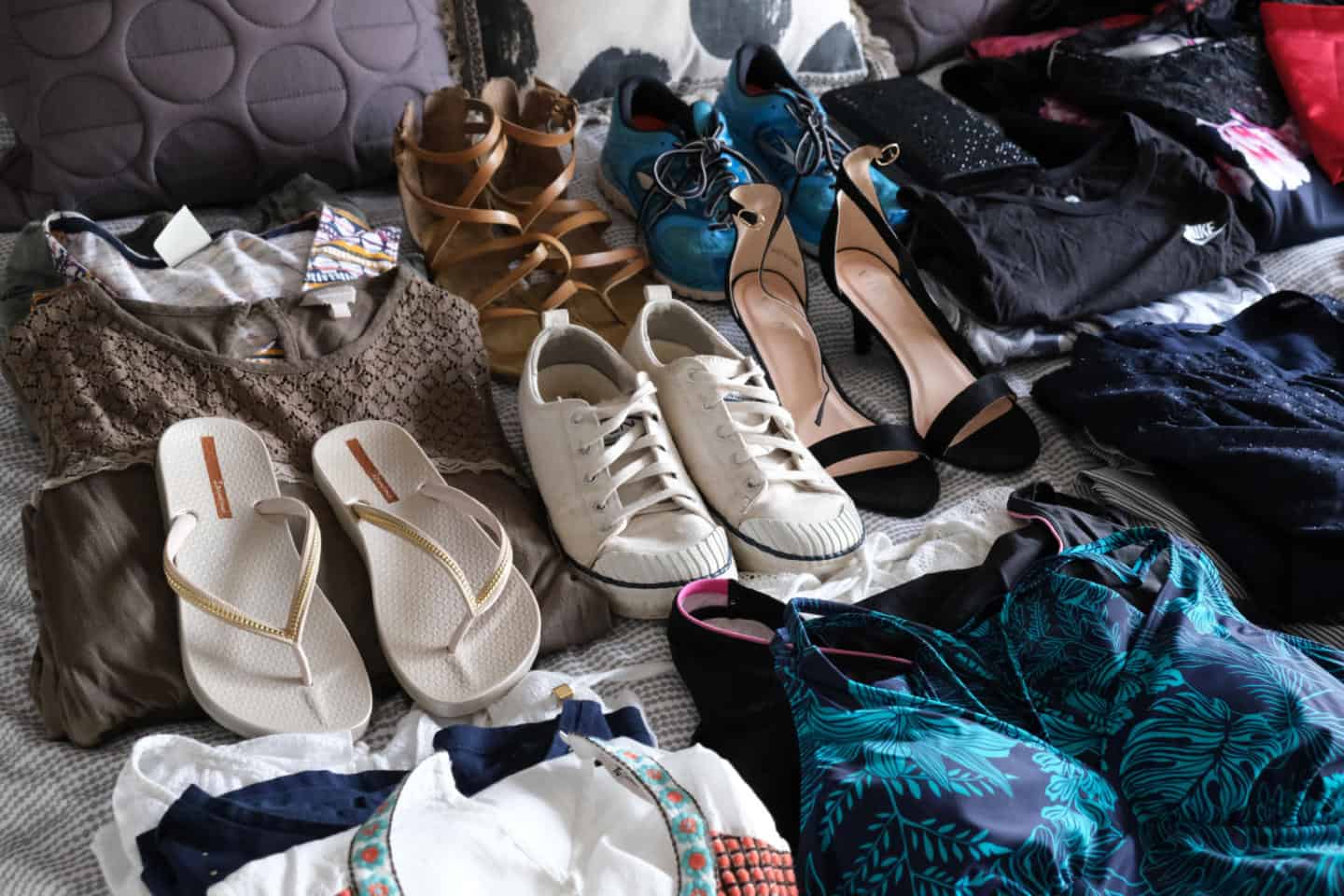 Formal nights
We had four formal nights on our P&O cruise plus New Years Eve, so I packed two cocktail dresses with shrugs and a pair of low heel black shoes*, mentioned above, that will match both outfits.
I also have a black clutch bag that works with all my evening wear. I got this from TK Maxx a few years ago and it goes with everything!
Packing tips for your cruise
A few years ago we discovered packing cubes* and have never looked back! These ingenious zip-up bags with a mesh top help you to maximise space in your case and organise your clothes so they are easy to locate when you arrive.
Pack a bag per person for short trips or separate your day wear, evening wear, underwear and swimming costumes for a cruise. All you need to do when you arrive is pop each bag in a draw or hang up your formal wear.
Here's what my clothes for this 15 day Caribbean cruise looked like laid out on our king sized bed at home.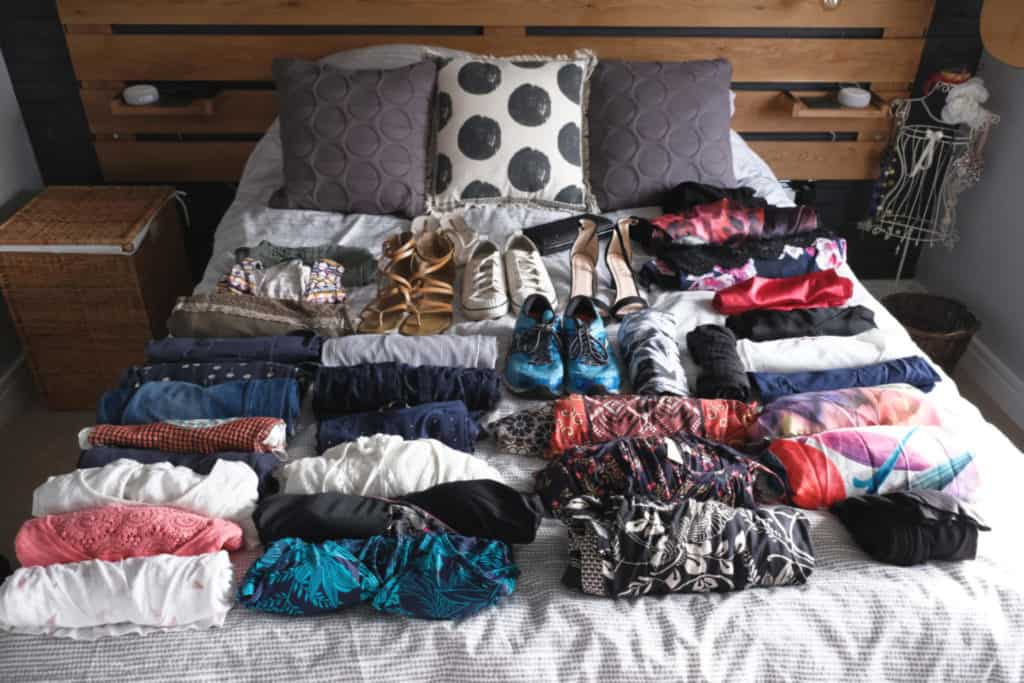 And here's what they looked like when organise into packing cubes.
Essential paperwork to pack
Of course, we won't have been going anywhere if I didn't pack the essential paperwork for our cruise. This included:
Passports
Insurance
Drivers licence if you have booked a jeep or driving excursion
Itinerary and tickets

Local currency.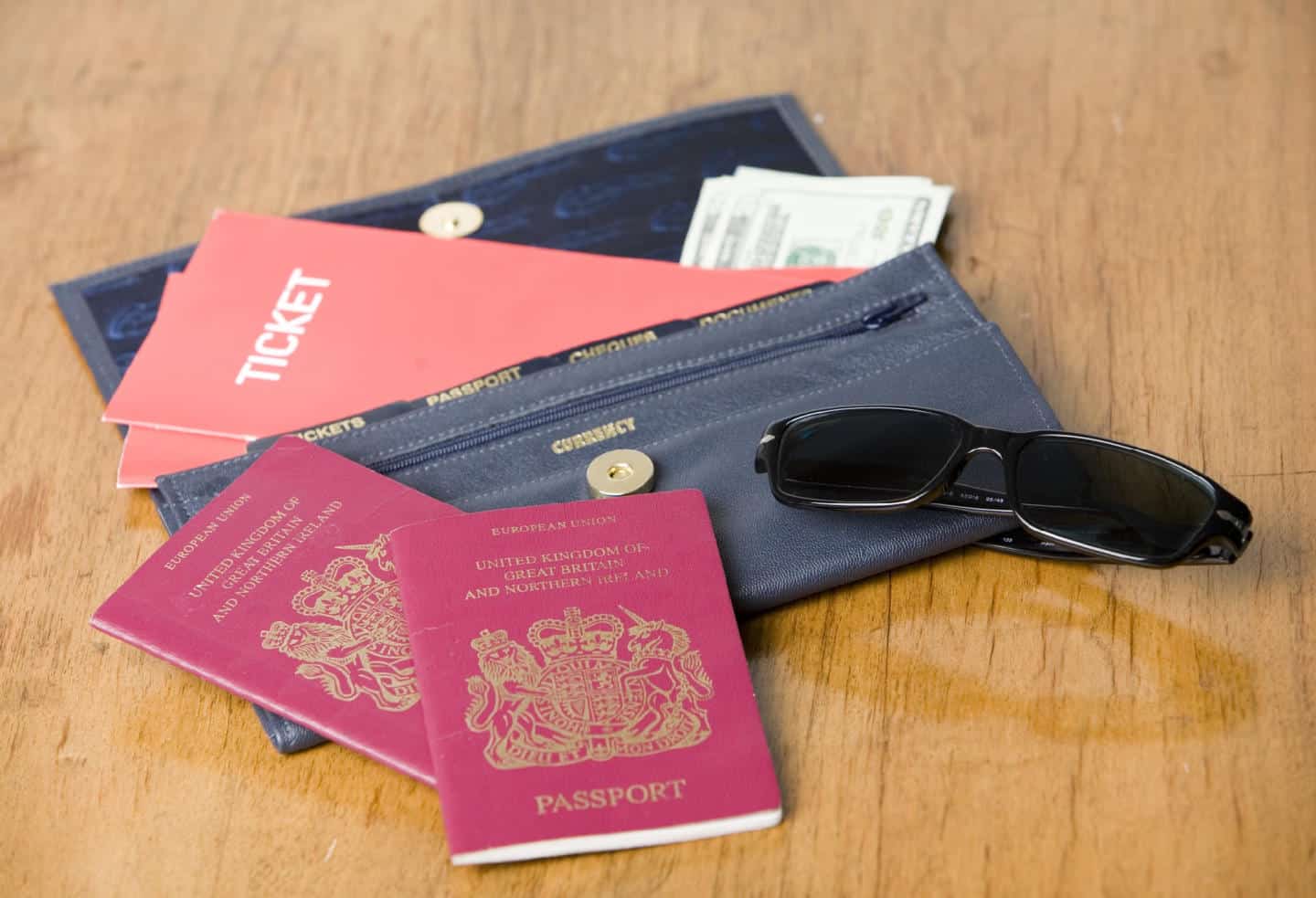 We didn't need visas for the destinations during our Caribbean cruise but it's important to check your itinerary to see if you will as part of your cruise.
Sailing from Southampton? Check out my cruise checklist.
What to pack in your hand luggage
We had a 11.40am flight from Gatwick, which landed us in the Caribbean at about 4pm local time. That meant packing our hand luggage with everything we could need for the early evening before our bags were delivered to our cabin.
I packed some lighter clothes to change into before the plane landed, a swimsuit, some basic toiletries, spare contact lenses and my glasses. However, by the time we got to the ship the sun was going down – it was a good plan though!
If you are travelling with medication then put this in your hand luggage too.
On top of that I had my passport, travel documents, camera, Kindle*, phone and charger.
Tech for your Caribbean cruise
Which brings me on to the tech we took on our cruise.
Mr Tin Box treated me to a new Kindle before our trip as the screen on my old one got damaged while we were moving furniture to redecorate a few months ago. We also bought a new camera for this trip – the FujiFilm X-T 30* – it's fab!
As well as the Kindle and camera we packed our GoPro* and some new snorkel masks* to see what underwater pictures we could get when we took a dip in the warm Caribbean Sea – even if we did look hilarious.
Double check you have all the charging cables for your tech and pack a power bank* to keep your tech charged during excursions.
We cruised with P&O, so didn't need plug adaptors, but you will do for other cruise lines.
Toiletries for a winter sun holiday
I packed a few specific toiletries for our Caribbean cruise including high factor face cream and sun cream. Take a look at some more toiletries for winter sun holidays.
Something I didn't pack was shower gel or soap as P&O supply White Company products, but check what your cruise line offers.
Other handy things to pack for a Caribbean cruise
Sunglasses
Mine got a battering over the summer in the UK, so I may have to do some last minute shopping at the airport.
Beach shoes
These lightweight, quick drying shoes* are handy if you are visiting beaches with corse sand or intend to do water sports like kayaking.
Resuable water bottles
Something we've always packed for cruises is a reusable water bottle that we can fill up in our cabin and take on excursions. This saves buying water and wasting plastic.
Check out more ways you can be environmentally conscious on your cruise.
Cordial
When we're cruising with the kids', and even when we are not, I buy the small Robinsons Squash'd* concentrated cordial to add a bit of flavour to water in our cabin.
Collapsible laundry basket
Rather than use a suitcase to stow all our used clothes I have a collapsable laundry basket* which will keep our cabin tidy and be ideal for transporting clothes to the onboard laundry.
Hair styling
My GHDs will be coming with us. There is a hairdryer in our cabin so I'll be leaving this at home.
Dry bag
We'll use a dry bag* for keeping any valuables with us while at the beach. We have a few but something like this is ideal:
If you are interested in more holiday packing lists take a look at my ultimate guide to checklists for family holidays.
What to pack for coming home
It's not really something you want to think about too soon, but on your return to the UK, make sure you have a jumper, jacket and sensible footwear in your hand luggage. Winter in the UK will hit you like a wall as soon as you get off that plane!
So, that's my list of what to pack for a Caribbean cruise. Can you recommend any essentials for holidays in the Caribbean? What have I missed?
Read more tips for planning a Caribbean family holiday.
Disclosure: this post contains affiliate links marked with a *. If you click on one of these and make a purchase I may earn some commission. This does not affect the price you pay.
Planning a Caribbean cruise? Why not save this post about what to pack for a Caribbean cruise for later.