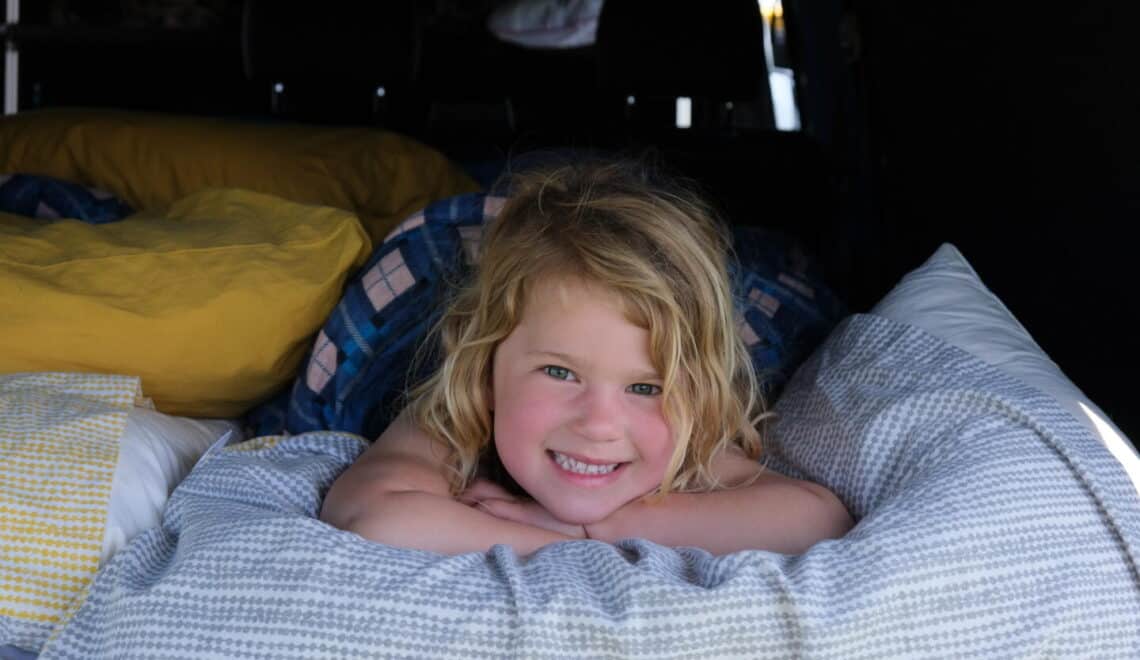 VW Transporter beds: how we sleep in our camper van
Camper vans – no two are exactly the same. You can customise them in hundreds of ways to make them the perfect set up for you. Long Wheel Base or Short Wheel Base. Pop top or not. Full kitchen conversion or day van. The options are endless, especially when in comes to the sleeping arrangements. One question I've been asked a lot is how does a family sleep in a camper van? So, I thought I'd share what our VW Transporter beds look like and why we chose them.
VW Transporter beds in our camper
At this point I'll clarify that what we have is a Long Wheel Base VW T5 day van. It is not a fully converted camper van but it might be an option people new to camper van life want to consider.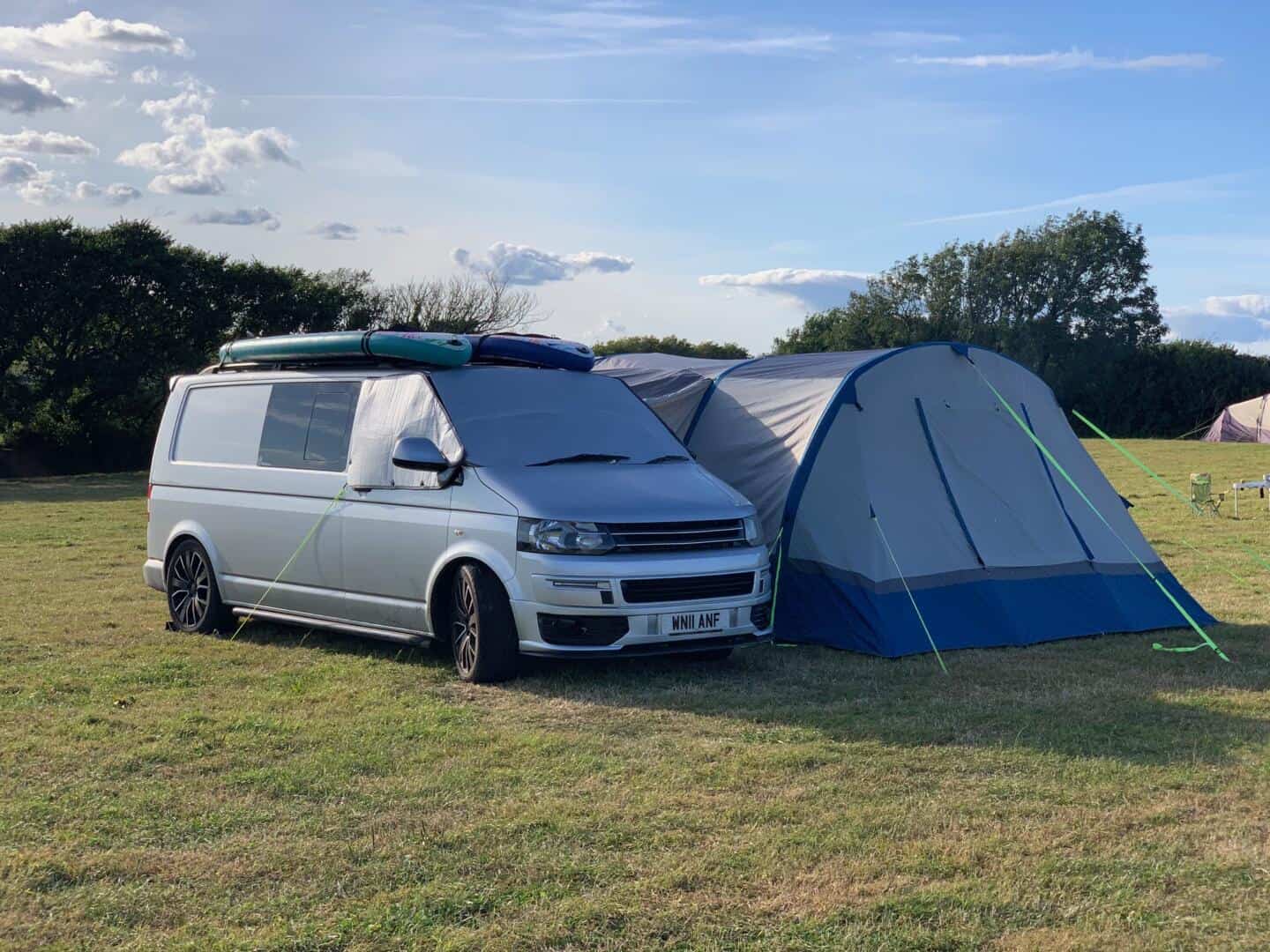 Here's some more things to consider when buying a camper van.
Want more ideas for family holidays and days out? Read my tips for smashing family travel and sign up for my newsletter.
Kids camper van beds
Our day van kombi has two rotating seats in the front, which allows us to use the Cabbunk children's camper van bed.
This provides a bunk bed capable of supporting two people weighing up to 70kg each and up to 170cm tall. This is more than adequate for our girls aged seven and five.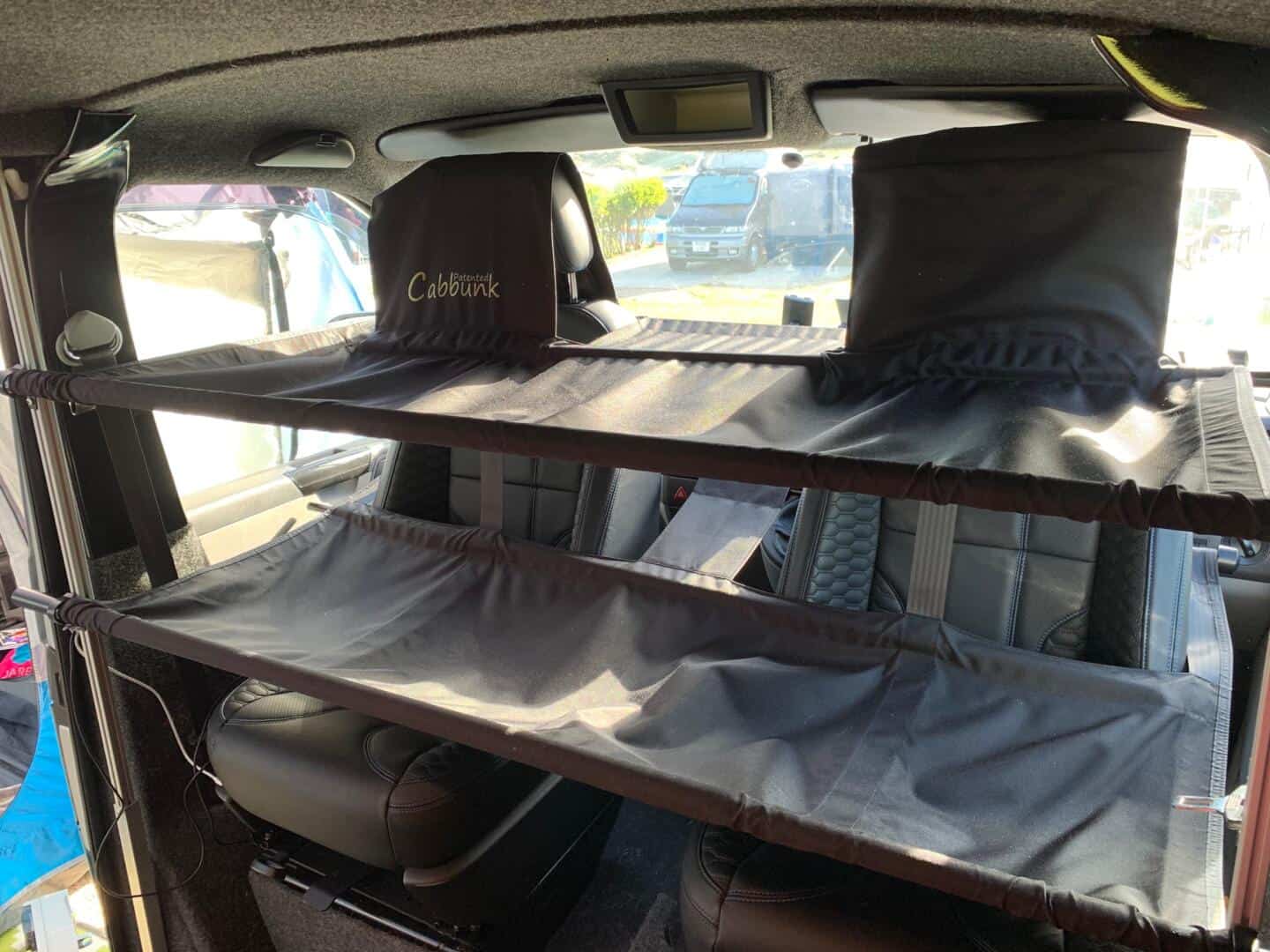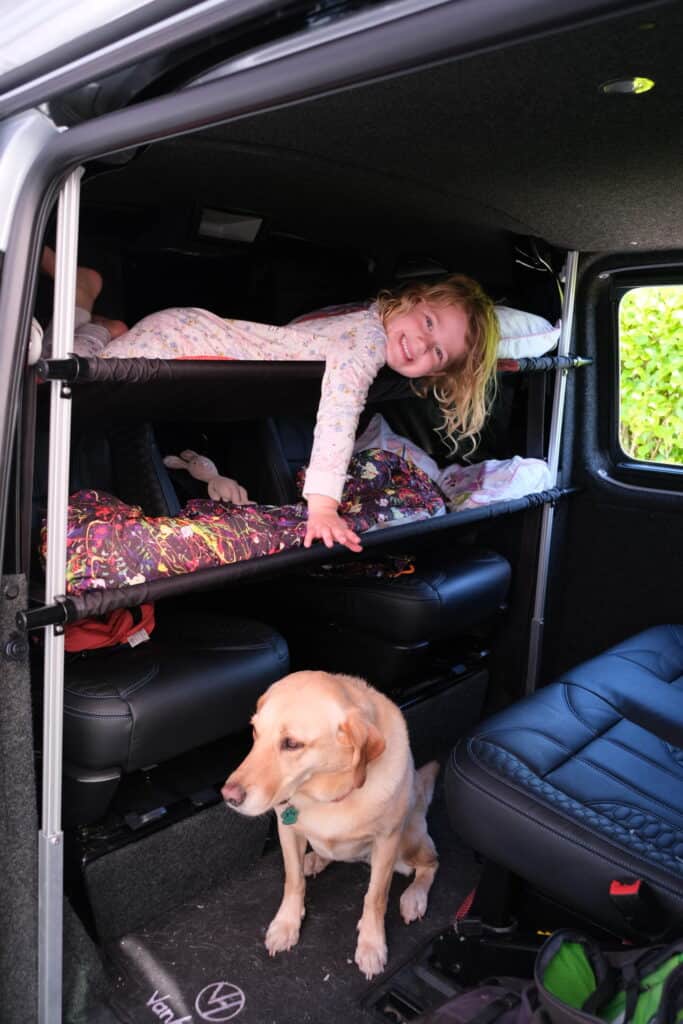 Installation is quick and easy, once you have done it a few times, and it packs away very neatly.
In our T5 we use the sliding door kit which doesn't need to be screwed into the body work making it a completely removable system.
If we are going out for the day the bunk gets stowed away, but if we are staying on site we simply leave it in place as we use our OLPRO air awning for living space.
It's worth practicing putting up the Cabbunk at home as there is some adjustment to be done to make the system perfect for you.
A slightly 'slacker hammock' is ideal for very small children to ensure they don't fall out, while larger children will prefer a more taught hammock to give them greater space and make it easier to get in and out.
Our five-year-old finds the bunk really comfy without extra padding but our seven-year-old likes the addition of a small self inflating mattress for extra comfort. The both sleep in their sleeping bags with a pillow from home.
If you're undecided between a camper van or caravan you might also like to read my post about caravan beds for kids.
VW Transporter beds for adults
One of the 'must haves' for the latest Tin Box was a large and comfortable bed.
Mr Tin Box is not a narrow sleeping companion and takes up rather more than his fair share of the bed. He'd probably say the same about me! For this reason we ruled out the traditional 3/4 width rock and roll VW Transporter beds that you find in many full conversions.
Instead we went for a Forty Winks Kombi bed.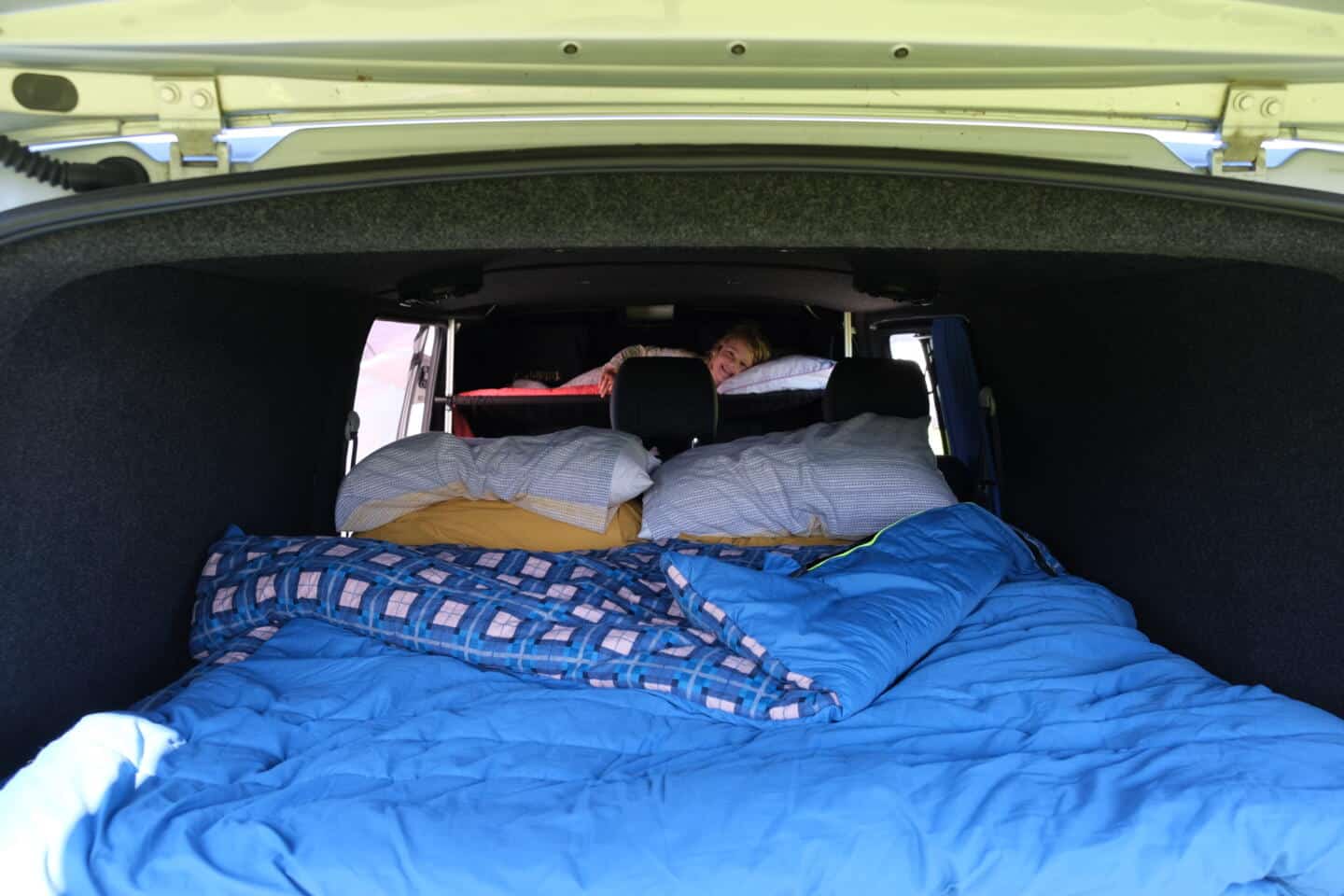 This simple design is great for providing a flat, large and comfortable sleeping platform while retaining the usability of the van's load space.
Because we have a Long Wheel Based van we can have the bed in place without having to worry about folding away the rear seats and it gives us pretty close to a full size double bed.
The system uses the existing VW load space floor mounts so doesn't require any drilling or modification and can be fully removed if required. It also folds in half allowing half of the load space to still be full height – ideal if transporting bikes.
We had a high density foam mattress made to measure. It folds at the same place the sleeping platform does so stows away neatly. We deliberately got this done with a water proof cover and dense foam so that we didn't have to worry about taking the mattress out if we were out and about paddle boarding or on wet, muddy dog walks.
For added luxury we have a standard double memory foam mattress topper (a special from ALDI) that comes away with us on camping trips.
Camper van bedding
So, which is best? A sleeping bag or duvet?
We started out with a double sleeping bag*, with pillows and a king sized sheet from home. The main benefit is that it's easy to pack away and store on days out.
You do need to spend a reasonable amount of money on a cotton sleeping bag to ensure it's comfortable and doesn't get sweaty.
An alternative that we've recently been introduced to is a coverless duvet, which adds a bit of luxury to van life while still being practical.
Read my review of the Night Owl coverless duvet and why it works as camper van bedding.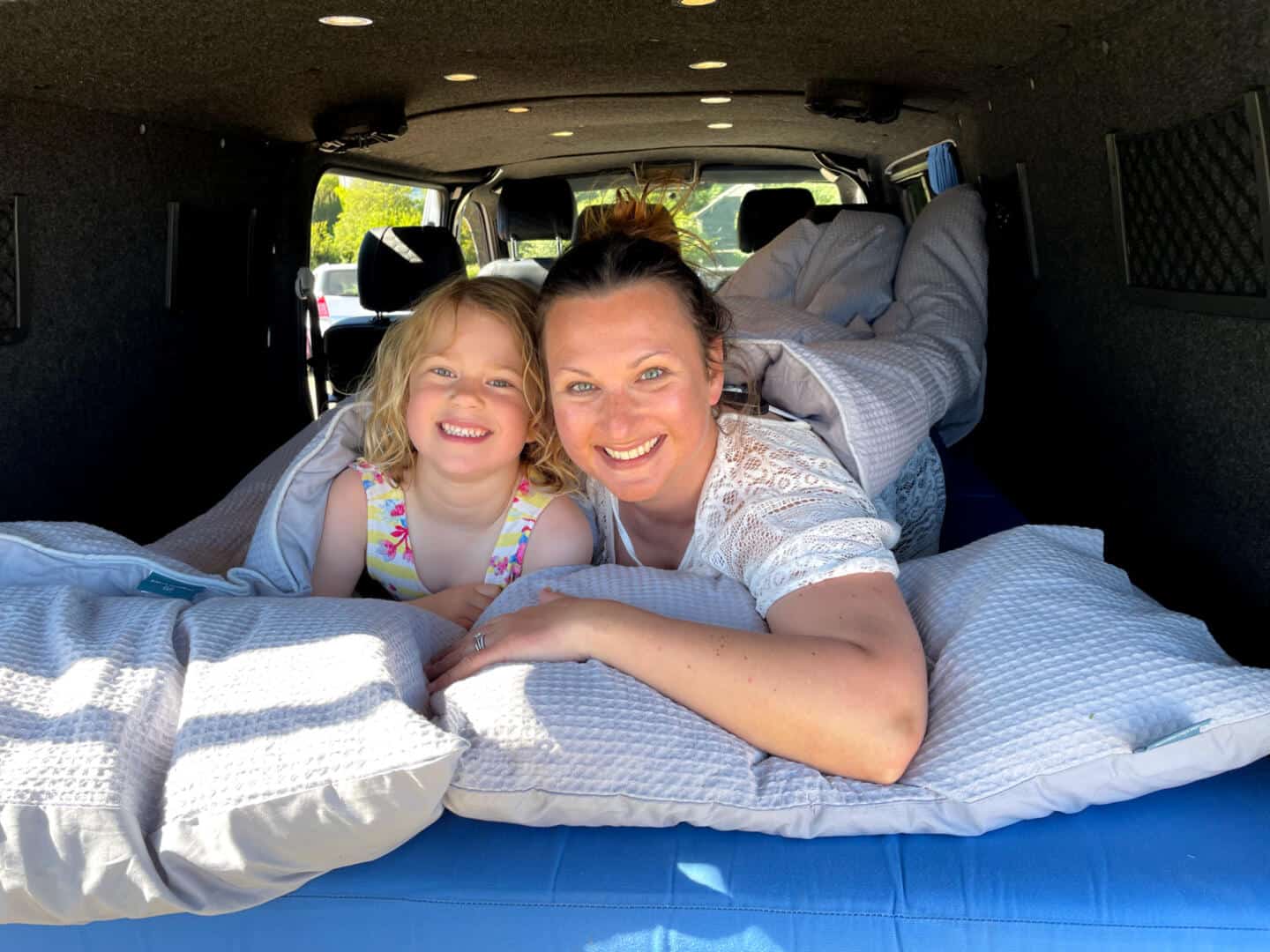 Why our VW camper beds work for us
This set up works for us for several reasons.
Firstly, when going away we will almost always put up our OLPRO CoCoon Breeze awning. We always used an awning with our caravan because the extra space it gives with two children and a dog is invaluable. It also means the van can just be for sleeping not living.
That said we have done occasional overnight stops without an awning.
Second, we don't travel light! Bikes, scooters, paddle boards, the list is endless. The space we have to carry 'stuff' is huge and the van has the load capacity to take it all. I don't know how we would get everything in a full camper conversion.
Lastly, the van is our primary family transport and being a kombi we don't have to worry about the rear seats being too far back. We also have ISOFIX for the children's seats.
Other options for family beds in camper vans
We did think about the pop top option for the kids' beds but have decided not to go down this route just yet, mainly because we don't use the van as a living space or need the head room. However, we haven't ruled it out in the future, especially with growing kids.
We also have the option of letting the kids sleep in our awning in the future. Our OLPRO Cocoon Breeze has two bedrooms that would provide spacious living quarters for pre-teens. It wouldn't be ideal now as the bedrooms don't have blackout liners.
How do you sleep in your camper van?
So, that's our VW Transporter bed set up. Would this work for you? Or, if you already own a camper van, what set up works for you?
I'm always interested in seeing how other people use their vans so please share your set ups with me. Do you use a camping pod systems such as the slide pods? Could you live without your pop top? What about a roof tent? Do share!
Read more of my camper van blog posts:
Researching your camper van bed options? Why not save this post about VW Transporter beds on Pinterest.