OLPRO Wichenford Breeze review: 8 berth inflatable tent
I always smile when I hear camping holidays described as 'roughing it'. This couldn't be further from the truth when there are some palatial tents on the market. This Spring we had the chance to try out one such tent. If you're looking for a large inflatable tent, here's what you need to know about the OLPRO Wichenford Breeze.
*Advertisement feature*
We are OLPRO brand ambassadors and have been given the Wichenford Breeze to try out. This post contains affiliate links, which are marked with *. If you click on one of these links and make a purchase I may earn some commission.
There's also a discount code at the bottom of this post, which you can use on any OLPRO purchases. You're welcome!
Tent features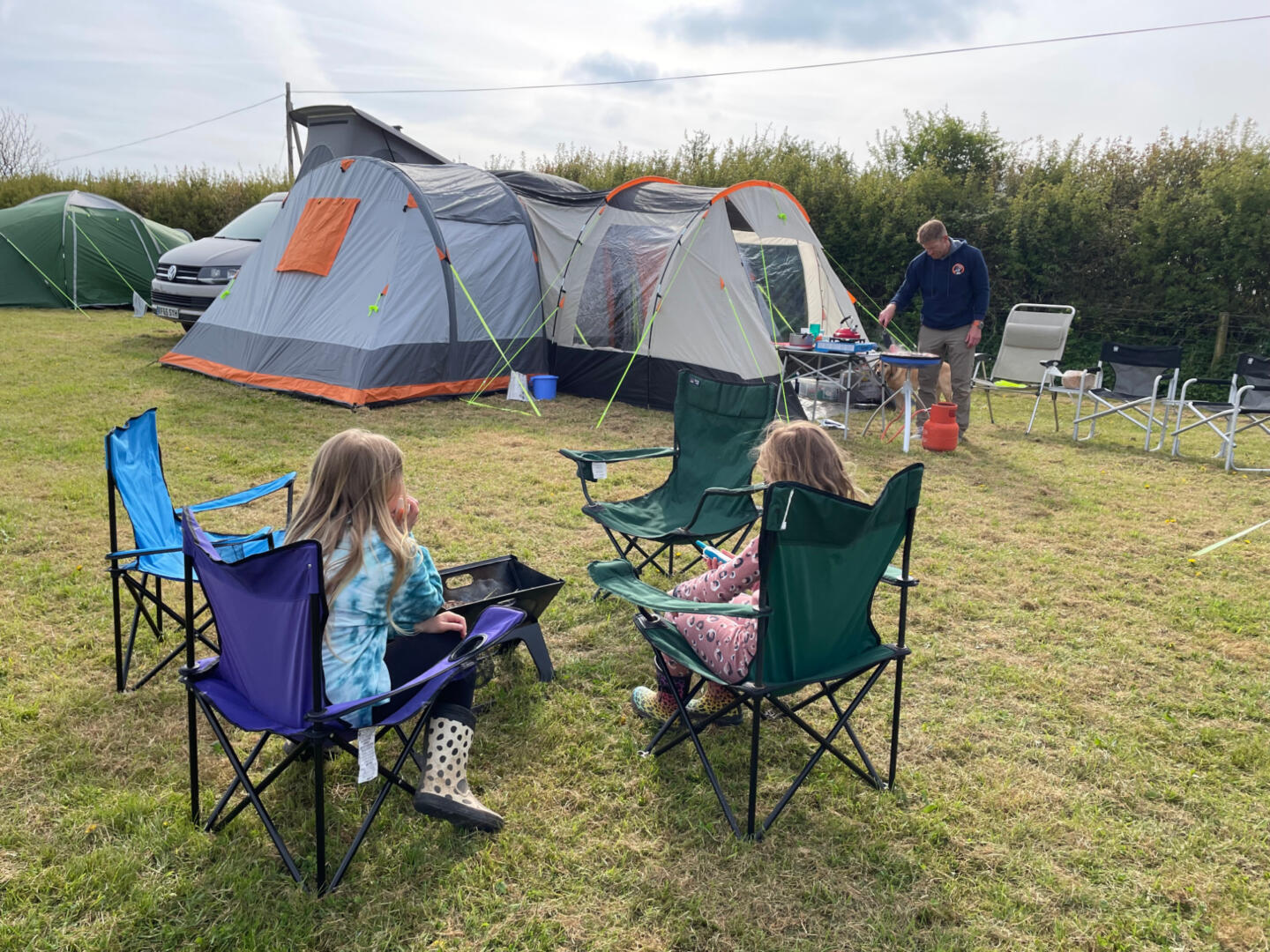 Here's the vital stats for the Wichenford Breeze 8 berth inflatable tent*:
Height (cm): 210cm (82.7")
Length (cm): 720cm (283.5")
Width (cm): 300cm (118.1") Note: 540cm with Extension in place.
Packed dimensions (cm): 70cm x 38cm x 38cm (27.6" x 14.9" x 14.9")
Weight: 40kg
Hydrostatic Head: 5,000mm H/H
Material: 150D Oxford
Sewn in groundsheet: Yes
Pitching time: 10 minutes (OLPRO's estimated time).
The RRP for the Wichenford Breeze is £1,099, although at the time of publishing the price was considerably reduced.
Check the current selling price*.
How to put up the Wichenford Breeze
Having previously used the Cocoon Breeze we are old hands when it comes to OLPRO's inflatable system.
This super simple system allows for a really speedy set up time and the 10 minutes quoted on OLPRO's website is certainly achievable.
Video coming soon!
Here's the step by step process:
Spread out the optional footprint ground sheet on you pitch and peg it down.
Place the tent in the middle of the ground sheet and unfold the main canvas.
Peg down the four corners.
Make sure the bottom of the doors and windows are unzipped to let the air into the tent and avoid creating a vacuum when you start inflating it.
Inflate the tent poles starting in the middle and working out each side to ensure everything goes up evenly. A hand pump is included along with a pressure regulating valve to ensure you can't over-inflate the poles.
Peg out the guy lines and included storm straps as required.
Finally, it's just a case of hooking in the bedroom inner tents and laying down the optional tent carpet.
Top tip: the strap style guy lines along the sides of the tent have a habit of 'vibrating' in the wind making an annoying noise. You can avoid this by making sure they have a twist in them.
How strong is the Wichenford Breeze
One thing we still hear on campsites when it comes to inflatable tents is worries about how they stand up to bad weather.
Our experience with the Cocoon Breeze was very favorable. It withstood quite a beating during typically stormy UK summer holidays.
The Wichenford is even sturdier. With two additional main poles it feels incredibly solid.
Even though the weather during our first outing was was relatively benign I would be confident the Wichenford would do the job in the worst the British weather had to offer. The light rain we experienced during our camping trip was kept well at bay by the 150D Oxford fabric and 5000mm Hydrostatic.
How we used the Wichenford Breeze
The Wichenford is a really large tent that can accommodate up to eight people.
As a family of four it provides an ample and luxurious space for sleeping and living.
We used one inner tent as a double bedroom and still had room for bags and to change in comfort.
At the other end the Tin Box Kids took one side of the inner tent with the other being occupied by beach gear and our emergency night time porta loo.
One of the things we really like is the flexibility of the accommodation.
Zipping out the divider on the inner tent would allow two couples to go away with their own large double bedrooms.
Alternatively you could forgo one inner tent completely and have a massive living space.
The only improvement we would really like to see is black out fabric on the bedroom inners. We've found this really handy in other family tents we've owned.
Pros
Here's what we really liked about the Winchenford Breeze:
The door and window on both sides of the living area means you don't have to worry about which way round it is when pitching up.
More importantly you can use the door on the 'lee' side of the tent away from the wind and rain or, in hotter weather, have both doors open to allow a cooling through draft.
The tent is also very well ventilated with mesh windows on the ends and sides and no fewer than six ventilation flaps. This is really important for staying comfortable and also keeps condensation to a minimum.
The window design also allows the covering to be 'pitched out' away from the tent, letting light and air into the tent whilst keeping the rain out.
The overall simplicity of the Wichenford is a feature in itself. Many large tents come in odd shapes or complex pole arrangements. The rectangular shape of the Wichenford is ideal for most UK campsite pitches allowing a car to be parked alongside it.
Cons
One of the best features of this tent is also one of its downfalls. It's BIG, even when packed away. So if you do buy the OLPRO Winchenford Breeze you're going to need a big car to transport it and all your other camping gear.
However, if there are eight of you, I suspect you'll be bringing more than one vehicle on your trips.
Find out more about this inflatable tent* and compare it to the poled version*, which is cheaper (RRP £661) but provides the same space.
Extras for your Wichenford Breeze
You can buy the Wichenford Breeze with a range of optional extras including carpet, footprint ground sheet and additional front porch extension.
Footprint ground sheet
This was the first time we had used a footprint ground sheet and it worked remarkably well, ensuring the majority of grass and mud was kept off the main tent making it easier to pack away.
For the relatively small additional space it takes up I would say its well worth the money.
Tent carpet
We are big fans of tent carpets. They make the space warmer, cut down of rustling noises while you're walking around and add a touch of luxury.
Tin Box Dog is also much more comfortable walking and laying on carpet. She is becoming more demanding in her later years!
You can buy the carpet* separately or get both the ground sheet and carpet in a tent package*.
Hard ground pegs
Years of camping and caravanning experience have made it clear to us that the tent pegs supplied with tents and awnings often don't cut it in the real world.
We have a bag of rock pegs or hard ground camping pegs* which we always use on tents and awnings. When combined with a small lump hammer you can pitch on almost any surface.
We also recommend having a cheap pair of mole grips on hand to help when pulling the pegs out.
Wichenford Breeze Porch Awning
We used the Wichenford tent with the optional porch extension*. This provided a really useful space for our kitchen gear and muddy footwear.
However, while having a porch is nice, the design of the extension didn't quite work for us. I've covered why in my Wichenford 3.0 Extension review.
Tent packages
OLPRO sell the Wichenford Breeze on its own or in packages with some of the extras above.
Here's the available tent packages*.
OLPRO discount code
As an OLPRO ambassador I can offer you 10% off OLPRO products if you use 'TinBox10' at the checkout on their website*.
This is redeemable on full price products and those that are already discounted.
Happy shopping!
Our Wichenford Breeze review
In summery, we are really impressed with this large inflatable tent. The living space in the Winchenford is very versatile, it feels solid and it is so easy to put up.
At full price, you are definitely paying for the size of the product you get. At a discounted rate, which are frequently available own the OLPRO website, it's a lot of tent for the money.
If you have a big family, like to camp with plenty of space or want the perfect set up for staying with a group of friends without tripping over each other, then this is the tent for you.
Buy the Wichenford Breeze on the OLPRO website*.
Disclosure: we were spent this inflatable awning for the purposes of reviewing it for OLPRO. All opinions are my own.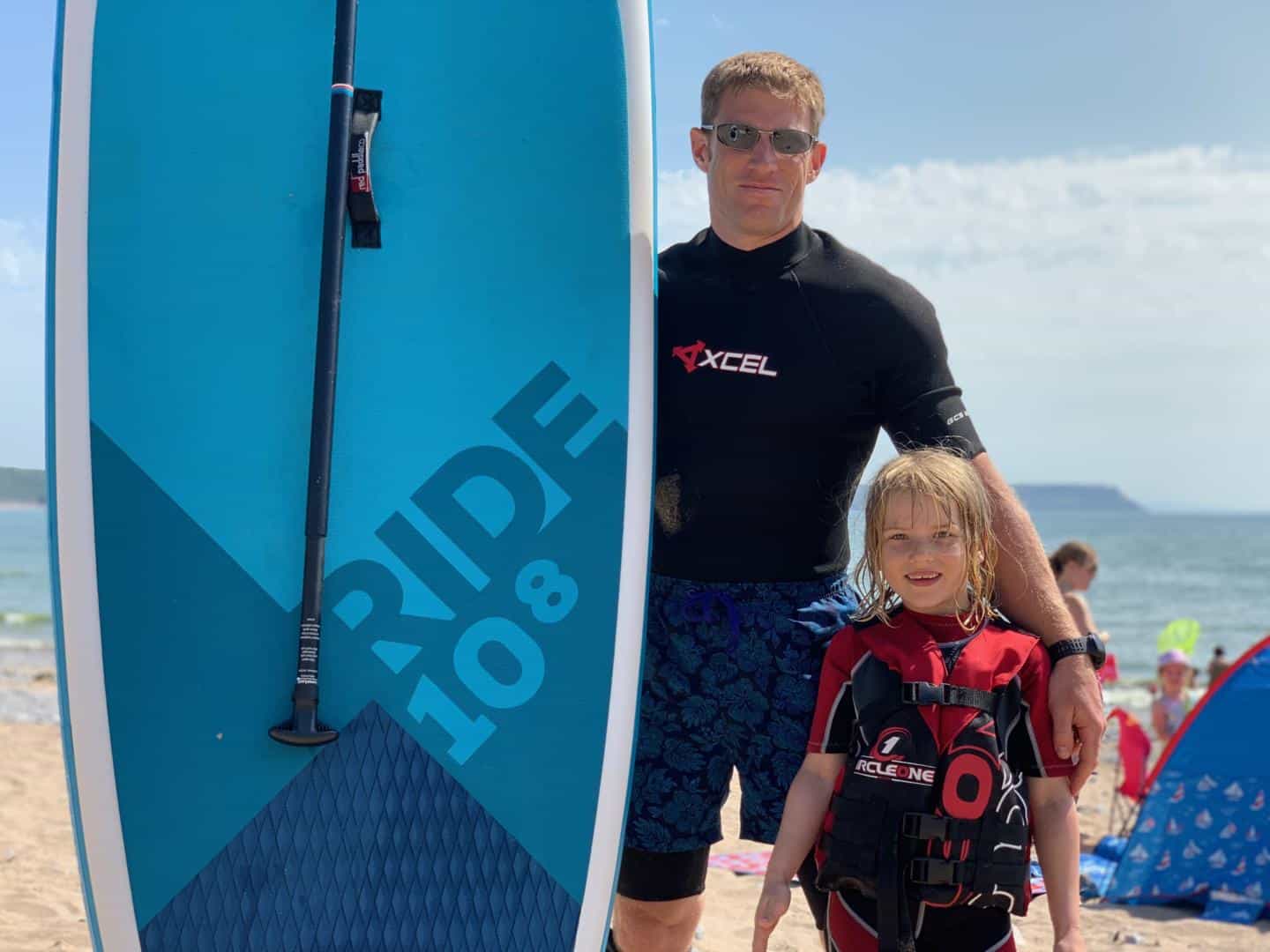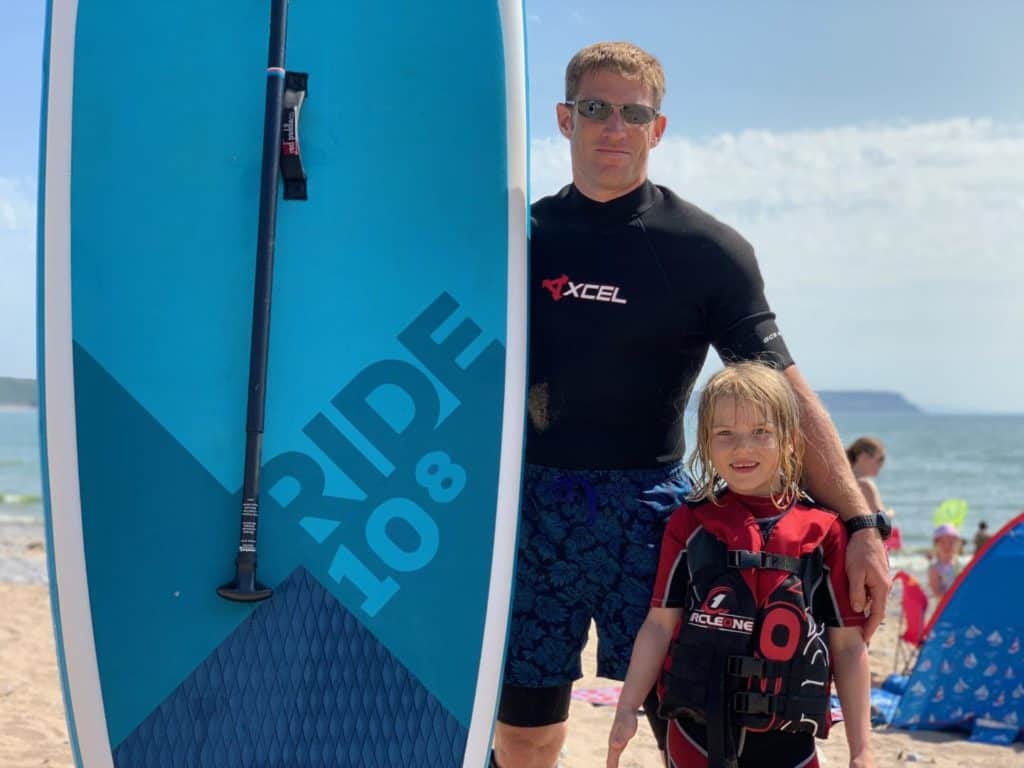 We've shared our honest thoughts on loads of camping, outdoor and family travel products here on the blog.
Want to know what we rate? Read our product reviews.