Fun things to do in Lake Garda for families
One of our very best holidays of the year was our week in Lake Garda in August. I love Italy but this was a new destination for me, so extra exciting. A spot of pre-trip research and seven days exploring soon revealed plenty of things to do in Lake Garda that make it a great family holiday destination.
*This post contains affiliate links*
About Lake Garda
The shores of Lake Garda meet three Italian provinces: Brescia, Verona and Trento, with mountainous ranges and lowlands. This makes for a romanic, smoky blue skyline with pretty lake side towns in the south and rock faces that seem to plunge into the water in the north.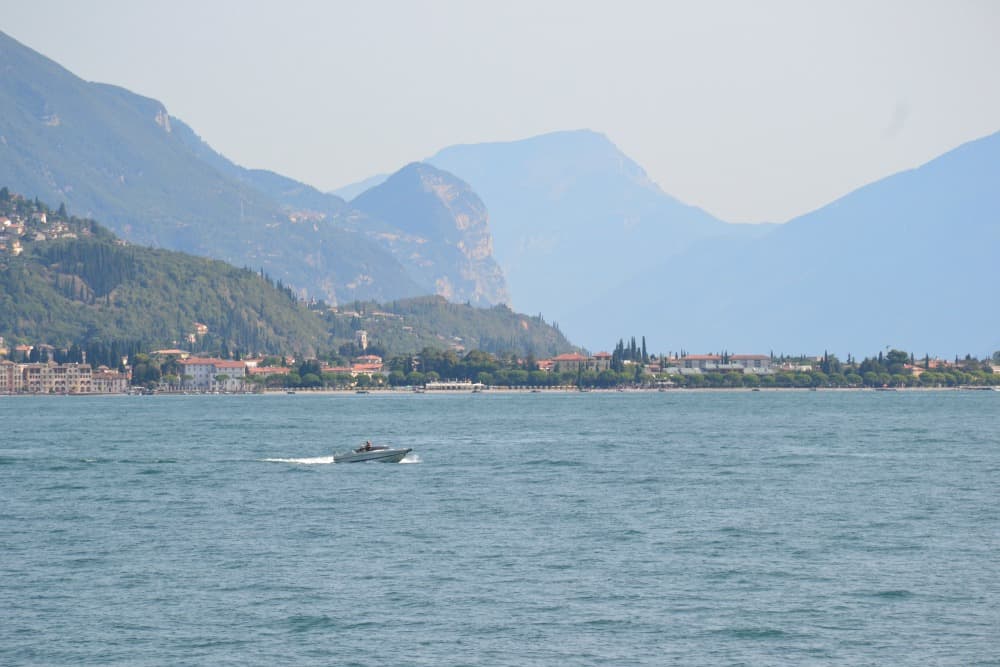 Lake Garda is Italy's largest lake and a holiday destination for Italians and international visitors alike.
Take a look at more of our tips for family holidays in the Italian Lakes.
We had one week in Lake Garda and it's not hard to understand why it is such an attractive destination. Here's our destination video:
Here's a round up of the things we managed to fit in during our camping holiday in Lake Garda plus plenty of reasons to return:
Take a ferry trip around Lake Garda
Lake Garda is huge, measuring 50km in length and 15km wide in places. It's not the type of lake you can gently sail around in a day. Indeed many of the ferry services are hydrofoils geared to getting people from one lake side town to another at speed.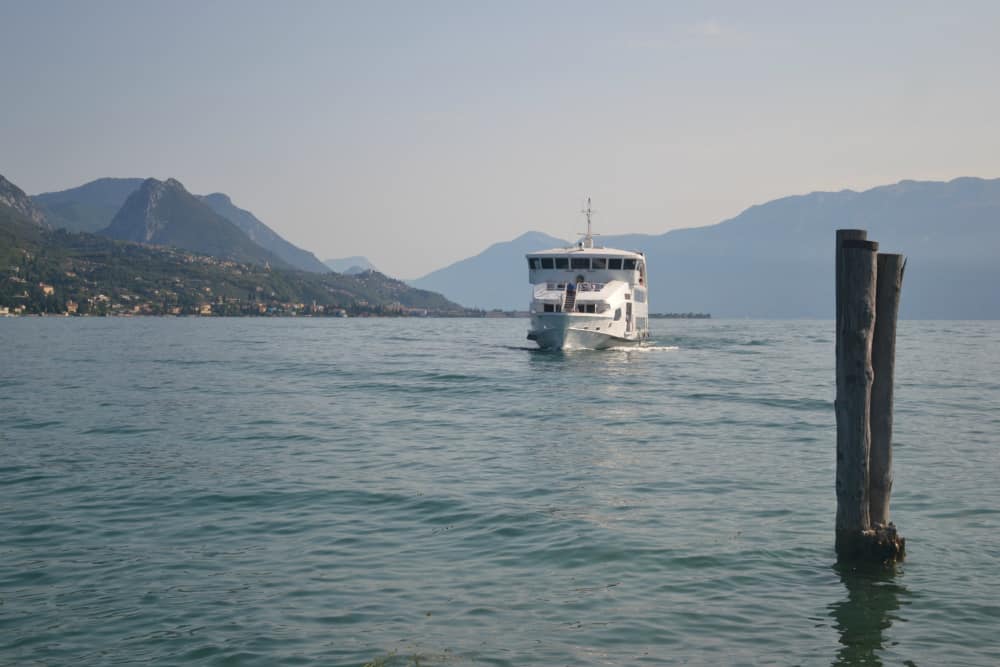 We used the slower ferry service a couple of times to take us from Portese to the resort town of Salò close to our campsite and across Lake Garda to explore the Venetian streets of Garda – the small town after which the lake was named.
The trip to Garda from Portese took just over an hour (an hour and 20 mins on the way back) and cost €46.80 for a Happy Families ticket for two adults and up to two children aged between four and 12, plus €16.40 for an additional senior citizen.
You can get tickets for exploring part or all of the lake or point to point tickets like us.
For more information about ferry services around Lake Garda check the Navigation Lago Di Garda website.
Here are some more tours you can do on the lake:
Ride Lake Garda's cable car
Hopping on the ferry to Garda is also one of the best routes from the Salò side of the lake to reach the Monte Baldo cable car into the lake side mountains at Malcesine.
The rotating gondola rises 1,800m above the lake for panoramic views of the mountainous northern end to the relatively smoother southern end.
Gardaland – things to do in Lake Garda when it rains
If you are unlucky enough to visit Lake Garda when it rains then Gardaland is a good option for entertaining the kids.
This incredible looking family theme park is one of Italy's top attractions and sits on the East side of Lake Garda. There are roller coasters, water rides, a 4D Cinema experience and, new for 2018, Italy's Peppa Pig Land.
It also has a SEA LIFE aquarium with more than 100 different species of marine life and 40 tanks. Gardaland is part of the Merlin Group, which also runs Alton Towers and Chessington World of Adventures, so you know the kind of full on family day out you can expect here.
Visit two theme parks at CanevaWorld Resort
CanevaWorld Resort is two theme parks in one: the first is a movie-themed attraction with action shows, rides and experiences based on popular films; then there's the Caneva Aquapark with 12 slides, a lazy river and plenty of pools to relax beside. You can buy tickets for each park separately or a combined ticket to visit them both on the same day.
Buy your tickets online for the best rate.
Relax on a beach
Lakeside beach days are a new activity to me. We're much more used to making sand castles and dipping our toes in the sea. But our days spent relaxing on Lake Garda's beaches were divine.
Tot in particular fell in love with floating around on a huge rubber ring, taking in the views and watching the lake traffic pass by. Our campsite had its own private beach but there are plenty of public beaches around the lake too.
Here are the top ones recommended on TripAdvisor.
Browse a Lake Garda market
Sample some of the Lombardy region's fresh produce including the cheeses for which it is famous: Marscarpone, gorgonzola, Taleggio and Grana Padano – yum! As well as cheese you'll find clothes, toys and flowers on sale.
Lake Garda markets take place from Monday to Saturday.
Immerse yourself in history at the Tower of San Martino
This tower was built to commemorate a battle between the Italians and Austrians in 1859 during which tens of thousands of people died in one day. There is also a military museum telling the story of the battle.
At night the colours of the Italian tricolor are beamed from the top of the tower. It sounds like a sobering memorial but perfect for history buffs.
A day trip from Lake Garda to Venice
If you are up for a road or rail trip it is possible to visit Venice from Lake Garda in a day.
We drove our hire car there setting off first thing in the morning and arriving back at our campsite on the South West shore of Lake Garda mid-evening.
You can read more about how we did it and what you can see in a day in my post about day tripping from Lake Garda to Venice.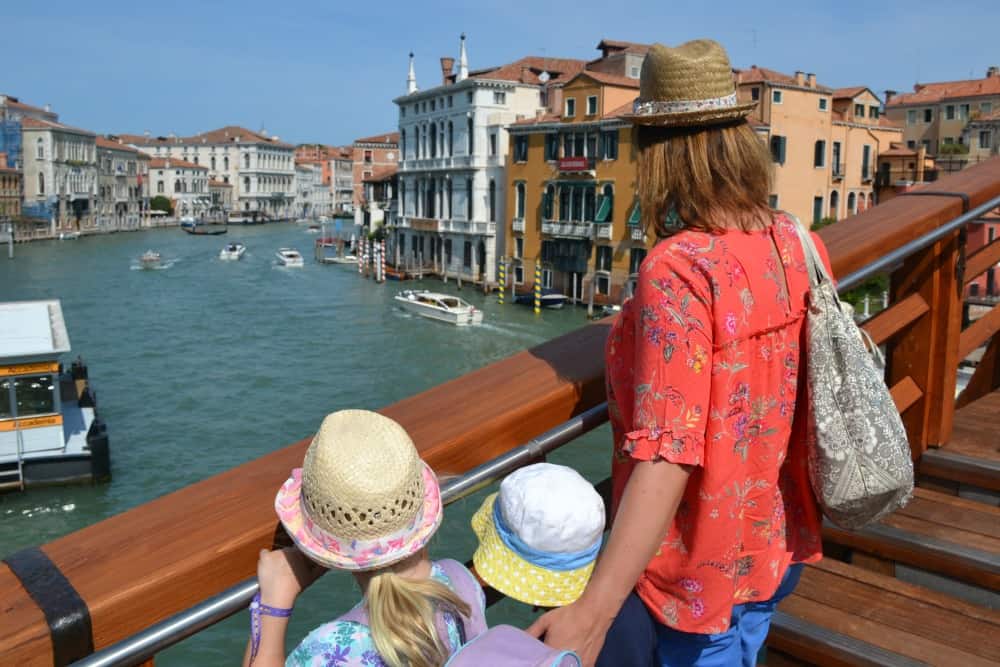 More things to do in Lake Garda
If you'd like more inspiration, I've written about the things we did during our holiday in Portese, Lake Garda, which is on the South West shore.
Places to stay in Lake Garda
If you are looking for Lake Garda accommodation we can recommend Camping Eden which has mobile homes and touring pitches on a terraced site overlooking the lake. It's just outside the small port town of Portese on the West shore of Lake Garda and a short drive from Salo.
Take a look at our review of Camping Eden Lake Garda for more information. We stayed here as guests of Al Fresco Holidays but paid for out holiday excursions.
Disclosure: this post contains affiliate links. If you click on one of these links and make a purchase I may earn some commission. This does not affect the price you pay.
If you are planning a holiday to Italy why not pin this post about things to do in Lake Garda for later?